Happy Wednesday friends!  I hope everyone had a great Memorial Day and long weekend.  We had a great day of family time and relaxing and I was so busy I completely forgot to hop on here and wish you all a great holiday!
I was off from here Friday trying to get caught up on things, and then off Monday to enjoy the holiday but I am back today because it's one of my favorite posts to do each month and I didn't want to miss it.  Plus, I definitely couldn't keep ghosting you all.
So without further ado let's hope to it!  It's What's Up Wednesday where the last Wednesday of every month I link up with Shay and Sheaffer and we answer these questions…..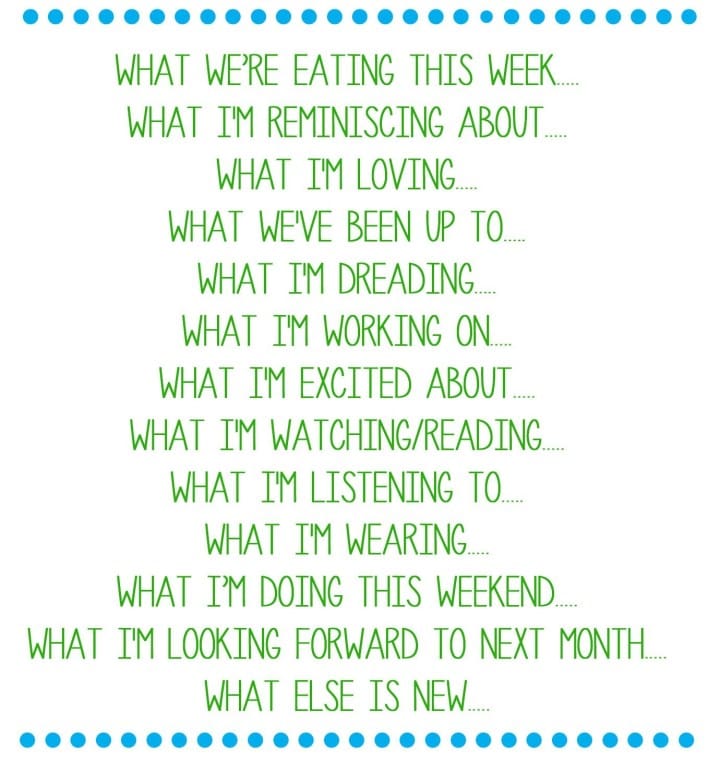 WHAT WE'RE EATING THIS WEEK
Well let me tell you it's take out city because we are in the process of getting our kitchen renovated and therefore every dish and utensil are in the basement and it's work enough to get a few items out to prepare breakfast in the morning, so you best believe I'm not attempting to cook an entire meal every night this week.  So we are taking the easy road and eating to go!
 WHAT I'M REMINISCING ABOUT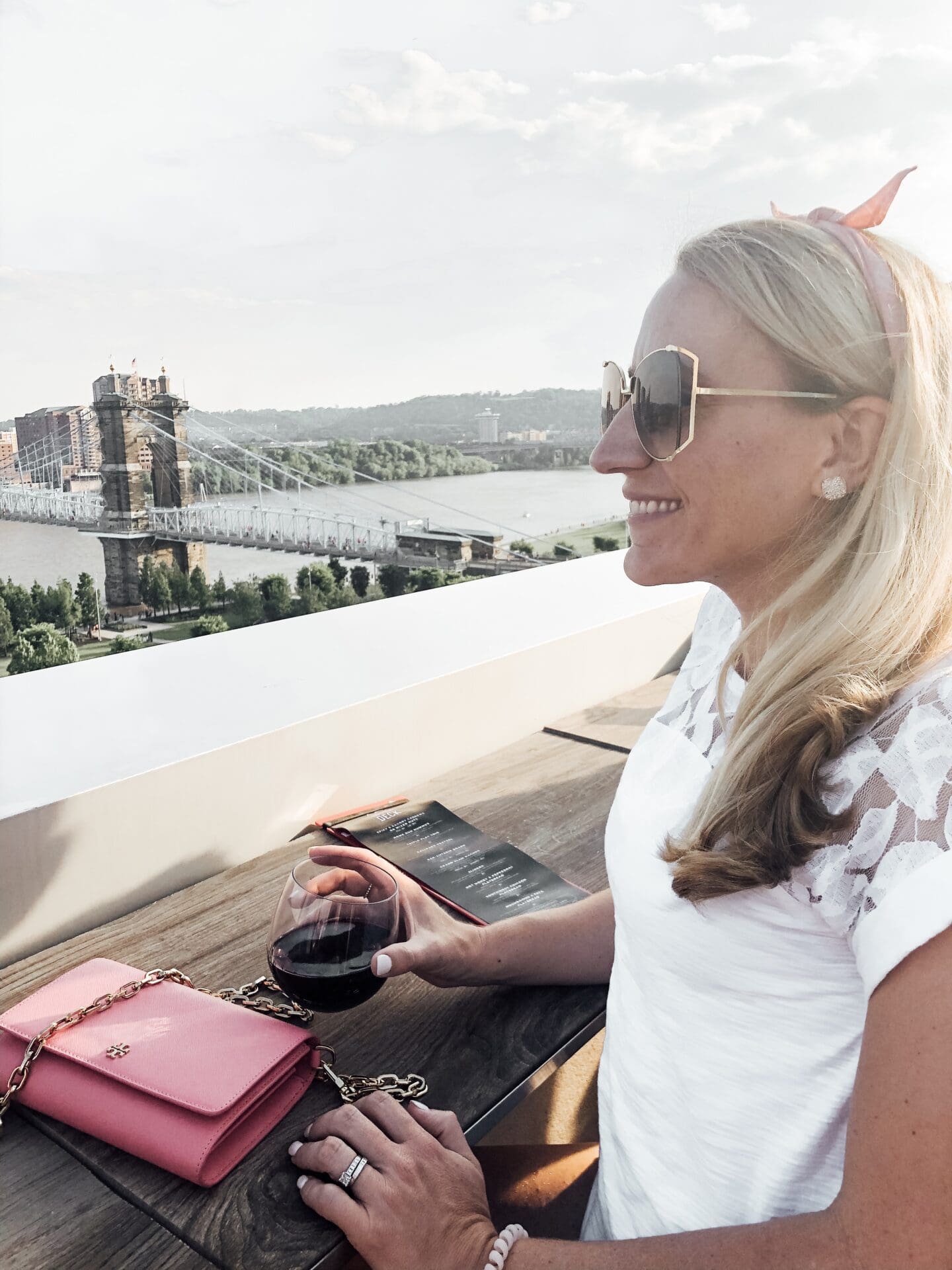 Our date night the other weekend where we took in some food and drinks and our first Red's game of the season.  Eric and I have always enjoyed going to baseball games in the summer but it's not as easy to do these days with the little guy, so when his parents offered to babysit the other weekend we took them up on it!  It was a nice night out and the weather was perfect baseball watching weather.  Plus, we got to take in the new rooftop bar across the street from the stadium before the game and we loved it so much we went back after too.  The view looking across the river into Kentucky can't be beat.
WHAT I'M LOVING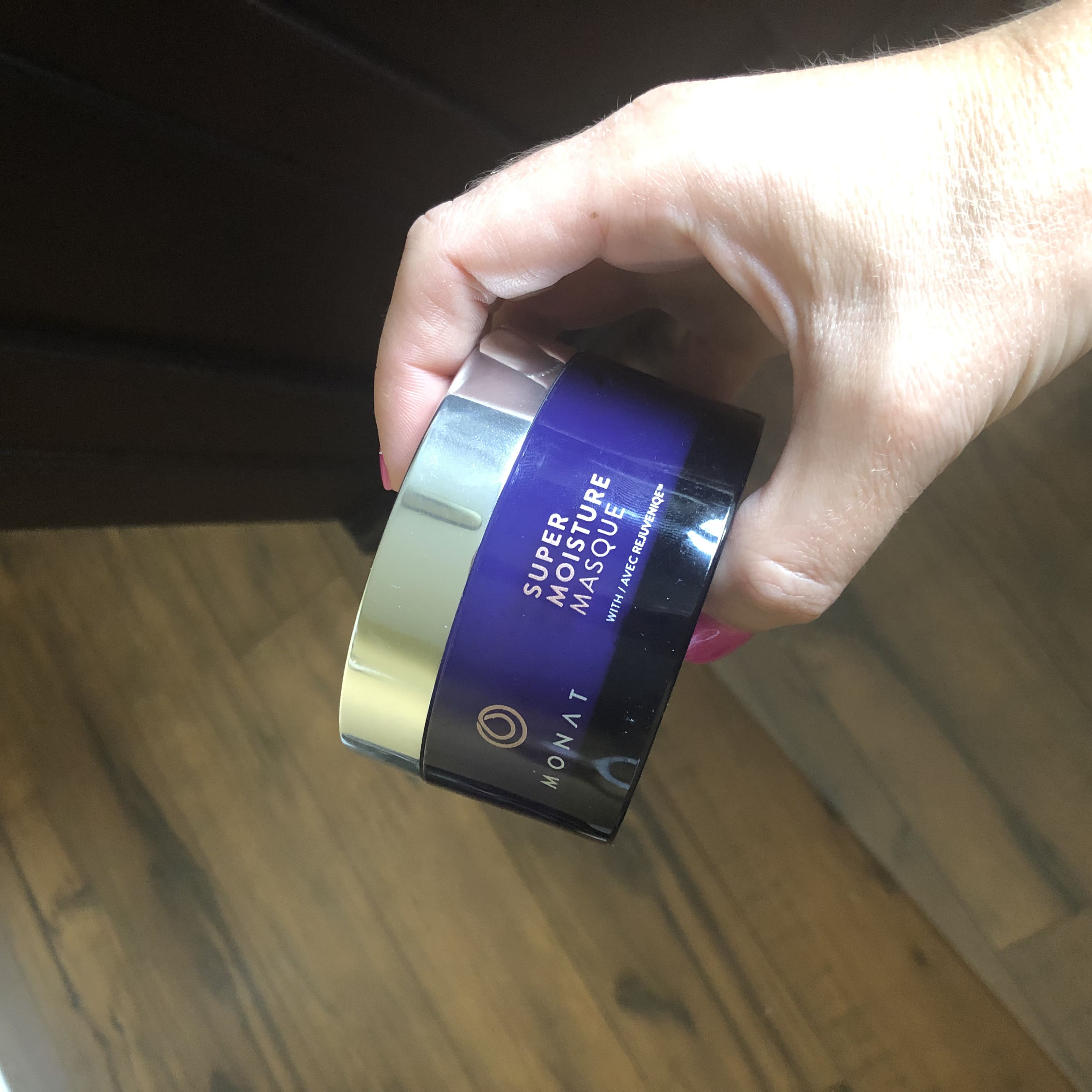 Shocker, it's a Monat product.  But you guys this Super Moisture Masque is a total game changer if your hair needs moisture (which in the summer is probably most people).  I use this masque two ways….one, as part of my overnight hydration cocktail which seriously nourishes my hair, and two, in the shower before conditioner.  I cannot even tell you how silky smooth and frizz free this leaves my hair.  It's without a doubt one of my Monat products I can't live without.
WHAT WE'VE BEEN UP TO
Kitchen renovations!  If all goes as planned, the next time I share a WUW post I will have a finished kitchen to show you.  Our kitchen really has no issues other than it being dated and some of the appliances under performing, but it's just time for a refresh.  I'm a girl that loves an all white kitchen so the orange/brown vibe our current one is putting off just isn't cutting it anymore.  I cannot wait to share it with you!
WHAT I'M DREADING
Well as much as I want the end result of a kitchen renovation, I am dreading the process it will be to get it.  Now, thankfully it's not a total gut job so it won't take as long but the noise, and the mess with a 16 month old in the house is a little much.  Luckily it's summer so we can get out of the house for the majority of it and not be in the way.
WHAT I'M WORKING ON
As always just blog and Monat items.  I'm making it a goal of mine to start really setting aside some time to learn more about blogging so I can start to incorporate more advanced features.  So between that and helping people get amazing hair, I'm keeping busy.
WHAT I'M EXCITED ABOUT
I have some fun trips coming up including our anniversary trip, The Rise Conference with Rachel Hollis, Monations (Monat's big yearly conference), and a trip to Hilton Head sometime this summer.  I'm definitely looking forward to it all!
WHAT I'M WATCHING/READING
Ugh reading continues to take such a back seat and every month I vow to make it more of a priority.  So that's always a work in progress.  I currently downloaded this book on audible because I want to read it so badly but know I won't get to it until Leyton is 18 if I wait to physically read it.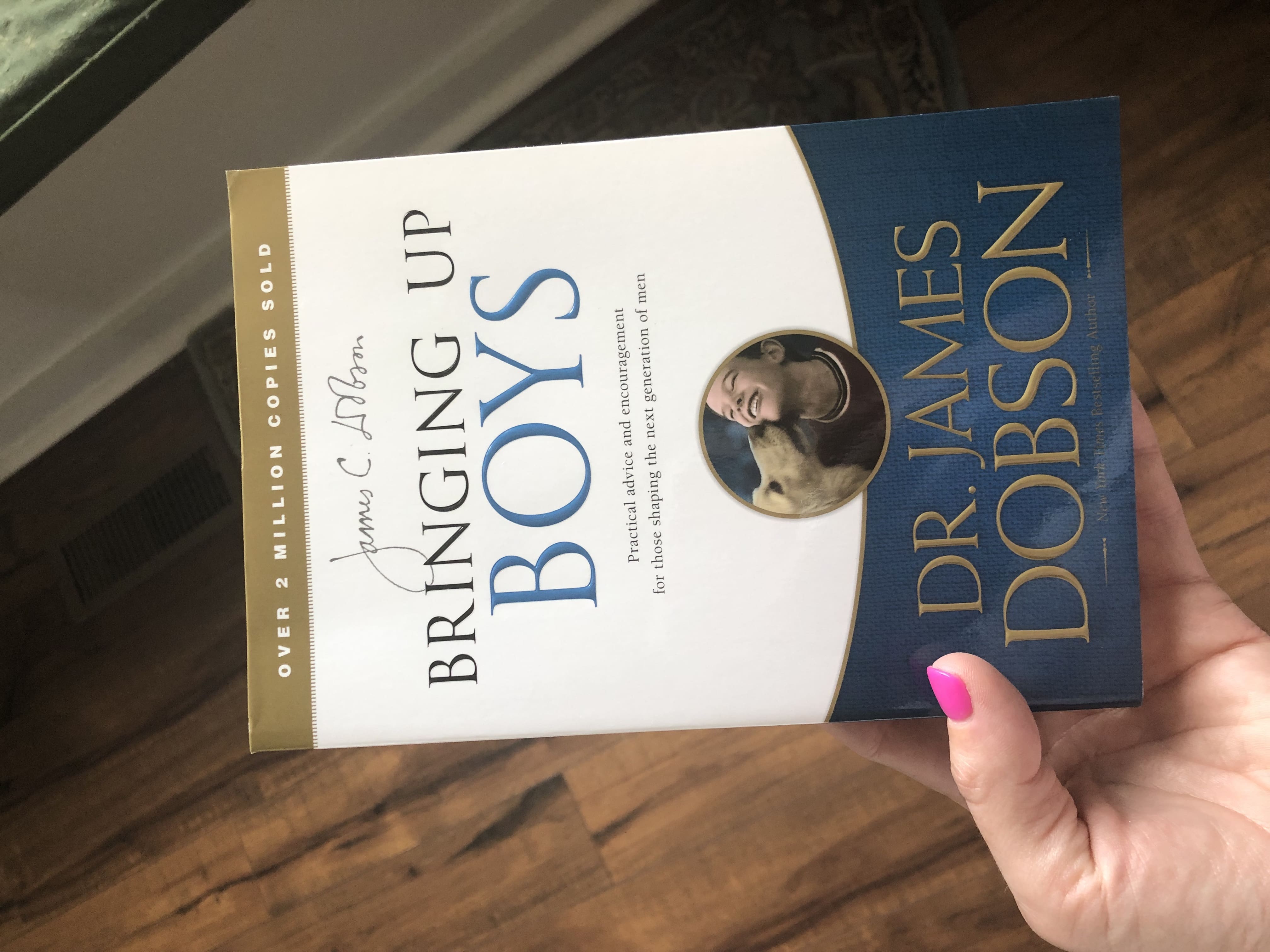 I've heard so many good things about it.  There is also a Bringing Up Girls version too.  As far as what I'm watching, most of my shows are wrapping up for the summer so I don't have much other than The Real Housewives of New York and Beverly Hills.  And darn it if I didn't watch an episode of The Bachelorette Monday night and get sucked in!  I'm going to try to stay strong and not watch any more of it.  I did start watching this on Netflix and so far really like it.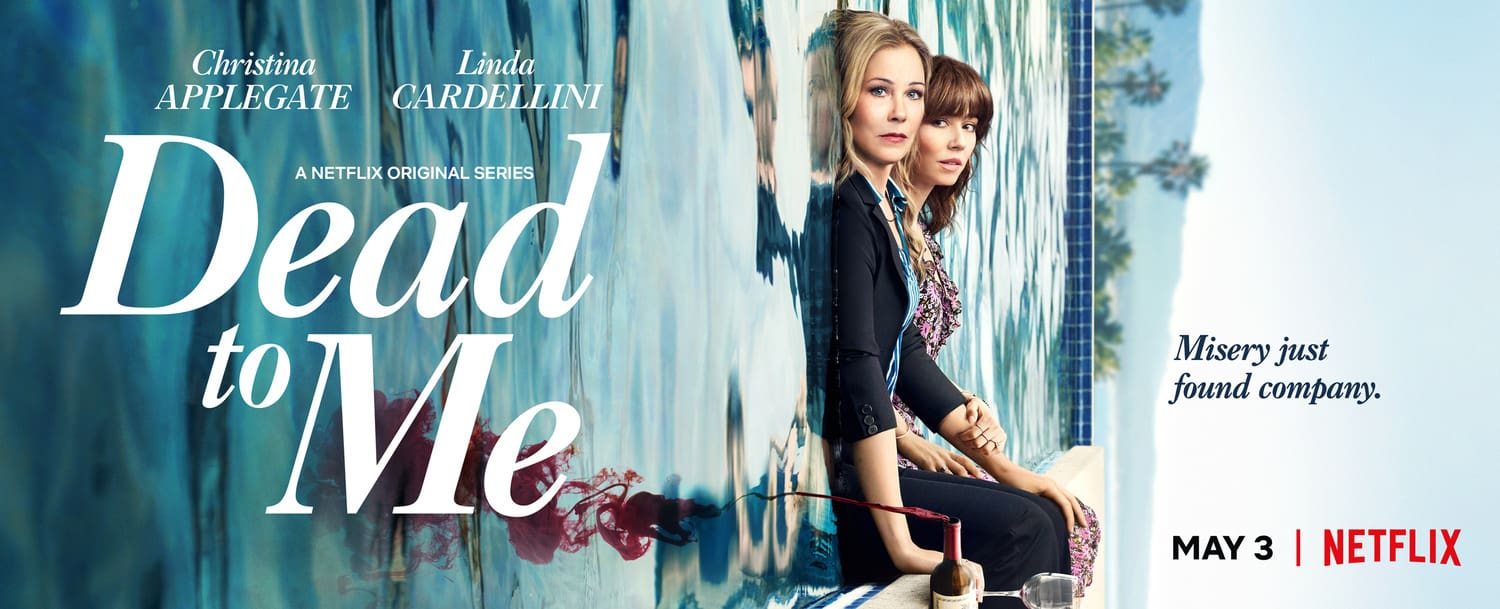 WHAT I'M LISTENING TO
Mostly just apple music and podcasts. I'm still loving Jenna Kutcher's Goal Digger Podcast and The Ed Mylett Show for podcasts and recently added in John Maxwell.  Jenna is great for blogging/influencing/branding and Ed and John are great for personal development.
WHAT I'M DOING THIS WEEKEND
You know, I don't think we really have any plans.  So most likely just family time and hanging out around the house and getting outside with Leyton.  We do need to pick out new hardware and lighting for the kitchen so a trip to Lowe's is probably also on the agenda.
WHAT I'M LOOKING FORWARD TO NEXT MONTH
Our anniversary trip!  We will be married 10 years on June 20th.  We wanted to do something big but were a little limited since we have Leyton now, so we decided to go back to one of our favorite places ever!
We first went to Napa after I graduated nursing school in 2015 and loved every minute of it.  Not shocking since I love any and all wine.  So when we were thinking of places to go it immediately was on our radar.  So, we are most certainly looking forward to that!
WHAT ELSE IS NEW
Not much!  We are just excited for everything coming up and we are so so happy summer is here!
Thanks so much for stopping by!  I'll see you back here Friday where I'm talking all things kitchen reno!
Jill
xo, Jill