Happy Friday friends! We made it through another week and today is a big day in the Koch household because, brace yourself…..we are getting our grout cleaned!  I know, try to contain your excitement.  The thing is the tile in our house is disgusting.  I'm so bad about cleaning it and it's 13+ years old and it's just downright gross and dirty.  We are getting ready to renovate our kitchen and so before we do that we have to address the floors.  We thought we were going to need to replace the tile but low and behold there is such a thing as The Grout Doctor here in Cincinnati and they're going to basically make our current tile look brand new but for a fraction of the cost and time.  So needless to say, we are pretty pumped about it.But, as exciting as talking about grout is, that is not the topic of today's post.  Instead, I thought I would just do a quick post highlighting the top 5 things I need to motivate me to workout.
I don't know about you guys but I never really look forward to working out, but I know it's important and something I need to do.  So, what I have found is, when I have certain things in place prior to a workout, it makes it much more likely that I will follow through with it.  So I thought I'd share those things that motivate me to break a sweat, and maybe they will help you too!  So let's get to it!
#1. Good TV (or a good book if walking) – Now I should state that this is for when I run on the treadmill, which is most often what I do.  So for treadmill days, nothing motivates me more than knowing I have a great show taped or movie to watch to pass the time.  Some days, if I'm just walking I will read a book while I walk.  My mom thinks I'm crazy and doesn't know how I walk and read, but I go at a slow enough pace to where it's possible and just walk for a long time to make it worth my while.  Sometimes it's the only way I'll actually get books read.  But typically, I run and watch shows.
#2. A good Workout Program – So if I'm not running on the treadmill then I absolutely MUST have a good workout video that keeps my interest.  For this I switch it up between  BBG by Kayla Itsines (I believe it stands for Beach Body Guide and it's an app you pay for on your phone) it's good but let me tell you that sucker is intense!!  You think, how hard can this be?  It's just short circuits by a girl that weighs 100 pounds soaking wet.  But friends, it is insane how hard it is!  I don't know what sorcery she is storing in that tiny, fit bod but wow, she's a beast.  If I could ever see it through to the end I know I'd be in amazing shape.  I also subscribe to Beach Body and do some of their workouts.  Currently I'm doing T:20 and really enjoying it.
Either way, when it comes to workouts it has to be a 30 minutes or less program or I won't stick with it, so that's why I like those.
#3. A Good Pre-workout or Post-workout Shake – Call me crazy but I loooove workout shakes.  But then again I've always enjoyed shakes like that.  When I was a little girl I used to drink my grandma's Slim Fast haha.  Wow, who remembers Slim Fast?  Anyways, I think that started my affinity for those powdery drink mixes and I've never looked back.  This leads me to my latest workout drink obsession…..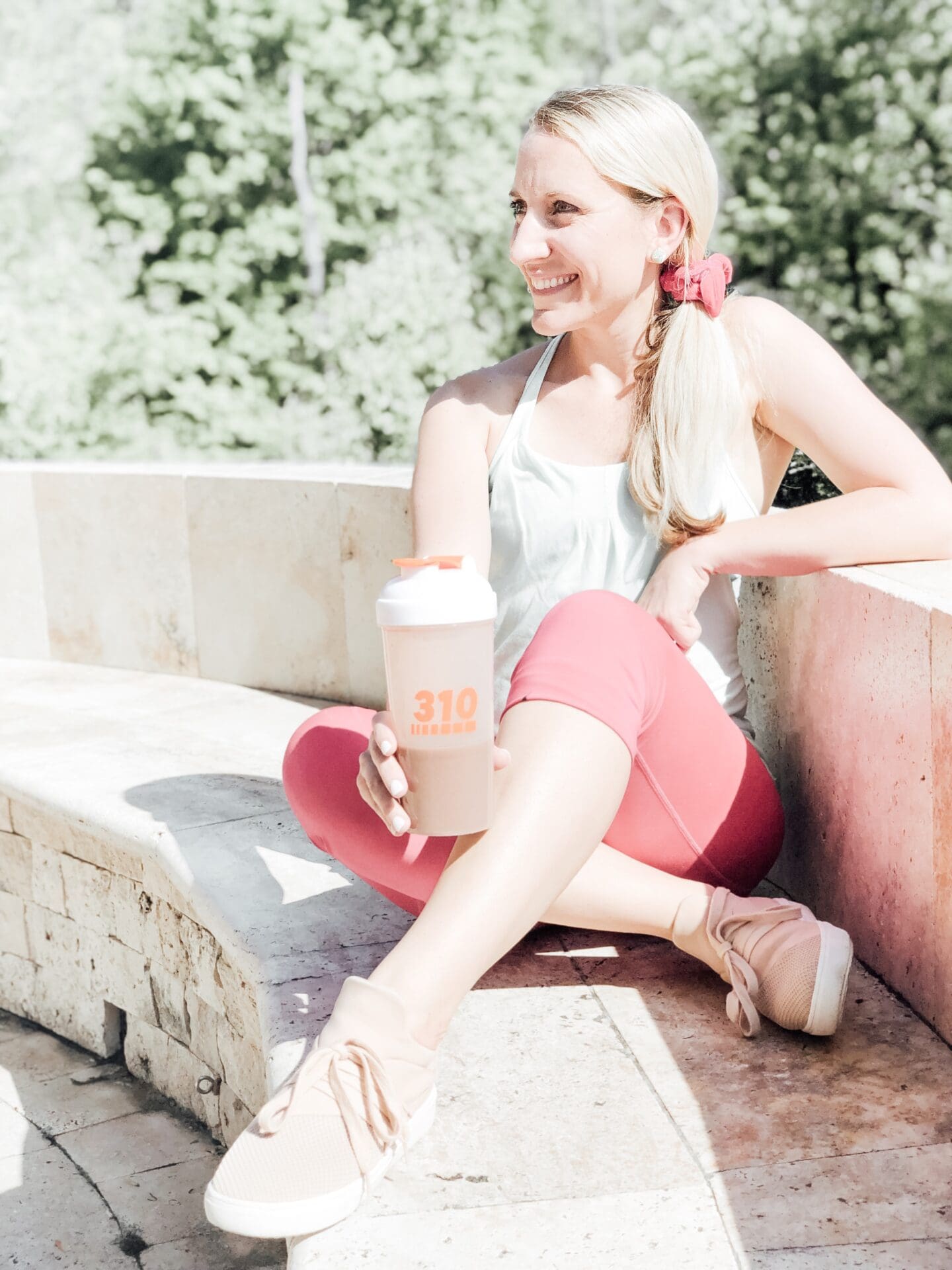 When 310 reached out to me to try their nutrition shakes, I checked their ingredients list and what they were all about and it was an easy yes!  Completely plant based, free of all the harmful, bad for you ingredients, and only 90 calories per serving, these shakes are seriously the creamiest, smoothest, tastiest shakes I've had in a long time.  The vanilla chai is hands down my favorite but the chocolate and vanilla went down easily too, and they have a salted caramel I can't wait to try!  And, if shakes aren't your thing they have detox teas and water mix ins too!  I can't recommend them enough!  And right now when you can use the code: 310JILLKOCH you get free shipping.  Check them out here.  They are so yummy and satisfying they make me look forward to working out, just knowing I get to enjoy these at the end.
#4. Good Music – I know this sounds like a given but what I really mean to say is, music I don't really listen to other than on occasion for a workout.  I think this is important because then when you hear those songs you aren't sick of them and they do actually pump you up.  So the key is to pick awesome, pump you up, energetic songs that you don't listen to except for exercise.  It totally works.
#5. Cute Workout Clothes – Nothing gets me more excited to exercise than knowing I have a new outfit I feel comfortable and cute in.  That can be a new sports bra, tank, shorts, or entire outfit.  Often times I just get workout clothes from Target or Gap but when I like to splurge I'm Athleta and Lululemon all the way.  I haven't tried Fabletics but some of their clothing I've seen is cute.  And I'm all about a fun sneaker to complete the look.  Not to mention you need great shoes if you're going to run a lot.
Alright friends, those are my top 5 things!  Just a little post I figured I share especially since I wanted to spread my love for the 310 shakes and share my free shipping code.  Be sure to let me know your thoughts if you try them too!  Have a great weekend, and I'll see you back here Monday!
Jill
xo, Jill