Happy Monday friends!  I hope everyone had a great weekend.  Saturday was a little wet here but Sunday was gorgeous!  We spent the day lounging around at home at got outside as much as possible.  I'm ready to tackle a new week and hopefully check off that to do this, and Leyton and I are hitting up the zoo at some point.  His first trip to the zoo, ever!
For must haves this week I don't have as much as I originally planned because a few of the things I ordered, thinking they would be total must haves….weren't.  But that's okay because I have some great others.
First up, Monat had an awesome Mother's Day sale this past weekend and while that's not the must have I'm referring to here (although if you ask me, Monat is 100% a must have, always) something in this picture I use to promote the sale is….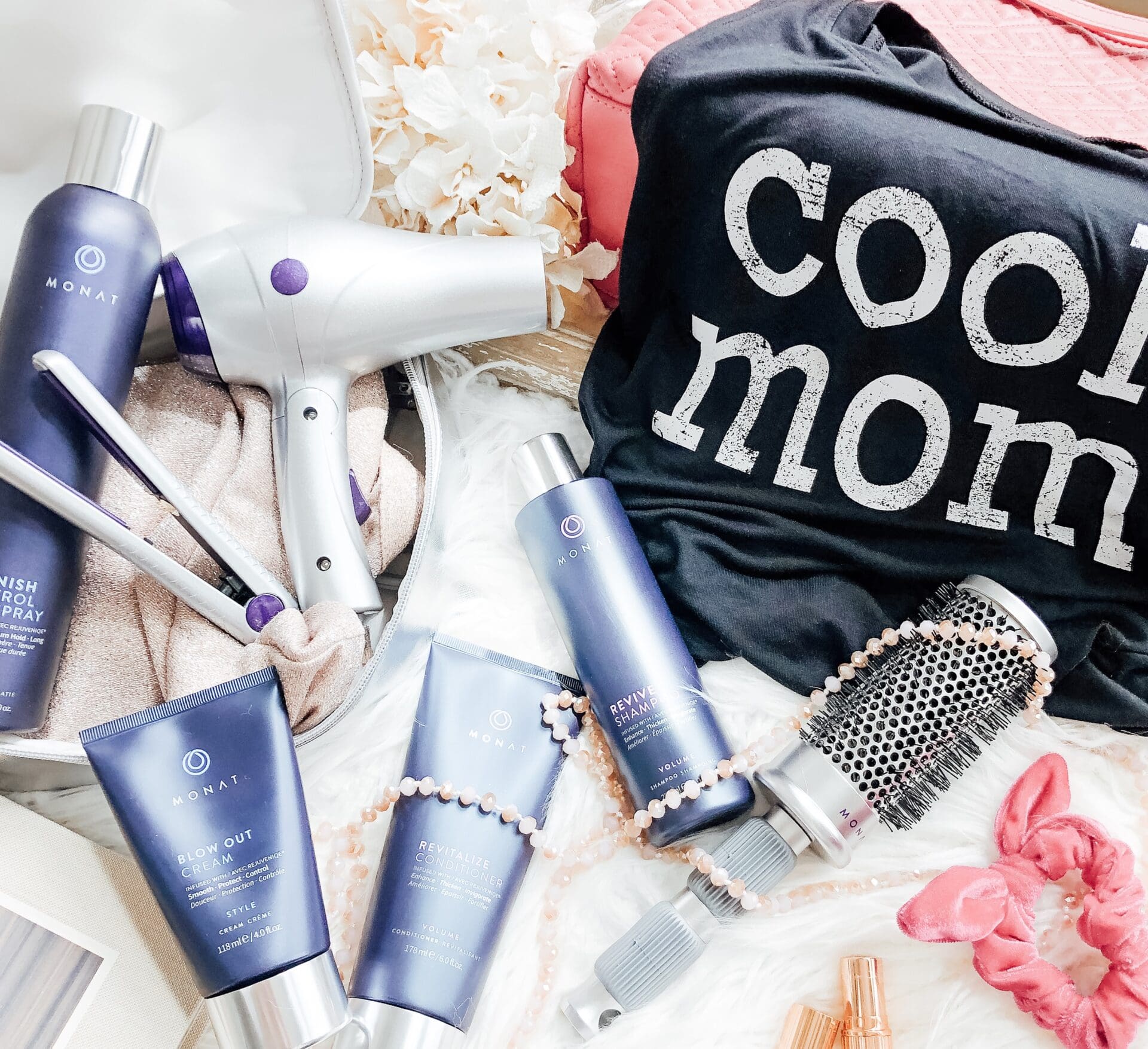 That tank top!  Of course we all immediately think of Mean Girls when we hear the phrase "cool mom," but I saw it at Target for $12.99 and it was too good to pass up.  I got soooo many compliments on it when I posted this picture on my Instagram so that of course makes it a must have.  You can shop it here.  And of course you can shop Monat here.
And okay speaking of Monat, I do need to shout out a specific product of theirs. This is a great one if you have kids, know someone with kids, or if you yourself have tangles…..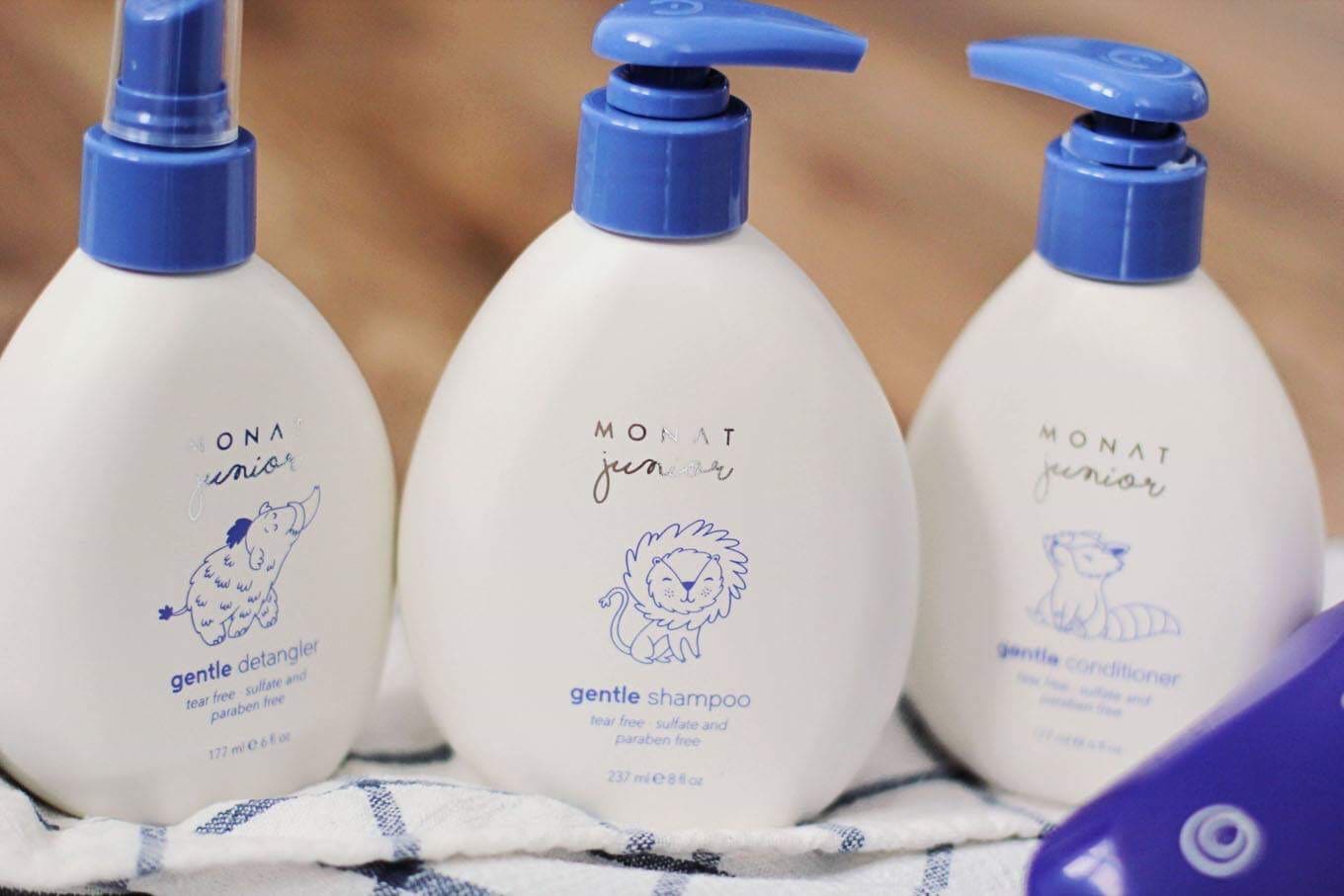 You guys, this Junior's Line is so good!  The smell alone is the best scent I have ever smelled for a kids product, or even an adult product for that matter.  If you have a child with unruly hair, this is for sure a must have you need in your life.  The reviews I have heard from this product have all been amazing.  Here are some before and afters for you to see yourself…..
It's such a good product, like all of their stuff is, but my favorite part is that it's safe and trusted to be used on your little ones.  And best yet, the detangler is great for everyone, including adults!  I know several adults that use it and rave about it.  Again, you can shop Monat here or for a personal recommendation email me (jillcomesclean@gmail.com) or message me on Instagram or Facebook.  There is also a hair quiz at that link you can take to see what products if would recommend for your specific hair needs.
Okay, switching gears a bit….I am always on the hunt for a good morning devotional and lately I wasn't finding any I was loving so I went back to an old one I read before and you guys, I seriously might just read this one on loop for the rest of my life!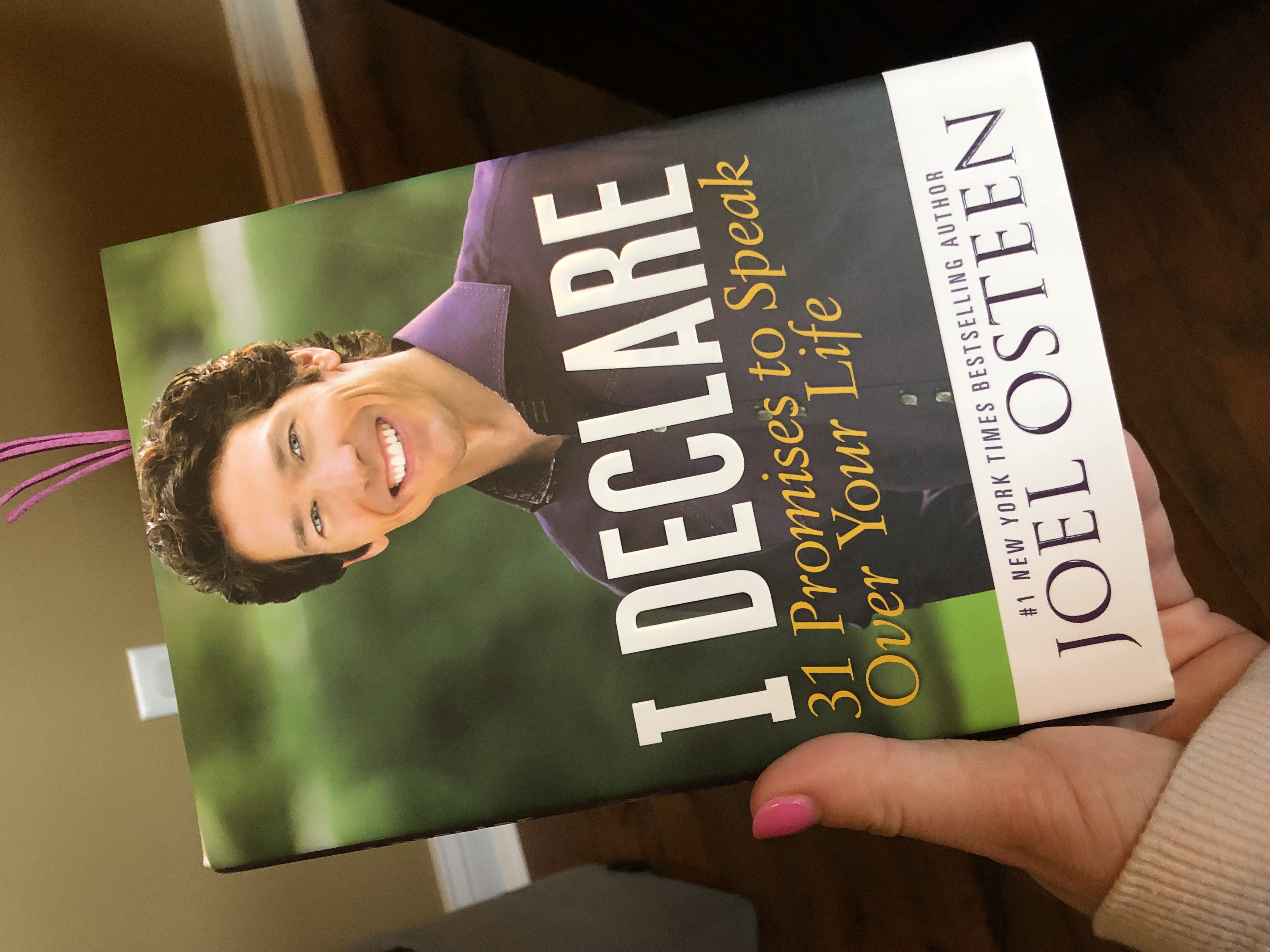 I know people have mixed feelings about Joel but I have found his teachings and books to be so applicable to my life and they've been exactly what I needed at different times and this one is so so good!  They're short little chapters you read each morning and I love the message I get from it each day.  This is my second time reading I Declare, and I know it won't be the last.
Next up, I think I've shared these products once before on must haves but I just ordered a new product from this company and already love it so much.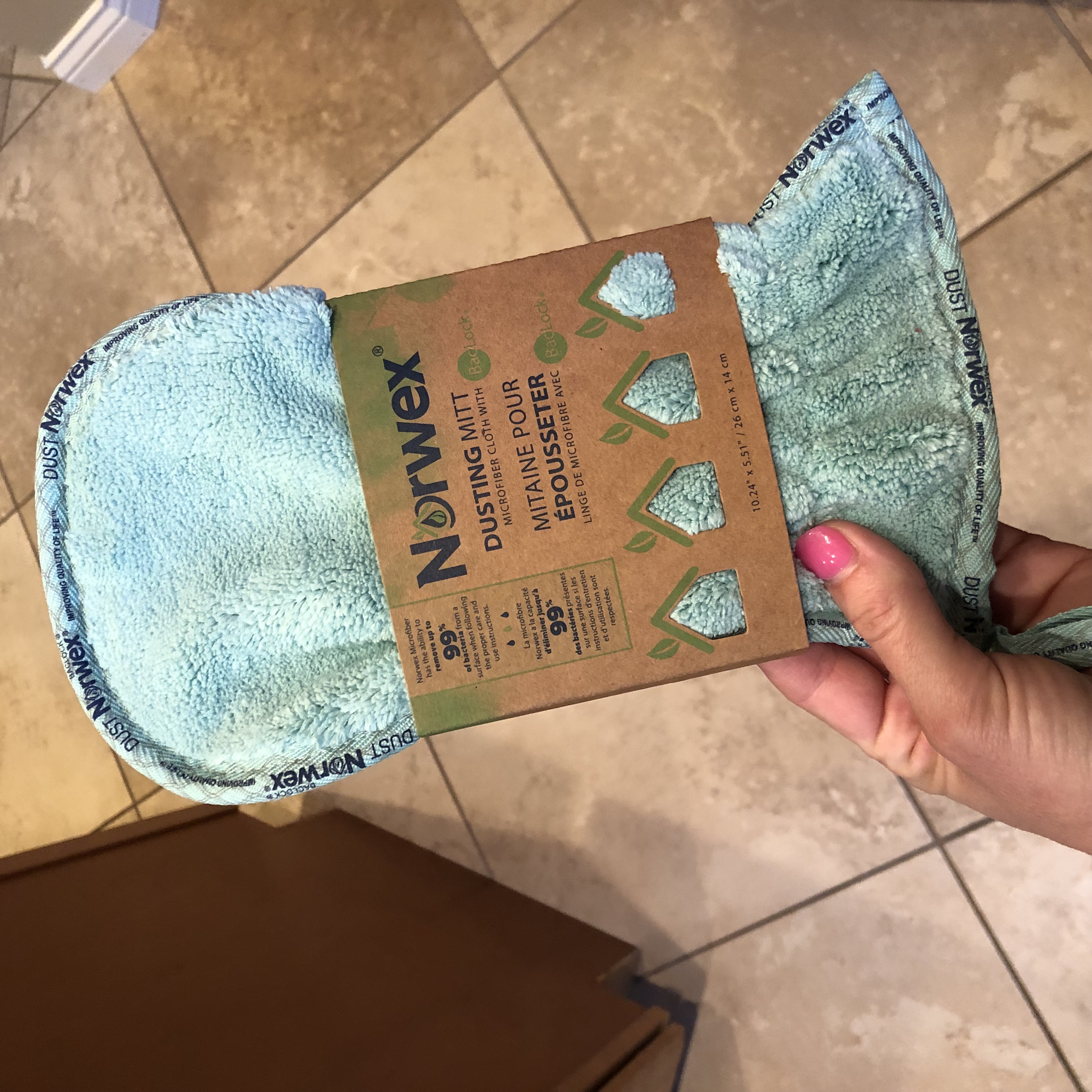 Hi I'm Jill and I love cleaning.  Like, truly love it.  BUT….I hate dusting.  I can't stand that you dust and literally 2 minutes later dust is back.  I also refuse to use pledge or any of those chemical cleaners so I use either a homemade cleaner with water, alcohol, and essential oils, or just an unscented Swiffer dust cloth.  The problem with my homemade spray is that I don't always like spraying certain pieces of furniture and with the Swiffer dust cloths, they are expensive.  But this… this you guys has changed the dusting game.
You slide this bad boy onto your hand and go.  It's so incredibly easy to get into corners and down the legs of furniture and friends, this sucker works like you wouldn't believe!  The dust clings to it.  It's pure magic.  I actually enjoy dusting now!  And the best part is you just rinse it off if it's slightly dirty, and toss it in the laundry if it's really dirty.  Easy peasy. I love all Norwex products and just ordered their wet/dry mop set too.  I'm sure that will get it's own must have spotlight in the future.
Okay next up, the main event…..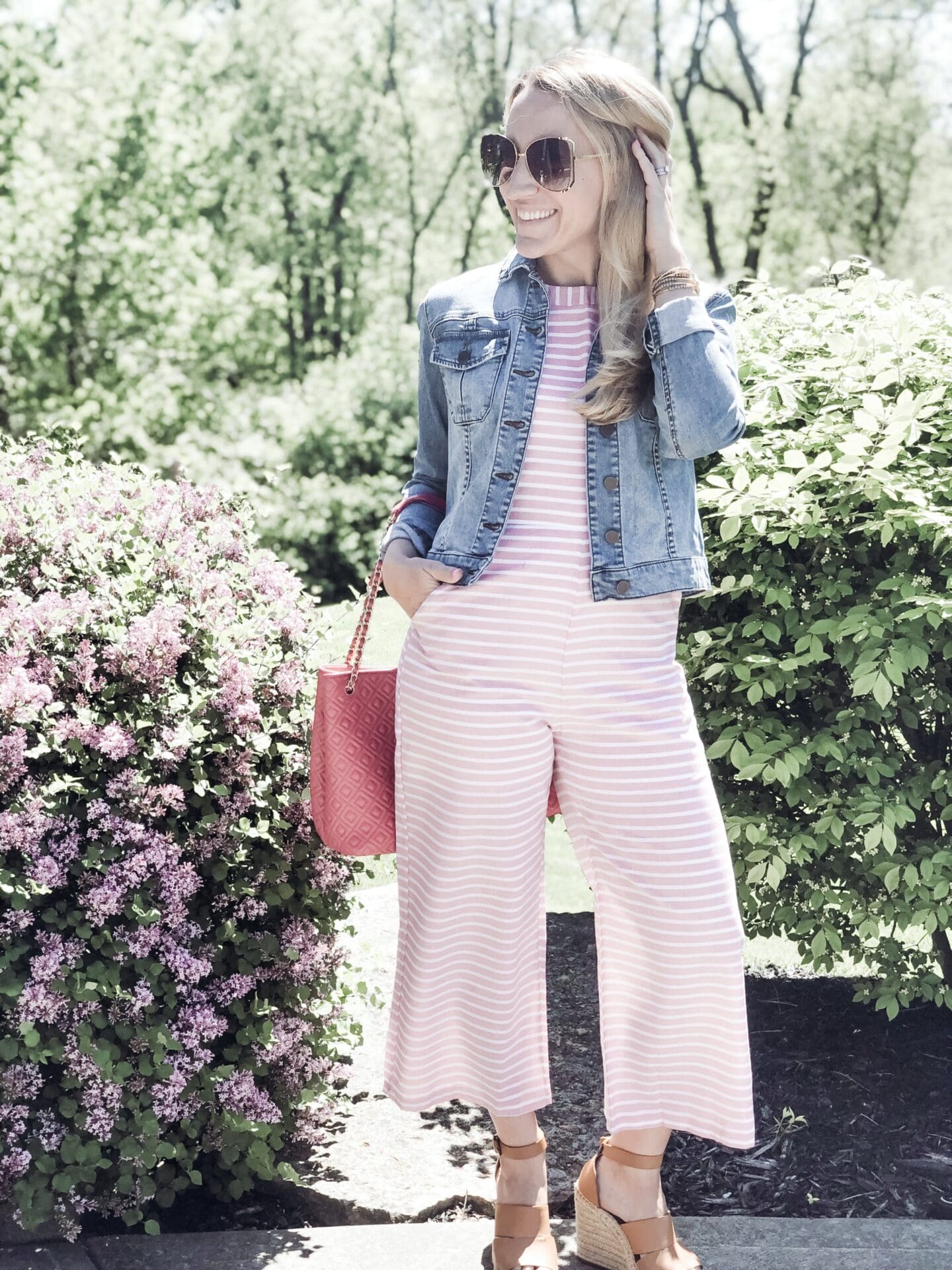 Jean Jacket // Jumpsuit // Sunglasses // Wedges
So let me start by saying, Eric hates these sunglasses haha but I think they are fabulous!  I love oversized sunglasses like these.  I got these from Amazon for $12.  You can shop them here if you find them equally as awesome.
Next, let's talk this jumpsuit.  Also an Amazon find.  I first spotted it when my friend Emily wore it in green.  I was obsessed and had to have it.  So I ordered it in pink like 2 months ago.  You guys, it took forever to get it!  I was less than pleased about this and the only reason I am sharing it as a must have is because it is super cute and I know several people that got it and they received theirs in like 2 days.  So I don't know if I clicked a weird link or what.  So maybe just double check shipping before you submit, or know it could take like 2 months to receive.  But either way it is really really cute and perfect for summer.  You can shop it here.  And there is also a shorts version, here.  Each version comes in several colors.  Here it is without the jacket.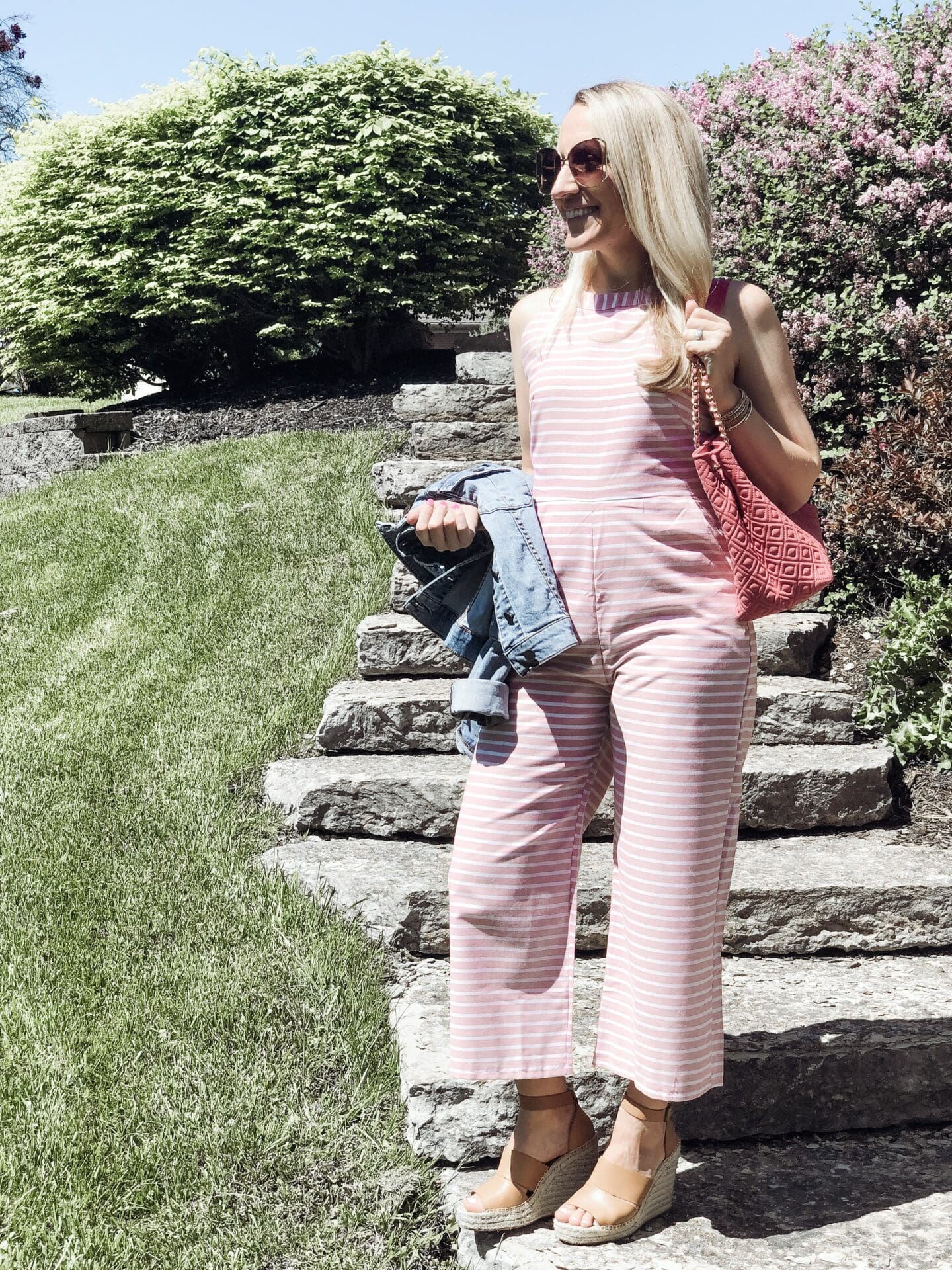 And my bag is Tory Burch but it's from years ago and I can't find it anywhere to link, which breaks my heart because it's seriously so cute!
Okay, last up is a new veggie burger I have been eating daily because it's that good!  Leyton loves them too!
So a while back Wholly Veggie reached out to me to see if I wanted to try their products, and it was an easy yes.  Then I got the patties and oh my goodness you guys, these are so stinking delicious!  There are full size patties and bite size ones and they are all so good.  Leyton and I have been having them for lunch and they are so easy.  You can do microwave, toaster oven, or stove top (our method) and it takes no time at all.  They are filling and satisfying and easily a must have in your freezer for those lunch and dinners when you have nothing prepared.  I found them at Target but they may be other places too.  I'm going to be doing a giveaway on my Instagram with them soon because everyone should try them.
Alright friends, that does it for this weeks must haves.  I hope everyone has a great week ahead!  Dare I say, Spring is officially here?  Bring on summer.  We are so ready!
Jill
xo, Jill