Hi friends!  It's that time of year when we are either hosting holiday parties or attending them, and while attending the party is always fun, sometimes it's also enjoyable to be the host.  I love me a good party and a theme, so when neighbors of ours threw a party to wrap up summer, Eric and I easily said, "we'll do one for Christmas!"  It's great to get to know your neighbors and we have some of the best.  There is something about knowing you have several set of eyes on your place for when you aren't home or that you have people you trust nearby in case of emergency.  So, with that being said, we wanted to do a Christmas party to get everyone together to jingle and mingle.  Plus, I love our home at Christmas with the trees and decorations, so it seemed like the perfect time.
Now, this was the first annual, but we plan to have one every year and it is my hope that they get better and better each year.  So, for today I just wanted to bring you a few little things I did to help add to the festivities.
We really kept it pretty low key. We catered from a local restaurant and neighbors brought side dishes and desserts.  It was very casual.  For my dessert contribution I made copycat Cranberry Bliss Bars from Starbucks and friends let me tell you, they are identical.  If I was blindfolded and had to taste mine and the 'buck's, I'm telling you, I wouldn't know the difference.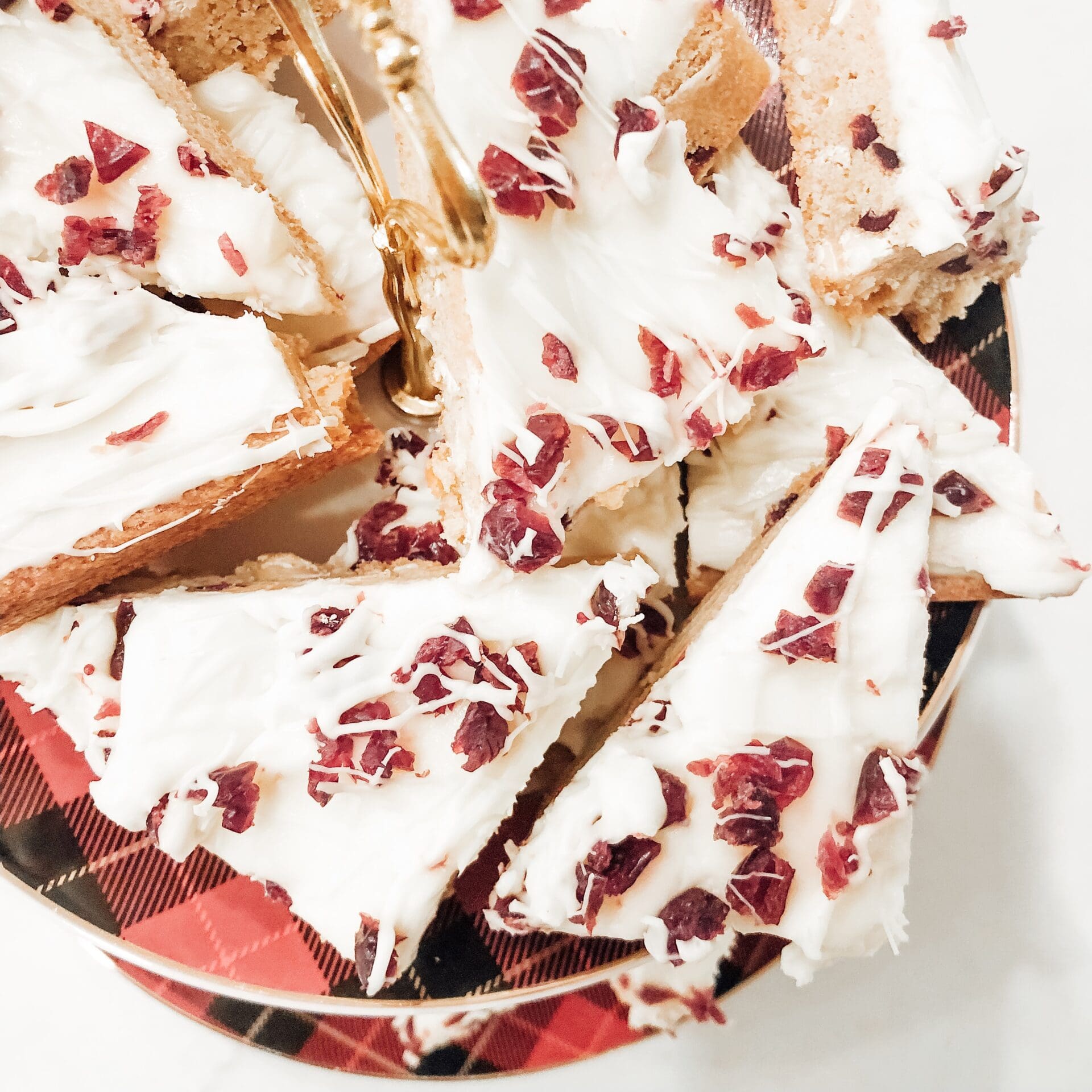 Now, I'd love to tell you I came up with this from scratch but um, yeah right.  I totally pinned it.  For the full recipe, head here.  And for this and other amazing dessert recipes, follow my Pinterest dessert board below.
They were a total hit among everyone, and they freeze really well or last in the fridge for a while.  And, speaking of sweet things I contributed to the party….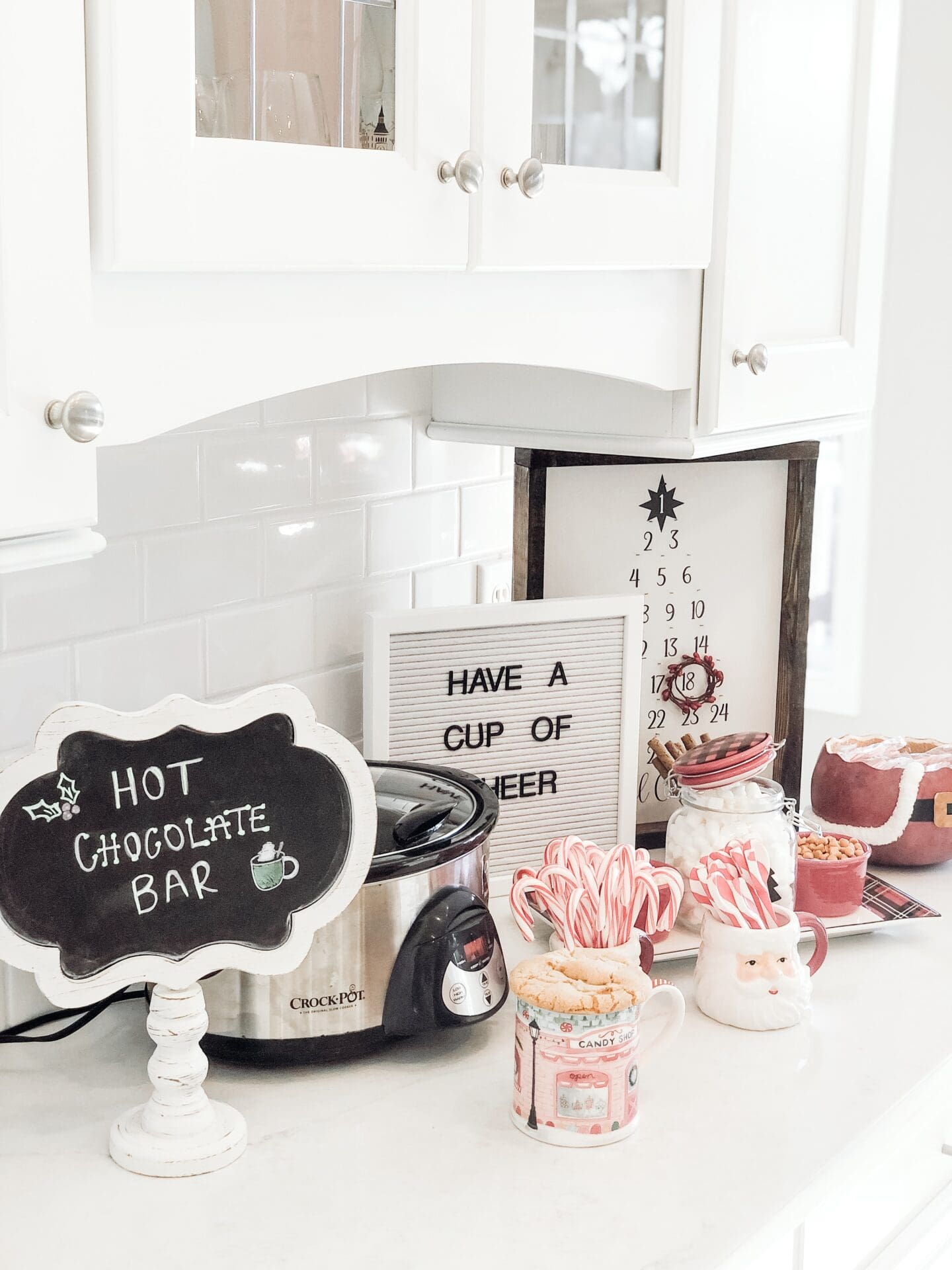 I love me a hot chocolate bar!  They are super easy to make!  Simply have hot chocolate in a crock pot with several fixings/mix-ins available on the side.  I love to do marshmallows, white chocolate chips, and butterscotch ships and then I add candy canes and Pirouettes to stir.  Bonus if you can find candy cane spoons, which I did, because those are hit!  You could also have syrups on hand to add into the drinks.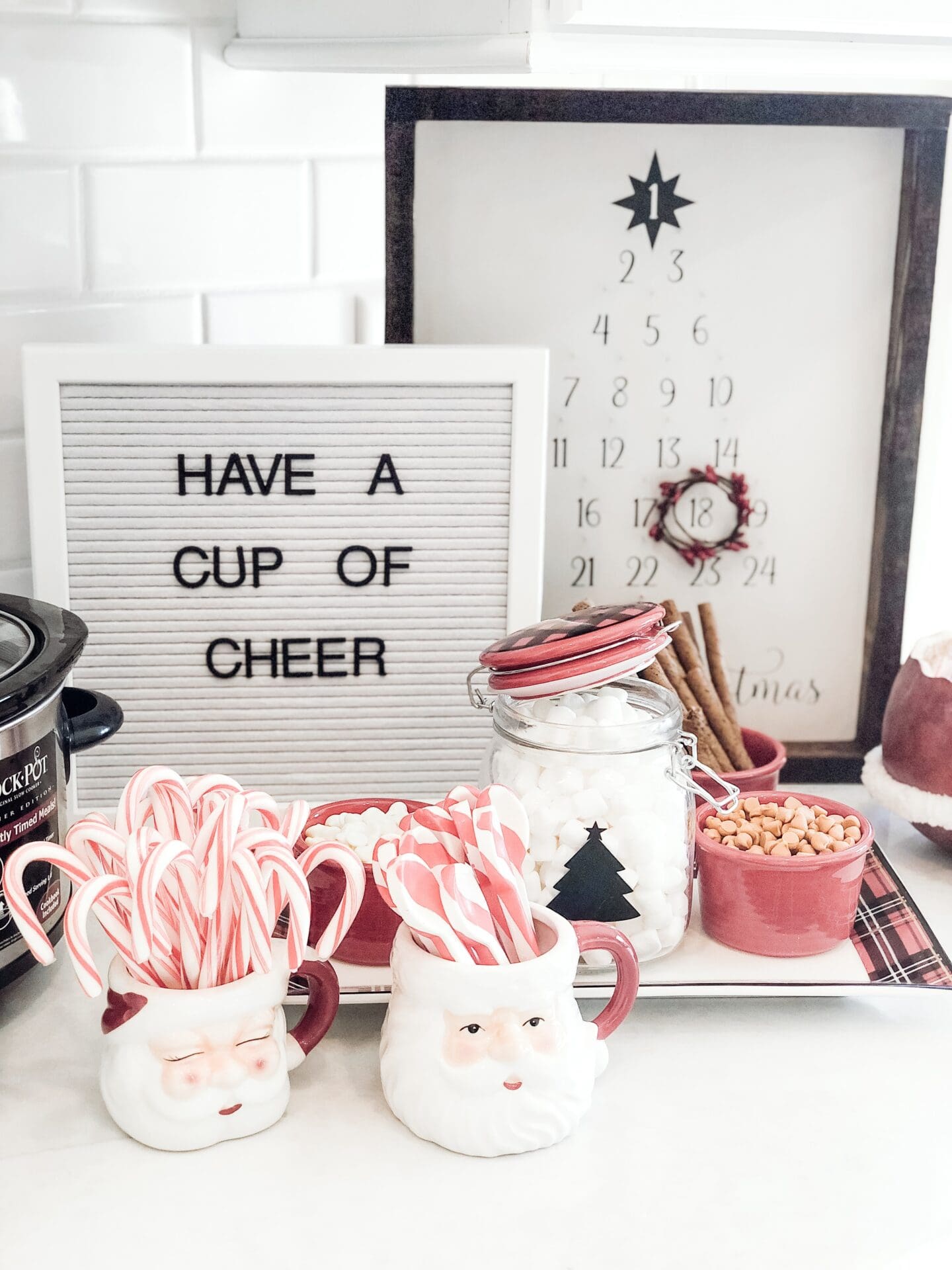 Not pictured here was alcohol.  You can make it a grownup hot chocolate bar by either adding booze directly to it or on the side for guests to add it.  I offered Rum Chata and Bailey's but I've seen people do it with Kahlua and Fireball too.  Lastly, you can have cute Christmas mugs for serving if you only have a few guests.  Since we had about 20 people I just did paper coffee cups.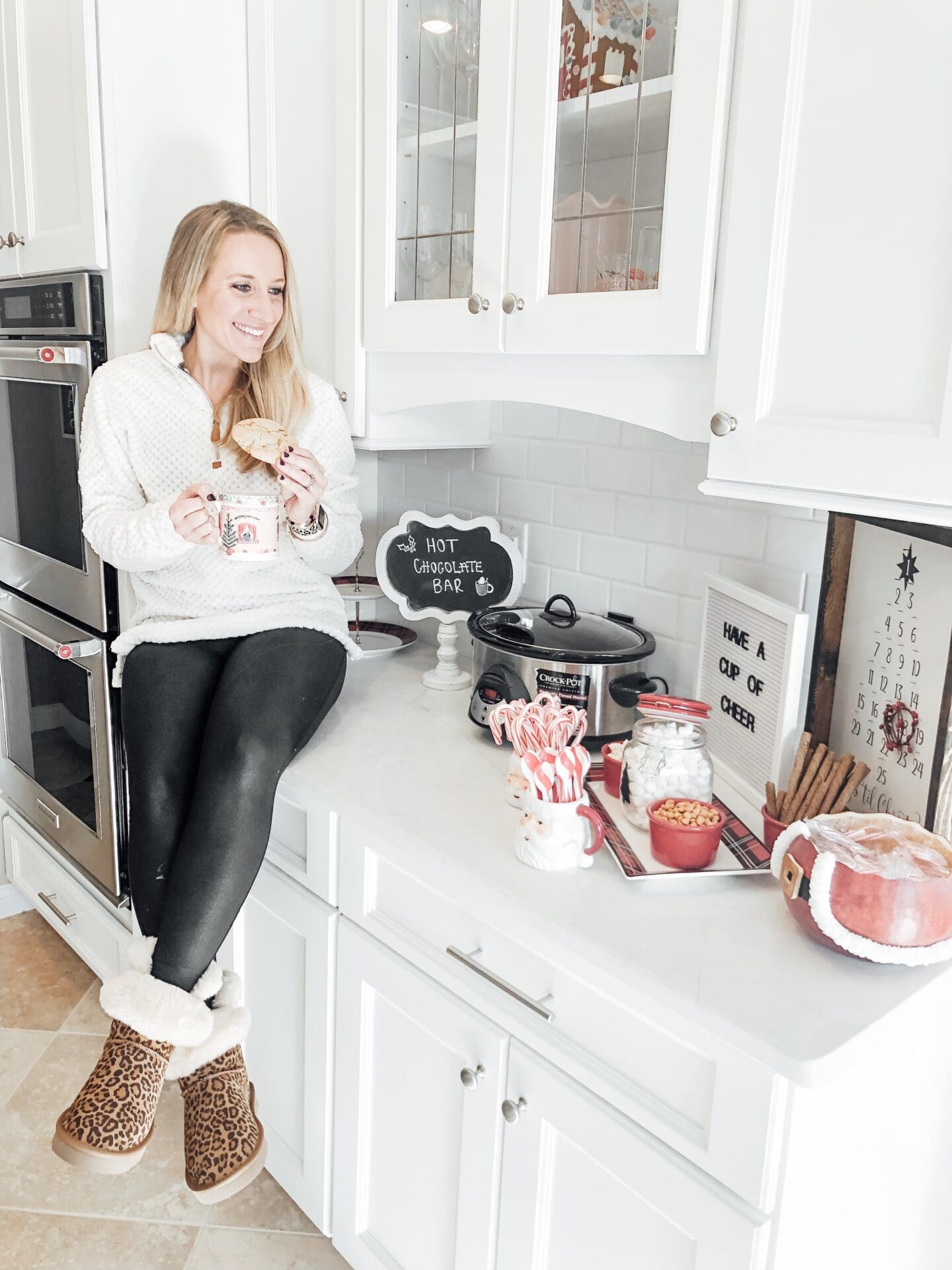 Top // Faux Leather Leggings // Leopard Boots (currently 50% off)
Another thing I did was make little gift bags for everyone.  They were really simple with just some hot chocolate mix thrown in, a Christmas tablet and whisk, for the sole purpose of getting to use this pun….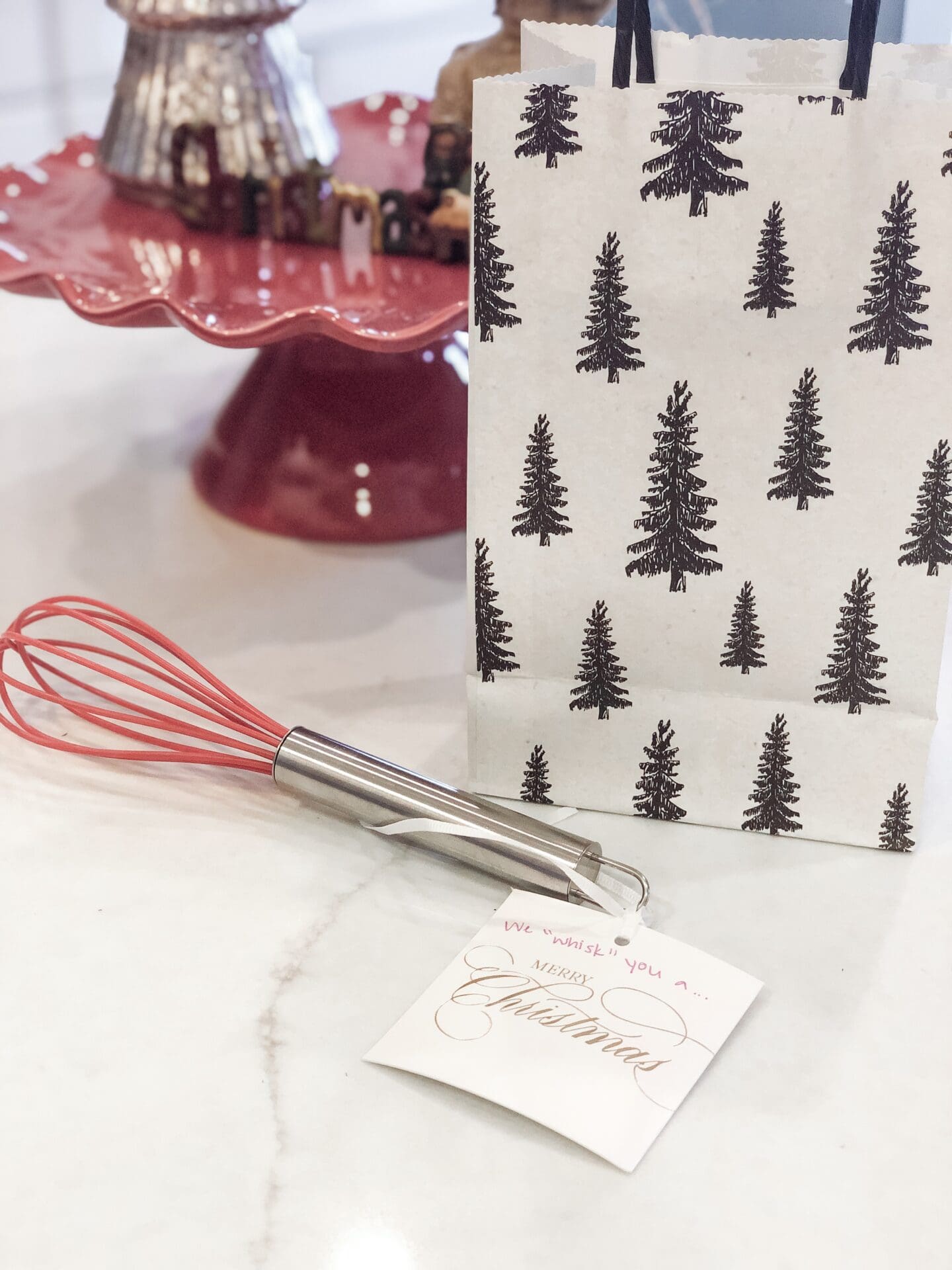 We "whisk" you a Merry Christmas!  Isn't it SO cute!  Anyways, I sort of threw these together last minute but in the future I plan on doing a nice little gift for everyone.
My last tip is a favorite I'll be doing over and over again for both get togethers and just everyday life this time of year.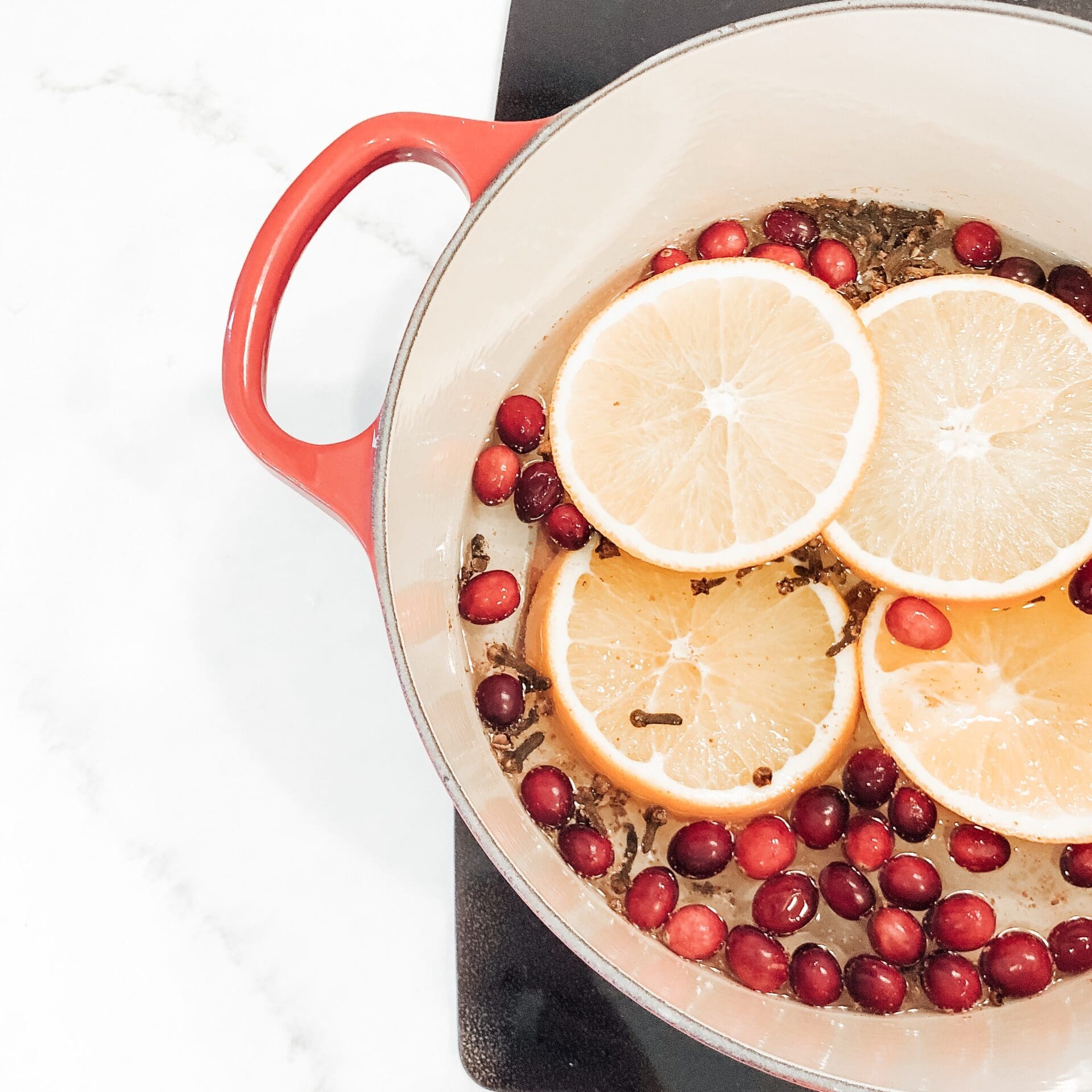 It's my homemade potpourri!  Again, another Pinterest find but it's seriously so easy.  All you do is put into 3 cups of water….
1/2 cup of fresh cranberries
slices of one orange
A Tablespoon of whole cloves
4 cinnamon sticks
1/8 tsp of nutmeg
Bring to a simmer over low heat, uncovered.  Check your water every so often and when it starts to get low, add to it.  I know some people that use this same mix for days.  At night just turn it off and restart it the next day.  It would also make a cute gift.  You could add everything to the bag along with a whole orange and instructions.  Here's an example….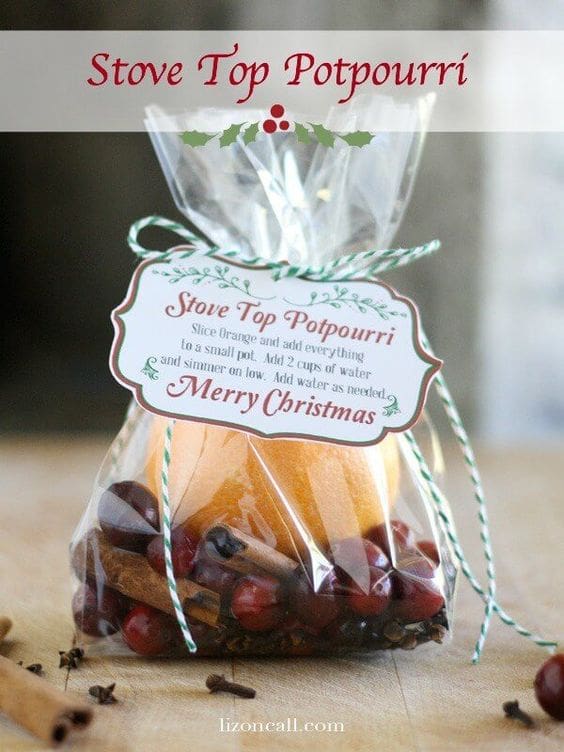 And there you have it friends.  Just some tips and tricks for throwing a fun filled holiday party everyone is sure to love!
Jill
xo, Jill