Happy Friday friends!  I was going to save this post for next week but being that we are headed into the weekend, and people tend to dine out on the weekends, I wanted to share this now in case you are on the hunt for somewhere fun to go with amazing food and drinks!
Earlier this week the Rusty Bucket Restaurant and Tavern invited me along with some fellow local bloggers to come in and try some of their incredible food and drinks as well as sample some newer items, and you know the second I heard food, drinks, and kid free time, I happily agreed.  It had been a while since I'd been to a Rusty Bucket and friends after this experience I can tell you, it won't be long before I'm back. If you have a location near you, trust me when I say you NEED to make it your next date night, lunch date, family dinner spot, or whatever other excuse you need to get to one.  I'm still salivating over it all.  So let's dive in, shall we?  Here's all the goodness we got to try.  It's not everything they have but it's definitely some recommendations of what to order at Rusty Bucket if you go.
A word of caution though before I start…..if you are reading this while hungry, I am sorry because this will be torture.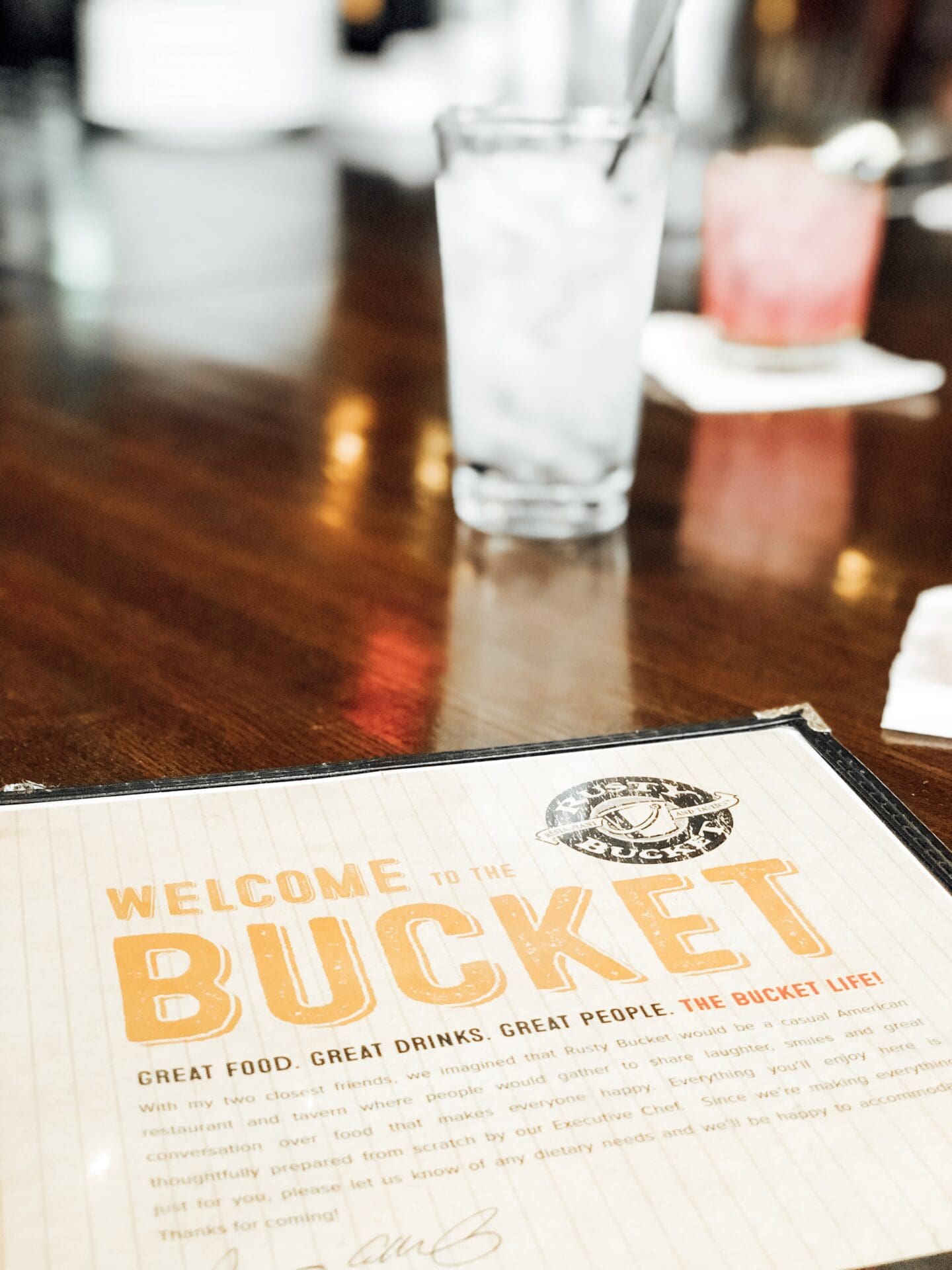 Before we got started with the tasting the General Manager Brad, who was so personable and friendly, gave us a little background on the company and told of how he started there as a server and has stuck with it all the way to becoming the General Manager because it's that great of a company to work for, and you guys, it shows.  The upbeat and positive vibe in there was palpable.  You were instantly happy the moment you entered the building.  The staff was so incredibly friendly and inviting and ready to accommodate any and all needs.  From there we met the chef, and the drink specialist and again everyone was super friendly and seemed to genuinely love what they do, which more than comes through in the food, drinks, and atmosphere.
We were off to a great start, which got even better the moment I looked over and saw this….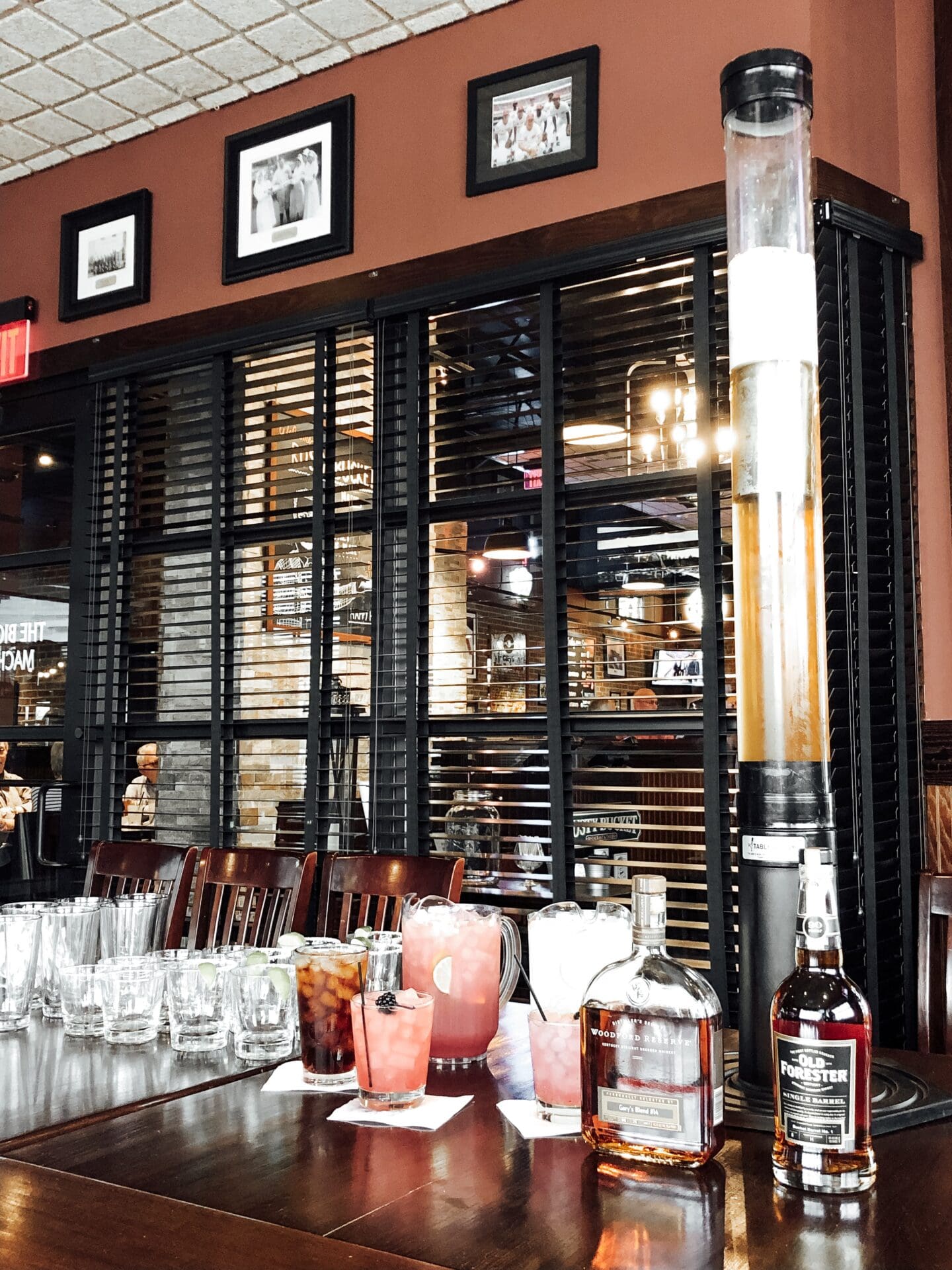 Pitchers of drinks, two new bourbons created specifically for Rusty Bucket, and a tower of beer that really should be what awaits all of us at the end of each week, am I right?
Something you should know about me is that I am all about great food, but nothing entices me to go to a restaurant like knowing they have a good drink selection and friends, do they ever!  I especially love a good "fun" drink and these two were right up my ally….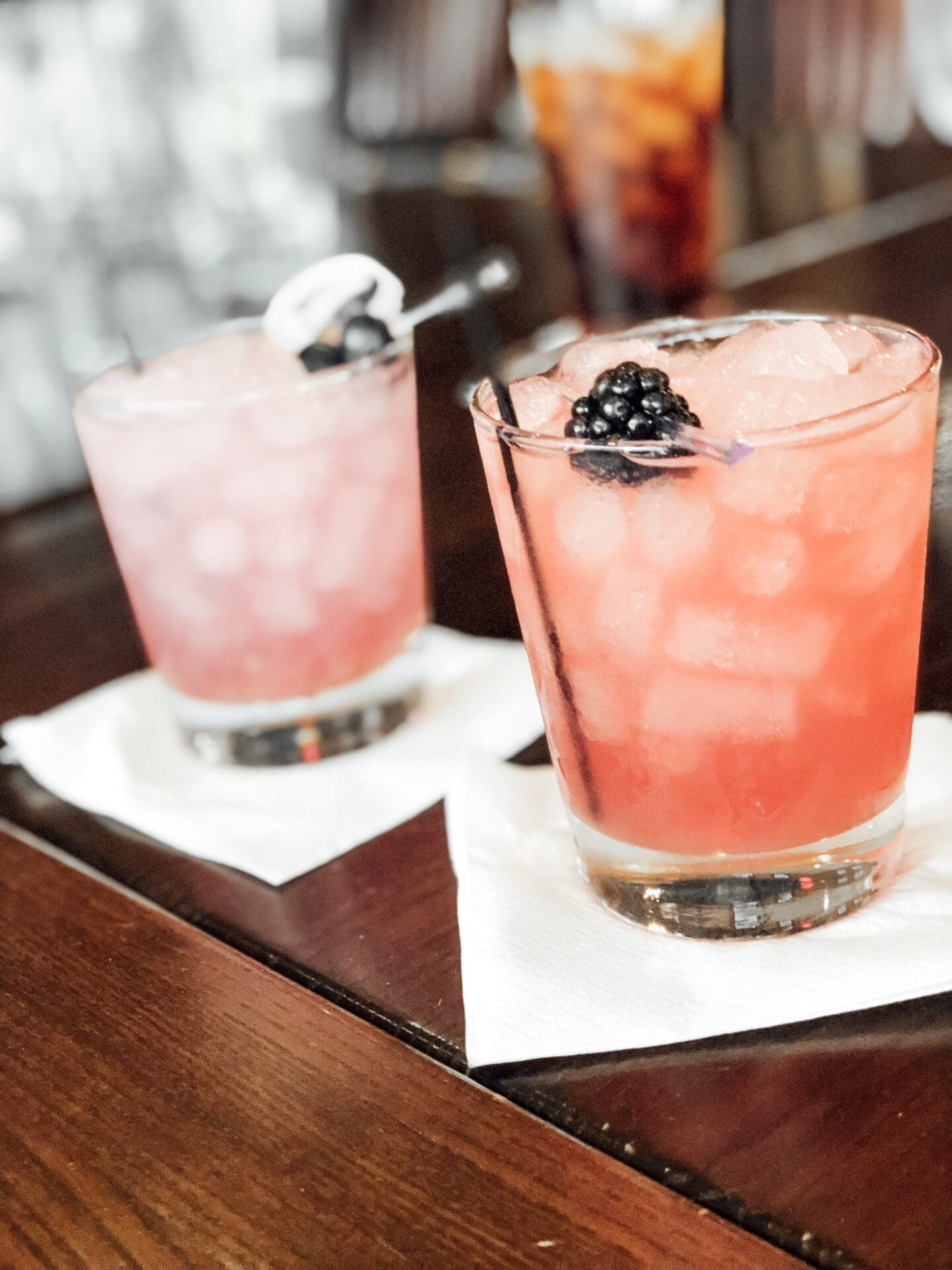 The Blueberry Bella and the Blackberry Kentucky Mule. Both pack a good punch but without tasting like it, which is exactly what I look for in a cocktail.  They were both so refreshing and would be the perfect drink for summer.  We also sampled a margarita which was also refreshing and tasted fresh, and not just like margarita mix like so many others do.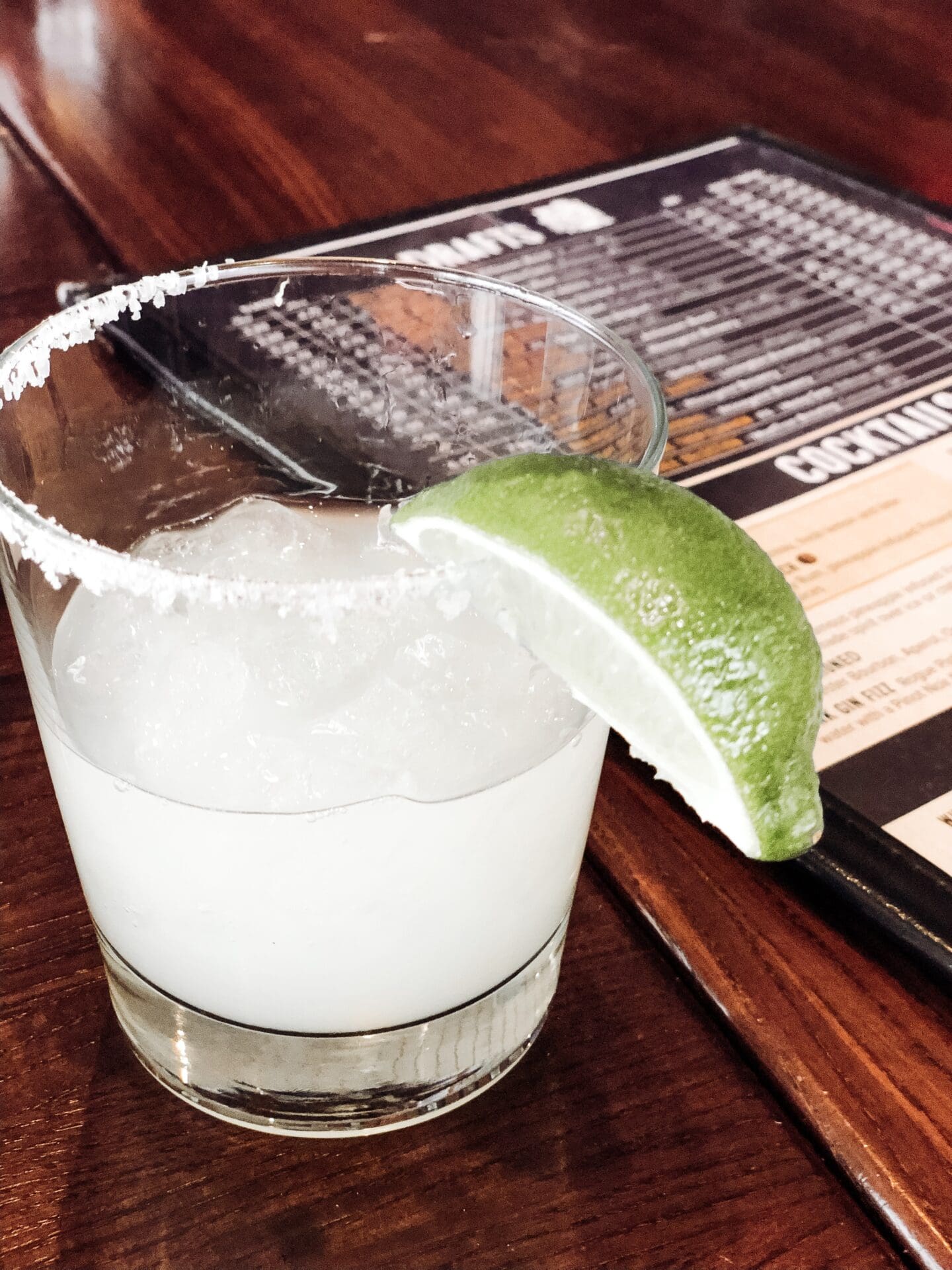 They offer drink features daily including half off wine bottles (that you can re-cork and take home, which is something I find necessary but rarely offered other places), whiskey Wednesday, draft day, and my personal favorite, bloody Sunday.
Not only do they make the most delicious bloody Mary's but they do my favorite thing ever that very few places think to do, and that's put a pickle in there!  The pickle is SUCH a better vegetable to garnish a bloody Mary then celery, just saying.
And while I could easily get carried away right now talking about brunch items, let's go in order of how we ate shall we?  This way you get the full experience like I had, and have a good idea of what to eat at Rusty Bucket, in proper order :).
So after we sampled drinks we kicked things off with appetizers.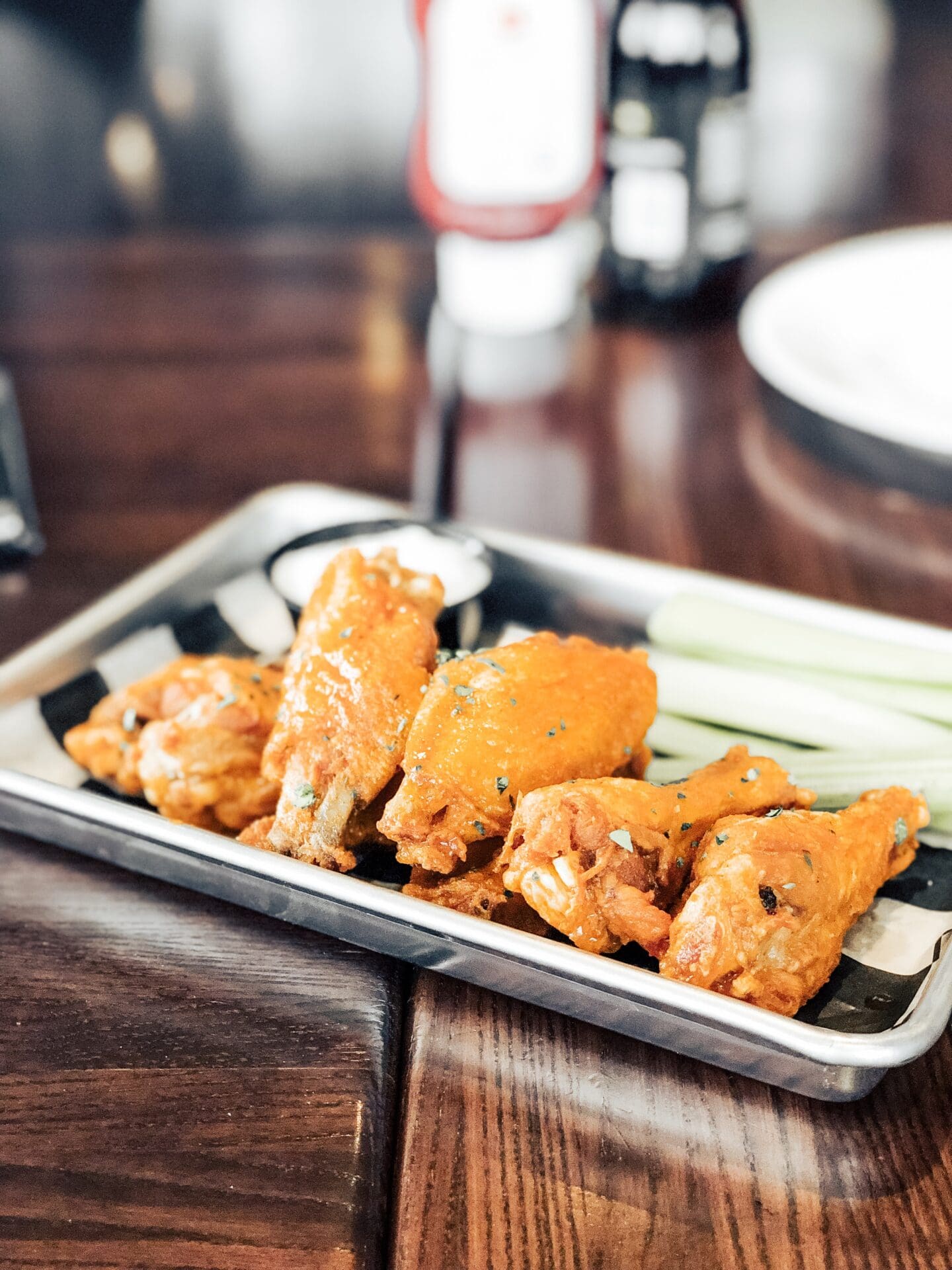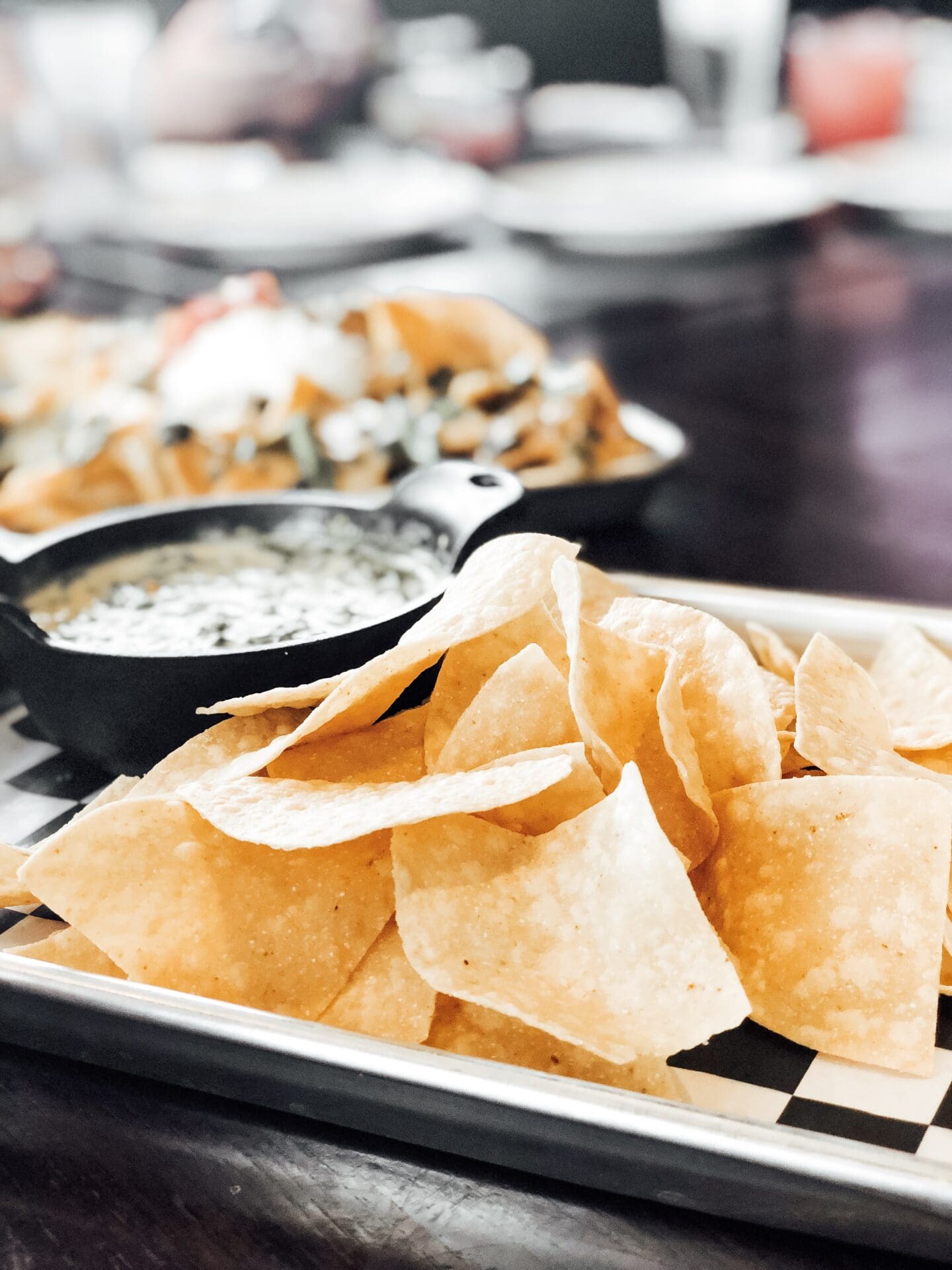 Unfortunately in the excitement of stuffing my face I forgot to get pictures of some of it but these were two of my favorites, along with the "cheese blanket" nachos (pictured in the back of the bottom picture).  They are appropriately named because the way they build the nachos ensures that no chip goes uncovered.  Don't we all hate when you are left with nothing but plain chips after the top layer is eaten?  Not the case here.  No chip is left behind and every bite is pure goodness loaded with toppings.
The top picture is of their Buffalo wings and on the bottom is the spinach con queso, which I would happily eat with just a spoon.  And just when we were thinking we were satisfied with appetizers, they brought in the big dogs….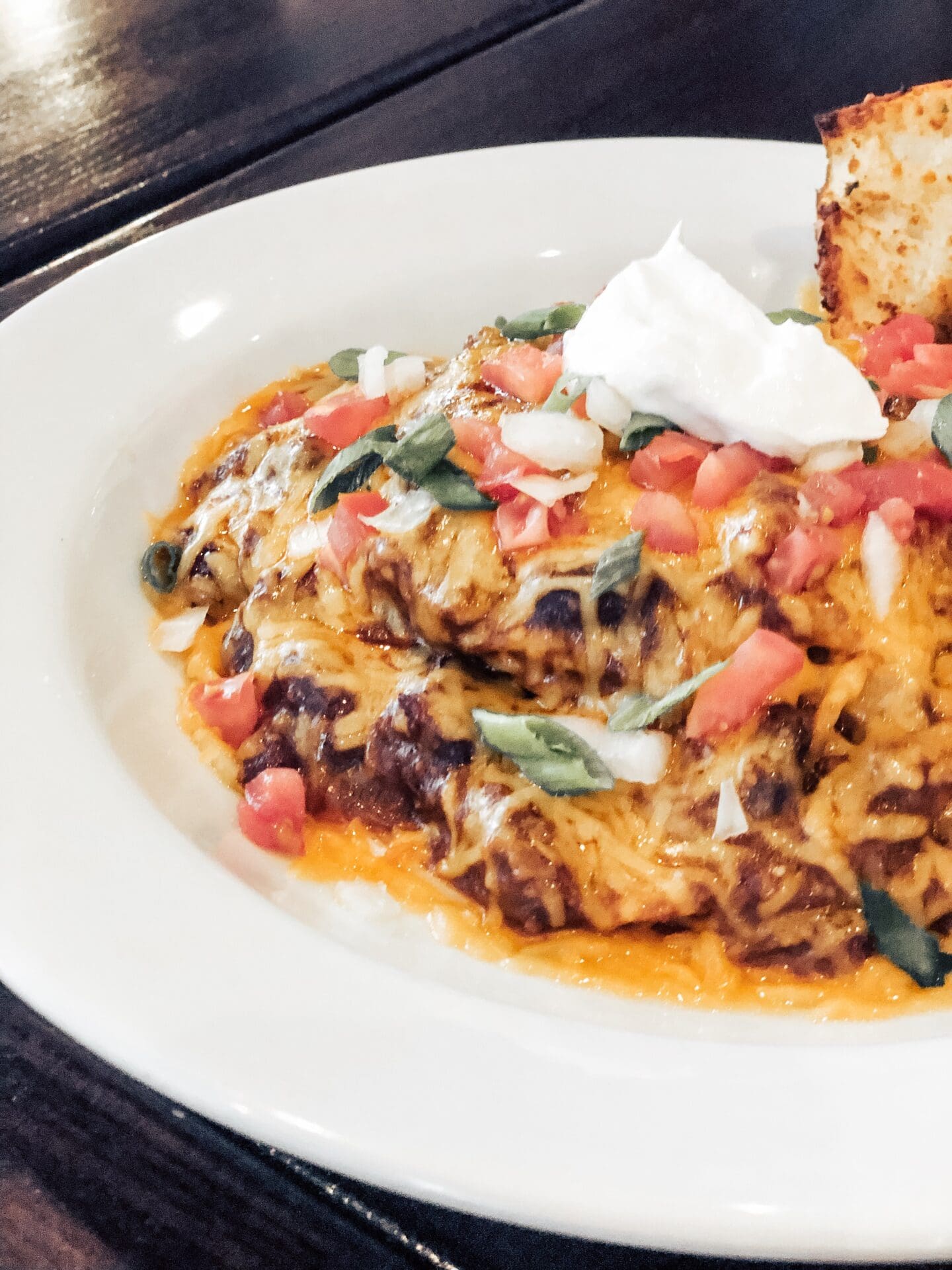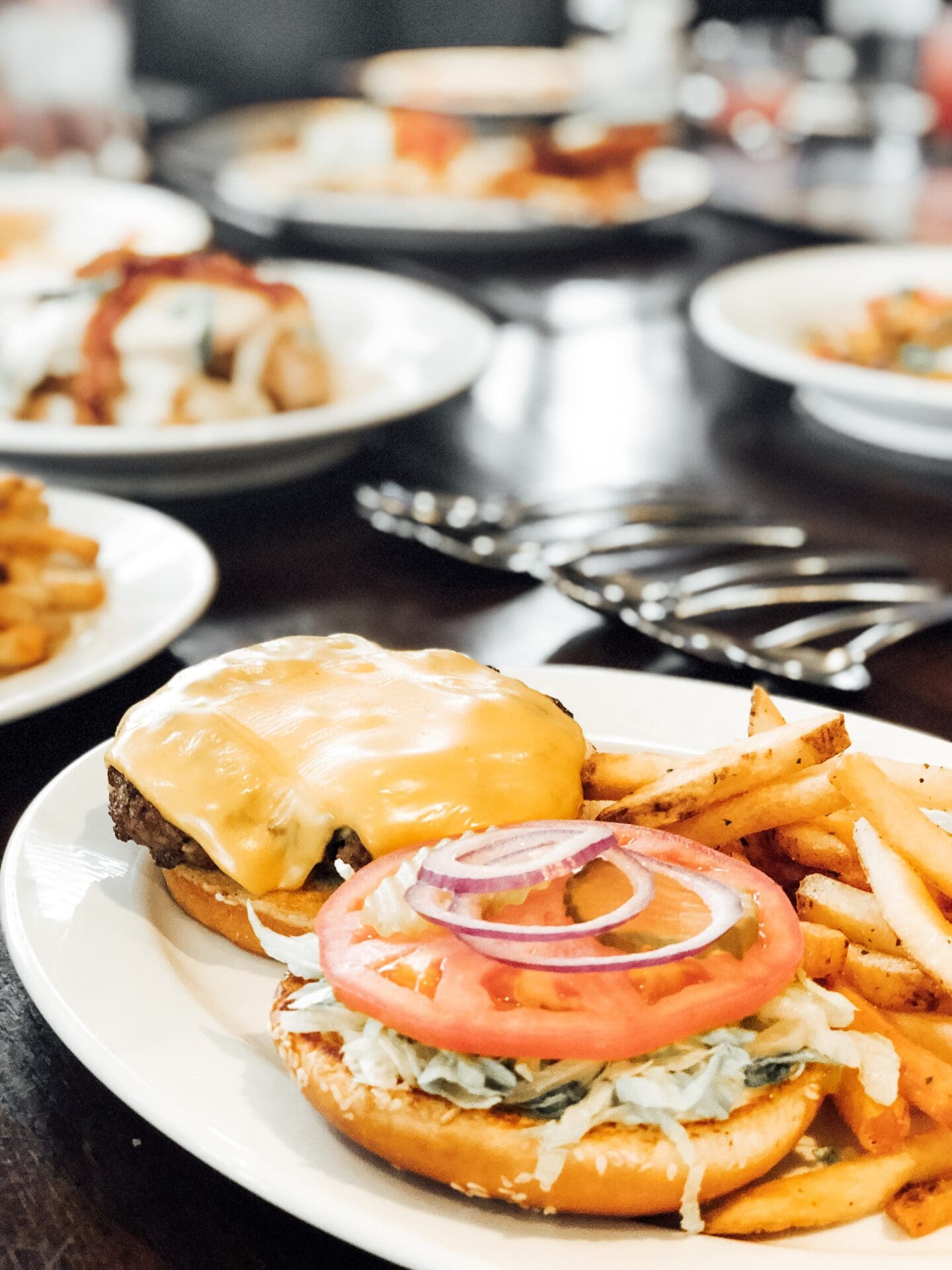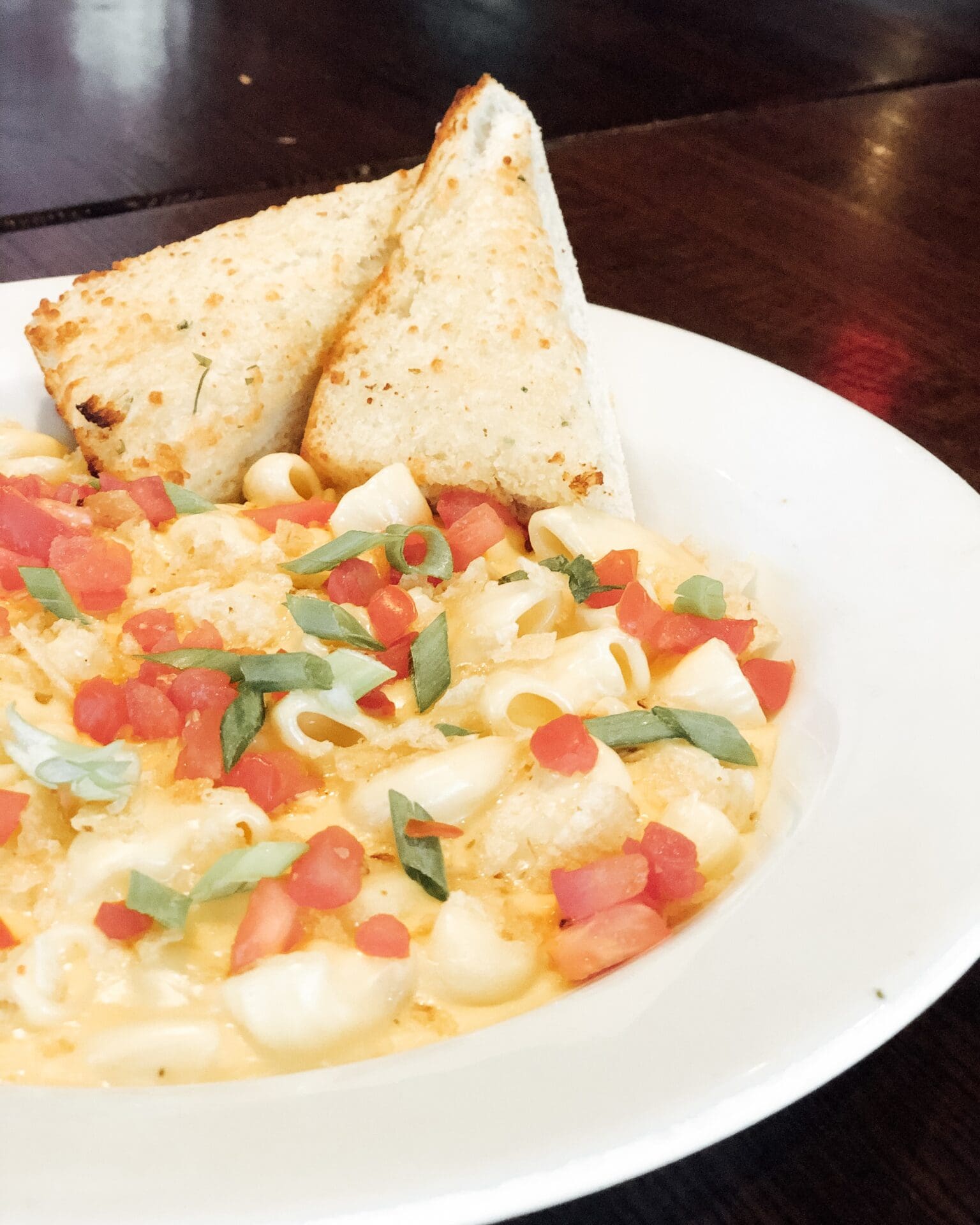 The top dish is a must if you live in Cincinnati.  It's their Cincinnati 3-way and it's offered on Monday's.  And this isn't like a regular 3-way, this is like the Beyoncé of of 3-ways.  I don't know that I'll look at a regular one the same way again.  In the middle is one of their juicy, perfectly cooked burgers and then on the bottom is what can only be described as the Mac Daddy of all mac and cheese.  There is a whole lot of goodness in that dish that makes it incredible but let me just tell you the star is without a doubt the kettle chips crumbled on top.  Every single creamy, gooey, decadent bite is complete with a little crunch at the end from the chips and OMG I need this in my life right now!  It's truly what dreams are made of.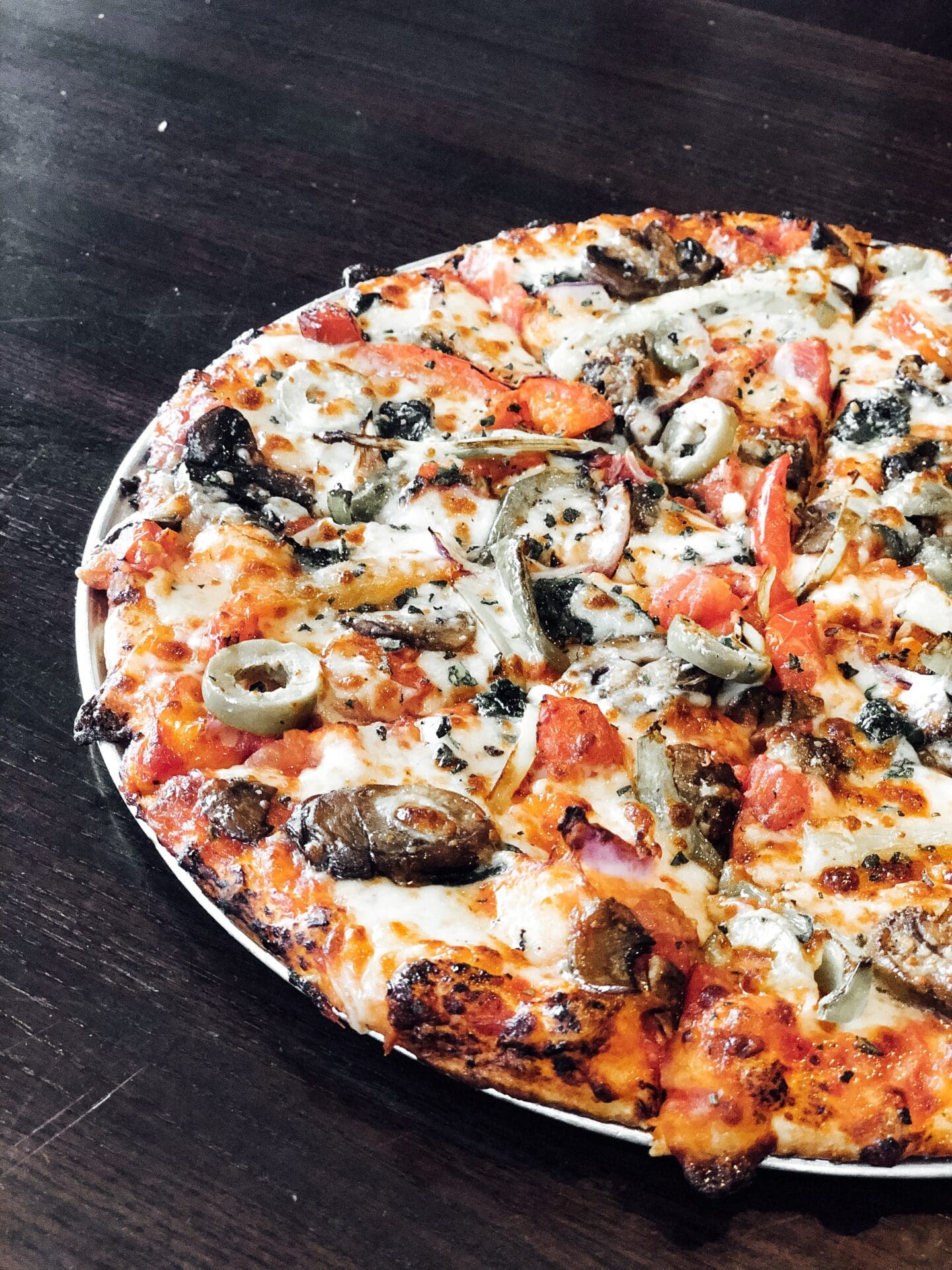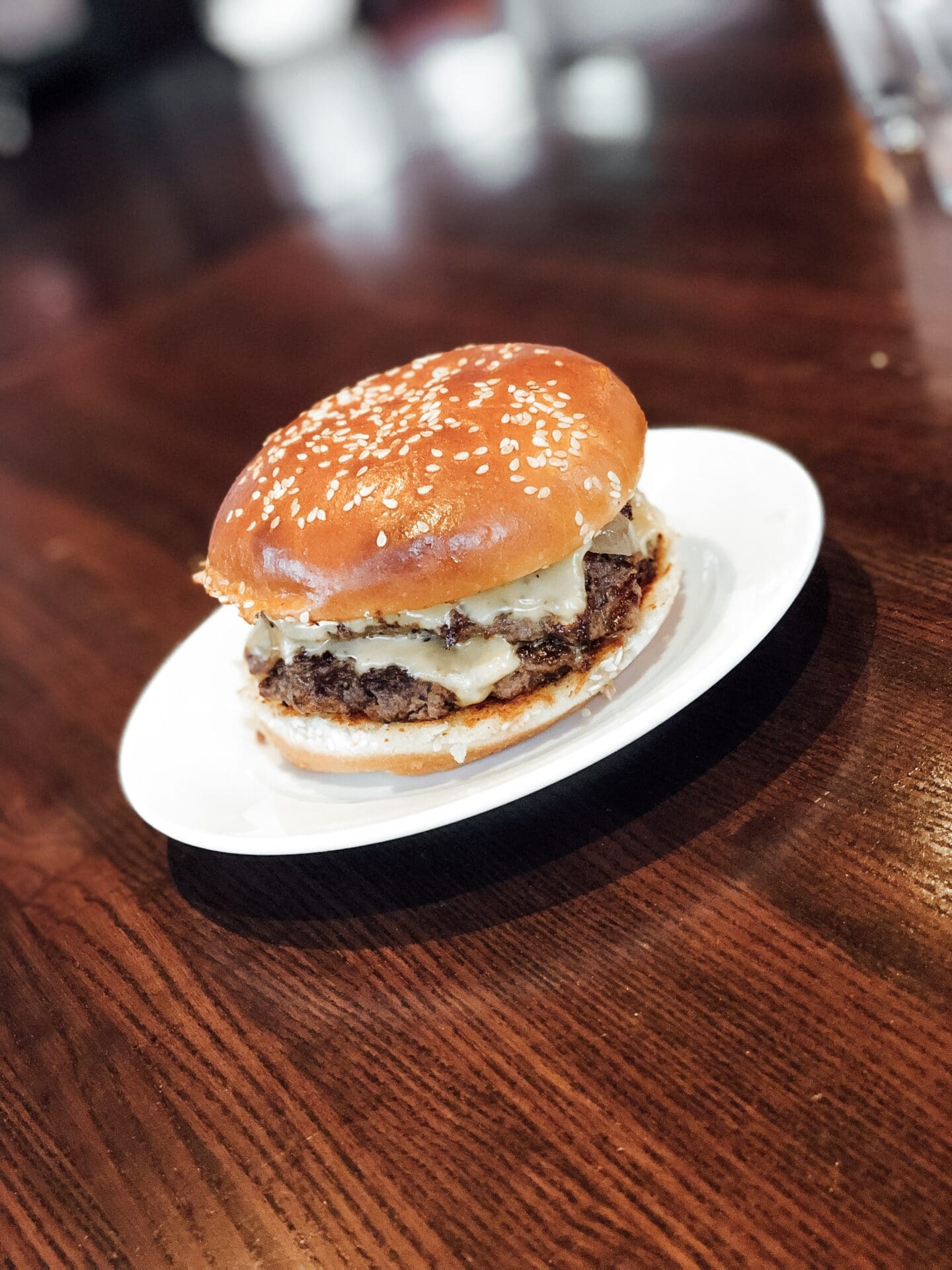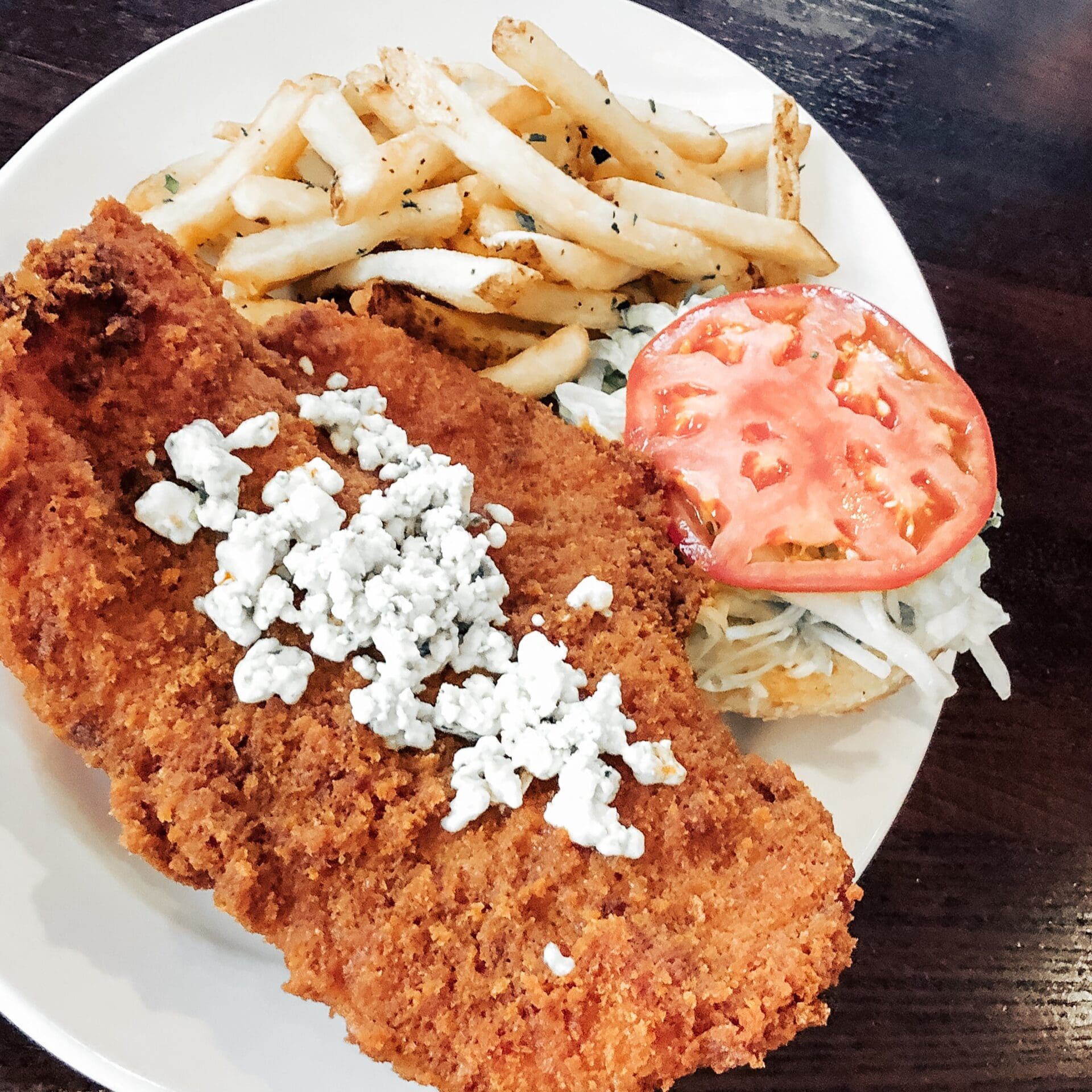 From there we tried the vegetarian pizza, their famous Juicy Lucy burger which is a happy hour special, and finally the Buffalo chicken.  All of them equally delicious and satisfying.
Remember when I talked about the Bloody Mary's and brunch?  Yeah, let's visit that again.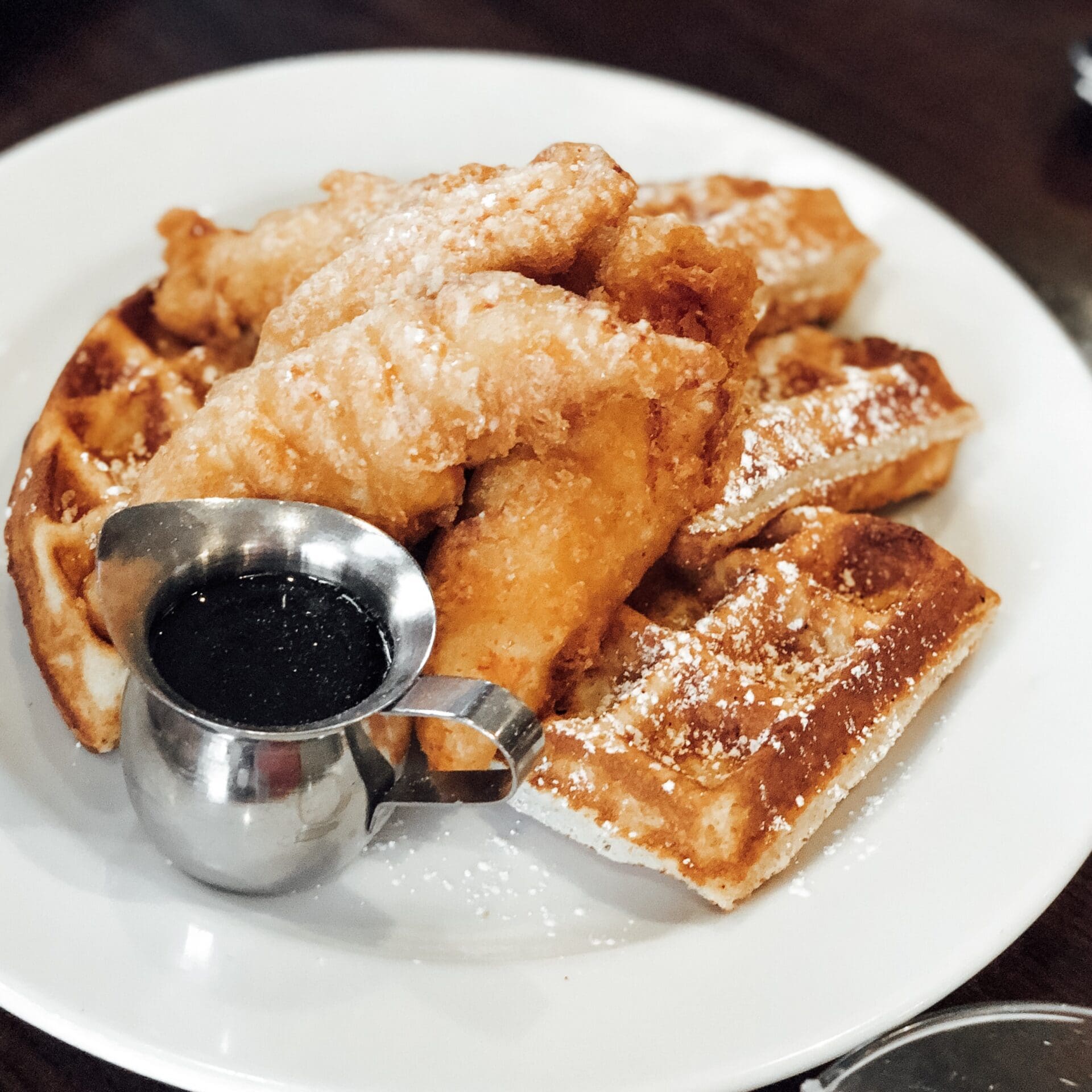 If you are a chicken and waffles person then you have to go there for brunch.  I have tried lots of chicken and waffles in my day and this is among the top of the list.  Such sweet and savory goodness and their waffles are made in house.  Pair it with a bloody Mary and you're set!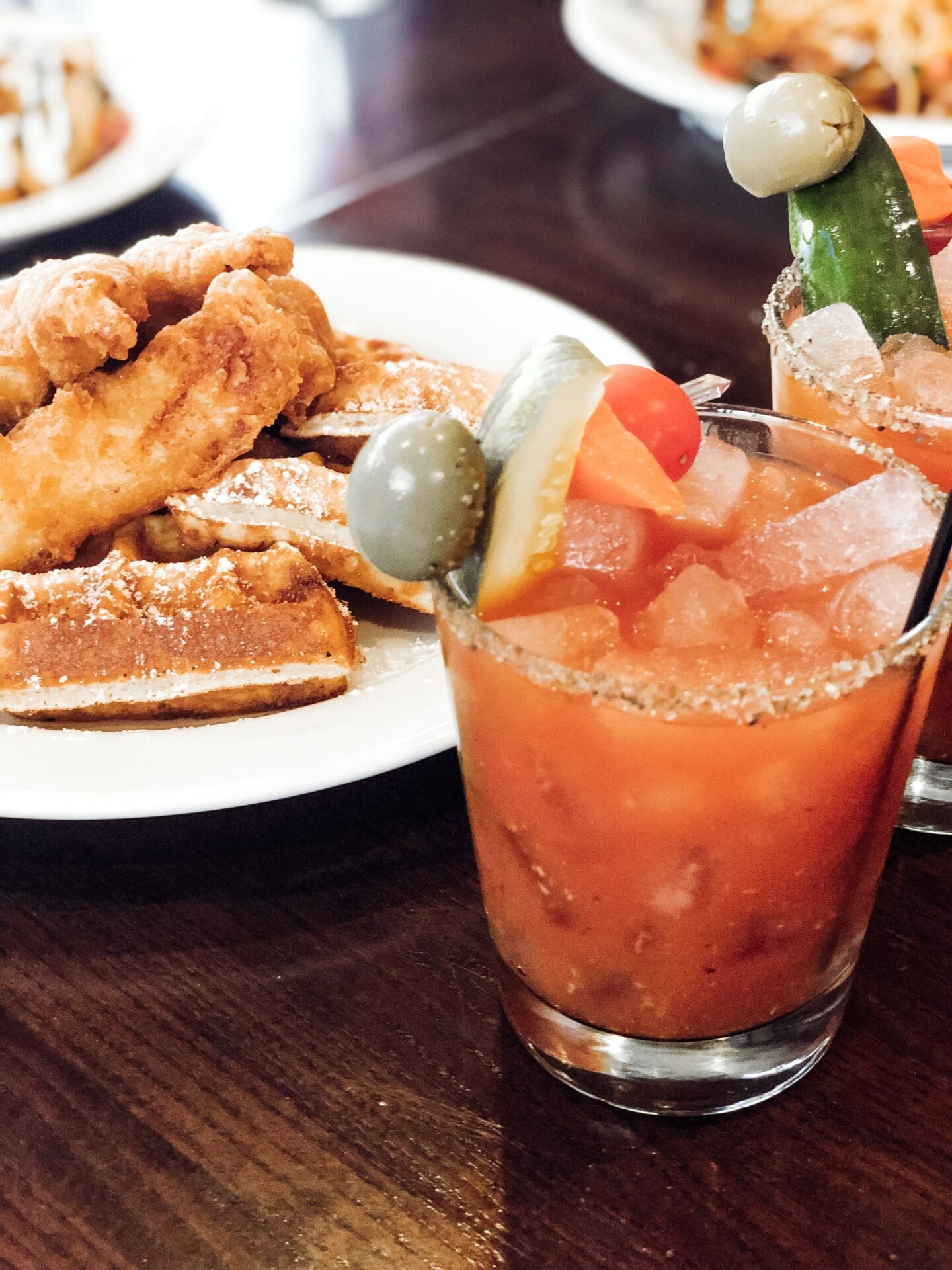 But if you're looking for a less sweet option and want more savory than the chilaquiles are for you!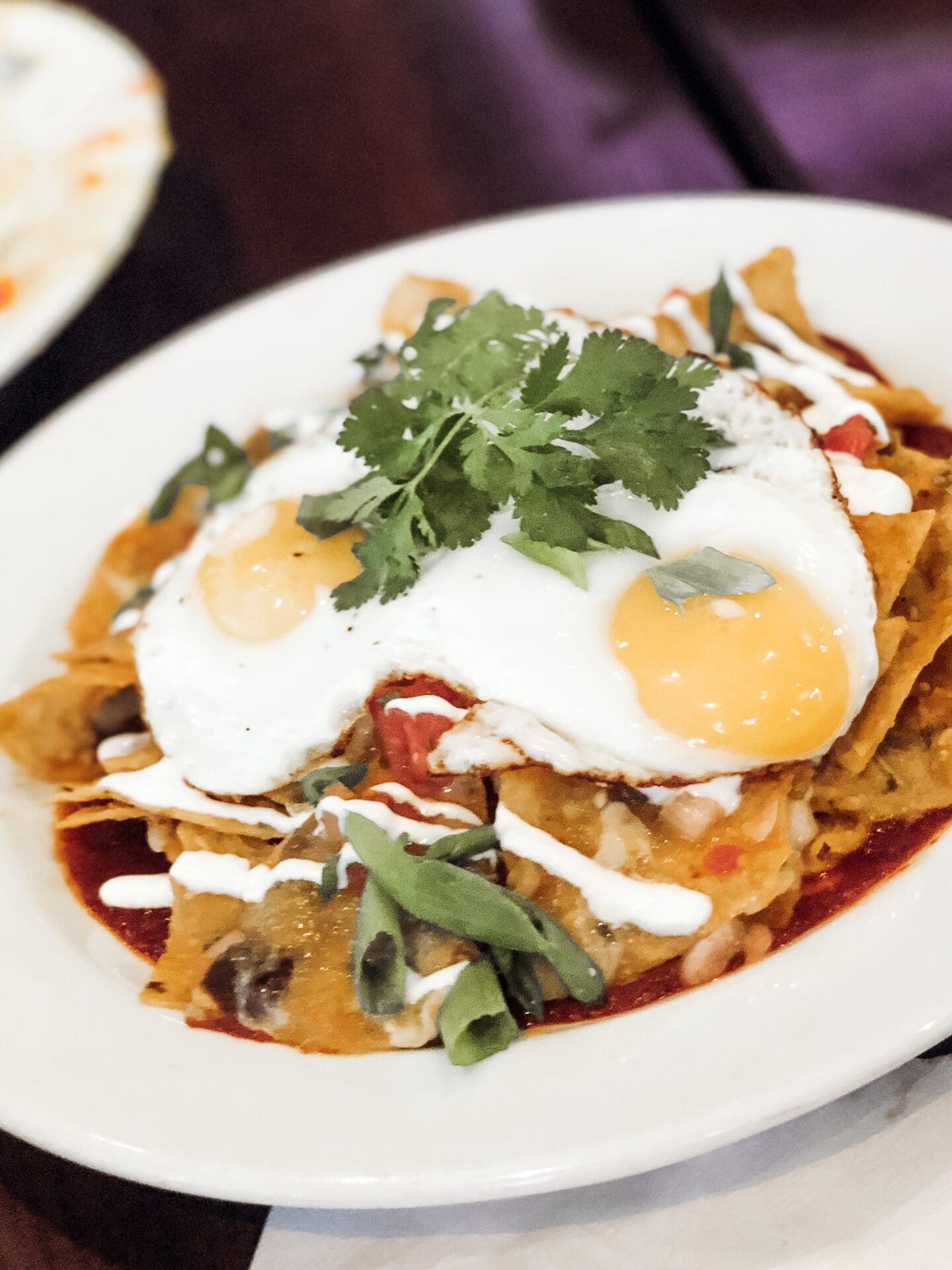 And if you're looking for a smack you in the face, holy crap that's incredible option then look no further than the Kentucky hot brown.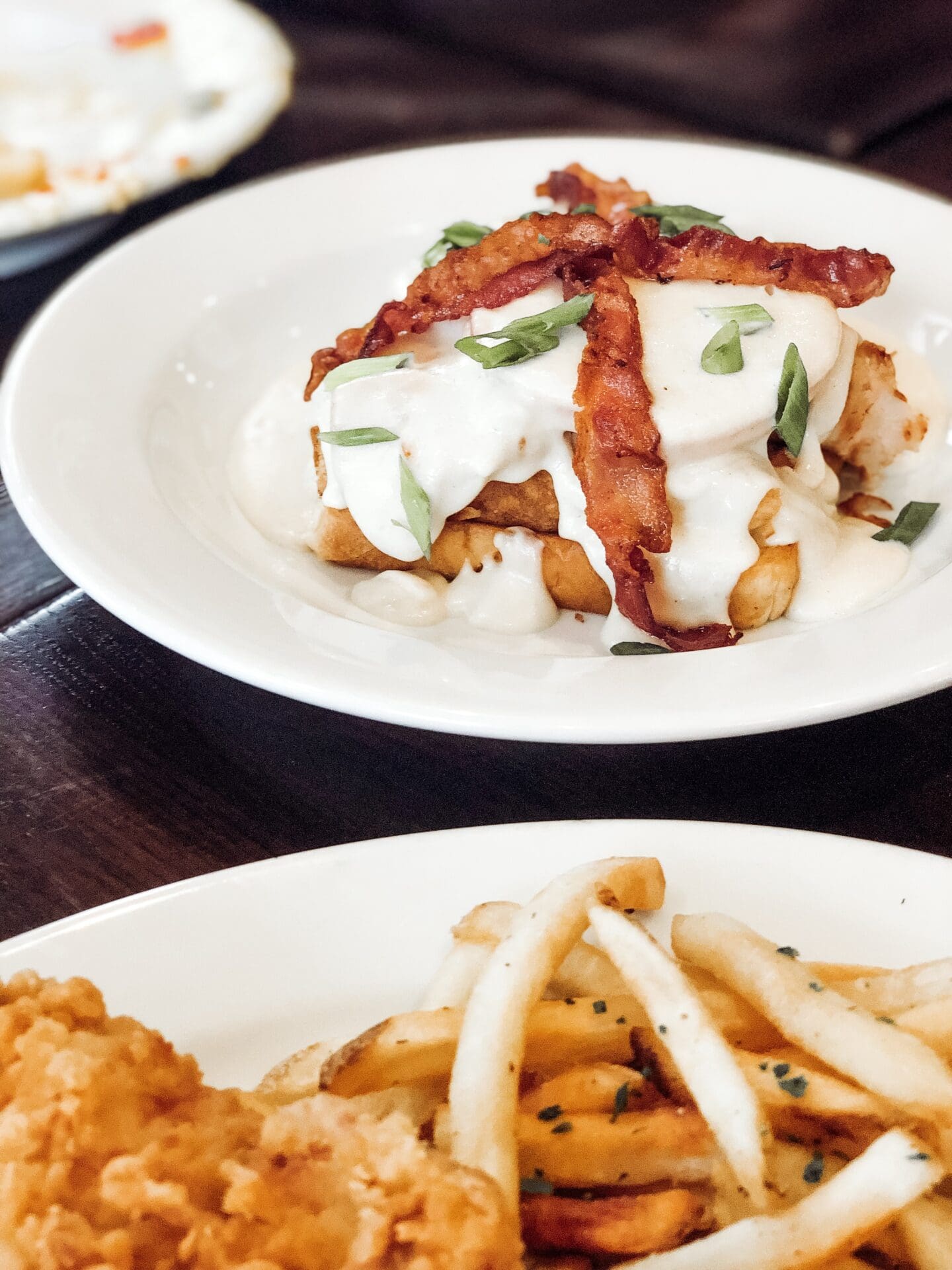 This one is a Sunday blue plate special and you guys you need to get in there for it.  The Parmesan cheese sauce that coats the top is to die for.  You could put that cheese sauce on top of a shoe and I would eat it.  It was pure decadence.
And because they were determined not to let us leave until we had stored enough food to get us through next winter, they brought out what is in my opinion the best part of any meal…..dessert.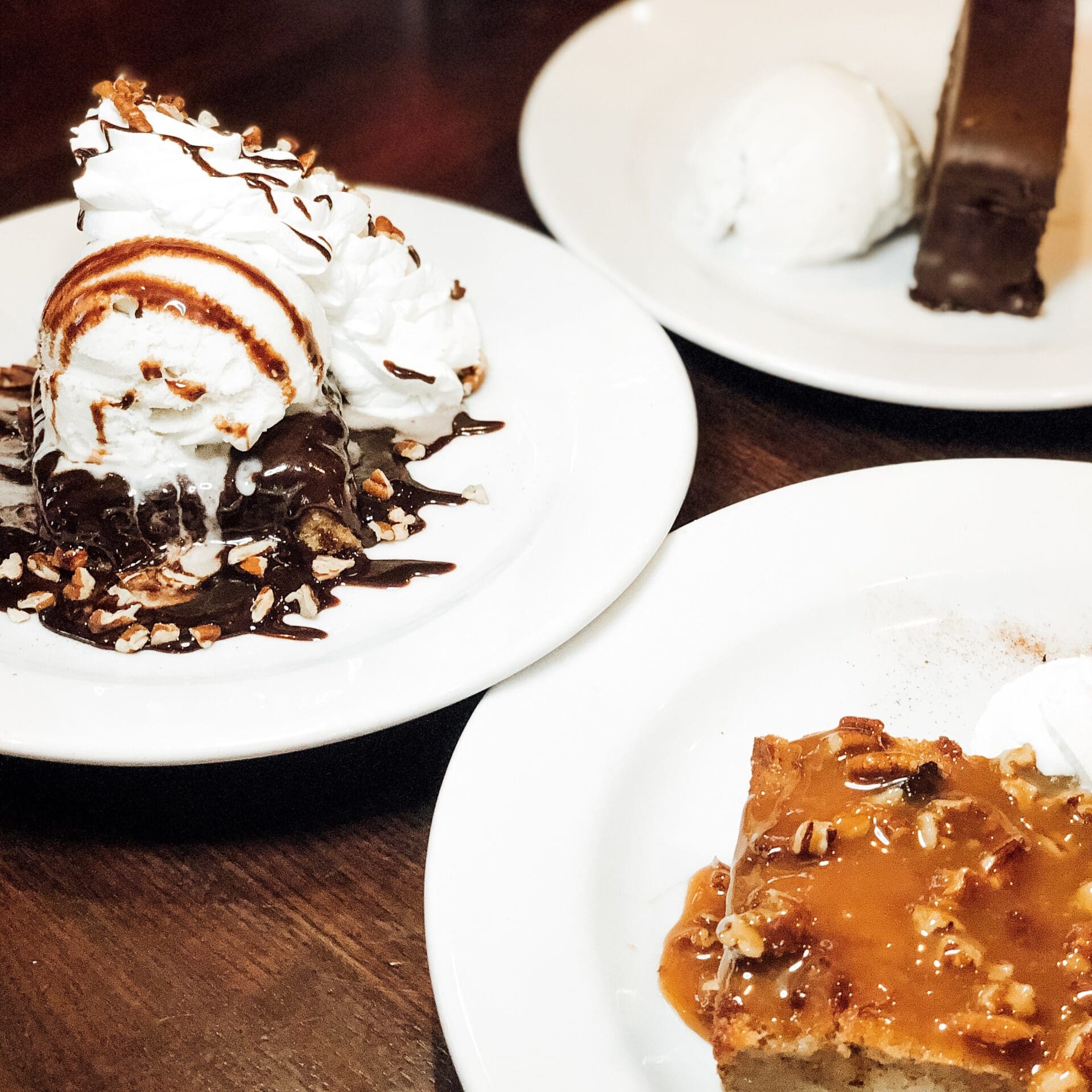 Dessert is stressed spelled backwards, as in I'm stressed about which option to choose because oh my goodness these were all divine!  There was the triple chocolate cake (in the middle) and a triple layer chocolate cake in the back (also below), but for me the true star is the sticky bun bread pudding.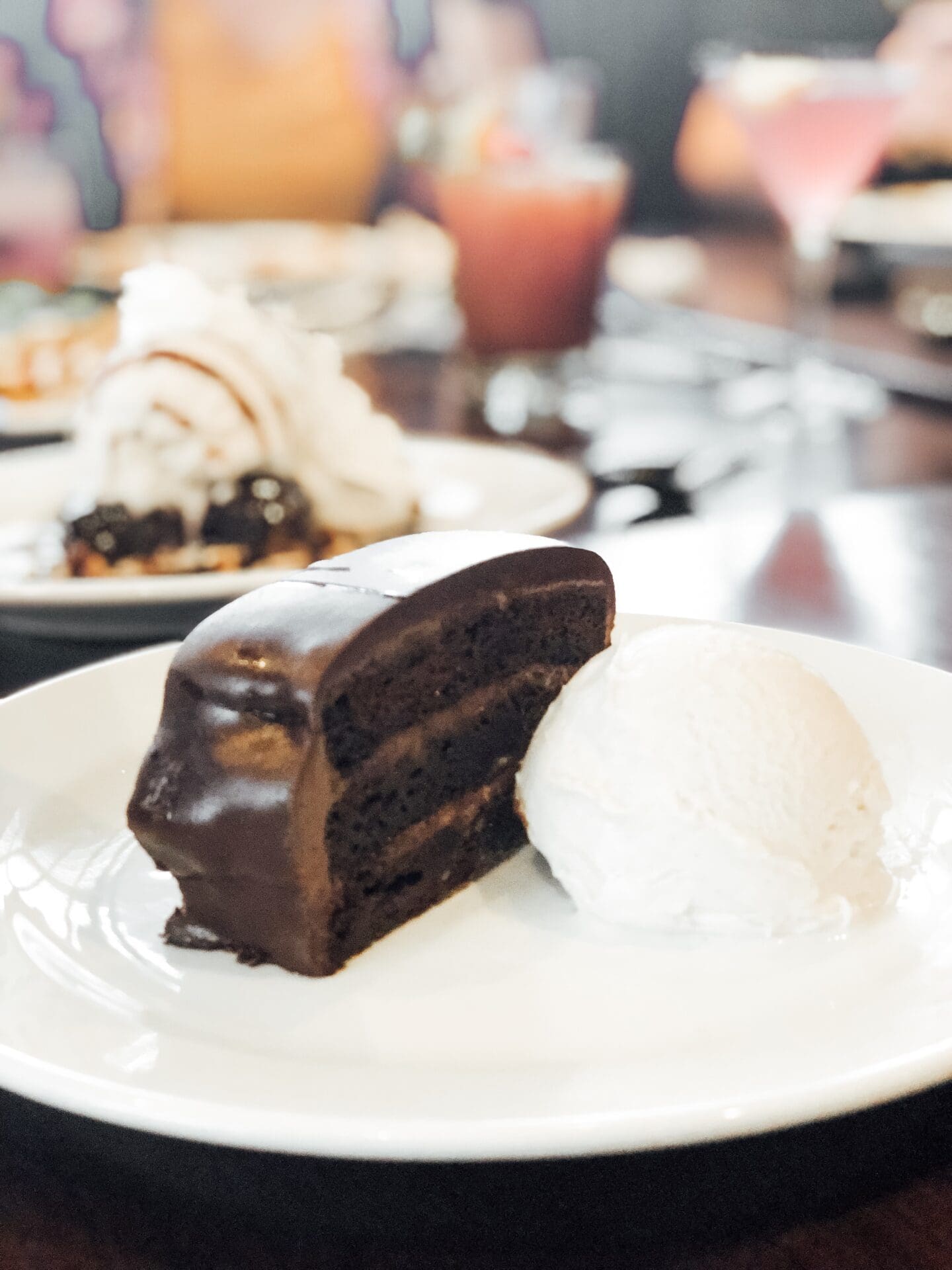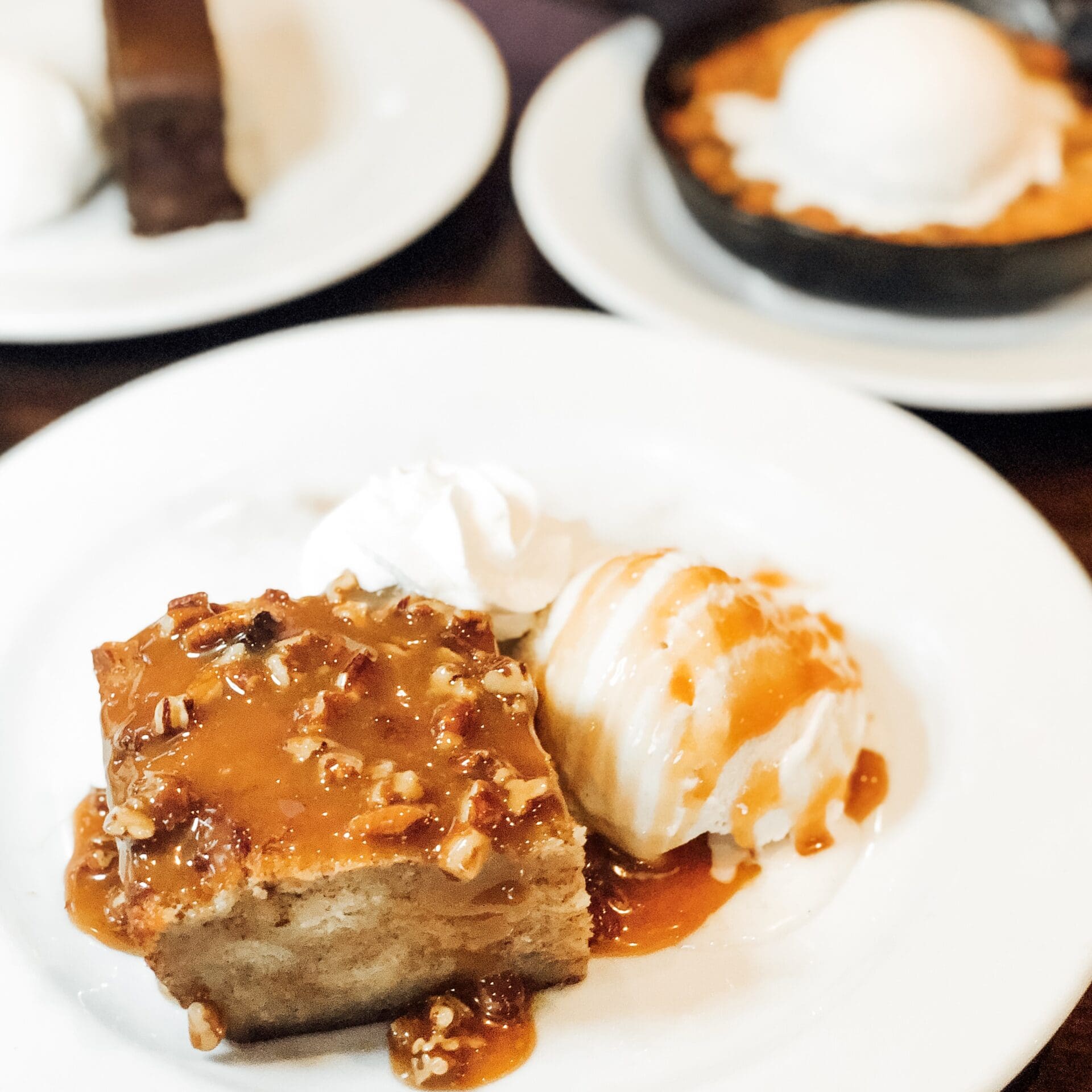 This.was.everything!  Not overly sweet or dense.  Just perfect, smooth, sticky bun tasting goodness.  Let's take another look.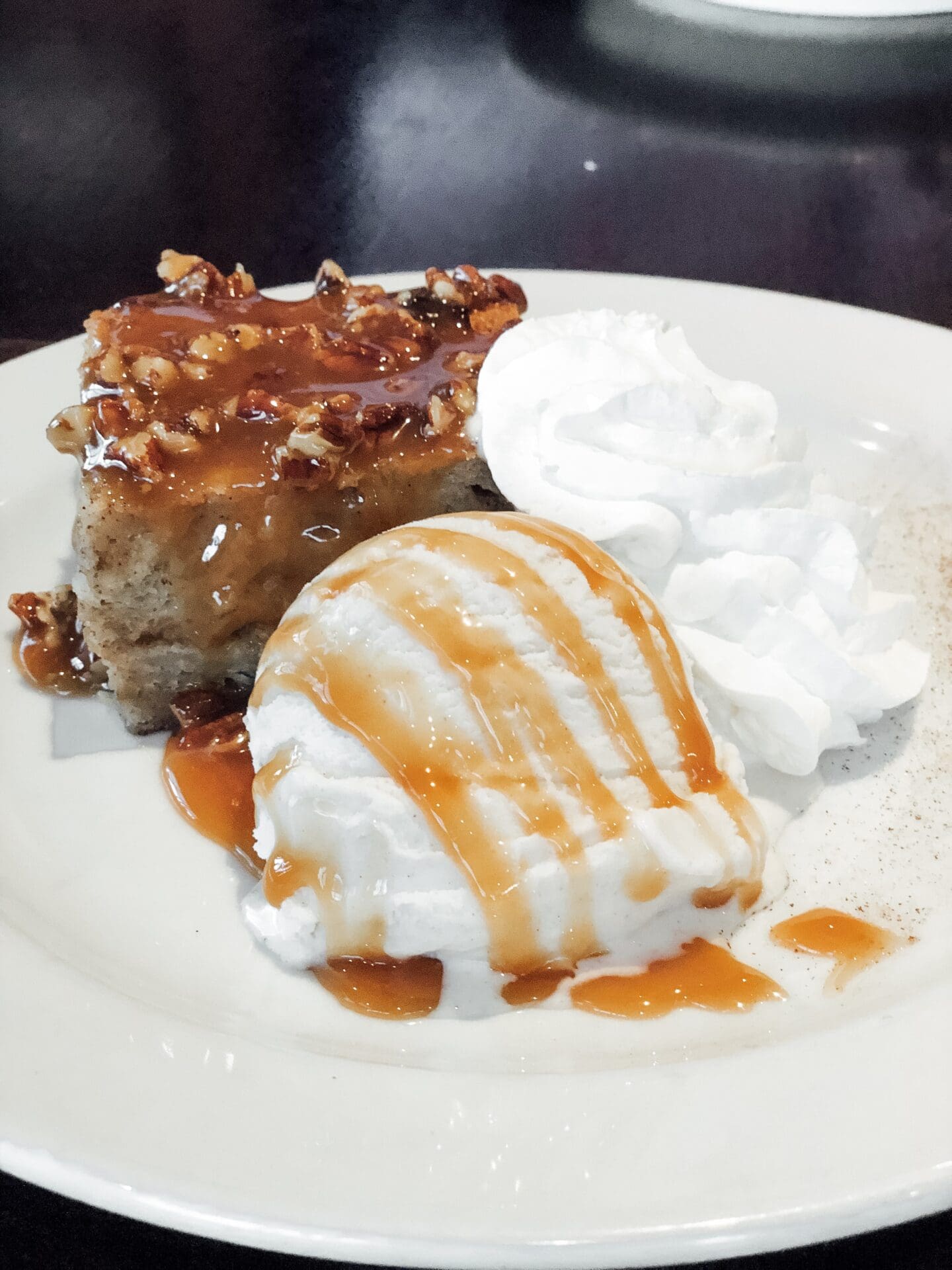 Can't you practically taste that warm caramel sauce oozing down the side?  In short, it was the perfect cap to a completely perfect dining experience.
Friends, I cannot rave about The Rusty Bucket, their staff, or their food enough.  And this wasn't even near all of it!  You absolutely must go if you have one near you or if you've never been.  Along with the daily blue plate specials they also have happy hour specials, there's soup and salads, sandwiches, pizza, and more, and it is 100% family friendly.
If you aren't already following me on Instagram head over and do so (@_jillkoch_) and take part in the giveaway I'm doing for a Rusty Bucket gift card because truly you need this food in your life.
Alright, that does it for today.  If you are looking for something to do this weekend and have a Rusty Bucket near you I can't recommend checking them out, enough.  I may be telling Eric that's where I want to go for my birthday dinner.  I'm taking tomorrow to celebrate my birthday (it was yesterday) with a day of pampering and me time and good food and drinks sounds like the perfect way to wrap it up!  Have a great weekend, and I'll see you back here Monday!
Jill
xo, Jill