Happy Friday friends!  I hope everyone had a great week!  Leyton had his 15 month check up yesterday which meant we were already out and about so I decided to hop over to the one outdoor mall here and do some browsing and I figured it was the perfect time for a Friday Finds!
Today we are covering some awesome finds at….Old Navy!
I always love Old Navy because they have cute, on trend items at such a good price, and there is typically always some sort of sale going on.  Now through the 20th the sale is for 20% off your online order and 50% off in store!  There were so many good things to choose from but I'm condensing it down to my favorites and to what I was able to find with a fussy toddler in tow.  So let's get to it!
Disclaimer:  Sorry these are all practically the same pose and the background is a mess.  I was in a shoe box. Also, don't mind the giant bruise on my leg.  I swear the older you get the more random bruises you discover with no recollection of how you got them.  And when they are on legs as pale as mind they're super noticeable.
Okay, first up….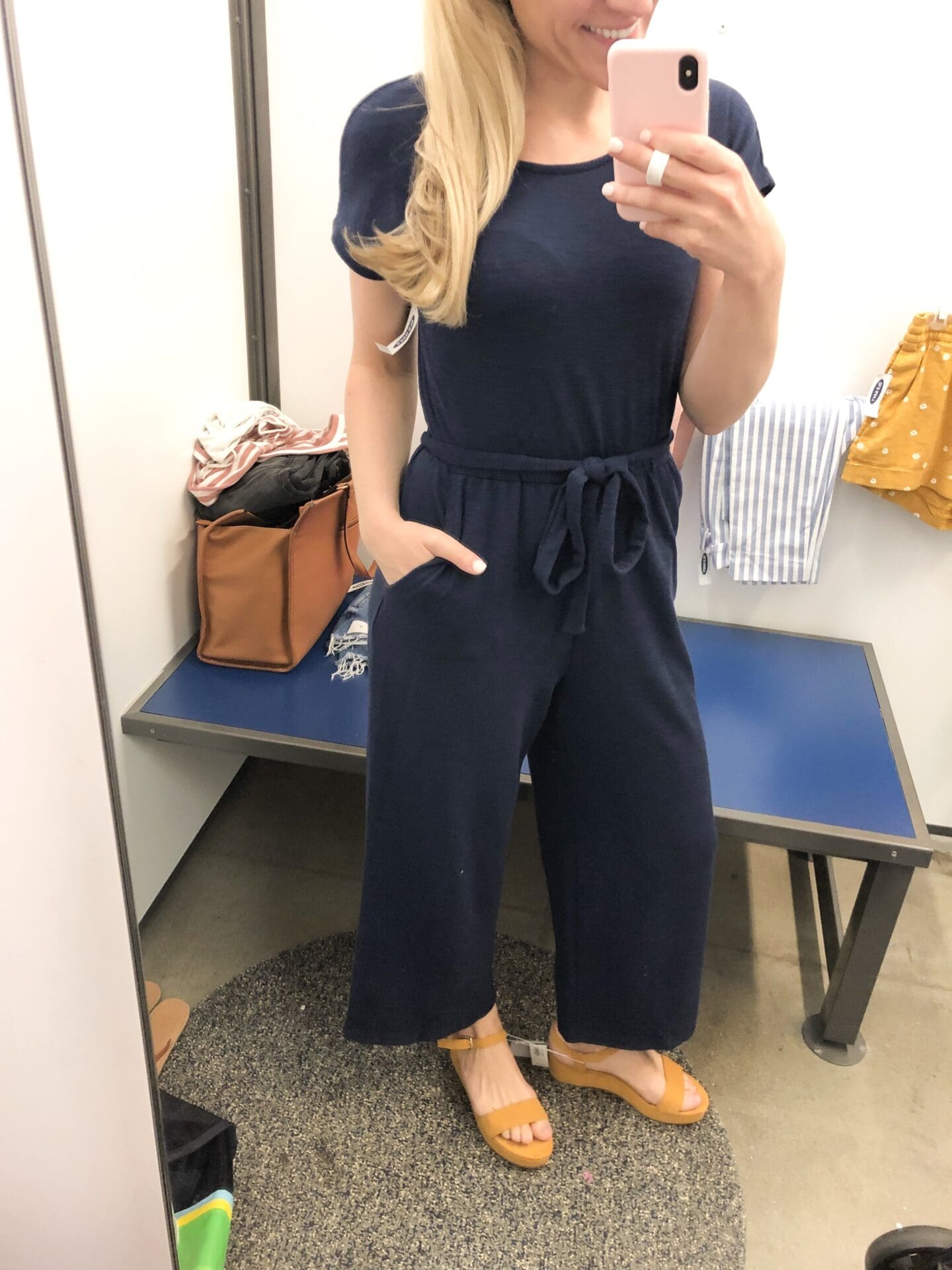 I have this jumper in a blue and white stripe pattern and it's super comfortable so I wanted to give the navy a try and I think I like the navy better!  I paired it with these shoes for a color contrast and to give me a little height.  I just looked online and this one is sold out 🙁 but you can shop their other cute jumper selections here.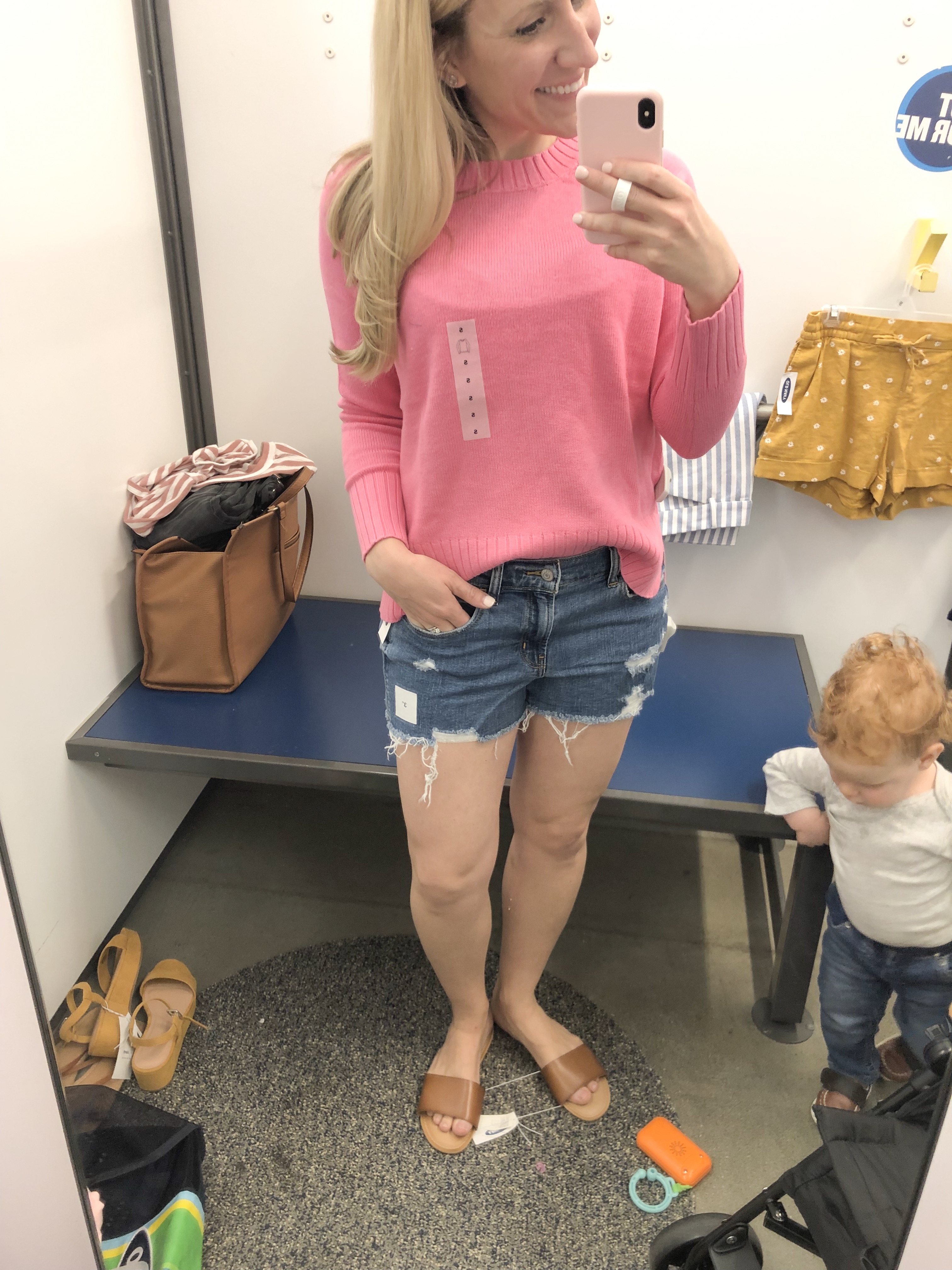 This was my favorite look and every item pictured came home with me because I loved it all so much!  I love all pinks but this shade of pink sweater is one of my favorites and I love pairing a sweater with shorts on cooler days.  This ribbed one is available in 10 colors.  I'm also a firm believer that you can never have too many pairs of Old Navy sandals and flip flops because the price can't be beat.  I will be wearing this brown pair all summer long!  They are such a go to that will go with everything.  They come in 6 colors.  And here is the same sandal but with an ankle strap if you prefer that style.  That comes in 3 colors.
Finally, I am beyond in love with those boyfriend shorts.  They are so comfortable and I just love the look of them and shorts with a simple tee or top is my go to look in the summer.  Here are some other tops I paired them with….(each comes in more than one color/style and all are under $10).
Rainbow Tee // Baseball Tee // Pink & White Tee // Striped Tee
I also paired the shorts with this light blue top that is as light in feeling as it is in color.  You could wear it front tucked or knotted.
Toddler sold separately.  Seriously though, I don't even remember the days of shopping without him but I imagine it was much easier and I had hours to spare, haha.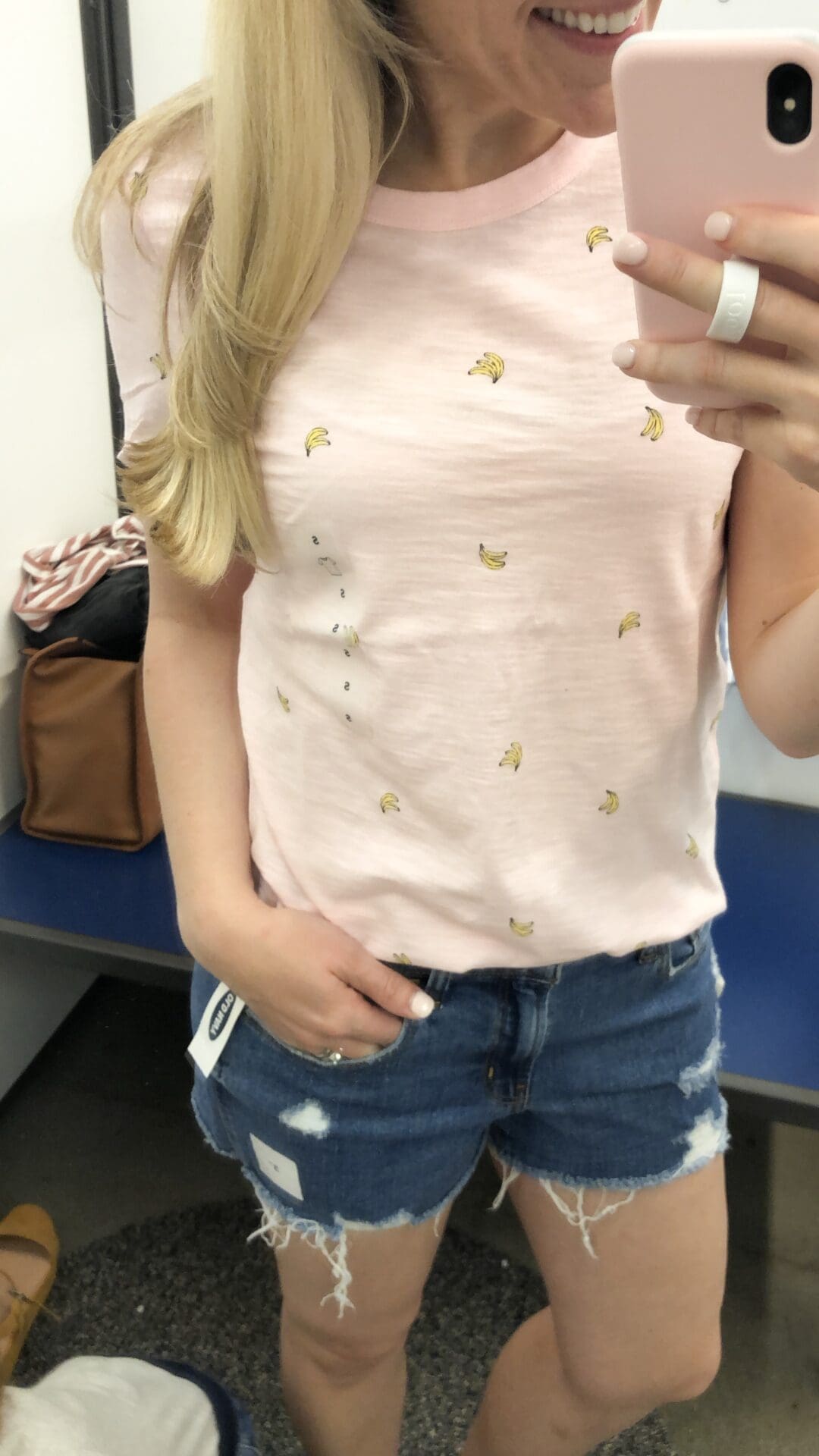 And how cute is this top?  You could say I went bananas over it :).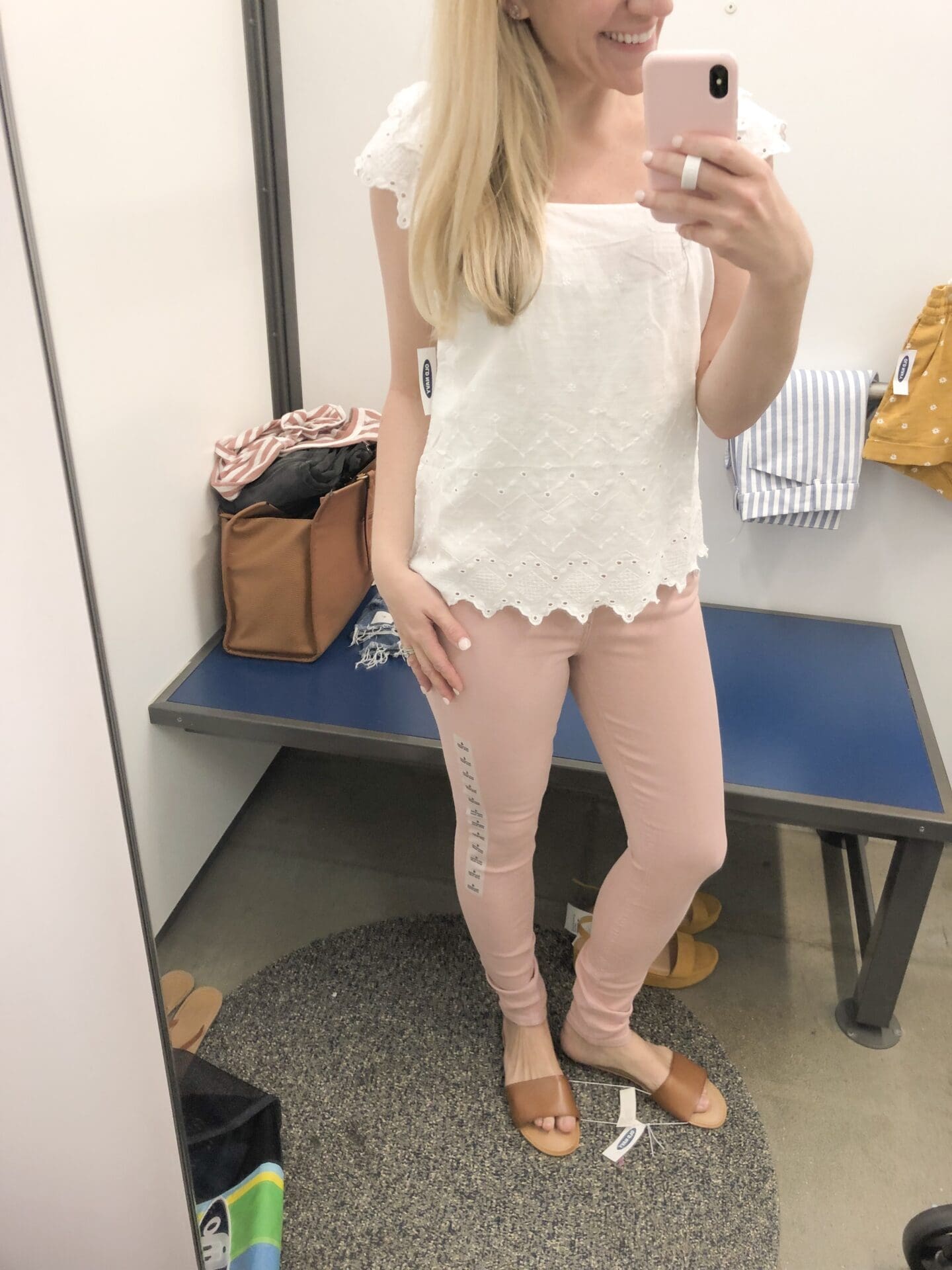 White Eyelet Top // Pink Pants // Sandals
I also really liked this outfit, but the pants I will say you probably need to size up one. They come in 5 colors.  I love a good eyelet top.  There's something so feminine and pretty about them.
Striped Pants // Yellow Shorts
Here's another pair of pants that I thought were cute and different.  And these yellow shorts were so comfortable and are cotton so they would be perfect on a super hot summer day!
Lastly, I tried on these two dresses.  I thought the first one was super cute but the second one was a total fail for me, but I'm sharing in case it could work for someone else.
Okay friends, those are my Friday finds at Old Navy.  Their sale lasts through the 20th.  Hopefully you found some fun new items to add to your summer wardrobe.  I hope everyone has a great weekend.  See you back here Monday!
Jill
xo, Jill