Happy Thanksgiving Eve friends!! I can't believe how quickly the holidays are coming.  I know it will feel like a week until Christmas is here.  I love this time of year though and today we are officially decorating our house for Christmas!  Eric gets the bug before I do because I love my fall decorations and don't want to see them go away too soon, but I have to be honest, all this week I couldn't wait to get the Christmas ones up!!  Eric has today off and my parents are here to help watch Leyton, so we are decorating!  We are also baking/cooking all the things in preparation for Thanksgiving dinner tomorrow and that has led me to this post.
I came across this recipe for a homemade pumpkin sugar scrub by Kari Peters in Willow and Sage magazine (it's seriously the cutest, best magazine with soooo many great natural recipes) and decided I had to try it especially since it only takes 4 ingredients (3 if you omit the cinnamon oil) and I'm willing to bet you already have these ingredients in your kitchen, especially this time of year.
So while you're baking those pumpkin pies, be sure to save about a tablespoon of pumpkin pureé so you can make this.  Honestly, I would think you could also do this with sweet potato pureé too if you don't have pumpkin.  Then, after all the holiday cooking and busy-ness is over, give yourself a little home spa night and exfoliate with this.  Heck, you could even just use it on your hands after doing allll those dishes!
So let's get to it!  First, you will need…..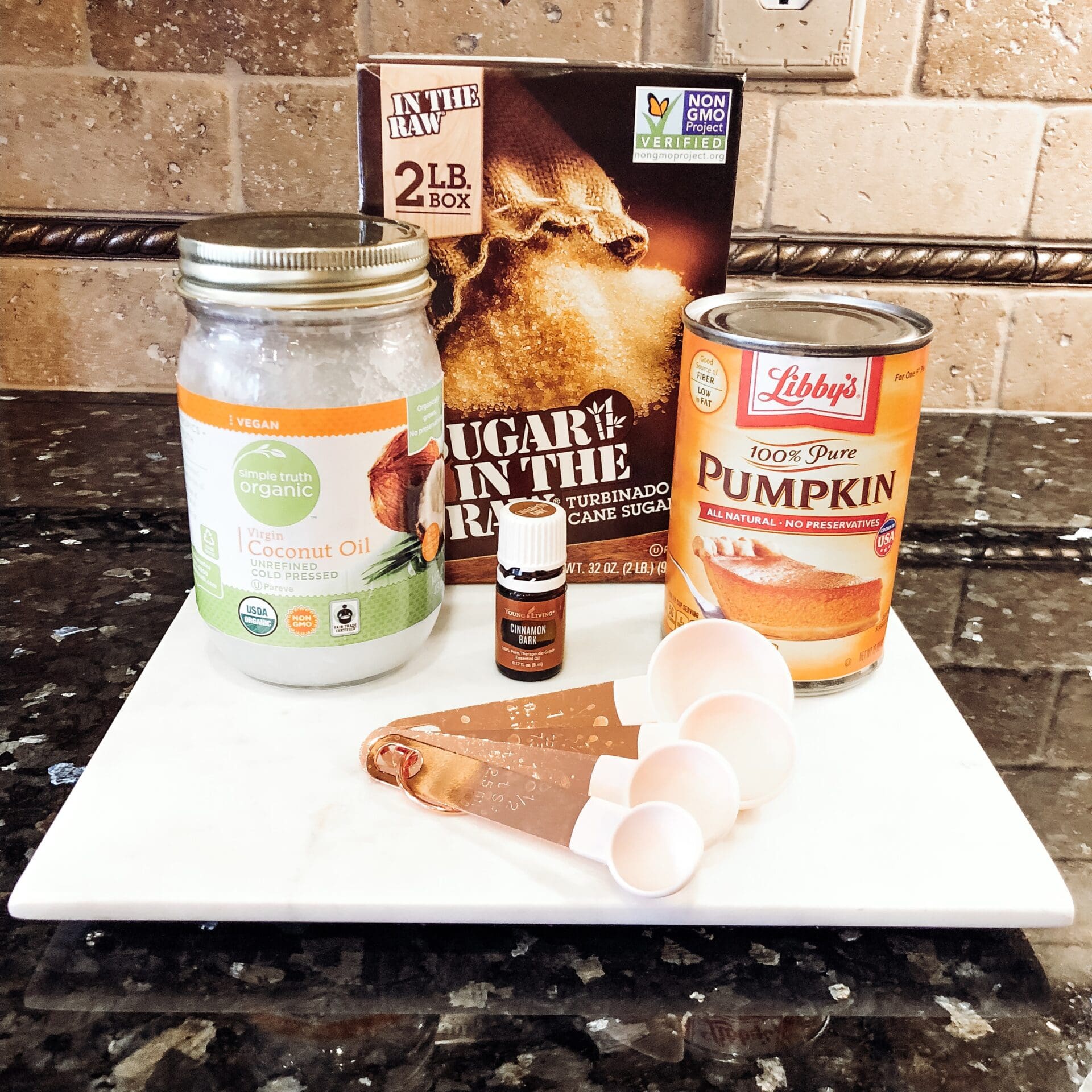 You guys, that's it!  Like I said above, if you don't have pumpkin pureé I would think sweet potato would be just fine, and obviously regular cane sugar would be fine too.  It's just in there to exfoliate so it doesn't have to be Sugar in the Raw.  And I realize not everyone has cinnamon essential oil.  You can get some here, but otherwise I would say just omit it.  I think it's mostly in there for scent purposes.  But, if you do buy the oil, know that cinnamon essential oil has so many great uses!  It has anti-inflammatory properties, is highly anti-bacterial, and it stimulates circulation!  But, I mean I was sold on the smell alone, especially this time of year.  It's a great way to make your house smell like you've been baking all day long, even if  you haven't :).
Now, I cut this recipe in half because it only lasts a few days.  So if only making for you I'd do the same.  If making some to share, I'd double it.
In a small bowl you are going to combine:
1.5 Tablespoons of organic cane sugar
1 Tablespoon of coconut oil
1/2 Tablespoon of pumpkin (or sweet potato) pureé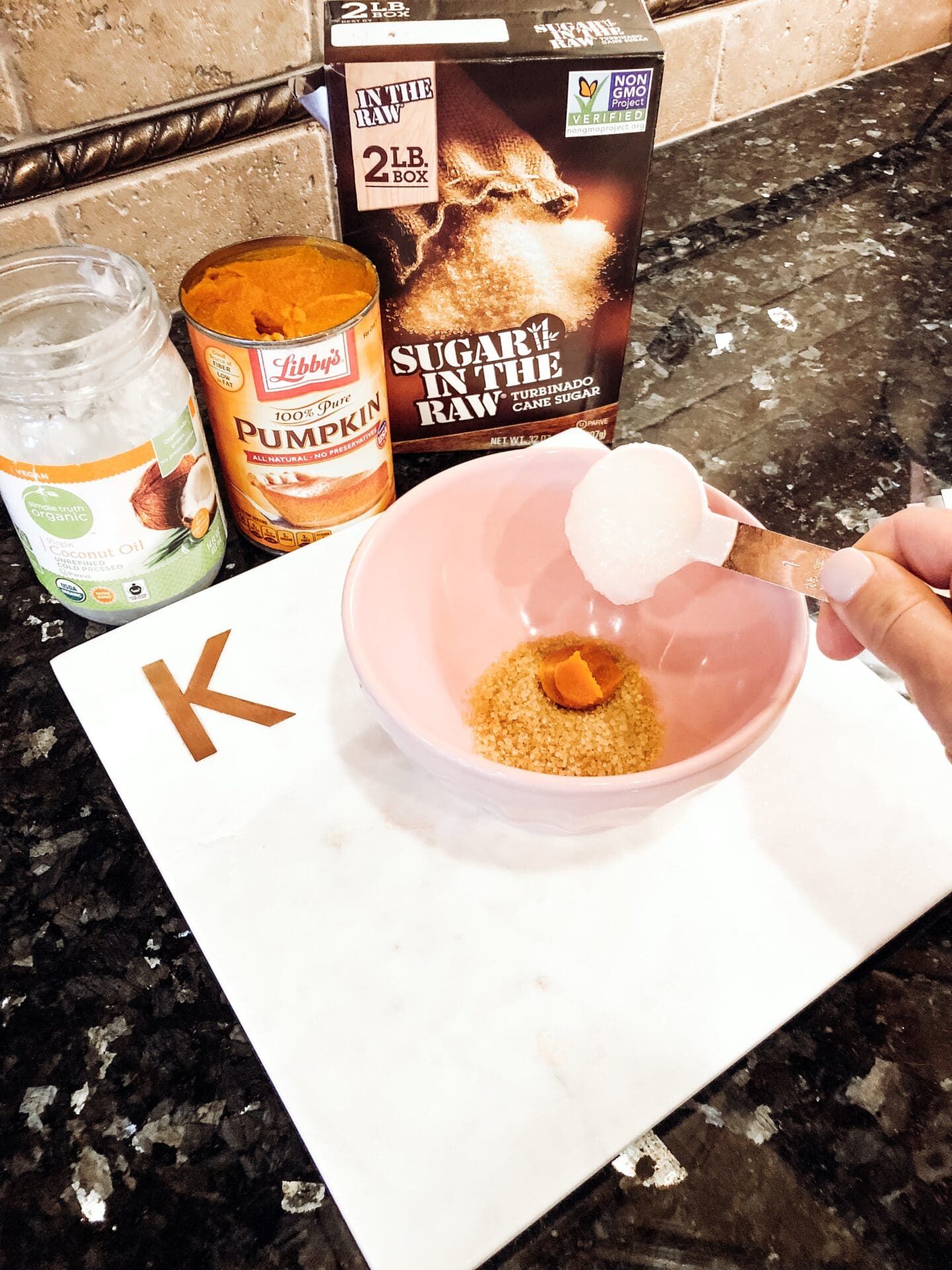 Next, you'll add 2 – 3 drops of cinnamon essential oil, then stir it all to combine.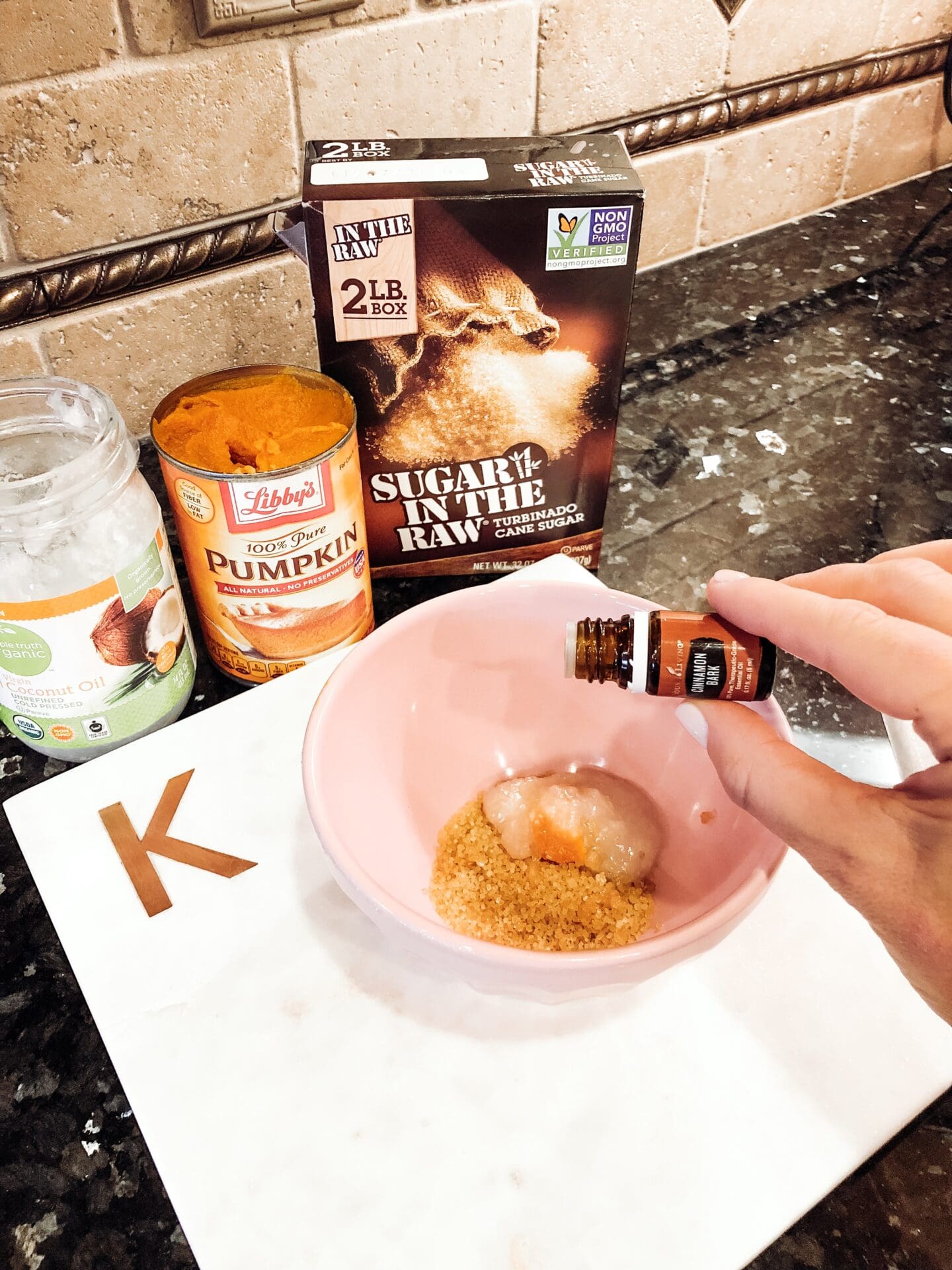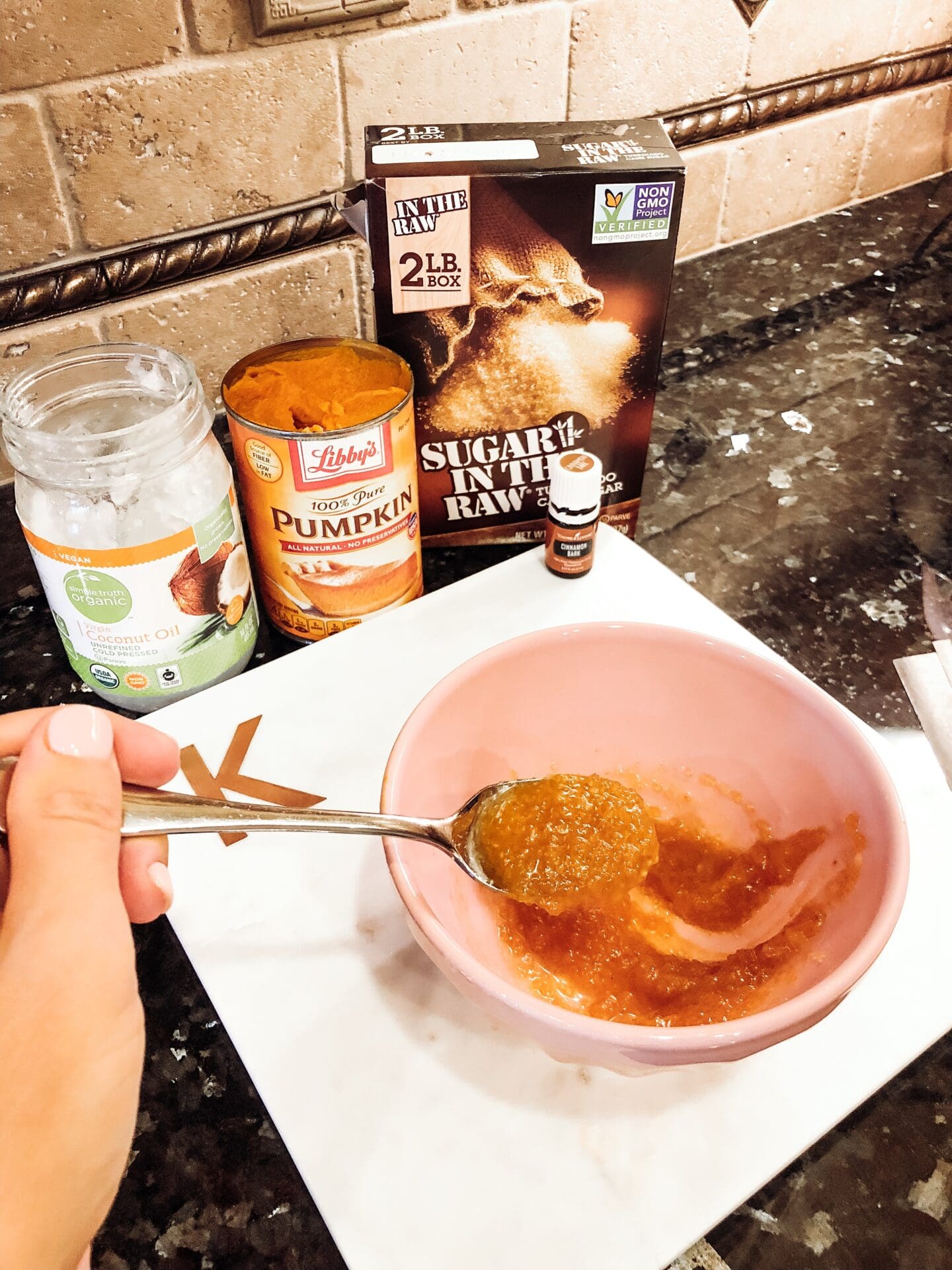 And that's it!  So easy right??  Then just put it in a container and use right away or place in the refrigerator and use within two days (because the sugar starts to breakdown and won't be as exfoliating the longer it goes).  You can use it in the bath or shower, or as a hand scrub.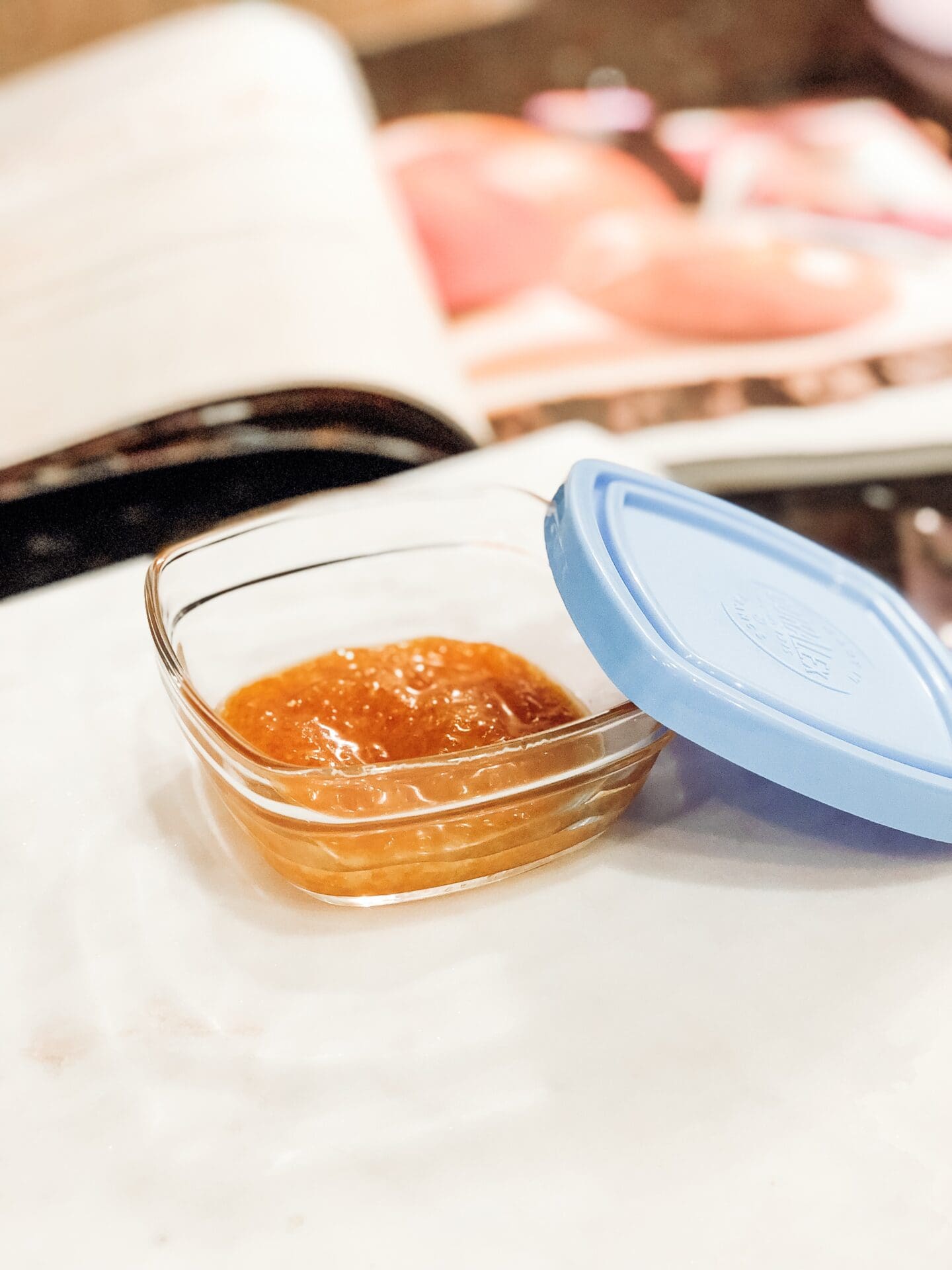 That's all there is to it!  It smells so good you could eat it!  Oh wait….you can!!  Here is Kari's full version.  She does the steps a little differently, but all in all it's mostly the same.  Alright friends, I'm off to go ho, ho, ho the heck out of this place.  If you make this scrub, let me know your thoughts either here or over on my instagram _jillkoch_.  Have a wonderful Thanksgiving!!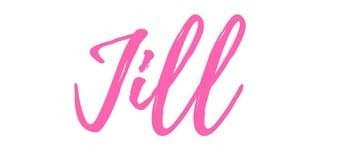 Credits:
Kari Peters – getinspiredeveryday.com
xo, Jill