Happy Wednesday friends! It's one of my favorite days of the month…..the second Wednesday of every month I link up with Shay and Erika and take a look at….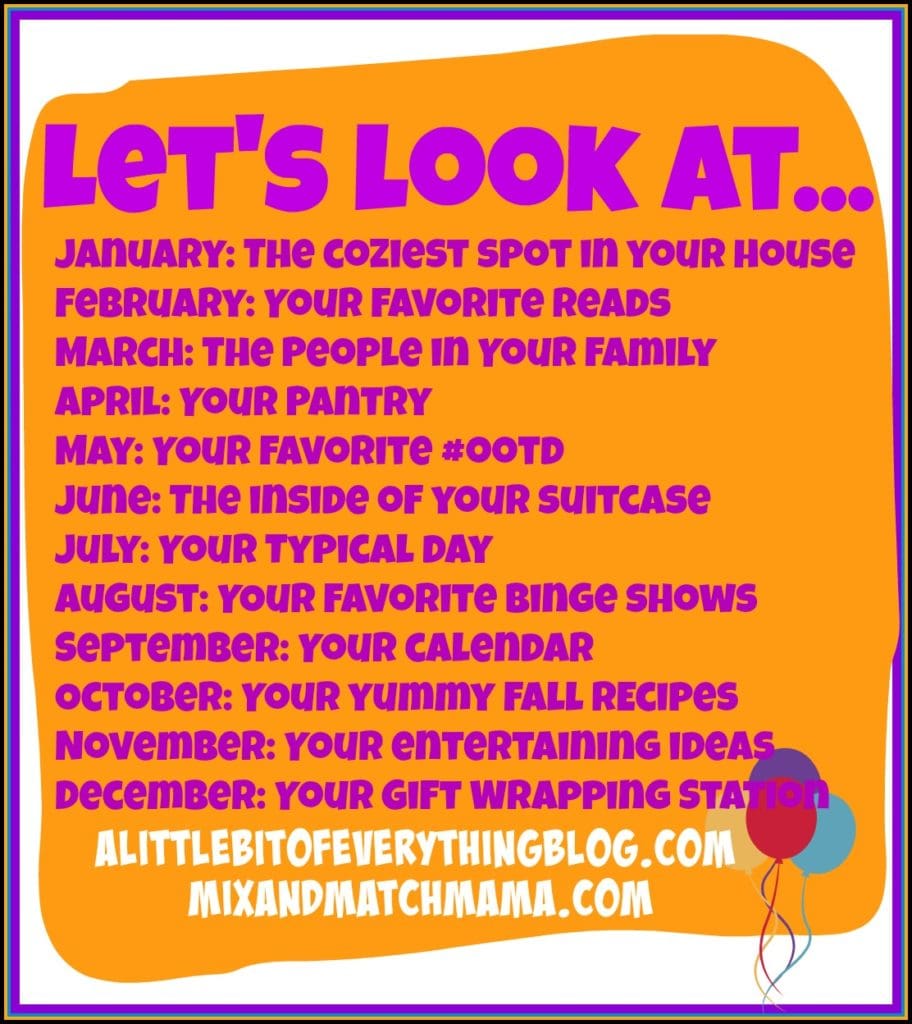 Today we are looking at….what's in our suitcase and this is perfectly timed because Eric and I are about to go on our 10 year anniversary trip to Napa and I'm starting to pack!
I like to think that over the years I have compiled some good tips and tricks to packing efficiently.  Typically, I only ever pack a carry on so I've had to get creative at times to be able to fit everything.  For this trip I think I'll be checking a bag and getting more space, but for the purpose of this post today I'm just going to highlight the key items I always bring along.  So let's look!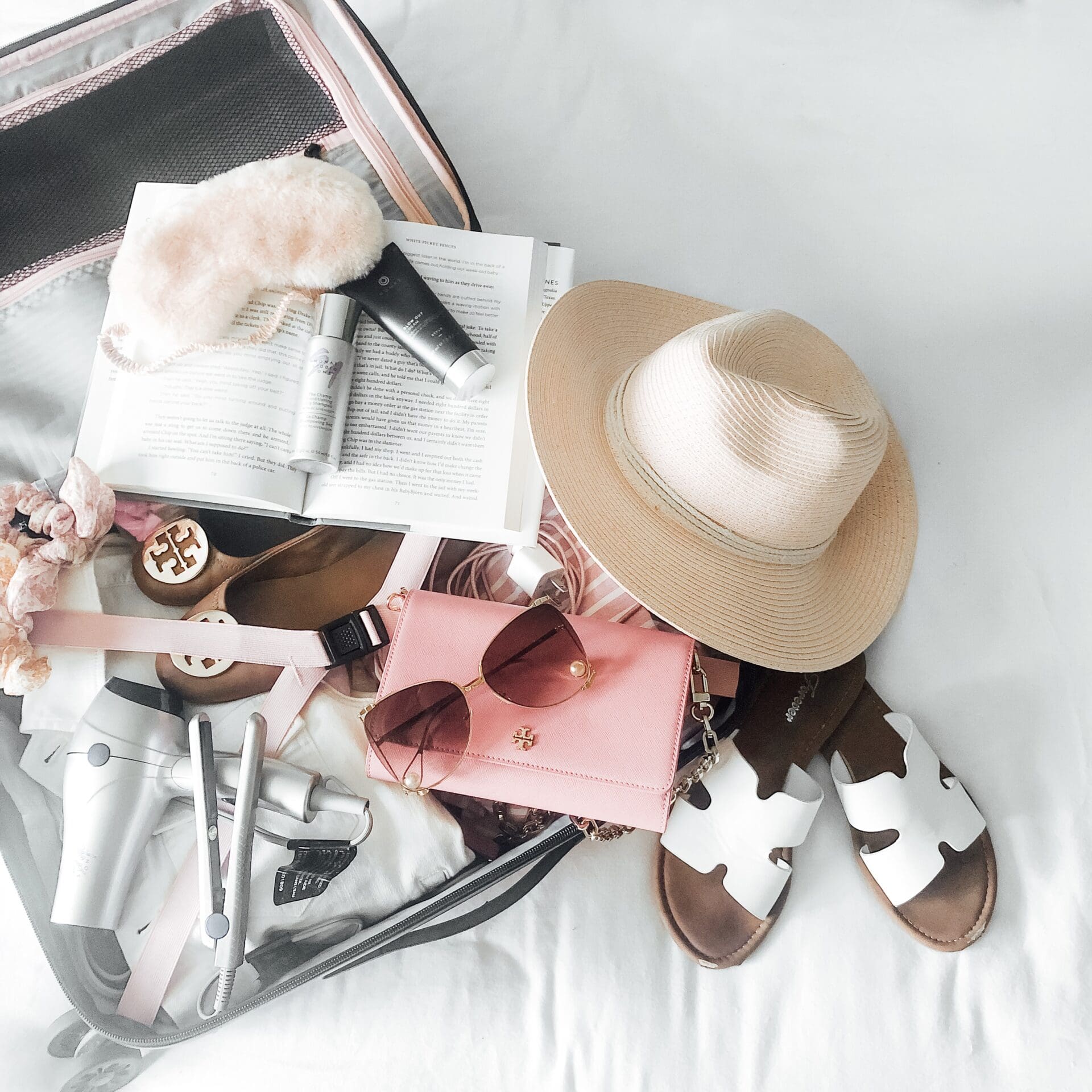 First up, let's talk suitcase.  I'm in love with the hard shell ones currently.  This little pink one is from Target and the perfect carry on.
Next, I'm going to break this post up into categories, starting with the items in my suitcase that make packing easier.
 

Shoe covers

– shoes tend to be dirty on the bottoms and I don't like that getting on my clothes so shoe covers take care of that.

Dirty Laundry Bag

– I'm type A and like to compartmentalize so I like putting the dirty stuff in a bag to not only check it as worn and done when traveling but then when I get home I can just toss it all into the laundry without having to decide what is clean and what's dirty.

Packing cube

– My mother-in -law got me a set and I love them.  It's crazy how many pieces of clothing it can fit.  You stack them up and close it and pack it.  I don't quite understand the logic of how it saves space because it's the same amount of stuff, but it does.

Jewelry organizer

– I can't stand to have my jewelry strewn about or in a ton of separate bags so an organizer with compartments is perfect.  I have yet to find a good way to store necklaces so if you have any ideas be sure to drop them in the comments.

Liquids Bag

– I put all my liquids and toiletries into a clear bag and keep it in my carry on purse if not checking a bag so that when I'm in security I can easily take it out and put it back in.
Next up, let's look at what's typically in my suitcase:
Color coordinated outfits

– I have learned that the secret to not packing 50 pairs of shoes is to go with a color scheme with clothing so that the same pair of shoes can go with everything.  I typically like to bring a daytime shoe and something cute for evening.  If I find I'm packing a shoe that only goes with one outfit, 9 times out of 10 the shoe and the outfit don't make the cut.  I can't be wasting that precious space!

Something Warm

– I like to bring a sweater or jacket even if traveling somewhere warm because I am always cold!  Airplanes especially are freezing so I like to have something to throw on to keep me warm just in case.

Comfy Travel Outfit

– I used to pack 2 of these but now I basically tell myself that whatever I'm wearing to travel to the destination will also work to travel home from there as well.

The Essentials

– obviously my suitcase will always have undergarments, clothes for daytime, clothes for evening, something to sleep in, hair ties, makeup, hair styling tools (I have a mini hair dryer and flat iron from Monat and it's so cute and perfect for travel), sunglasses, regular glasses, travel toiletries (again I have travel Monat ones because I can never be without), phone charger, etc.
Lastly, let's look at the extras:
A Clutch

– lugging a normal size handbag isn't always practical when playing tourist or going out at night so I like to always bring some sort of clutch.

Hat

– typically I don't really mess with hats but for this trip I'm bringing one.

Earplugs

– At home I always sleep with a fan for white noise but I can't exactly travel with a box fan so I bring earplugs and use the Fan App on my phone when sleeping.  I literally hear every little thing when trying to sleep so I take all measures to hear nothing.

Sanitizer Wipes

– Hotels can sometimes skeeve me out just wondering if certain non obvious things like the remote control were cleaned off.  So I always bring my own wipes to wipe down those areas.  They are good to use on the plane too.

Reading Material

– I always bring a book in the hopes I will get a lot of reading done but most times I spend time I could be reading, on my phone.  But I still like to have a book in case of the Apocalypse and cell service goes down.  I used to always bring a devotional too but now I save the space and use a devotional on my phone to read in the mornings instead.
Alright friends, there you have it.  Nothing too exciting but that's just how I travel.  Over the years I have learned what items I also need to have on hand and how to consolidate to make the most out of the tiny space.  Plus, a girl's gotta leave a little extra room in case there's any shopping to do on the trip.
Thanks for stopping by and I'll see you back here Friday!
Jill
xo, Jill