Happy Thursday friends!  I'm a little off schedule this week.  With the kitchen getting done it's been hard to keep up with everything else, but I'm finally finding my groove (as they are almost done of course).  It is looking so good and I can't wait to share the finished product with you.
In the meantime, I decided to post today so I could give you enough time to check out the post and get things ordered in time to have them by Father's Day. Let me just say this post was hard to come up with!  Why are men so difficult to shop for?  I even asked Eric for some ideas and he had a few but the majority I had to scour the internet for.  I wanted more than the typical lame gifts.  I wanted new, fun things dad might actually enjoy and not just a grill set, or some alcohol related item.  So here is a list of the top 15 things I found with a few other ideas listed at the end.  As always you can shop the items through the link below the picture.  I didn't number the items this time but I think it will be obvious what's what.  So let's get to it!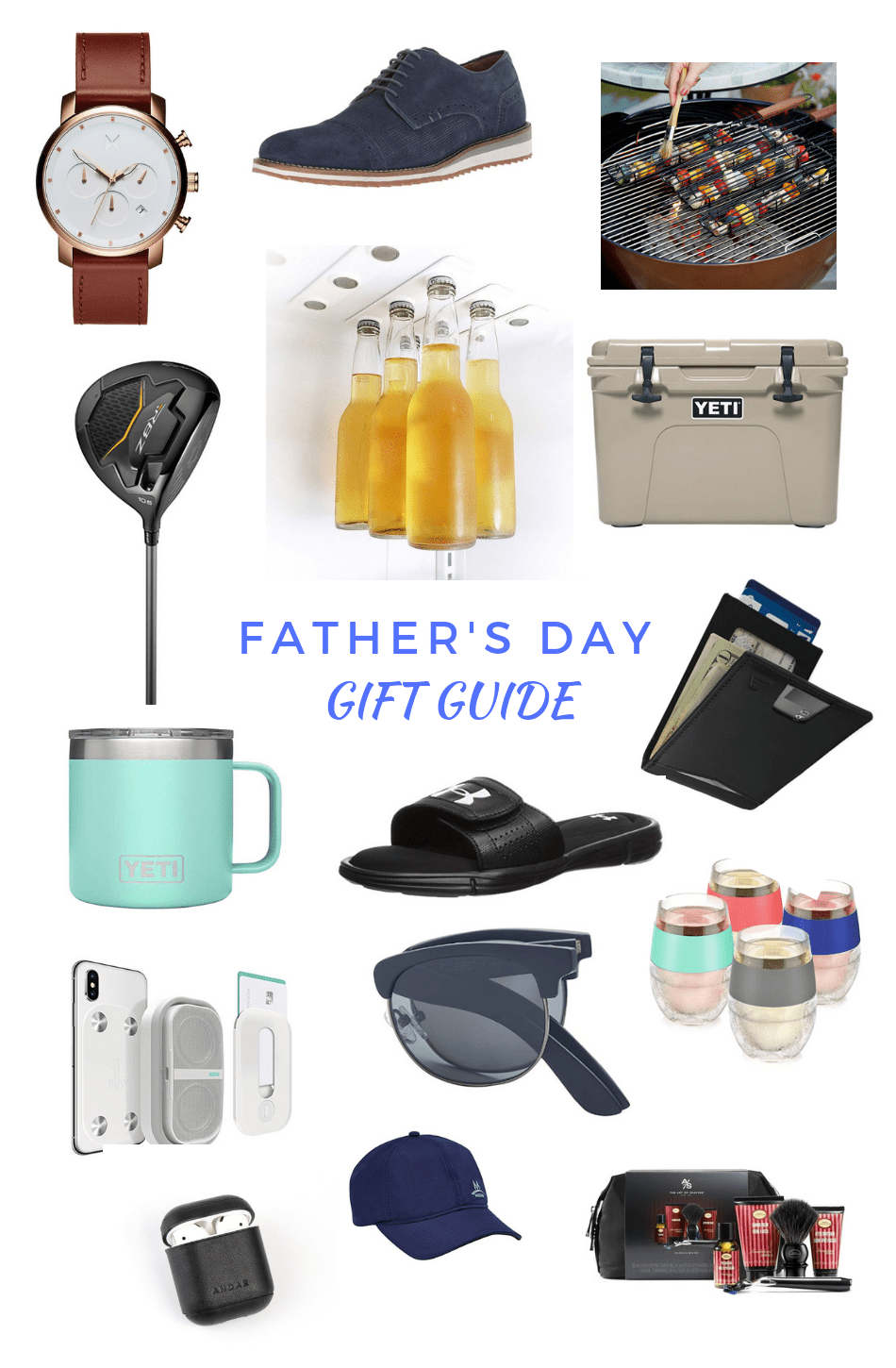 MVMT Watch – I love "Movement" watches!  They are affordably priced and always have the best styles.  I love the look of this one!  To shop the entire selection of MVMT watches, head here.
Steve Madden Men's Flyte Oxford – I love a good men's shoe especially navy.  These come in 3 colors and are so on trend.
Kabob Grilling Baskets – Okay, I said I wasn't doing something lame like a grill kit, but I actually think these are super practical for anyone that grills. How often do we make Kabobs and once the food gets tender it starts to fall off?  This totally solves that problem.
TaylorMade Driver – This was an Eric recommendation.  He says these are great drivers and any golfer would love a TaylorMade club.
BottleLoft – Okay, I kind of thought this was super cool.  Beer bottles take up so much space in our fridge so I love the idea of maximizing the space and storing them above everything else so you could still fit something small underneath.  One BottleLoft holds a 6 pack of bottles.
Yeti Cooler – I don't know any guy that wouldn't love a Yeti.  Yes, they are pricey but I'm told they are worth every penny.  This is a perfect gift for Father's Day and summer if you are outdoorsy or have any outdoor events coming up.
Yeti Rambler – And speaking of Yeti….I have one of these (in pink) and love it!  It keeps my coffee hot so much longer and it would be great for soup too or for keeping drinks cold.  It's an easy $20 gift.
Under Armour Sandal – These just look super comfortable and remind me of the old school Adidas sandals we all used to wear years ago, only they had those super uncomfortable bottoms with little prongs and these look soft and like they give support.
Andar Apollo Wallet – I saw this on Instagram the other day and thought it was so cool, and Eric agreed.  They have different options to choose from but this was our favorite because it has pockets for cards, a money clip built in, and it's best feature is that when you put your card in the one pocket there is a cutout on the backside where you can push the card up to get it out of the pocket.  I always hate struggling to dig cards out.  This is genius.  You can shop a full selection here.
iphone Speaker – I thought this was the coolest idea!  It's a bluetooth speaker that attaches to your phone!  It looks like it attaches with magnets so it's on and off in seconds and it's small so it will store easily when not in use.
Foldies Foldable Sunglasses – Okay they need these for women too because this is so smart.  I hate having to lug a giant glasses case.  These just fold right up to fit in his pocket and then unfold just as easily meaning they are super durable too.
Host Freezable Wine Glasses – Okay last booze related thing I'll have since I also said I wouldn't put something lame like a flask, but my parents have these and they are awesome!  You freeze them so when you pour your wine or cold drink in, it stays cold and it actually does!  When I used theirs it kept my wine cold until I was finished drinking it.
Andar Capsule – Another great invention from Andar but this little gadget holds earbuds.  Those tiny guys are expensive so you definitely don't want to lose them and this stores them in a safe place.
Cooling Performance Hat – This Mission Enduracool hat is from a line of products designed to keep you cool.  They actually are made with a cooling type of fabric/ technology.  Eric's parents have something similar in a towel form and they totally work and are perfect for summer!
Art of Shaving – And lastly, Eric loves the Art of Shaving products.  I got him some years ago for Christmas.  They are good, quality products and this scent is one of their best!
So that does it for the gift guide.  Some other ideas not on the gift guide include:
Top Golf gift card
Professional golf club fitting (Eric swears any guy would love this)
Any homemade item from your kids (Pinterest is my go to for this)
Ax Throwing (this is a new thing around here but I think guys would be totally into a day of throwing axes)
Do an escape room challenge together or as a family
Rent a fancy sports car for a day or weekend for him to drive around
Racing experience (if he's into racing and depending on your location you could get him an experience of driving race cars around on a track.  I'm pretty positive it's a thing).
Bourbon Trail trip – If you live in Kentucky or around there hit up The Bourbon Trail for sure!
A spa day complete with a professional shave
Alright friends, those are just some ideas.  Hopefully it helped some if you are still stumped with what to get the dad's in your life for Father's Day.  And if you have any great ideas yourself, feel free to share them in the comments.  Have a great rest of the week and because I'm a day behind I'll see you back here Saturday!
Jill
xo, Jill