Happy Saturday friends!  I know I'm off by a day this week but I wanted to share this post now so I figured why not do it on a Saturday!  Today I'm talking to you about my nightly skincare routine starting off with my newfound favorite part….DOUBLE CLEANSING!  Have you heard of it?  It's essentially washing your face twice at the end of the day but I'll break down the how and the why of it in a little bit.  I had never heard of double cleansing until recently but my skin was getting so bad and constantly breaking out and one day I finally thought, hmmm maybe I should give this double cleansing a try, and you guys…..I've barely had one breakout since!  So now I swear by it!
The funny thing is it shouldn't come as that much of a surprise to me because with Monat we double shampoo (which is like double cleansing for your hair), for very similar reasons and that works wonders too.  BUT as is the case with Monat, you need the right products.  Given the proper products, this technique is perfection, for skin or hair.
So let's talk my nighttime skin routine starting with washing my face.  Quick disclaimer:  There are tons of skin care products you could use instead in your routine.  I use the ones shown here because they are Jill Comes Clean approved and are clean beauty products with less to no harmful ingredients.
Step 1: Double Cleanse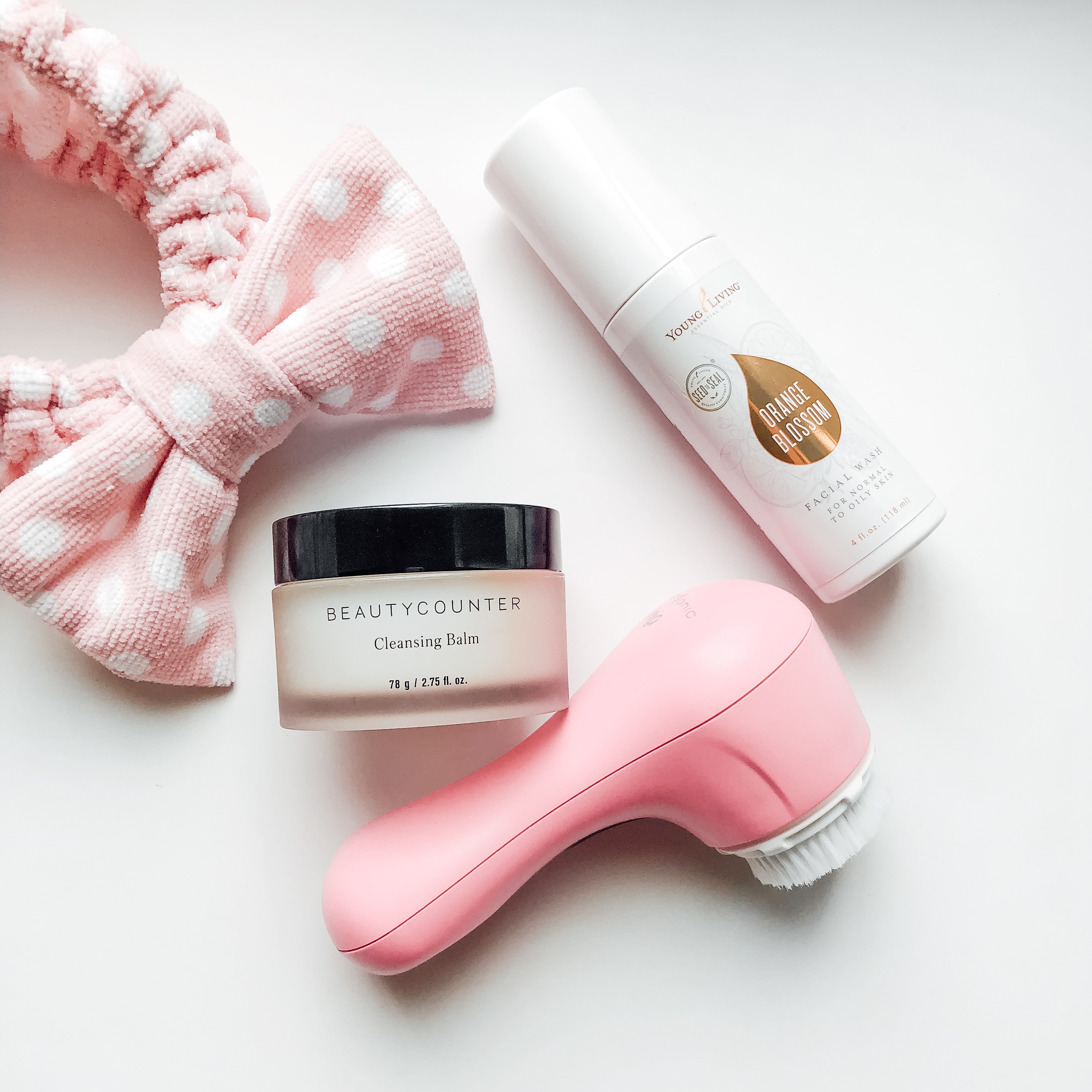 The thought process behind double cleansing (which should always be done at night by the way) is that throughout the day so much dirt, pollution, and bacteria collect on our face along with old, natural oils from our skin and one quick wash just does not get it all off of our face.  When that buildup sits on our skin it doesn't allow our skin to breathe overnight, which in turn means skin cells can't properly regenerate thus leading to premature aging and breakouts.
The reason we shampoo twice with Monat is much the same.  We get so much buildup on our hair and scalp from the environment and our natural oils that one wash doesn't get rid of it all.  We need the first shampoo to break up the gunk and buildup and the second shampoo to wash it away.  Cleansing your face is the same way.
First cleanse:  Ideally you want to use a cleansing oil, balm, or micellar water.  I love to use Beauty Counter's Cleansing Balm.  This first cleanse really breaks down makeup, SPF, pollutants, dirt, and natural oils.
Second Cleanse:  You want to use a deeper, water based cleanser to then wash all of the above away and really get into your pores.  Now, I'm still on the hunt for an amazing water based cleanser but for now I'm really liking the Orange Blossom cleanser from Young Living.
With each cleanse you want to gently scrub your face with the pads of your fingertips for a solid 1-2 minutes to really work everything away.  Monat is the same way.  We always encourage people gently scrub their head with the pads of the fingers versus their nails and for 2 minutes.  We spend a lot of time getting buildup on our skin and hair, it makes sense that it takes more than 15 seconds to get rid of it.
And that's it for the double cleanse!  A few times a week I like to use my Clarisonic Mia for my first cleanse to really help breakup the gunk.  My face always feels so clean afterwards.  Also, I talked about my makeup headband on Monday Must Haves this past week and I love it for helping keep my hair dry when I wash my face.
The following are the other things I do as part of my routine.  Some I do each night and others once or twice a week, or when I remember.
Step 2: Face and Eye Creams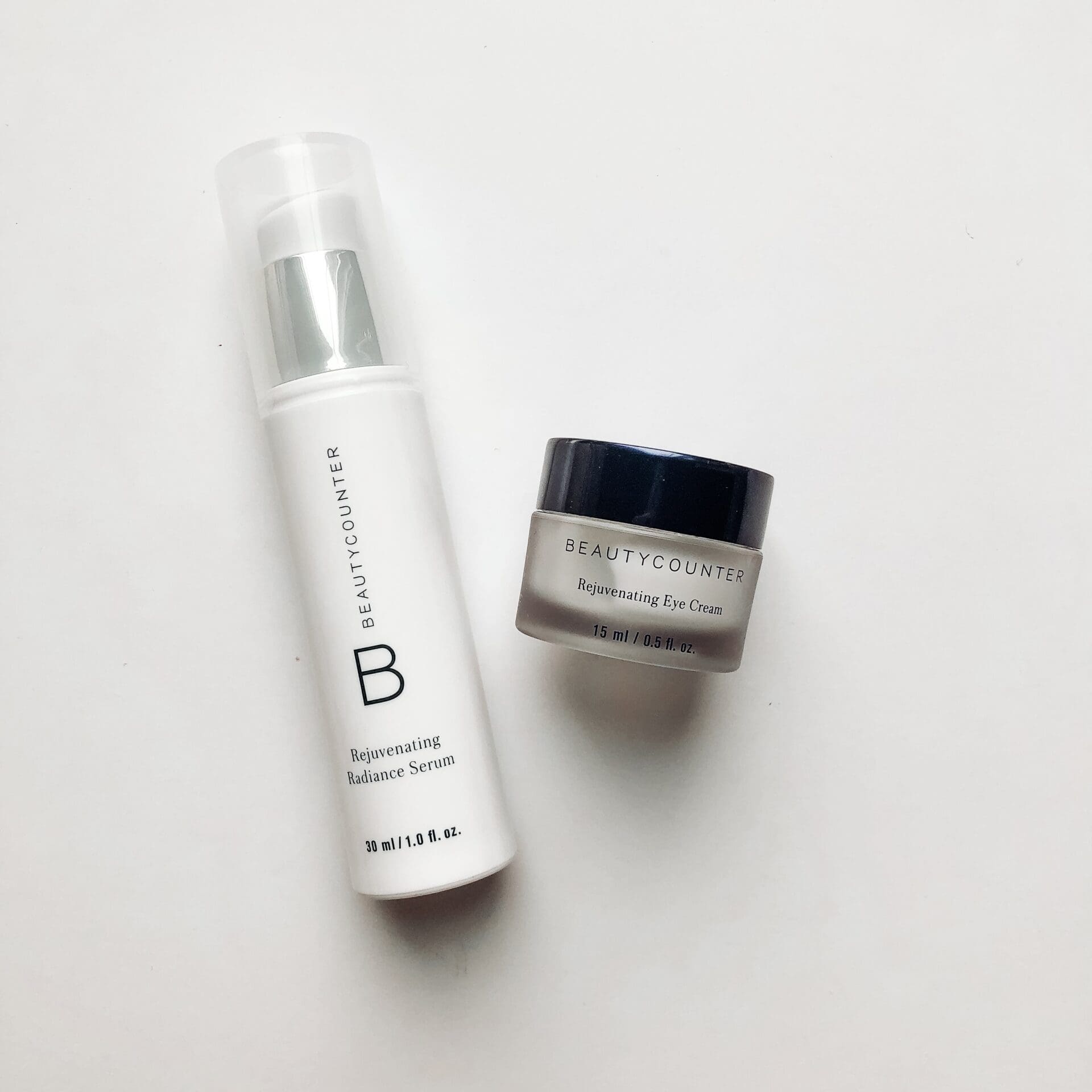 After I wash my face I like to use Beauty Counter's Rejuvenating Serum on my face and their eye cream.  During a facial one time the Esthetician told me we should always apply a serum followed by a night cream or moisturizer to really seal in the serum.  I want to do that but have yet to find a night cream I really love with good ingredients.  So if I find one, I'll let you know.
Step 3: Help Grow Those Lashes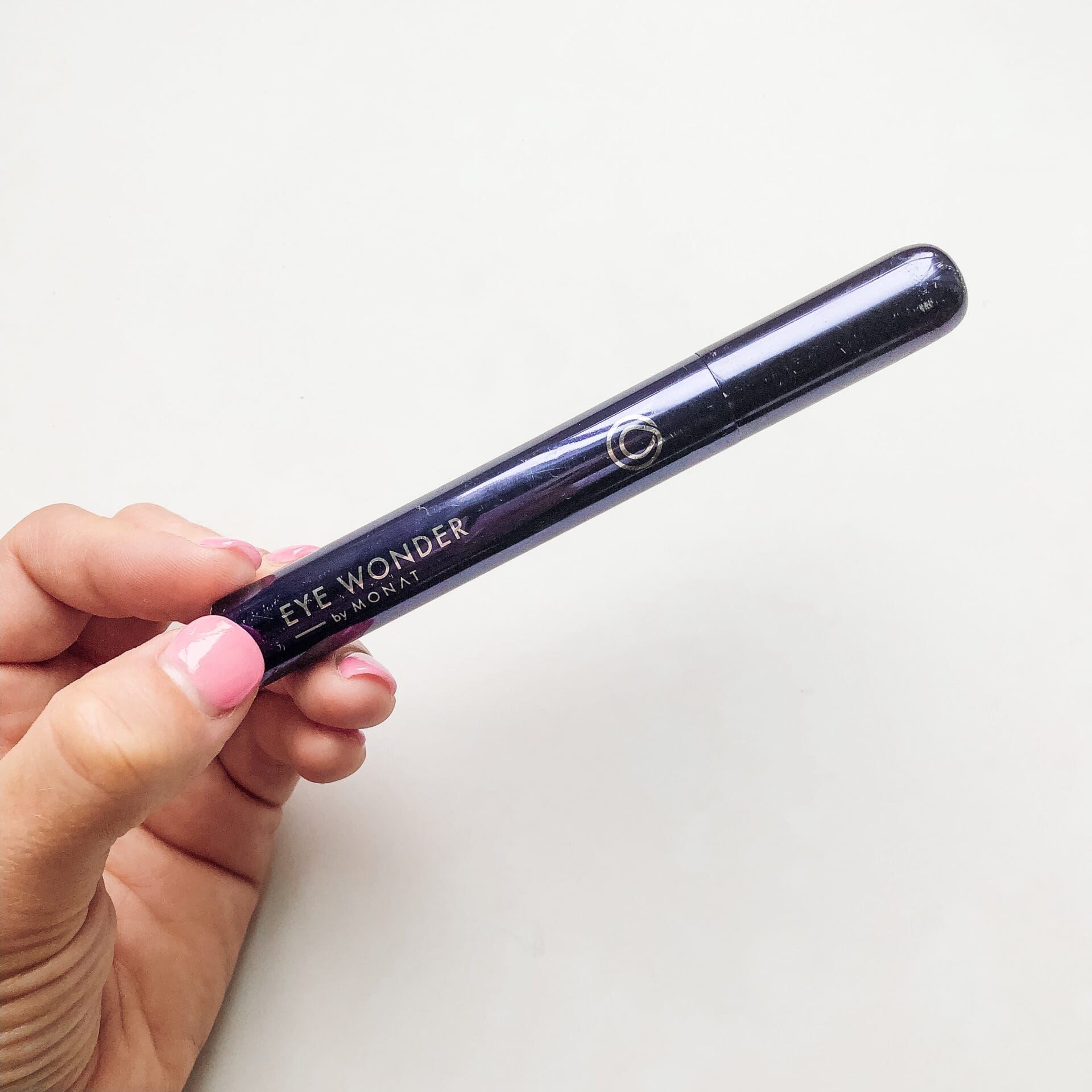 After that I take out my contacts and apply some of Monat's Eye Wonder eyelash and brow serum.
Optional Step 4: Jade Roller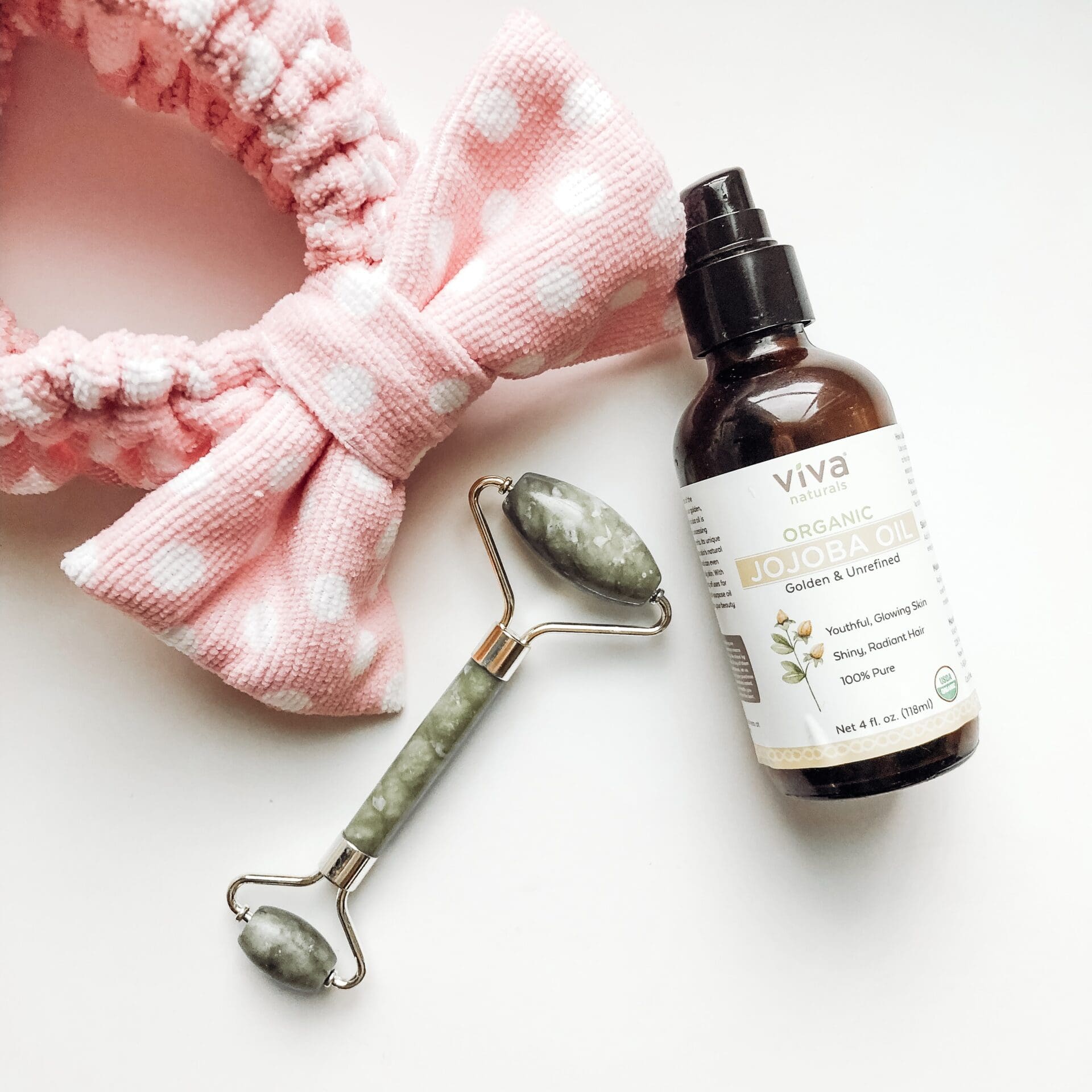 Once a week, if I think about it I love to use a jade roller on my face.  You keep these in the refrigerator so sometimes I forget because it's not in my bathroom.  When I use the jade roller I like to use this jojoba oil in place of the serum.  Jade rollers are great for anti aging, smoothing fine lines and wrinkles and helping with lymphatic drainage.  And rolling the oil on your skin helps it absorb better.  I swear by jojoba oil for my skin in helping with anti-aging and use it every morning.
Optional Step 5: Exfoliate / Treatment / Mask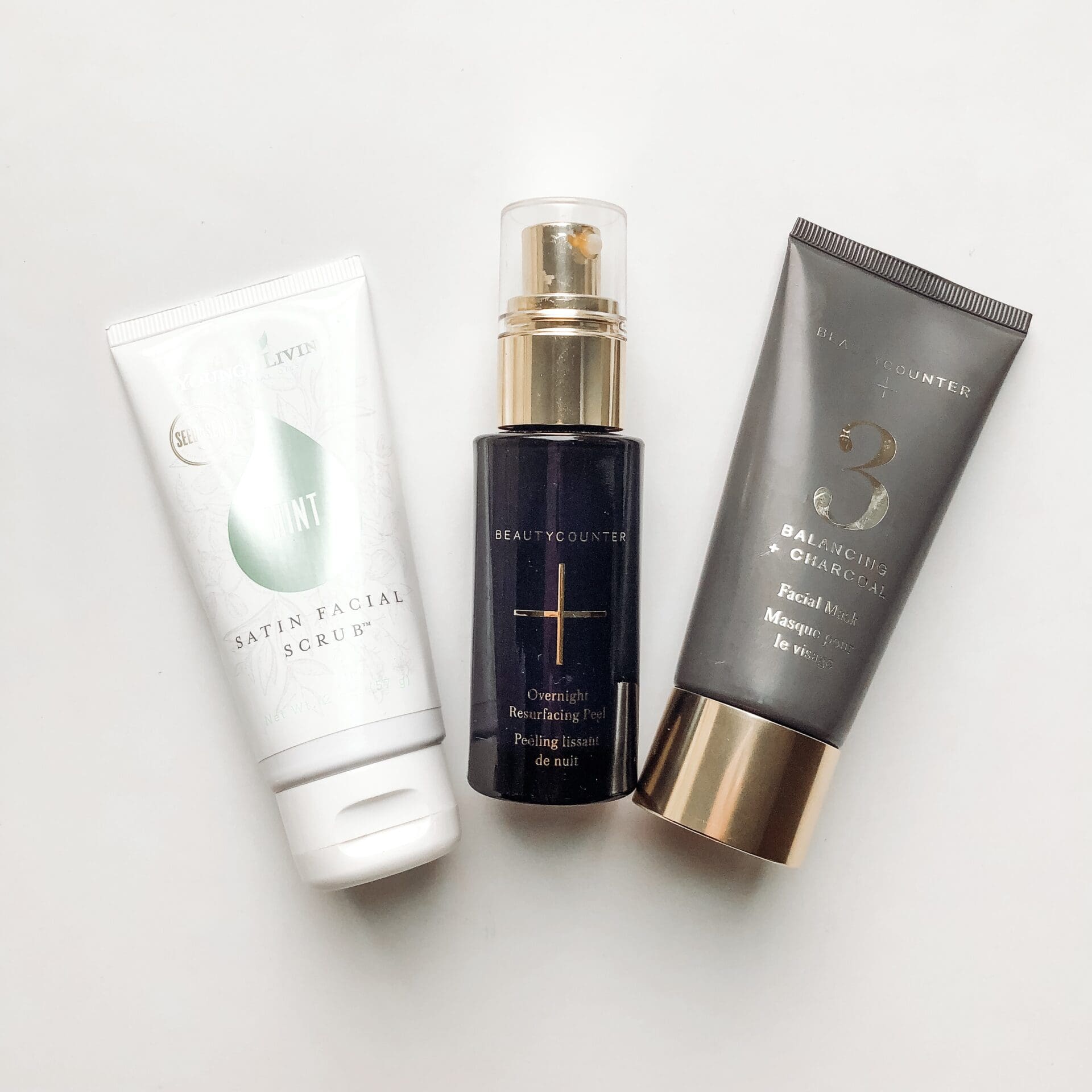 A few times a week (again if I remember) I will also use one or two of these.  The Satin Mint Facial Scrub by Young Living is a great exfoliant and then the Beauty Counter Resurfacing Peel has really helped my age spots.  And because I have oily skin the #3 Charcoal Mask by Beauty Counter also really helps balance me out.
The following are not skin related, but are also part of my nightly routine that I can't live without.
Step 6: Brush Hair
Optional Step 6: Hair Hydration Cocktail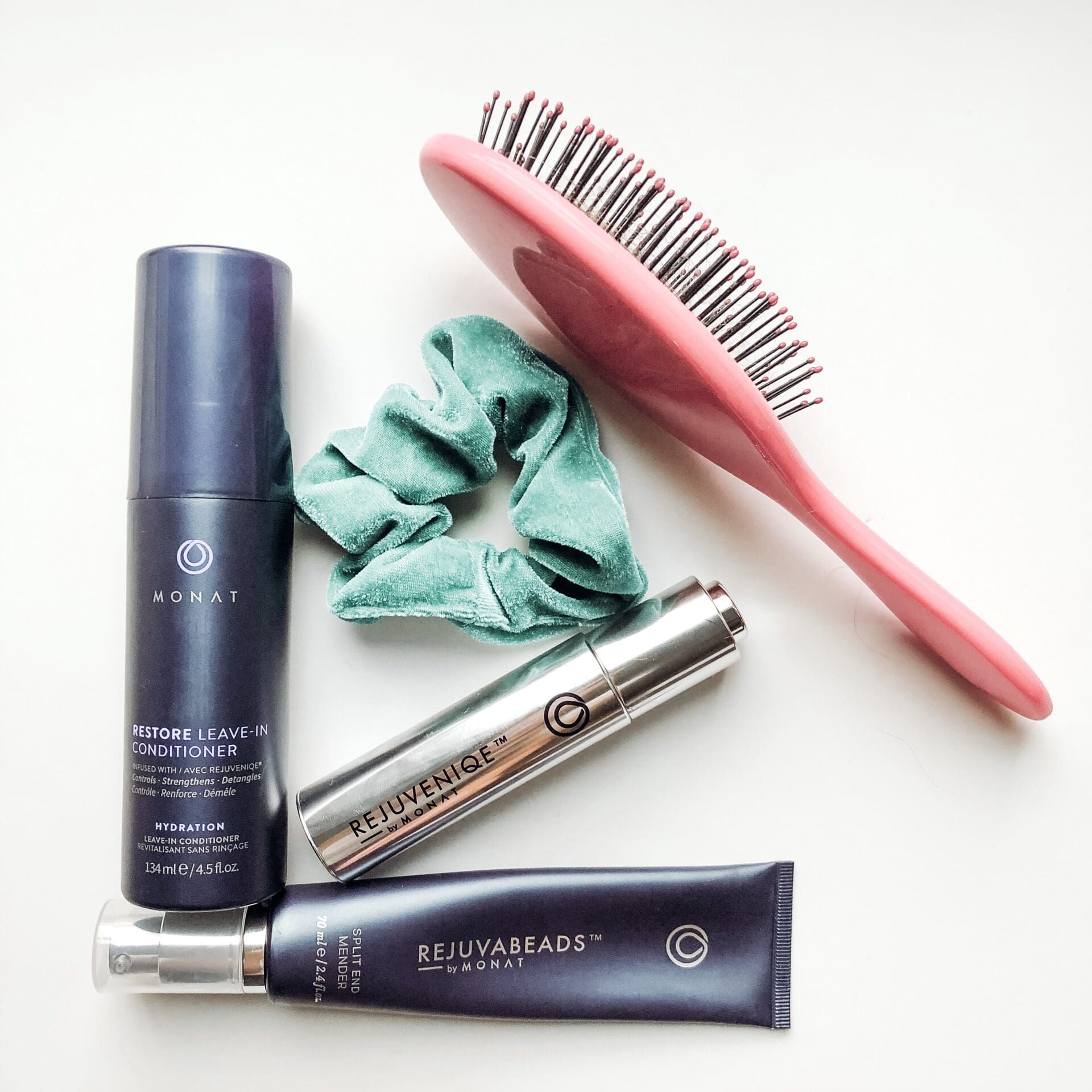 I always, always, always brush my hair before bed (it's really good for it), but once a week I also do a hydration cocktail that I've talked about on here before, and I swear by it!  I first coat my hair with a few droppers of Monat's Rejuveniqe Oil, then I put a few pumps of their Rejuvabeads (split end mender) and their Restore Leave-In Conditioner throughout my hair has well, then brush it all through and pull it up with a scrunchie and sleep on it.  The next morning I wash my hair and it's just so nourished and healthy and shiny.  This cocktail on top of regular Monat use has drastically transformed my hair.
Step 7: Brush Teeth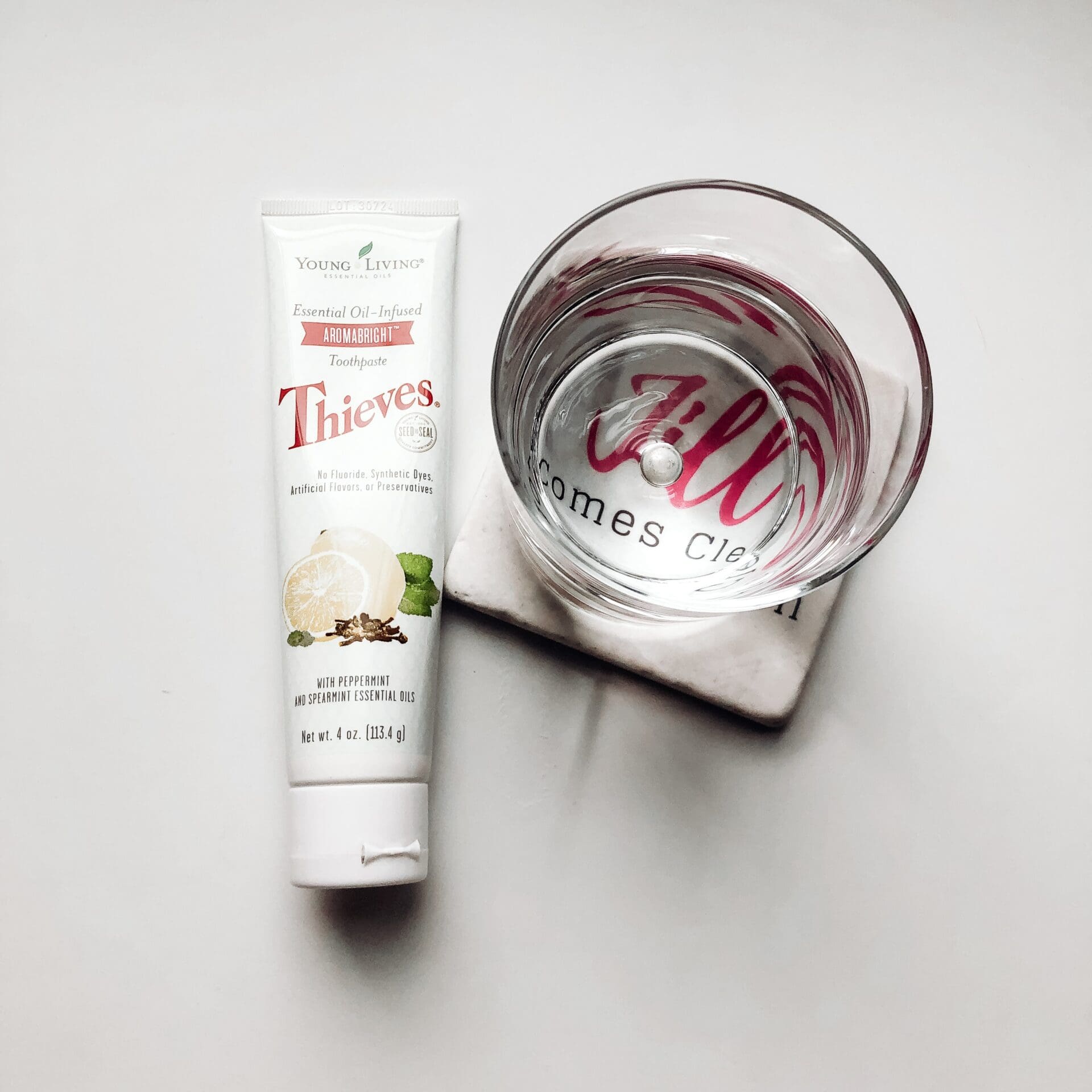 And lastly, it's not part of my skin care routine but I love the Thieves toothpaste by YoungLiving so much that I had to share this too.  I love the taste and how clean my teeth feel afterwards, and I love that the ingredients are good.  I follow up by drinking some water (but not too much because I don't want to be up all night having to go to the bathroom) just to flush out and hydrate my system before sleeping.
So there you have it friends!  That's my nightly skincare routine and why I'm a huge believer and lover of the double cleanse technique.  Do you double cleanse?  If not I definitely recommend giving it a try and seeing if you notice a difference too.
Have a great weekend, and I'll see you back here Monday.
Jill
xo, Jill