Happy Wednesday friends!  This post has been such a long time coming but I figured I better get it up before it's winter and I'm talking about our summer vacation.  For those that don't know, Eric and I celebrated 10 years of marriage this year and we wanted to celebrate it in a fun way, but were a little limited now that the little guy is here.  Luckily, my parents were gracious enough to come out and watch Leyton for five days while we escaped away.  And while we missed the little guy, it was glorious!
We had been to Napa in 2015 and loved it so much we wanted to go again, and friends this time did not disappoint either!  We had the best time and I tried to snap as many pictures I could to capture all the fun, but I'm sure some parts are missing.  I don't have a detailed day by day account, mostly because I don't remember those details by now, but this gives a great overview of all we did and all I would highly recommend you do, if you go to Napa.  So let's get to it!
Our first stop when we got there was to Domaine Carneros which is known for their sparkling wine.  We loved it there.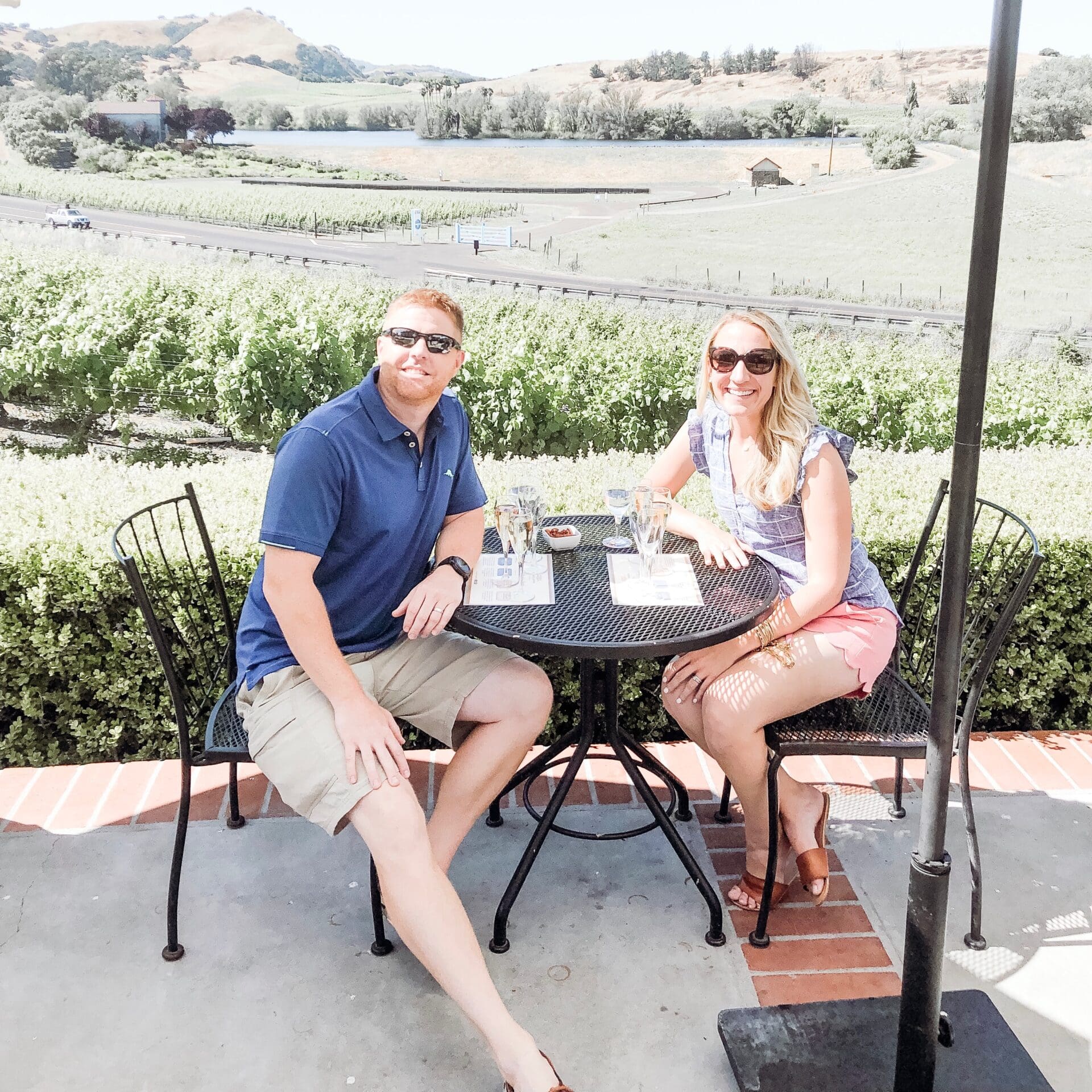 The view was gorgeous and fun fact….across the way there is another winery where the movie Wine Country with the SNL girls was filmed.
If there's one thing Eric and I recommend everyone do while visiting Napa it's a bike tour through the vineyards.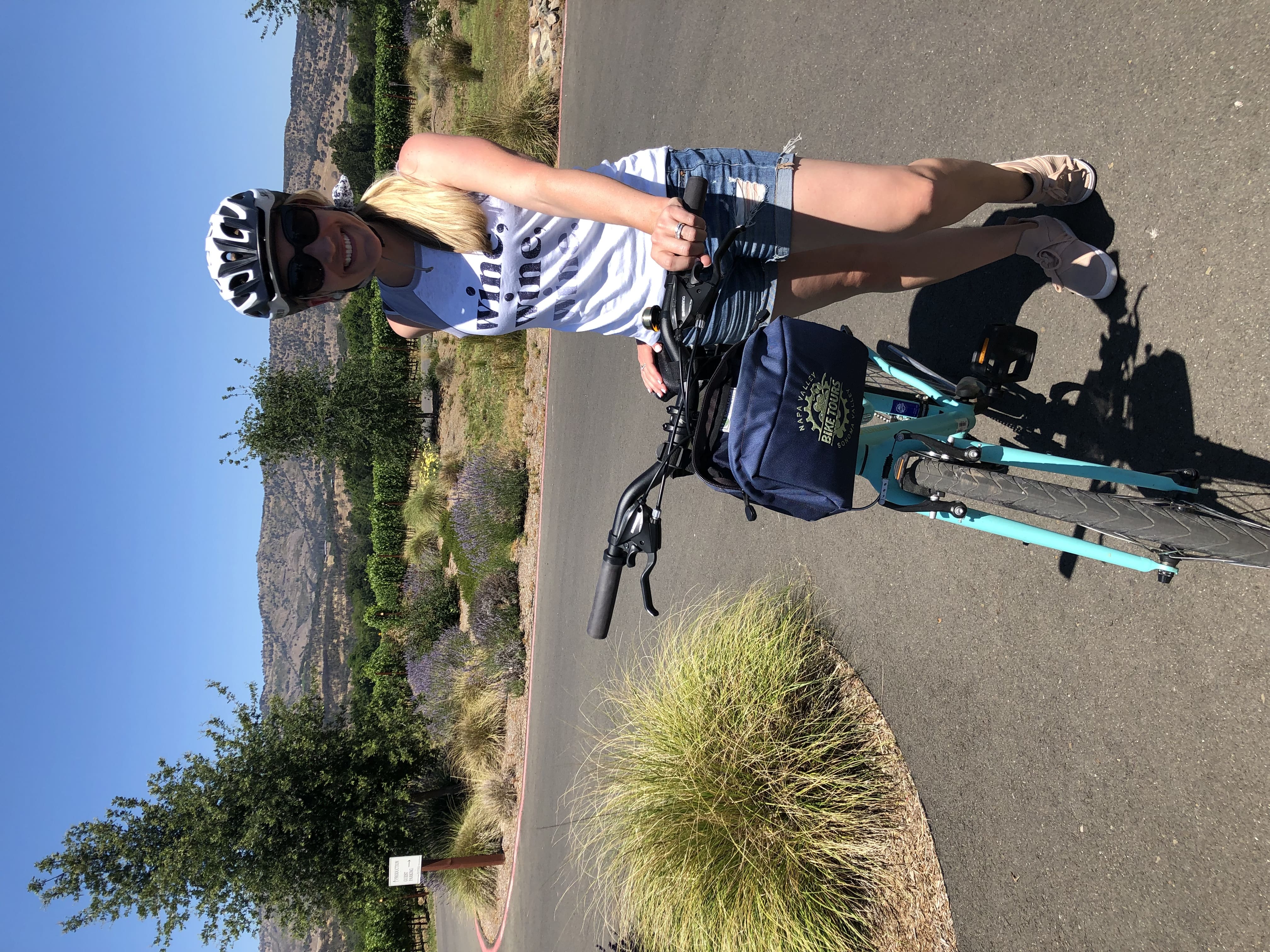 We did this the first time we visited Napa and loved it so much we wanted to do it again.  We use Napa Valley Wine Tours and it's always been a great experience.  These tours are so awesome.  You bike to two or more vineyards and stop and enjoy some wine along the way.  In total we biked 12 miles, and we felt it by the end of the day but it was worth it.  Before we got started we stopped in a vineyard along the way and learned about how the grapes grow and how wine is made, and then we were off!
That's our instructor and another biker on the tour with us.  Our first stop was to a winery called Laird and it was easily one of our favorites of the whole trip.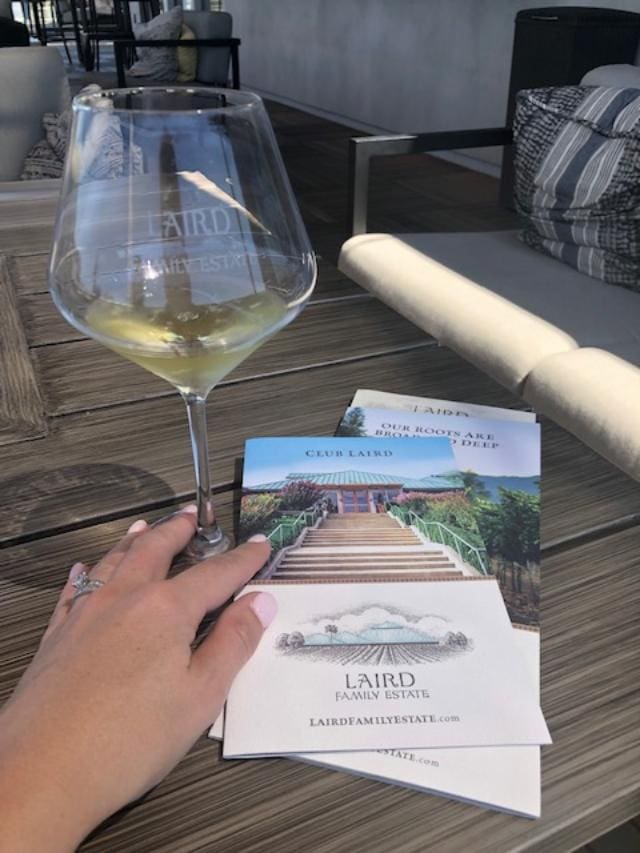 We did a tasting while sitting out on the deck.  We were the only ones there and it was so peaceful and glorious.  There's so many wineries to choose from in Napa and some are more commercial and super busy and others are more laid back environments.  Eric and I have quickly learned about ourselves that we much prefer the slow paced, laid back wineries.
After Laird we biked over to Materra where they had a private tasting set up for us at a table outside.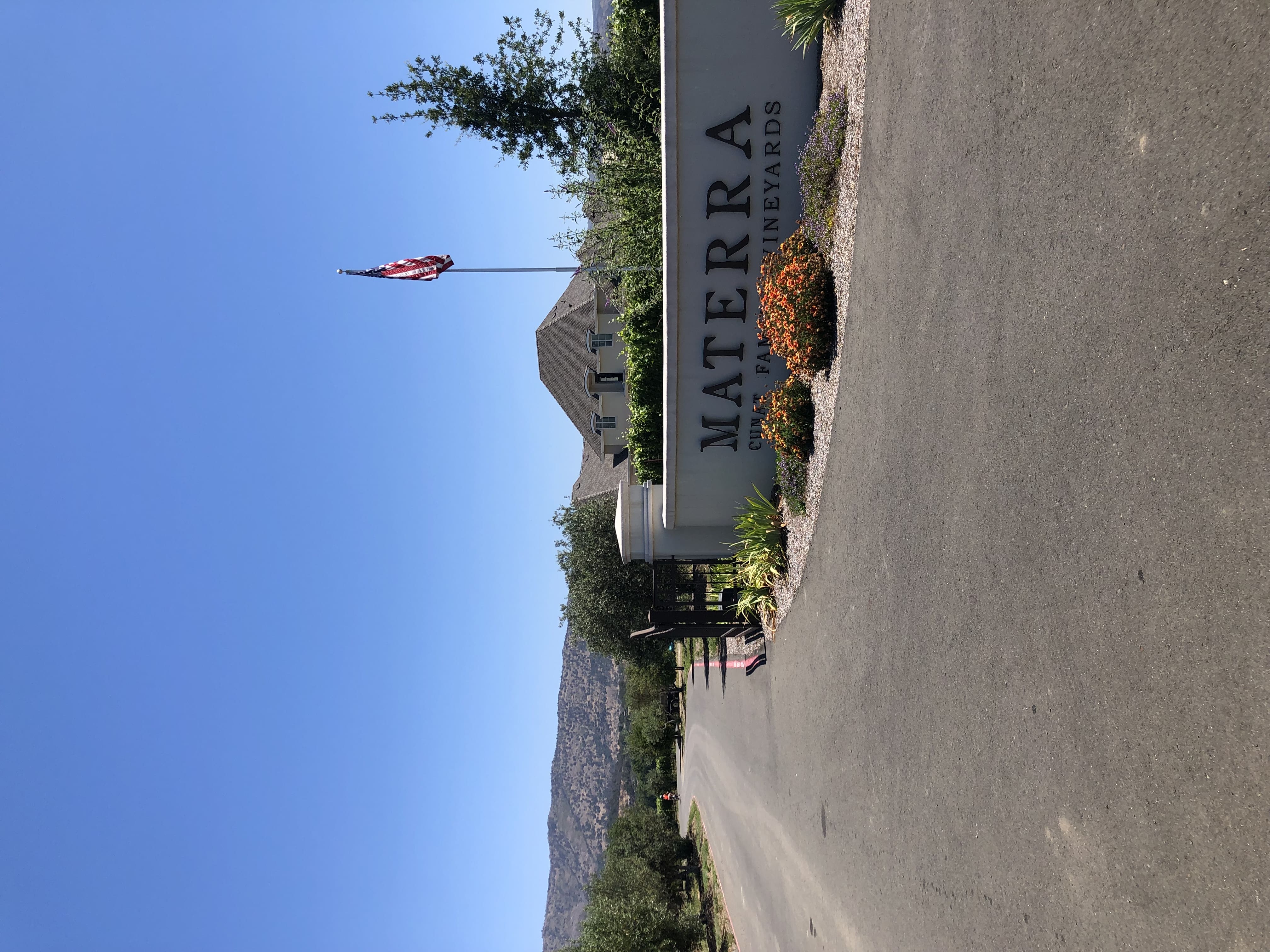 We spent time enjoying our tasting there and then took a few pictures in the vineyard (the picture on the right is with the other girl on our tour. We should have gotten one with our tour guide too but didn't).
Along the bike tour we passed the famous Thomas Keller restaurant, The French Laundry.  You need reservations well in advance (like a year) to eat there, so needless to say we did not experience it from the inside.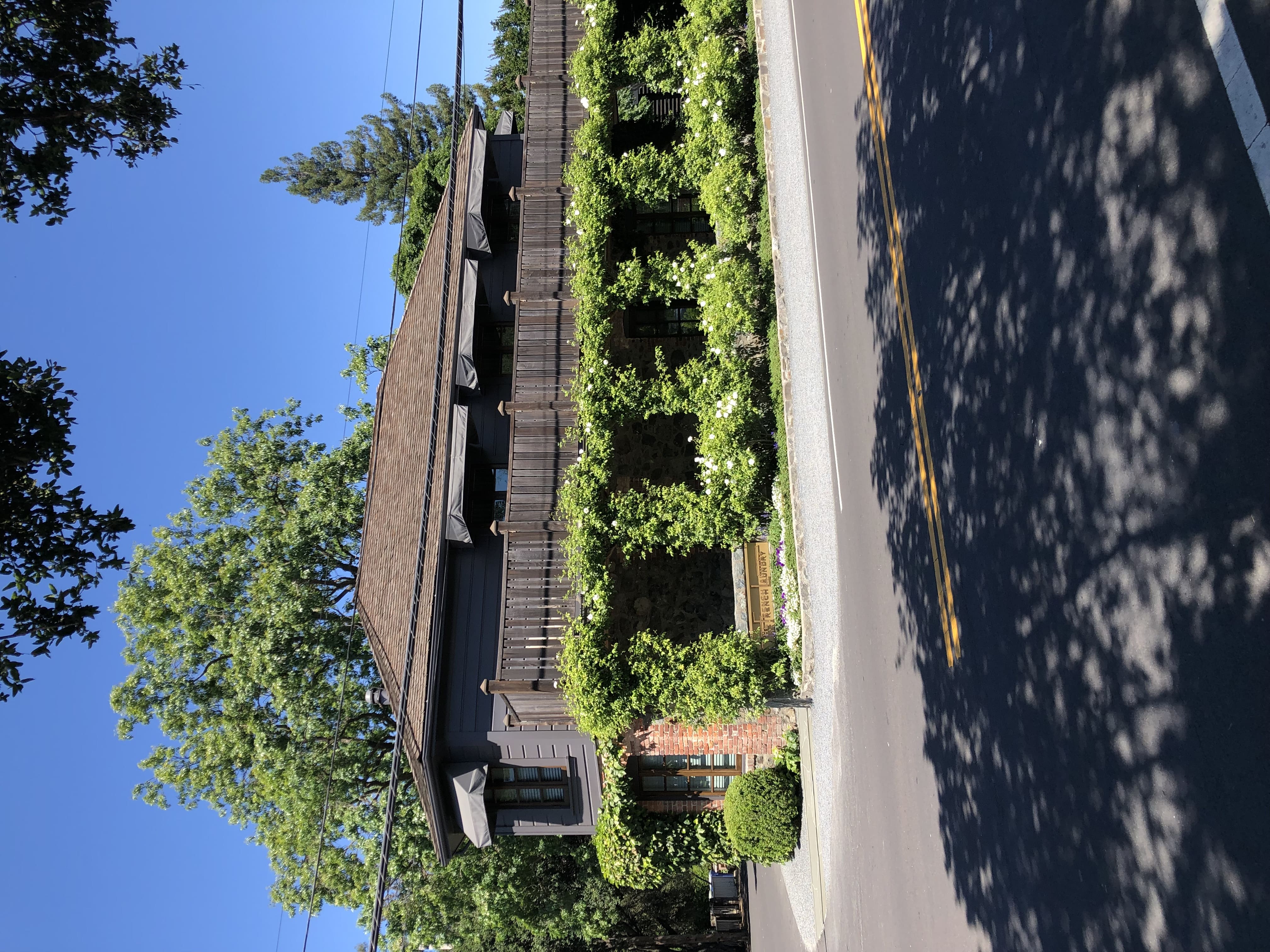 We did however eat at other great restaurants.  Our two favorites are The Rutherford Grill and Brix.  The views at Brix are so stunning!  Here we are there for dinner.
And since we are talking favorites…..if you ever go to Napa you have to go to our favorite winery, Frogs Leap.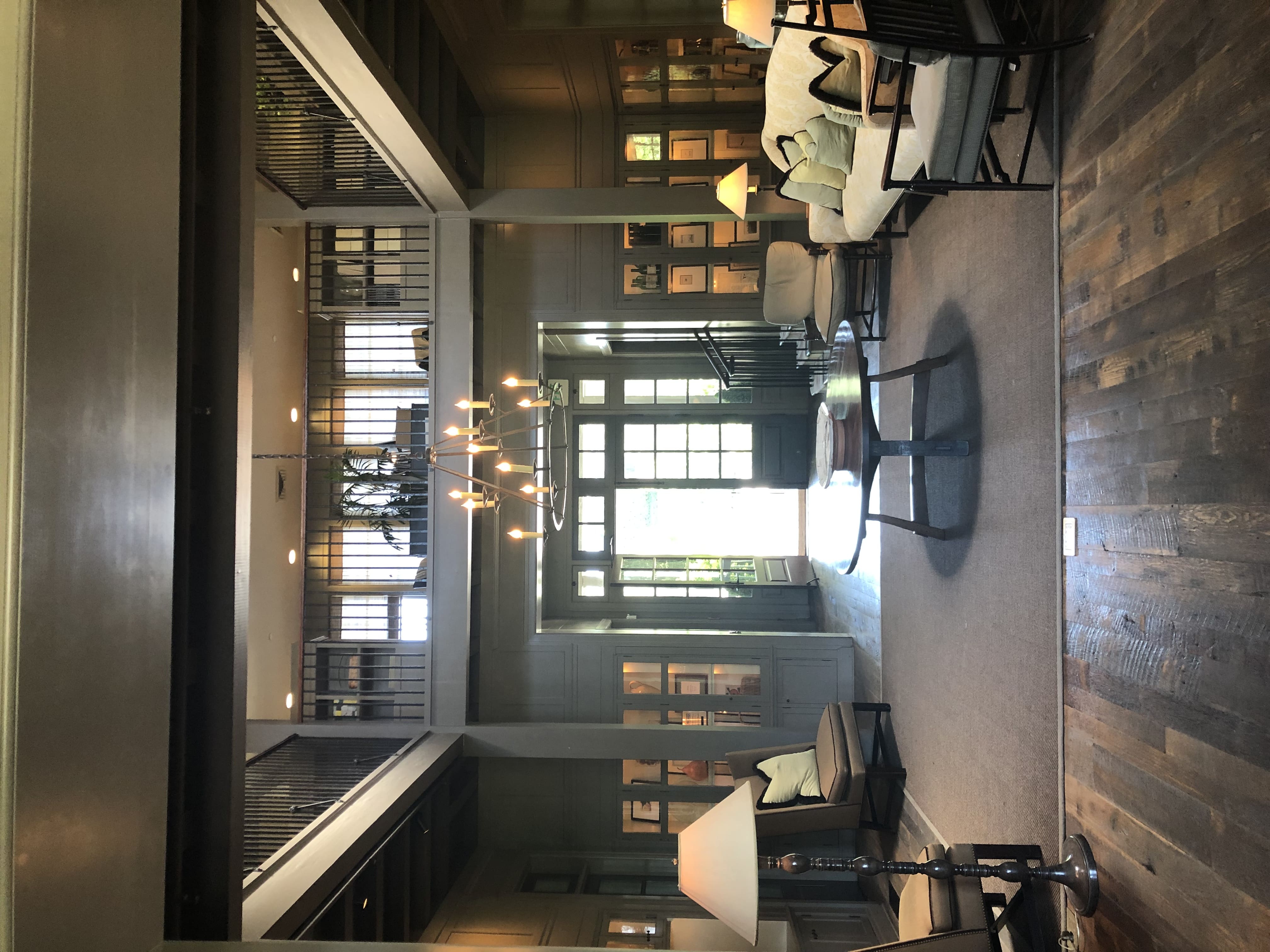 That's their entrance and it's total home goals!  It's another pretty low key place and is quiet and relaxing.  The first time we ever went we did the tour which was fun.  This time we simply enjoyed the wine tasting and the scenery.
Most places allow you to walk around the vineyards with a glass of wine after your tasting, which we often did.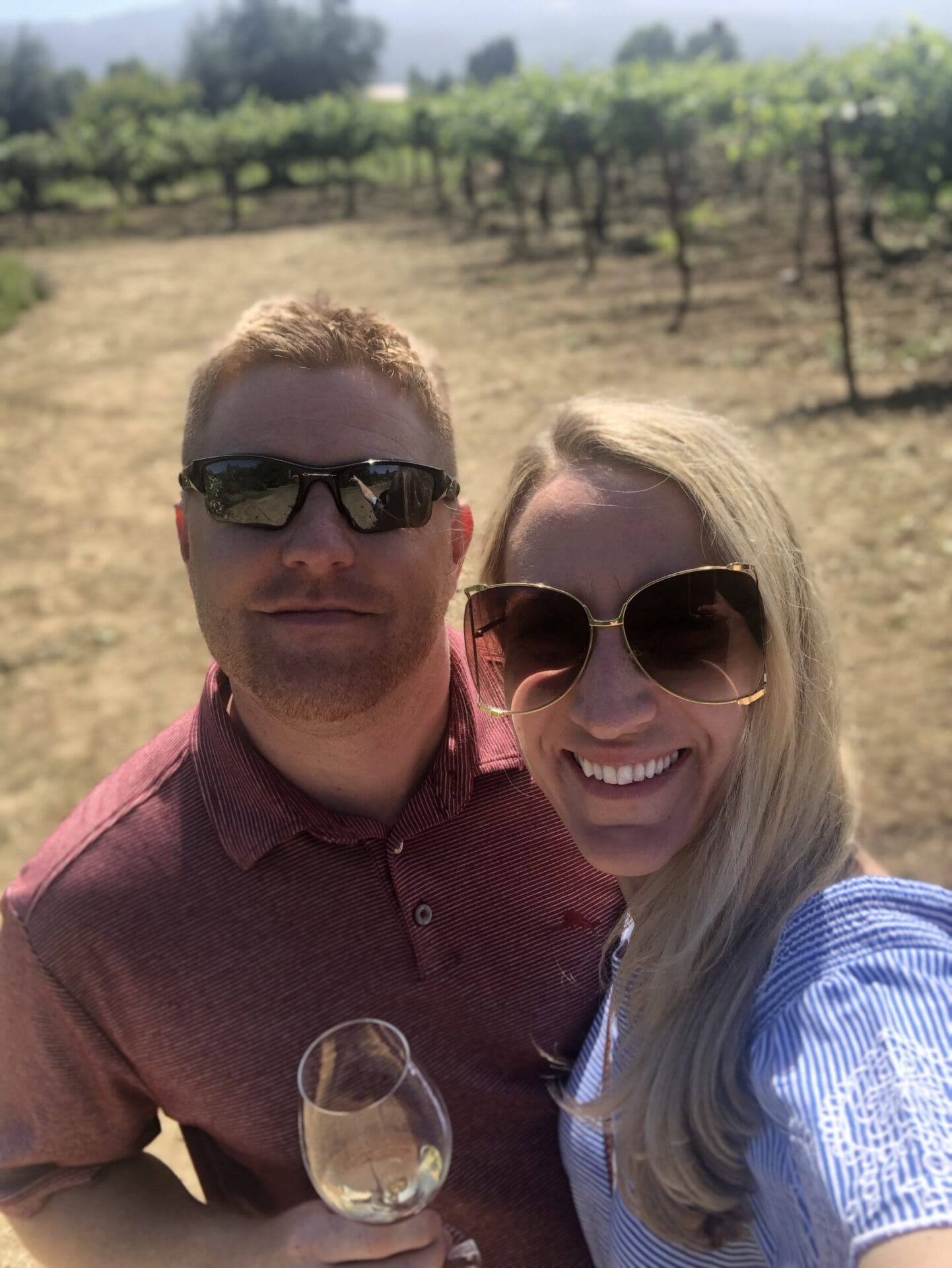 Another winery we visited that we really enjoyed, especially the atmosphere was, Paraduxx.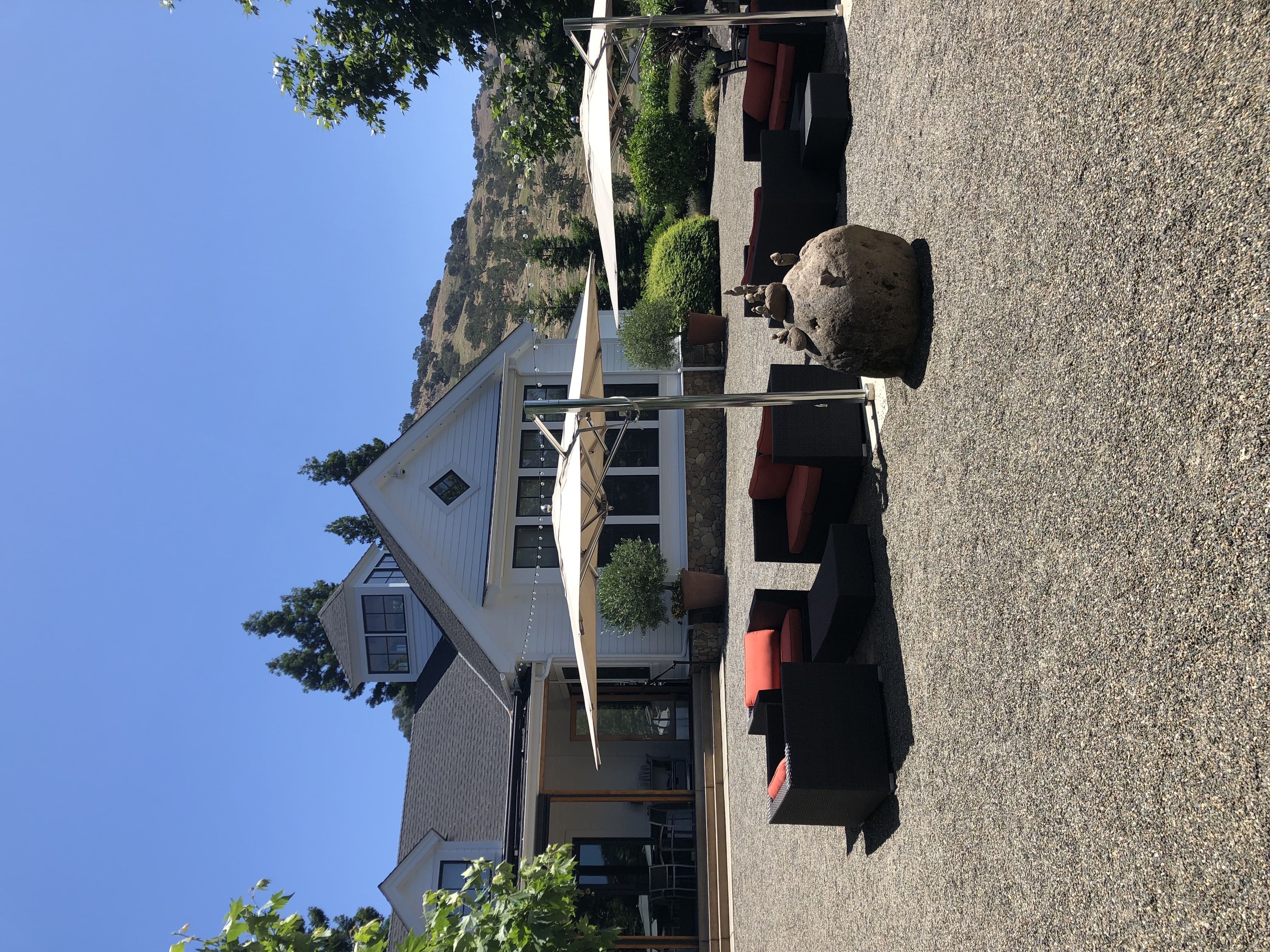 I want every single winery house on the property to be my actual home. Wineries are just so stunning, and everyone is super friendly and knowledgeable.  Fun fact about this one…..our Sommelier told us to feel free to wander around the property but to avoid the side with the rock wall because there were several baby rattlesnake dens in there!  We happily obliged.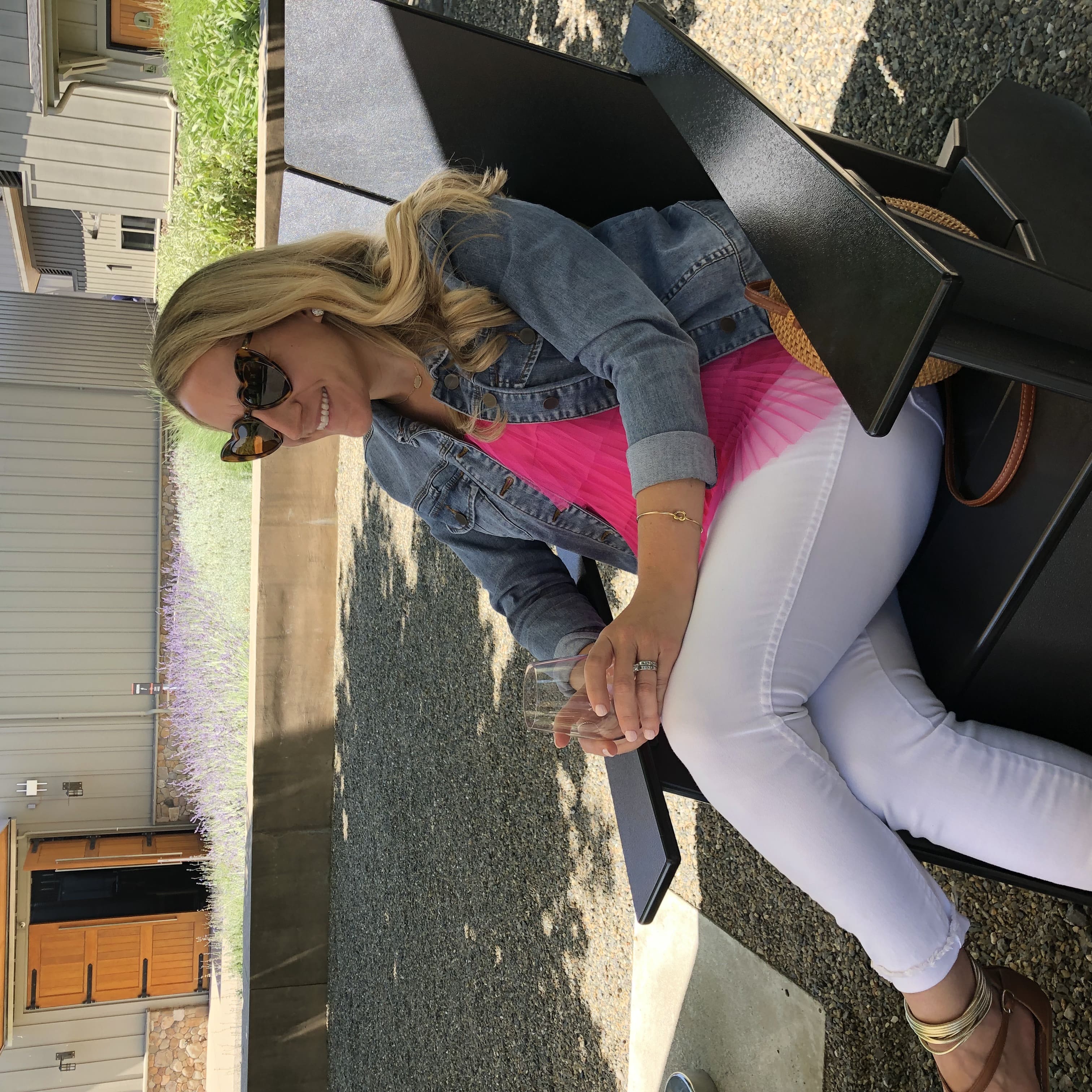 Some other wineries we enjoyed were Honig and Z & D which we squeezed in on our last day.  Not pictured was also the winery called Elizabeth Spencer, which was one of my favorites.
There isn't an abundance of different activities to show because truly our days were spent going to wineries, enjoying the stunning scenery and peaceful environment.  At the end of each day we would refresh at our hotel, then grab dinner somewhere and have a few drinks at night either at our hotel's rooftop bar or somewhere local.  It was exactly how we like to vacation.
We ended our trip in San Francisco really just taking in the Golden Gate bridge before heading to the airport.  We used to live out here in Northern California so we have gotten our fill of San Fran in the past but the bridge never gets old.  Although I will say, it never fails that it is always overcast there when you want a picture.  But usually that means you can't see the bridge at all so the fact that a little bit is peaking through is great and I'll take it!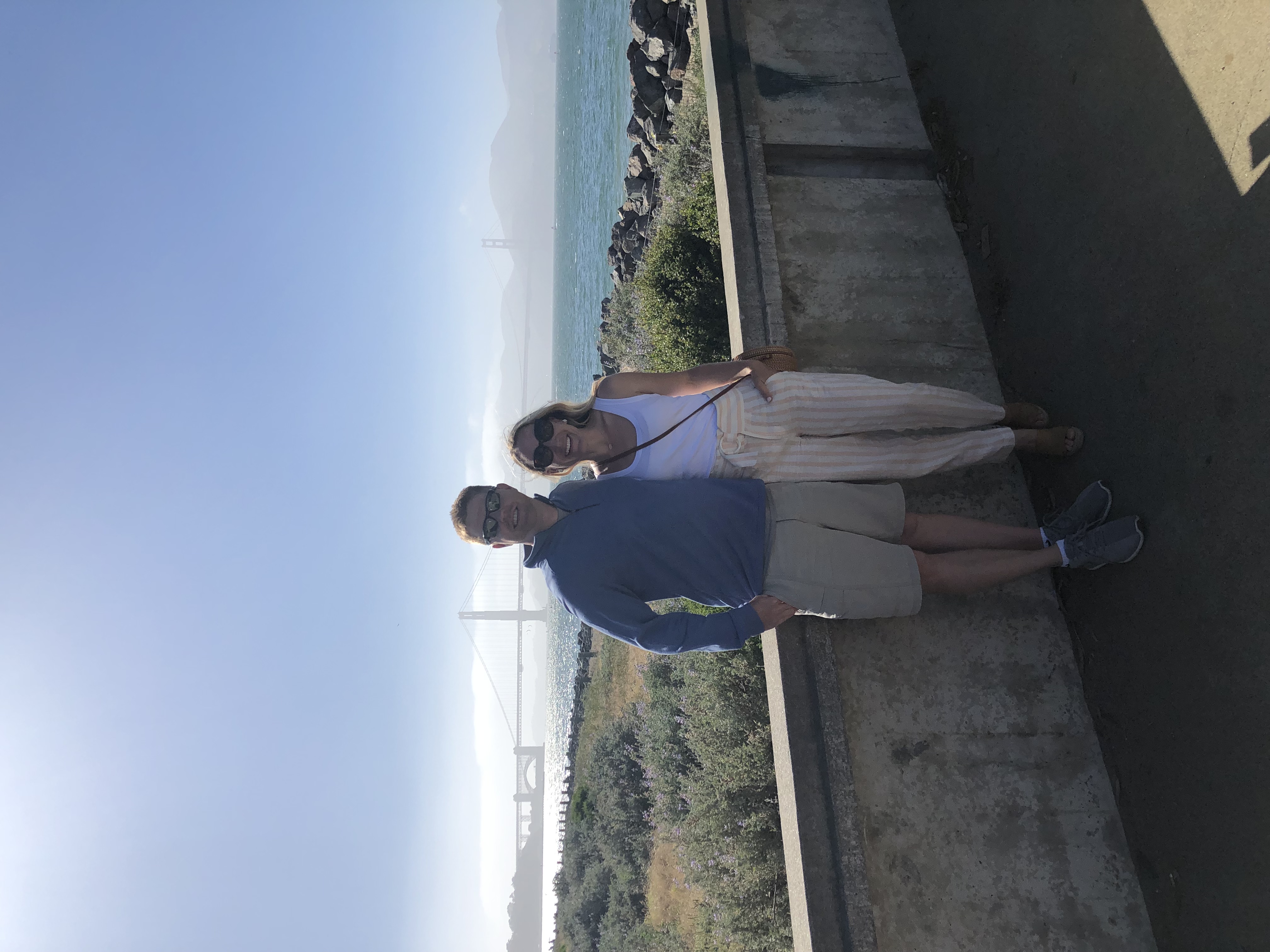 Alright friends, that does it for the Napa recap.  Thanks for stopping by and checking it out.  If you've never been I highly suggest adding it to your bucket list.  You won't be disappointed.
Jill
xo, Jill