Happy Monday friends!  I hope everyone had a great weekend.  Ours was really nice but I swear the past several days have been a total whirlwind between covering the Nordstrom Anniversary sale and Monat having a flash sale on travel items AND Amazon Prime day starting today!  Ahhhh so many sales, so many good deals, but so.much.to.cover!
Before I get to it let me say that without a doubt everything from my Nordstrom sale haul that I shared on Friday is a must have!  Many of which are already sold out, but lots are still in stock.  If you missed that post you can check that out here.  I did a second try on yesterday of items still in stock and I'm bringing you those (because they are all must haves too, except for one), and then once the Nordstrom sale opens to the public I'll have another post covering the items that are still available. Whew!  Okay, let's get to it!I'm kicking off must haves to day with some Amazon must haves for you Prime members!  First up, when we were in Napa our hotel room had a Nespresso machine in it and I instantly fell in love!  And good news, it's a prime day deal!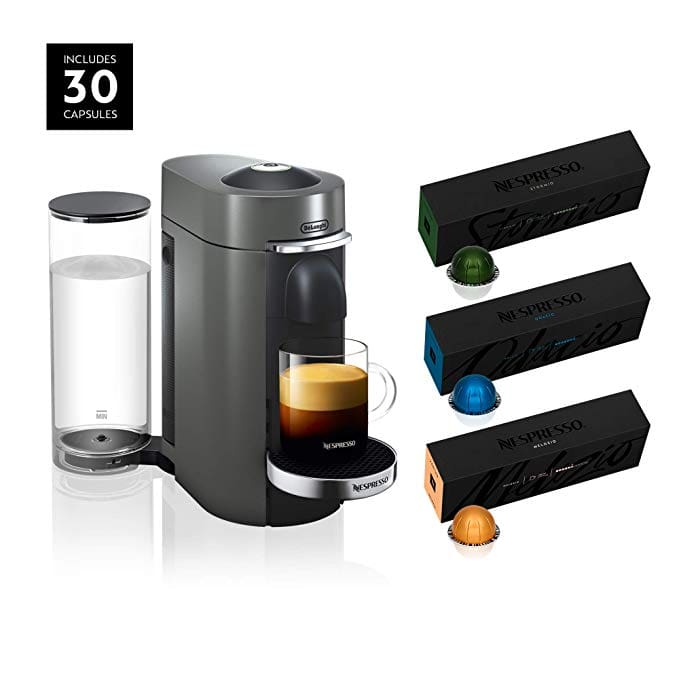 Regular Price: $181.99 ¦ Sale Price: $99
Next up, Eric can I recently bought indoor versions of the Blink security cameras and we were pumped to see the outdoor ones on sale for Prime Day.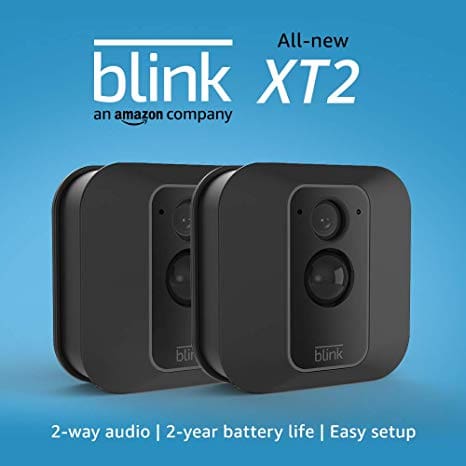 Regular Price: $179.99 ¦ Sale Price: $99
These are awesome because they run on batteries and the camera quality is great!  This is definitely a great value.
And for those into the Echo Dot, they are also part of Prime Day.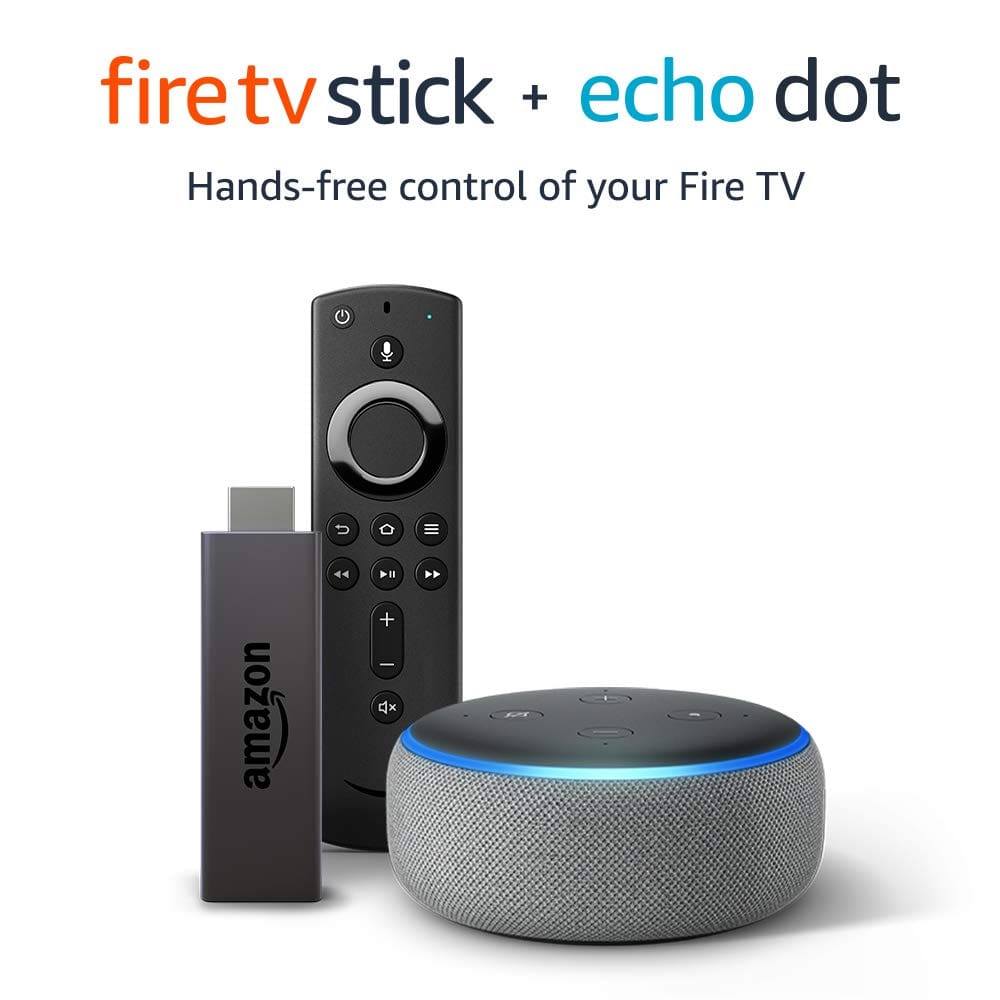 Regular Price: $89.98 ¦Sale Price: $64.98
And lastly, for the Amazon deals that I've found so far (I've only just started combing through it all since it just started AND they are releasing new deals every hour) is the Instant Pot I know everyone raves about.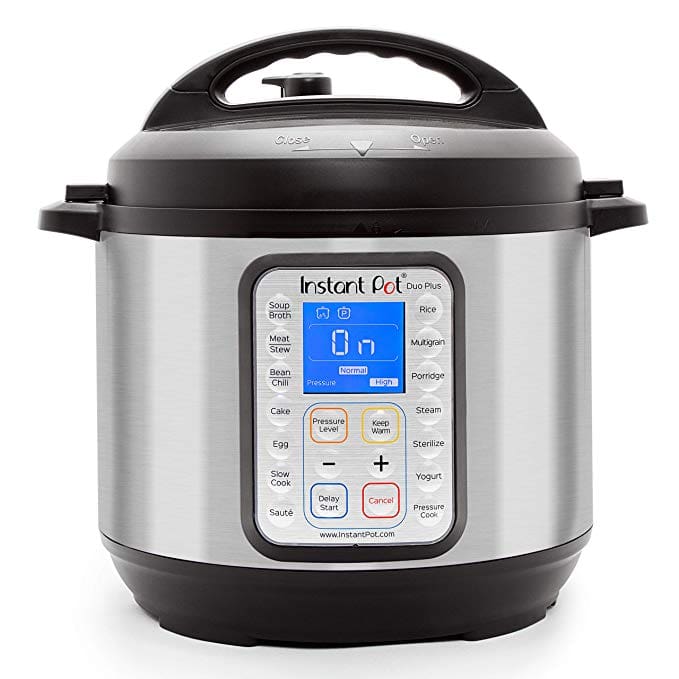 Regular Price: $69.99 ¦Sale Price: $55.99
Okay next on the docket, let's talk more finds from this Nordstrom Anniversary sale.  I thought I had picked through the finds last week, but then I went back in this weekend and found a few more items I totally loved, some of which I ended up buying or ordering once I got home.  I will say though, that I feel like I have officially seen all Nordstrom has to offer and I feel confident with the picks I have been bringing you.
First up, I don't know  how I missed this cardigan during my first visit to the anniversary sale on Friday, but I'm so glad I found it yesterday!
Regular Price: $79.00 ¦ Sale Price: $52.90
It's by Caslon and if you missed my post Friday then let me just get you up to speed, Caslon killed it this year!  So many of the amazing items I found were by them.  Caslon is a pretty affordable brand and so many times while trying something on I'd think to myself "oh, I bet this is Madewell or some expensive brand," and each time it was Caslon and reasonably priced!  I was blown away.  I've always loved their basic tees but wow, did they show they are more than t-shirts, this year.
Anyways, back to the cardigan.  It is so soft and snuggly and I like the length and the hood. It comes in 4 colors.  Also, the jeans I didn't buy, but I'm wishing I had now that I look at these pictures.  They are by KUT and fit true to size and I like the cuffed ankle.  Here's a closer look.  I couldn't find them online but I linked a similar pair here.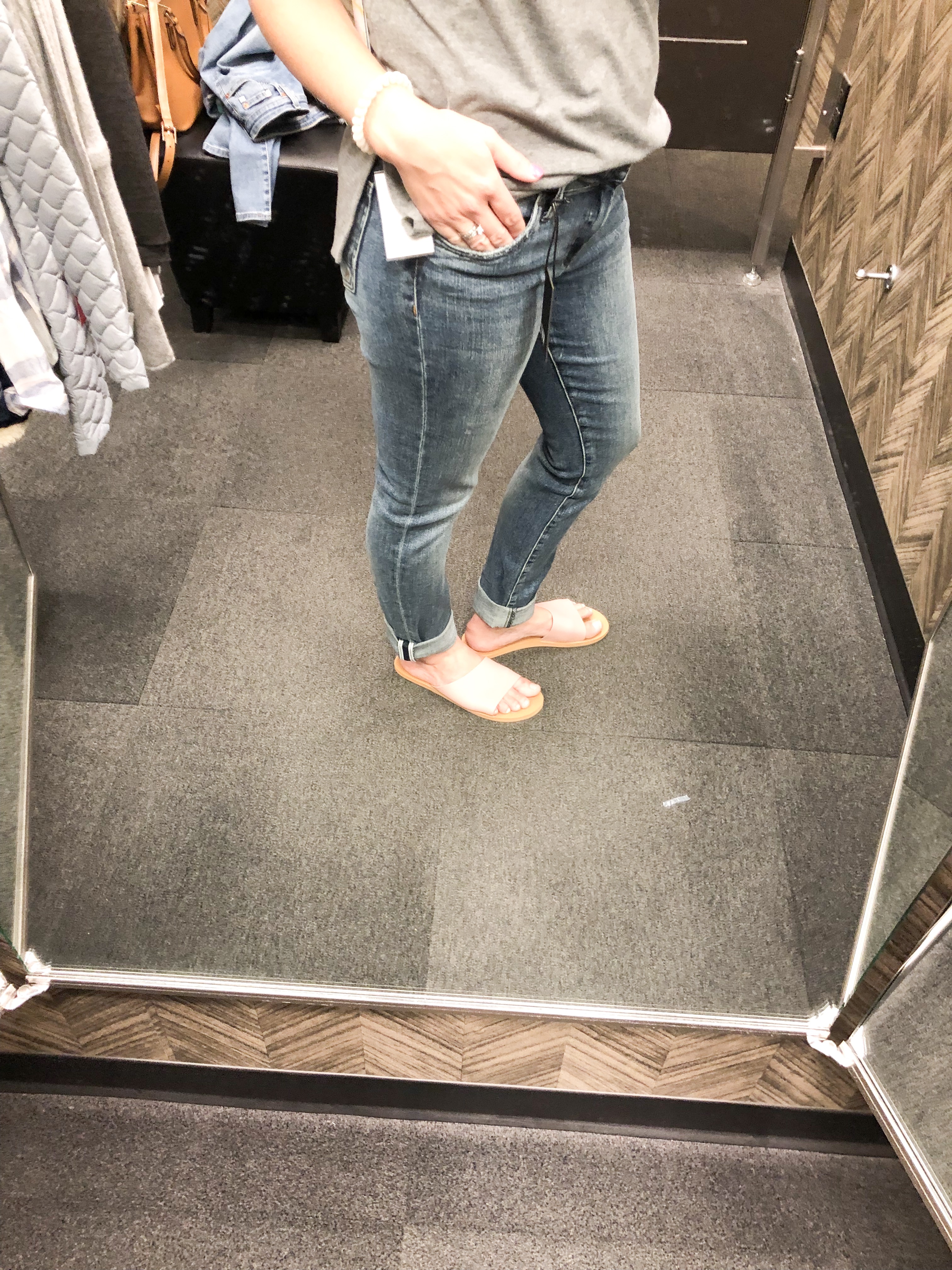 Next up, I kept seeing other bloggers talk about this coat and I didn't really see the hype until I tried it on.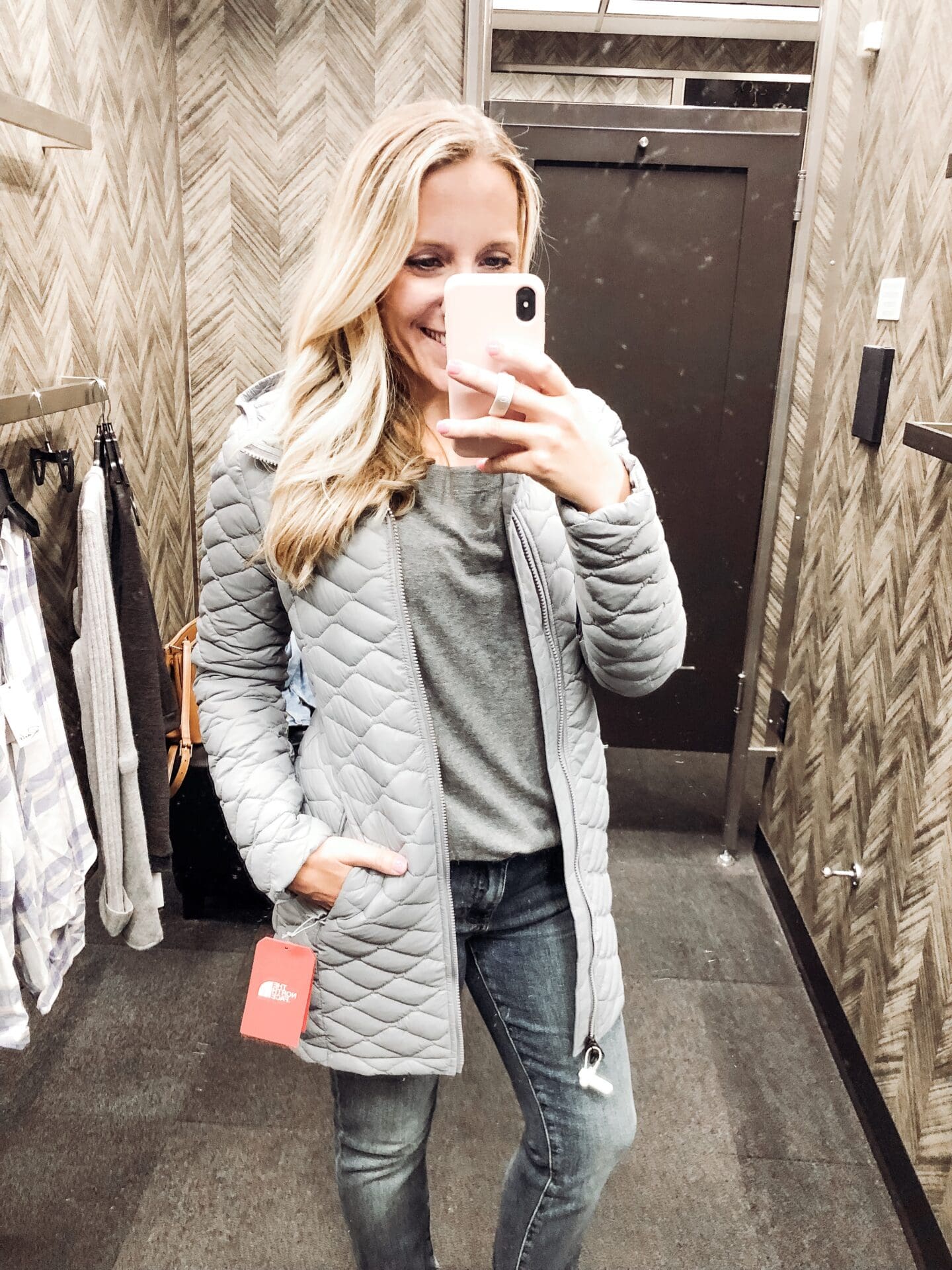 Regular Price: $230.00 ¦ Sale Price: $159.90
I love me a quilted coat I will say.  I love the purplish/gray hue of this one (it also comes in cream and black) because I like when winter coats are different colors than black.  I have a black quilted winter coat so I was on the fence with this one, but ultimately I ended up getting it because I couldn't stop thinking about it and how cute and warm it was.  So now I will have some variety this winter and I'm happy with that.
Underneath this coat was this cute top I found by Zella, who if you don't know has THE best leggings ever!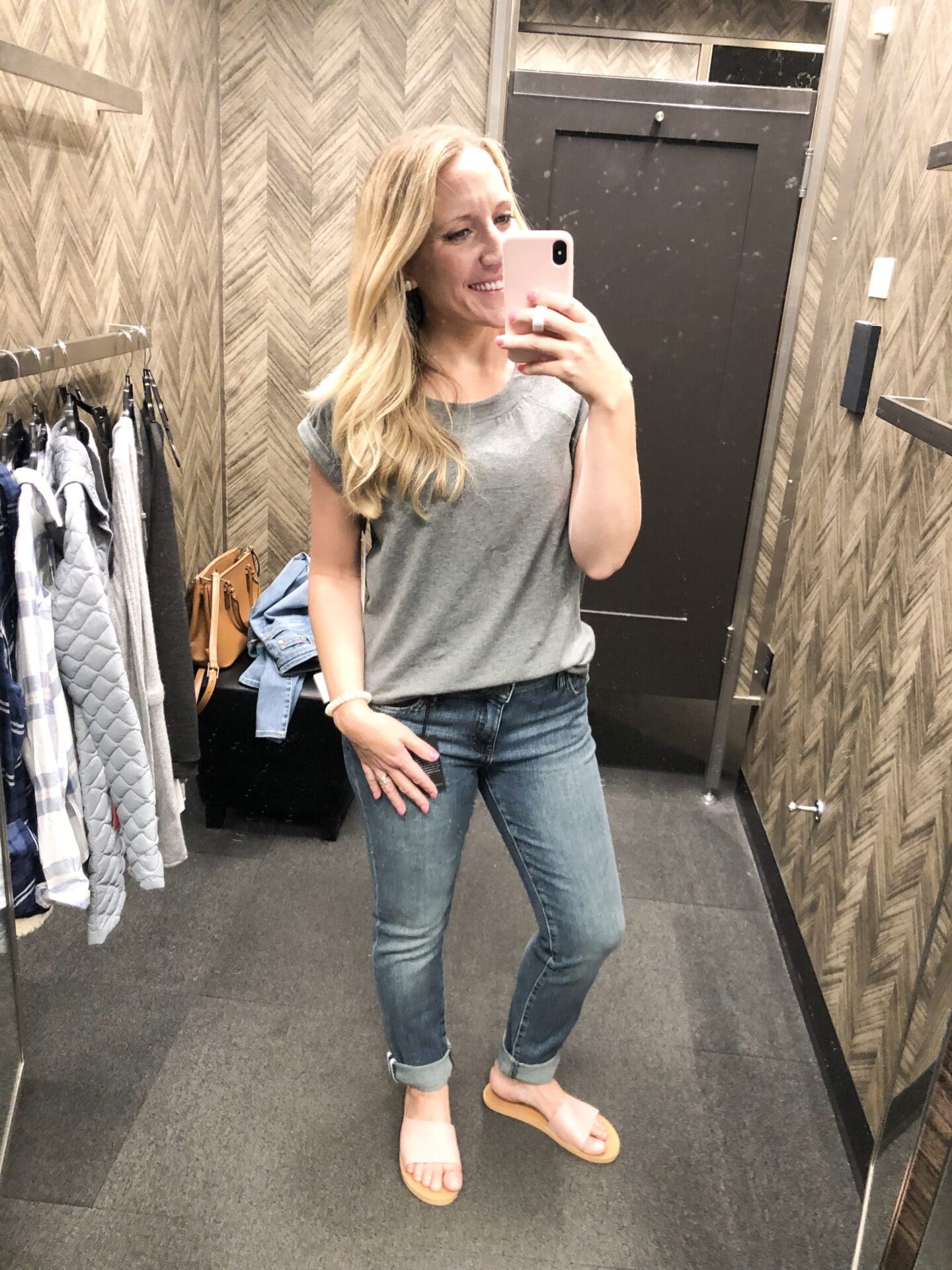 Regular Price: $45.00 ¦Sale Price: $29.90
I like the cuffed sleeve detail and the fact that on sale its $30 and it was so comfortable.  This is great paired with jeans but would also be great with leggings or shorts this summer.
Next, let's talk Rails shirts…..
Regular Price: $158.00 ¦ Sale Price: $99
You guys, if you are ever wanting to splurge on a top, Rails is the way to go!  They are so stinking soft and simply put, these are the best button ups you will ever own.  BUT, they are pricey.  We are talking, on sale around $99, pricey!  But again, this would be something you would buy if you were looking for an investment, staple piece for in your closet.  I loved both of these options and, as shown here, they are long enough to where you can front tuck them or front tie them.  And not pictured, the back hangs over your butt some, which is always nice.
Oh and these jeans I really liked as far as a lighter washed denim goes…..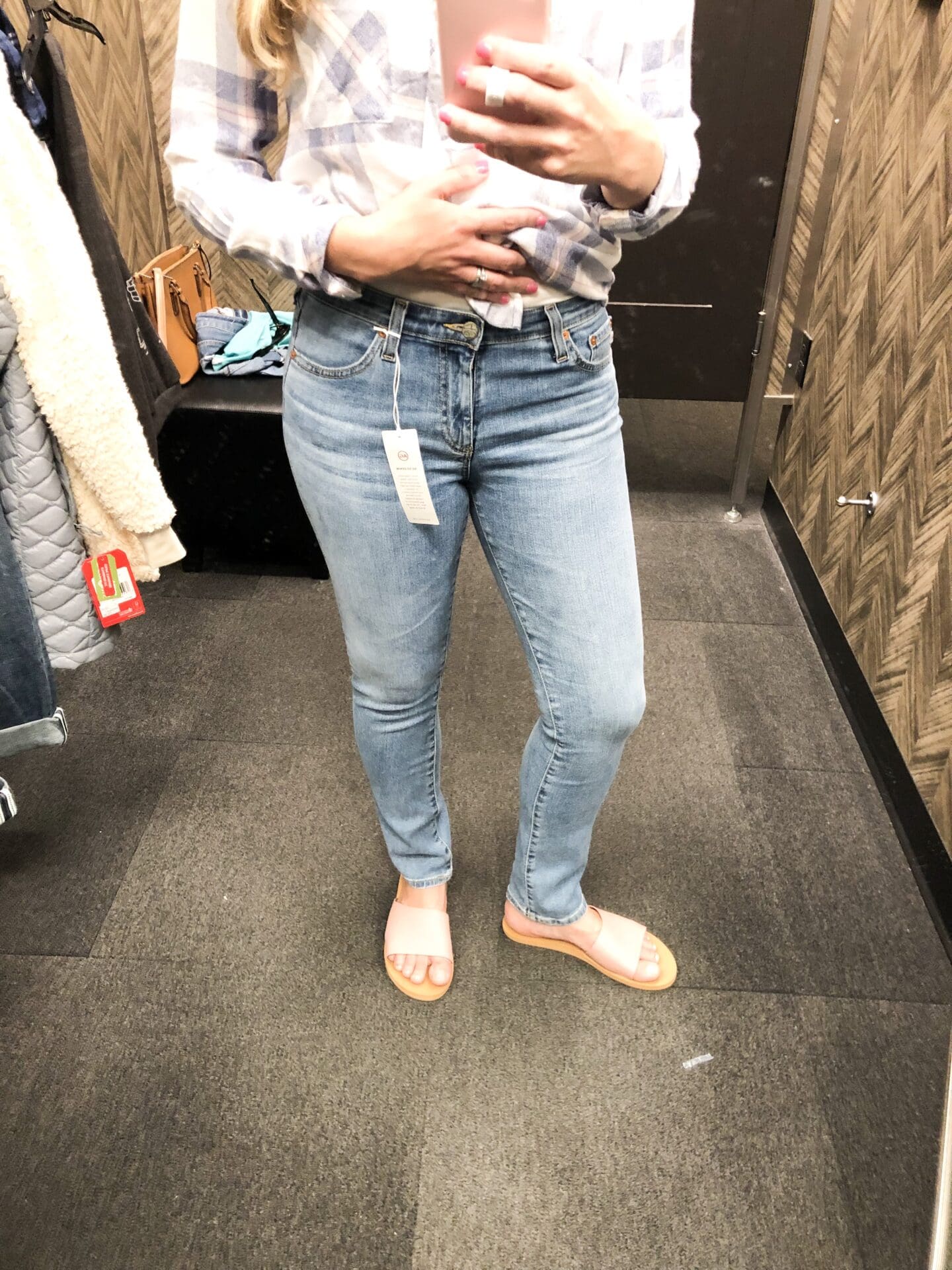 These are by AG which is quality denim and I found them really comfortable and true to size.  I'm such a dark denim girl that I didn't end up getting these, but if ever I was going to branch into lighter denim, I would grab these.
Last up, I'm not deeming this a must have.  For me, this next item was a, no way! But, I am sharing it in case it could work for you.  It's also by Caslon, who of course I jsut raved about, but it was their only miss, in my opinion.
Regular Price: $99.00 ¦ Sale Price: $65.90
I'm calling this the teddy bear jacket.  It is extremely soft and cozy, and unzipped it's not bad, but as soon as a I zipped it I knew it was a no go for me.  It was just an awkward shape on me and when I tried folding it under (middle picture) it just made me look wide, and untucked it looked too long.  I think this could be cute on someone tall, but it swallowed my 5'3 frame.
Last up for must haves this week is something not Nordstrom or Amazon, but my other love…..Anthropologie. I wandered into there after Nordstrom and saw this handbag that I thought was so cute.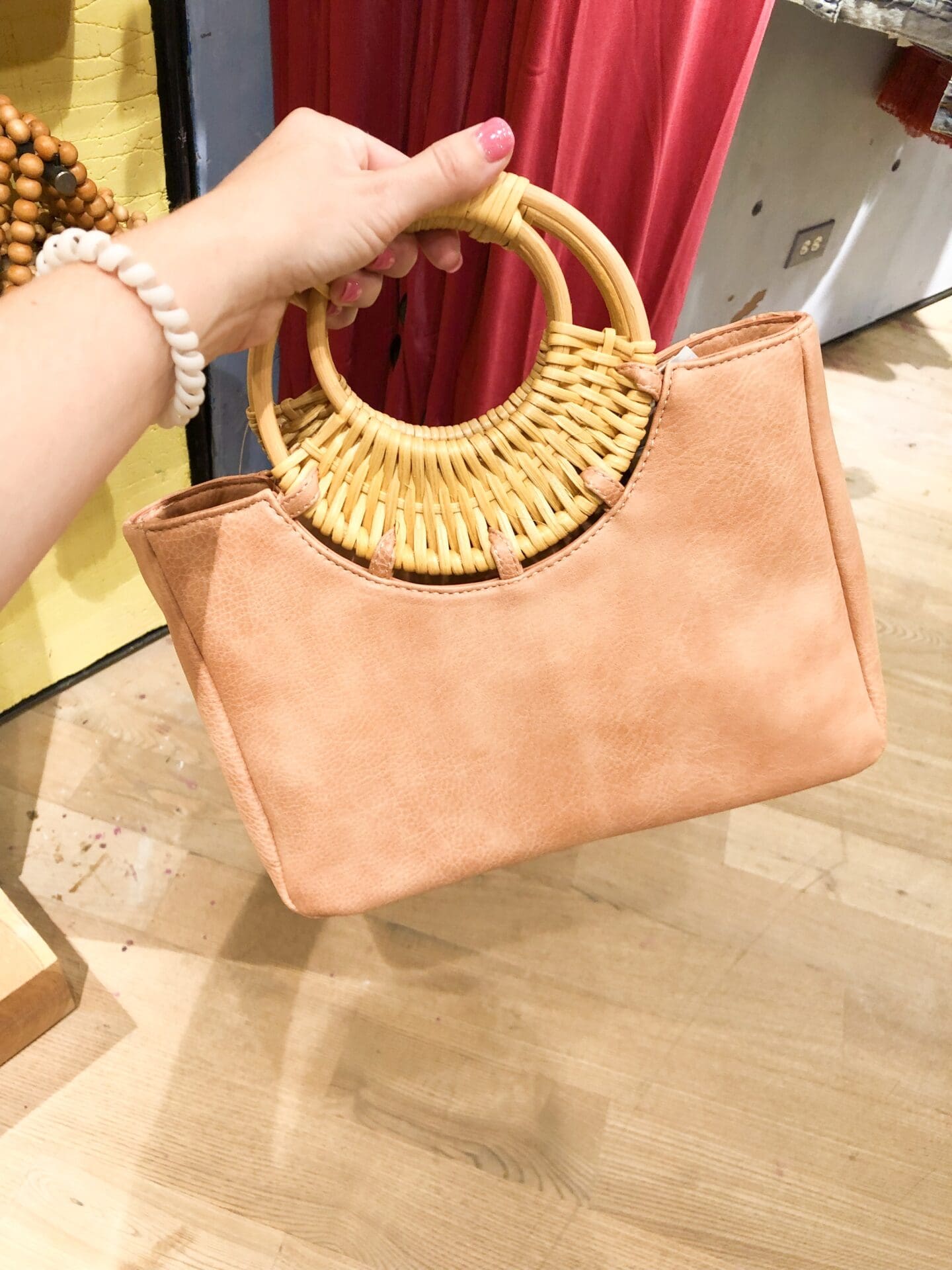 I just thought it was darling and you would still get a lot of use out of it this summer and even in the fall since it's a rusty pink shade, and it comes in 4 other colors too.
Alright friends, that does it for must haves this week!  Again, if you are not a Nordstrom card holder I will be doing a post on Friday covering all the Nsale must haves still in stock and ready for you to buy.  I know some goodies have sold out but there's talk of some restocks coming and there's still sooo much available that won't be sold out.
Have a great start to the week and if you are taking advantage of all these crazy sales, happy shopping!
Jill
xo, Jill