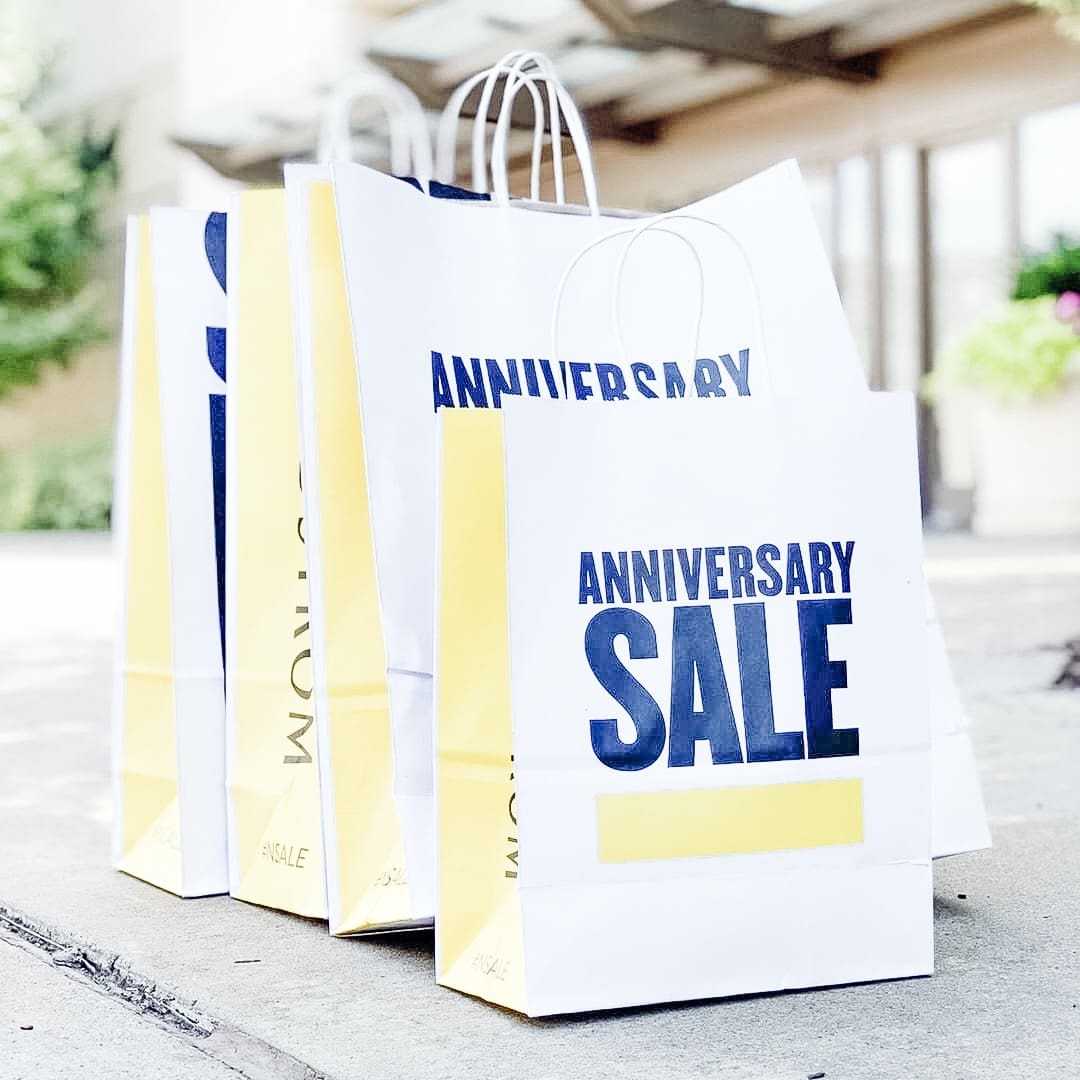 Happy Saturday friends!  We made it through another week!  Today, I'm touching on one of my favorite posts of the year….The Nordstrom Anniversary Sale!  Every year there is so much good stuff and you guys I tried to weed through some things early for you but when I looked there were literally 332 pages of excel type spreadsheets, each filled with like 100 items, and ummm there's no way I was getting through that as a solo show over here.
So, instead I have decided to just share with you the items I found, that I love or ones that are a great deal.  Now, this sale is currently only open to cardholders now through the 18th.  Public access is on the 19th.  But, no harm in looking now and picking out some items you want.  Some things will definitely sell out fast, but most will stick around until public access.  So if you aren't a cardholder, map out what you want now, add them you your cart even and be ready to check out come the 19th!
Also, sorry this post is coming to you on a Saturday.  Trying to shop the sale and do everything else yesterday, kicked my butt.
So let's get to it!  Don't mind Leyton in photos.  Letting him run around the dressing room was the only way I was going to get through several tryons.  As always, the items are linked throughout the post to click and shop if you have a Nordstrom card or to add to cart if you are waiting for public access.
Okay, let's start with sweaters!  I am mostly shopping for new fall pieces after all and you guys, the sweater game this year is strong!
Regular Price: $68 ¦ Sale Price: $44.90
First up, this one by Top Shop is definitely one of my favorite finds of the sale.  The colors remind me a little of Neapolitan ice cream, but I don't care because it is so cozy and soft and warm.  You can wear it tucked in, which is always my go-to, or untucked. And speaking of colorful sweaters…..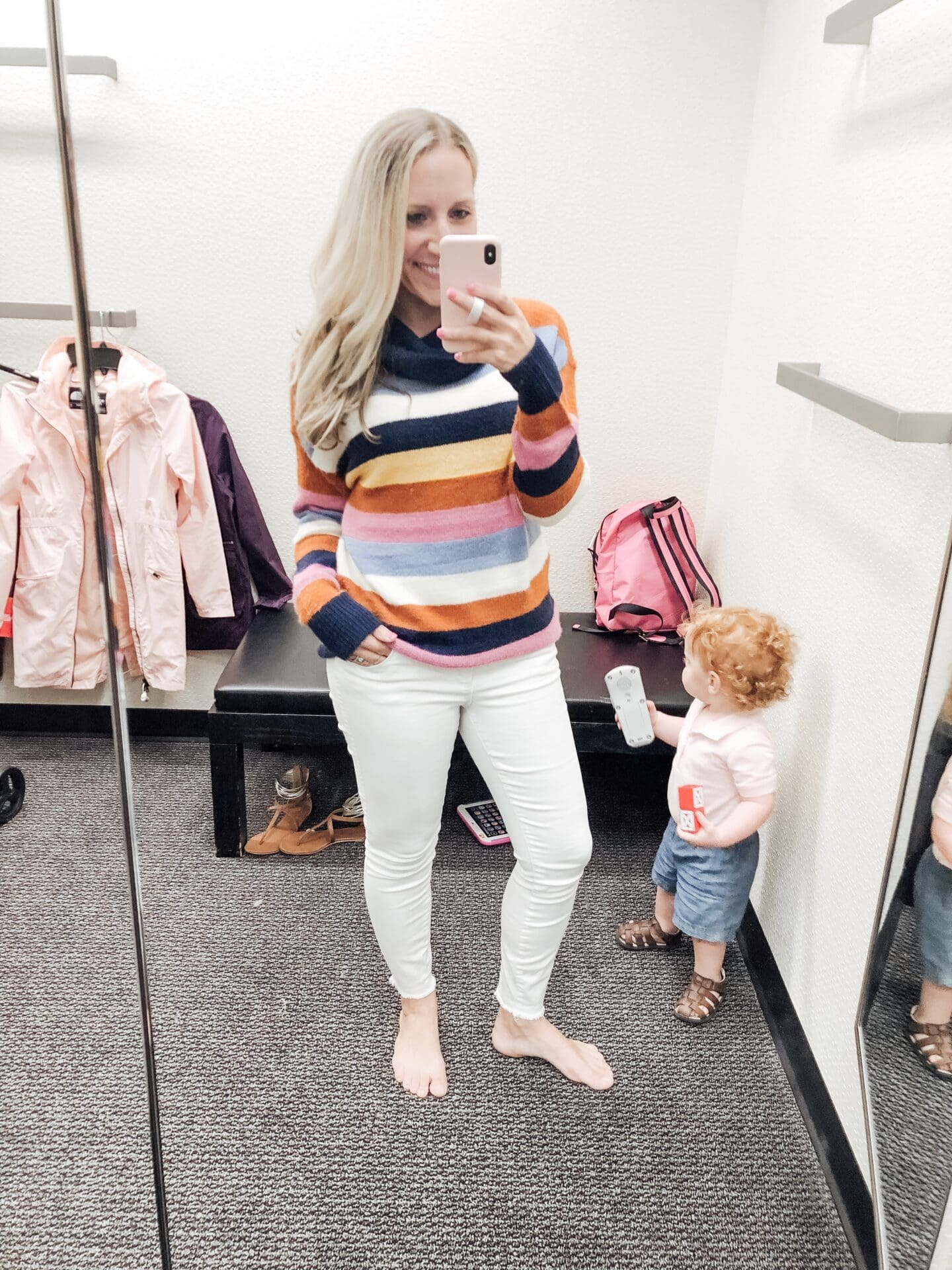 Regular Price: $69.00 ¦ Sale Price: $45.90
At first I was just going to try this one on, but then I put it on and wow!  It's by Caslon, which is a brand with so many great items in the sale this year, and it is so soft and the colors are so great.  This one comes in these stripes and 4 solid color options too.
Next up, I found this super cozy Thermal Henley top also by Caslon.  I love the fit of it and the longer length in the back.  I never met a Henley I didn't like.  This one is so warm and comes in 4 colors.
Henley Top: Regular Price: $59.00 ¦ Sale Price: $38.90
Olive Green Jeans: Regular Price: $68.00 ¦ Sale Price: $44.90
I loved this top paired with these olive green jeans, which I also didn't think I'd like but ended up loving and found they went with so many pieces from the sale.  They are by Articles of Society and I just love the green color.  They fit true to size.  The only bummer is that the pockets aren't real in the front but I loved these so much that that didn't bother me enough to not buy them.
Here are the jeans styled three other ways too.
BP Tee Regular Price: $25:00 ¦ Sale Price: $15.00
Madewell Cardigan: Regular Price: $98.00 ¦ Sale Price: $64.90
Halogen Cardigan: Regular Price: $79.00 ¦ Sale Price: $49.90
First up, I love a simple t-shirt and jeans look.  This BP oversized lounge tee is perfect because it's nice and long.  It looks great tucked in but is long enough to wear over leggings too.  Definitely true to size.  Comes in 6 colors. BP tees are the best because they are nice quality and so inexpensive.  Here are two other options for $11.90 on sale that everyone is loving from this sale too.
The Madewell cardigan in the middle is sold out, unfortunately, but here is a solid option.  Comes in 3 colors.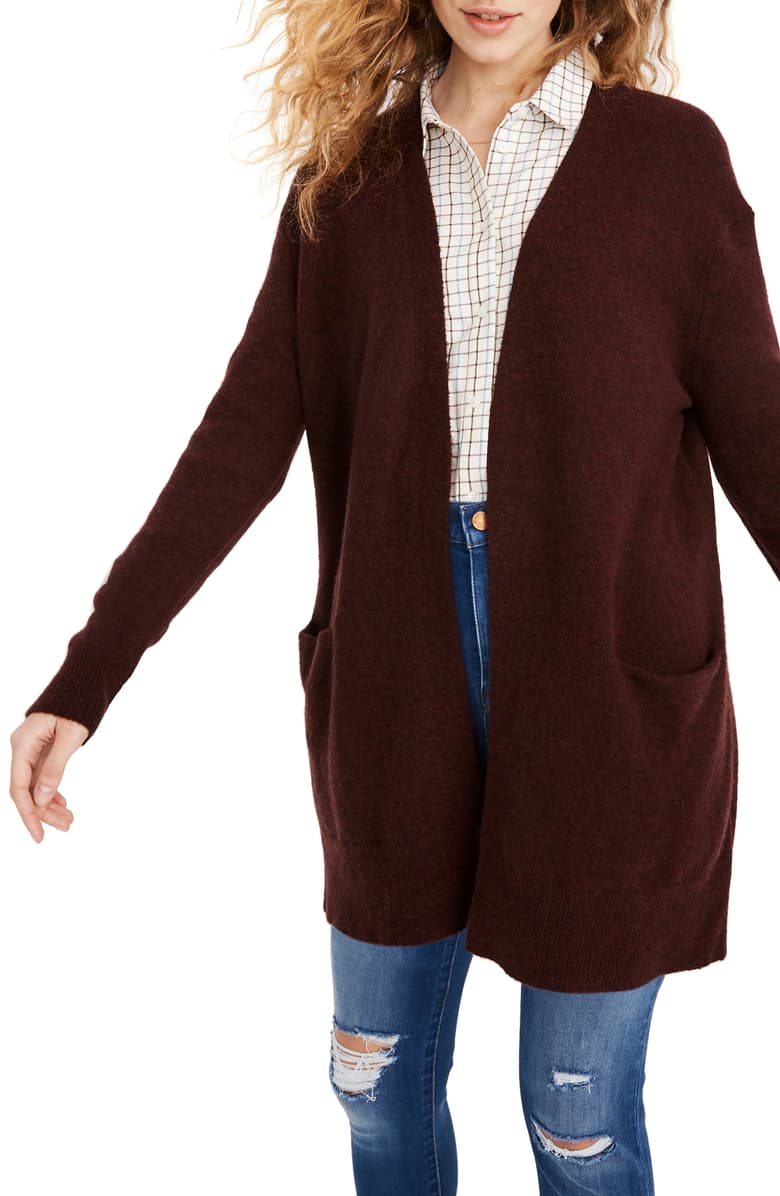 Here is another look at the Halogen open front pocket cardigan from above…..
Super comfortable.  I love the length and it comes in 5 colors.  Next up, I found the cutest summer top while shopping for fall trends.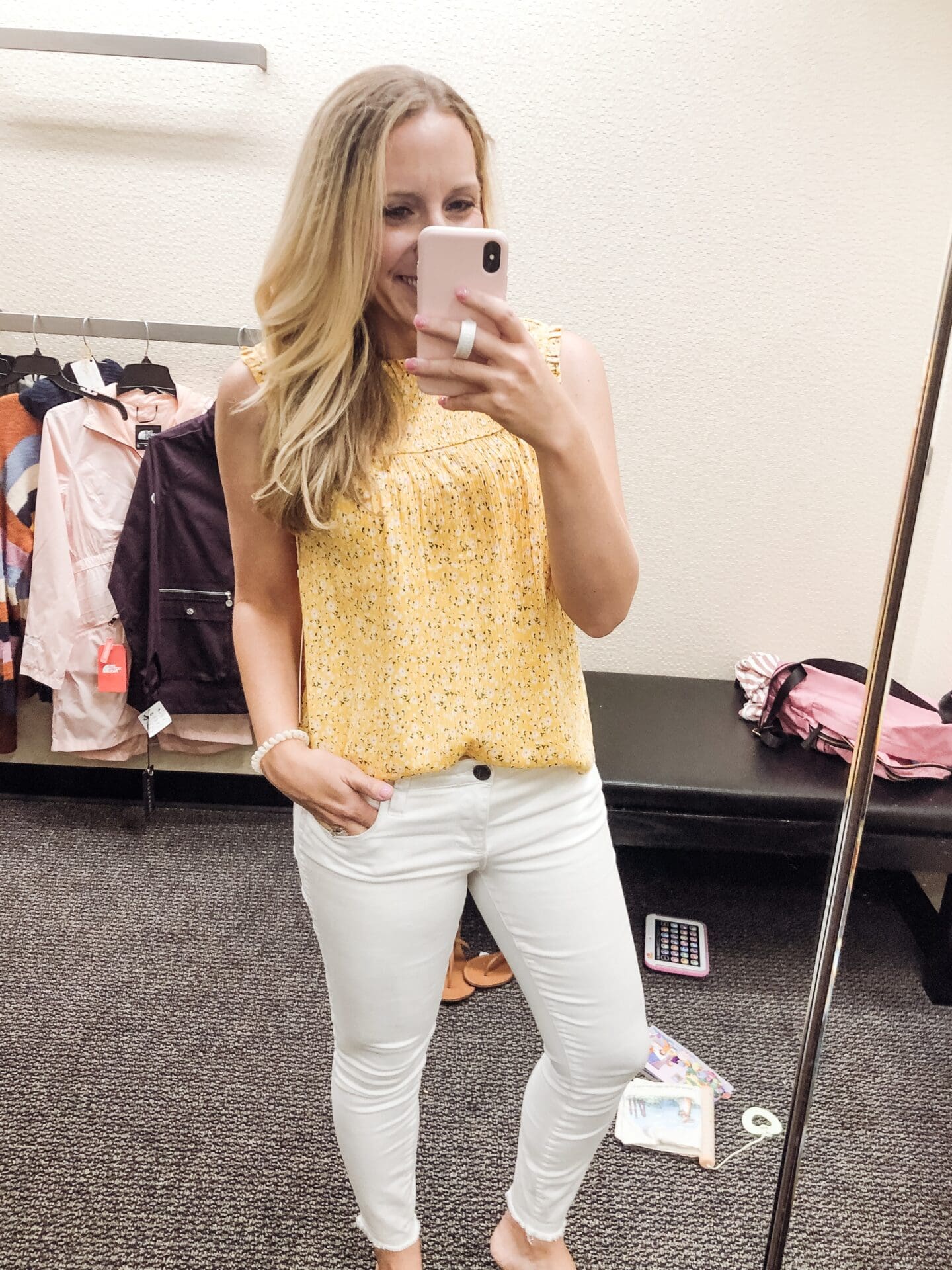 Regular Price: $59.00 ¦ Sale Price: $38.90
This sleeveless top is another one by Caslon (I told you, they have so many good items this year), and it comes in 4 patterns. I thought it was so feminine and cute!  Here I am with it paired with this cute blazer/moto style jacket, also by….you guessed it, Caslon.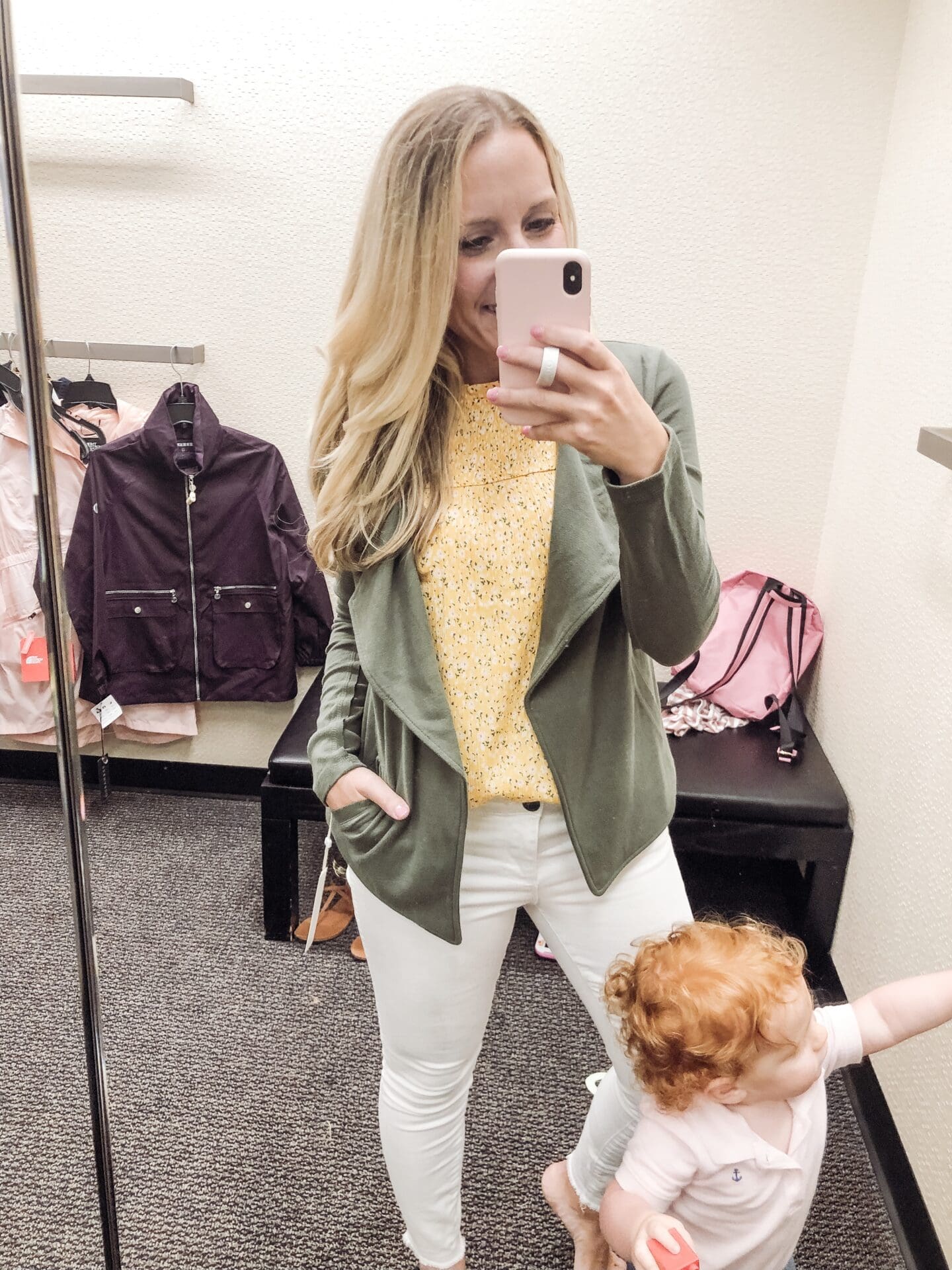 Regular Price: $59.00 ¦ Sale Price: $38.90
This jacket comes in 8 colors and it so comfortable and cute.  This color will be great for chilly fall days but some of the brighter colors would be great for spring.  And speaking of jackets…..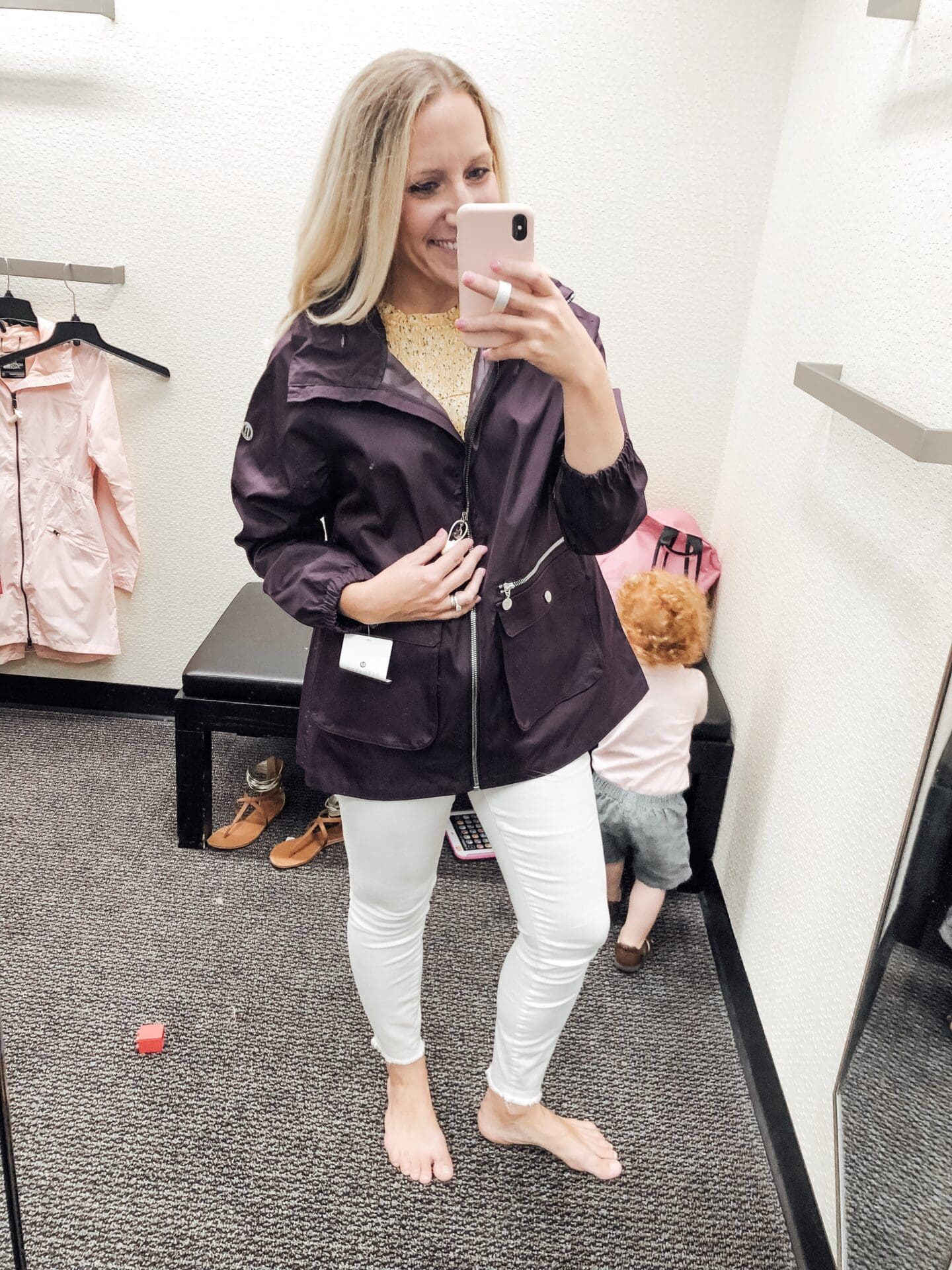 Regular Price: $140.00 ¦ Sale Price: $89.90
I love the color and style of this Bernardo water resistant raincoat.  Definitely size down on this.  I'm wearing an XS and it was still pretty big.  You could actually probably size down 2 sizes.
Next up, I found this cute, lightweight rain jacket by The North Face.
Regular Price: $120.00 ¦ Sale Price: $89.90
I love this jacket unzipped, but as you can see from the picture on the right, when it's zippered it gets a little tight and weird.  I would recommend sizing up one if you plan on zipping it.  If not, then regular size will be fine.
And rounding out the sale items I've loved so far…..let's talk shoes!
Regular Price: $89.95 ¦ Sale Price: $59.90
These Steve Madden studded loafers are going fast, and understandably so!  I ordered the snakeskin pair, but I'm also loving the mustard yellow style too.  There are 4 styles total.  I figured this would be an easy way to wear snakeskin this season without it being too over the top. The snakeskin bootie is another popular item this year.  Currently all sizes are in stock and on sale for $79.90.
These next 4 boots have also been popular ones this sale.
Last up, let's talk handbags!  So many good ones this year starting with my first love, Miss Tory Burch.
Regular Price: $248.00 ¦ Sale Price: $165.90
If you are in the market for a new cross body bag these are so cute!  Comes in 4 colors (pink, black, blue, and tan).
And if you need a little bigger style of bag then I'm loving this Tory Burch Everly Leather Tote.
Regular Price: $528.00 ¦ Sale Price: $352.90
It's a great size and comes in 3 colors.  It took everything in me not to buy this one. The size is great and I love a tote with sections.  2 other popular bags I found were these 2 by Madewell.
Madewell Suede Stripe Transport Leather Tote – Comes in 3 colors. Reg. $198.00 ¦ Sale: $131.90
Madewell Small Transport Leather Crossbody Tote – Comes in 3 colors. Reg. $168.00 ¦ Sale: $111.90
Alright friends, that does it!  Whew!  So many good items.  I'll try to do another recap of what's still available and any new items I find once the sale opens to the public.  Have a great weekend and if you're checking out this sale, happy shopping!
Jill
xo, Jill