Happy Friday friends! I'm currently sitting at the airport waiting for my flight (I'm heading to Austin for my friend Mazie's bachelorette party and we've been delayed twice) and I figured what better time to write today's blog post because as much as I try to get packed in advance before trips, yesterday I did not and therefore was up late doing so and didn't get a chance to blog.
So here I am, at the airport with my breakfast and coffee and look what I found!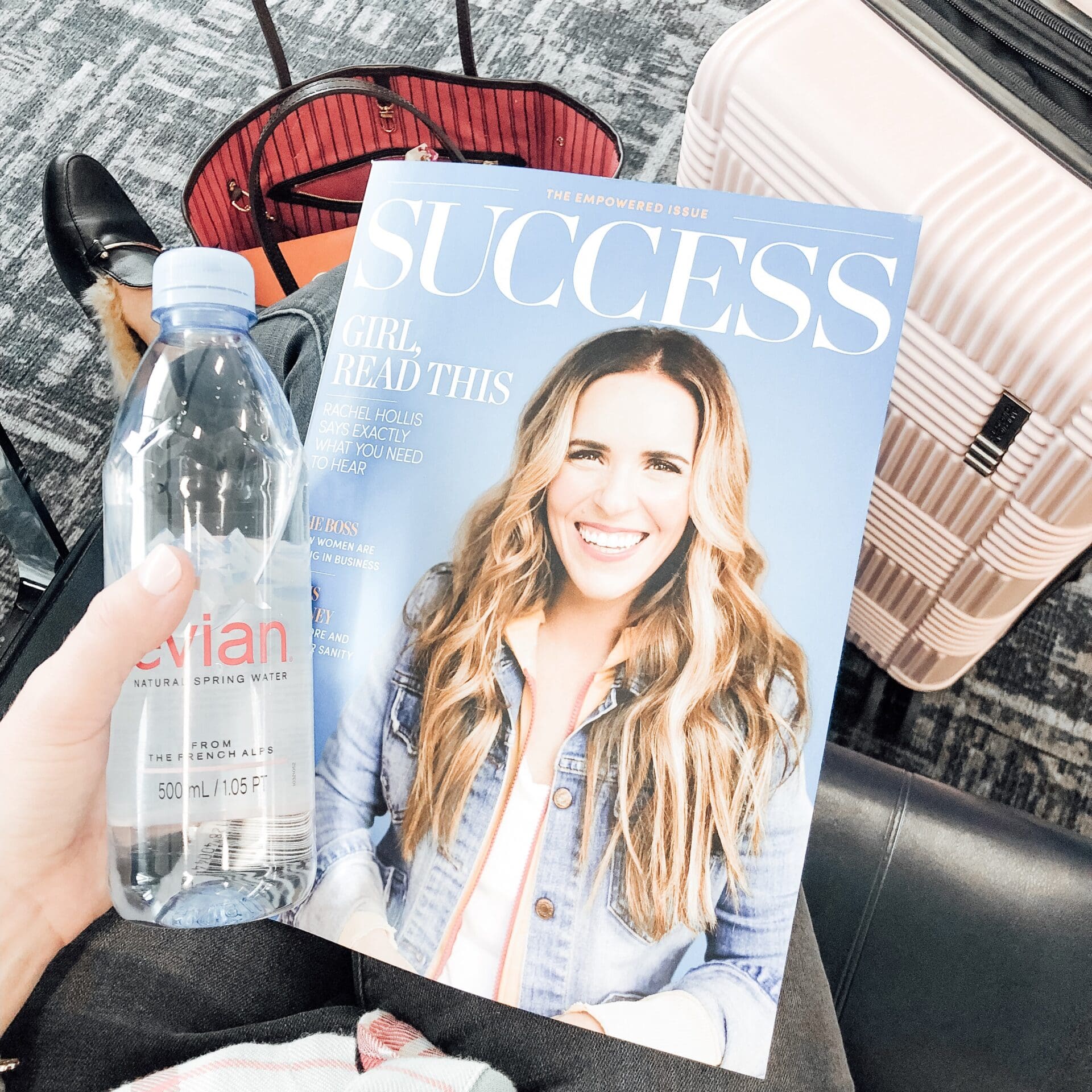 I have been on the hunt for this magazine for over a week and couldn't find it anywhere! But you know if Rachel Hollis is on it, I'm finding it. And what I've learned is, when in doubt check the airport. Their magazine selection is unrivaled.
Anyways, on to today's post! A few weeks ago Shay of Mix and Match Mama did a post I thought was so fun! She named her top 3 answers to a variety of topics (ie: favorite books, favorite vacation spots, favorite movies, etc.) and I thought I would do the same! I asked for topics on Instagram and you guys delivered! Hopefully I can answer them all. So for a variety of topics, here's my top 3 answers! (*side note: I've never written a blog from my phone so I pray that the formatting turns out ok. My apologies if it's totally out of whack).
Favorite Places I've Traveled
London
Hilton Head
Miami
Favorite Alcoholic Beverage
Wine
Lemon Drop Martini
Cider Beer
Favorite Podcasts
Rise by Rachel Hollis
The Ed Mylett Show
Goal Digger by Jenna Kutcher
Pet Peeves
Snoring
Chewing
People that talk on speaker phone in public for the whole world to hear. (This is tied with people that listen to their music on speaker while in public. It's called headphones people!).
Favorite Healthy Snacks
Apples and almond butter
Almonds with rosemary and sea salt
Frozen grapes
Favorite Movies (there's so many I love but here's the top 3 that come to mind)
The Shawshank Redemption
Forgetting Sarah Marshall
Legally Blonde
Favorite Workouts
Running
Video/circuit training
Bikes
Favorite Makeup Brands (This has changed a bit now that I try and use clean makeup)
Beautycounter
Savvy Minerals
(Non "Clean" fav.) Nars
Favorite Easy Dinner Recipes
Pasta!
Take out (haha guilty!)
My Turkey Meatloaf
What Self Care Do I do Just For Me?
Spa day! Massage preferably
Get my nails done (every 2 weeks religiously. I hate not having my nails done)
Alone time (now that I'm a mom I have found self care is as simple as being by myself to go run errands, shop, sit in a coffee shop, etc.).
Things That Irritate You About Society
Oh man this is a loaded one but I'd say my 3 big ones are….
Animal cruelty and child abuse. Hands down the ones that make me the most mad!
People trolling and bullying behind a computer when they would never speak that way to someone to their face.
Bullying in general and people that don't raise their children to be kind.
Violence and the true lack of compassion and under appreciation for life in this world.
*See I couldn't even keep it to 3!
Date Night Ideas
Dinner/Drinks and a movie
Eric and I enjoy Top Golf from time to time!
Concerts/shows
Favorite Cleaning Products
Thieves household cleaner
Norwex cloths
Vinegar and water
Favorite Pump Up Songs
Ohhh this is a tough one because there's so many to choose from but the 3 that come to mind are…
Let it Rock – Kevin Rudolph & Lil Wayne
Trouble – Neon Jungle
Turn Down for What – DJ Snake and Lil Jon
Favorite Hair Products
You know I love and swear by Monat so that's a given. But my 3 favorite, non washing hair items are…
Microfiber towel
Wet brush
Coil hair ties
Favorite Baby Activities
And lastly, my 3 favorite baby activities and an excuse to share this cute picture….
Our favorite activities vary by season but overall we enjoy…
Being outside, park, zoo, etc.
Going to different stores. Here we are at Homegoods. Leyton loves riding in carts and seeing himself in mirrors.
Library class. It's free (which is nice after too many Target and Homegoods runs) and Leyton loves it. Win-win.
Okay friends, I think I'll stop there but this was fun! I plan to do more like this in the future. I'm officially on the plane and about to take off. Have a wonderful weekend and I'll see you back here Monday.
– Jill
xo, Jill