Happy Monday friends! I hope everyone had a great weekend!  Ours was good, and despite a little rain and some crazy wind, we even had nice weather.  On Saturday I attended my first ever blogger event put on by a team here called Cincinnati Bloggers along with Saks.  It was such a fun, networking/girl time/mama alone time, event.  It was so nice to not only get a little spoiled by Saks and learn about some of the services they offer, but to also meet fellow Cincinnati bloggers.  Everyone was so incredibly nice and welcoming.   Here I am with a few of the girls I met and instantly clicked with!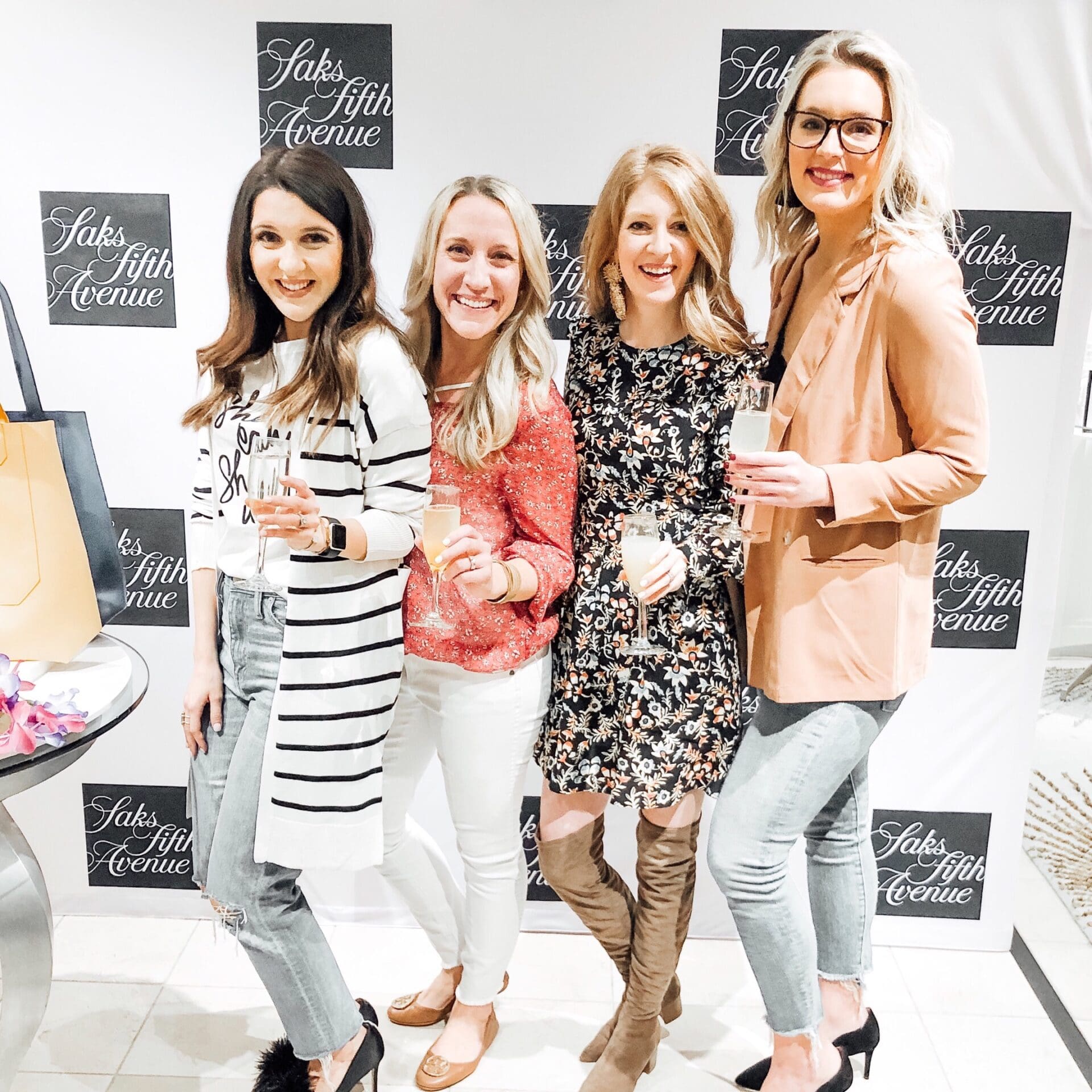 From left to right – Molly of See Molly Blog, Me, Emily of @bestiedressed over on Instagram, and Caroline of @caroline.messmer on IG.  These ladies were the sweetest!  And fun fact – I didn't even realize until this event that both Molly and Caroline are also pediatric nurses at the hospital I worked at before having Leyton.  Molly and I are pretty sure we've worked together in the past.  Small world.
While we are on the topic of Saks, I'm going to kick off this Monday Must Haves with one of their free services we learned about at the event…..The Fifth Avenue Club.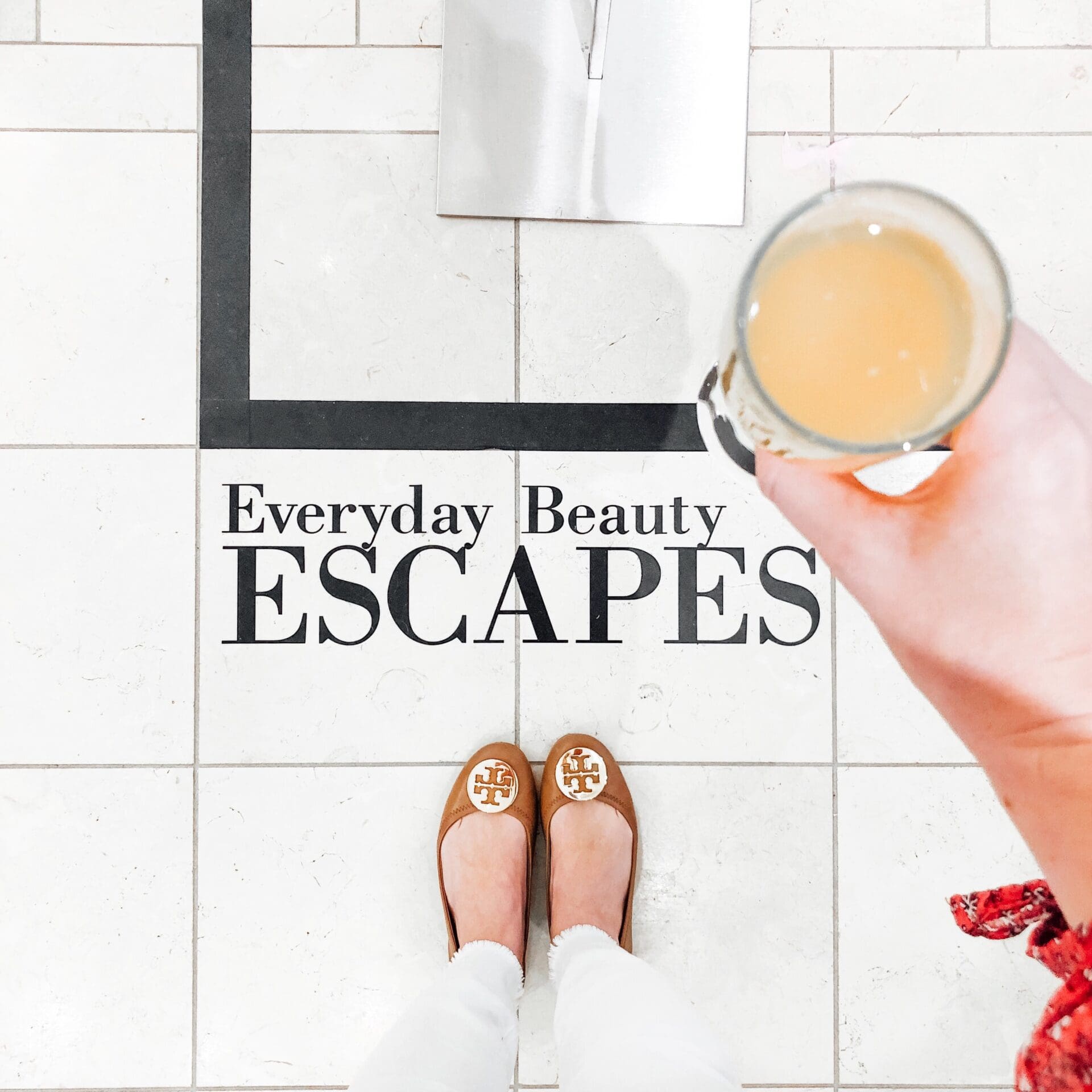 Doesn't it just sound like something you need in your life?  If you've ever been like me and thought, "I wish someone would just dress me," then this is for you!  It is basically your own personal shopper/stylist.  Maybe you have a big event coming up and need help putting together an outfit, or just want some wardrobe updates (and have some money to burn, because let's be real it's still Saks), all you do is schedule an appointment, tell them what you are looking for, then show up.  They will have a private suite and a rack full of clothes, shoes, handbags, accessories, etc. waiting for you.  Then you just try on the items, they help style you, and you get what works.  It's basically the royal treatment Kate Middleton probably receives every day of her life.
I don't know about you guys but I hate trying to put together a look for big events.  It's so much pressure!  So it's nice to have a service that is there to help you get a look you'll love while saving you from having to spend hours roaming from store to store at the mall, trying to come up with something on your own.  So if you're in the market for a little personal shopping, I'd say this is a must have without a doubt!
And speaking of the Saks event…..I'm naming my whole outfit as a Monday Must Have as well!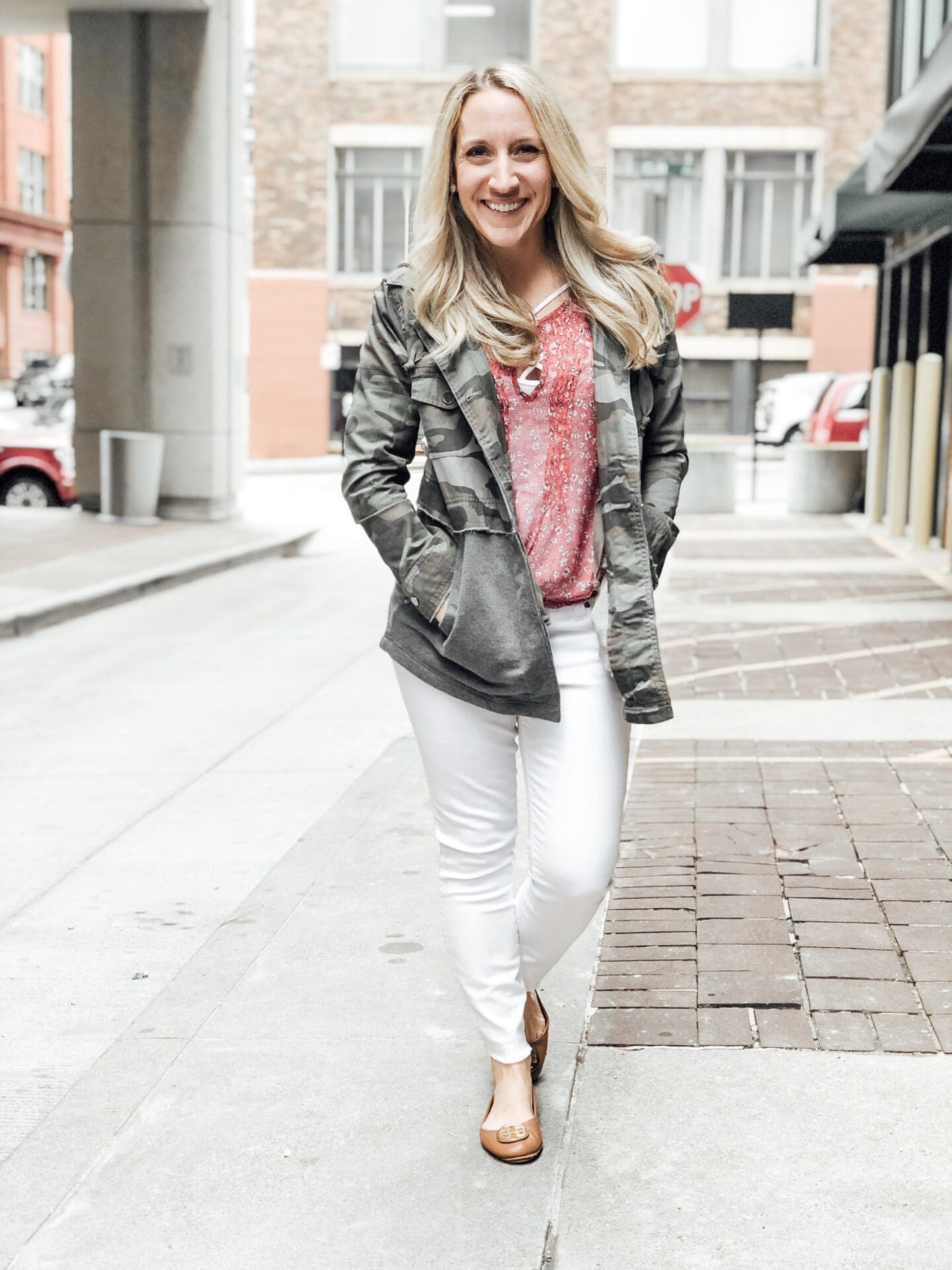 So if getting styled by Saks isn't in the budget, but you still need some help when it comes to picking out outfits, you can do what I did and simply walk into your favorite store, tell the sales associate what you are looking for, and have them also act as your personal stylist.  That's exactly what I did when I went to Evereve last week.  I have some big events coming up (this blogger luncheon, a bachelorette party in Austin, and a wedding in Charleston), so needless to say I need some outfits.  But, I'm also a mom who doesn't have hours to spend perusing the mall.
I had heard other bloggers and influencers raving about Evereve, and I have to admit I totally thought was a maternity store.  But friends, no!  It's a trendy mom store!  Anyways, their selection is amazing!  I wanted one of everything.  This outfit was one of the things we settled on.  I love it because it works in February in Cincinnati, but can also totally transition into spring.  And this jacket!!!  A definite must have! Unfortunately it's currently out of stock so I can't link it, but they should have it in store.  Here is a similar camo option, and here is a similar utility jacket.  The utility jacket also comes in pink.
This top is so airy and loose fitting and goes great with a jacket over top, but will also be light enough to still wear in the spring/summer.  The white jeans are so comfortable for being a skinny jean (size up though for sure).  You can't tell but the cami/tank I'm wearing underneath has a caged design that can be worn in the back or front.  And the flats are, in my opinion, a staple wardrobe capsule item.  Links to shop are below the picture.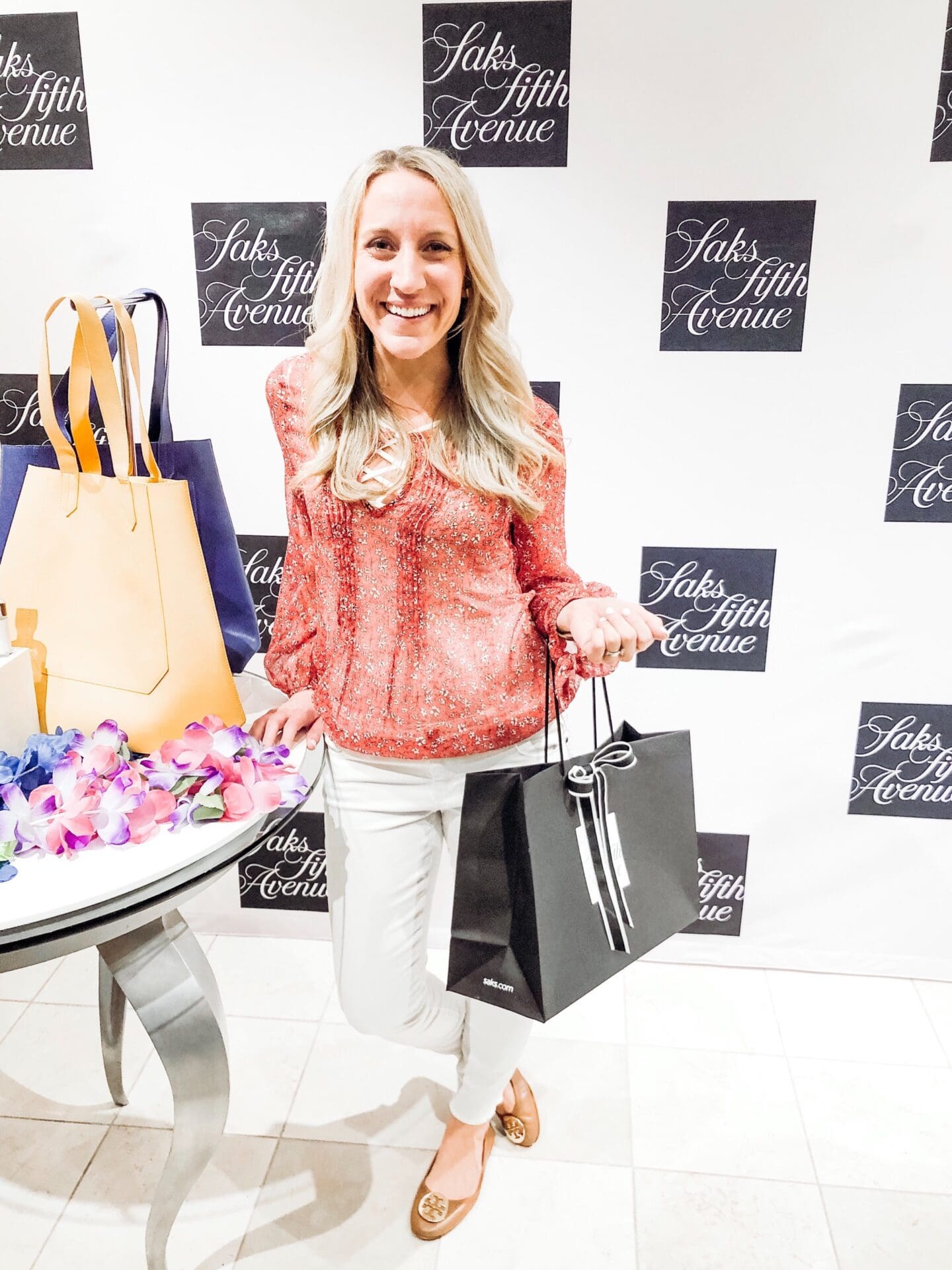 Top // White Jeans // Cami // Flats
Switching gears from fashion to beauty….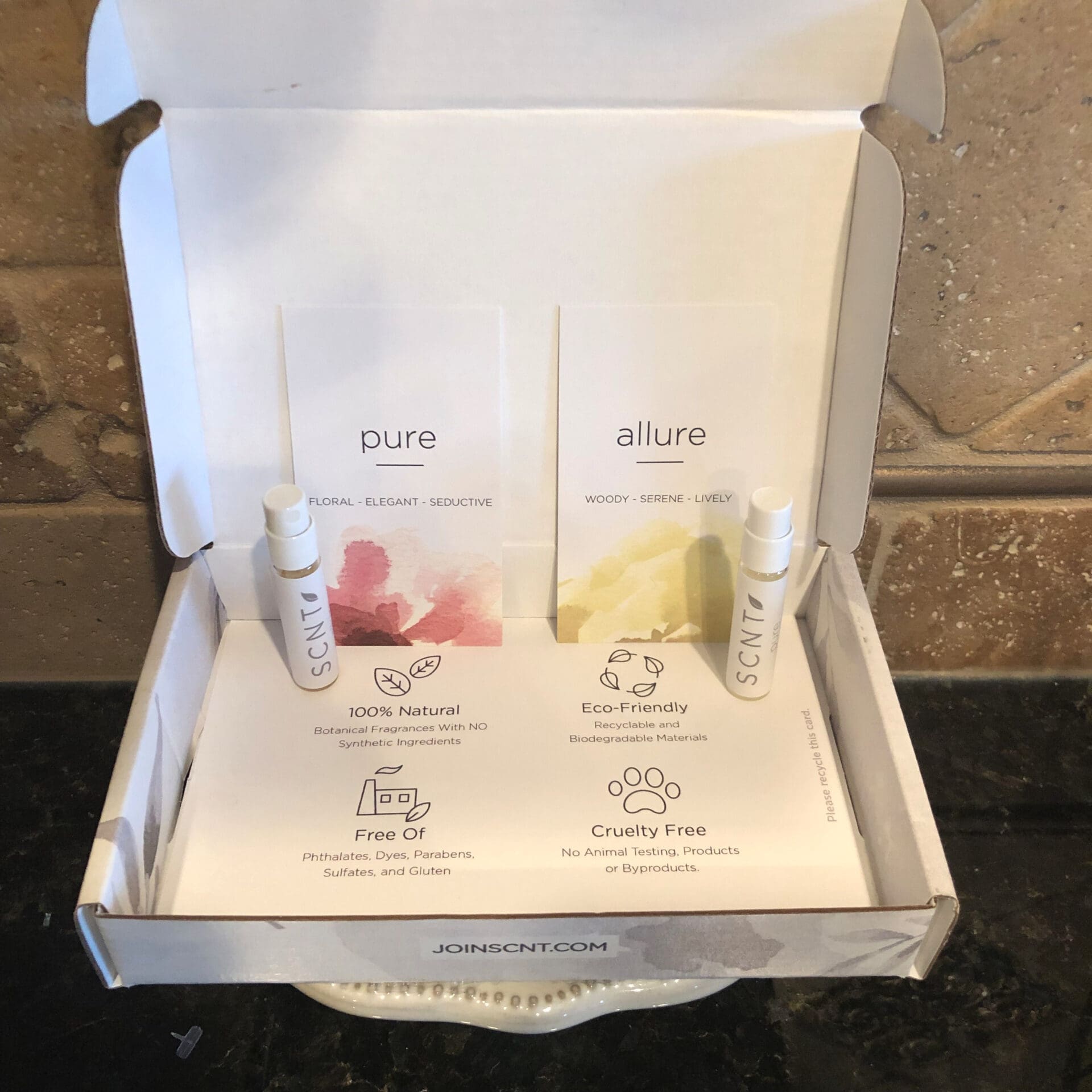 I shared this on my Instagram the other day.  Finally, someone has made a safe perfume!  I won't get into the long details, but friends fragrance and perfume are so toxic!  In fact, they are considered to be the new second hand smoke.  You can google all the harmful things about them, but needless to say my clean living pursuit meant I had to ditch perfume (which was so hard), until now!
I was listening to a podcast recently when I heard an advertisement for SCNT (pronounced Scent).  It's totally safe, non-toxic perfume made up of 15 essential oils.  They currently only have 2 scents to choose from (when you cut out bad ingredients I'm sure you're limited).  I just bought trial sized options since I didn't know which I'd like but I'll definitely be buying full sized versions!  Both are light and not over powering.  The Pure is more floral whereas the Allure is more woody but not masculine.  You can check them out here.
Then I was in TJ Maxx recently and found this little gem…..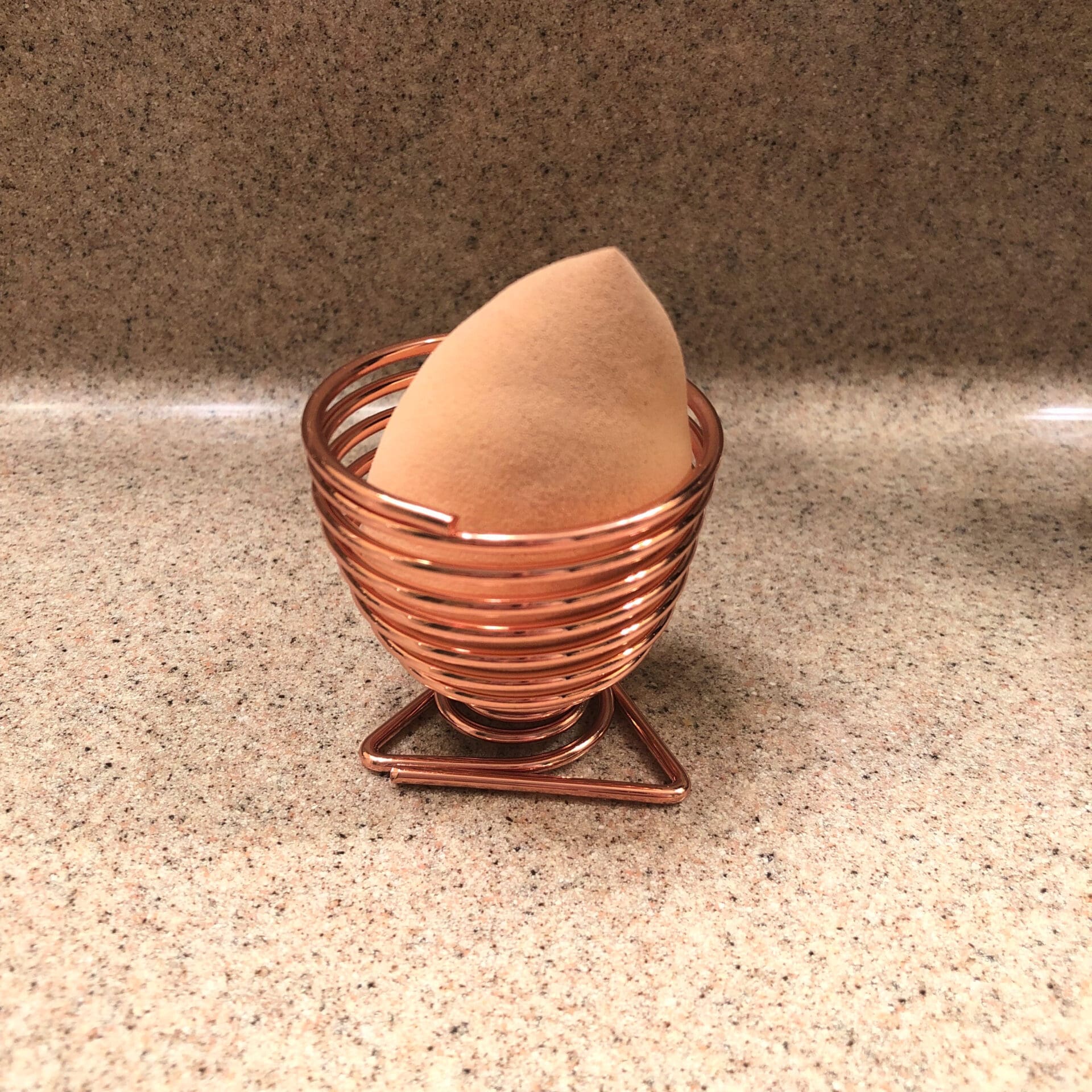 Don't mind my gross makeup blender, but how cute and smart is this blender holder??  There is nothing worse than having to just toss your blender into the makeup drawer where it inevitably gets gross, plus I dampen mine so I feel like it needs a way to dry.  This is so genius!  Seriously, why don't I think of things like this?  I couldn't find one to link from TJ Maxx but here is the same one from Amazon.
For those like me that get super chapped hands in the winter, I'm loving this balm from Mighty Nest.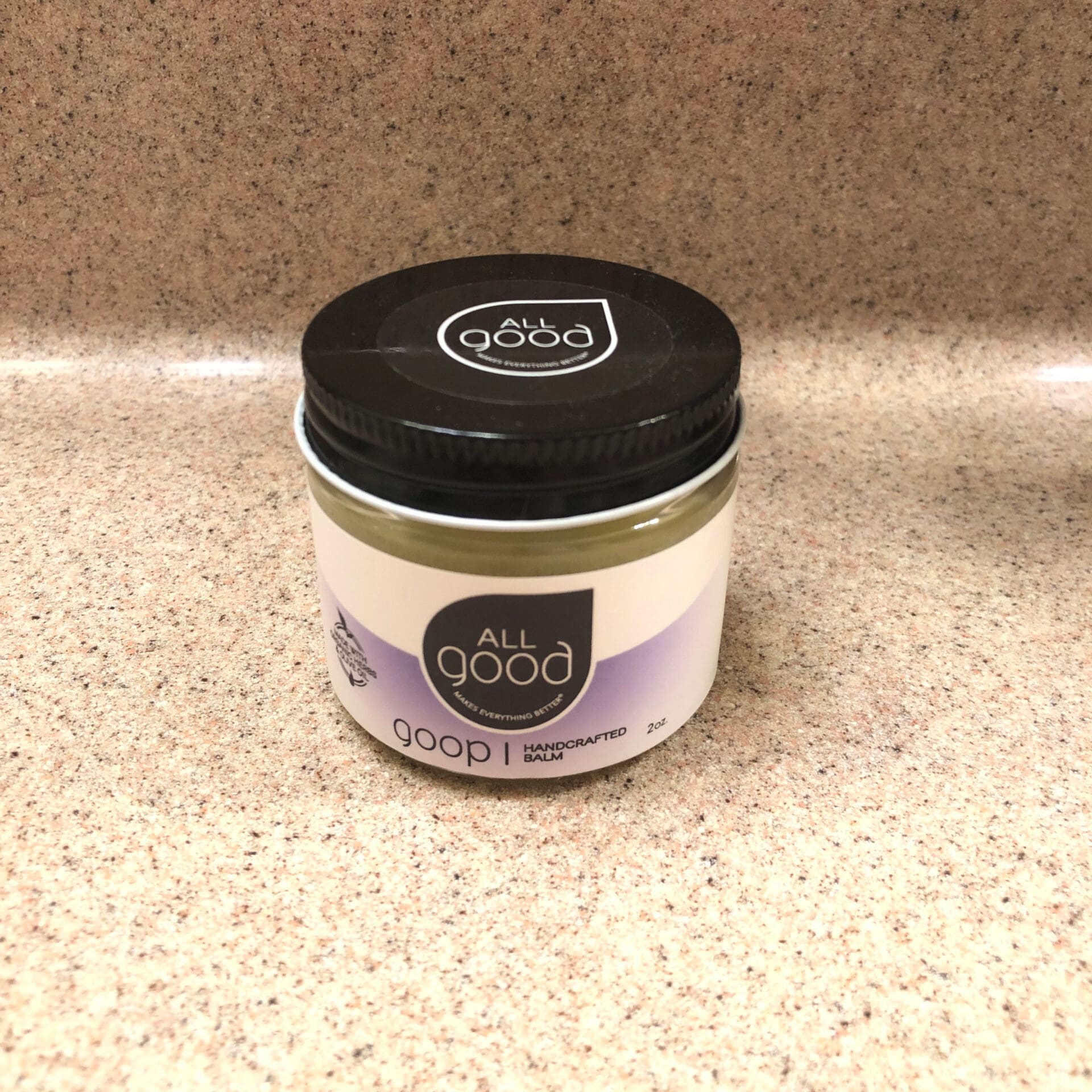 I love Mighty Nest for all my clean living, safe, home products (that I don't make myself or get from Young Living) and I get their monthly subscription box (MightyFix) where you pay $10 a month and each month they send you a random item worth $10 in value.  This month it was this hand balm and so far I am loving it!  It's not greasy, smells great, and heals my chapped hands.
You can try Mighty Fix for $3 instead of $10 for the first month by clicking here, and you'll get 3 dryer balls as your first shipment.  I love my dryer balls.  They have totally eliminated my need for dryer sheets.
Lastly, I finished the devotional I was reading last week (Embraced by Lysa TerKeurst) and just started this one after hearing so many rave reviews….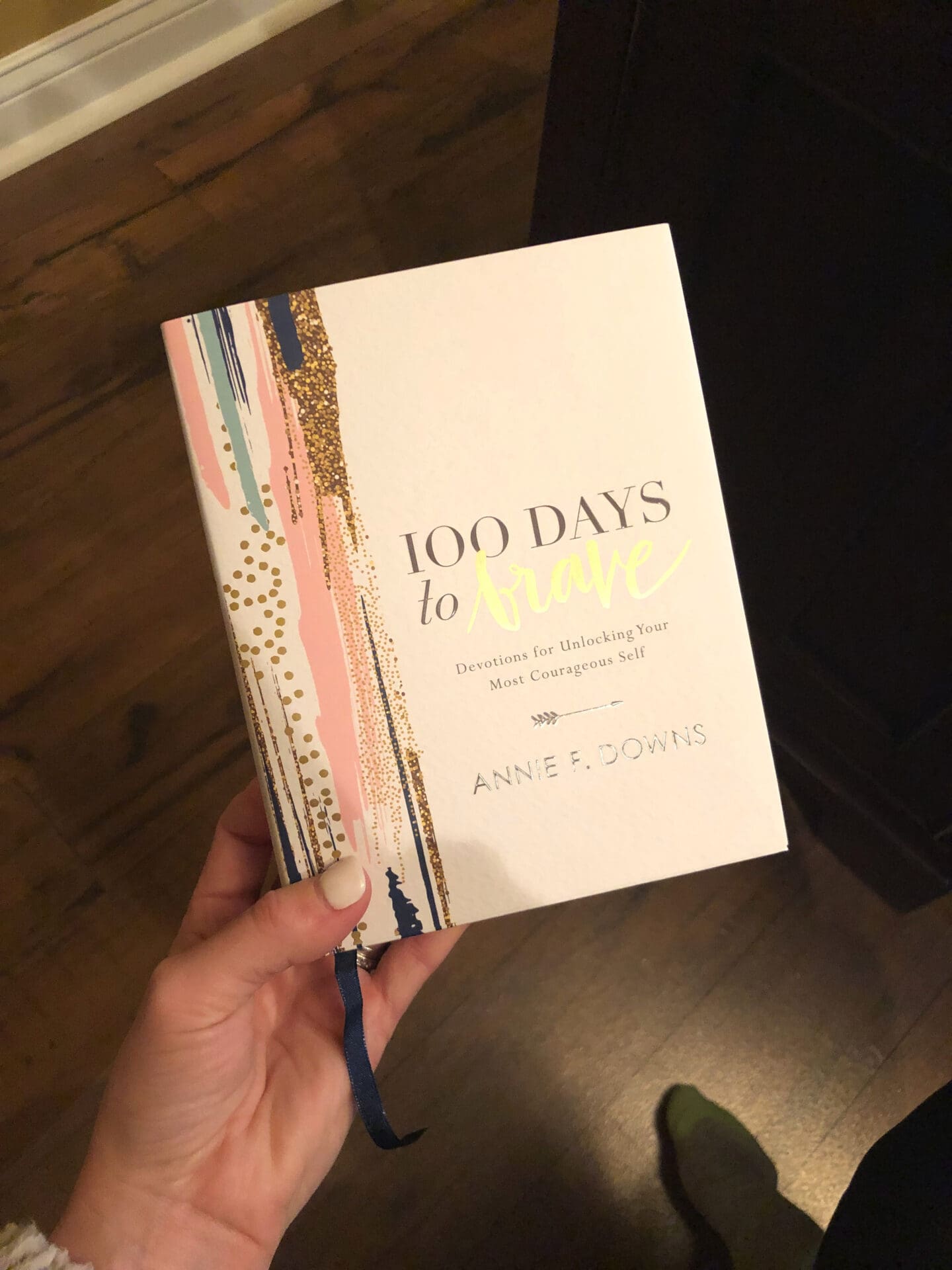 100 Days to Brave by Annie F. Downs.  So far I'm really liking it and I enjoy that they are short little reads each day.  If something is too long I'm bad at sticking with it because I need something quick I can add into my morning routine.  So far this has checked all my boxes, and like I said I've only heard positive reviews.
Alright friends, that's all for this week's must haves!  I'll see you back here for What's Up Wednesday.  Until then have a great start to the week!
Jill
xo, Jill