Happy Thursday friends!  We are almost to the weekend!  If you followed along yesterday you know that I am knee deep in holiday gift guides to help make your shopping easier, but I took a pause from that for one day to bring you my latest project and one that I am so excited to share with all of you!
I have recently partnered with Evereve and signed on to be one of their Ambassadors!  I will be representing the Kenwood Towne Center Evereve location here in Cincinnati and I am beyond excited and honored for this opportunity!  I have loved Evereve for a while now and getting to work with them on a close level like this is a total dream.
I first discovered Evereve a few years ago when I was in that period of "I feel too old for the former stores I used to shop at, and too young for some of the other stores, so where the heck do I shop?"  Soon after, I found Evereve and my question was answered!
They have the most on trend, totally fashionable pieces and are constantly updating their inventory.  I get the most compliments on my clothing from there. Oh, and one of my favorite parts?  When you go there, their sales associates are your instant stylists.  You will feel like a celebrity with a personal stylist the minute you walk in. They are friendly, knowledgeable, and helpful.  On many occasions I have walked in and said, "I need an outfit for _____" and they knew exactly what options to pull for me to try on.  They make you feel comfortable and confident.  I simply cannot say enough good things about this brand and company.
So what does being an Ambassador mean for you?  It means that each month I'll be bringing you all the latest outfit inspo. that fits the season we are in along with the current trends.  In short, I go in and do the "dirty" work (if trying on clothes for hours is dirty work) and bring you the goods.  In fact, I recently did just that during a try-on session which is what I'm bringing you today.  If you need Christmas ideas for you or someone else, look no further.  I, along with the help of my Evereve stylist Nicole, put together so many amazing looks and outfit ideas for winter and the holidays.  So without further ado, sit back, maybe grab a glass of wine or coffee, and let's do this!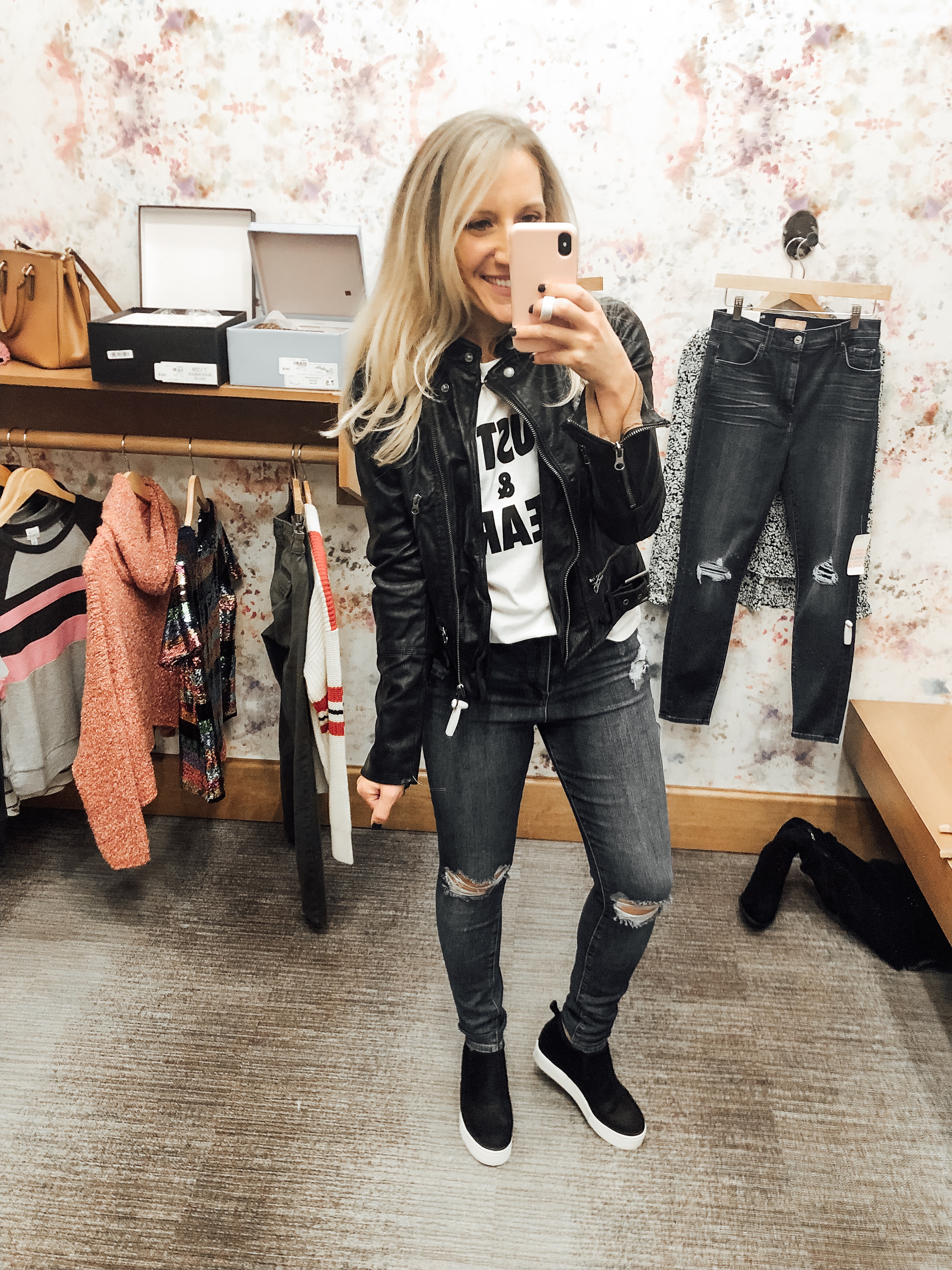 Jacket // Shirt // Jeans // Sneakers
This was the first look pulled for me and in my head I instantly thought, HA!  No way will I wear that jacket.  Well friends, guess what.  It was one of the items that made it's way home with me.  From the second I put it on I was obsessed!  It's by Free People and hear me when I say, I don't care who you are, you will feel like a total bada** when you wear this jacket.  It's an investment piece but it's amazing quality, warm, and will easily be a closet staple for years.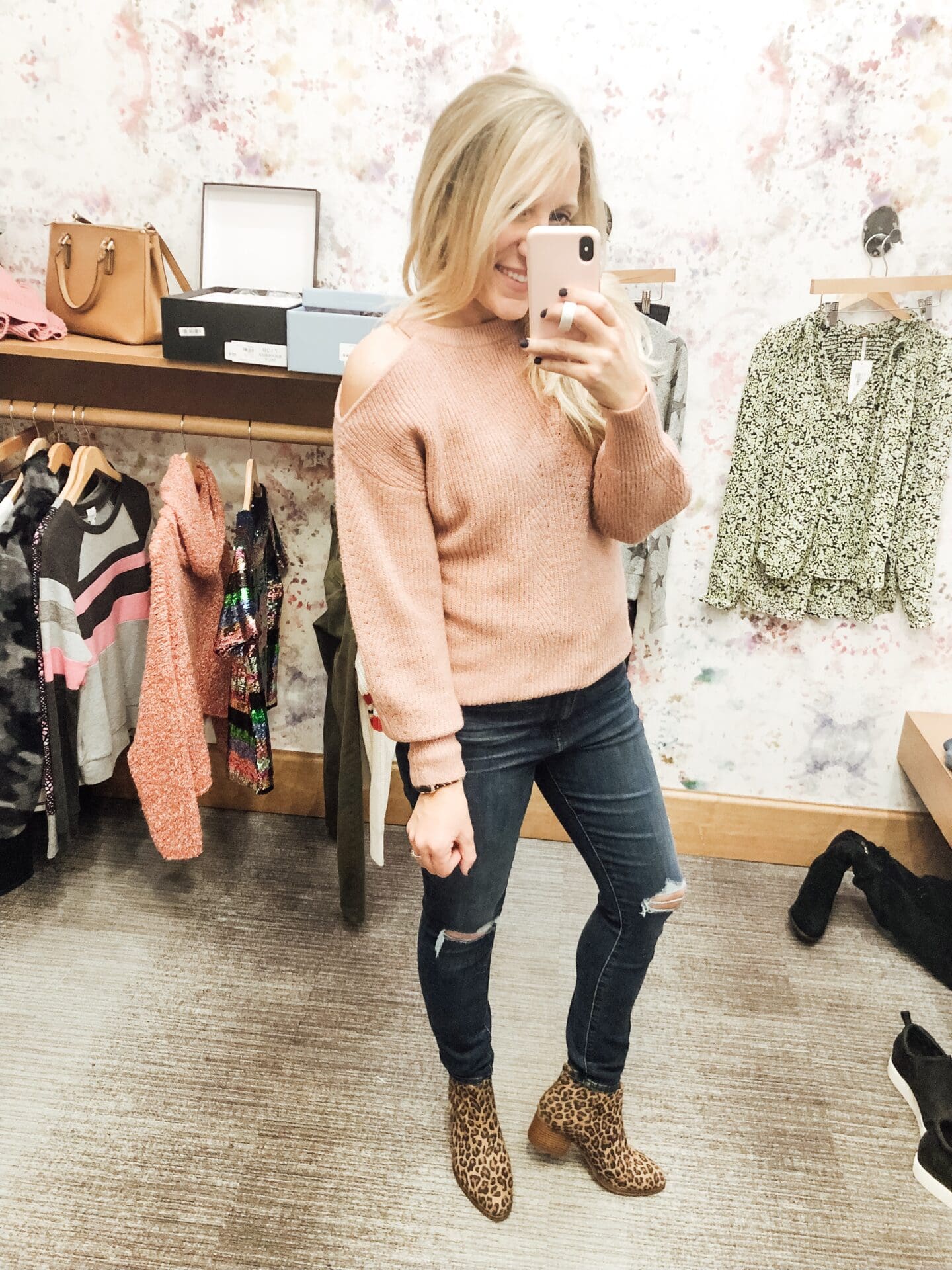 Sweater // Jeans // Leopard Boots
These jeans also came home with me.  They were the perfect amount of distressed and sooo comfortable.  I always invest in good jeans because quality definitely plays a role and a good pair will last you forever.  Also, I loved this sweater because it had very faint sparkles in it which you can't see here and I like the one sided shoulder cutout.  You could wear it with a bralette or hide your bra strap and wear it bare.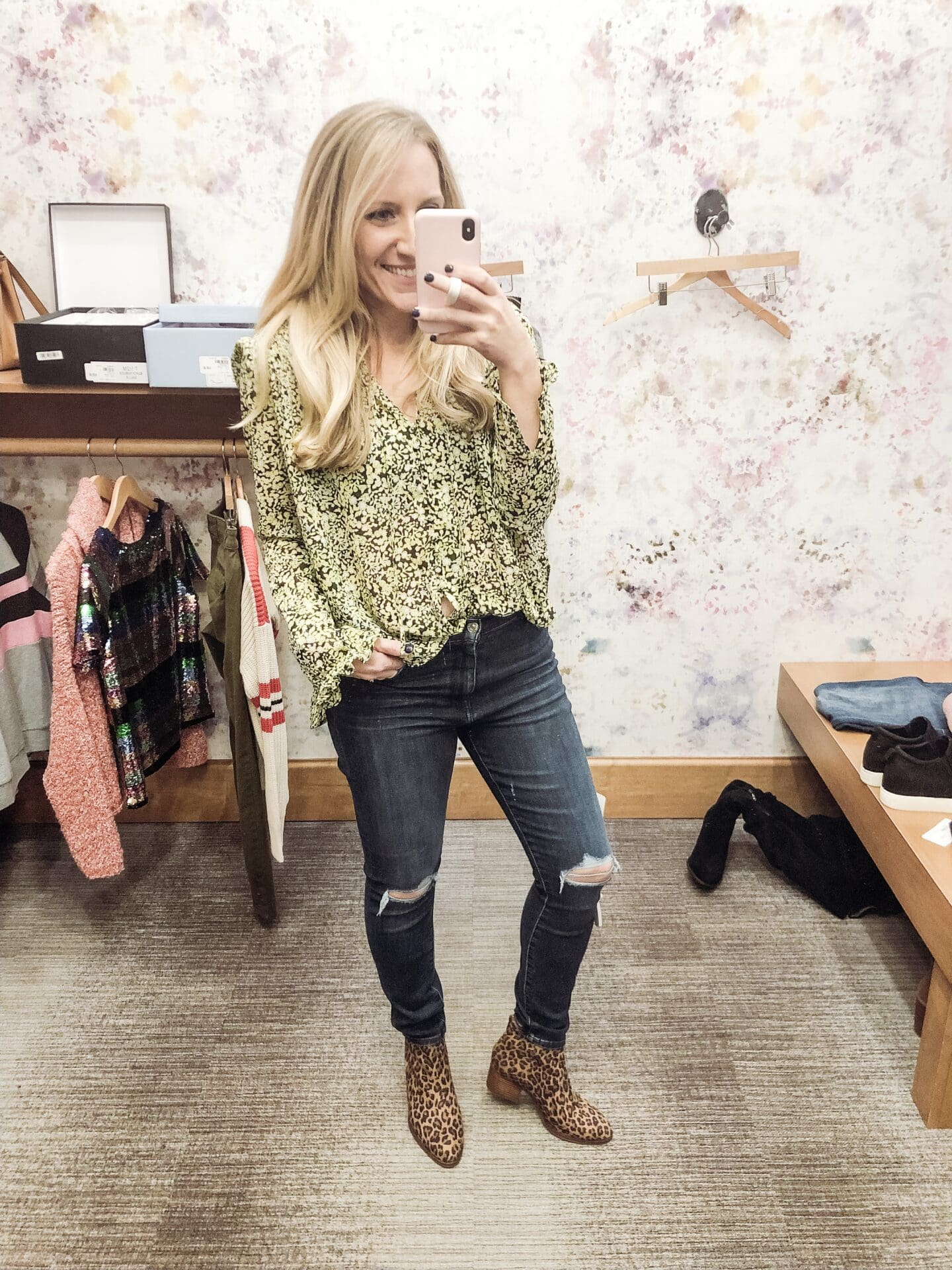 I also didn't know how I would like this shirt either but once I put it on I was sold.  Its super light and airy which I love in the cooler months because it's light enough to be comfortable when you are in environments with the heat cranked up but also great for layering.  I love it paired under that Free People jacket, or on it's own.
I liked both of those sweatshirts just for simple, every day running around.  The first top one can be found here and the bottom one here.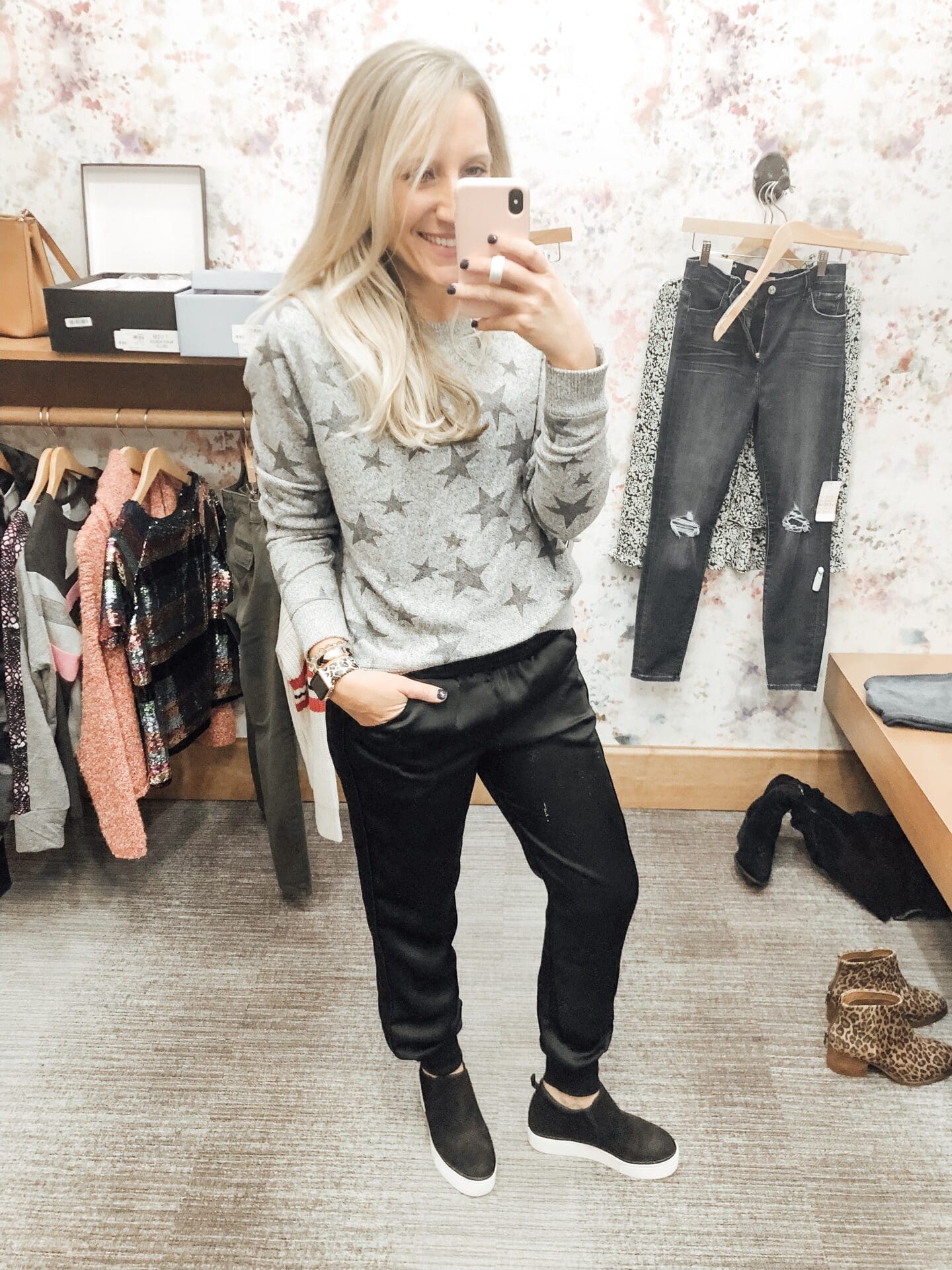 Star Pullover // Pants // Sneakers
By the way these pants were incredible!! For me, because I'm short, I didn't like how they looked on me with sneakers, but give me a heel for added height and I would wear them in an instant!  They are like butter.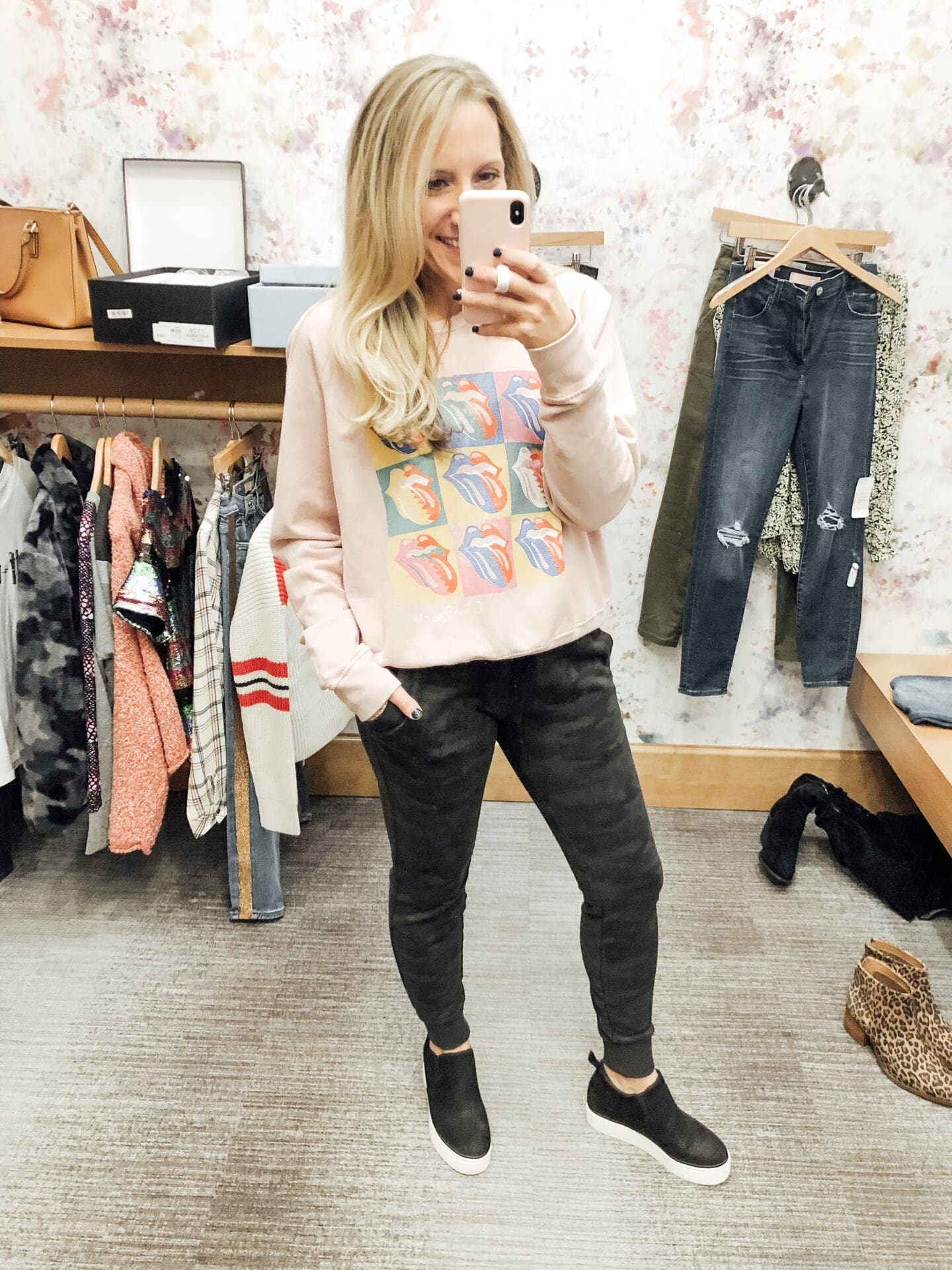 Graphic Sweatshirt // Camo Joggers // Sneakers
This bottom picture I could have easily just worn home and went right to the couch to cuddle up and watch tv.  It was so comfortable!  Those joggers are to die for and the perfect subtle camo.  Also, I'm totally loving all the band tees and shirts that are in right now.  Speaking of graphic tees, I am loving this one!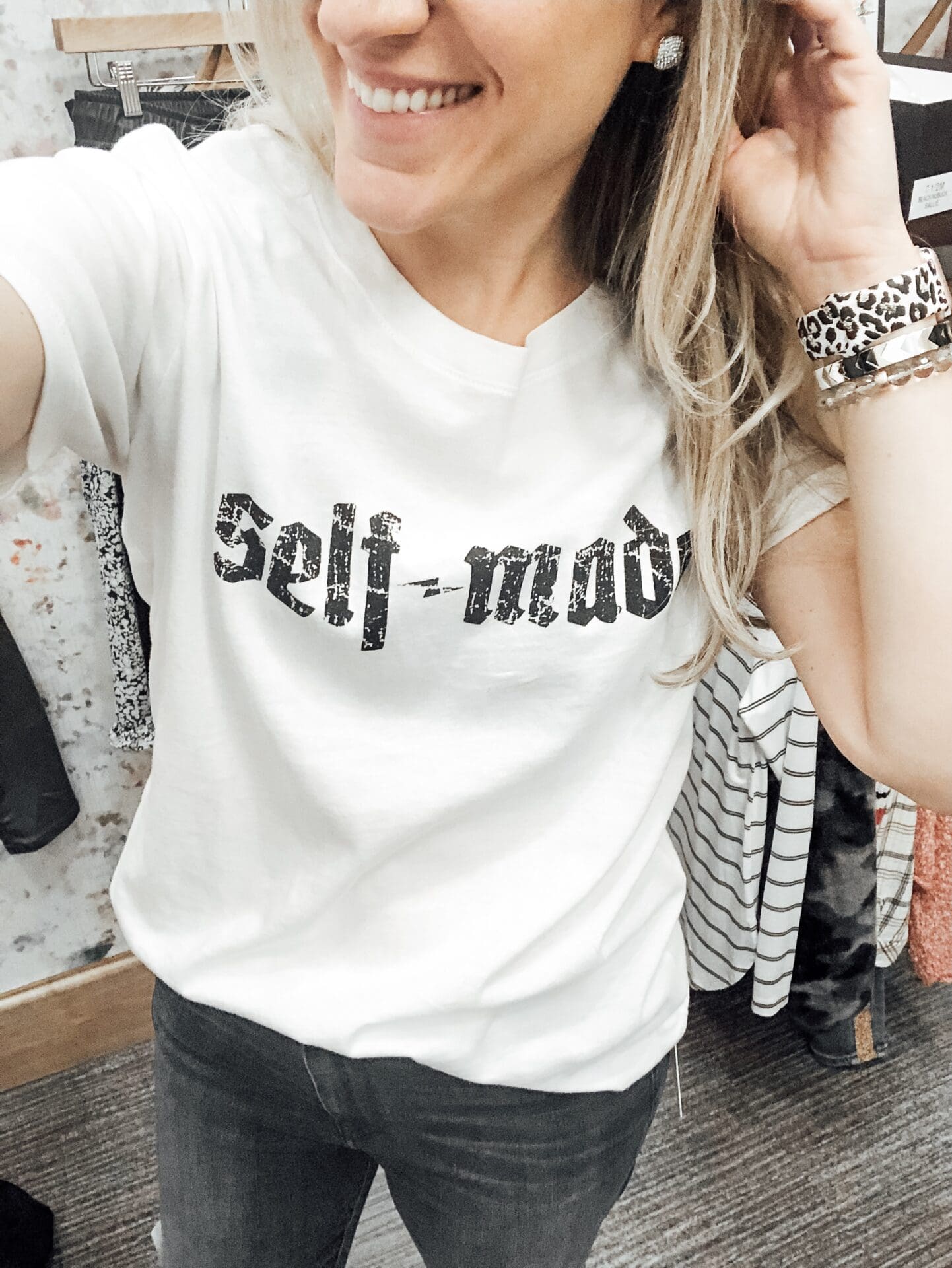 Now, let's talk dressing up for a second….whether you need a holiday outfit or something for the work place these next few looks are for you.  Let's start with my favorite and what I'll be wearing to a Christmas party this December…..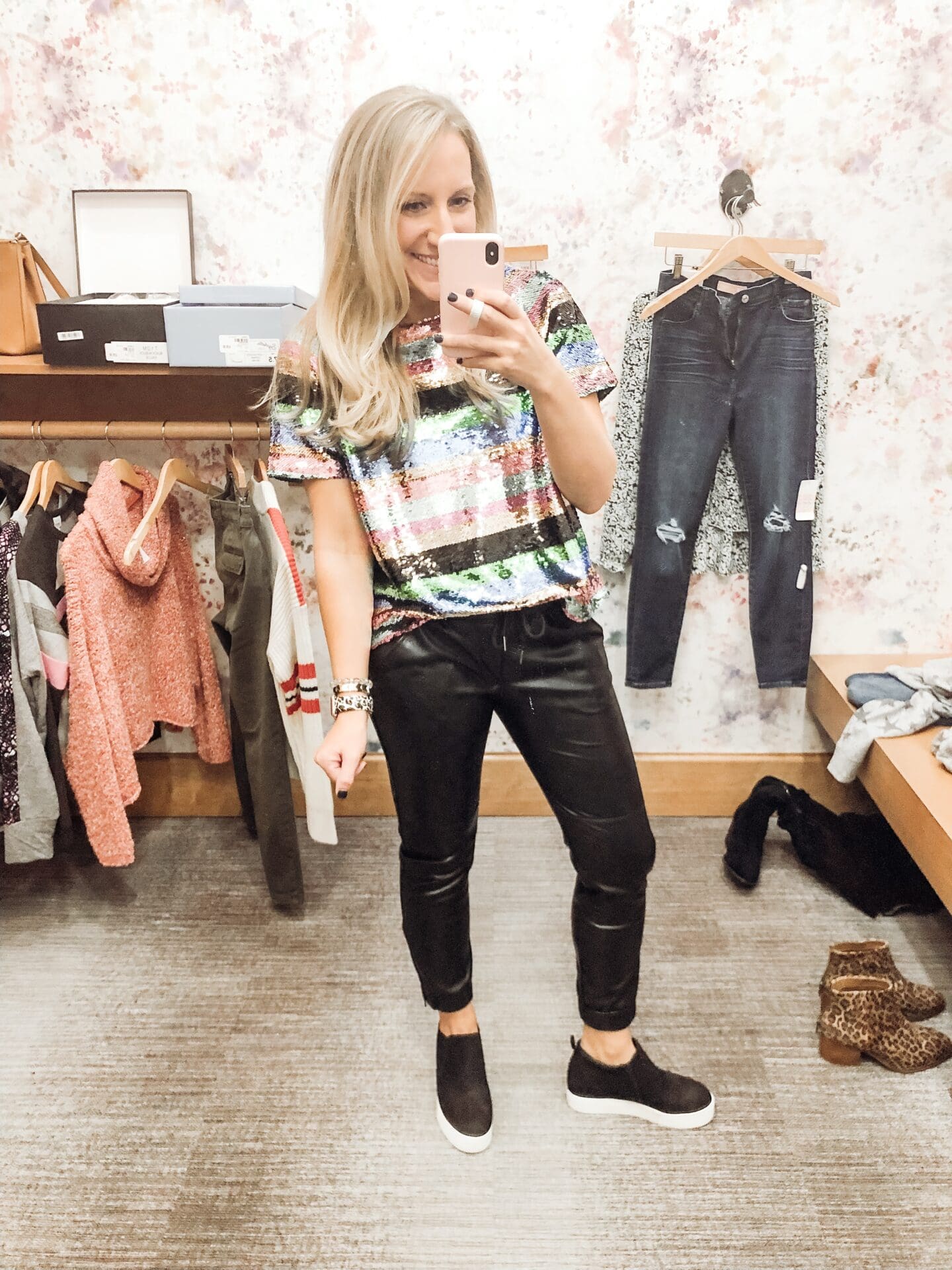 I cannot get enough of this outfit!  It would also be so great for New Years.  Now, I'm a mom that likely won't leave the house but if you are then please give this outfit the attention it deserves.  I don't care if I have to wear this while cooking dinner, I will wear it as often as I can.  First of all that top!  I never met sequins I didn't love.  I love that this is festive without being just red and green.  It's so fun and really good quality.
And don't even get me started on these pants.  I couldn't take them off (as you'll notice because they are what I wear with several more outfits).  These hit a little shorter so for me they were perfect.  They are almost like a relaxed fit faux leather jogger.  The comfort was next level.  I love them with sneakers but you could easily dress them up with a heel, which is what I'll do for my Christmas party.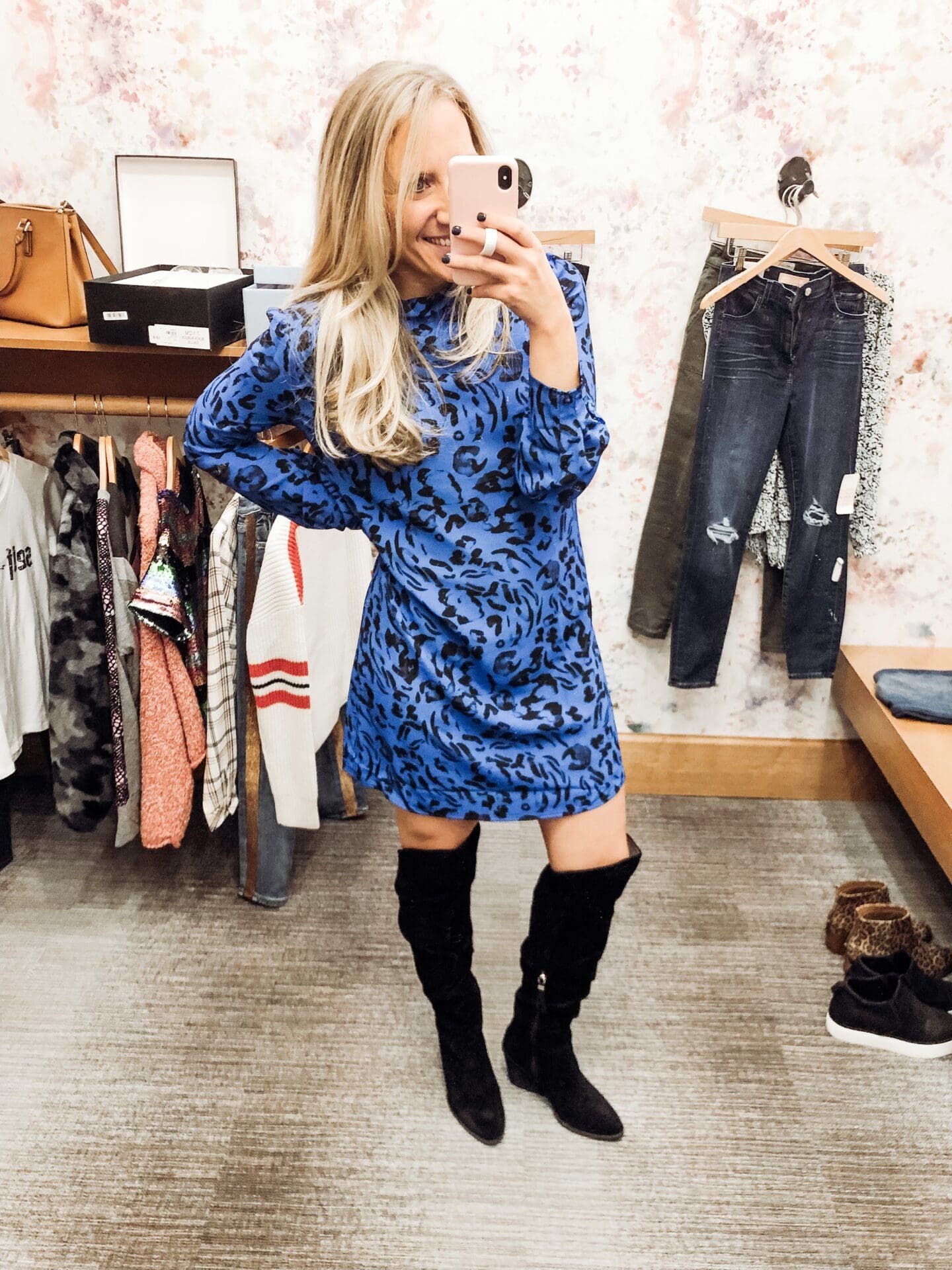 Next up, I wish I had somewhere to wear this look.  That blue is so striking and overall I just loved the fit of this dress.  We paired it with the black over the knee boots but any dressy shoe or bootie would work too.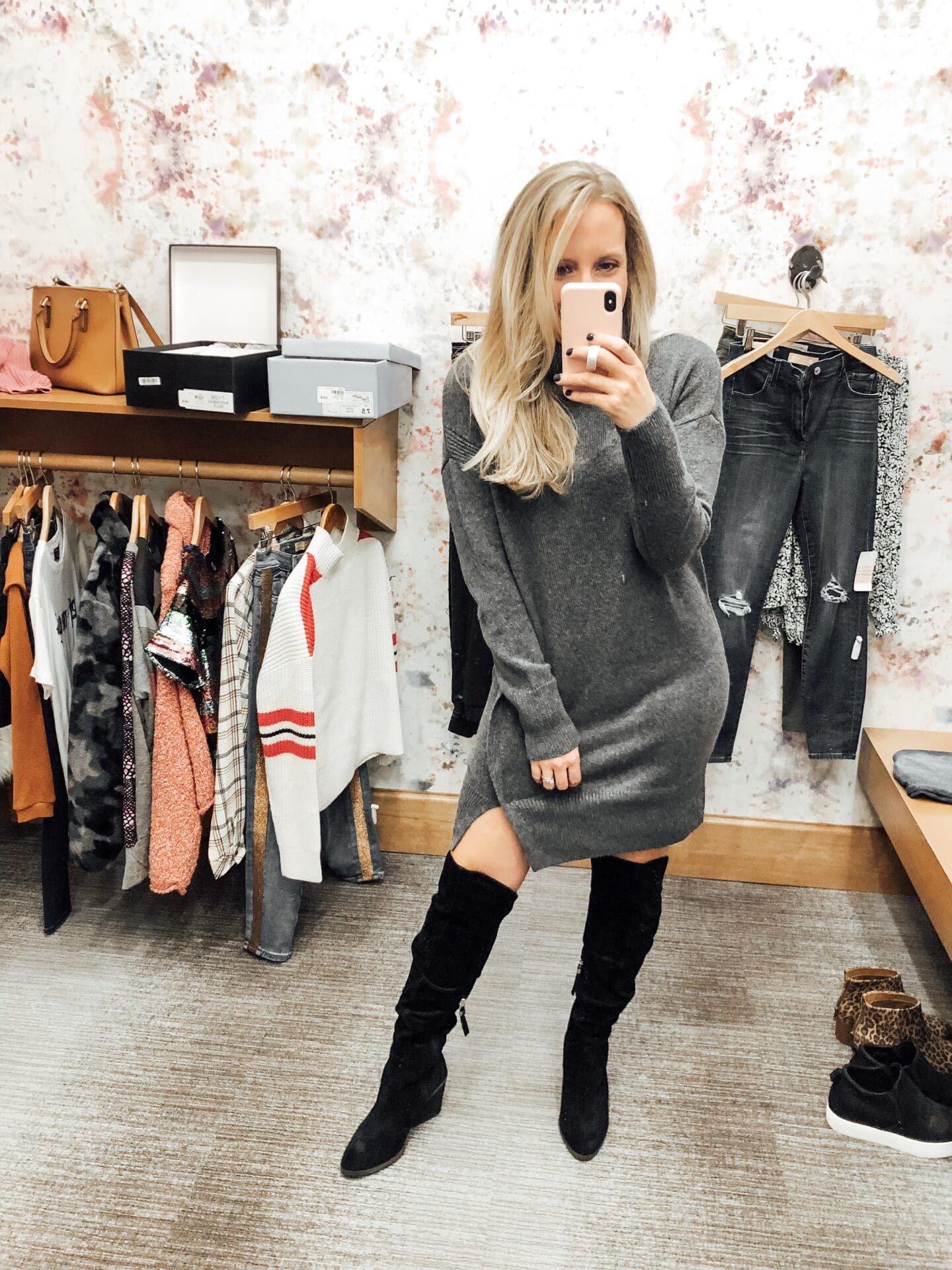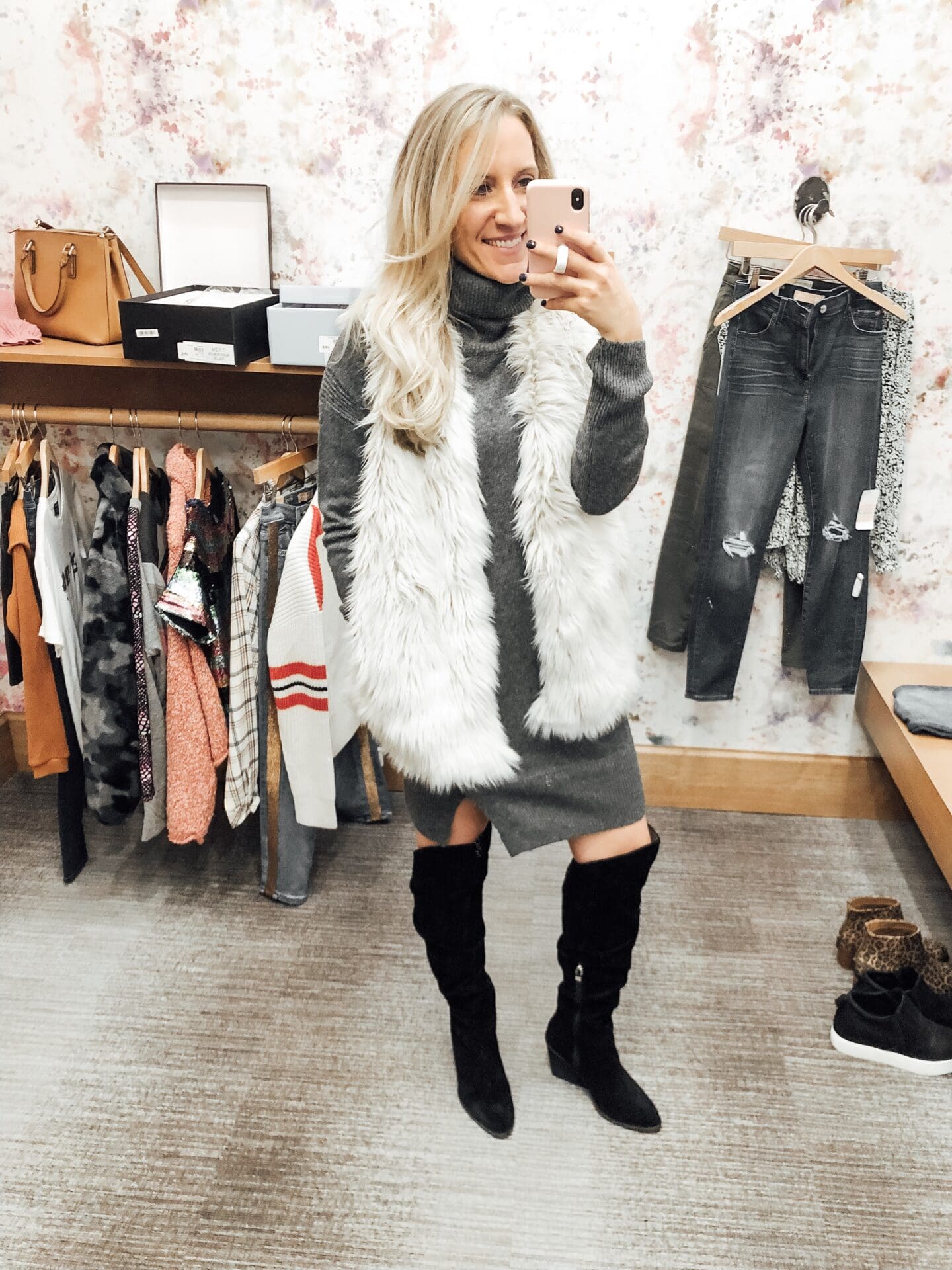 Sweater Dress // Vest // Boots
This sweater dress I wanted you to see both ways.  You could wear it as it with the boots or pair it with a vest.  This look was so cozy!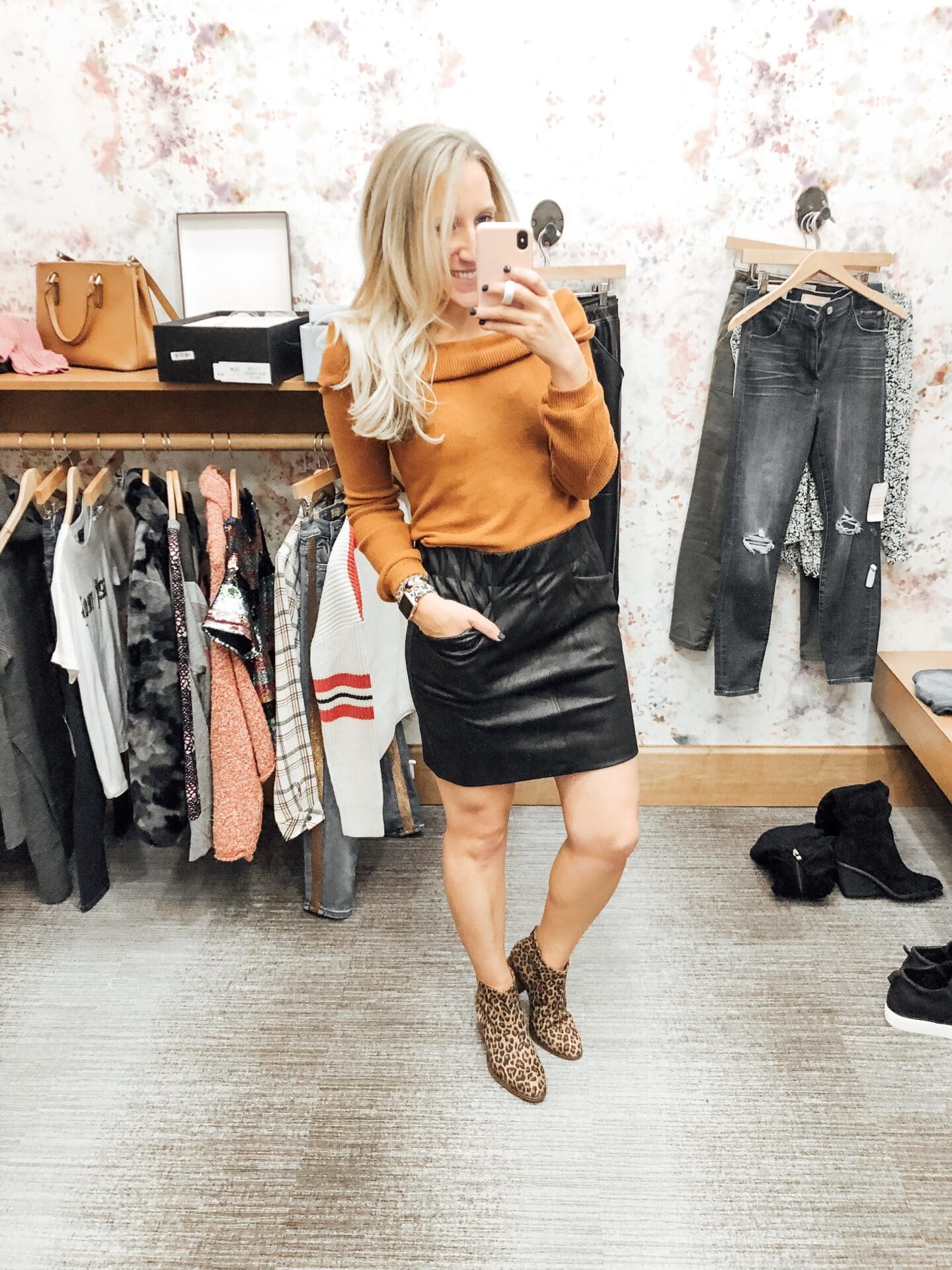 Top // Skirt // Leopard Booties
Ignore my pale legs in desperate need of a tan but if you're someone whose legs have seen the light of day, then I love this outfit!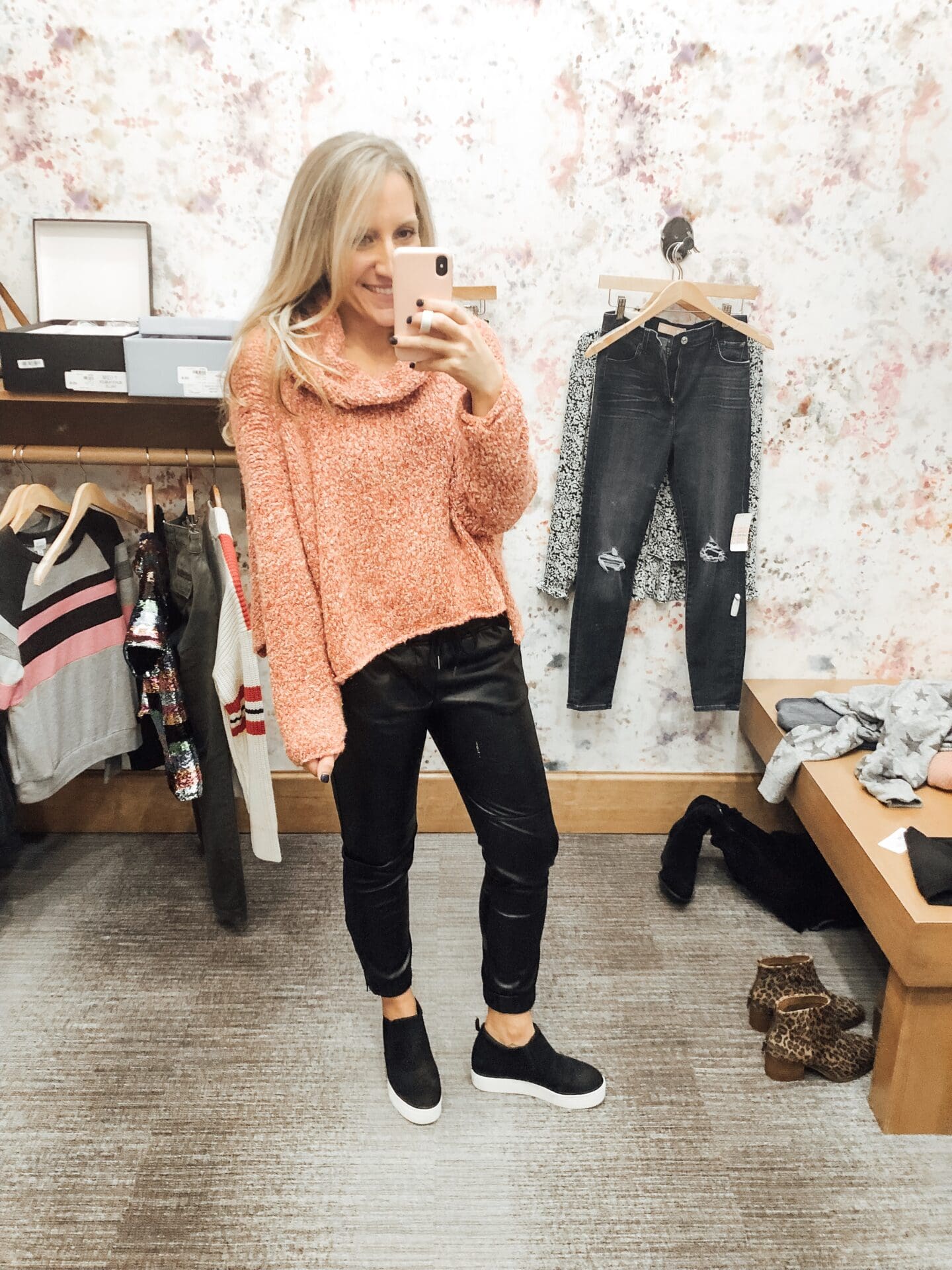 Okay, taking it back to comfy (and to show you that I meant what I said about pairing those pants with several outfits) I loved this Free People top.  Give me anything loose and flowy.  Definitely size down one in this top though.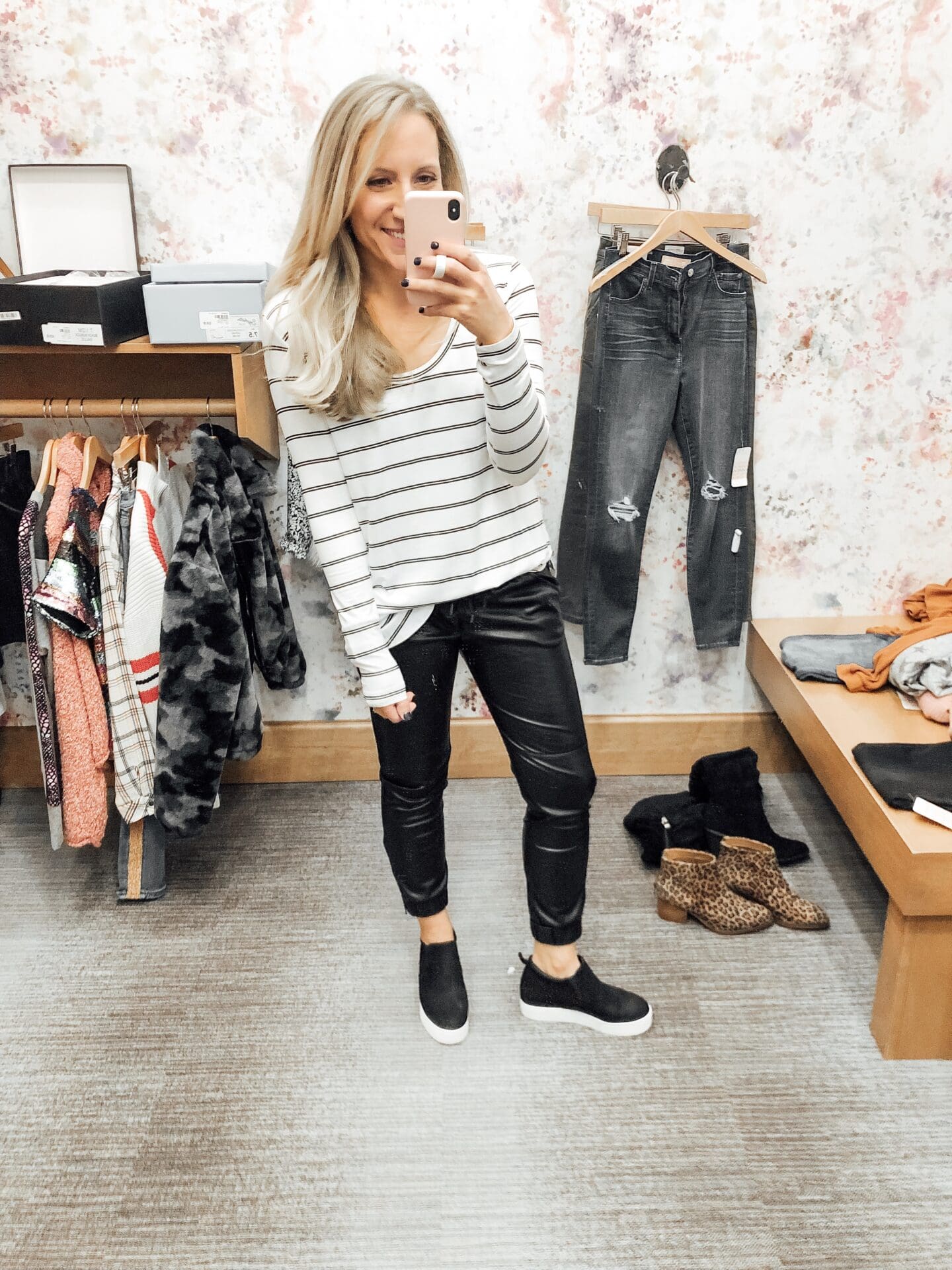 I love this casual look as well.  Really, give me comfort all day long.  You could also layer a jacket with this look too.  I like it with this faux fur bomber.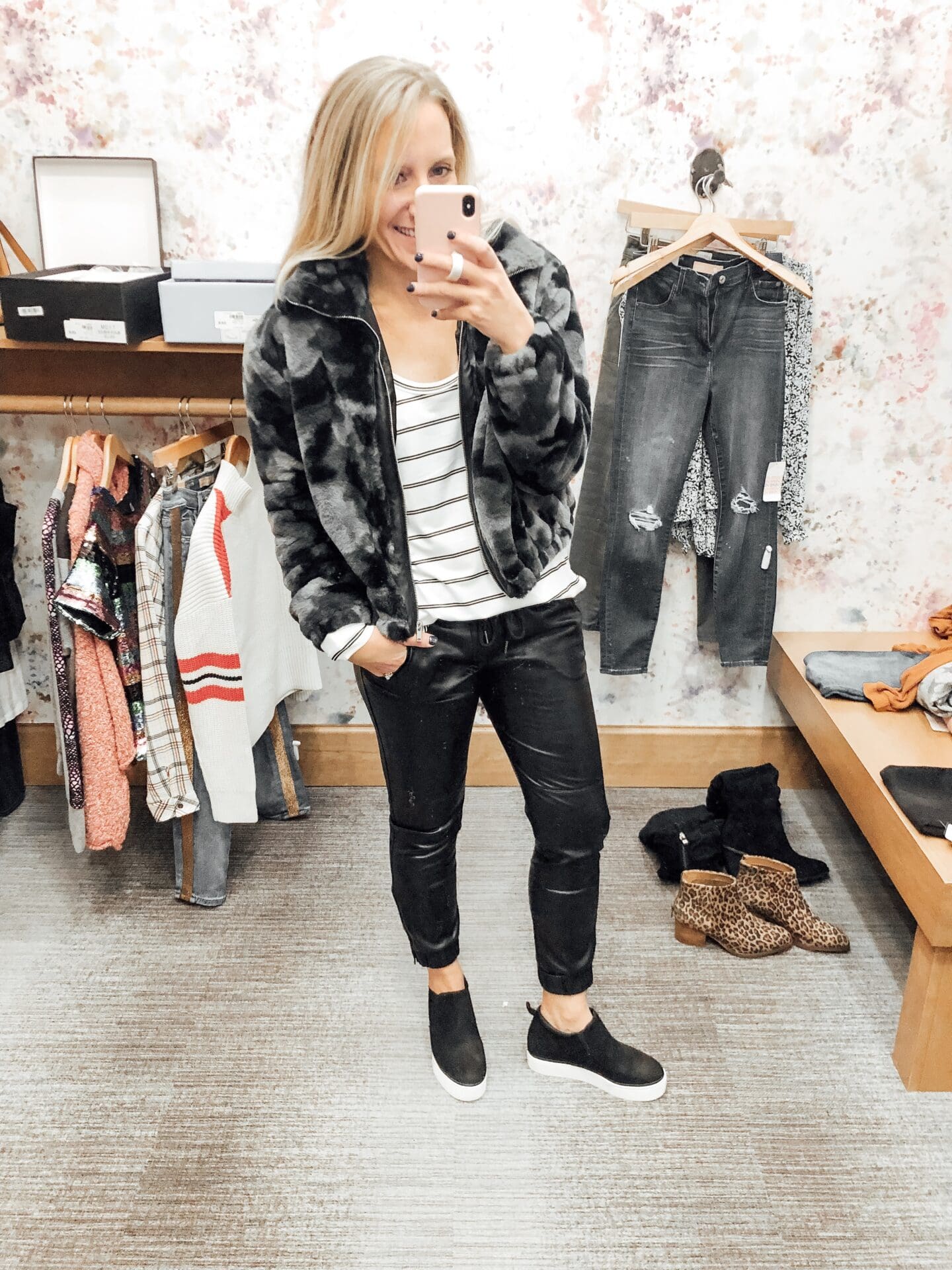 Faux Fur Bomber // Striped Tunic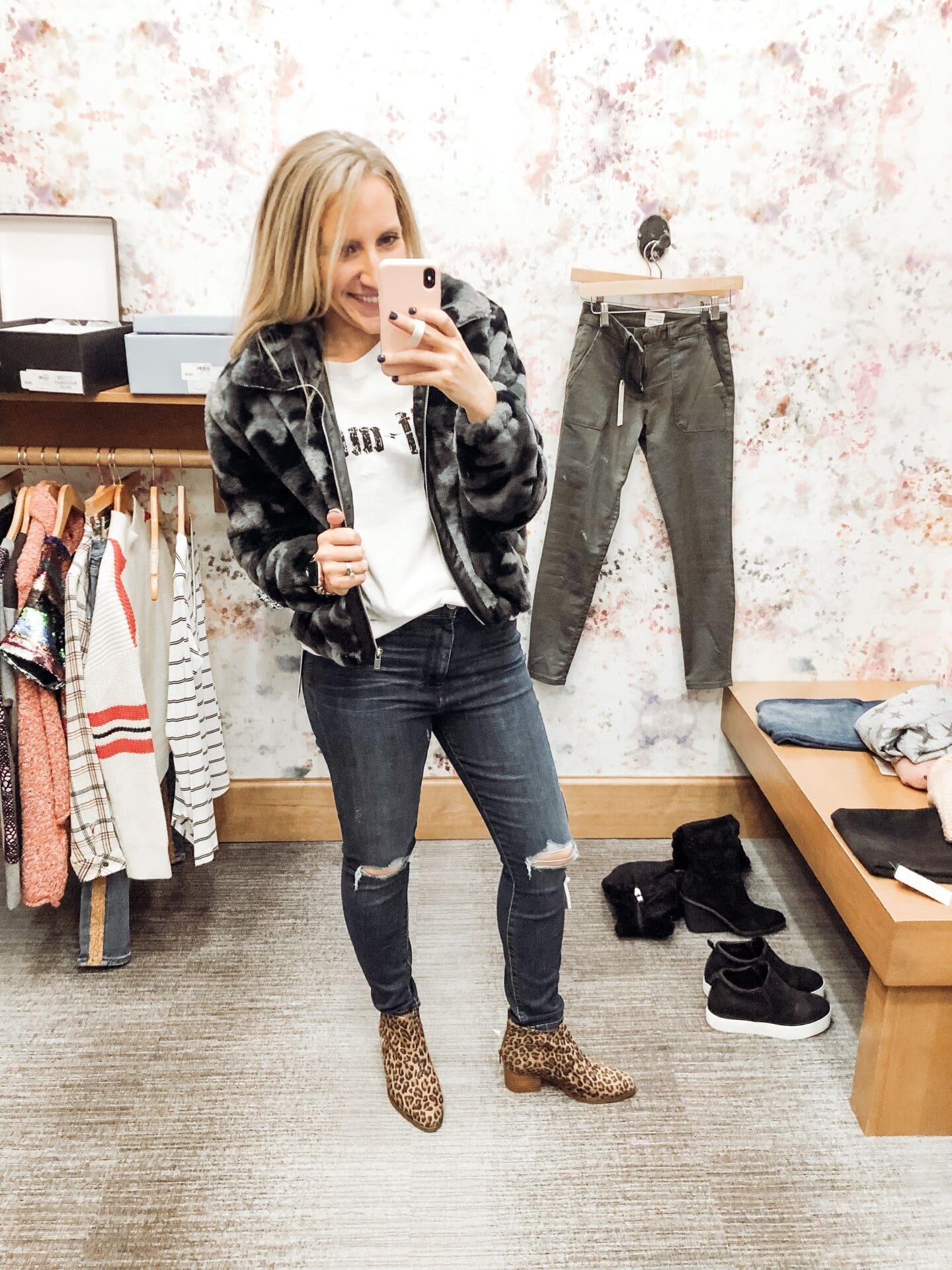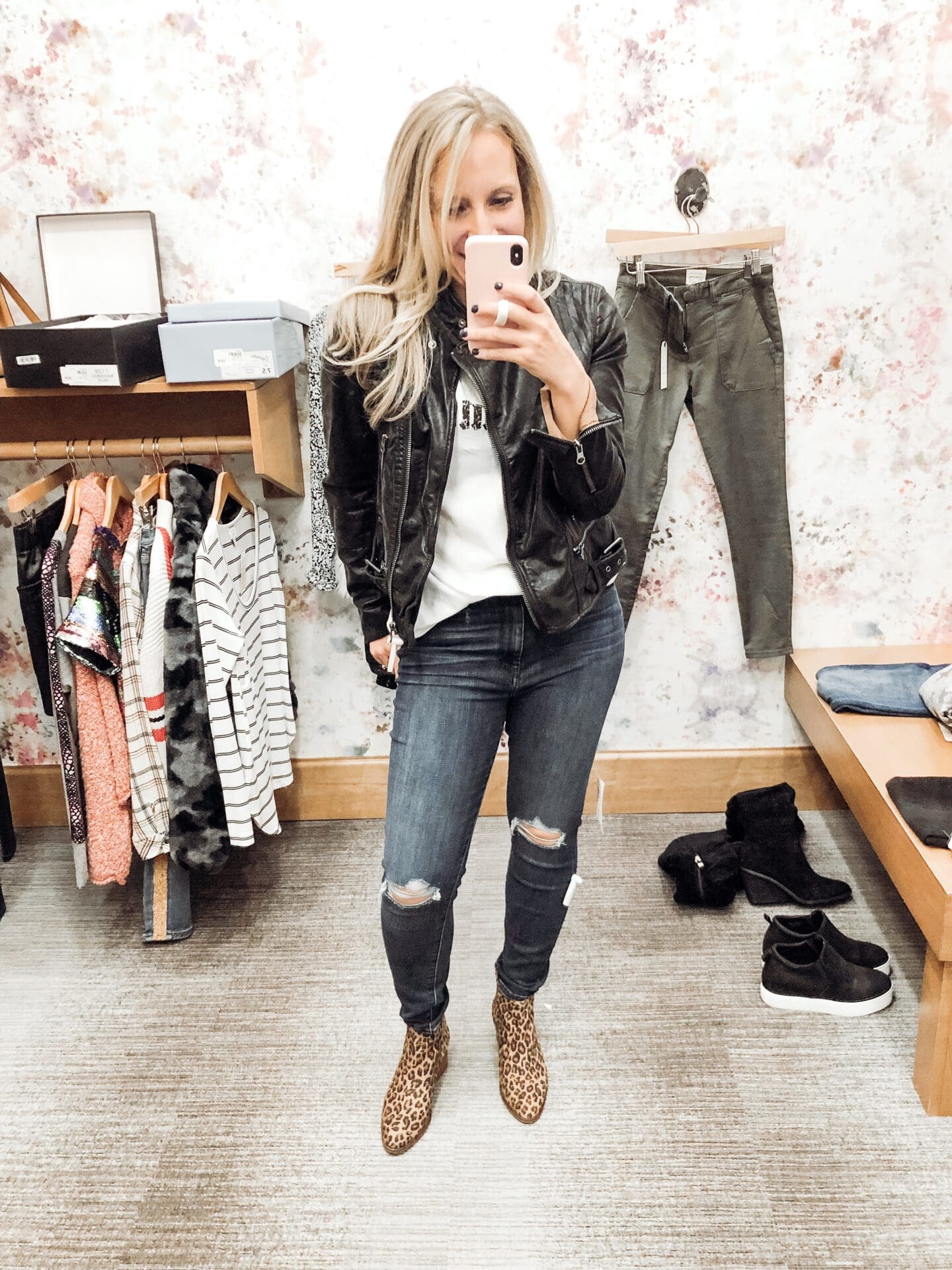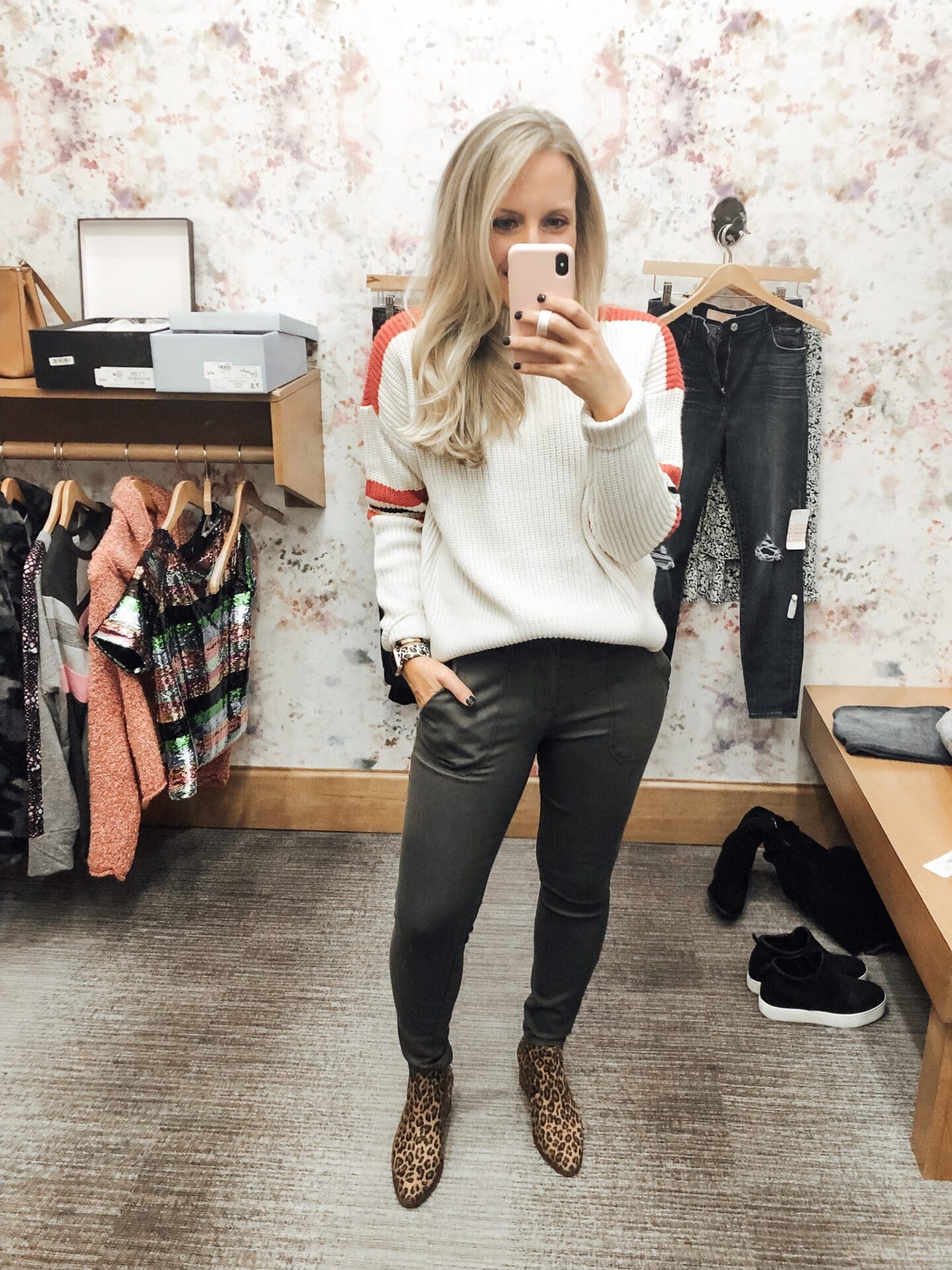 I seriously should have gotten those booties because they go with so much!  It's hard to tell in this picture but the jeans are an army green.
Lastly, speaking of jeans, I loved the detail on these last two options.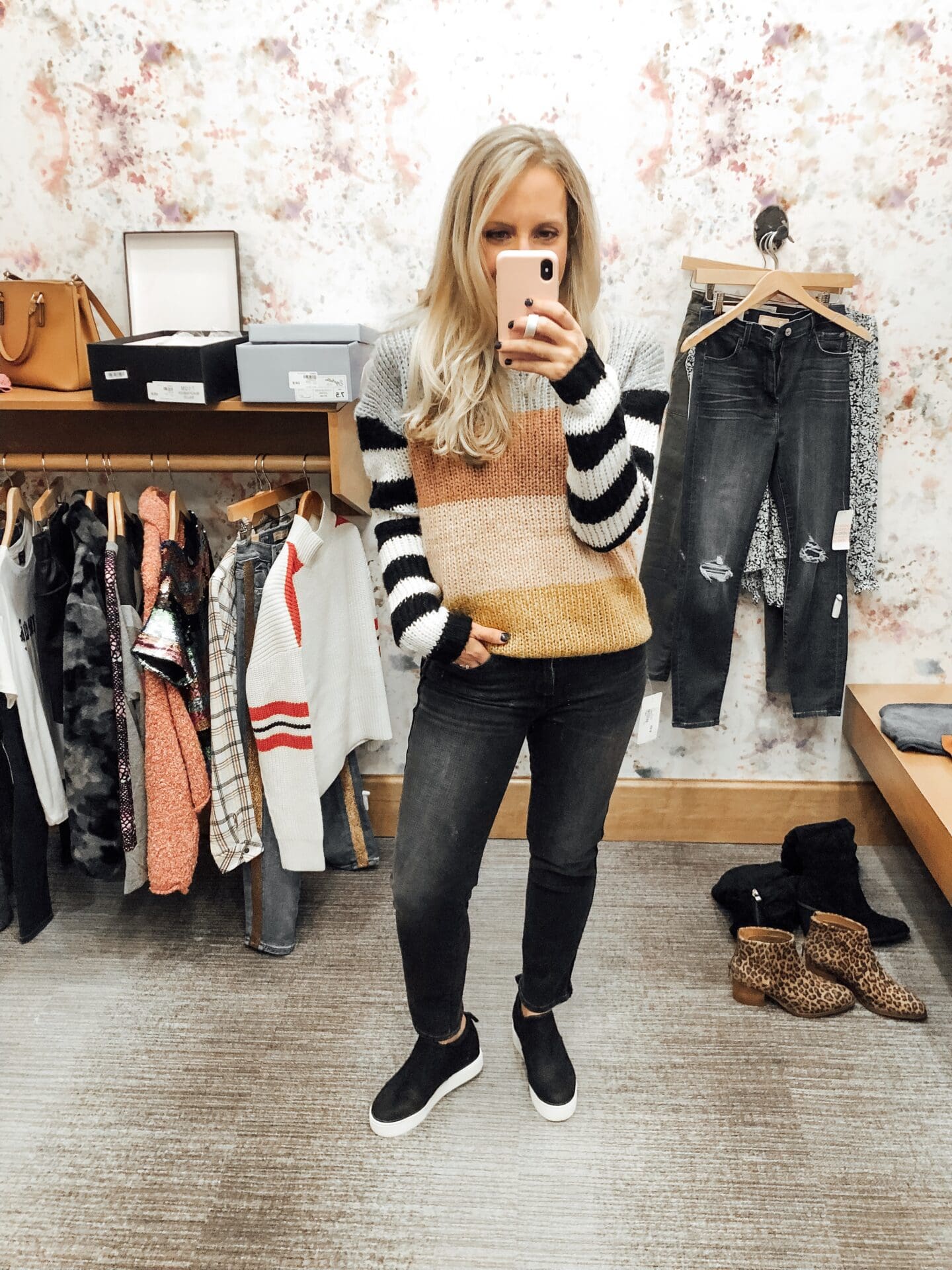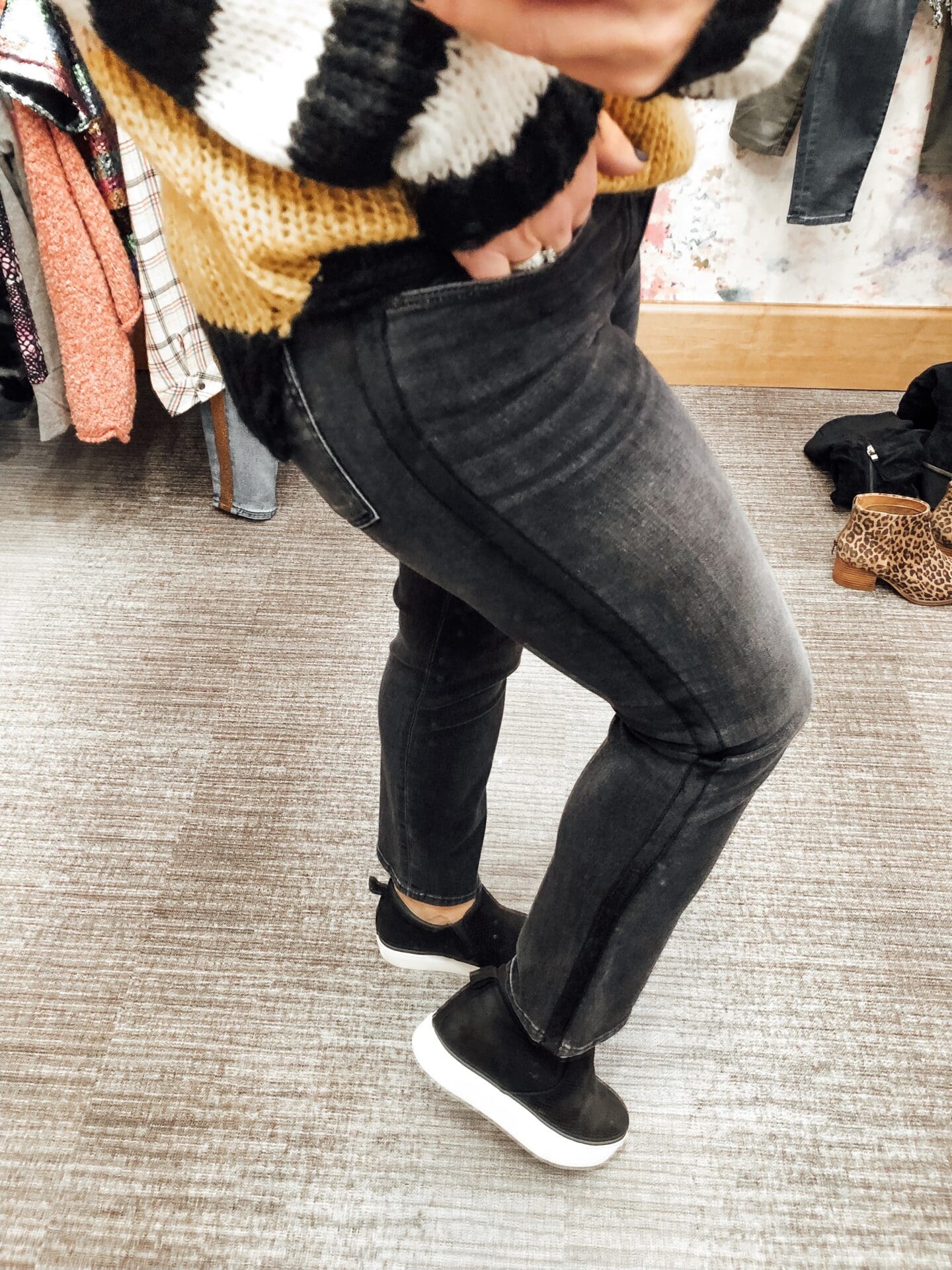 That's a velvet stripe down the side of the denim.  Just a fun little detail.  And how cute is that sweater??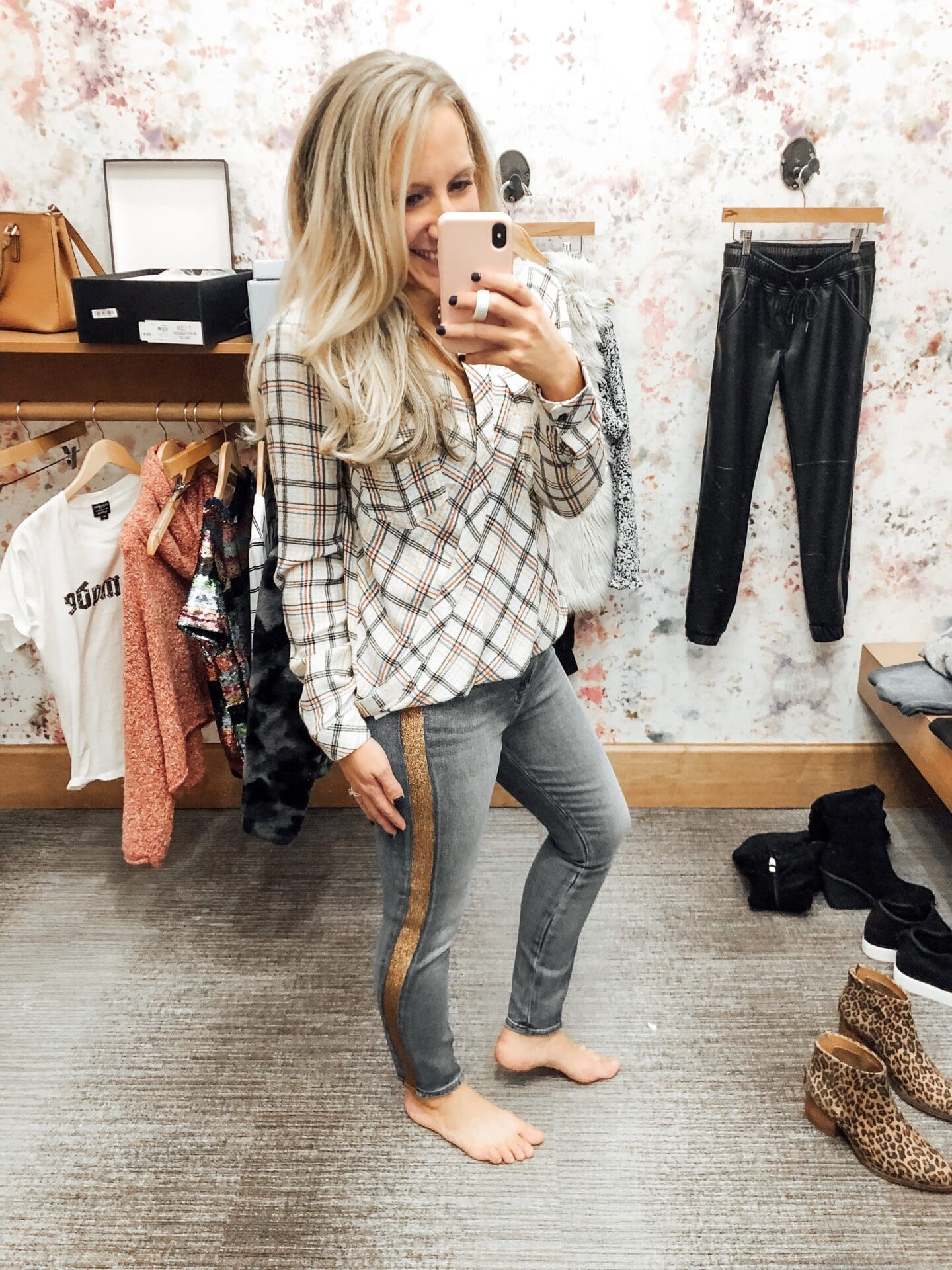 And I loved the gold stripe on these jeans.  Just adds a little of fun to the look.  Also, that top was so buttery soft!  This last picture you'll notice is not in the dressing room because I didn't actually try the coat on or get it at this session but Nicole my stylist was wearing it and I couldn't stop staring at it.  I never thought to ask "where's that coat?"  After I left it's all I could think about and I kicked myself for not getting it.  So I went back a few days later and grabbed it.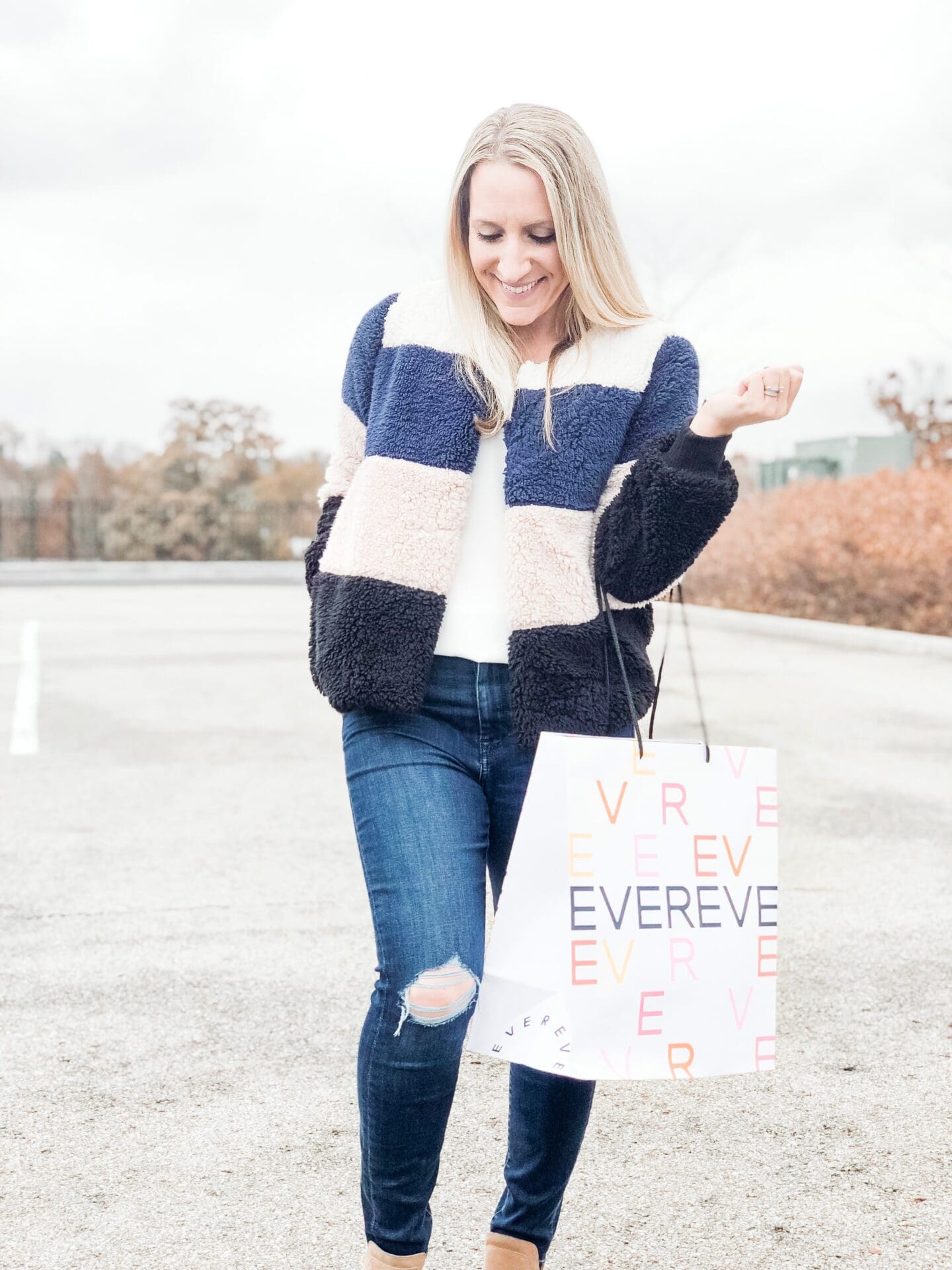 There's the jeans again as well.  I love this coat so much I can't even tell you.  Its sooo comfortable and seriously warm enough to serve as your actual coat on chilly days.  And I love the blues.
Alright friends!  If you made it to the end here I thank you.  I could have easily kept trying on outfits because they have so many great items.  Stay tuned for next month when I'll be bringing you more options, and if you're local I'll be hosting a style social where you come shop while enjoying wine, champagne, and snacks.  Just some fun girl time among all the wonderful fashions Evereve has to offer.  Until next time!
Jill
xo, Jill