Happy Monday friends!  Can you believe I am finally back with a Monday Must Haves post?  Like I said in a previous post I simply hadn't come across any stuff recently that I felt were worthy of being called "must haves" so I pushed this post to the back burner a bit until I had some great products.  I don't want to bring you stuff just for the sake of having a post, so going forward I will only bring Monday Must Haves when I actually have a compilation of items I deem must haves.  I want you to trust that when you see something featured in this post, it is good and something I think everyone should have, and you guys….that day is today!
I have so many awesome new things to share with you that I personally think you all MUST HAVE!  Or, with the holidays coming up, they are something I think would make great gifts.  So, let's get to it!
*Note: This site contains affiliate links to products. I may receive a commission for purchases made through these links. However, this does not impact my reviews and comparisons.   I only share things I truly adore and stand behind.
First up, let me just say that I have an Old Navy try-on coming you way later this week but I couldn't wait to share this outfit from it any longer (don't mind my charger cord….my phone was dying).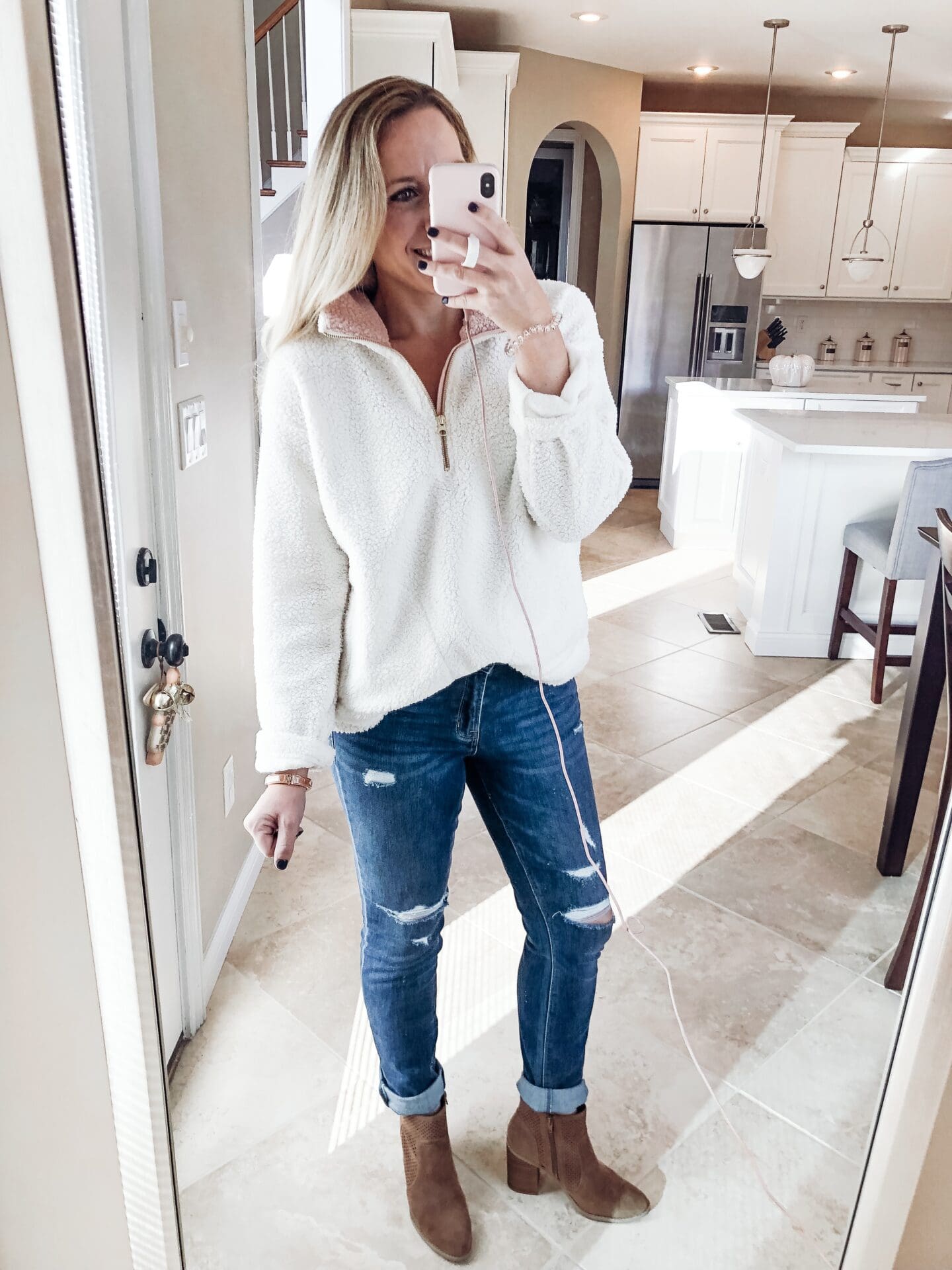 This Sherpa is SO cute!  I love love love the pink collar detail and I like how the collar stands up.  I typically don't do Sherpas because they are so hot, but this one isn't too heavy.  It's just right!  It comes in 6 color options and today you can snag this and the jeans for 30% off online.  The jeans are so comfy and I love the amount of distressing.
Now, the booties are not Old Navy but they are indeed my latest favorite pair of boots!  They are from Target and are so comfortable even with the heel.  You could walk around all day in them and not be in pain.  The sides do rub against your ankle a little at first so I would maybe wear socks or a band aid there until they are broken in, but none the less I still deem them a must have!  Here is a closer look.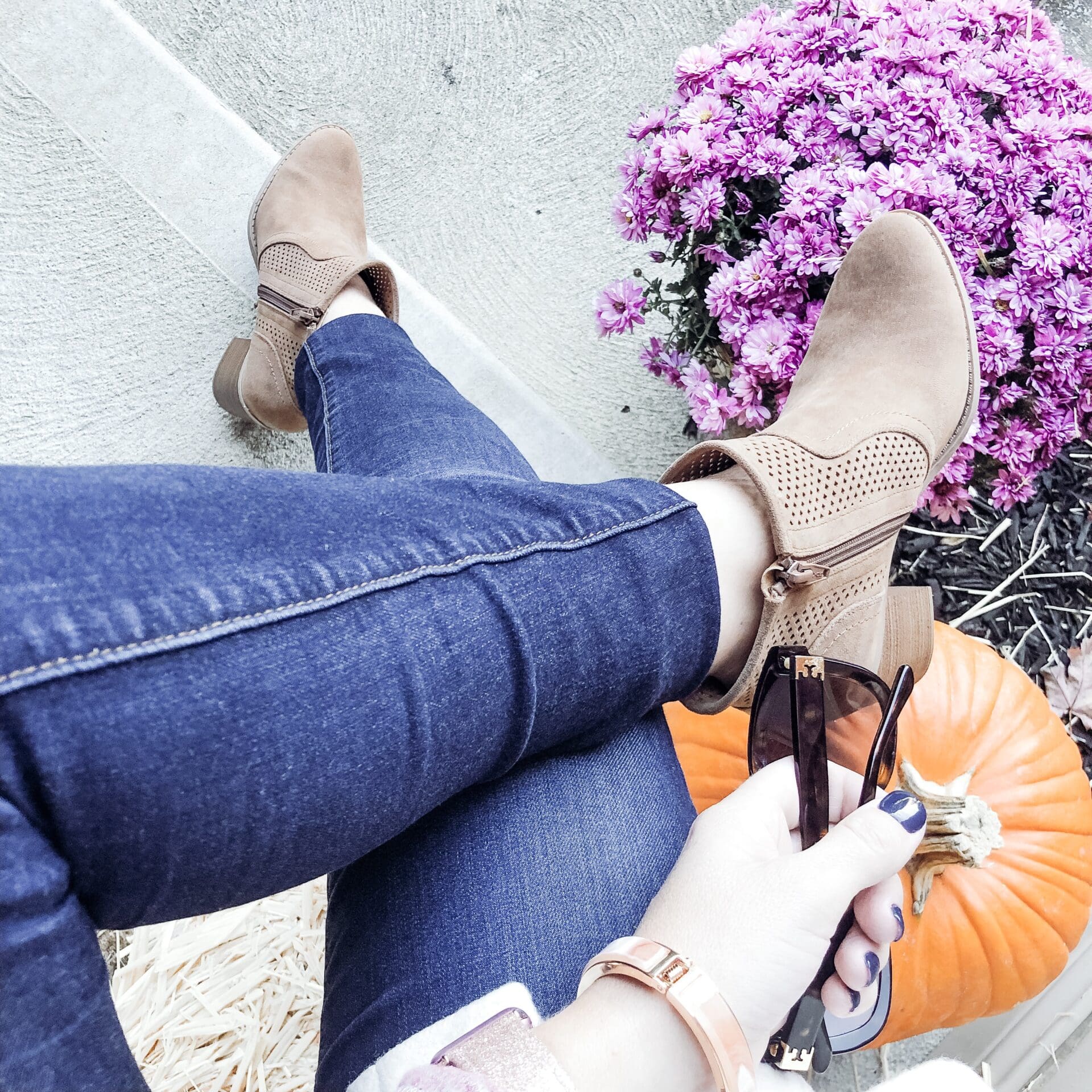 And while we are talking shoes…..I know I mentioned these slippers last week in my Friday Finds post but they deserve the spotlight again now that I have a picture in them.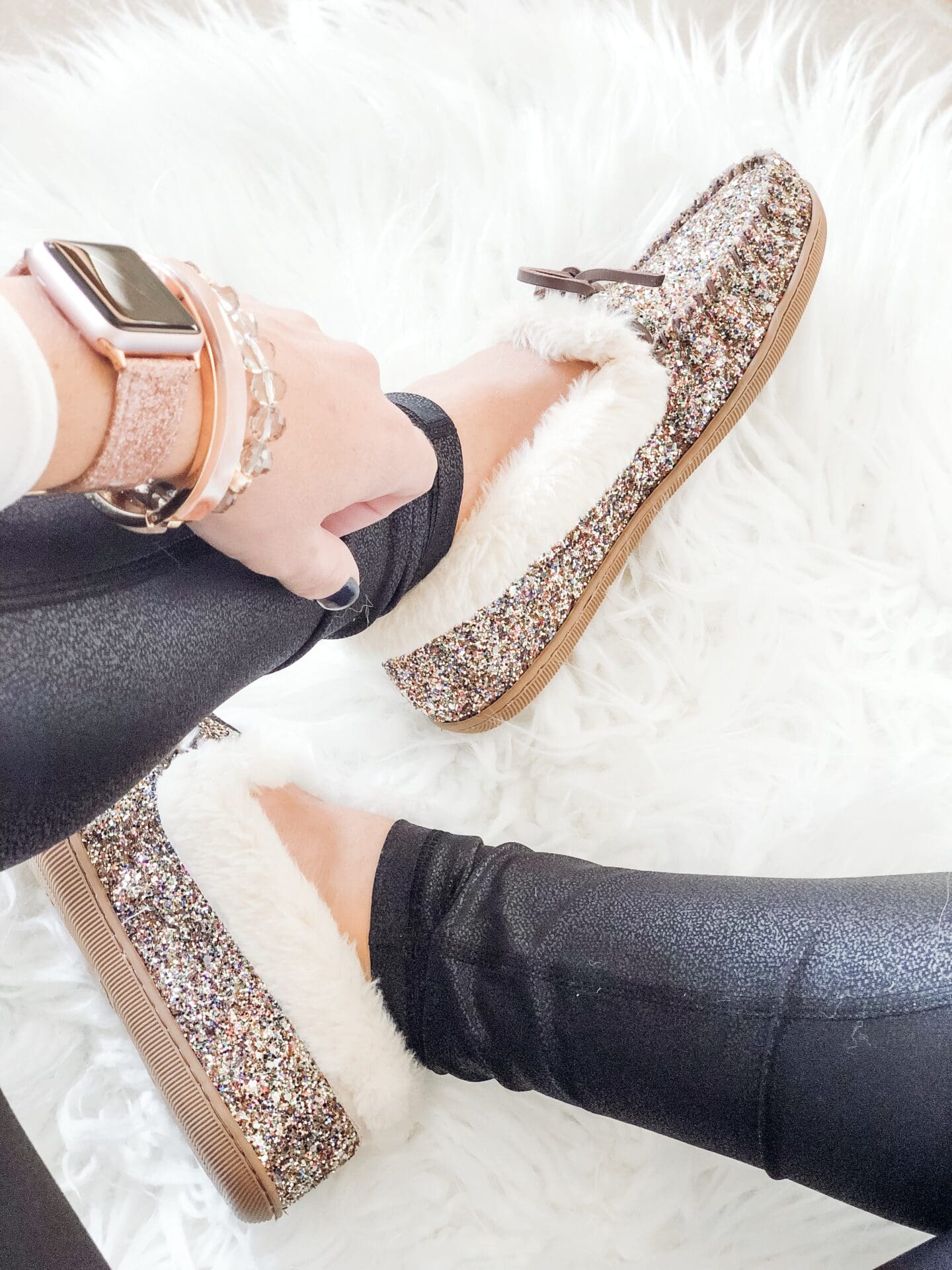 I mean, have you ever seen cuter slippers?? They are from J. Crew Factory and are currently 40% off.  I am totally obsessed with them.  I almost don't want to wear them because I don't want to ruin them.  They are just perfect.
Here they are with this comfy outfit, and a new top that I also think is a must have!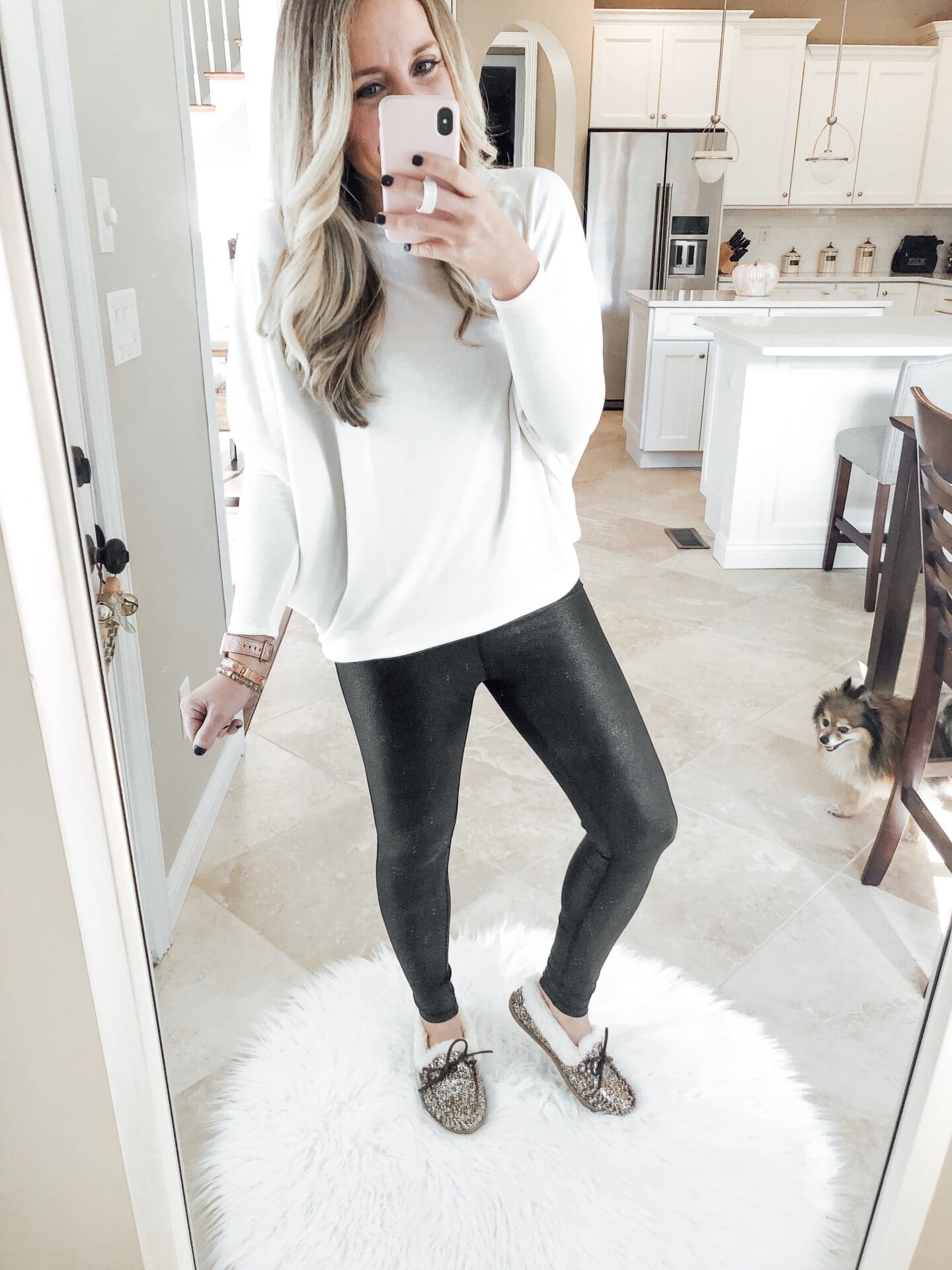 Also, check out Sebastian totally photo bombing.  This top is from Red Dress and I love how slouchy and comfy it is.  And, the best part is that you can wear it long to cover your bum in leggings, or it easily tucks under too, like pictured, to go with jeans.  It's only $27 and a total comfy win!
Next up, let's talk accessories…..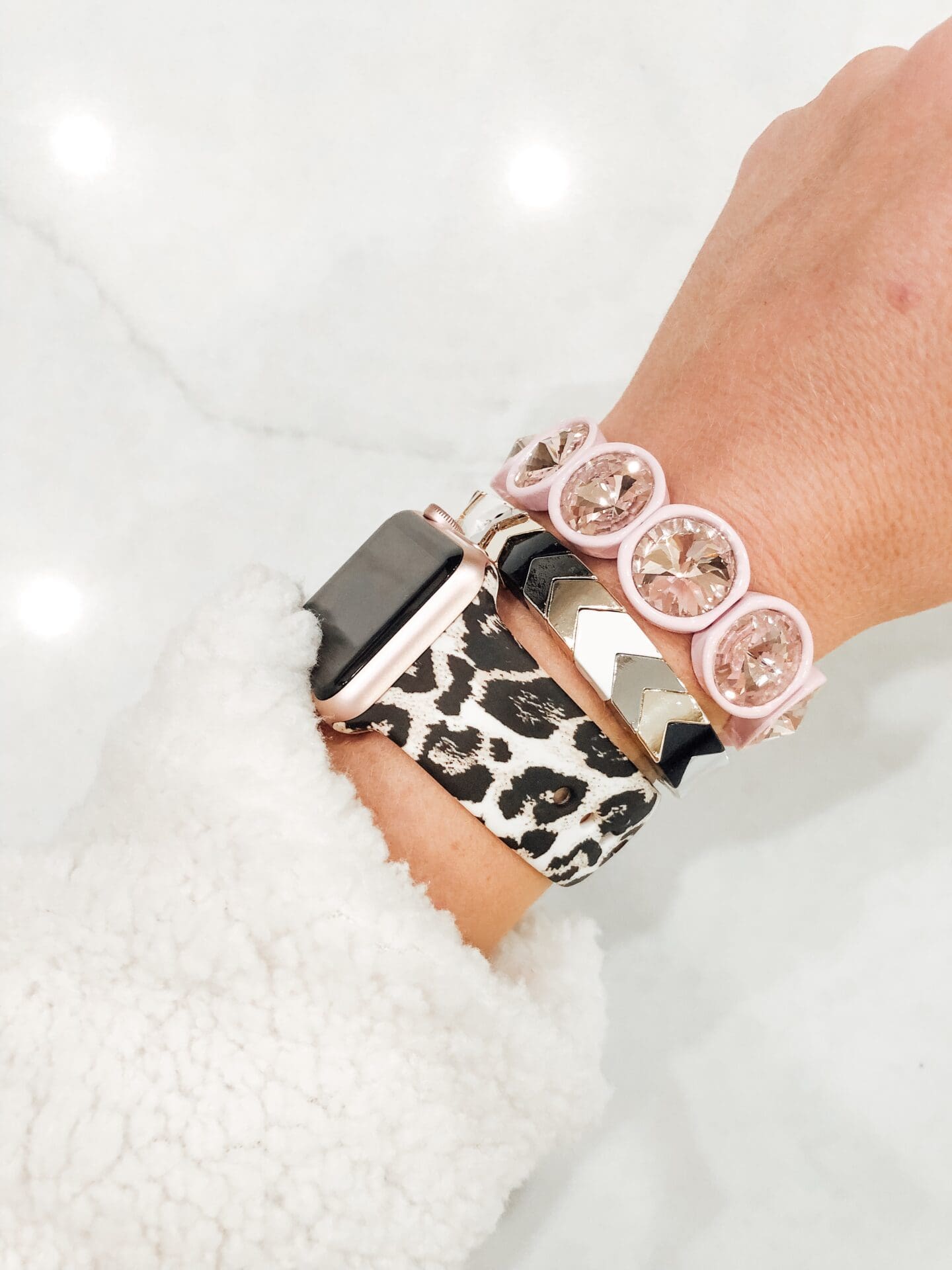 I am currently totally in love with all three of these pieces!  The watch band is from Amazon and can be found here.  It's only $5.99!  And it's great quality and ships Prime if you have that.  And the bracelets are from a new shop I found called Knight & Daisy ( I love the cute name).  They are fun pieces and I love how the chevron one matches my watch band and the pink one is just girly and the right amount of "extra."  The chevron one comes in two other colors too.  You can check them out here.
And now for my biggest must have of them all this week…..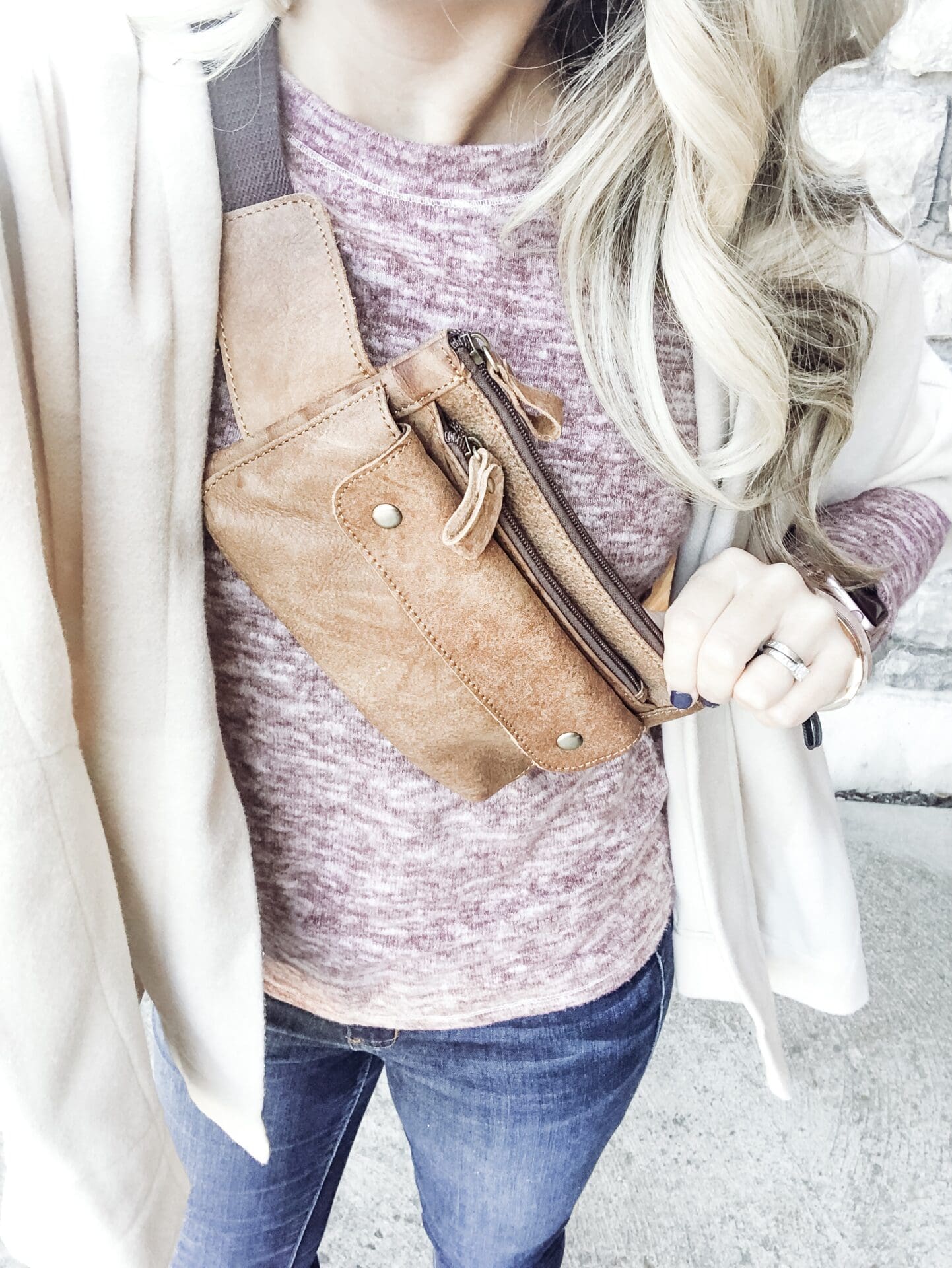 A fanny back that totally looks great and works to wear as a mini crossbody!  I mean technically you can probably do that with any fanny pack, but this one is just so cool and edgy and has several pockets and ahhhh I'm in love!  It's from a company called Hands Free People and you can shop it here on Amazon.  It's genuine leather and only $37!! Of course you can also wear it as a fanny pack and still look totally cool too!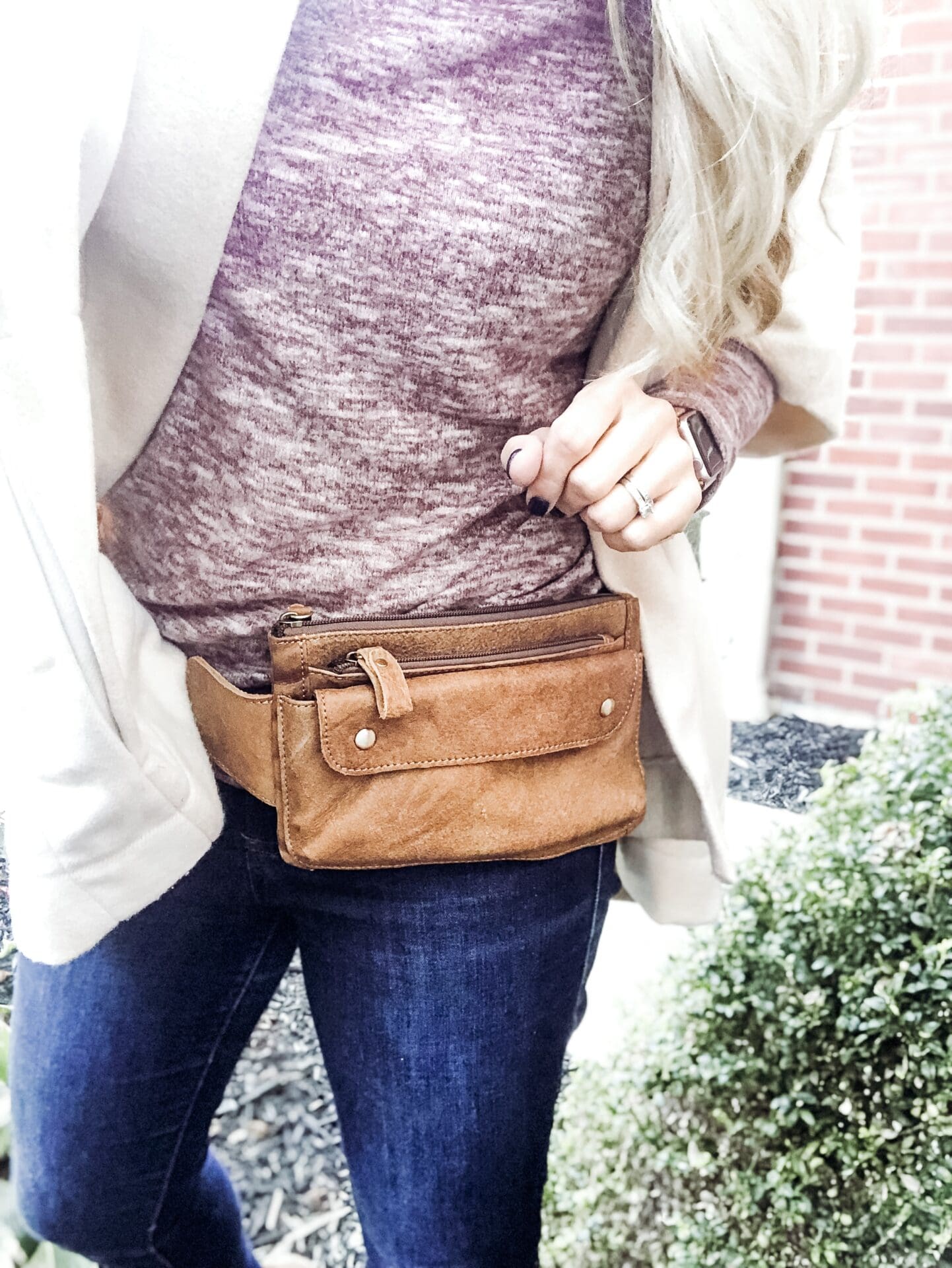 Either way, you absolutely need this in your life.  I'm already itching to use it as often as possible.  It's just such a fun, elevated version of the standard fanny pack and in my opinion everyone needs one.  I mean the idea behind the fanny pack is genius.  Hands free?  Heck yes.  But the execution was never really done well.  They weren't cute!  Gucci and some other high ends brands certainly helped but those price points are crazy.  This is the answer to both problems.  It's fashionable and affordable and those are two words I think most of us like to associate with our clothing and accessories.
The last few items are in the beauty category.  First, I don't know if I showed this before but if so it's worth repeating….I'm currently loving this foundation….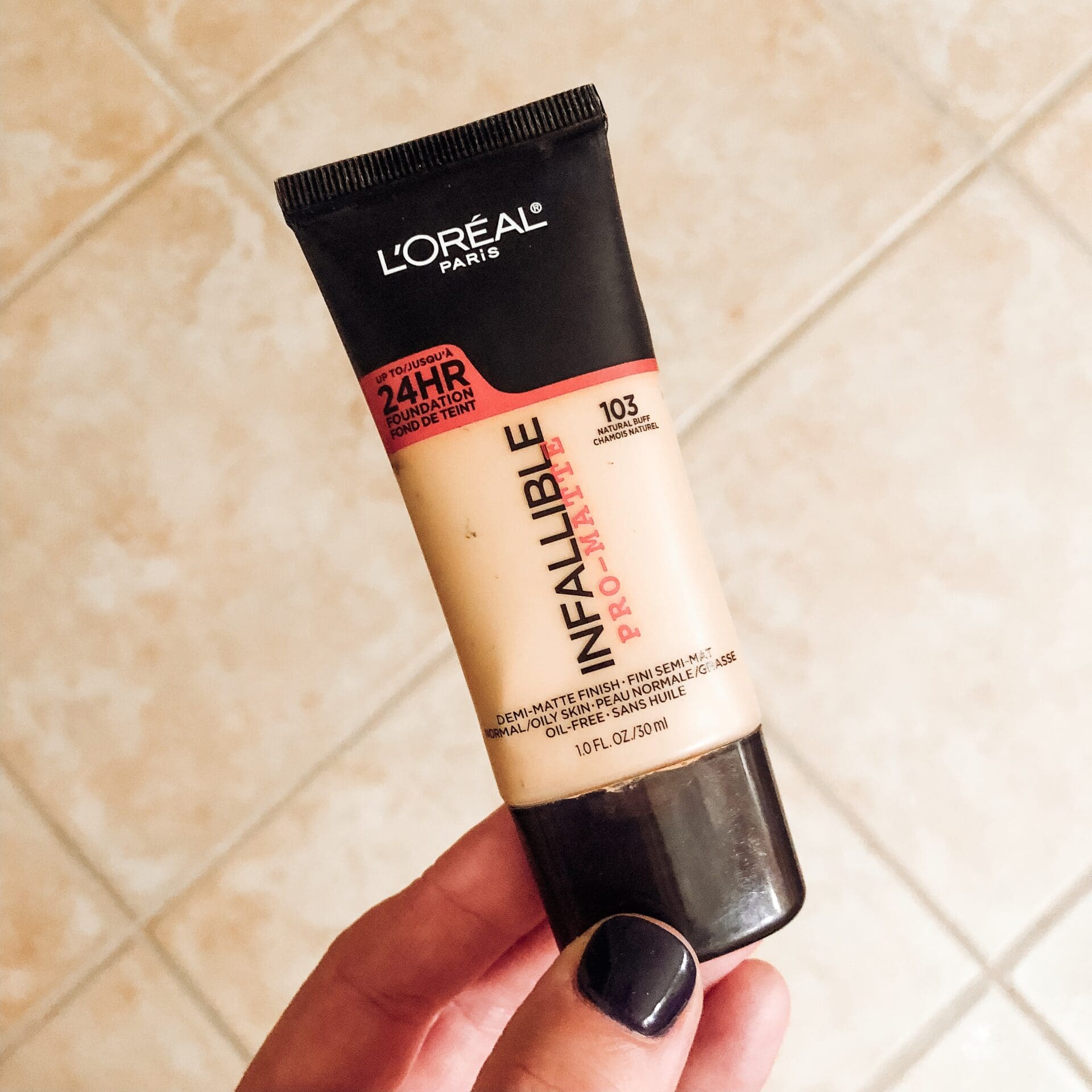 Now listen, it's not the "cleanest" of products.  I typically like my makeup to have better ingredients than this one, but the coverage of this is incredible and again the price is awesome.  For a drugstore makeup it works wonders!
My rule is that I try to be "clean" in as many areas as possible so that when I use some less than clean products like the foundation, it's less of an issue.  So I reduce my toxic footprint where I can, like with these last two items, and hopefully it all balances out.
First, the Intense Repair Spray from Monat.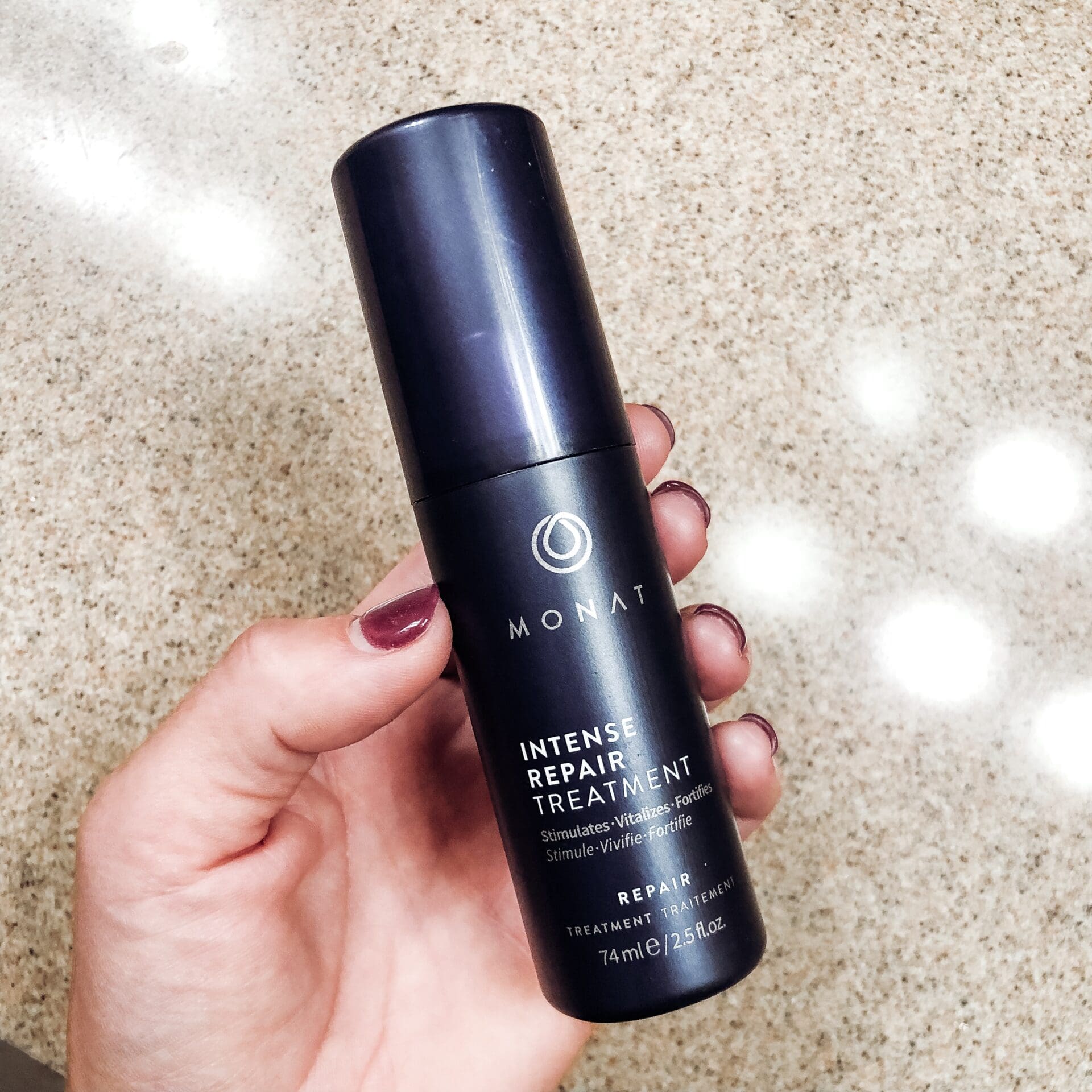 Monat is plant based, vegan, anti aging hair care and if you have any thinning, balding or hair loss you 100% NEED this product in your life.  I have been using it on and off for two months to my temple area where I have always had a bit of a receding hairline.  At first I wasn't sure if it was really making a big difference, until I took some "after" pictures.  You guys, look at these results…..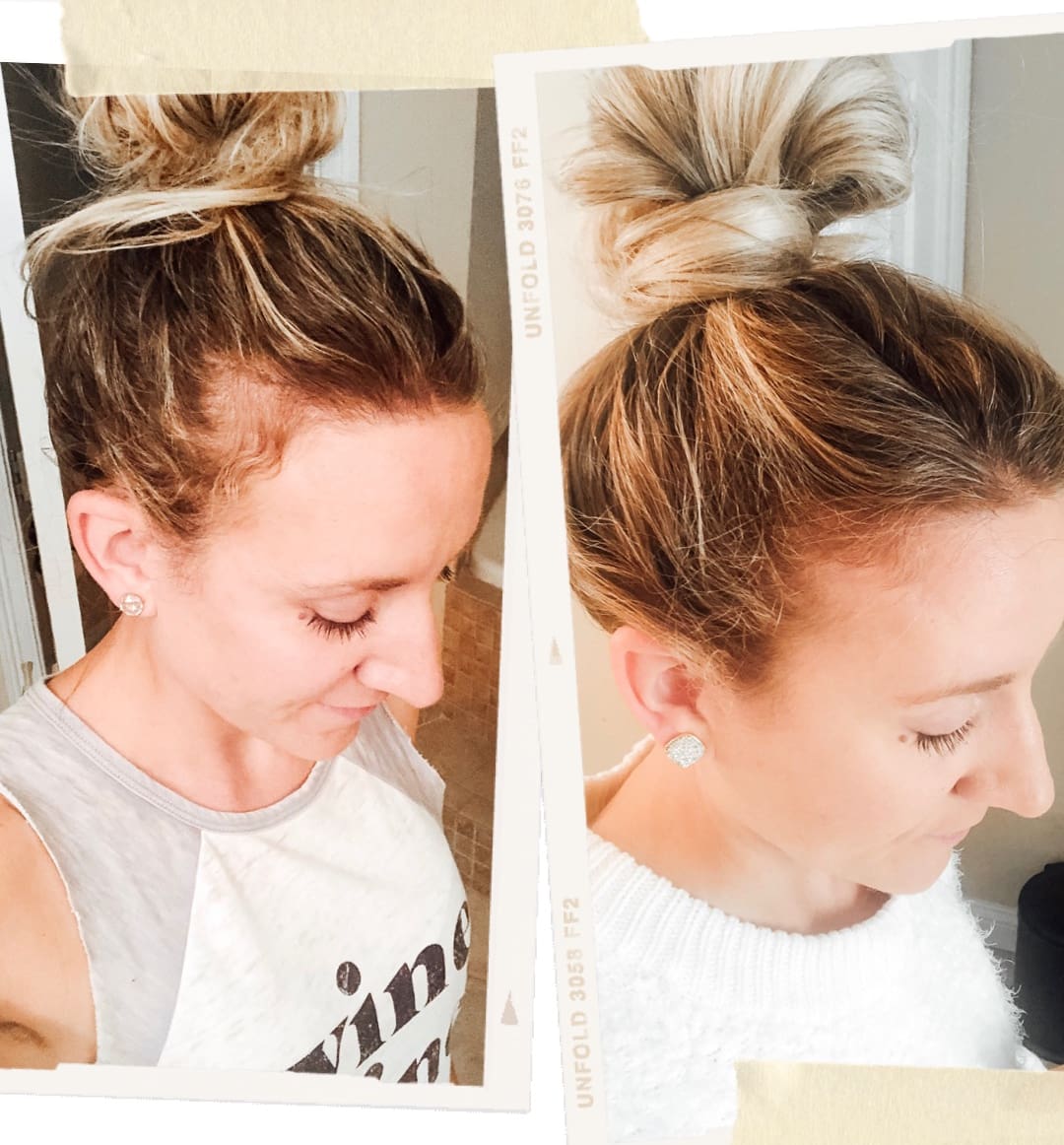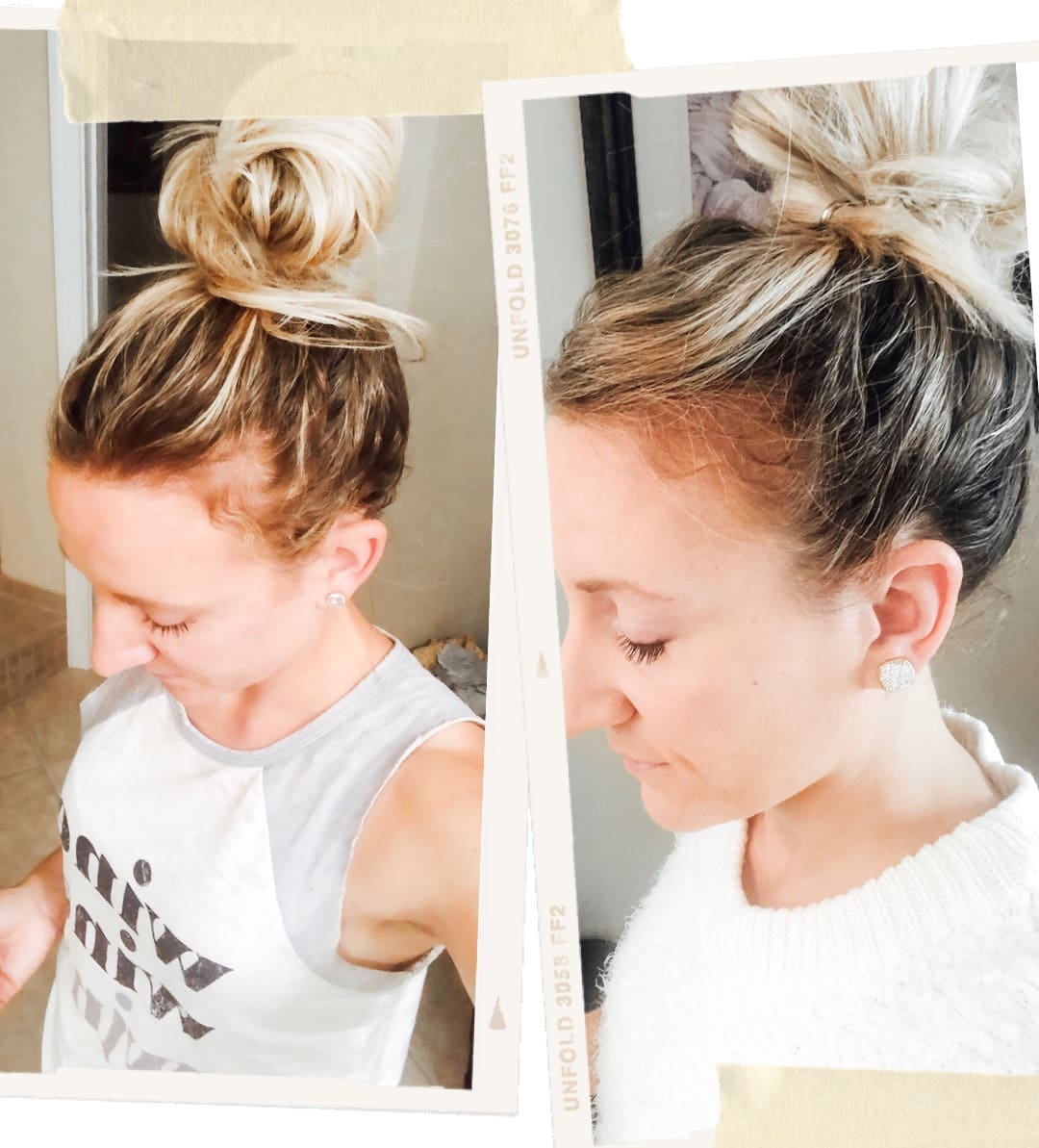 And this is only 2 months and not even regular use!  I'm truly floored!  It's pure magic in a bottle.  I have seen so many other amazing results like mine.  It's legit.  If you or someone you know have thinning or balding reach out.  You can email me hello@jillcomesclean.com or shop the products here (but feel free to reach out for help ordering or getting the best deal).  I can't say enough good things about all of Monat's products and what they've done for my hair.
Last up, if you are a body butter lover or just need a stocking stuffer or Christmas gift idea I am currently loving these from Beautycounter.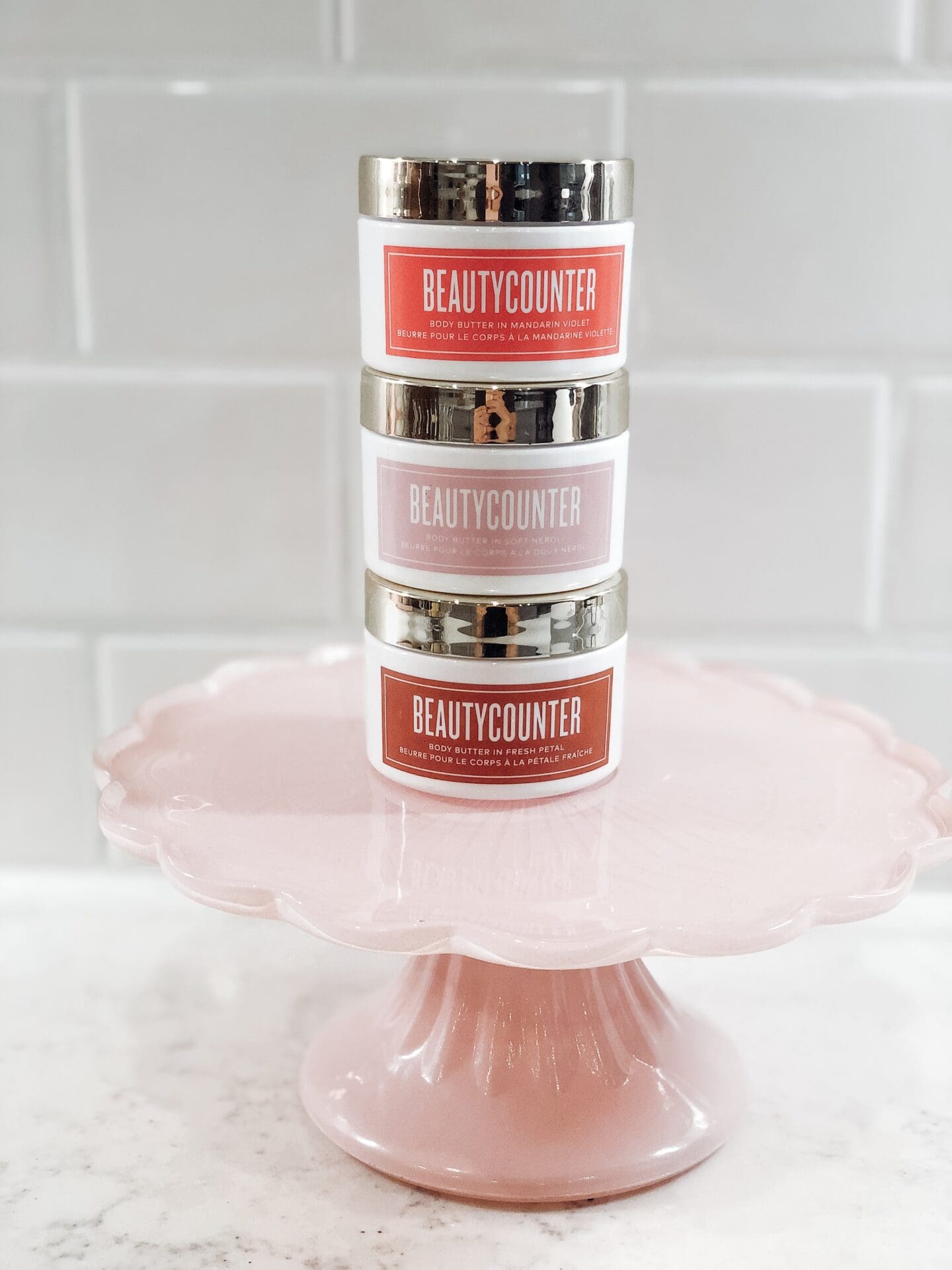 It's a trio of body butters and they go on smooth and absorb fast.  Typically, body butters can be thick and greasy but these are neither.  I love all three scents and since it's Beautycounter I know they are safe, clean products, without all the nasty harmful ingredients.  These would be great to gift as the whole set or break up among 3 people.
Okay you guys, whew!  That does it.  So much goodness!  Stay tuned later this week for my Old Navy try-on.  I have so many cute items to show you before their big Friends & Family event where everything is 50% off!  So be sure to check back!  Have a great week!
Jill
xo, Jill