Happy Monday friends!  I feel like we started the new year with a bang over here and it's been crazy ever since.  Leyton turned the big 1 year on January 3rd and my parents were in town, and we had a little party, and it's just been insane!  I just now feel like I'm starting 2019.  Naturally, given all the busy we had going on the past two weeks and coming off of the holidays, blog stuff was a little all over the place.  But, I am back to the regular routine and kicking it off with a Monday Must Haves!
I have stumbled upon so many great finds lately that I couldn't wait to share, so let's dive in!
First up….my rule when is comes to buying something that I'm on the fence about is to give it time, and if you can't stop thinking about it then buy it!  You guys, that's exactly what happened with these mules from Target.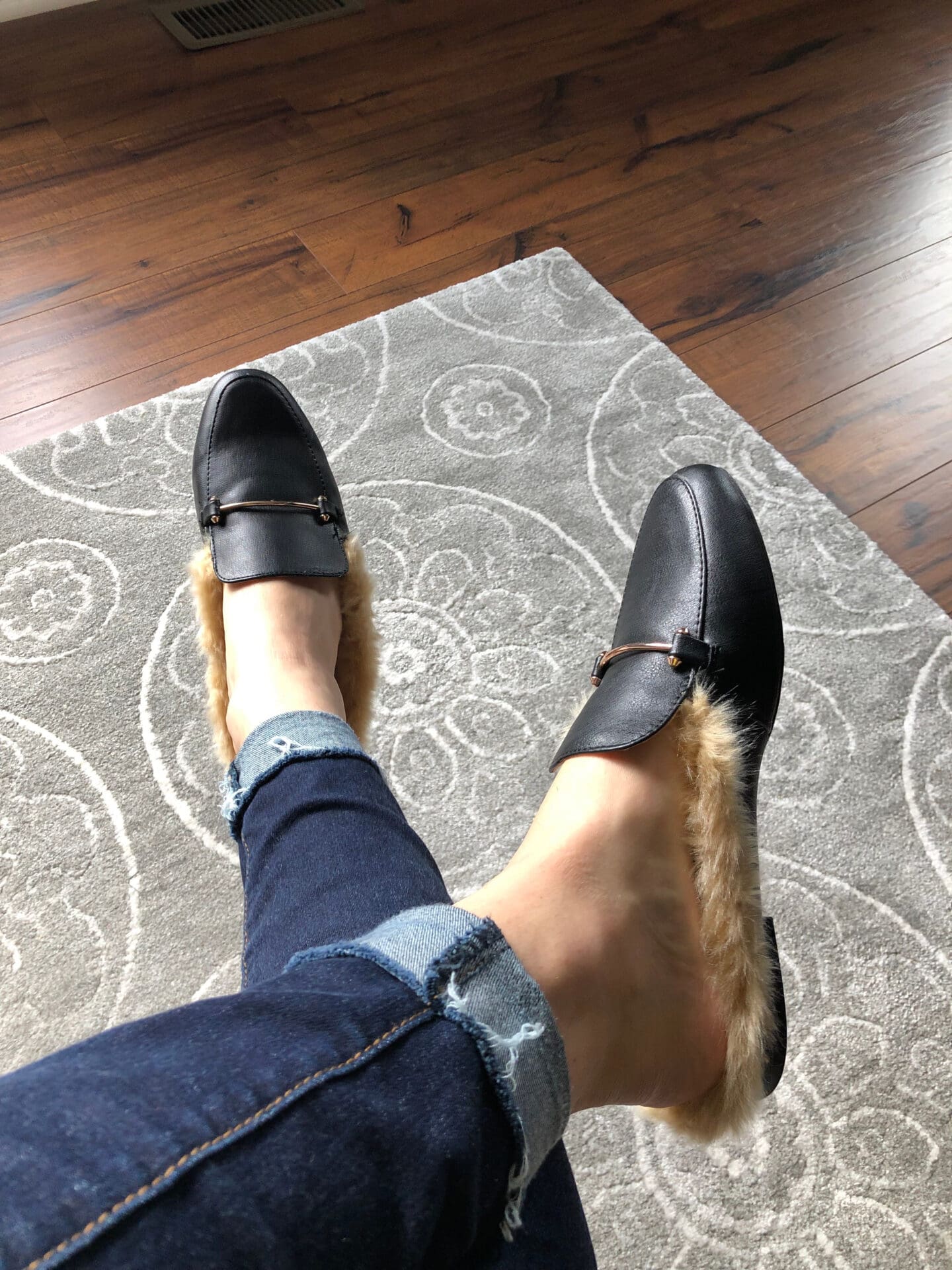 I kept seeing them on various people all over social media and finally I was like, I must have these!  They are under $25 and sooo stinking comfortable.  Most of the reviews I read said to size up because the faux fur takes up some room and makes them a little smaller so that's what I did and the fit is perfect!  And speaking of footwear…..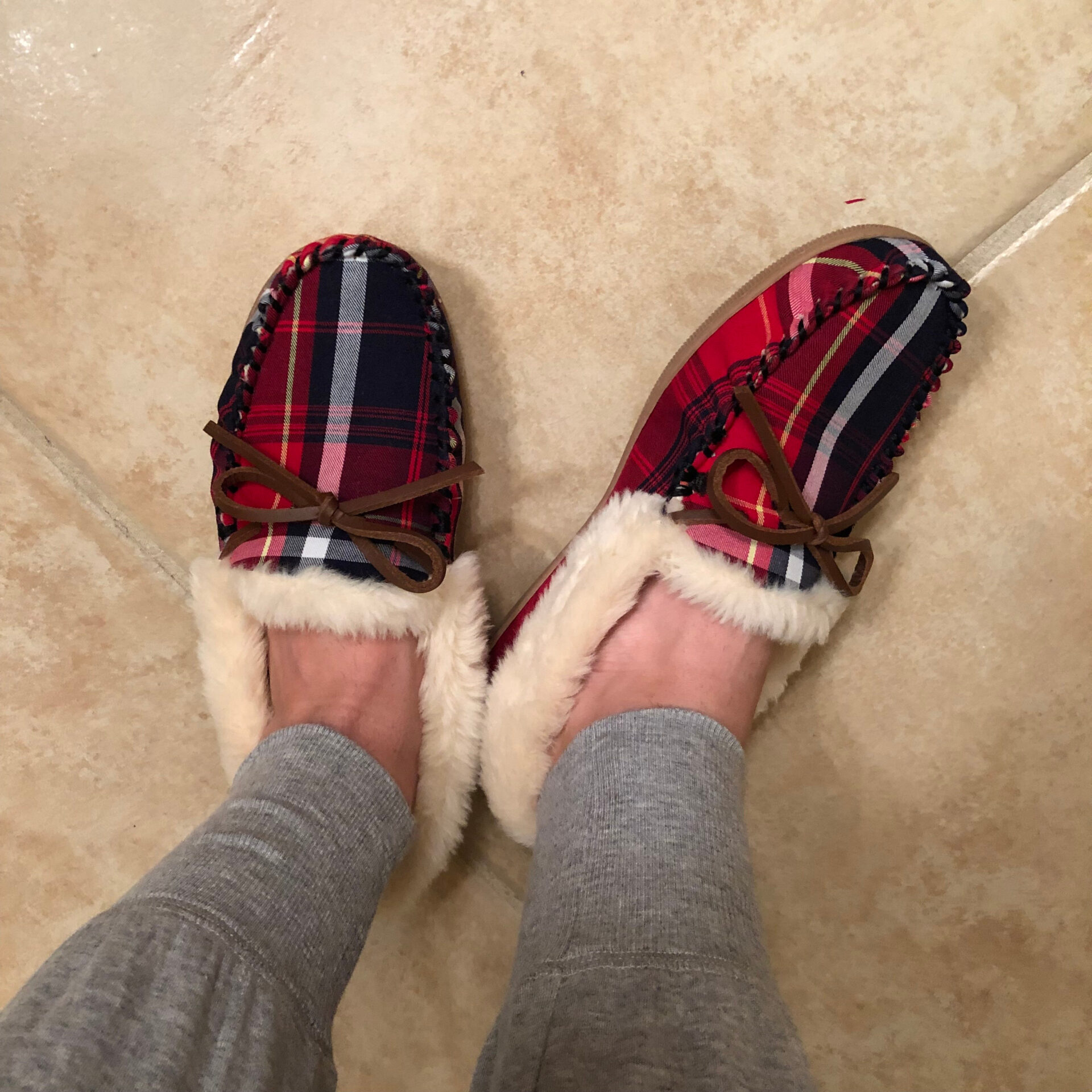 I don't care that Christmas is over, I rock plaid all winter long and these slippers from J.Crew Factory are heavenly!  They fit true to size and are so soft and warm and just hug your feet.  They are currently under $25.  There is a similar pair (pictured below) in tartan green plaid and tartan red plaid.  They are $29.99 plus an additional 60% off with code CLEAROUT.
And while we are talking clothes….I wore this outfit during our trip to Hershey, PA a few weeks ago and Eric kept saying how much he loved this cardigan!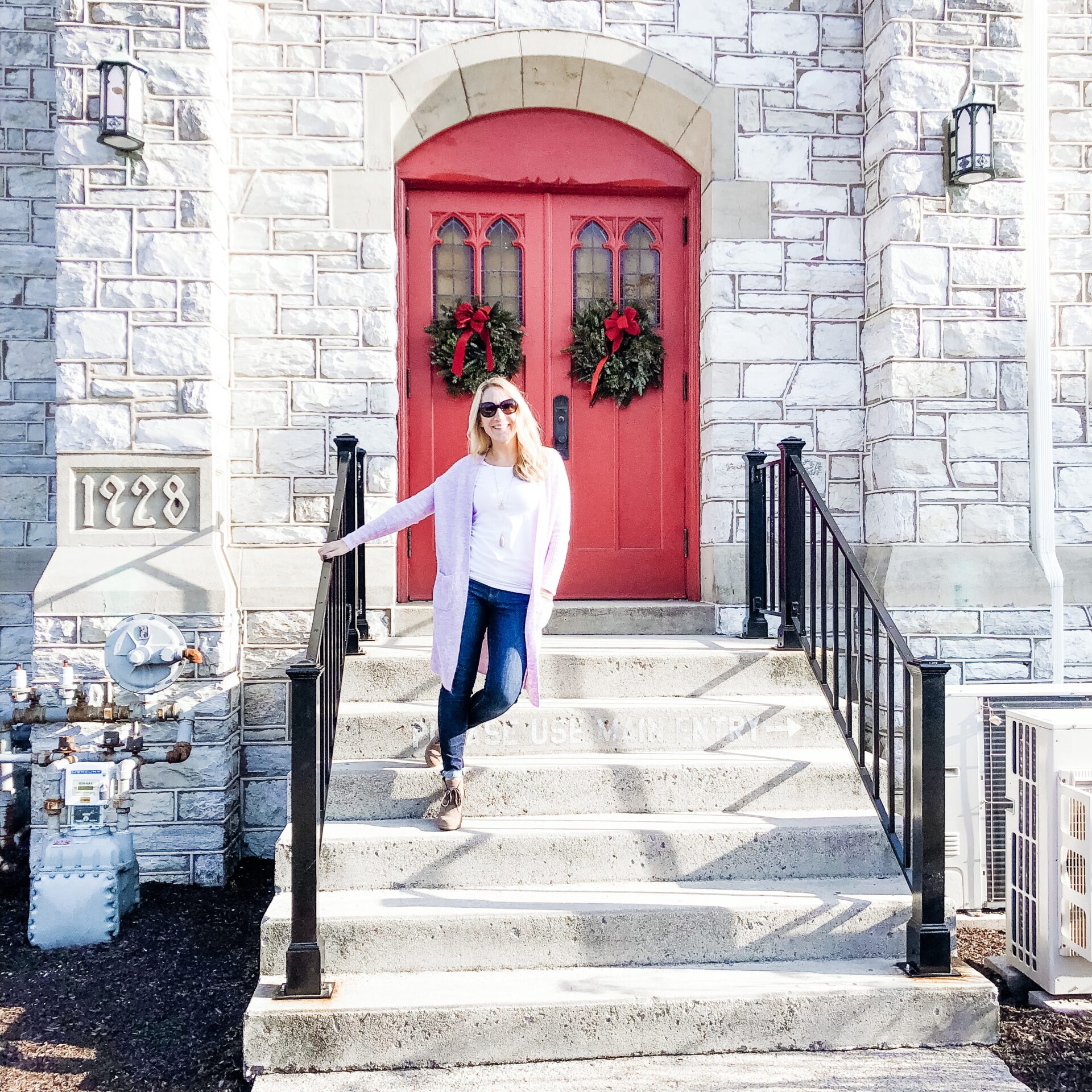 It's the perfect length to go with jeans or leggings, and would even be cute over a dress with boots.  It's currently 40% off too.  Jeans can be found here and the booties are old but a similar pair can be found here.  And can we just take a minute to appreciate this beautiful church I'm standing in front of?  I love me a good red door!
Keeping it in the fashion category for a minute, I was in Nordstrom the other day and picked up these Kate Spade earrings….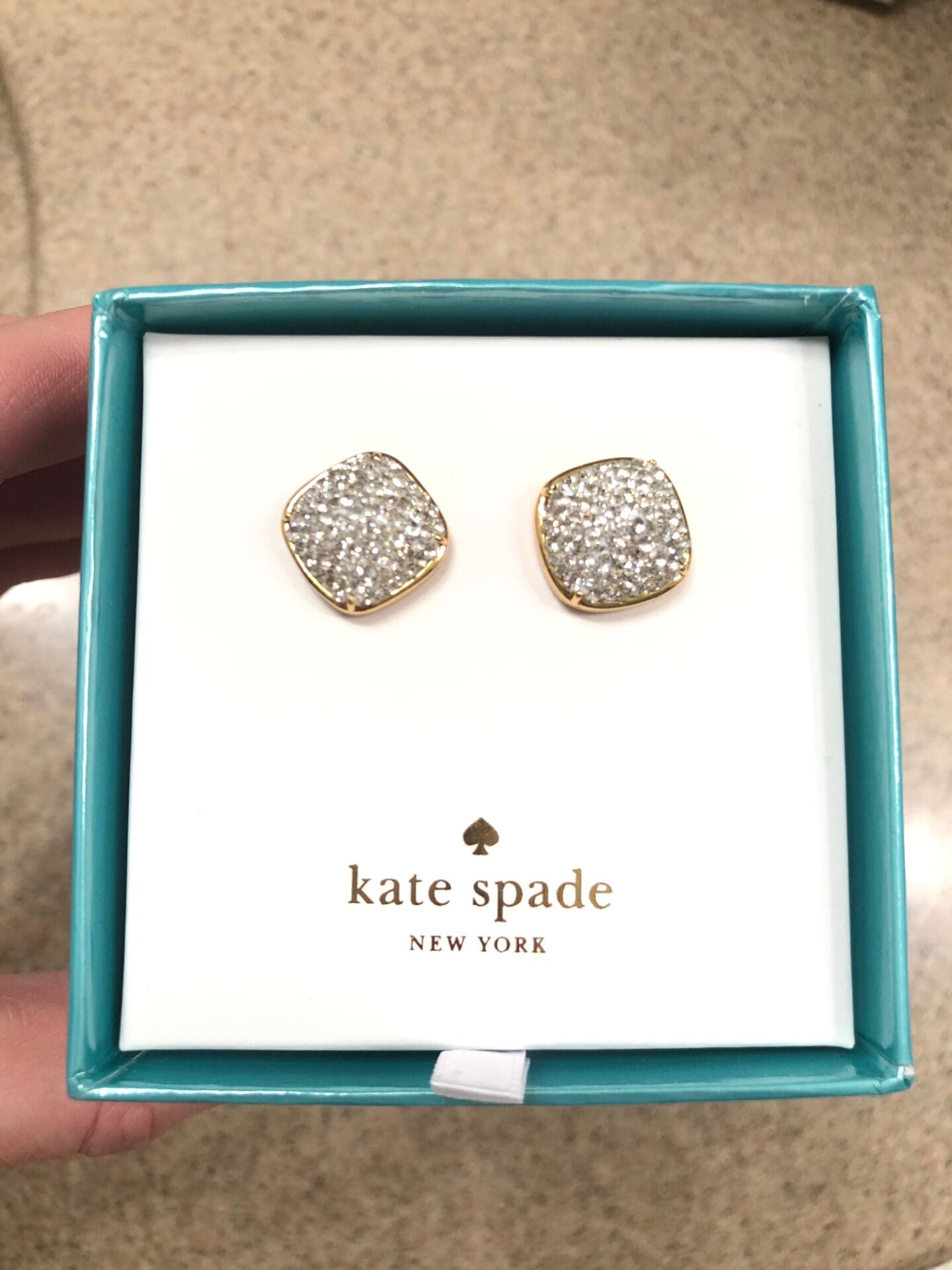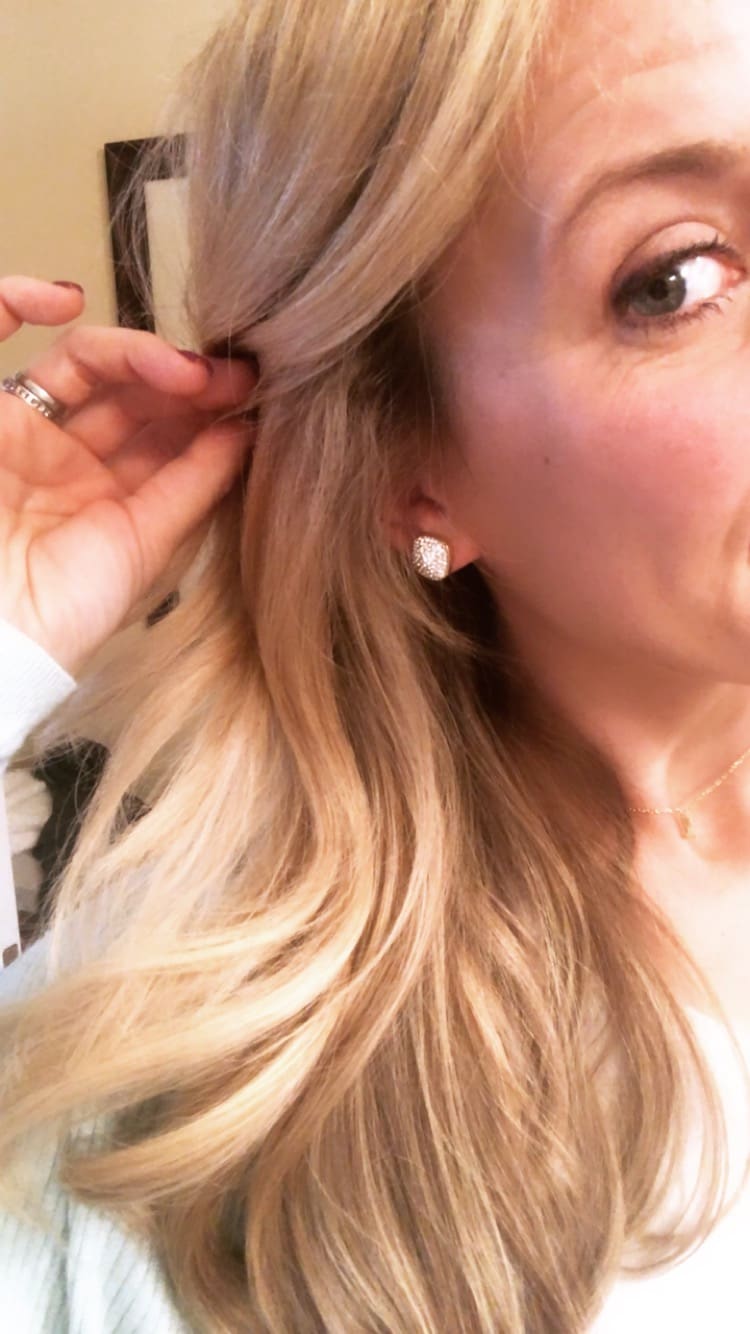 They come in 9 different colors and are the perfect amount of bling to wear with a either dressy outfit or to dress up a simple, casual outfit.  I have yet to meet a pair of Kate Spade earrings that I don't like.  In fact, I think the majority of earrings I wear these days are hers.  I love that they give me some glitz and bling without being real, super expensive diamonds, that I would likely lose anyways.  These literally go with everything.  They would also make the perfect gift for any lady in your life that wears earrings.
And speaking of Kate Spade….Nordstrom suckered me in on another item of hers too…..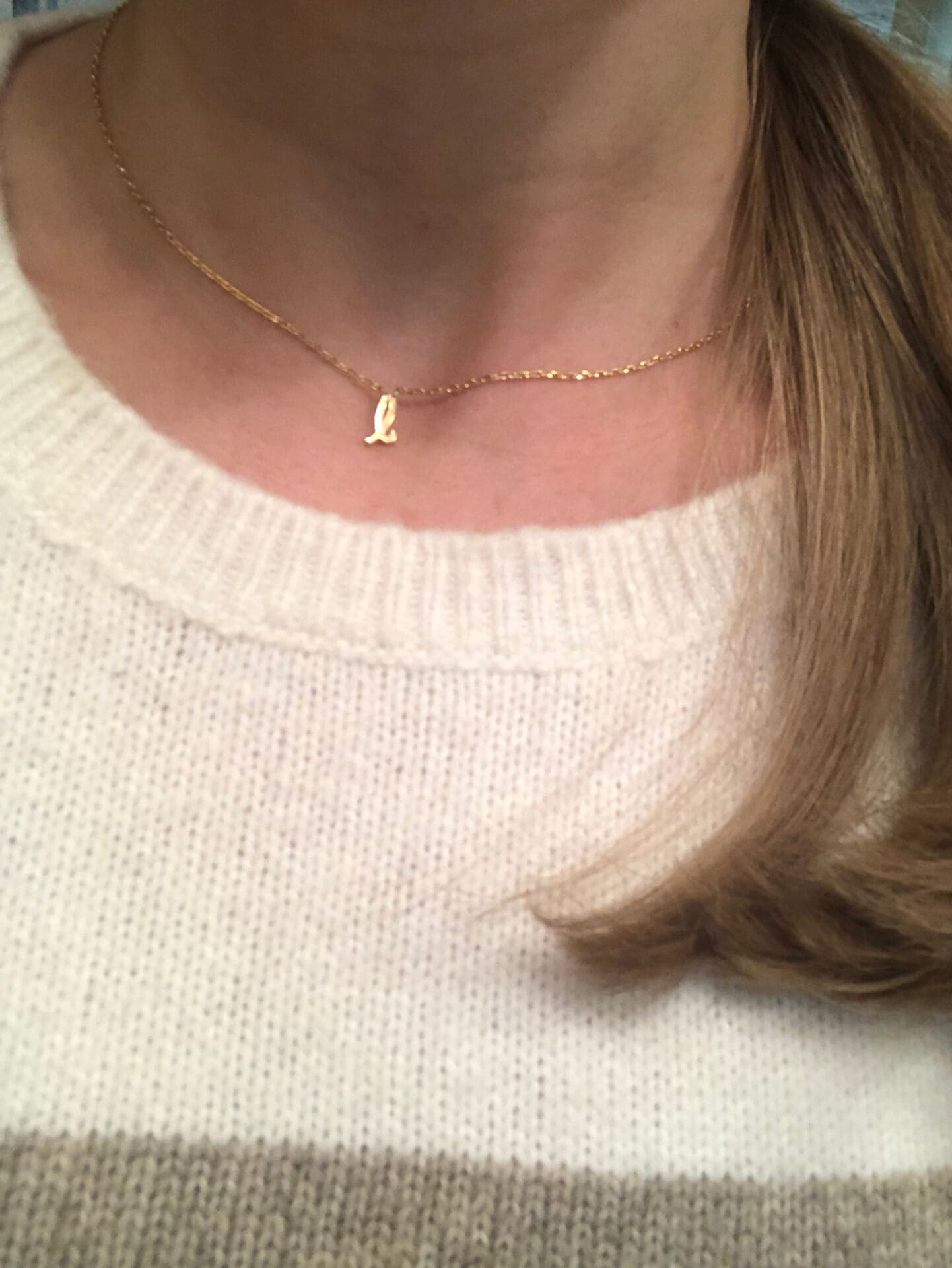 I mean how could I resist this danty little "L" necklace for Leyton?  Other letters are available.  There is also a silver option and a round option in gold or silver.
And speaking of Leyton…..I found this plate the other day and thought it was so cute!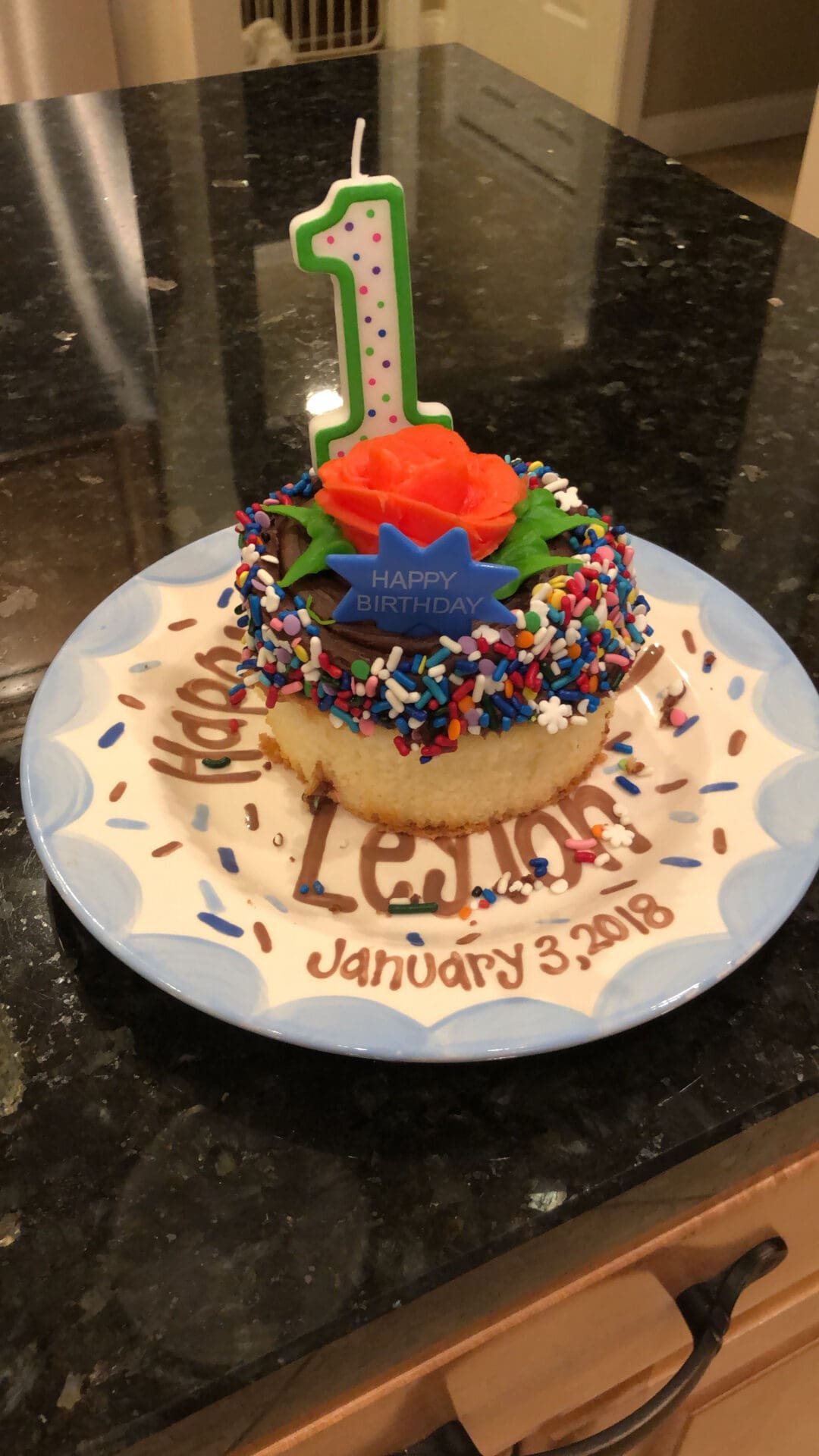 It's from Holly Slay Handmade on Etsy and I thought it was a sweet little keepsake he could have and use each year to have his cake on for his birthday.  And if you're thinking, "he's a boy, yeah right will he use this year after year when he's older," let me just say that Eric has a pair of socks that say birthday boy that he got years ago, and he still wears them every year on his birthday.  So I'm hoping it's genetic :).  Anyways, you have to check out her shop.  She has so many things from tea sets, to cookies for Santa plates.  They are made to order and just a sweet unique gift.
My next must have is a bit of a funny story…I had been wanting something to froth my milk/creamer for my coffee and I had mentioned this to Eric for a Christmas gift idea.  Then, being the impatient person I am (and half forgetting I told him about it), I went and bought my own.  One morning after using it, I told him about it and exclaimed how much I loved it.  Little did I know he had already gotten me one for Christmas.  So, now I have two.  The question now becomes….did I mess up by buying myself one (for $6 no less) or did I do right, because now I own two?  I'd say the latter :).  Anyways here is the one I bought….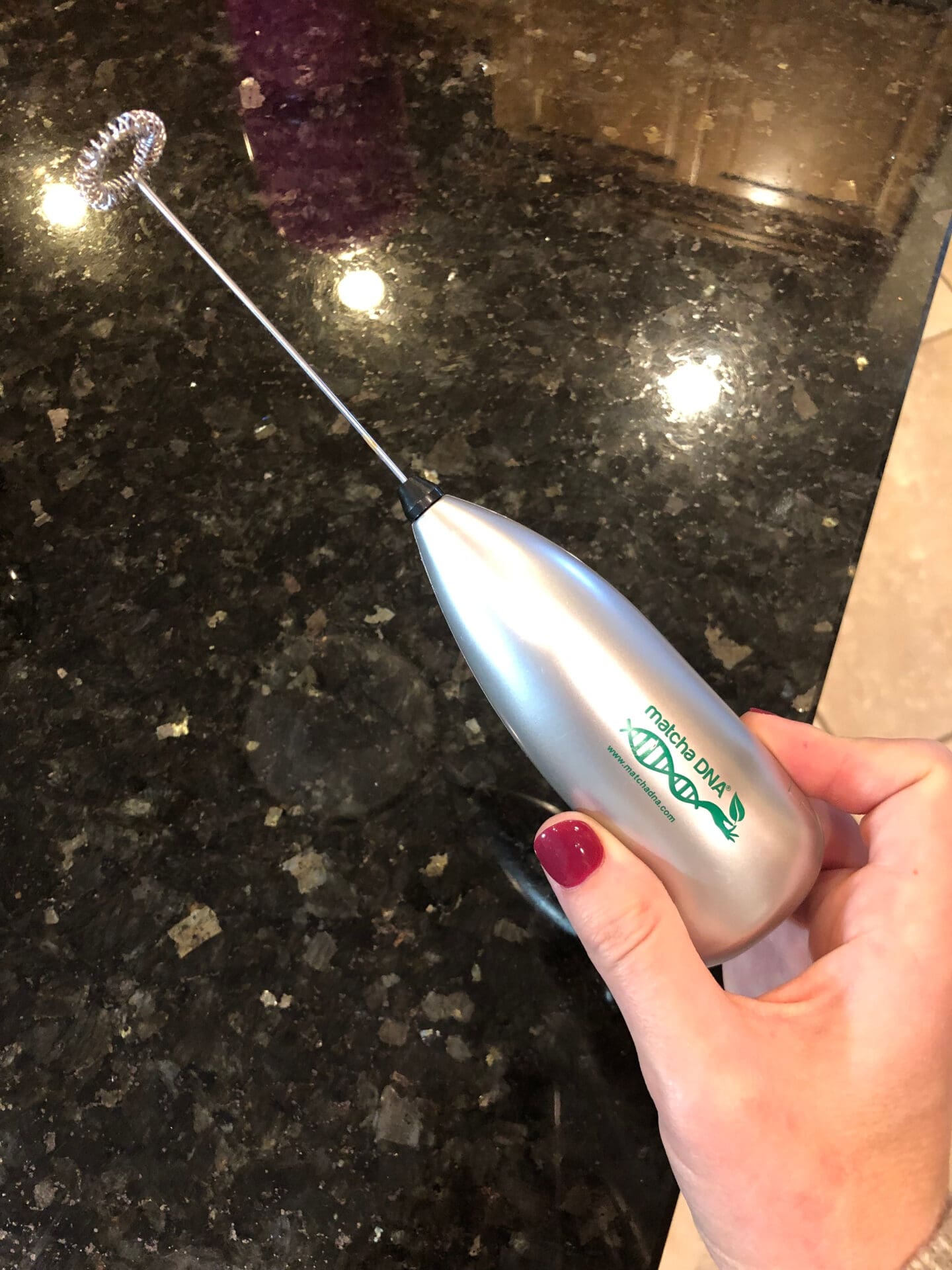 It's battery operated (2 AA) and the idea is to use it in warm milk or creamer then add it to your coffee, which I have done, but honestly you could also pour your milk or creamer into your coffee and then use this and still get a frothed end result, like this…..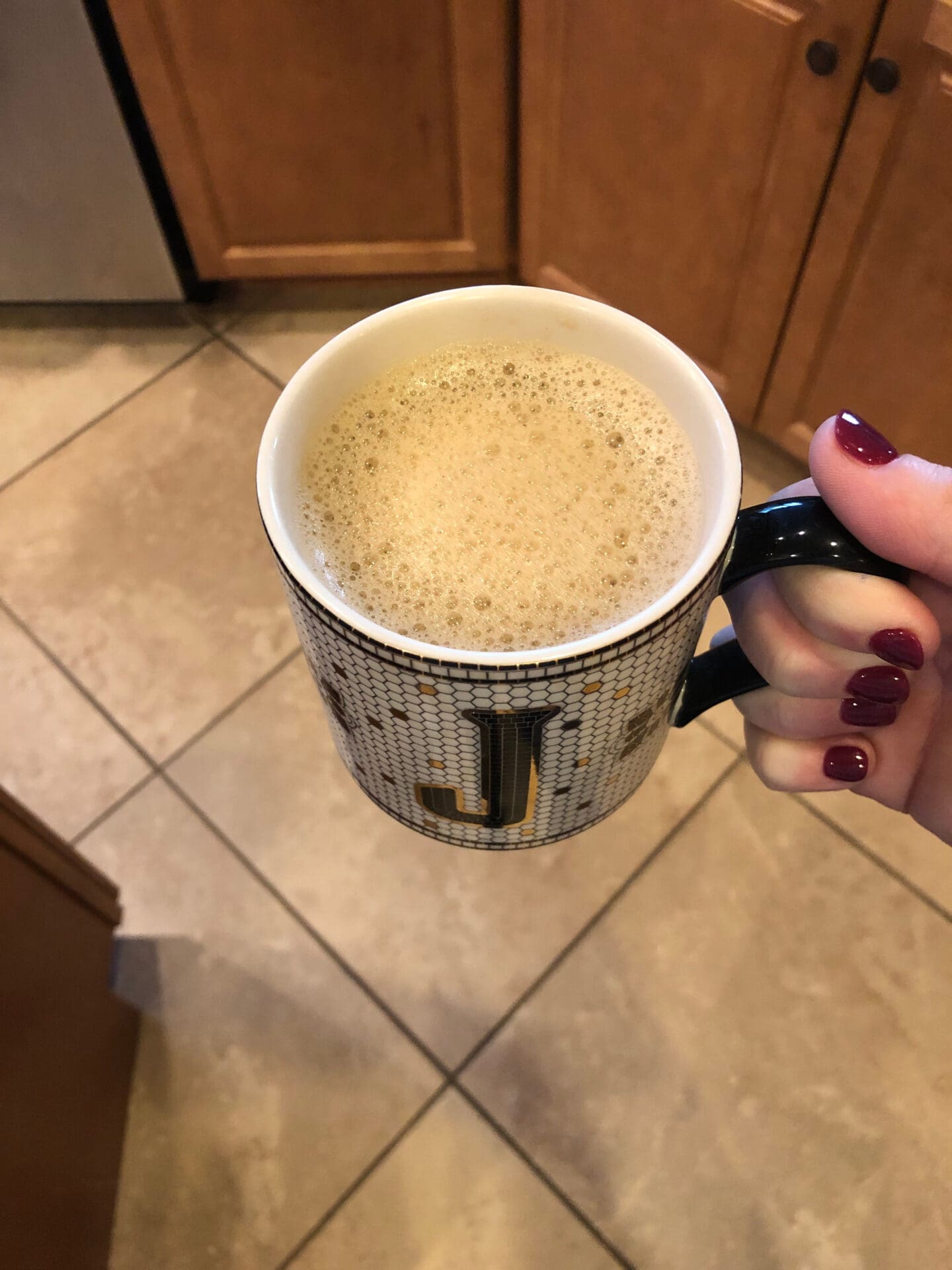 Here is the frother Eric got me.  I haven't had to open it yet, but I'm excited to have a back up just in case, because once you go frothy you can't go back to regular coffee (didn't even mean for that to rhyme, but I'm stoked that it did).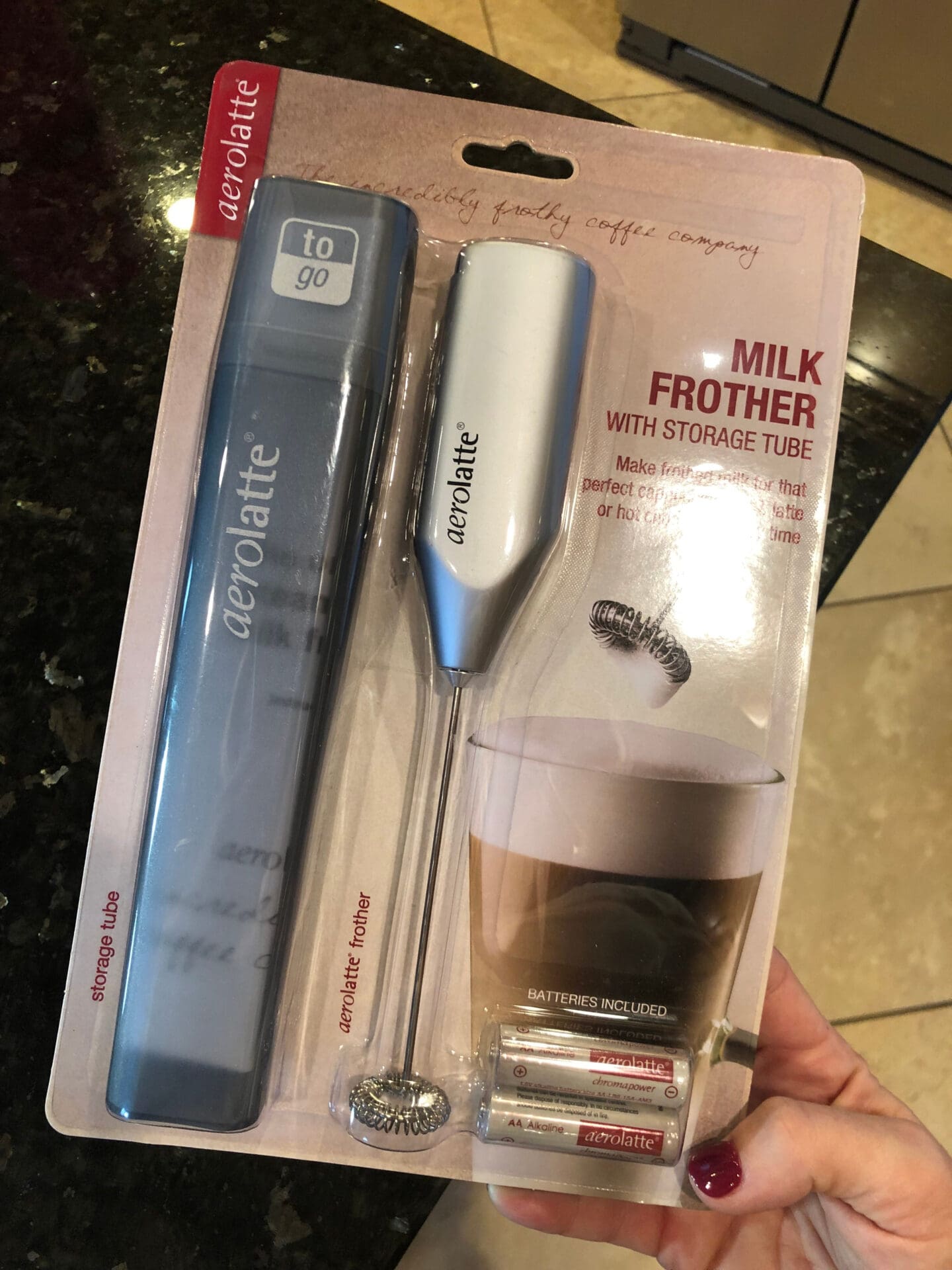 Okay, last thing….I was in Anthropologie the other day and man if their home/office section doesn't get me every stinking time!  I found this productivity planner and every type A, goal oriented bone in my body said YES!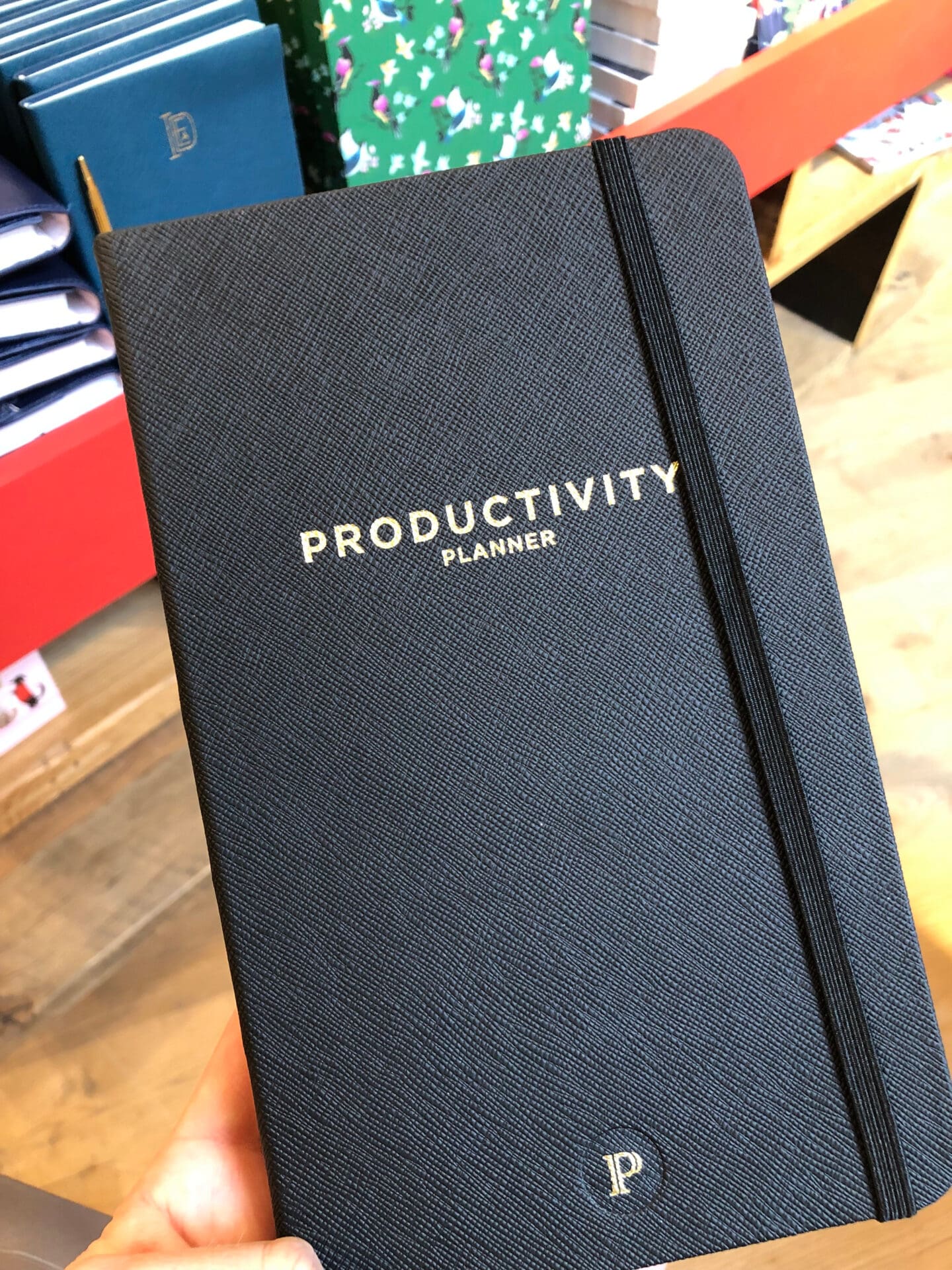 If you are like me, and are trying to maximize your time and be more productive in 2019, and reach goals, you need this planner in your life.  It breaks each day down to the most important tasks of the day, then second most, and then finally other tasks you want to achieve.  If you're someone that needs to stay focused and keep your eye on that daily, productivity prize, then this is for you!  I also picked up this planner while I was there….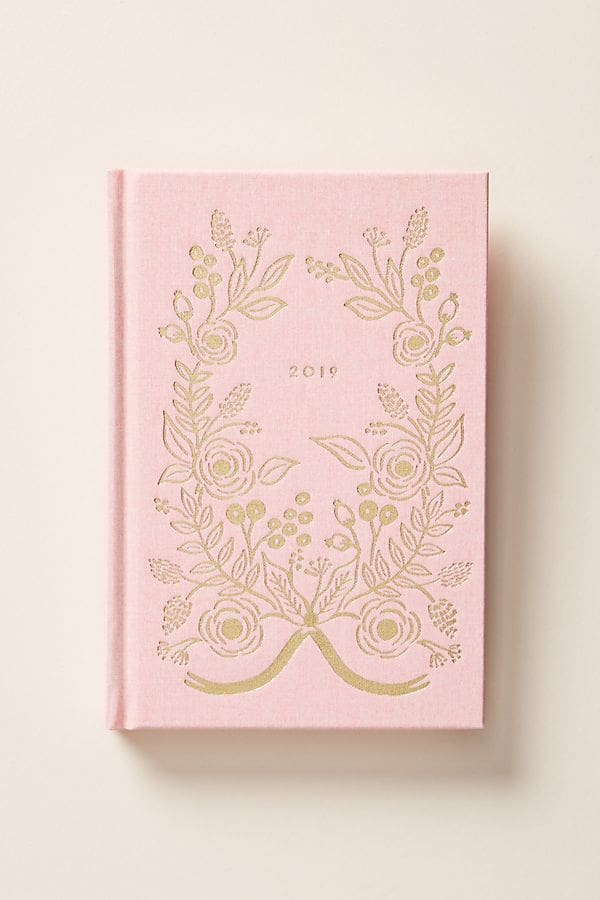 However, instead of using this as a planner/agenda, I'm going to use it to write my daily gratitude because it's broken down into individual days with sections to list things.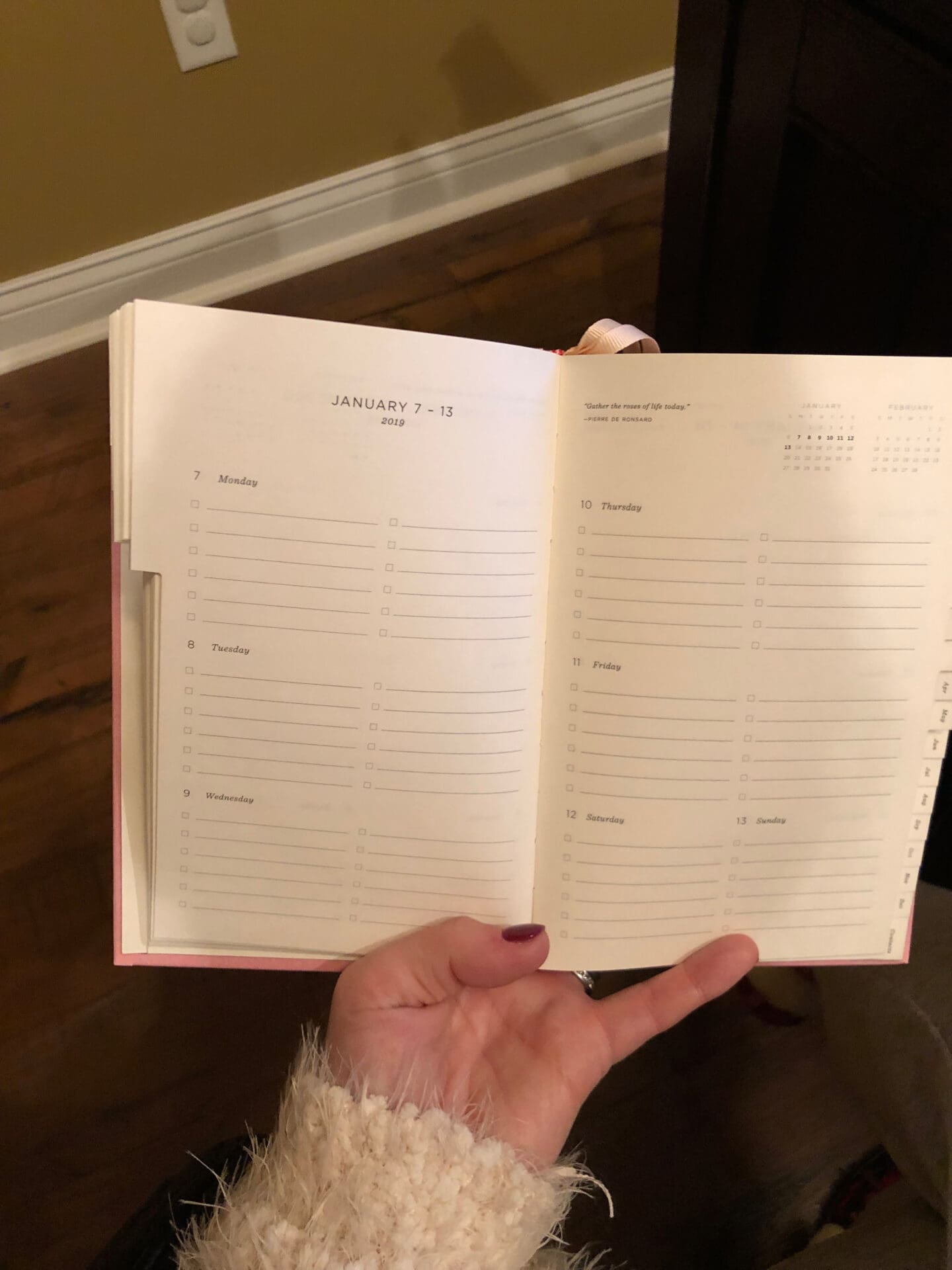 There is a calendar in the front with each month, but then each individual day is broken down into 12 spaces.  I think this is intended for you to list the appointments/tasks of your day, but I found it to be the perfect place to list my gratitude each day.  I was using a plain ole notebook, which definitely works just the same, but I love the organized structure this provides.
So that's it friends!  I'll see you back here Wednesday with a new series I'm doing with some other bloggers the second Wednesday of each month! Have a great start to the week!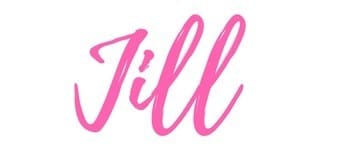 xo, Jill