Happy Monday friends!  I hope everyone had a great weekend!  Our weather here was incredible!! We had the windows open and enjoyed what I'm sure was our last weekend not bundled up and able to do all the outdoor activities.  We went to the zoo Sunday and it could not have been more perfect.
I will have a Monday Must Haves post for you next week but today I'm bringing back a popular post from last year….how I decorate for fall!  This one was so well received last year that I thought it deserved a second round.  A lot of the decorations are the same but I have some new members to the crew that I couldn't wait to share.  I will just say as a warning….I'm pumpkin obsessed!  I truly have a problem.  So, if this post does nothing else it should show me that no matter what, next year, despite all the temptations sure to be out there at Target and all the home stores, I DO NOT NEED ANOTHER PUMPKIN DECORATION!  So here's hoping I remember that come next October.
Okay, without further ado, here's how I decorate for fall!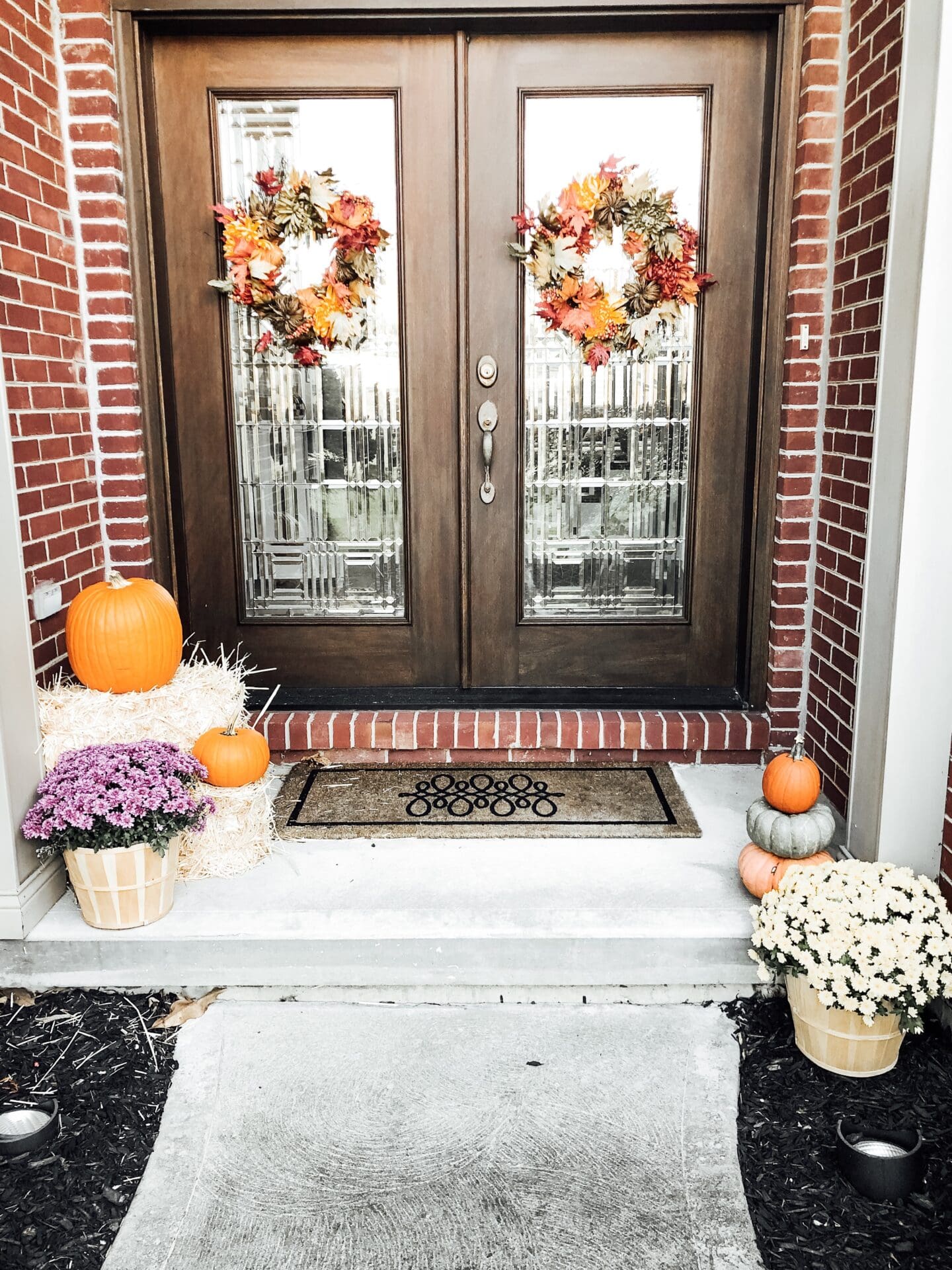 Our front door is pretty much the same as last year except I threw in some potted mums and more pumpkins.  Ignore our dirty old door mat.  I desperately need a new one.  When you walk in the front door our table in the foyer has my newest, most favorite pumpkin of them all….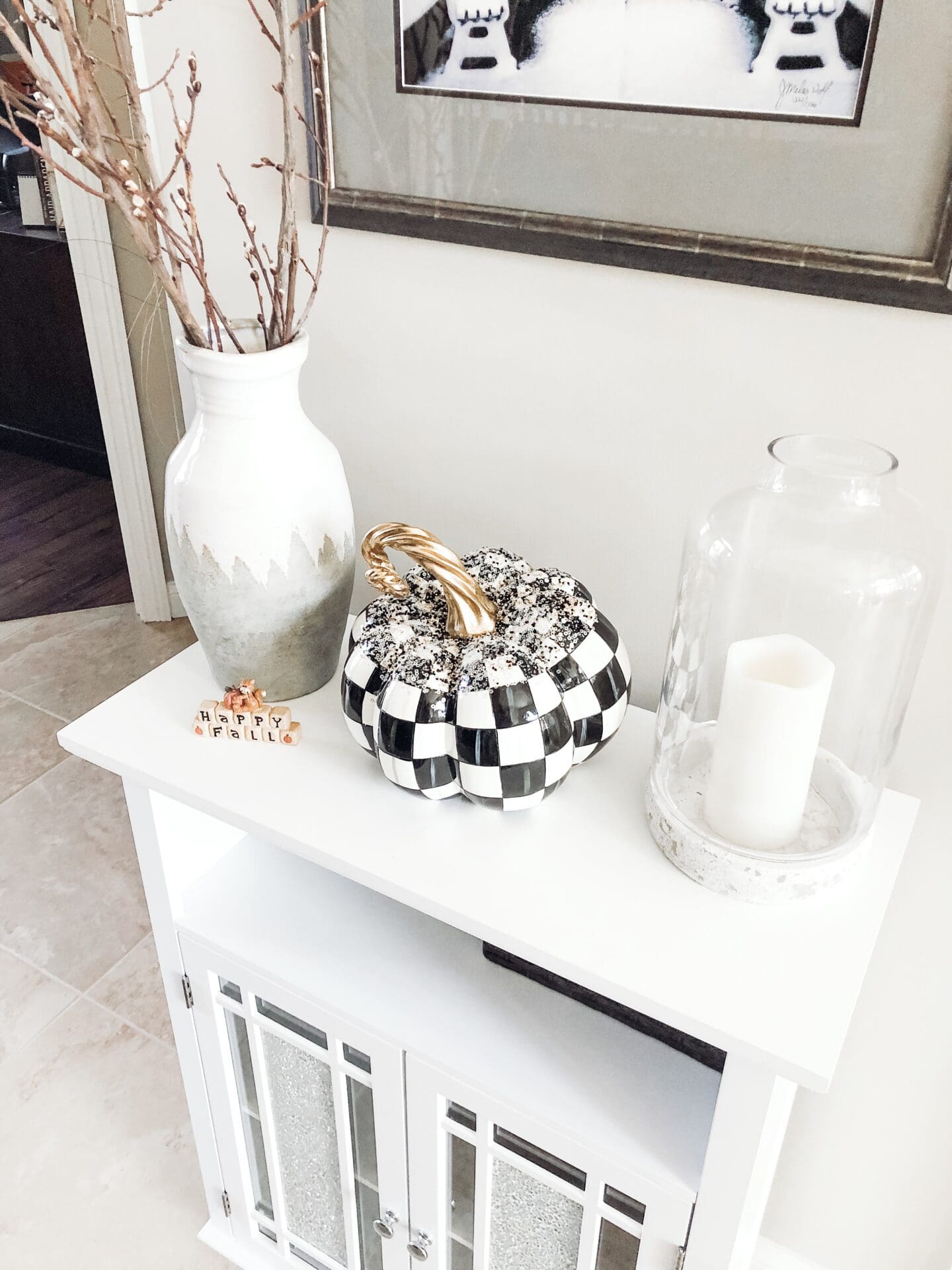 My sequined covered MacKenzie-Childs pumpkin.  I saw this in the window of a jewelry store during our last trip to Hilton Head and I had to have it.  They were closed that day but I rushed back the next day to snag it.  I love all things MacKenzie-Childs and I bought a similar little one last year, and knew my collection needed this beauty in it too. Here is a closer look.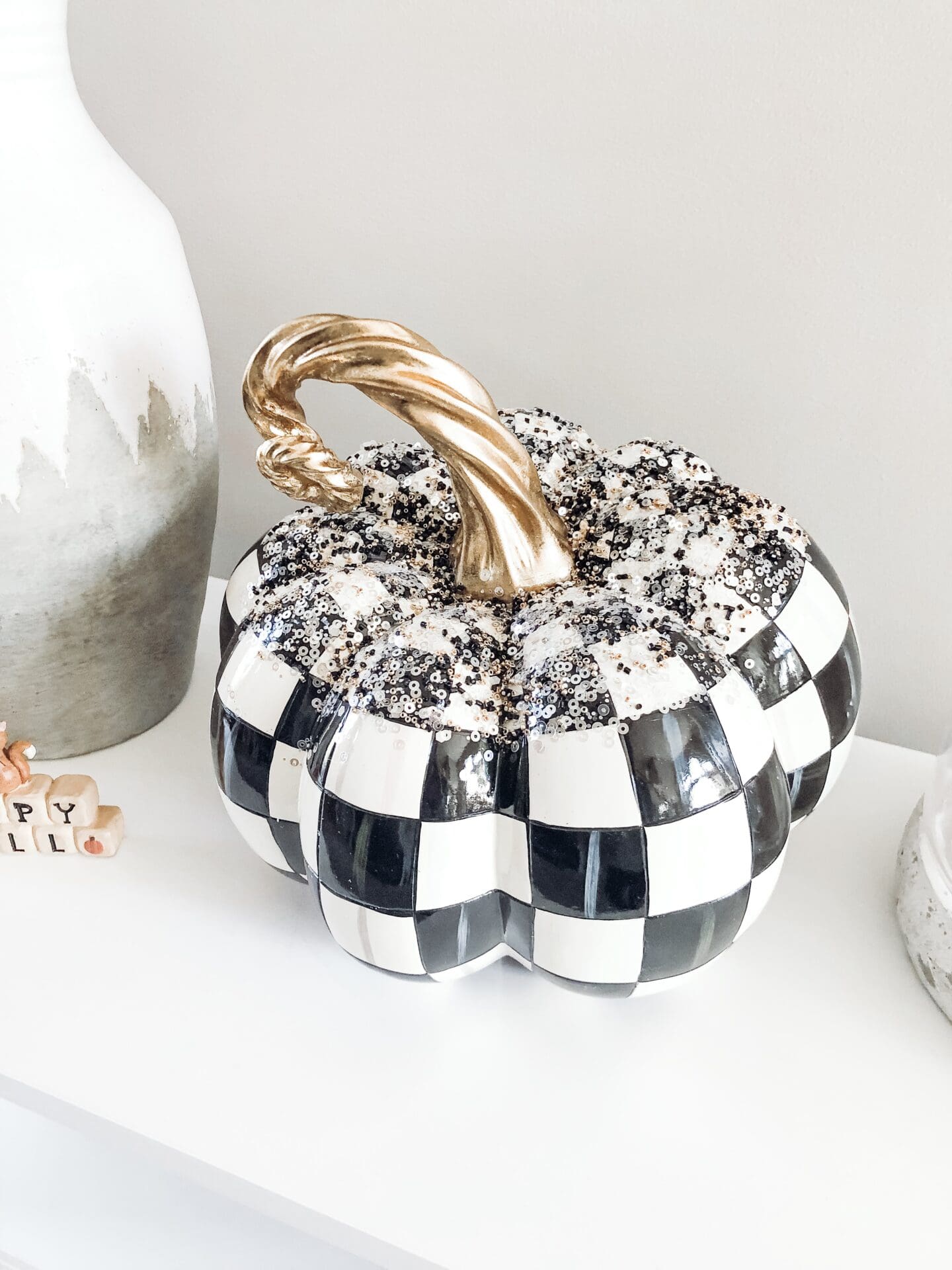 Ahh isn't she a beaut?!  Our powder room downstairs has another little pumpkin in it that I think is from Pier 1 from a few years ago.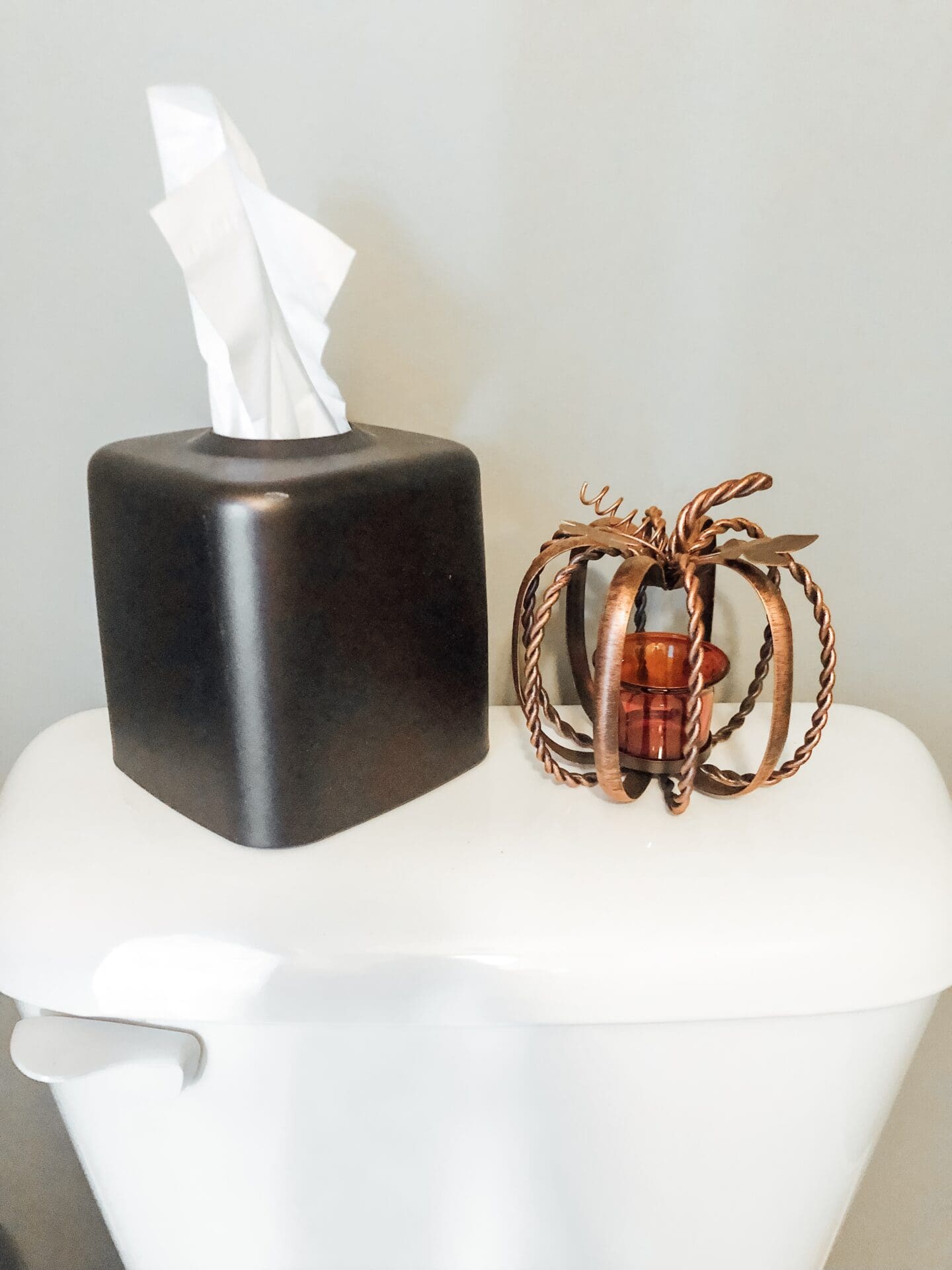 I always struggle with what to put on the dining room table so this year I went super simple and just did this small trough like tray filled with foam pumpkins from Target.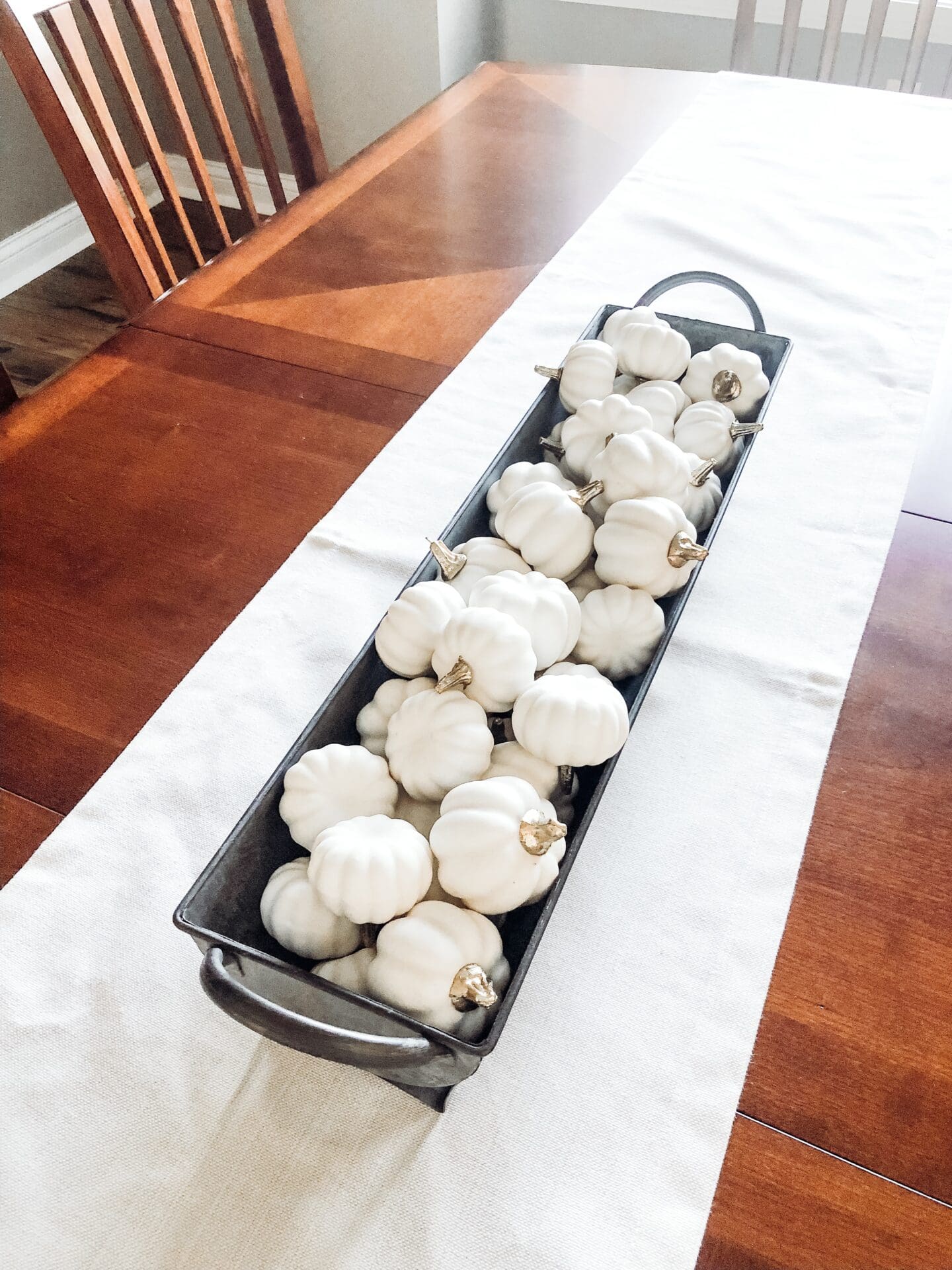 Aside from loving pumpkins you should also know that I don't like just any pumpkin decoration.  I don't really have any orange pumpkins except for real ones outside.  I tend to lean more towards white, neutral, or girly type pumpkins, which will be evident as we go on.
I'm also not crazy about Halloween decorations.  That may change as Leyton gets older but for now I prefer fall decorations that can work for October and November and then I switch them out come Christmas.  Okay, on with the decor.  In our family room I have another tray with more mini pumpkins from Target (I found them in the dollar spot last year).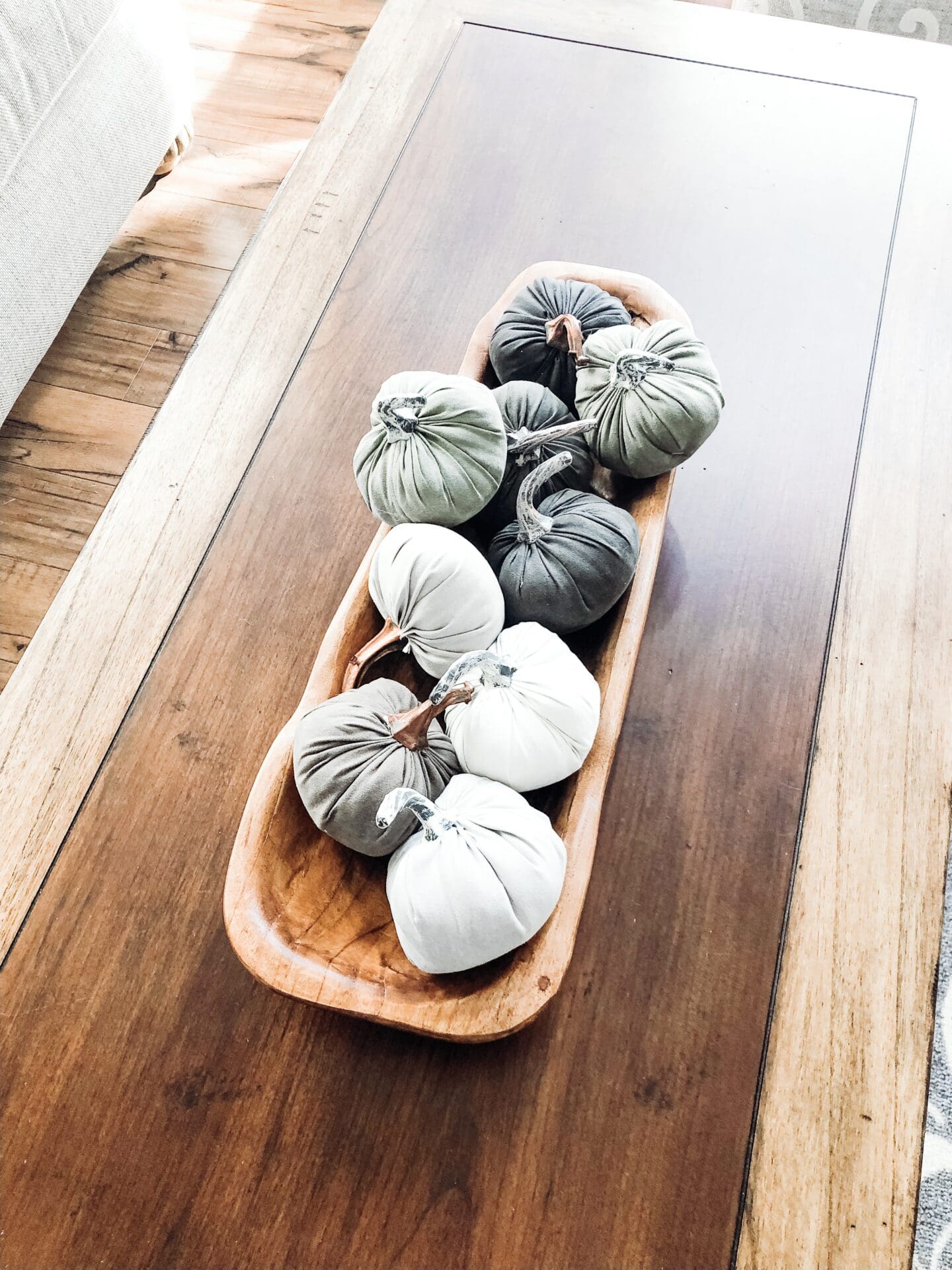 And then the one table in that room has this whimsical pumpkin with a fake candle in the center.  It's a few years old from Pier 1.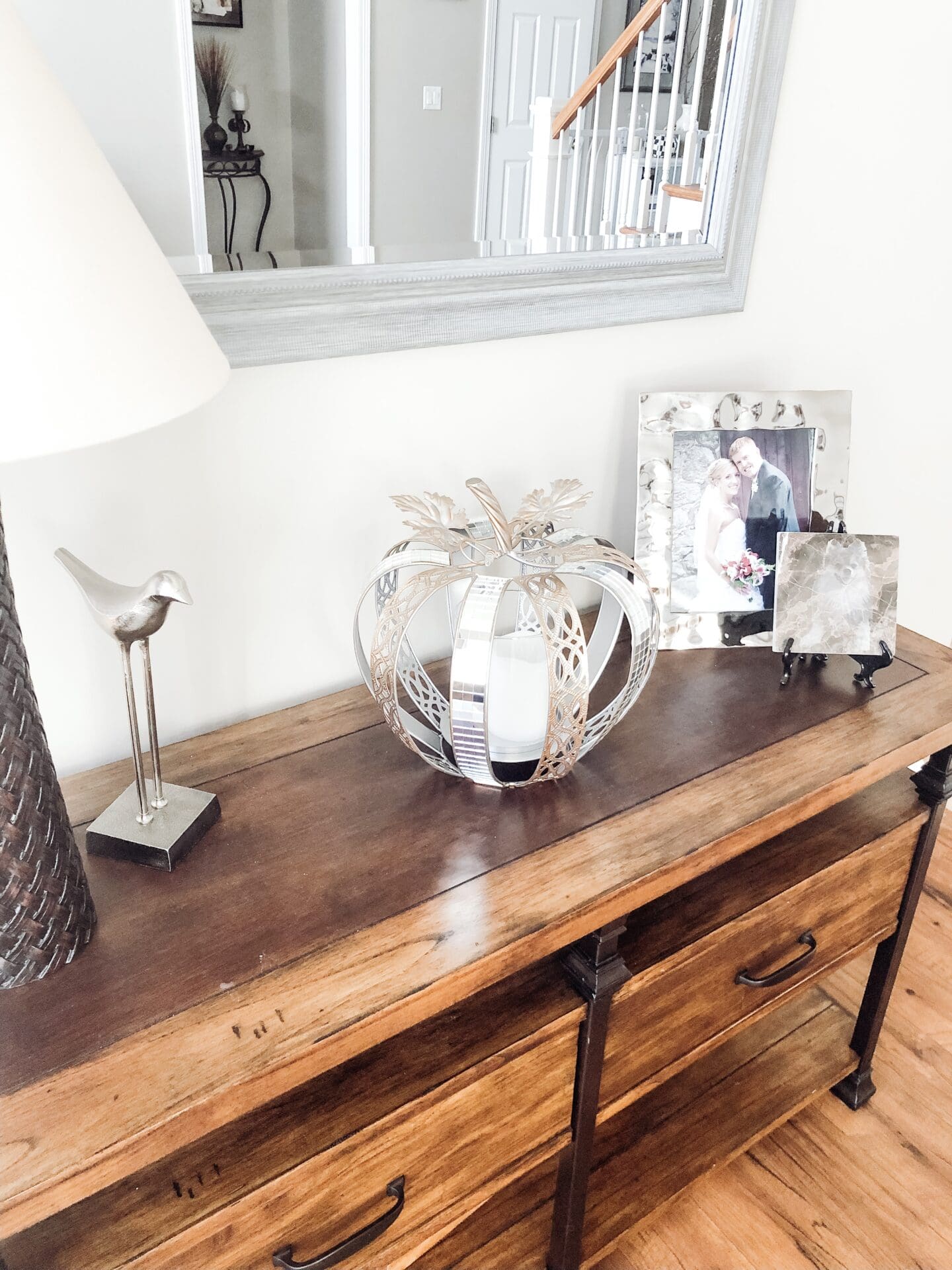 And the corner table in the room is the only place in the house with a non pumpkin decoration (the squash candle holder).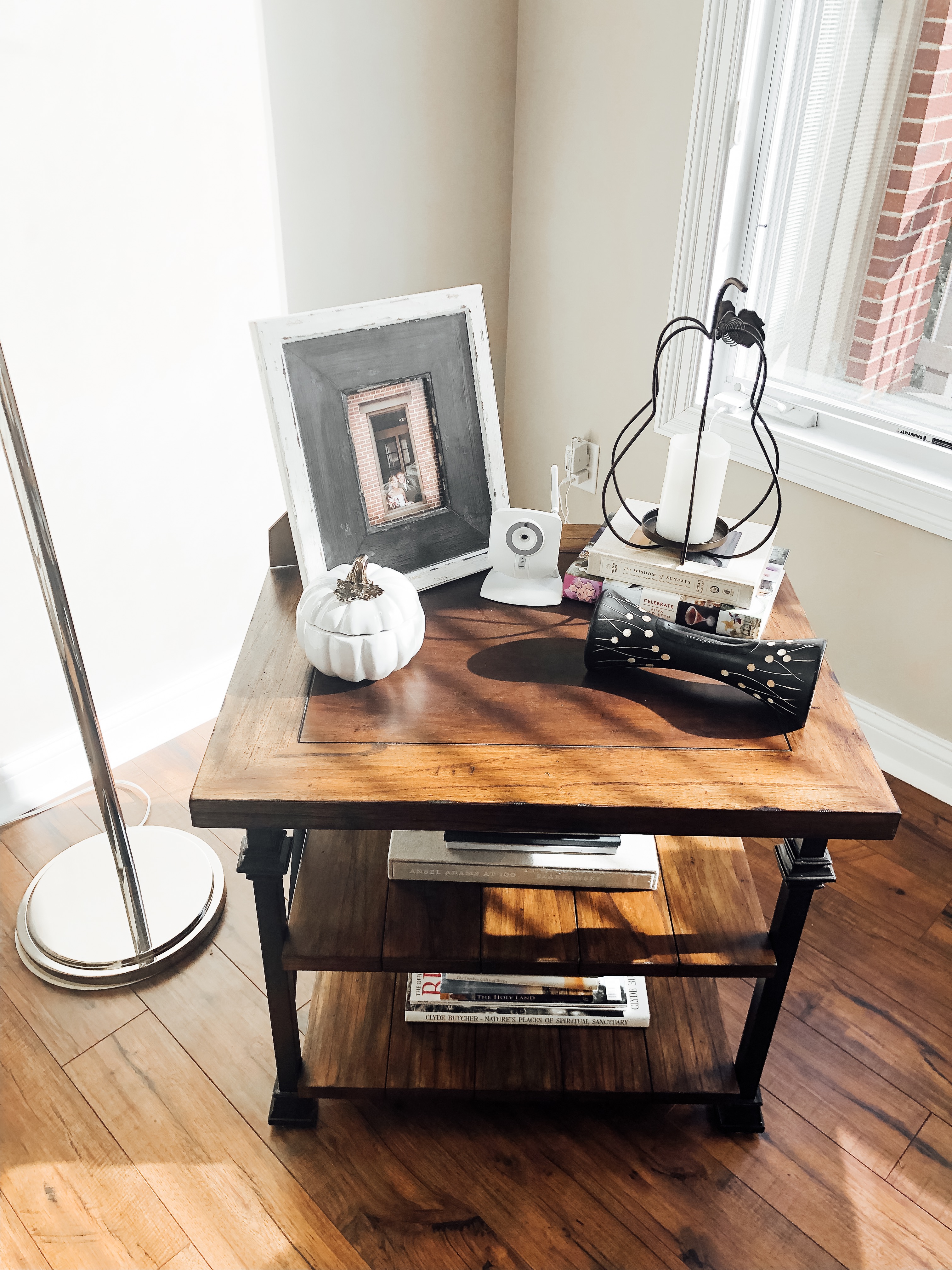 Upstairs in the landing area I have a new mirrored pumpkin that matches my mirrored candlesticks, along with two other fabric type pumpkins.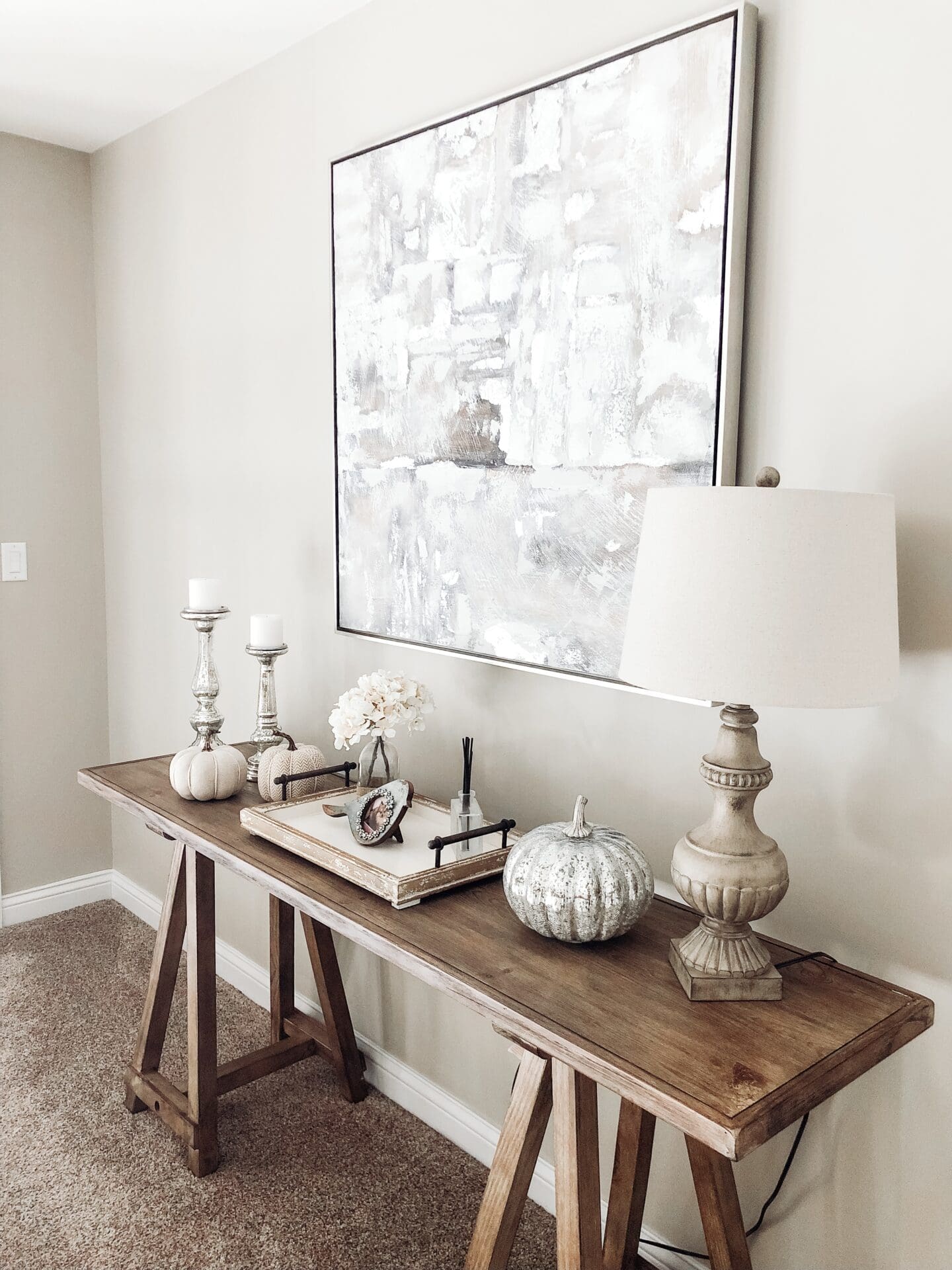 I don't typically decorate the bedrooms with any seasonal decorations, just because who really sees them?  But, I thought this pumpkin from Hobby Lobby was fun and kid like and deserved a spot in Leyton's room.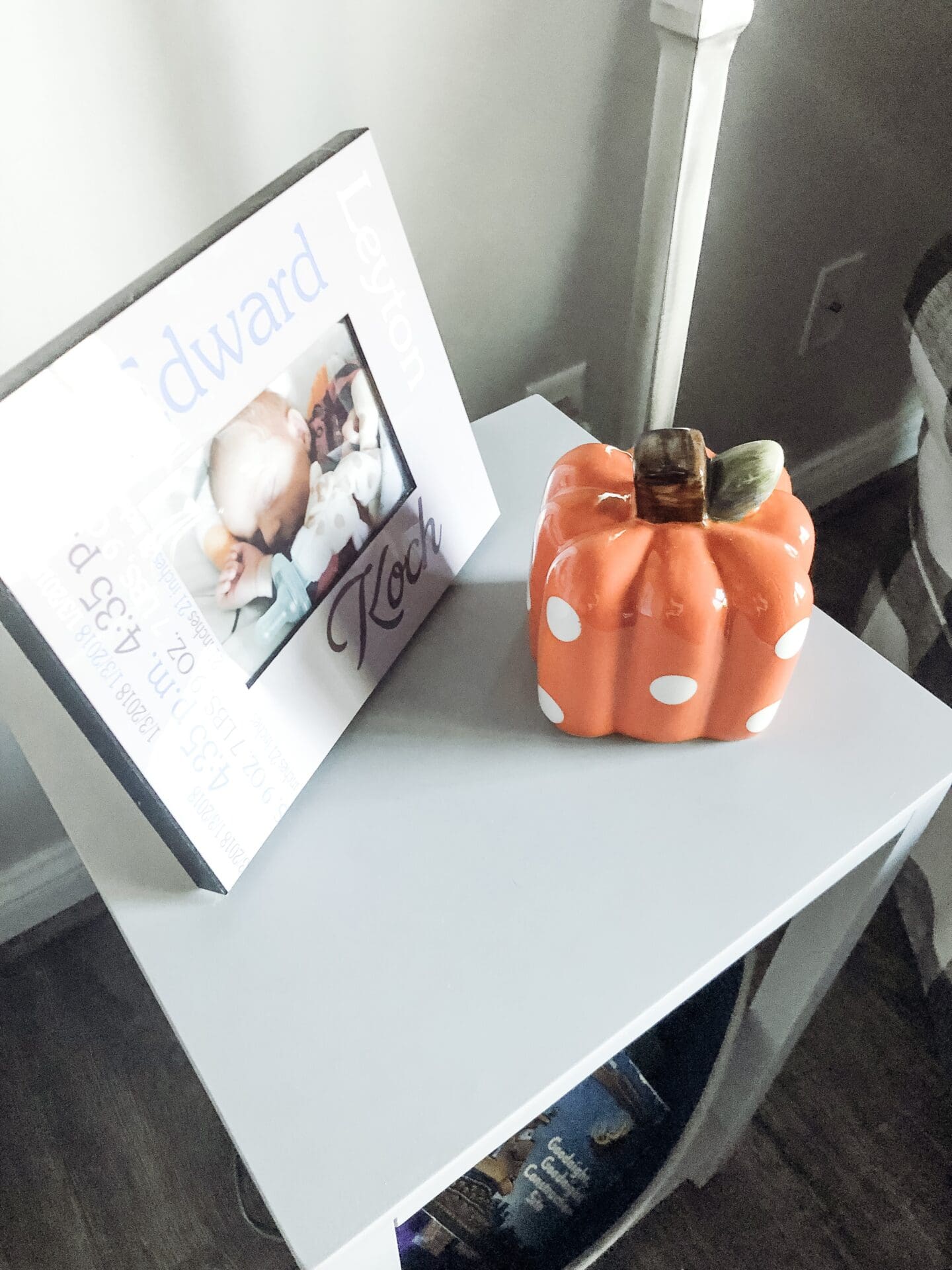 Now, the kitchen is where the magic happened this year.  When we redid the kitchen this summer to all white I knew I wanted baby pink accents everywhere I could get them.  So, when it came time to decorate I wanted baby pink pumpkins!  It seemed like a big ask at first, but wow was I wrong.  I had no idea how many pink pumpkins existed!  I have to really thank Home Goods for supplying this demand for me, starting with our island centerpiece.
It's the faintest pink and white glass pumpkin and it is just perfect for that space!  Behind it there is another little pink one.  Here is a close up of that one.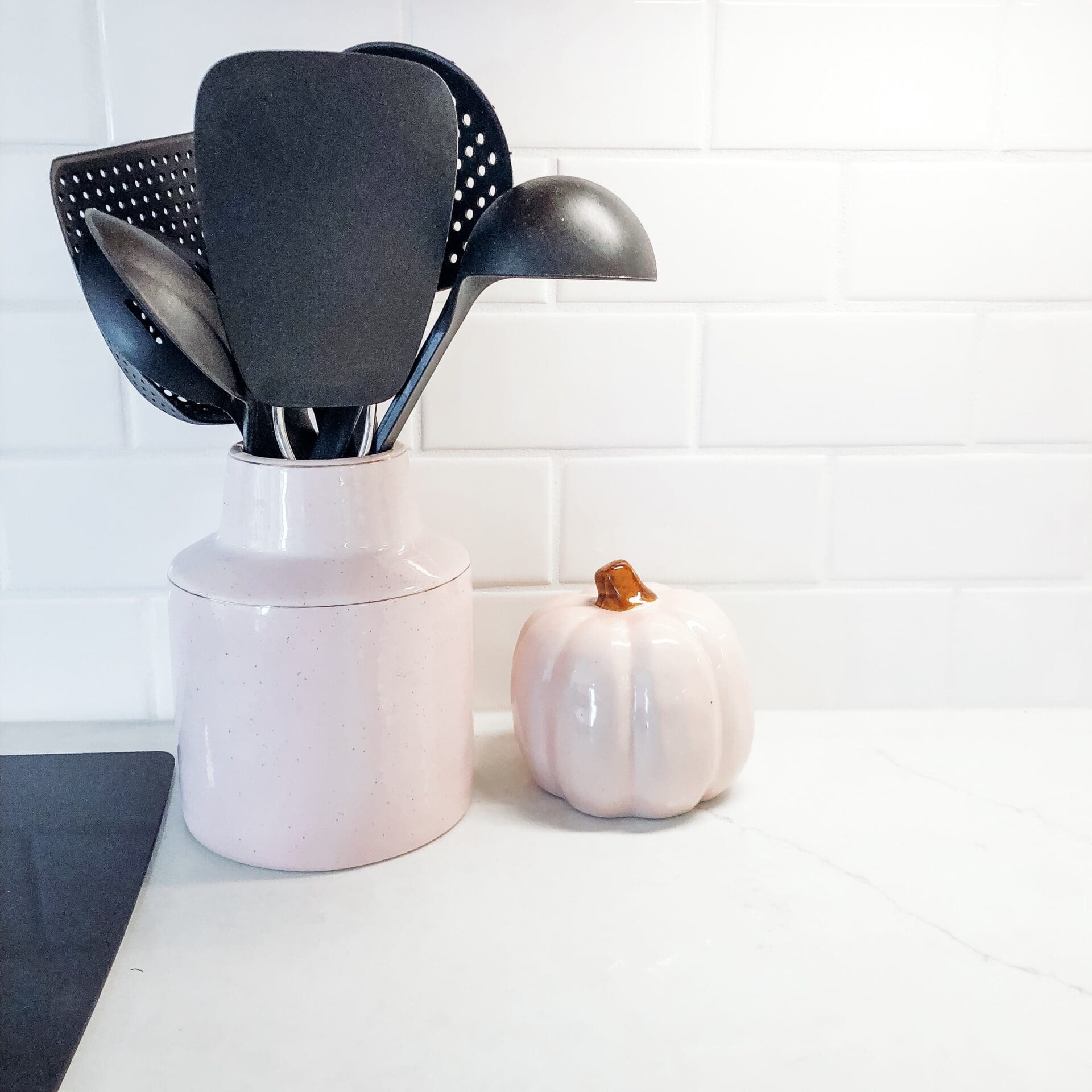 Then in the other corner I have a similar pink pumpkin, and then I found a pink tray that I placed a white foam pumpkin on from Target.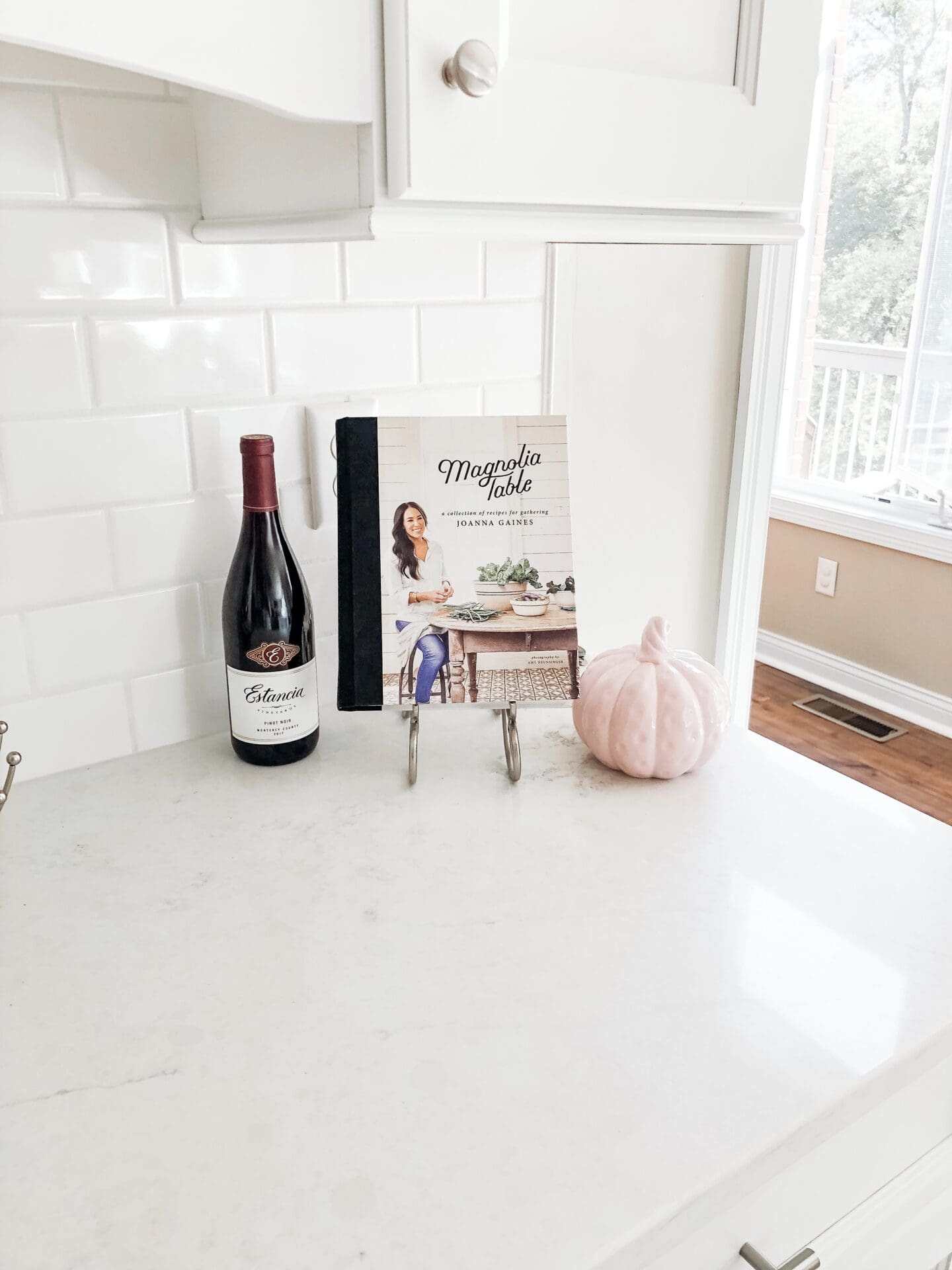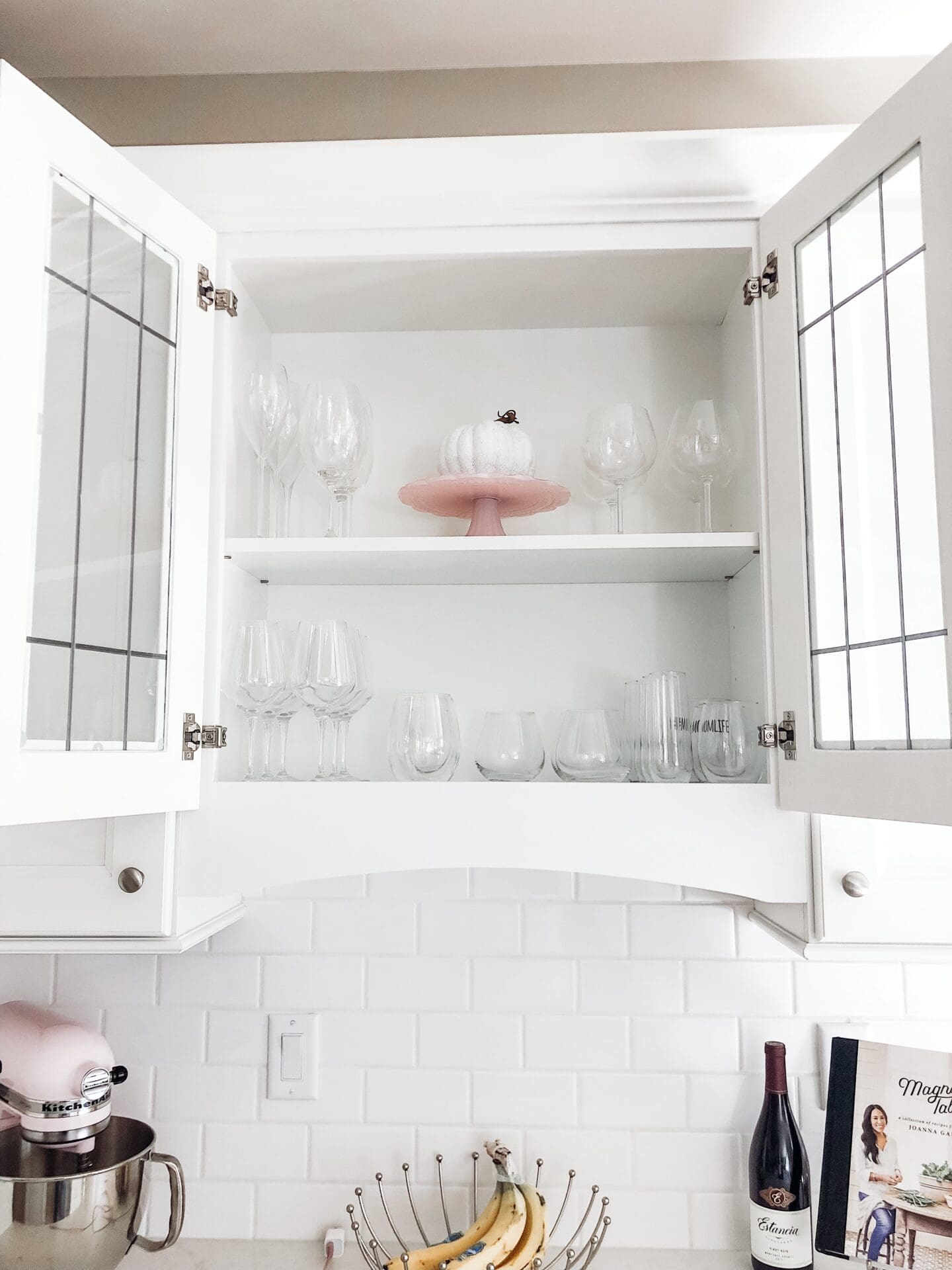 And over by the coffee pot are two new pumpkins from At Home, that I just think are so darn adorable and girly, along with my mini MacKenzie-Childs pumpkin I got last year.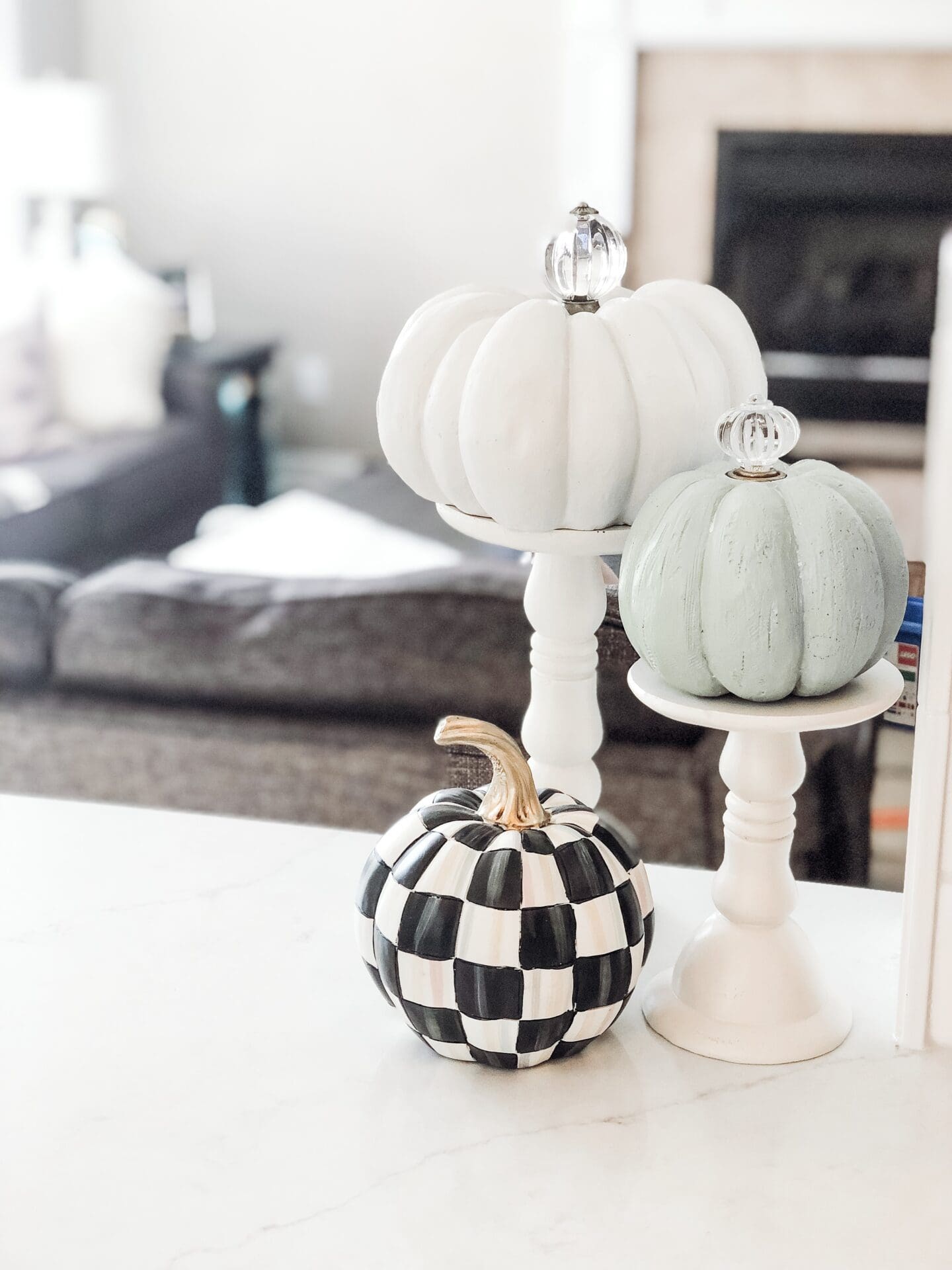 Aren't they so fun?  There is a bigger pink pumpkin behind them and off to the side (but I forgot to get a picture of it), and then the kitchen table I wasn't going to do anything with but then decided it needed something too.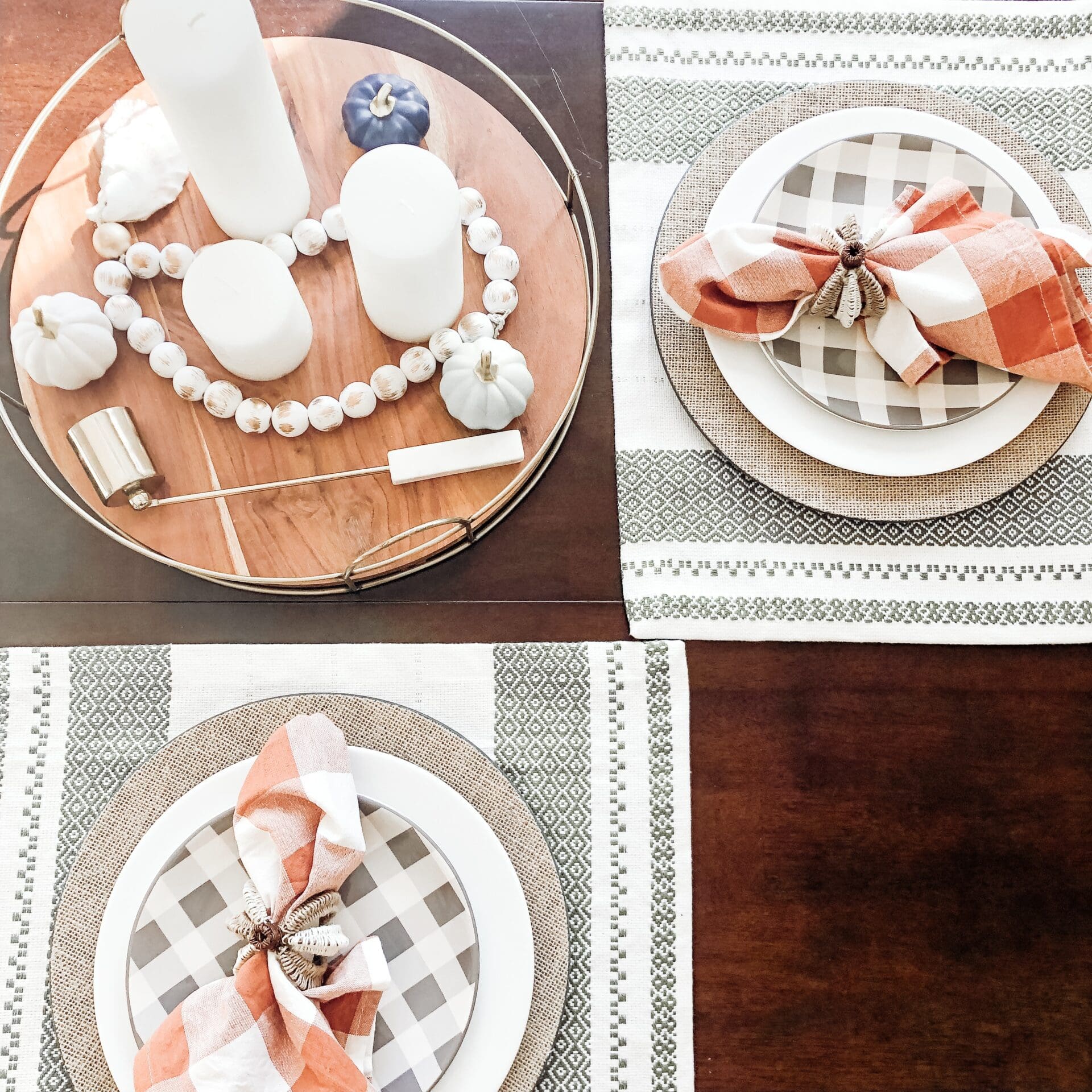 The mini pumpkins in the center are from Target, the checkered plates are from Hobby Lobby, the napkins and place mats are from Home Goods, and the napkin rings are from Pier 1.
In the living room I just have a little stone pumpkin decoration and two little guys on the mantel.  I always struggle with the mantel so I just decided to keep it simple.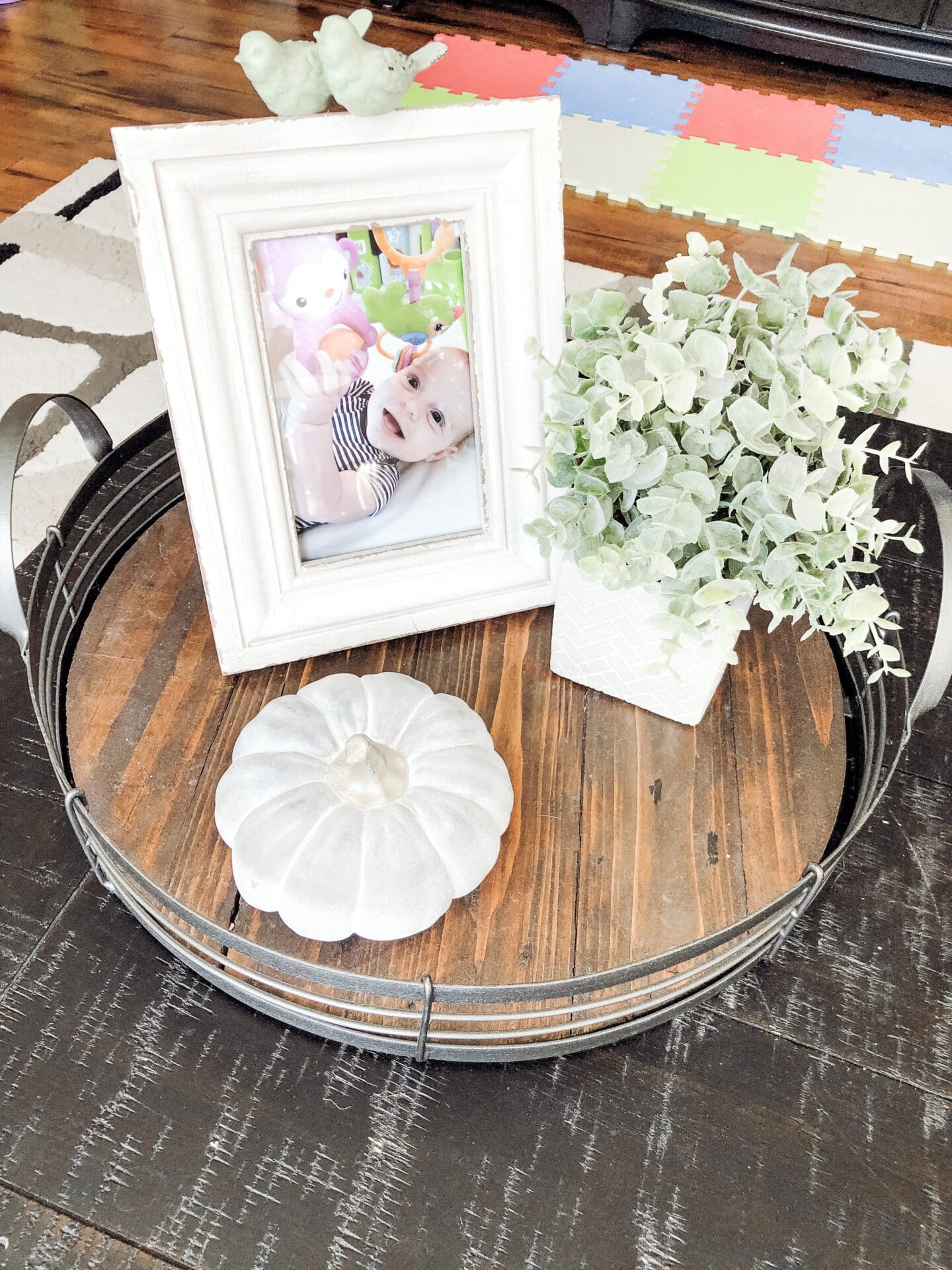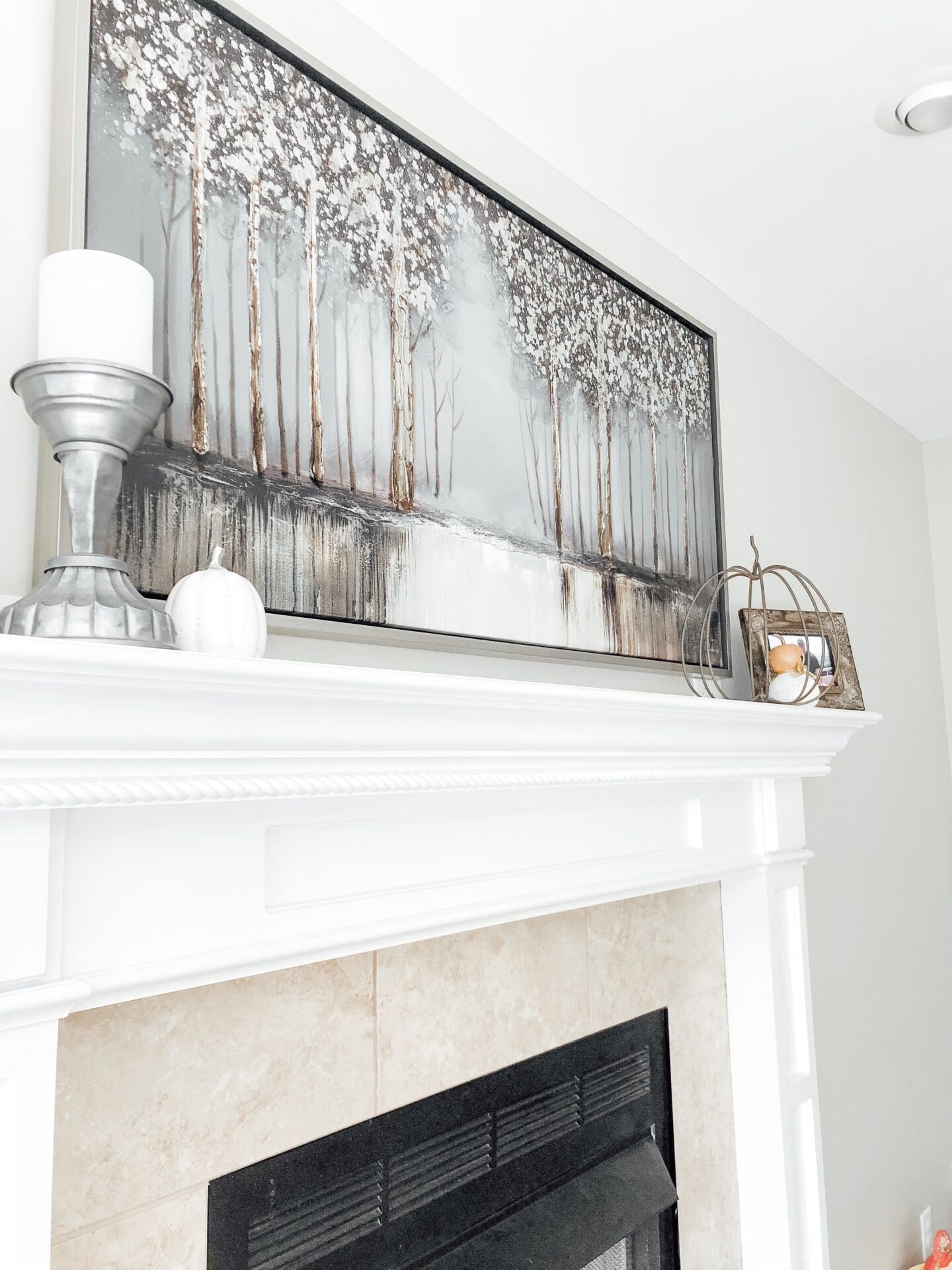 And finally, my fall sign in the laundry room, and my colorful fall wreath on the laundry room door.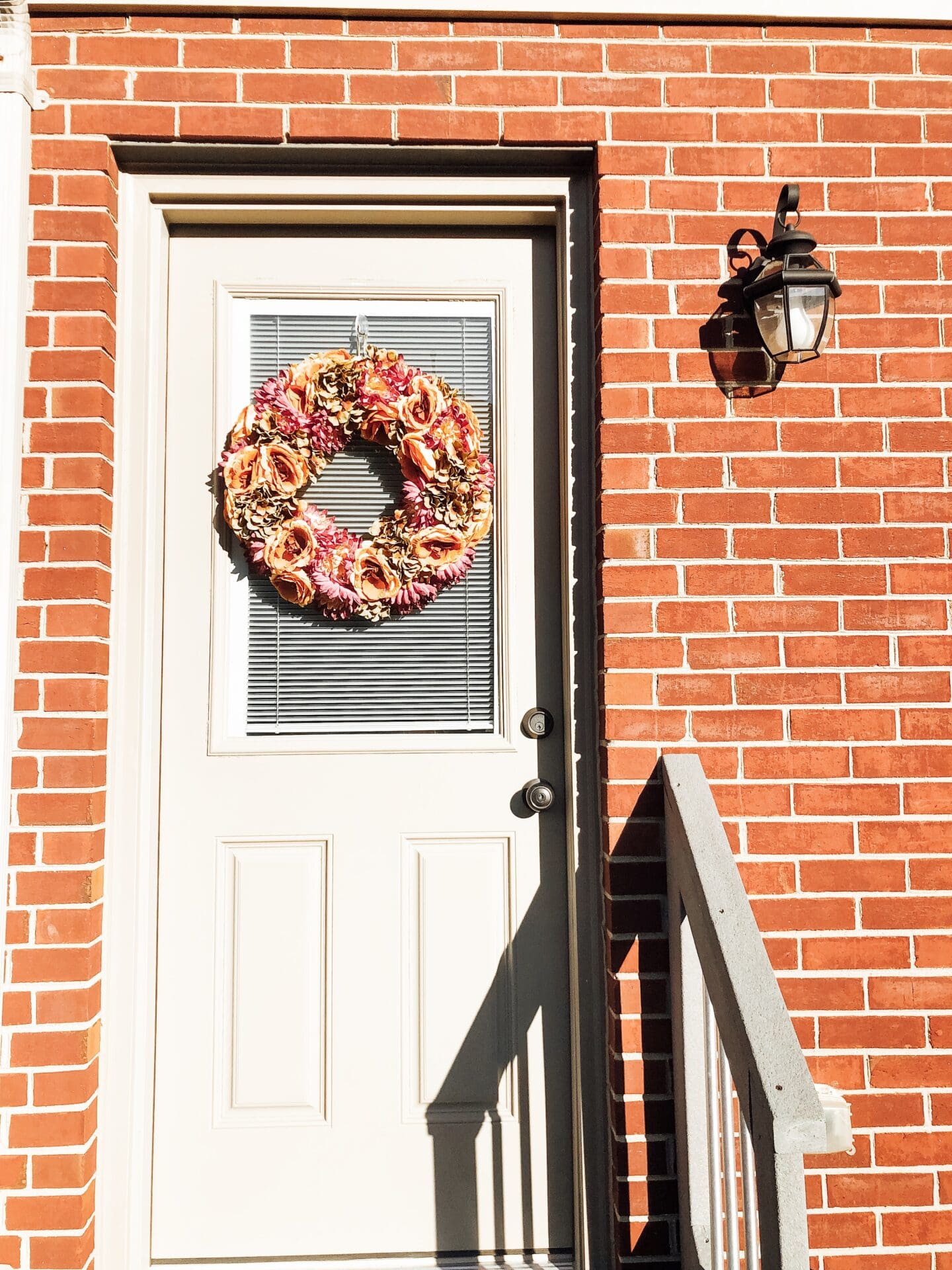 And that's it friends!  I'm not a decorator by any stretch but that's just how I like to decorate our home this time of year to create a cozy, fall vibes atmosphere.  I will keep this up until Thanksgiving and then it will be time to switch it all over to Christmas decorations.  I'll bring you a "How I Decorate for Christmas" post in December to showcase that.  I'm already gathering up items for the kitchen because I plan to swap out the pink decor for all red for that month.  I think it will be cute and I can't wait to share!
Thanks so much for stopping by!  Have a great start to your week!
Jill
xo, Jill