Happy Friday and first day of November friends!  It's not really November 1st is it?  Howwww?? Although, I can't complain too much because I have already started listening to Christmas music and it's finally cold here and it just feels like time.  I'm so excited for the holidays. Speaking of holidays, I hope everyone had a great Halloween last night.  It was so windy here so we didn't survive out there long but here is Leyton dressed up as a dog (he's currently obsessed with Sebastian our Pomeranian so it seemed fitting).  Plus, we were going to whatever costume looked the most warm.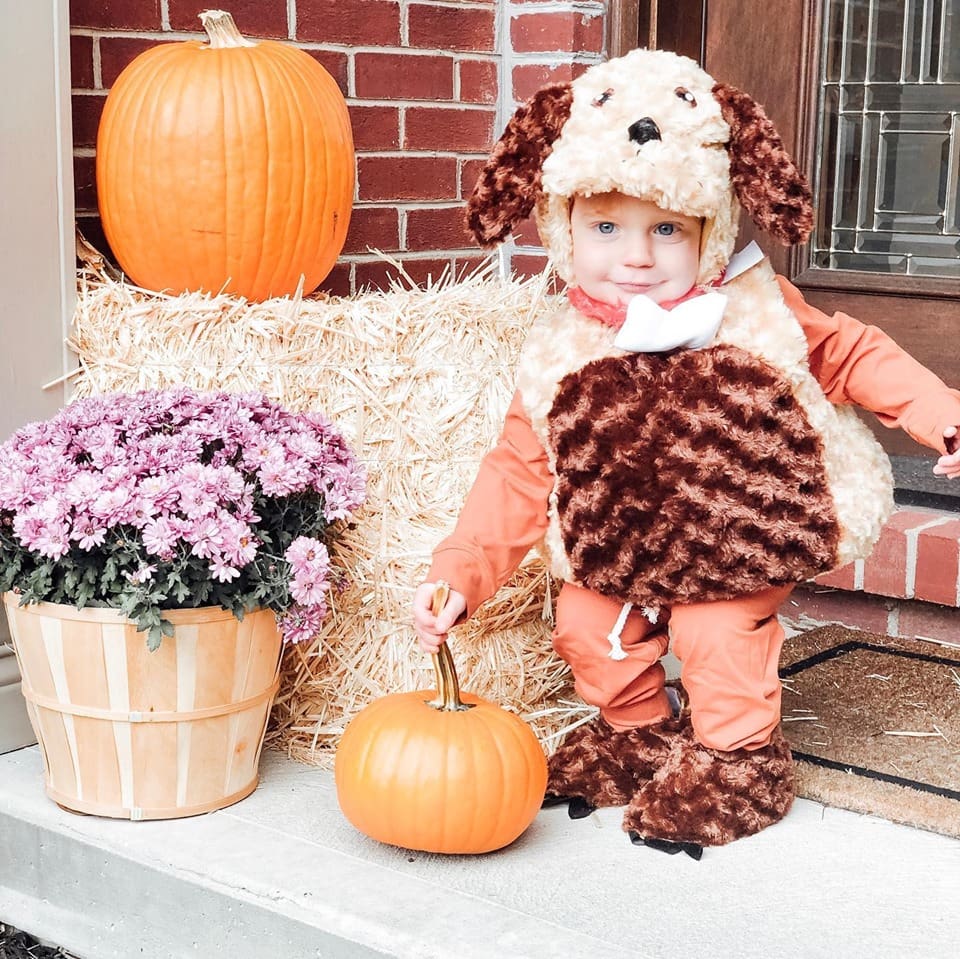 Even when we came inside he wore it for nearly another hour.  Needless to say, I think he was a fan.
Now, onto today's post.  It has been so long since I've done one of these so I felt one was do, because there are so many amazing fall fashion trends out there right now and even more winter trends making their way onto the shelves.  So I figured it was the perfect time for a Friday Finds post!  So, today we are doing…..

J. Crew Factory!  You know this store is one of my absolute favorites, and like always, it did not disappoint.  I had Leyton with me so my try-on was limited so I'll do a mix of outfits I tried on and then pics of some others from their site.  So let's get to it!
*Note: This site contains affiliate links to products. I may receive a commission for purchases made through these links. However, this does not impact my reviews and comparisons.   I only share things I truly adore and stand behind.
I'm going to start with this sweater I showed you in my What's Up Wednesday post.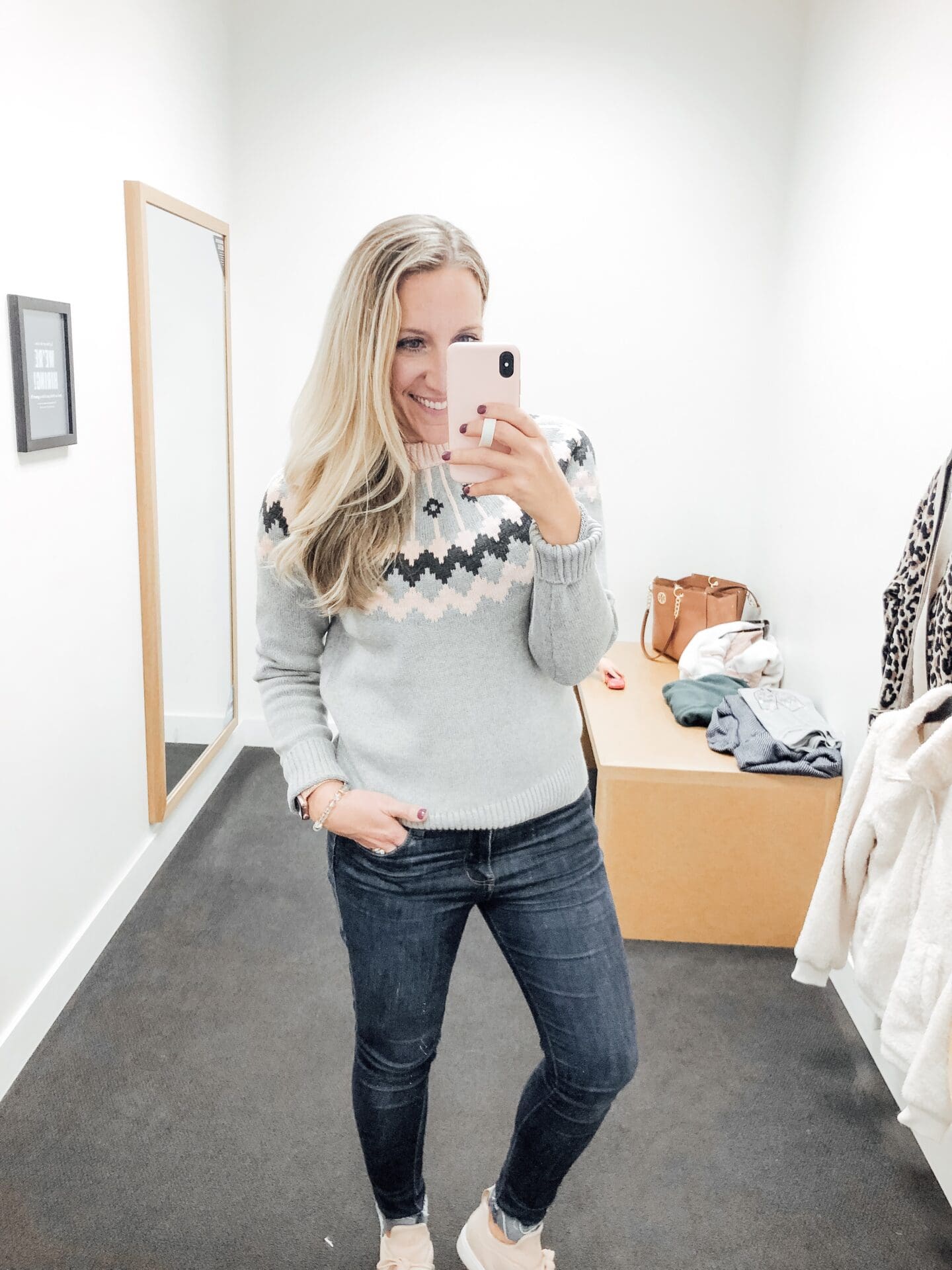 You all know I love my staple pieces.  Give me all the simple (but cute) sweaters I can pair with jeans all day long, and this one fit the bill!  I love gray and pink together and the pattern is just fun and feminine.  Here are three other fun sweaters I found.  All are currently 40% off.
Colorful Fair Isle Sweater // Boston Terrier Sweater // Striped Crewneck
Next, I thought this one was cute because of the preppy neck and sleeve detail.
It comes in two other patterns as well…..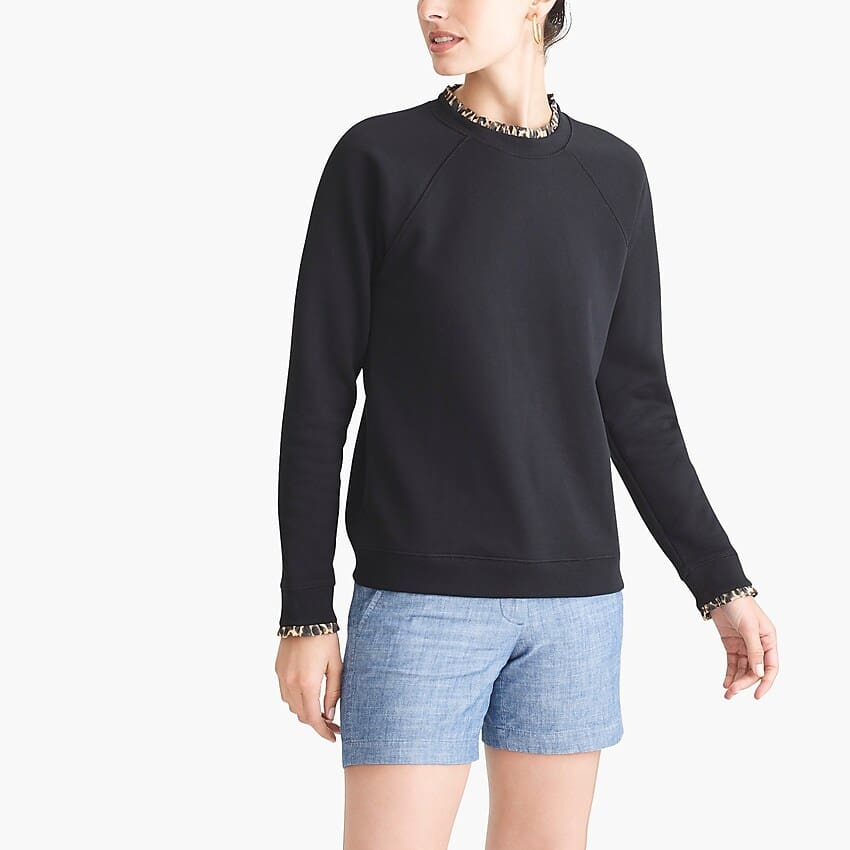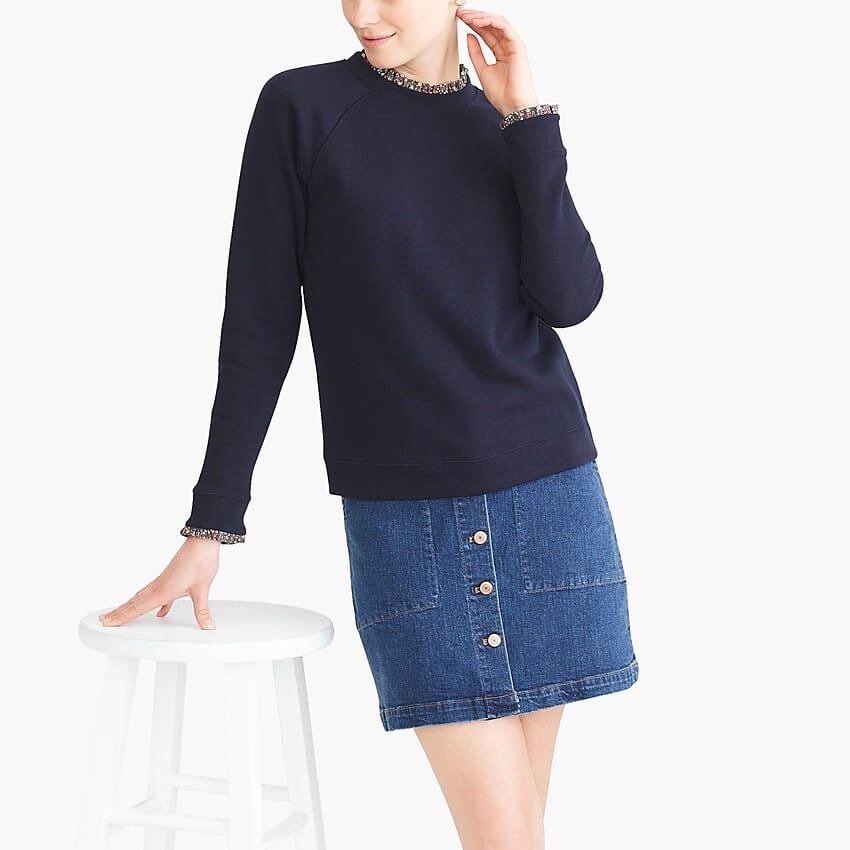 I call these fashionable sweatshirts.  Another one I tried on and liked was this one.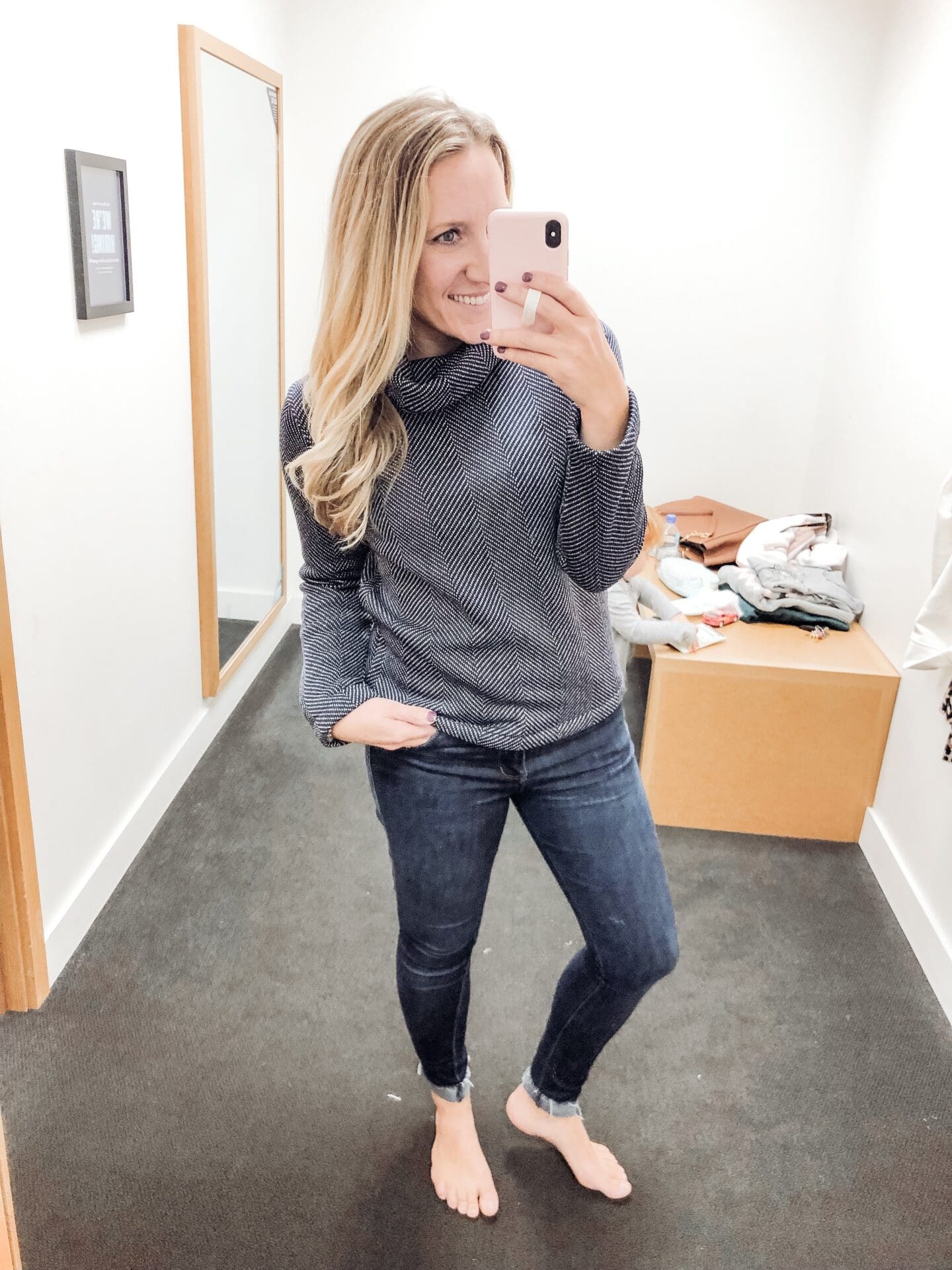 Now, in full disclosure I bought this one then returned it.  I loved it, especially the large floppy collar but once I got home something in me just didn't totally love it anymore.  I think honestly, it felt like after one wash it would be so small.  So my answer to that is, size up!  I think had I gone a size bigger I would have loved it.  But, I truthfully didn't need one more sweater so I didn't keep it.  I don't know.  I liked it.  I didn't love it.
Now, a sweatshirt I did think was totally cute was this one….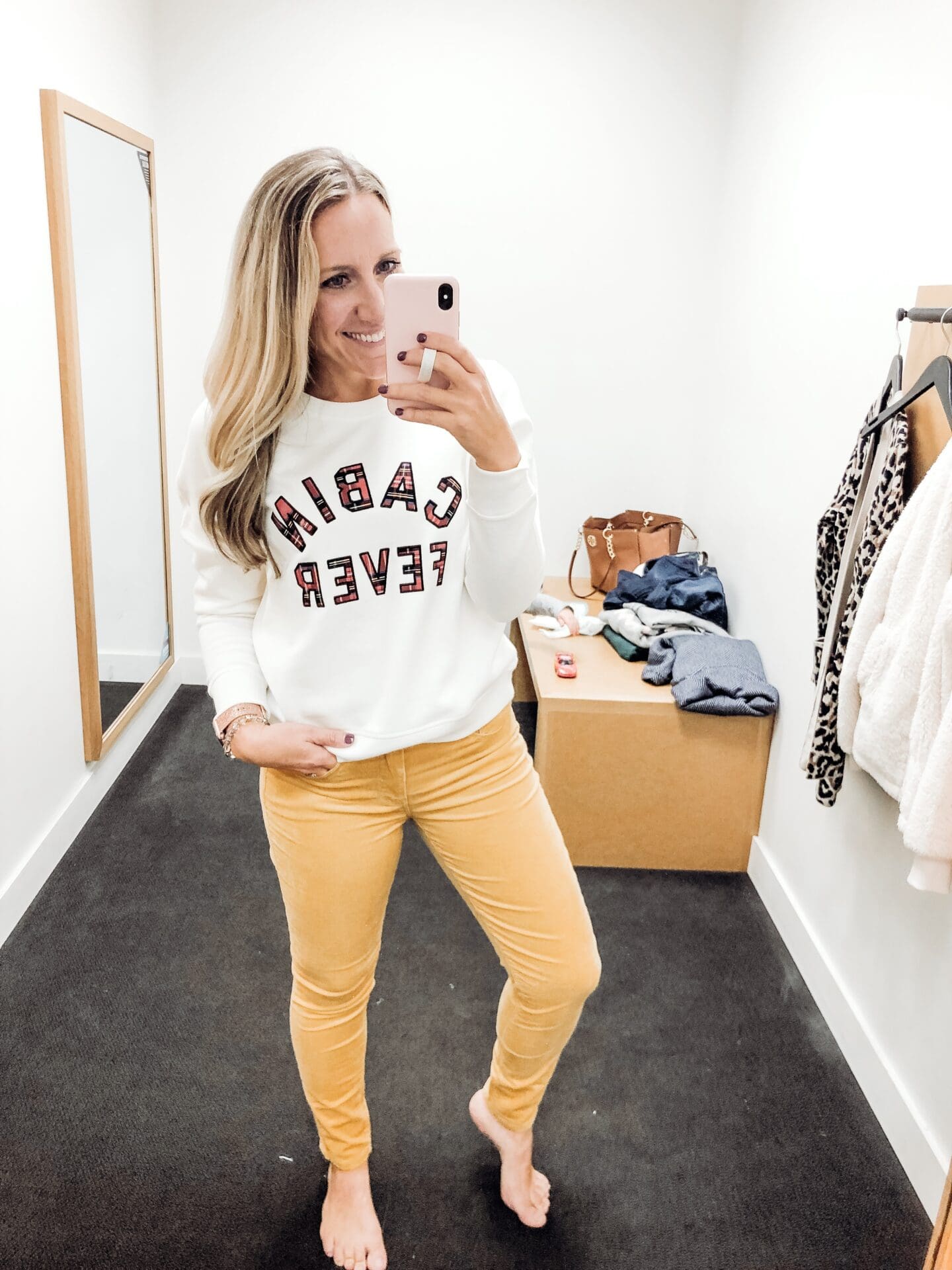 I never take into account that writing is backwards in these mirror selfies but you get the gist.  Cabin fever.  It will be perfect come the end of Febraury/March.  The pants are 30% off and can be found here.  I love mustard anything right about now.
Next up, the big stars of the show….this tee and leopard print cardigan!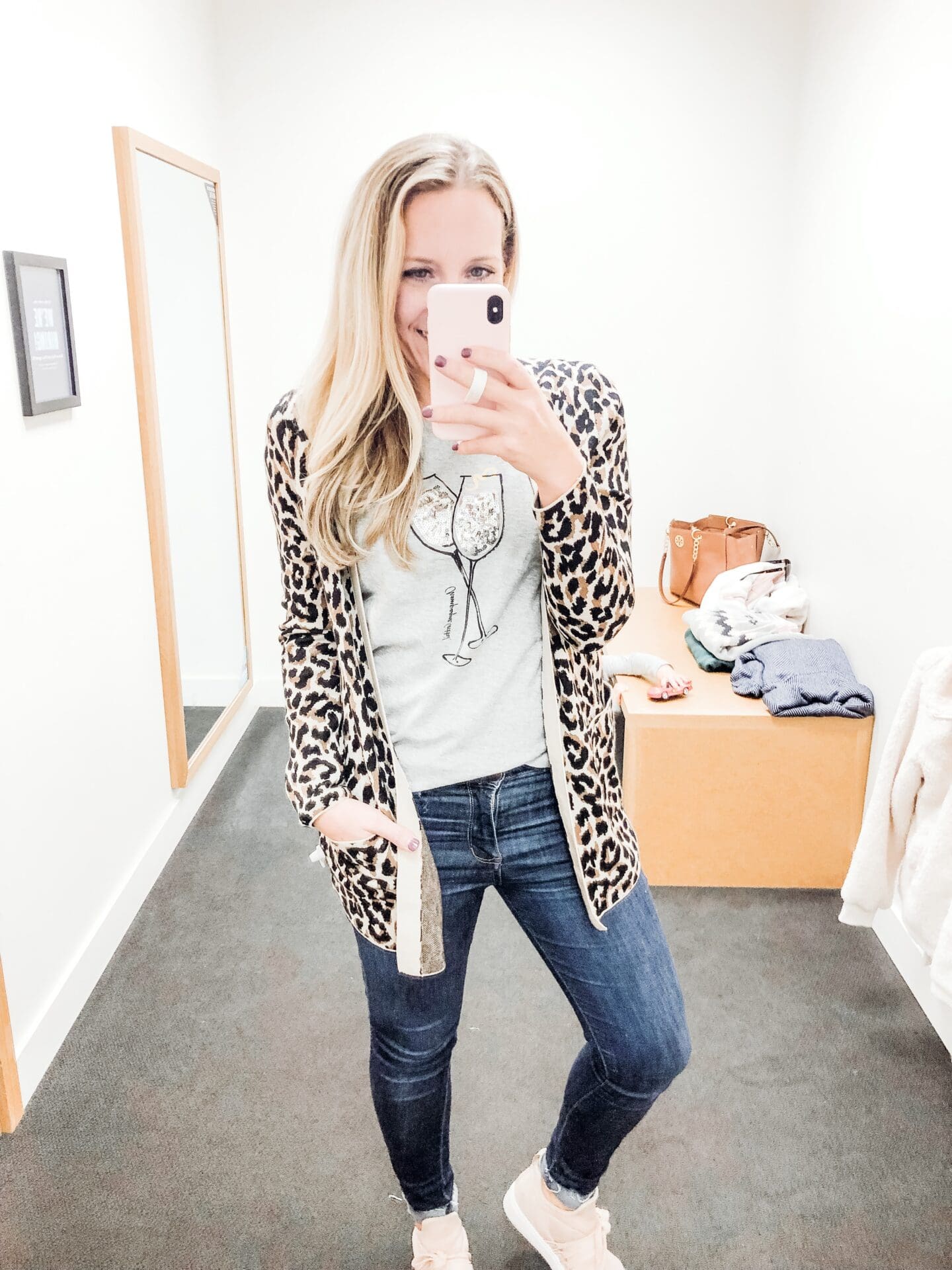 Leopard print is so hot right now and I see why.  It's the perfect piece to dress up or down.  You basically treat leopard print as a neutral.  It seriously goes with just about anything.  This would go great paired over a dress or belted over a top with a skirt.  So many options!  And how cute is this tee?  I got it to wear for lounging around on New Year's but I'll likely wear it plenty before then.  Here are some other tees I thought were fun!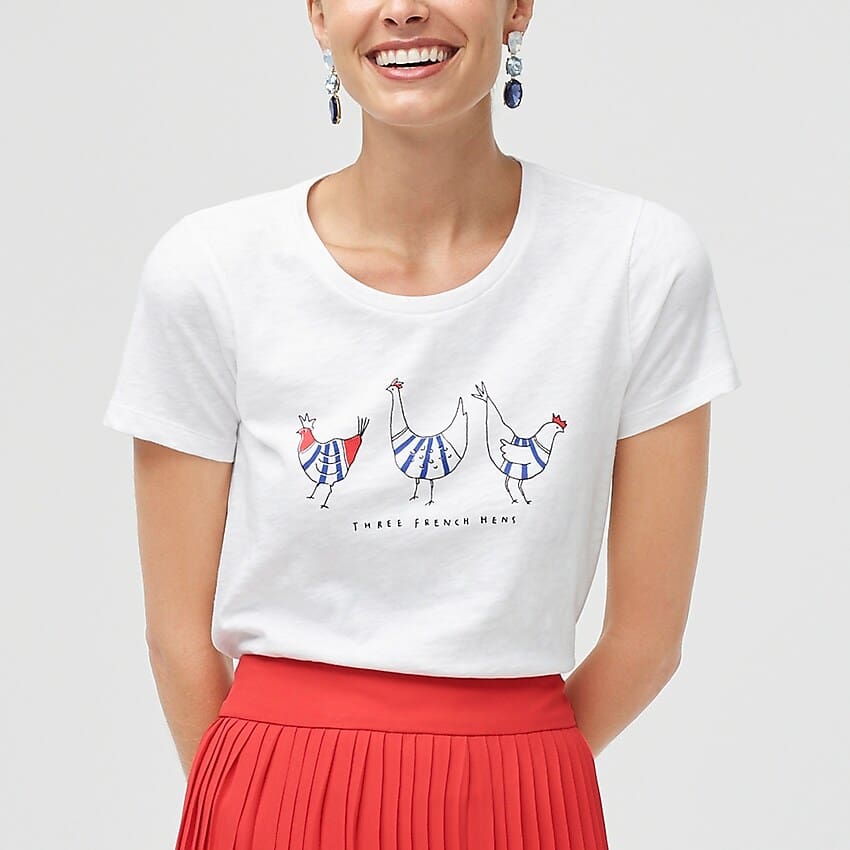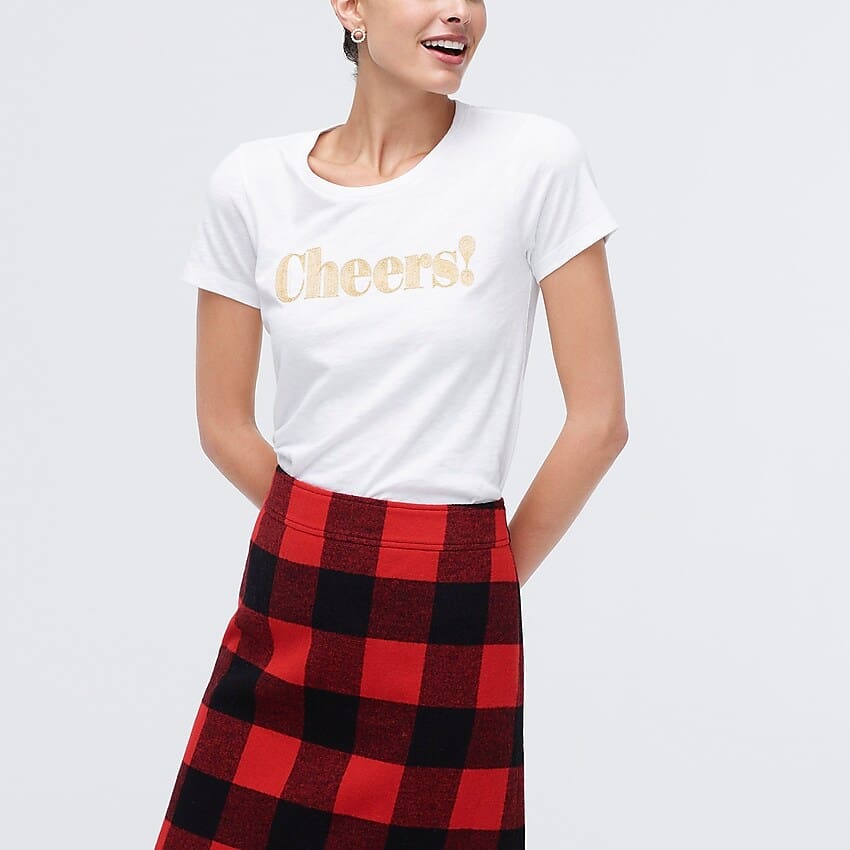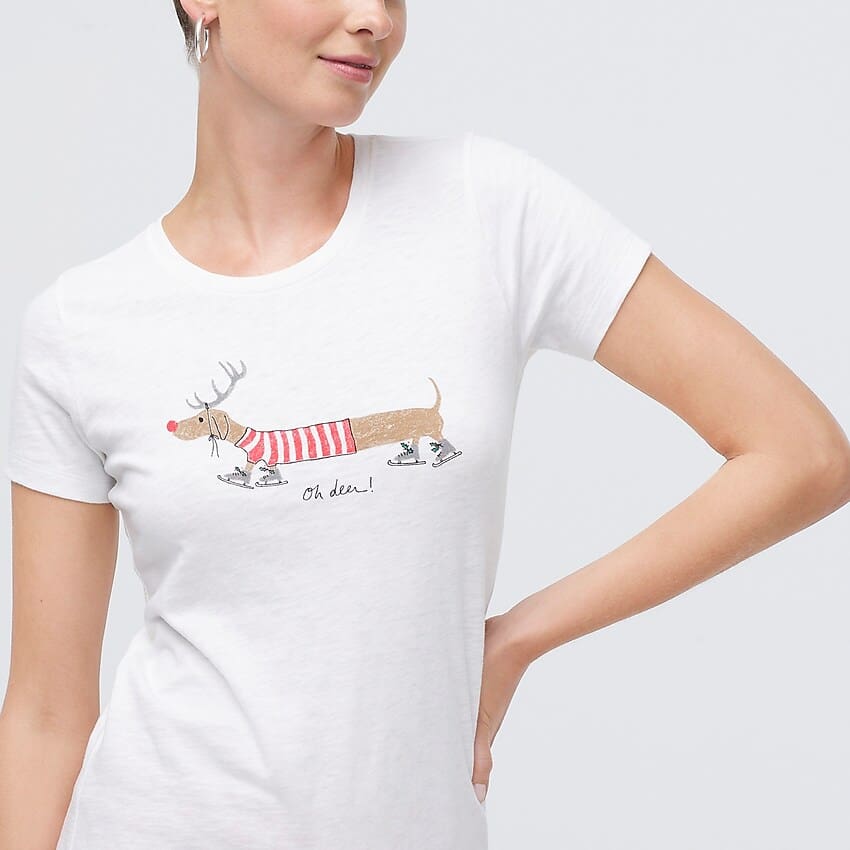 Three French Hens // Cheers // Oh Deer
I also loved the little splash of leopard on this shirt.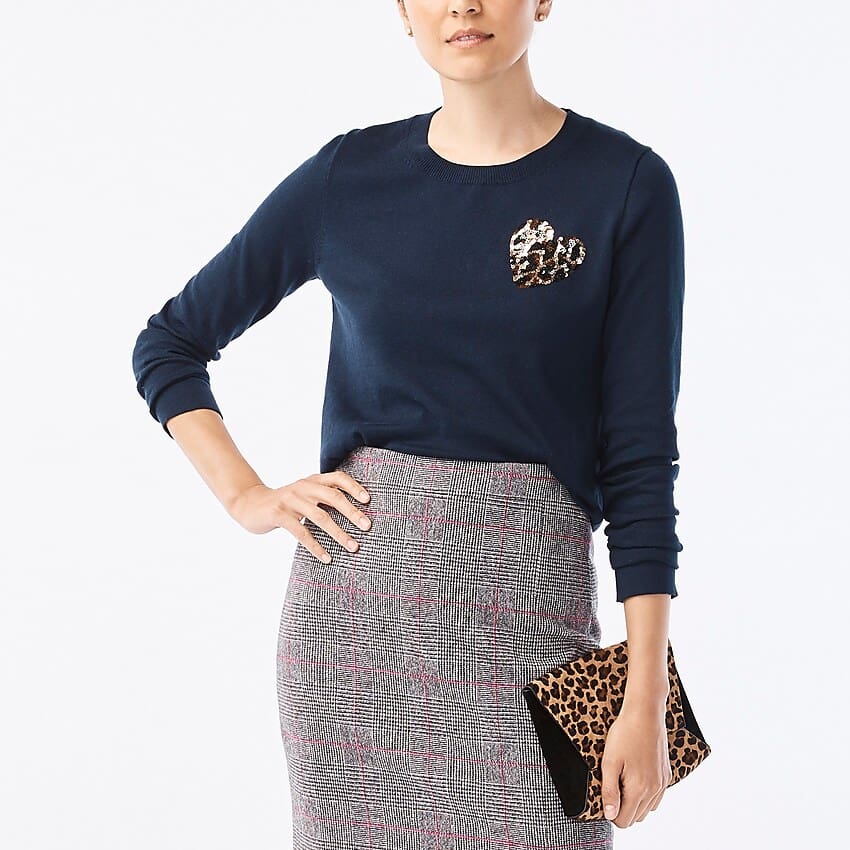 Speaking of on trend pieces…..who else loves a good sherpa?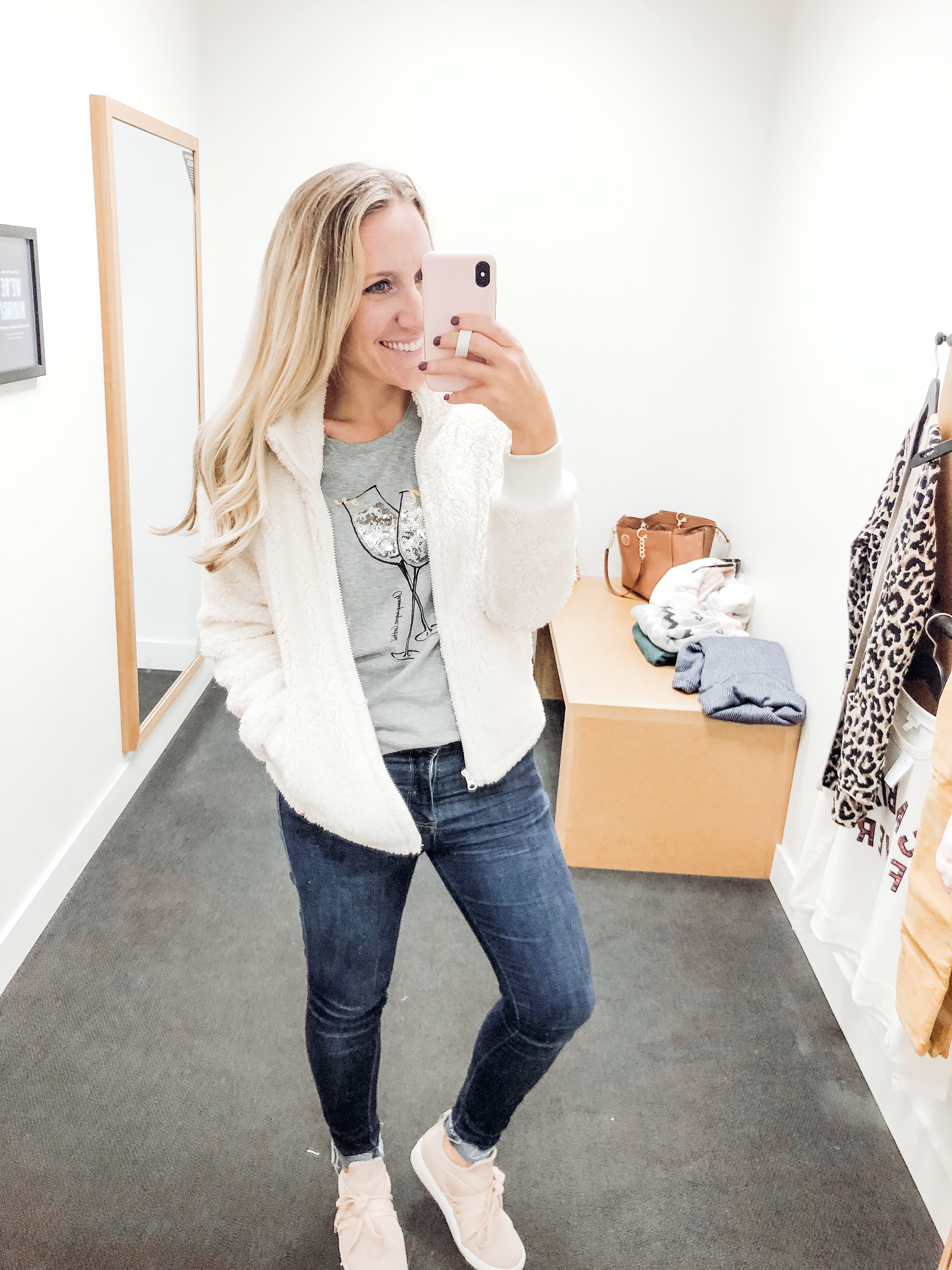 Sherpa's typically make me so hot so I love that this is a full zip.  It's perfectly warm and cozy but should I get too hot, just unzip it.  I would suggest maybe sizing up one in this too.
And if you are in the market for a new, cute bubble coat, I love the pink shade of this one.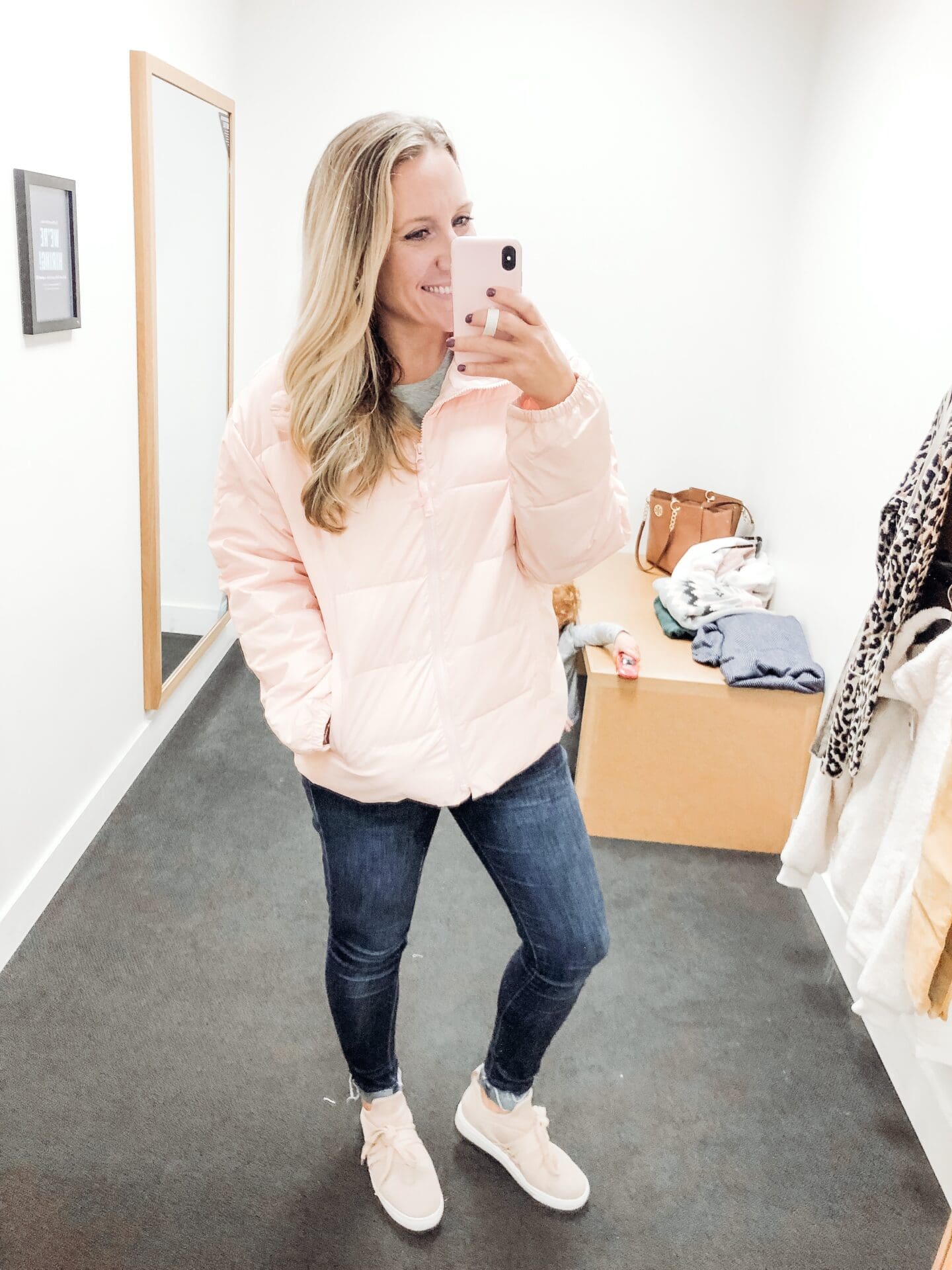 It comes in two other colors as well.  Now, I will say, this is really more of a fall/early winter coat.  It's not heavy like a lot of bubble coats.  You would definitely need layers under it if it was really cold outside.
And now, for the piece de resistance…..I forgot to get a picture of me in them so this one will have to do (and I actually forgot to buy them and had to go back from them) but feast your eyes on these!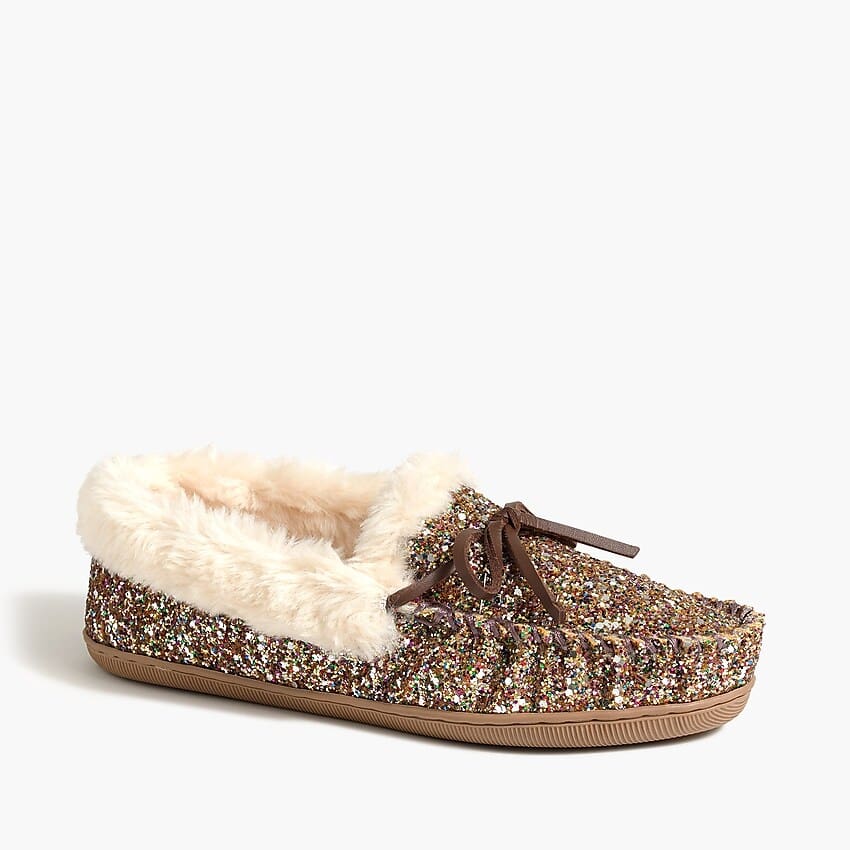 I mean, if you're going to buy a slipper, it should be a glittered covered slipper, am I right? Now, ordinarily they are around $50 which, I love you glitter covered slippers but $50 bucks?  I don't think so.  However, they are 40% off which makes them under $30.  Okay, now we are talking.  I will be wearing these from now until probably next year at this time.  I love love love them!
And that does it friends!  Just some fun items I found when out and about that will be perfect if you are looking for gift ideas or need some new fall and winter staples for yourself.  And speaking of gifts, get ready, because all month long I'll be bringing you my holiday gift guides.  So much goodness coming your way and it's only November 1st!  Have a great weekend and I'll see you back here Monday where I will have a much overdo "Must Haves" post.
Jill
xo, Jill