Happy Monday friends!  I hope everyone had a great weekend.  Saturday was my day to myself to celebrate my birthday and it was glorious!  I started the day with a massage then went to the bookstore and had some wine and lunch and took time to browse the store without Leyton fussing at me to wrap things up. Then, I got a pedicure and did some shopping.  It was just what I needed.  It was also a great time for me to snag several items making the must haves list today, so let's hop to it!First up, if you don't have a Joseph Beth Bookseller near you, you are missing out.  I love this bookstore so much because it has so much more than books!  While looking around in their non book items I found these tumblers/drinkware by Swig and thought they were so cute.
I know these have been around and many of you are probably aware of Swig, stainless steel insulated cups but I love the variety of colors and designs they offer.  The wine cup is my favorite!  And I love that it comes with a straw and it keeps drinks cold up to nine hours!  Which means that white wine would stay nice and crisp.  They also keep hot drinks hot for 3 hours so I suppose you could use them for things other than wine :).  They come in 17 different designs. You can shop the wine cup here.
And then I love travel cups with flip sip tops and thought this 12 oz. one was perfect and I love the colors.  It would also be great to pack in lunch boxes to keep things cold or hot.
After I left the cup section I saw this fun, multi-wear wrap bracelet/necklace with magnetic clasp, by Dona Bela Shreds.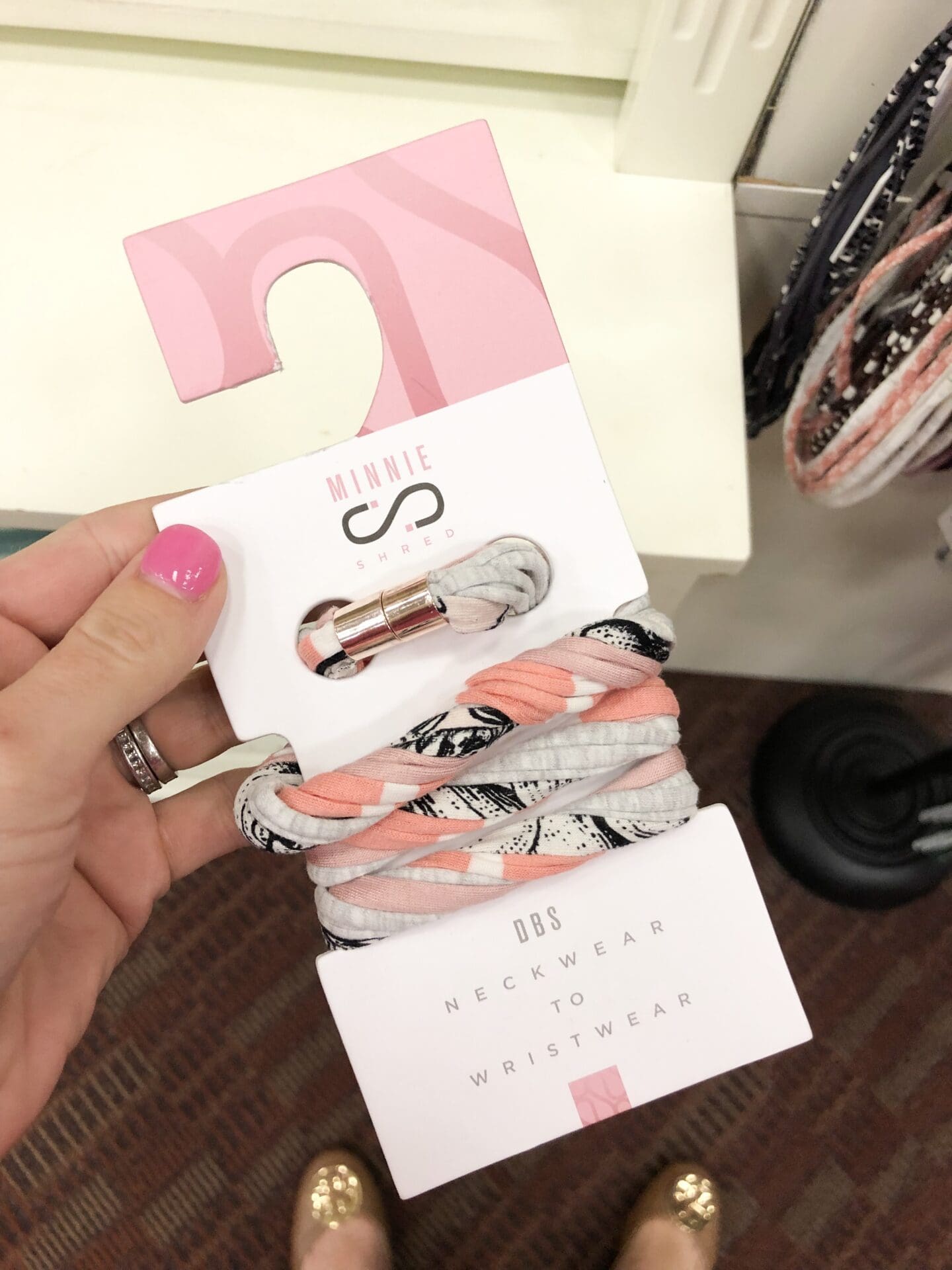 This one is a Minnie Shred but there are different varieties of sizes and colors.  You can wear it around your neck or on your wrist.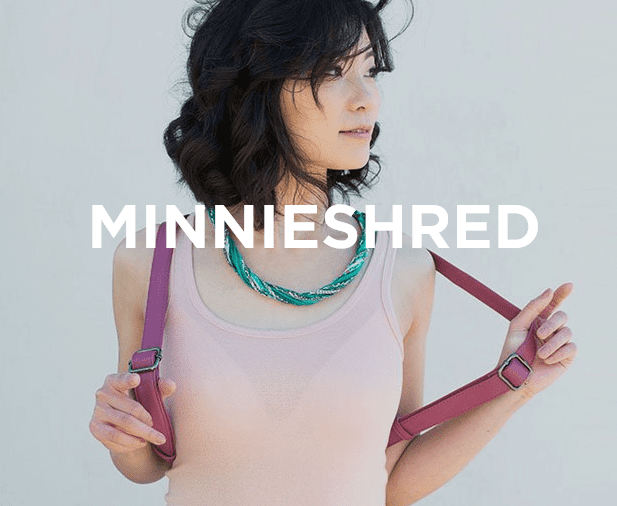 Just a fun little idea.  What's crazy is I got home that night and had a gift waiting for me from my friend Abigail with something very similar!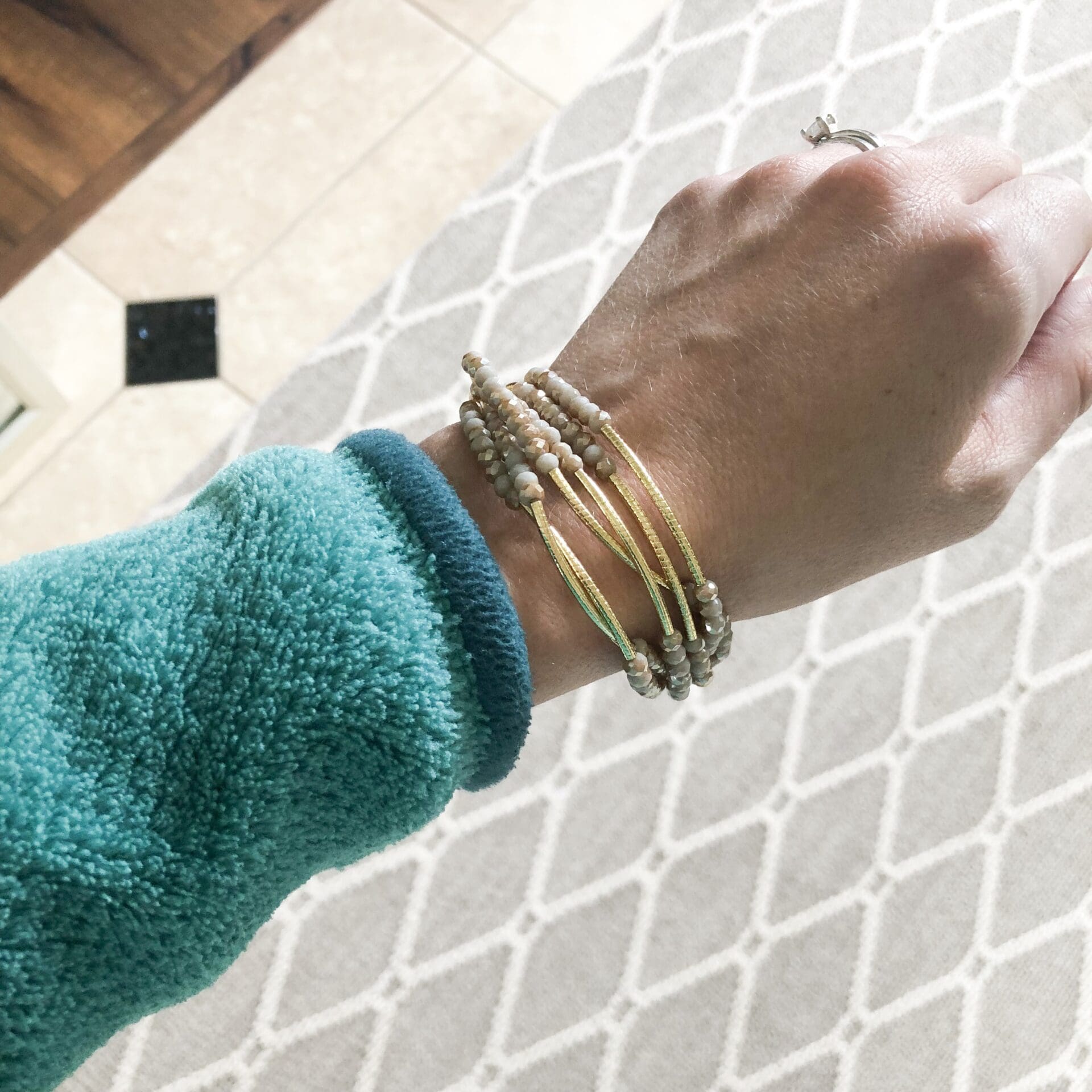 It's by Scout Curated Wears and it's a bracelet that becomes a necklace.  I love the glitzy-ness of this one.  Here I am with it as a necklace….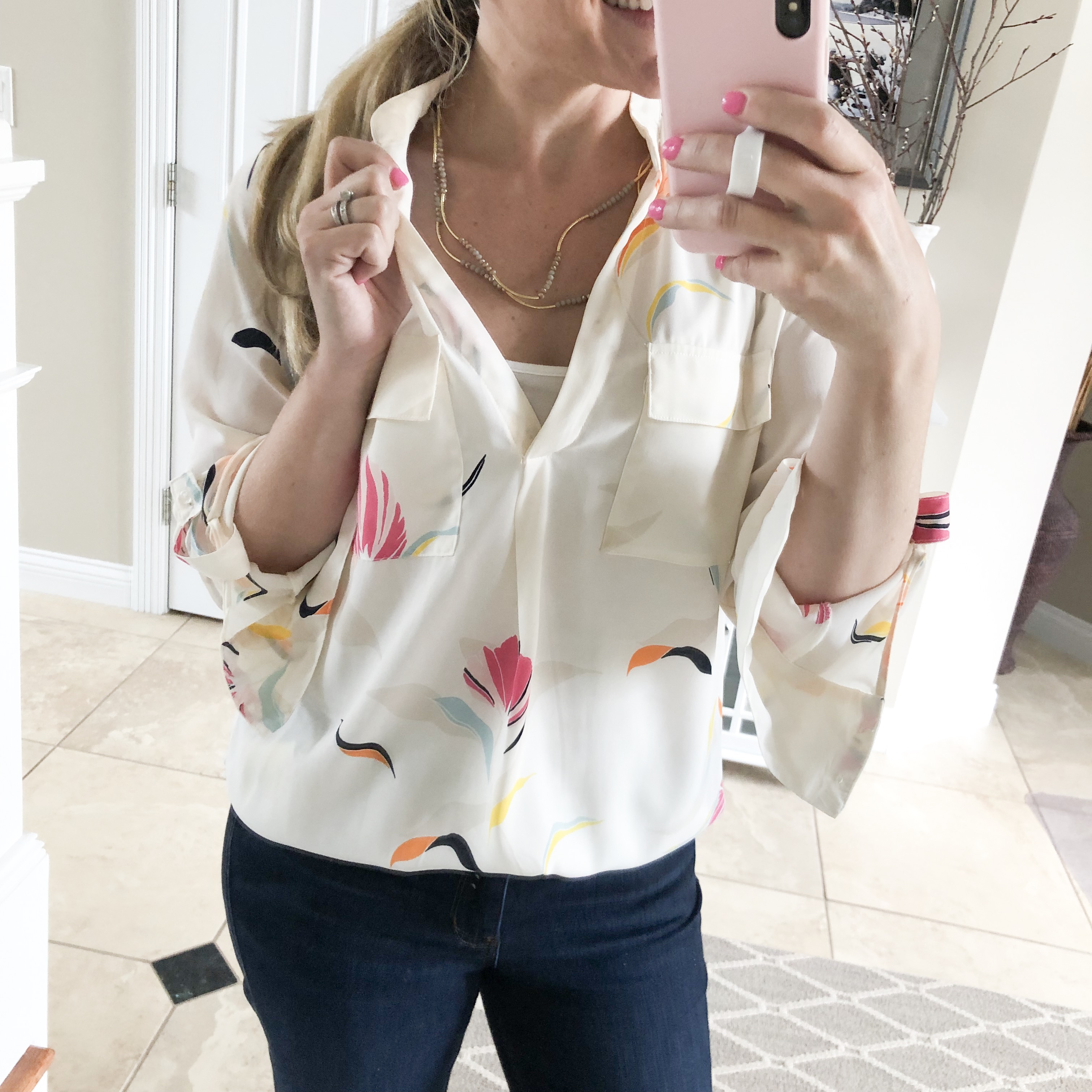 Just super fun and cute, and I love when something has a dual purpose. Right now you can get free shipping on them with the code: LOVEYOUMOM.
Oh and I love that floral top!  It's from Target and under $20.
While at the bookstore I did actually check out some books.  First I found this one that would be cute for a mom for Mother's Day…..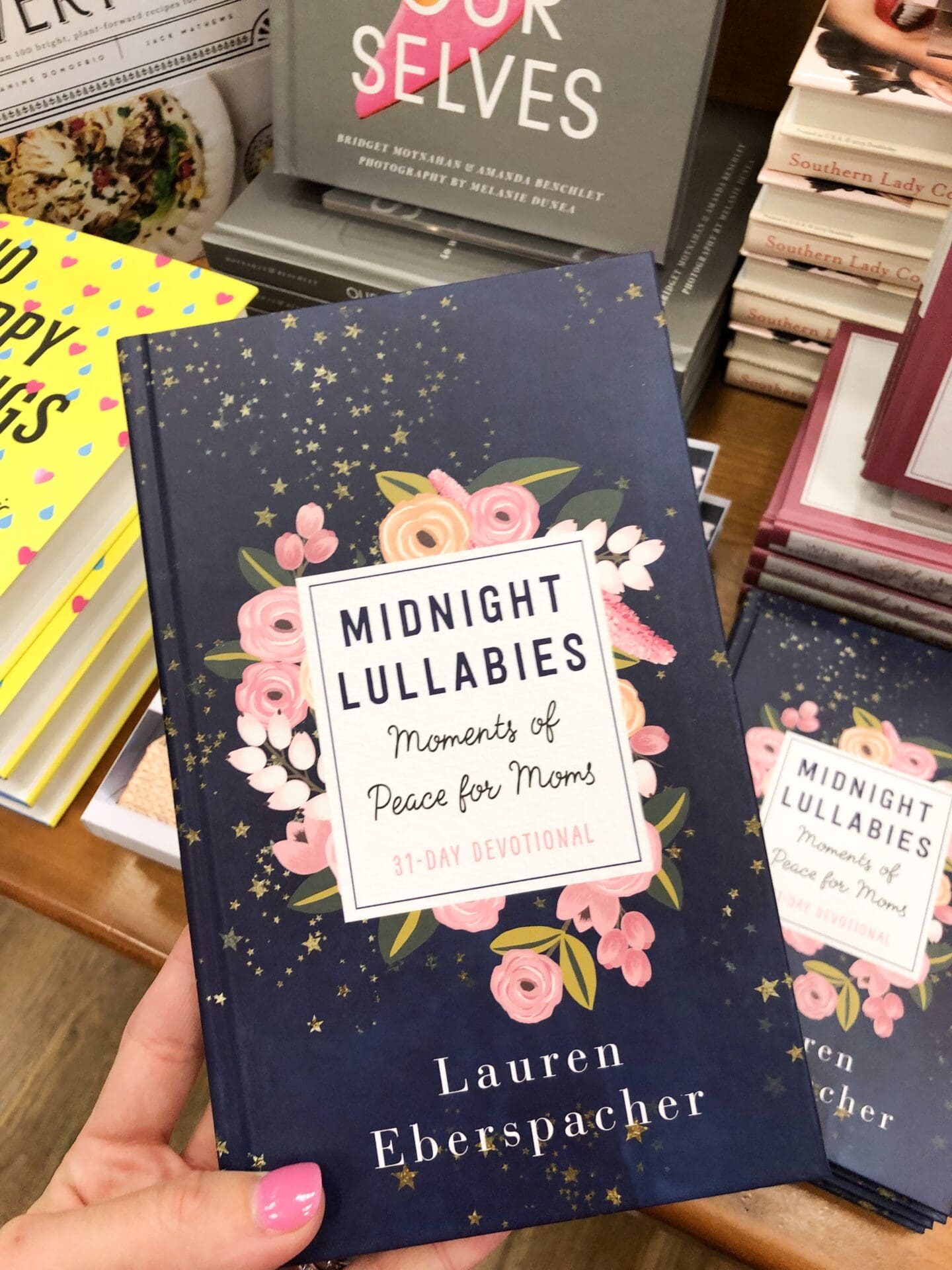 It's a 31 day devotional and seemed to just have good little nuggets in there for each day.  You can shop it here.
Lastly, I was looking at a shelf of books with all the recommendations of the staff members when one of the workers pointed to this one, and told me it was a must.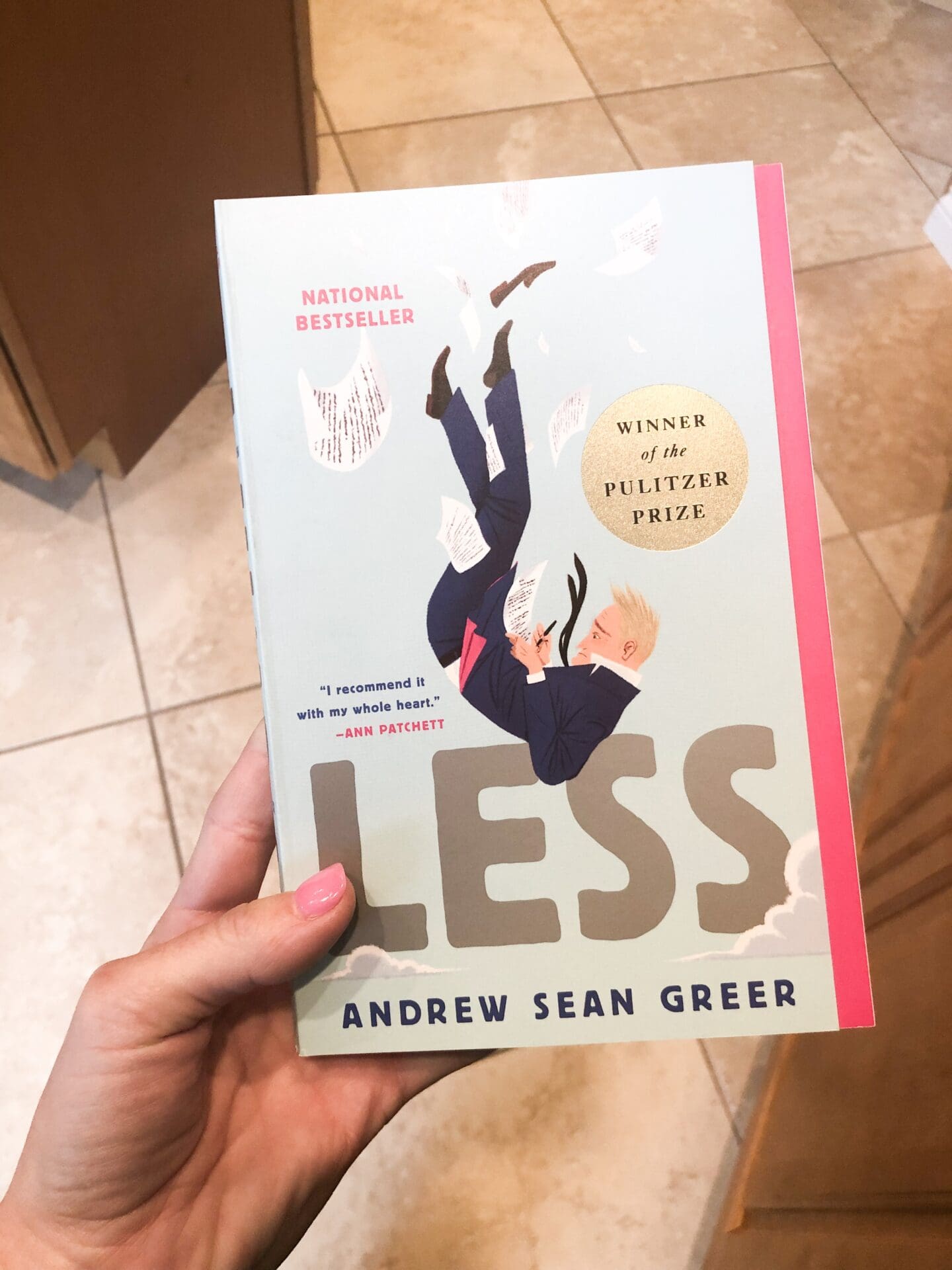 He and I agreed that typically when we see Pulitzer Prize Winner on a book we tend to think it's going to be a little boring and over the top, but he assured me that that was not the case with this one, and that it's a fun, witty book that has a good story line and message throughout it too.
From what I gather reading the description on the back it's about a guy who gets an invitation to his ex's wedding but doesn't want to go but also doesn't want to look like he's not going because it's too hard for him to handle, so instead he books himself a ton of work so that he is actually too busy to attend, and from there all sorts of things ensue.  So we will see.  The employee claims it's a must have so I thought I would share it now.  Stay tuned for if I agree with him.
Once I left the bookstore I headed over to Nordstrom Rack and got these Birkenstock waterproof slides I had been wanting….
Let me tell you, there's nothing particularly fancy about these and they are super lightweight and mostly foam, but I have been wanting a simple sandal to wear around the house and around the pool and beach in the summer and this will be perfect! Unfortunately this exact pair is discontinued and I could only find the link to a blue pair and a green pair.  But here is a similar version just with two straps instead of one.
And speaking of sandals, I got these cute ones from Amazon last week and they are so comfy.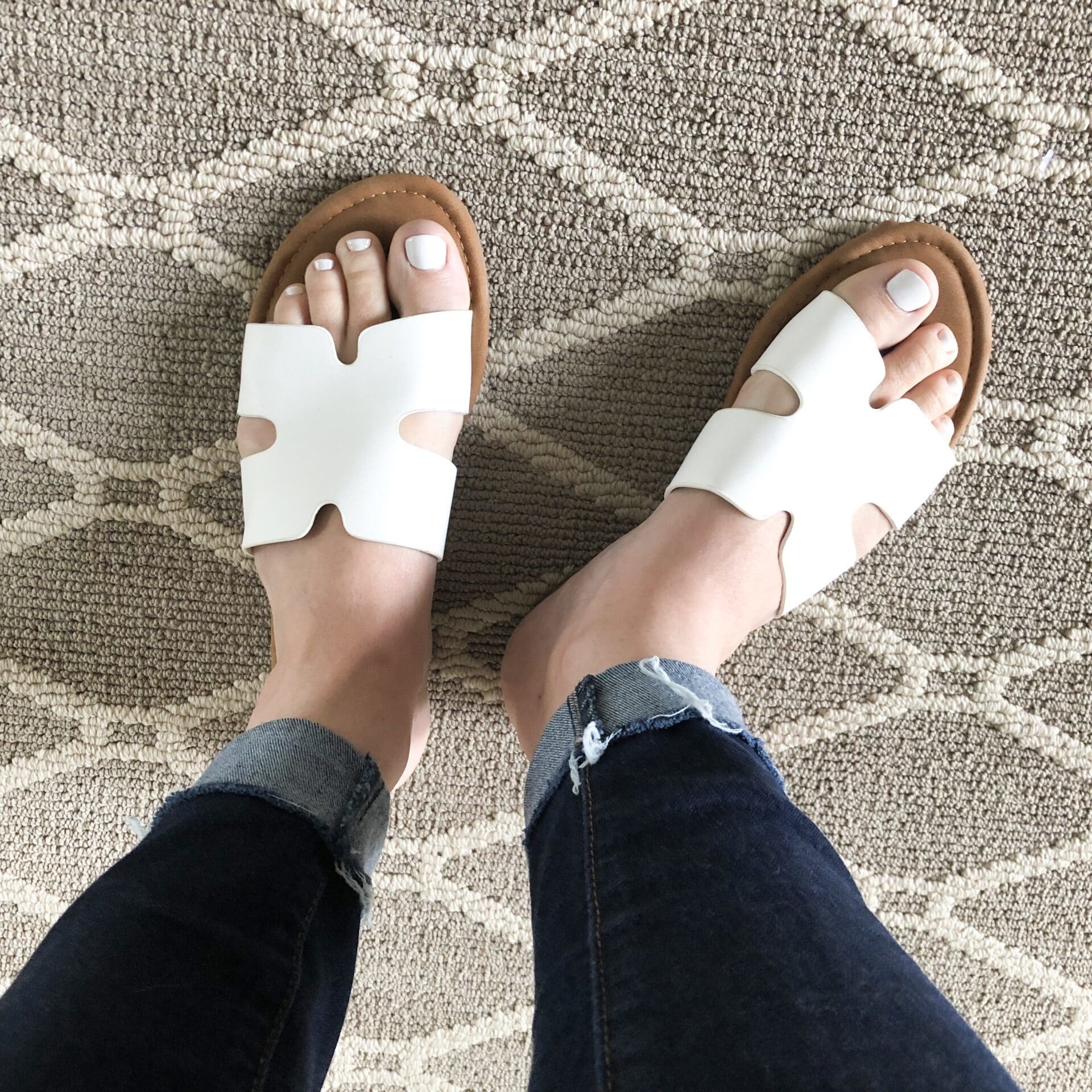 They are similar to the Sam Edelman pair a lot of people have but for much cheaper and for all the more I wear white sandals I didn't want to spend a ton.
I do think they would be cute paired with this romper I shared a few weeks ago that's currently on sale for 40% off.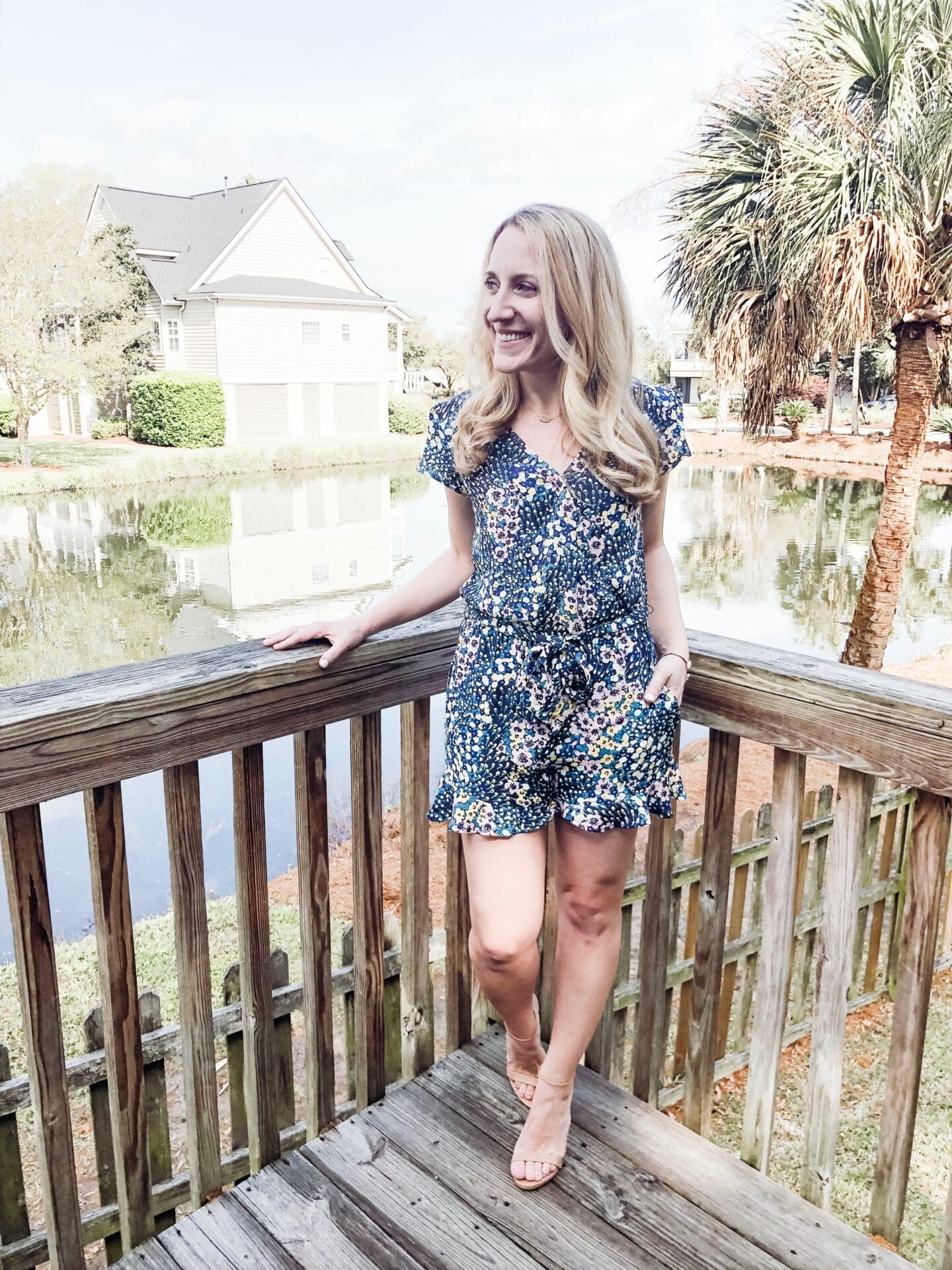 I wore this to my friend's rehearsal dinner in Charleston a few weeks ago and received so many compliments and it was super comfortable and flowy.  I paired it with these Steve Madden heels but think white sandals or white tennis shoes would be great with it too.
And last up for must haves this week is my new favorite piece of makeup.  Now full disclaimer when it comes to makeup I tend to use mostly Beauty Counter or something with less "bad" ingredients in it, but sometimes I make exceptions (like when I need a heavy duty concealer to cover up the bags under my eyes or my adult acne that likes to creep in from time to time) and friends, this is that exception…..
It is the Tarte Creaseless Concealer and it is simply amazing!  I used to use the Tarte Shape Tape Contour Concealer and it's good too but the coverage of the creaseless can't be beat.  It never feels thick or heavy either, which I love.  So hands down a must have if you are like me and keep finding more and more skin issues you'd like to hide.
Alright friends that does it for this week's must haves.  See you back here Wednesday where I'm sharing my latest try on session from J. Crew Factory.  Have a great start to the week!
Jill
xo, Jill