Happy Monday friends!  First off let me say thank you for your patience while I got my act together last week!  I love vacations and time away but man does unplugging leave you feeling disconnected when you get back to real life.  With that being said, a week off allowed me to catch up on a bunch of things and it gave me a chance to round up some great must haves for you, so let's get to it!
I'm kicking this week's must haves off for all the mamas out there….all this week Target is having BOGO 50% off on Easter toys!!
You can click the banner above to shop their selection or head here.  How is Easter only a week away?  Leyton's at that age where he doesn't really need a basket but I still like to put a little something together, so I'll be hitting up this sale for sure.
Okay next up, I posted this picture on Instagram last week because I had to love on these jeans.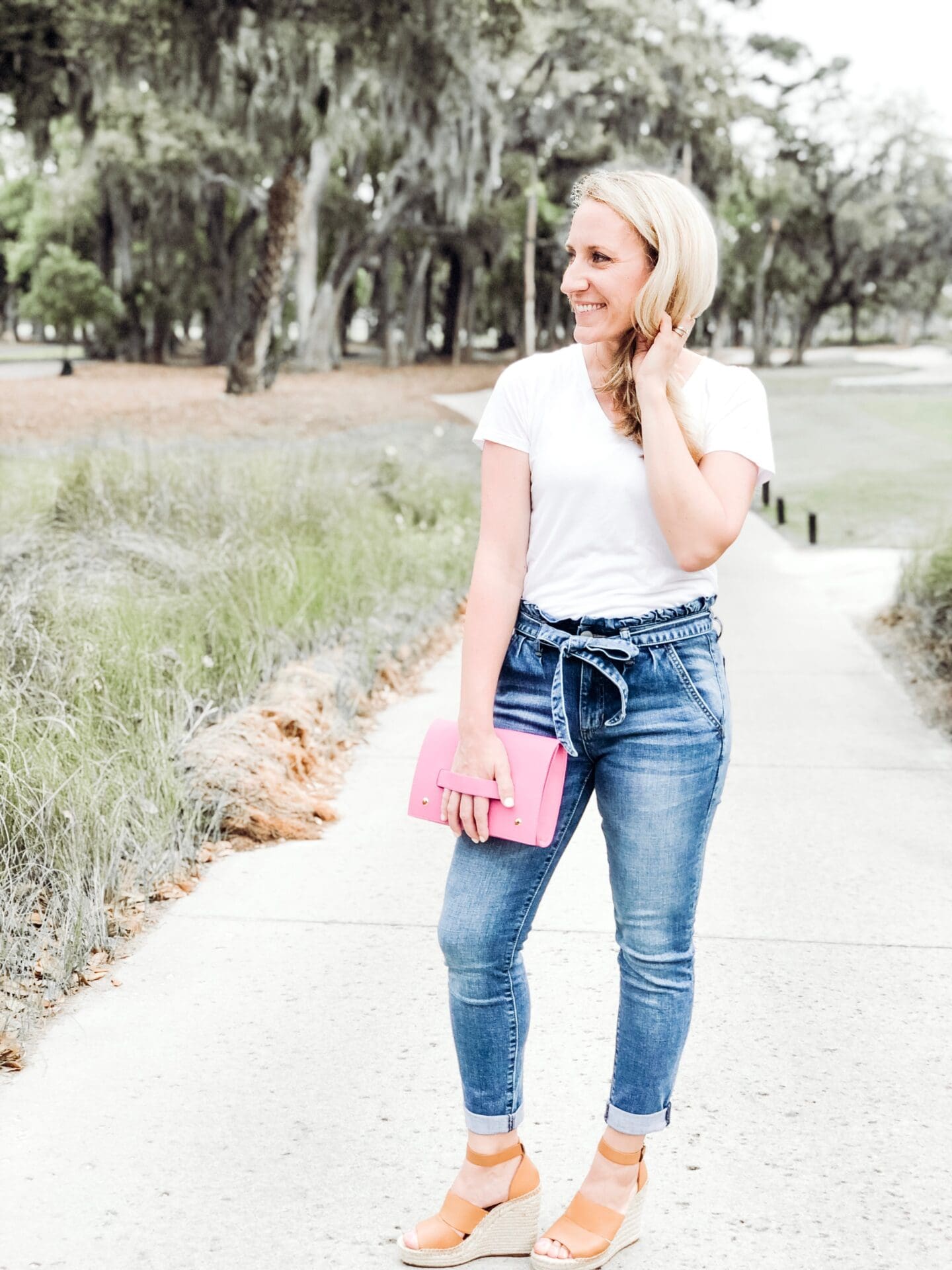 Anyone else totally loving the paperbag waist trend?  Eric calls them mom jeans but I think they are so feminine and cute.  I also love the paperbag waist shorts but haven't taken the plunge on those yet.  Below are some styles of this trend I am loving.
Shorts // Black Pants // White Denim
Side note, isn't that pink clutch I'm holding so cute and practical?  I don't have a link for it unfortunately because I found it in a salon last weekend in Charleston but I love it.
Also, Nordstrom is currently having their 50% off Spring Sale that you can shop here.  I now know what I'll be doing all day.  I love me a good Nordstrom sale.
Next up, I found this simple black jumpsuit on Amazon for $22!  And I'm in love!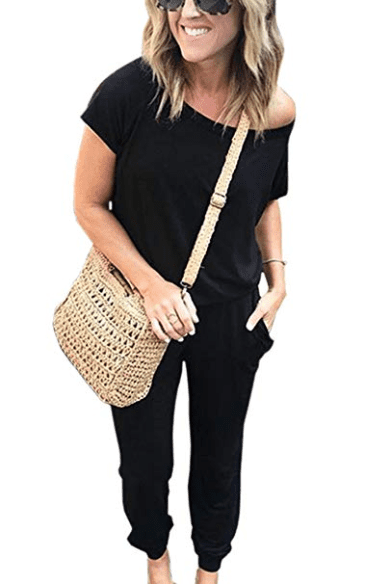 I never expected Amazon to have good clothing finds but you guys they definitely do, and the price is always right.
Moving on to my favorite must have of the week….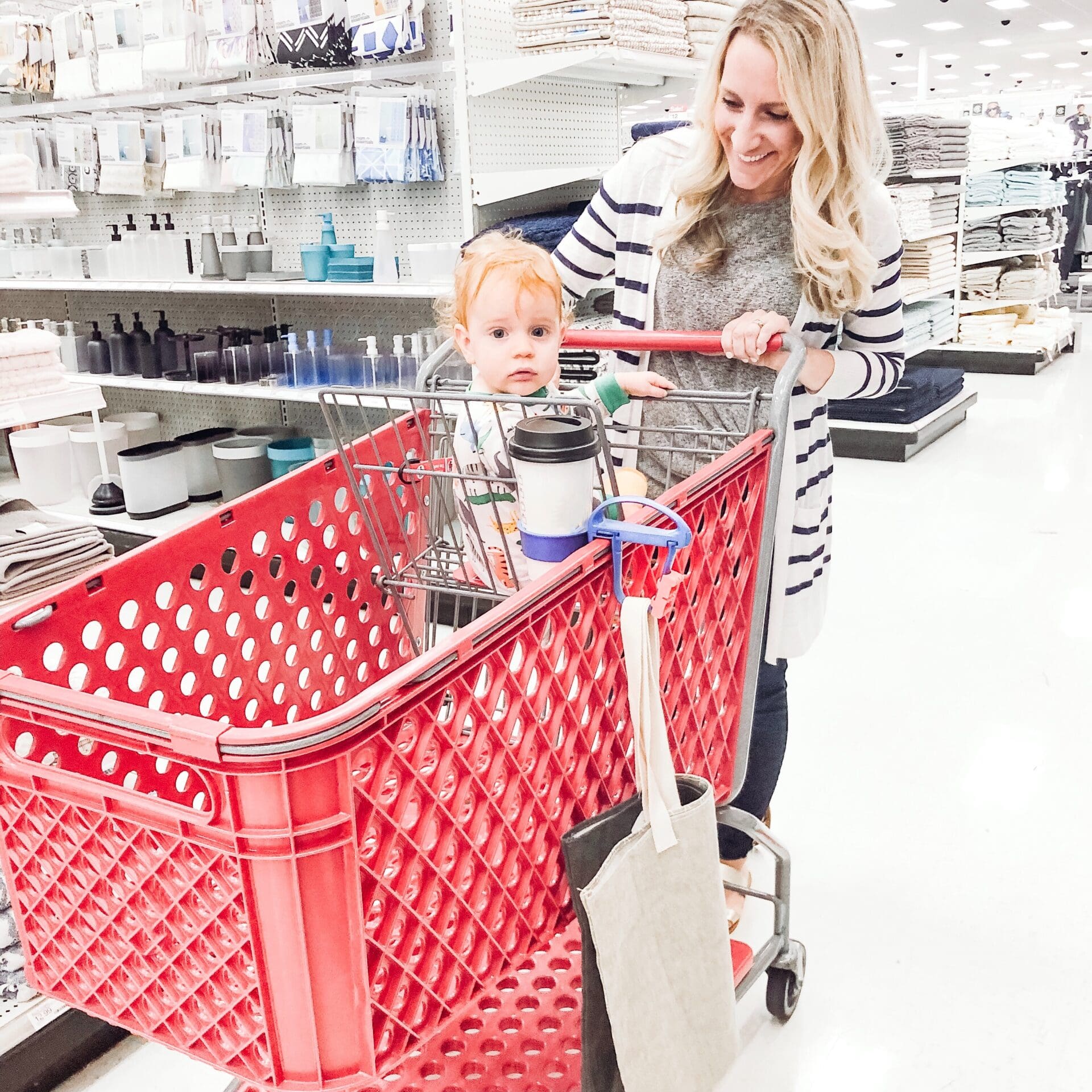 Friends, if you don't have a Toolaloo in your life, you are missing out!  Full disclosure, Toolalo reached out to me to see if I wanted to try this product and once I saw what it was it was an easy YES from me!  This is one of those products I never knew I needed until I got one.  Not only is it lightweight and easy to keep in your bag but it's so practical I can't shop without it.
I, for one, love drinking coffee as I peruse the store aisles but I hate never having anywhere to put my cup!  I also love using reusable grocery bags rather than having a ton of plastic bags but hate that I put my reusable bags in the bottom of my cart then all my items stack on top and at checkout the items start getting bagged in plastic before I can reach my reusable bags.  Well the Toolaloo solves both of those problems!  It easily clips on the side of you cart and your reusable bags clip on the side and hang outside of the cart for easy access at checkout.  Then there is a detachable cup holder for those times you have coffee or water with you.  It's seriously so stinking perfect!  Plus I love that in encourages sustainability by having two functions that allow for reusable products (your shopping bags and water bottle or travel coffee mug).  Oh but it doesn't stop there….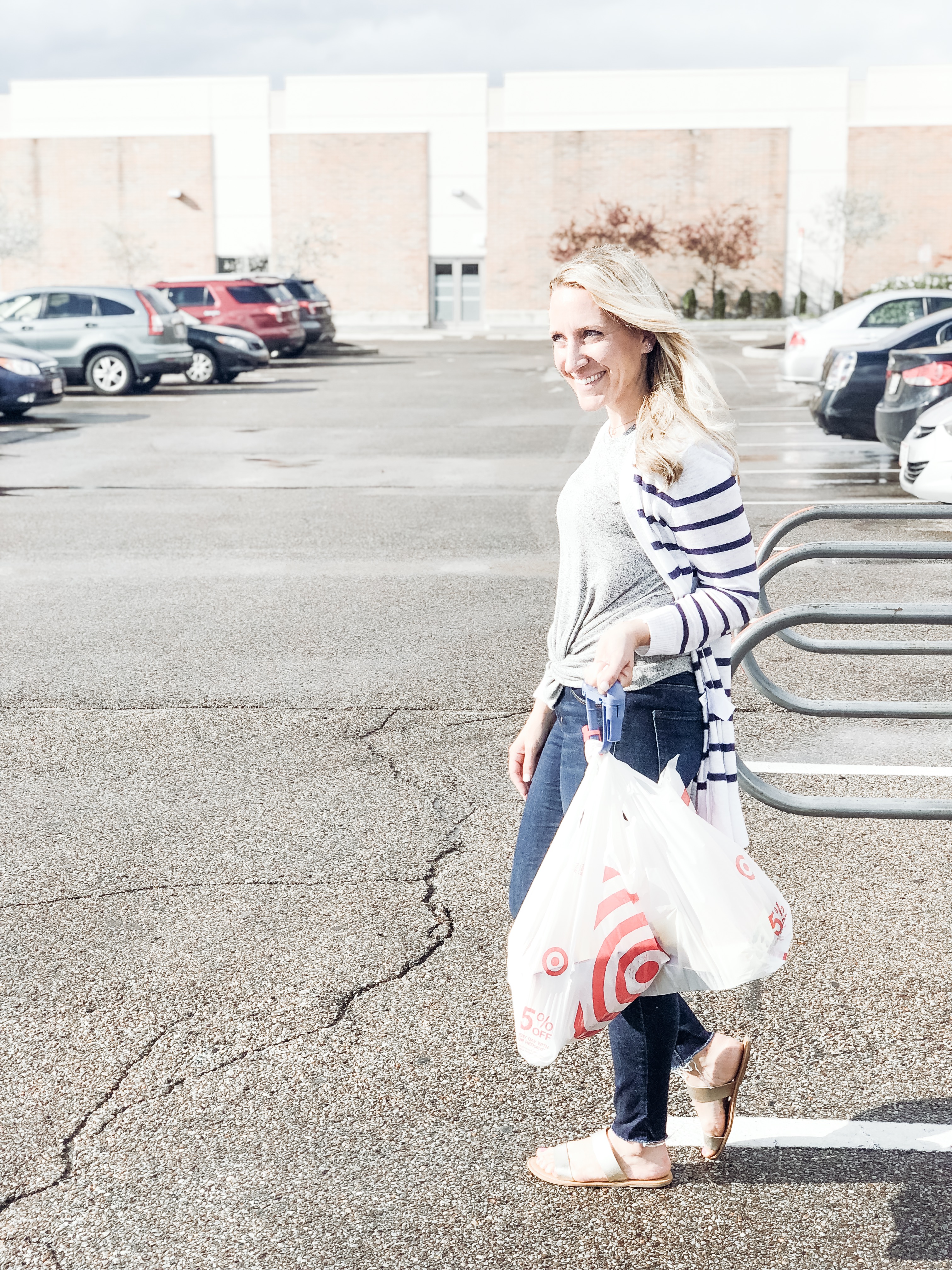 Take the Toolaloo off the cart and it becomes a handle to carry all your bags!  Mama isn't about making multiple trips so being able to easily carry all my bags at once is huge!  Finally, it also comes with a little hook that allows you to clip it to the back of a seat in your car to store your reusable bags when not using them.  Seriously you guys this is THE most innovative invention ever!  I'm in love.  Head here to check them out!
Next, if you are someone that is into Bible studies then I can't recommend this one enough!
I did this Bible study a while ago actually but I'm about to start a new one in this group I'm in and they are currently wrapping up Seamless and it reminded me how much I loved it!  I'm sooo picky when it comes to Bible studies and if they aren't good I won't stick with them.  I looked forward to this one every day.  I can't recommend it enough.  We are about to start The Armor of God by Priscilla Shirer so I'll let you know how I like that one.
Finally, I'm rounding out this week's must haves with 3 beauty items I'm loving.
The Thayers toner can be found at Target and it's my favorite toner to use every morning.  My skin is sensitive so I'm picky with what goes on it but this is very gentle.  The Rosewater facial mist came in a new monthly subscription box I'm trying from Crunchy Mama Box.  It's so gentle and refreshing on your face.  I typically hate the scent of rose in things but I think that's because most rose scents are synthetic and this smells very natural and light.  I loved the entire Crunchy Mama Box actually and will likely highlight the whole thing in a must haves segment next month.  And lastly, I am loving this Orange Blossom Moisturizer from Young Living.  It is always sold out and is currently out of stock but if it's ever back in stock and you have a chance to grab it you need to because it's great!
Alright friends, that does it for this week's must haves.  I'll see you back here Wednesday!  Have a great start to the week!
Jill
xo, Jill