Happy Monday friends!  And happy April Fool's Day!  No fooling around here today. Just some good finds coming your way in honor of the start of a new week and a new month!  I hope everyone had a great weekend!  Eric and I did a little shopping Saturday for our friend's wedding this weekend and then on Sunday I got together with some local blogger friends and we worked on a collaboration that I will be sharing more about later this week, so stay tuned for that!  In the meantime, let's get to the must haves!
So first things first…..Loft is having an awesome sale right now you guys!  50% off everything with code: CYBER!  AND free shipping!  It ends tonight at 11:59 though, so act fast.  This weekend while we were shopping I found some of the cutest things from there, which just happen to be the majority of must haves this week.
First, I know we are headed into spring/summer but I loved this sweater.  The color is on point for the warm seasons ahead and it actually is very breathable and lightweight.  It would go great with shorts or on chilly nights.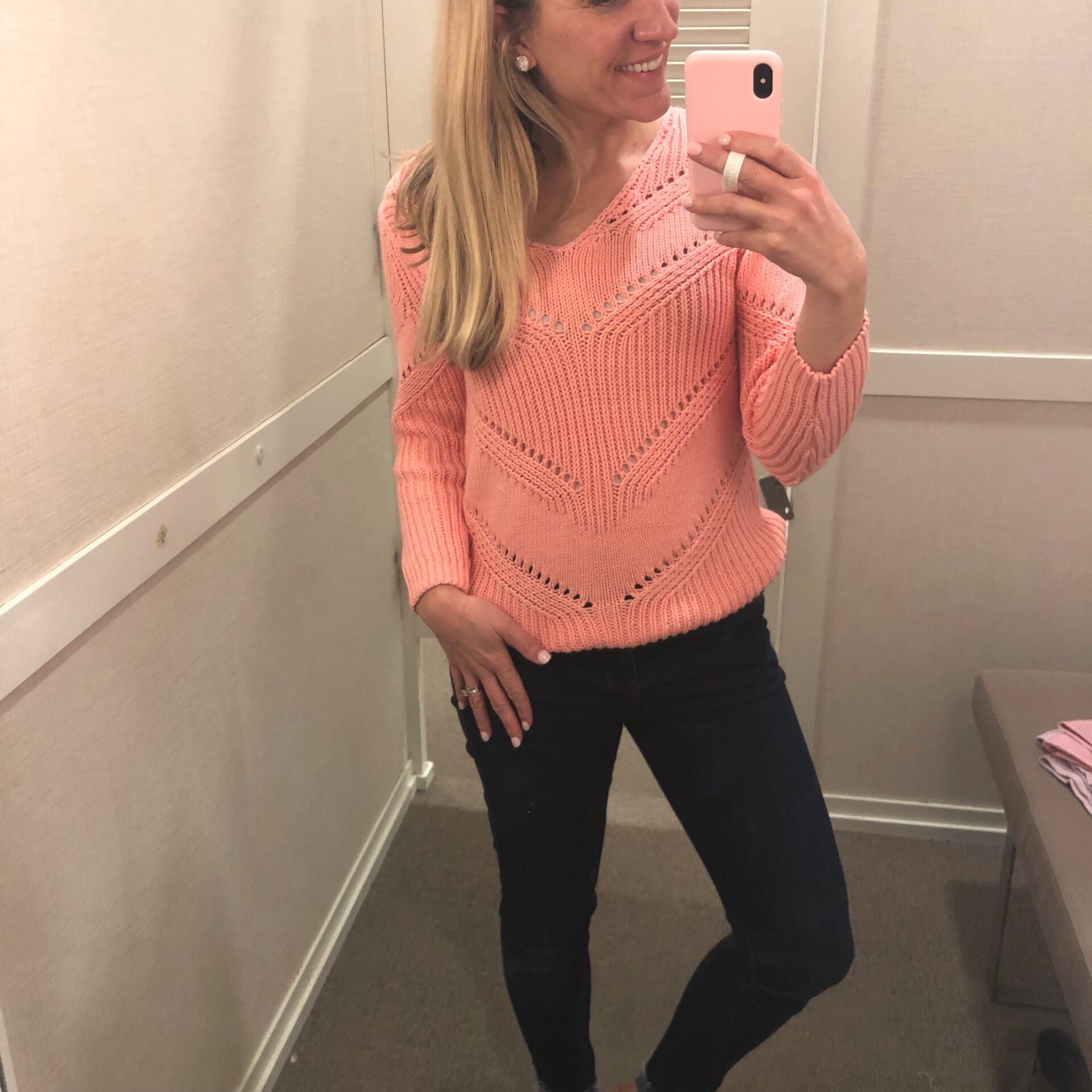 And when it comes to warmer weather they have the cutest tops right now!  So many good ones to pair with shorts or jeans.  Here are three of my favorites…..
Top 1 // Top 2 (similar) // Top 3
That third top is actually the same one I'm wearing in this picture….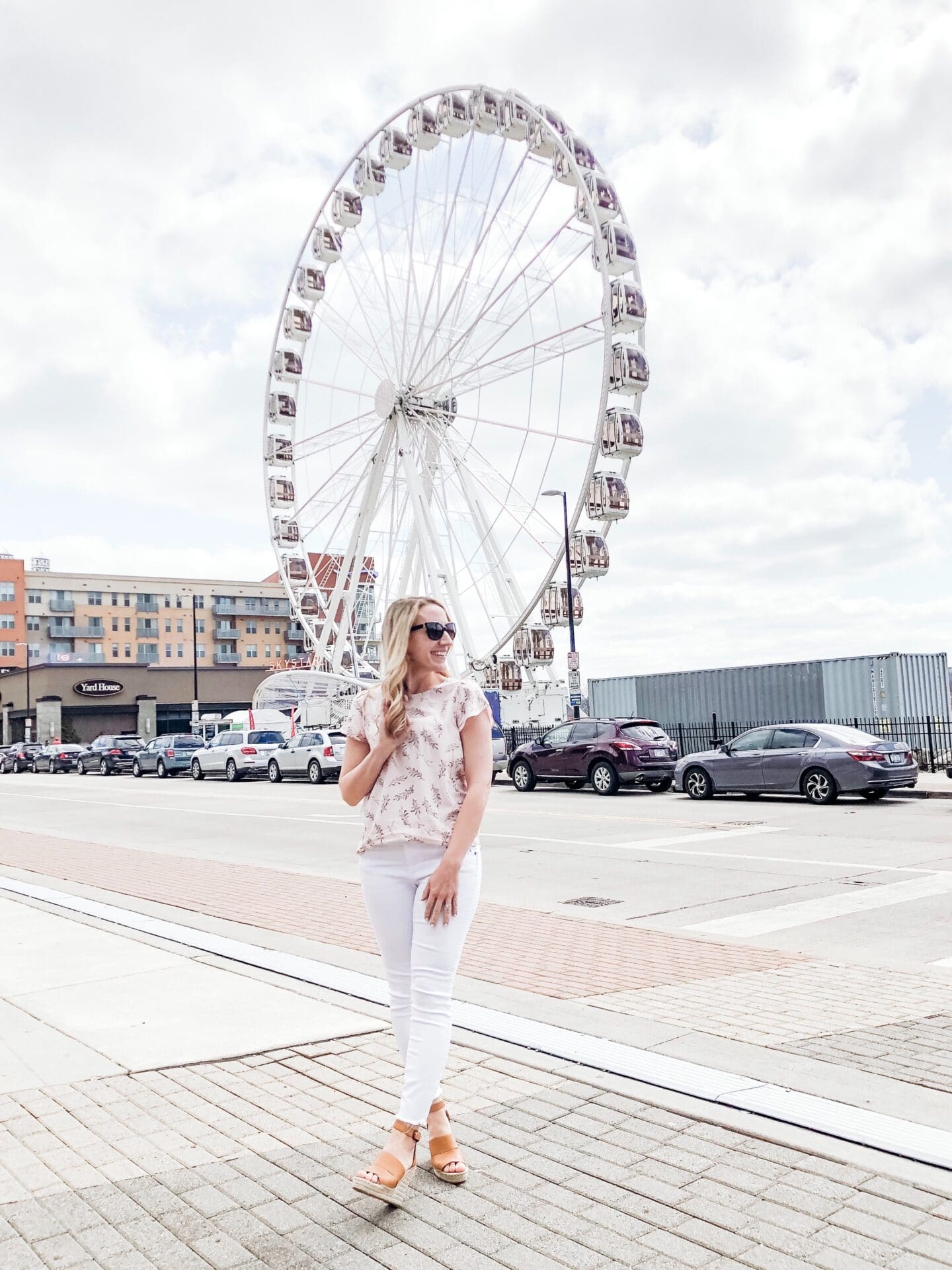 It's so light, airy, and feminine, I just love it!  This was from our blogger event yesterday.  We rode the Sky Star Wheel in the background as part of the collaboration we are working on.  It was a fun time.  I don't know what gave me more height….the wheel or these wedges!
I rarely find a pair of wedges I like but you guys these are the best!  I'll be living in them all summer!
Next up, I found this adorable romper at Loft as well…..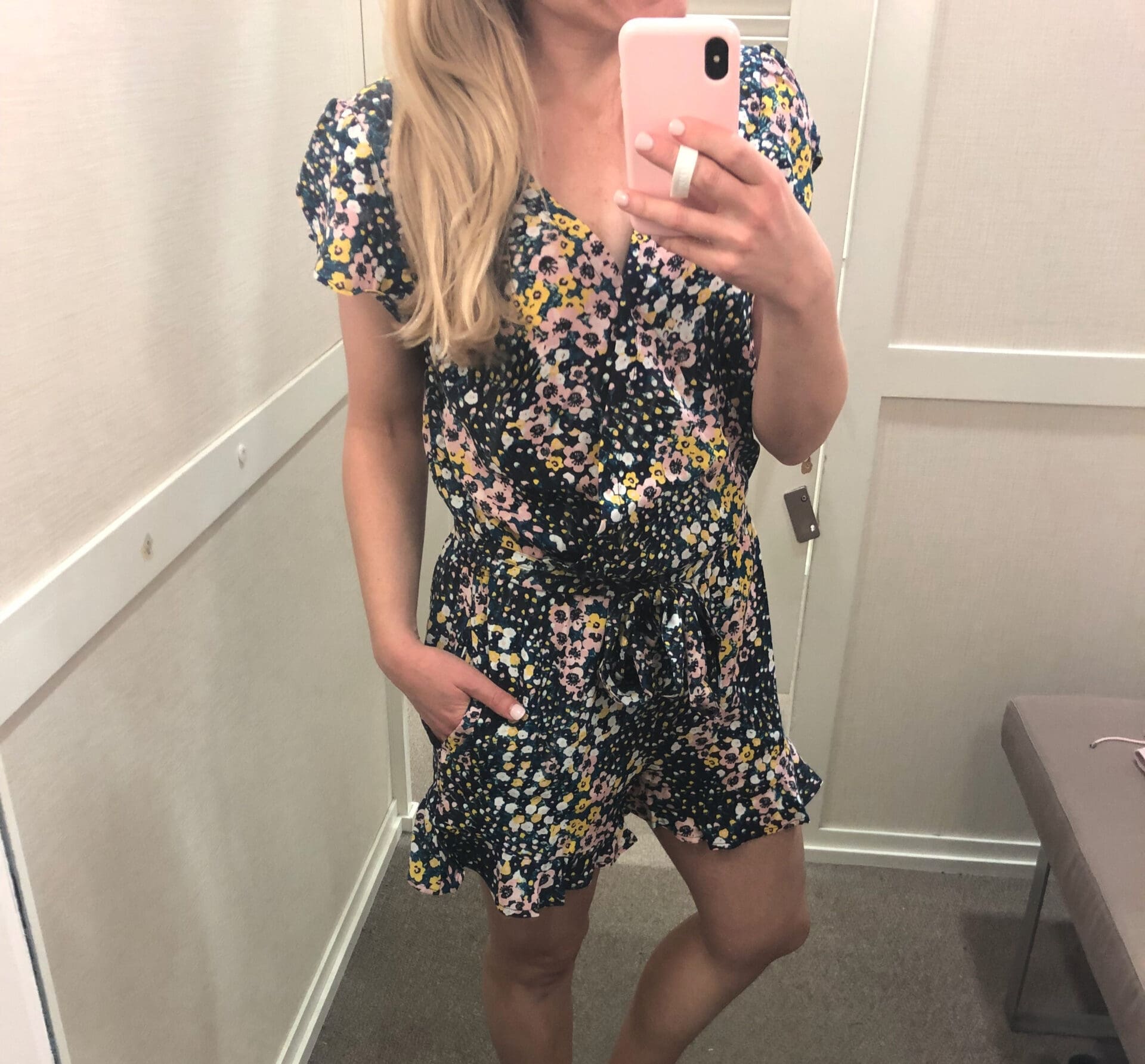 I also found these adorable shorts!  They didn't have my size, otherwise I would have totally snagged them!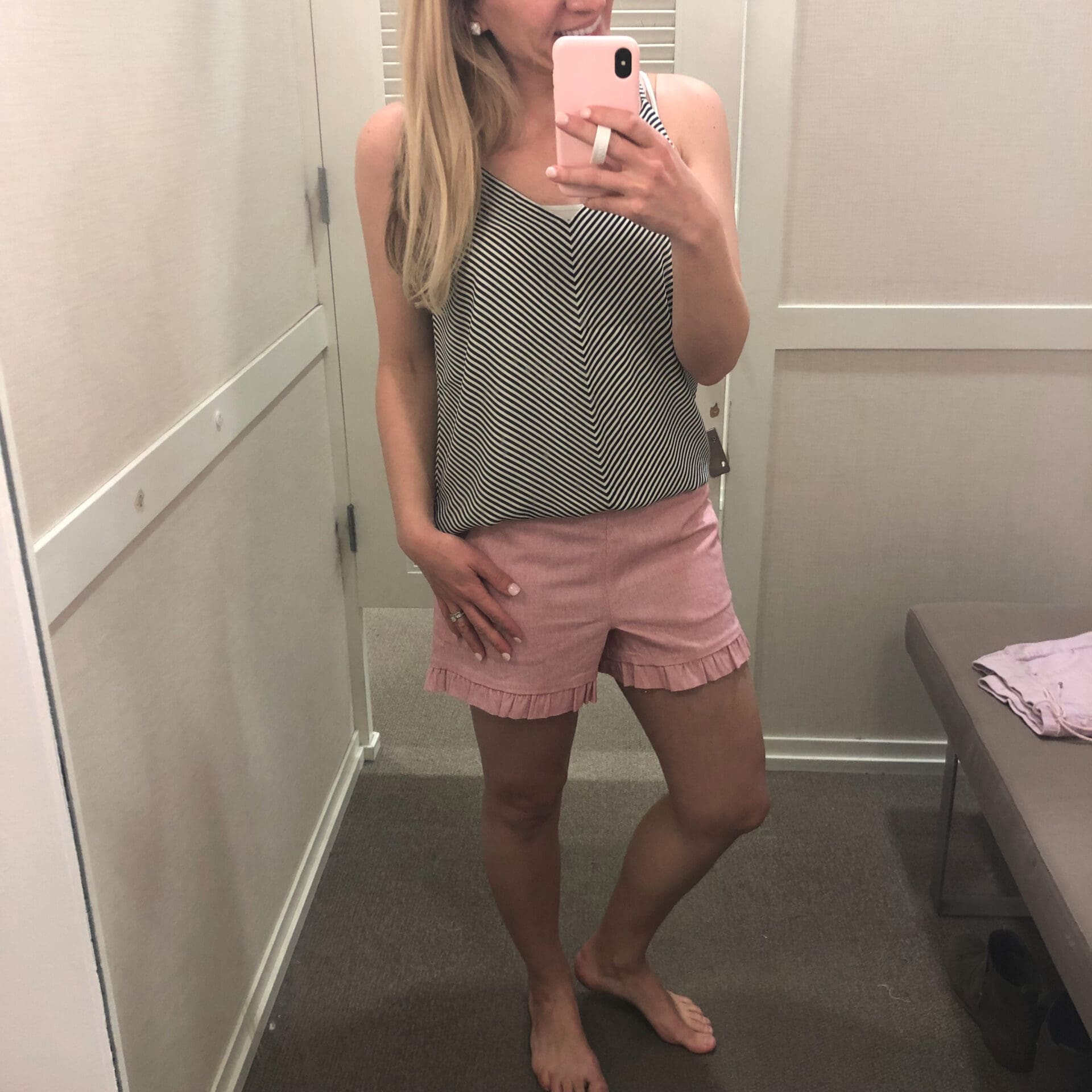 My next find is one Eric totally hates but I love!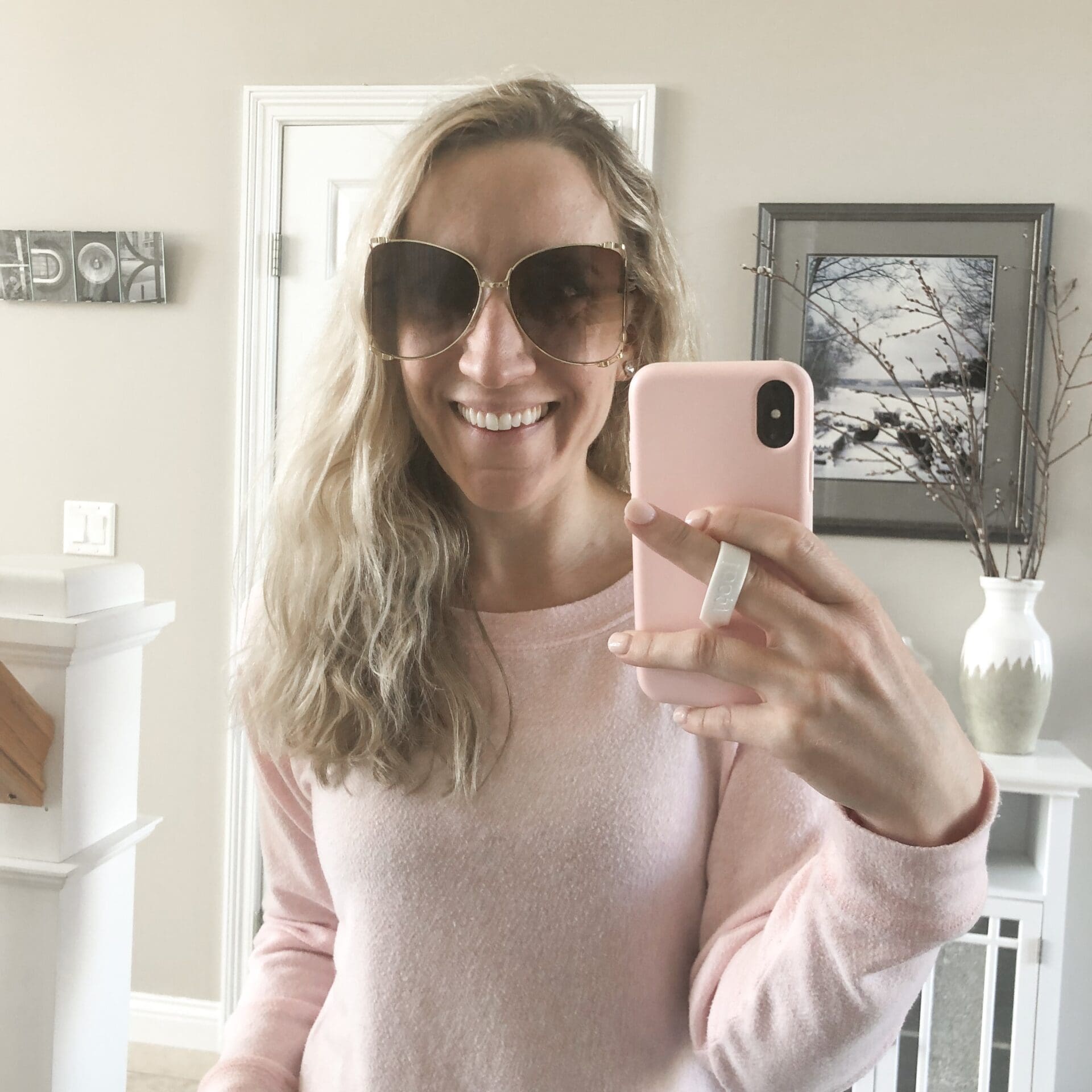 Excuse the terrible lighting but if you love big sunglasses, these are for you!  I just love an oversized pair of sunnies.
And you'll notice in that picture that my hair is curly and not my usual blown out style.  I had some people asking what my hair is like when not styled and this is it friends.  I have naturally wavy/curly hair.  This is how it looks after the shower and air dried with no heat.  It's not my preferred look but it works and since using Monat it has improved a ton.  In the past I would have never left the house with it air dried, but it's healthier now so it behaves better but also, I have this bad boy that helps cut down on the frizz that often comes with air dried hair.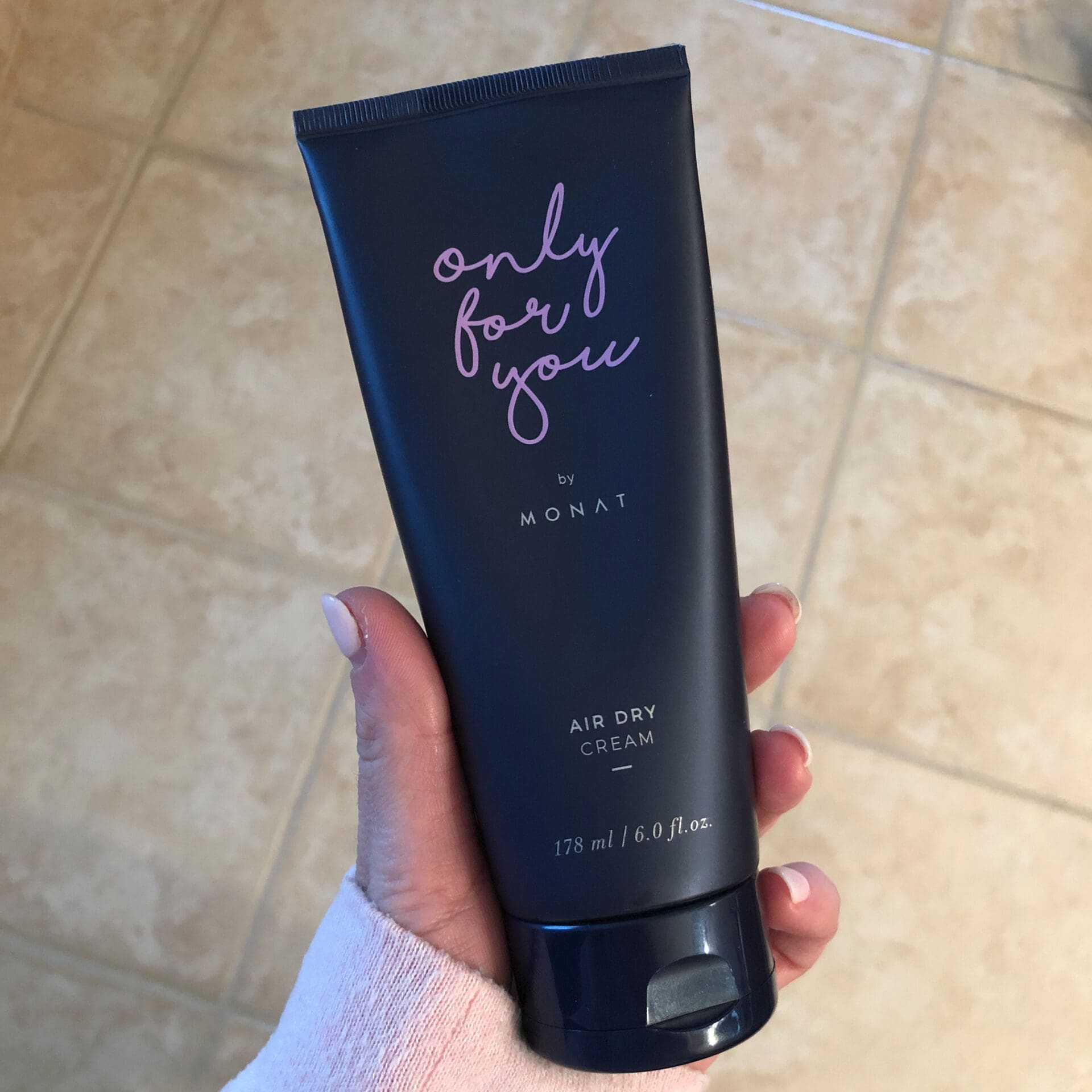 Monat's Air Dry Cream is a game changer you guys!  A dime size amount run through my hair and it's soft and frizz free and I can go about my day.  It allows me to give my hair a heat break without looking awful and saves massive time since I don't have to style.  This will be a go to in the summer for sure!  Shop this and other Monat products here.  If you're curious what could help your hair, take the free hair quiz here.
Alright friends, that does it for this week's must haves.  I won't have a post on Wednesday because we are traveling for my friends wedding but I will be back here Friday with a post pertaining to what I did this weekend with my blogger friends. Have a great week!
Jill
xo, Jill