Happy Monday friends!  Today's post has been a long time coming but I know how much many of us enjoy a good before and after (aka choregasm) so I wanted to share.  Today, we are looking at our master bathroom renovation!
We started this project all the way back in July.  It was basically a full gut job so it took several months to complete, but it turned out exactly like we wanted.  I would have waited a year if that's what it took to get these results. 
For my local readers, we used Neal's Design and Remodel and we can't say enough good things.  They have incredible attention to detail, great communication, and their work is just beautiful!  The entire team is incredibly friendly and trustworthy.  We actually had a some of the work done when we were out of town and completely trusted them and had no issues.  Best of all they are in the business of making sure the customer is happy and that our vision comes to life, and boy did it ever!  
Also, this post is in no way sponsored.  I just appreciate a job well done and will always give credit where credit is due.  But now onto the fun part….the pictures!  Here's a look at our master bathroom renovation.
The Before
There was nothing technically wrong with the "before" bathroom.  It's a good size and was fully functional, but given that it was 16 years old, it was a little outdated.  Not to mention the shower had terrible mold and was definitely gross.  There was also a Jacuzzi tub that never got used.  It was large and had jets that always spit out black dirt when we did use it and it was a pain to clean.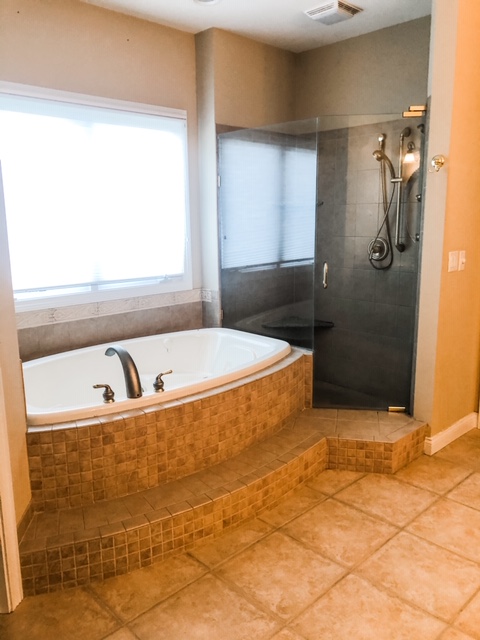 The shower was also a little tight and dark and again….the mold!  Here are some other before pictures.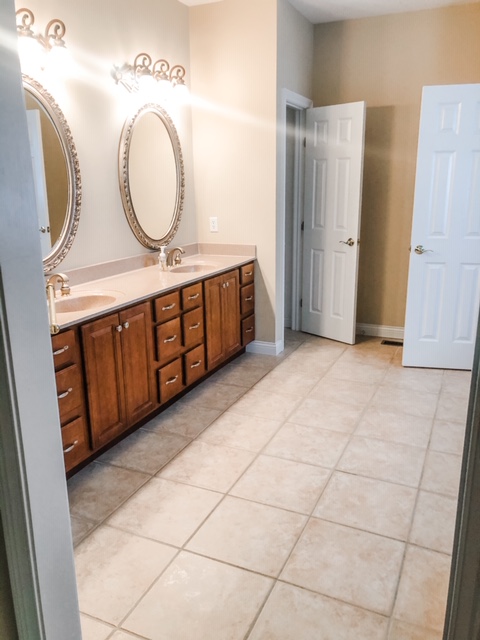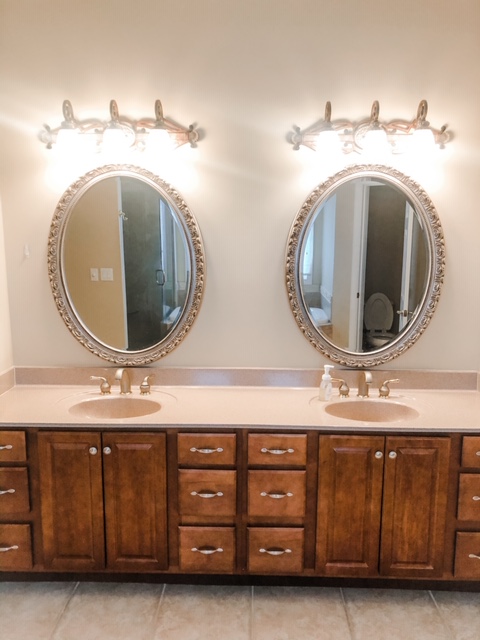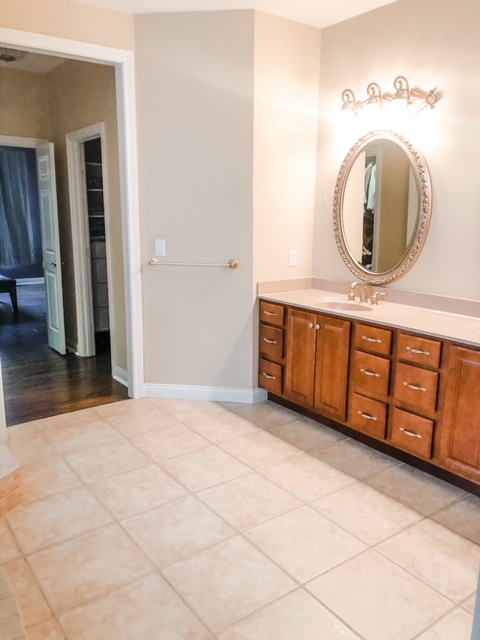 One thing we knew we wanted to keep were the double vanities, but we wanted storage on each side of the sinks versus the one giant closet on the right like in the top above picture.  We also wanted something better to store laundry.
The Process
When we first met with Neal's to start the master bathroom renovation we gave some ideas of what we were looking for and then they also made suggestions based on their expertise.  They then drafted three different renderings for use to choose from based on different price points and our budget.
We explored an option with a different layout and an option with a really big shower, but in the end we decided that we liked the current layout and just wanted some updates and to make it our own.  So, they got to work!
Everything came out, right down to the floors!  We expanded the shower a little bit to give that corner area more space.  We debated getting rid of the tub and doing one large shower, but I liked the idea of having a tub and we don't really care to have a huge, fancy shower.
Here it is, starting to come together.
The number one rule we had with this master bathroom renovation was that we wanted something pretty timeless.  We play it safe with renovations versus going with big trends because we don't want to have to do it all again in a couple of years.  So for all the major things that are not easily changed, we went with classic materials like subway tile, white cabinets, white quartz countertops, etc. 
For the pieces that are easily changed, we went a little more fun and trendy.  For starters, the pink wallpaper!  I absolutely love the pink wallpaper (and Eric is a great sport for agreeing to it haha).  I also really love the pink and gold combo. For any hardware that's easily changeable we went with gold.  For the plumbing we stuck with chrome so we don't have to change that out once gold is no longer the trend.  Chrome seemed like a safe, classic bet.
We originally had the chandelier as gold and the sconces and mirror as gold but we ran into a hiccup….
They were two completely different golds.  This can happen when ordering from two different manufacturers.  Since the gold in the wall paper was more of a rose gold and the mirrors and sconces were also a rose gold we stuck with those and did away with the chandelier and opted for the chrome version instead.  I'm actually really happy it worked out how it did.  Now, the vanity is sort of the focal point.  The hardware on the cabinets is crystal knobs which plays on the crystals on the chandelier.  The other hardware is rose gold. They totally nailed it.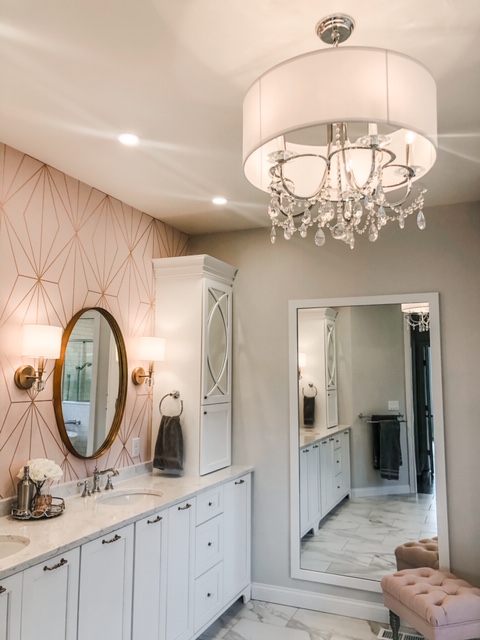 The After
Now to the fun part….the after photos!  I'll show side by sides so you can see the change and appreciate the choregasms :).  The 3 main things I wanted were:
Pink wallpaper
A giant full length mirror
White and bright aesthetic
Check. Check. Check!  Neal's delivered on it all including one unique touch I wanted (keep scrolling to see that).
The chandelier adds so much light which this bathroom definitely needed.  It was pretty dark otherwise.  The mirror and white, brightness makes it feel bigger now too.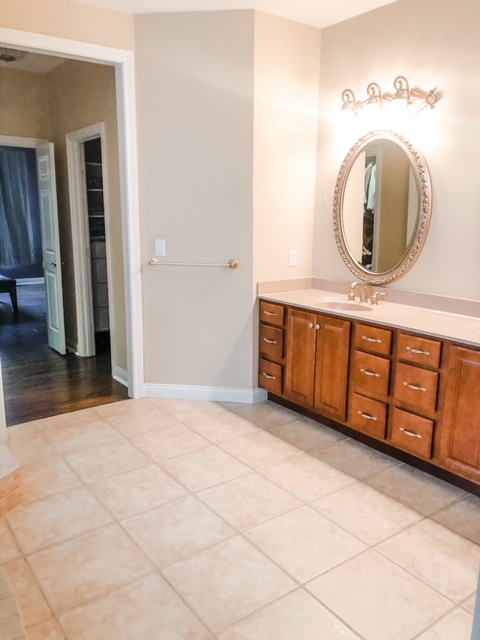 Here you'll notice we put in a double towel bar, and put a linen tower on each side of the sinks so Eric and I could each have our own storage space.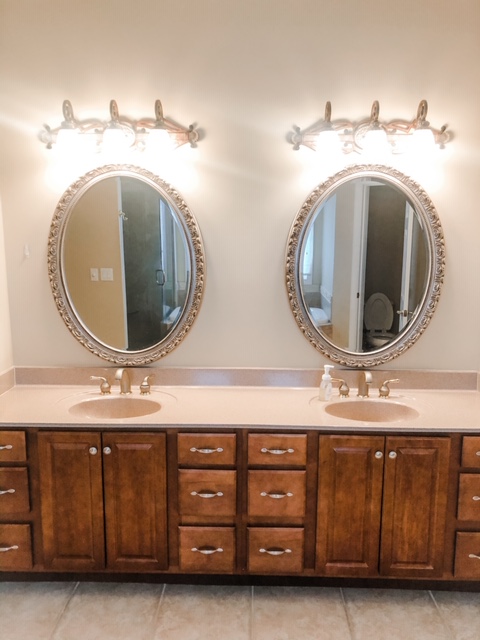 This setup looks similar to the former.  We rearranged cabinets slight, and put the lights next to the mirrors instead of overhead.  And of course, the wallpaper :).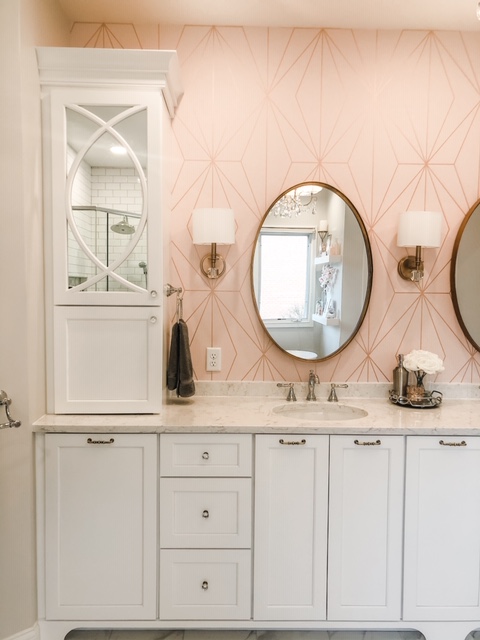 We decided to go with mirrors in the cabinets instead of glass so you couldn't see the contents.  Another big thing I wanted was an outlet on the inside of the bottom of each tower so we could hide toothbrushes and such and not have them on the counters.  The cabinet to the far left bottom is actually a hamper and there's one all the way to the right too (not pictured).
The other request I had was for a giant mirror.  I figured that wall needed something, and the mirror worked out perfectly.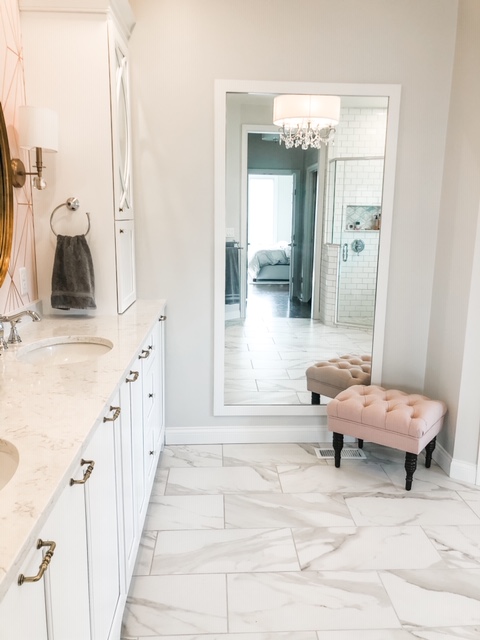 Now, let's looks at the shower / tub area!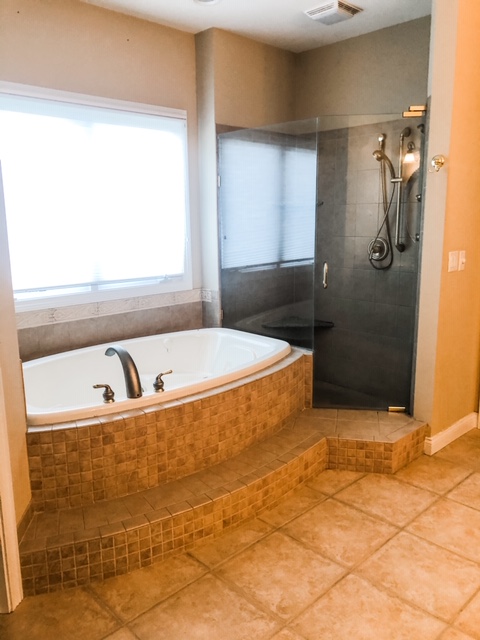 As you can see we cut down some of the wall and put in glass. We were able to expand the shower slightly but it really isn't that much bigger.  It definitely seems like it is though, simply by putting in the glass and going with the white subway tile.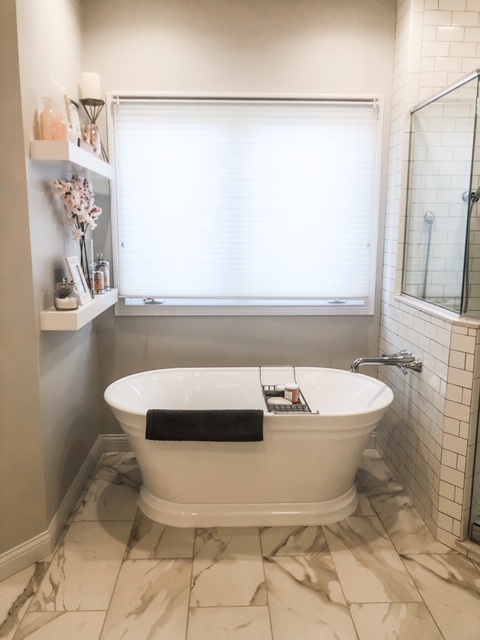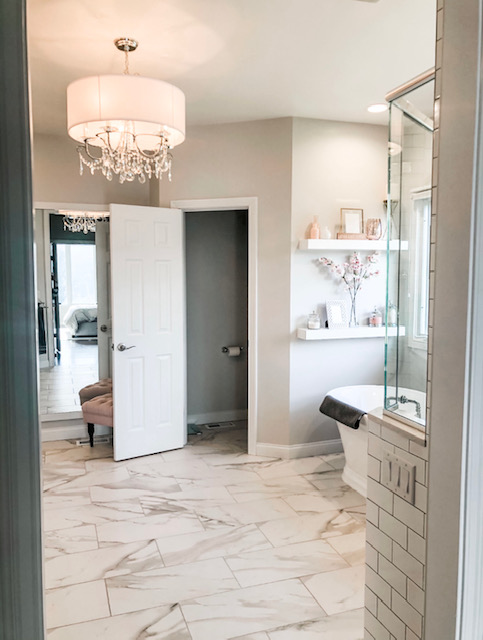 There are the shelves we added just to give that wall some decoration.  When it comes to the tub we went with a basic free standing option.  Nothing too fancy.  I just wanted to be able to soak in it and not have it be a huge pain to clean.
Finishing Touches
Remember that one unique thing I mentioned that I wanted?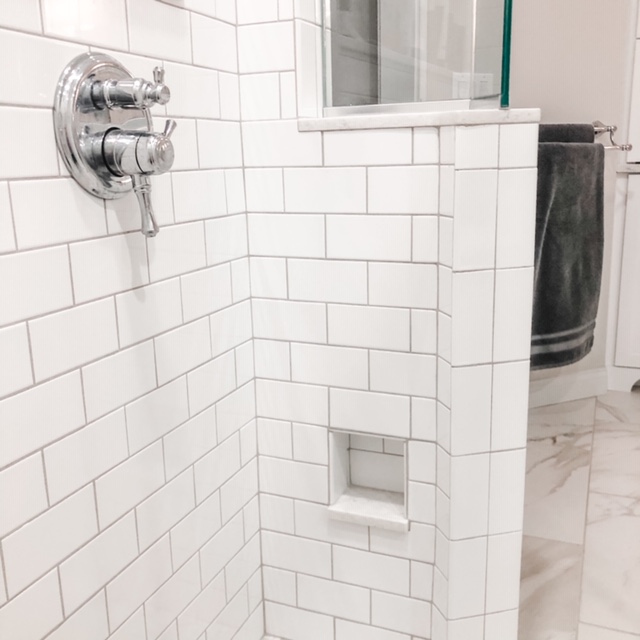 A shaving niche!  Our last shower had a corner shelf you could rest your foot on but it had the worst mold under it.  I knew I did not want that again.  This little cut out is perfect for resting my foot!
The last thing I knew I wanted was a drawer for my hair tools. 
This one works perfectly to store my hairdryer, flatiron and curling iron, even if they are hot.  I love that it has storage underneath too.
And that's it! It turned out better than we even imagined and we absolutely love it.  I will say, design is not my forte.  I credit this to Pinterest for giving me a starting point and a vision, and Neal's for putting it all together. 
Speaking of Pinterest, if you liked this master bathroom renovation post be sure to pin it!  Next up, we are finalizing the master bedroom (just decor stuff in there) and then I'll share that.  Have a great start to the week!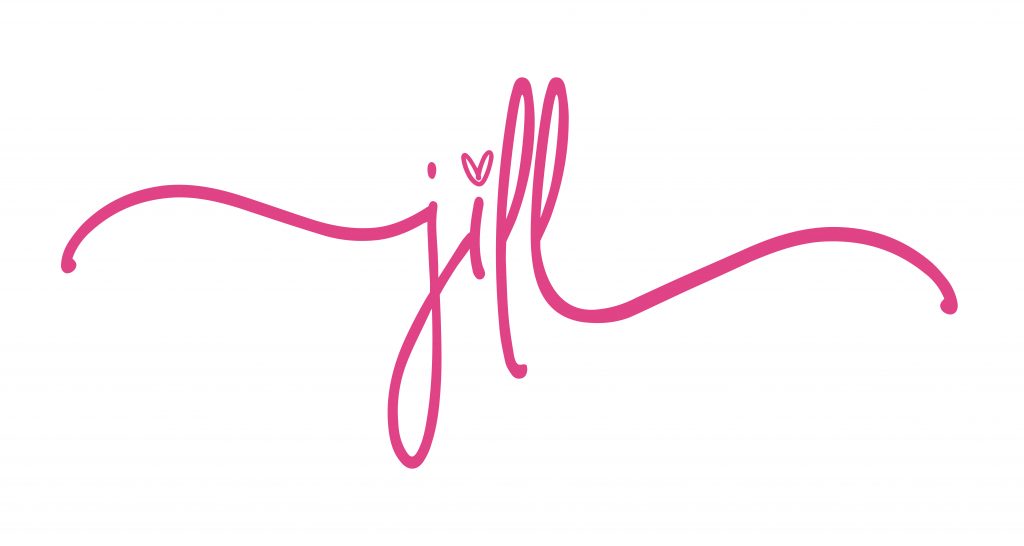 xo, Jill