This post may contain affiliate links, which means I receive a commission if you choose to purchase through links I provide (at no extra cost to you) and as an Amazon Associate I earn from qualifying purchases. Shopping through these links is one small way of supporting my blog, so thank you!
Discover two easy and eco-friendly methods for cleaning your kitchen cabinets without harsh chemicals. Say goodbye to complicated chores and hello to sparkling cabinets with my 3 Cloth System and Spray Bottle System. Learn how to maintain a spotless kitchen effortlessly!
Cabinet cleaning can be such a housecleaning chore, but doesn't have to be complicated! This is a pretty easy housecleaning chore and only needs done a couple times a year or spot cleaned as you see messes. There are some areas of cleaning where you need strong cleaners, but this isn't one of them. Some good old soap and water should get it done.
I have two cabinet cleaning systems that I love and am going to share both of them with you! The first is the 3 Cloth System and the second is the Spray Bottle System. Get ready to wash your kitchen cabinets with ease without any harsh chemicals!
The 3 Cloth System for Cleaning Cabinets

This 3 cloth system works great for cleaning your kitchen cabinets (and can be used for doors too)!
The 3 Cloth System is the absolute easiest way to clean your cabinets. First, fill two containers: one with soap and water, the other with just water. Second, get three cloths – one soapy, one just water, and one dry. Then clean… rinse… dry… and repeat with each cabinet! So simple!
The Spray Bottle System for Cleaning Cabinets

This Spray Bottle System is great if you prefer to not get your cabinets too wet or you don't want to change out dirty water. This system even works for wooden cabinets, too. Just don't get the wooden cabinets too wet and follow with a dry cloth if they do.
The recipe is really simple – just mix 1 cup hot water + 1/4 cup of dish soap into a spray bottle. Any dish soap will do, but I most often reach for blue Dawn or Sal Suds, because they are great at cutting through grease and oils. I always recommend keeping one to two glass spray bottles around for chores like this so you can make up solutions when you need it.
Life hack to check for greasy spots: shine a light on the cabinets and they should show up better.
Then go around spraying and wiping with a cloth. I prefer to use microfiber.
My system is to spray and wipe and then have a damp microfiber cloth to follow as a rinse to get off any soap that was left behind. Don't forget to open and wipe the inside of the doors and the edges too.
For any stains that don't come off with soap and water, make a baking soda paste with baking soda and dish soap or water and rub that on and follow with a damp cloth to wipe off. For the baking soda paste, just mix baking soda and dish soap until it's an icing consistency.
The Best Kitchen Cabinet Cleaning Supplies
That's it – that's how cabinets come clean!
Pin for Later!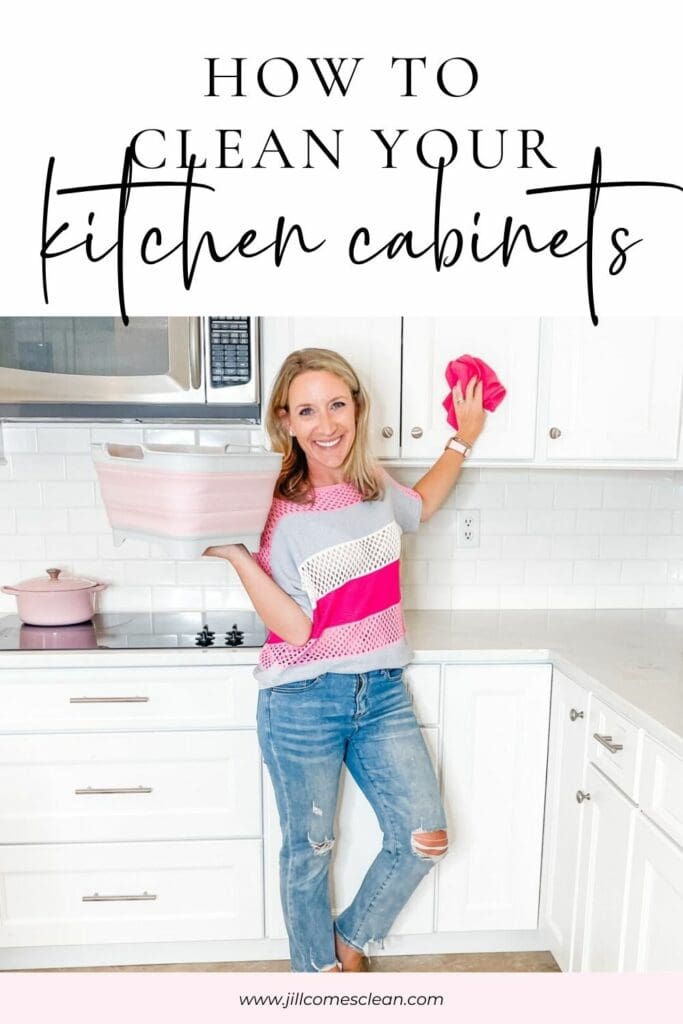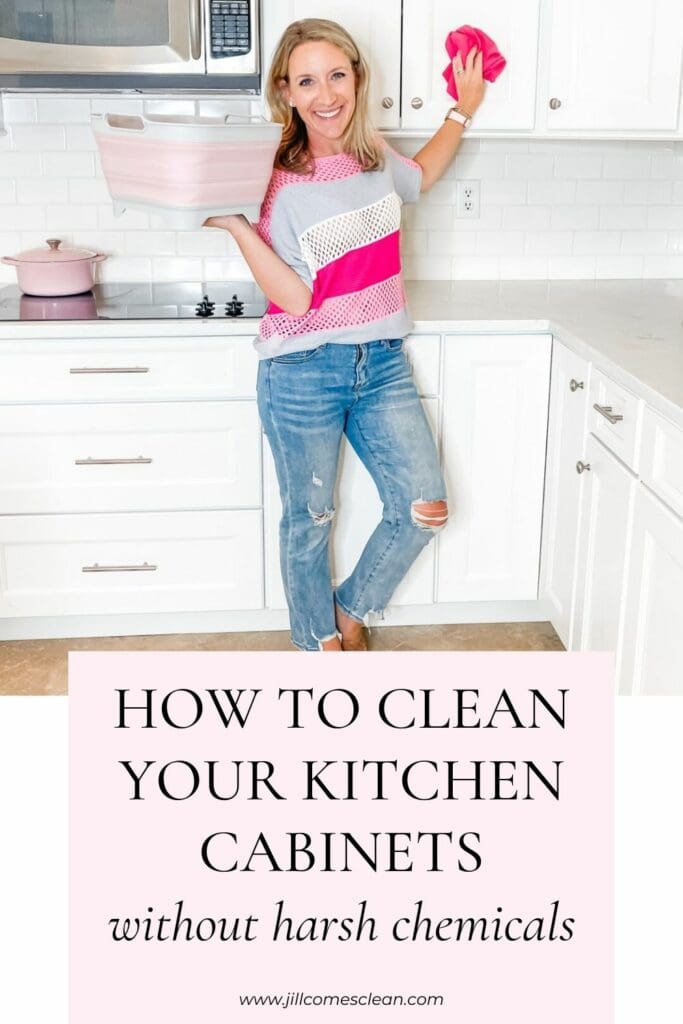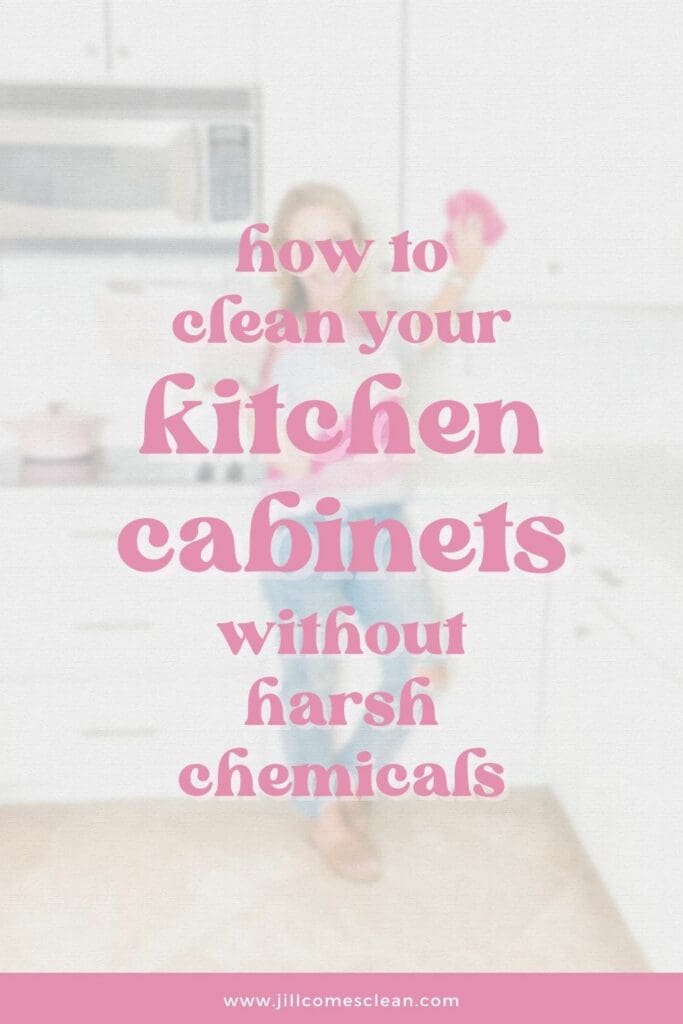 xo, Jill