Happy Friday friends!  We made it to the end of another week and I thought what better way to slide into the weekend than with a look at one of the hottest trends out there right now, and the many ways you can incorporate it into your wardrobe….snakeskin.Lots of people tell me they have a hard time with trends that are such distinct patterns like this one, and sometimes it can be tricky to work it in or to know what to pair it with, so I'm rounding up some snakeskin finds that make it easy to incorporate it into any wardrobe, so even if you aren't super fashion forward you can still work this hot trend.  The good thing….regular snakeskin (like that looks like a snake and doesn't have color in it) is considered a neutral color which means….it goes with everything just like how you'd wear a neutral color!  So have fun with it.  It's sure to add pizazz to any outfit.  The more vibrant colors are sometimes harder to pair but they are super fun so my advice there is to make that the star of your outfit and tone down everything else.  So let's get to it!
The links to shop each corresponding number can be found under the picture.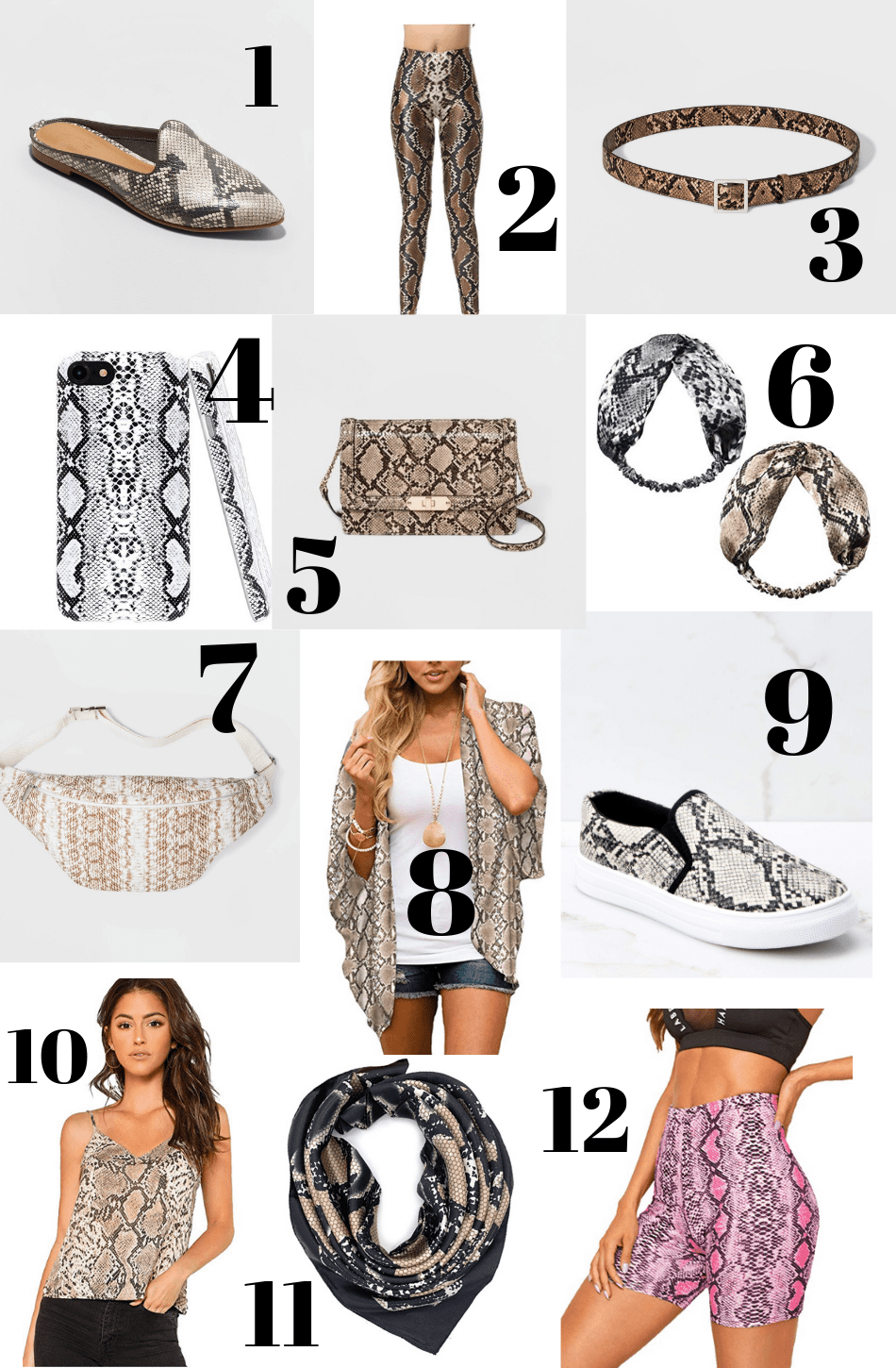 #1. Target Mules
#2. Leggings
#3. Belt
#4. Phone case
#5. Clutch
#6. Headbands
#7. Fanny Pack
#8. Kimono
#9.  Sneaker
#10. Cami
#11. Scarf
#12. Biker Shorts
Alright friends, that does it for today.  I hope you found some good snakeskin finds. Now go rock that trend!
Also, I'm starting a new thing on some of my blogs each week to start connecting with other bloggers.  Below, you'll see a link up option where, if you are a fellow blogger you can post a link to a recent blog post of yours below.  I've done this with some other bloggers and I love the community and engagement it creates.  So feel free to post and let's get to know one another and our blogging spaces together!
Have a great weekend!  See you back here Monday for the return of Monday Must Haves!
You are invited to the Inlinkz link party!
Jill
xo, Jill