Happy Friday friends!  We made it through another week.  Kids around here are starting to go back to school and I can't believe summer is almost over!  My dad told me yesterday that he heard someone say recently that August is the Sunday of summer, and isn't that so so true?
With that being said, Leyton and I went into J.Crew Factory yesterday (our my favorite place) fully expecting Fall clothes to be out (because we know stores are always so early on these things) but actually they are still transitioning out of summer clothes and having some great back to school deals.  So, I decided it was the perfect time to revisit this segment, Friday Finds at…..J. Crew Factory.
I actually found a good mix of some end of summer items but also some pieces that can be used come fall.  So let's looks at the finds!First up, keeping with summer let me just say that right now all of their shorts are 60% off online.  That makes their Chino's (which are my favorite) under $20!  Without a doubt, anytime I need a pair of shorts, J.Crew Factory is where I go.  Here's a pair I snatched up yesterday because the Chambray color and price were just right, and I foresee lots of wear out of them in the next month.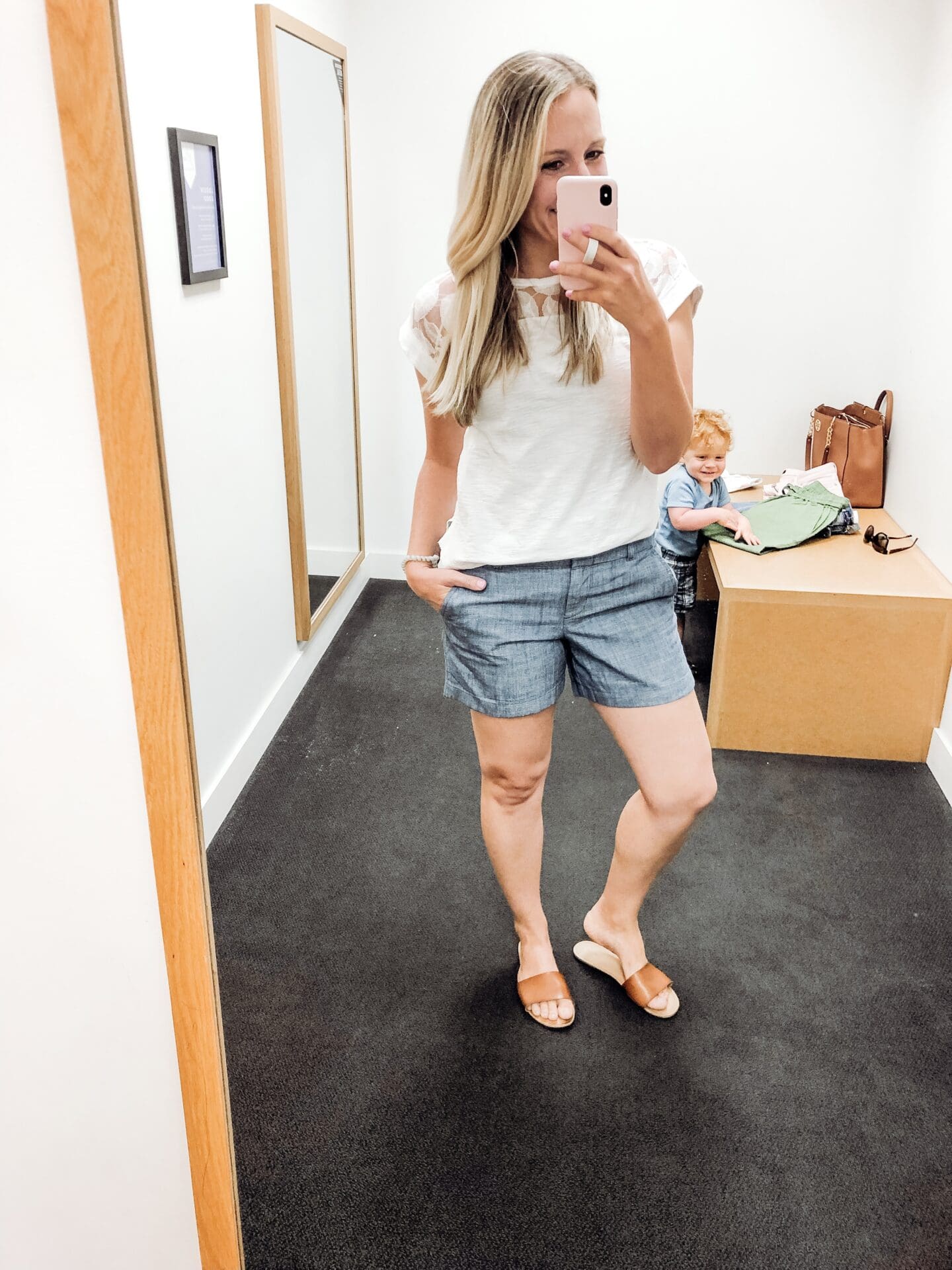 You can shop all the women's shorts here.  Shop men here.  And shop kids here. By the way, can we just take a moment to appreciate Leyton's face in the background.  I can't with this kid.  He's too cute!  Okay, moving on.  While we are on the topic of summer, I loved this baby pink tank.
Unfortunately, I can't find it online to link but it should still be in store.  And while we are looking at this picture, we NEED to talk about these jeans!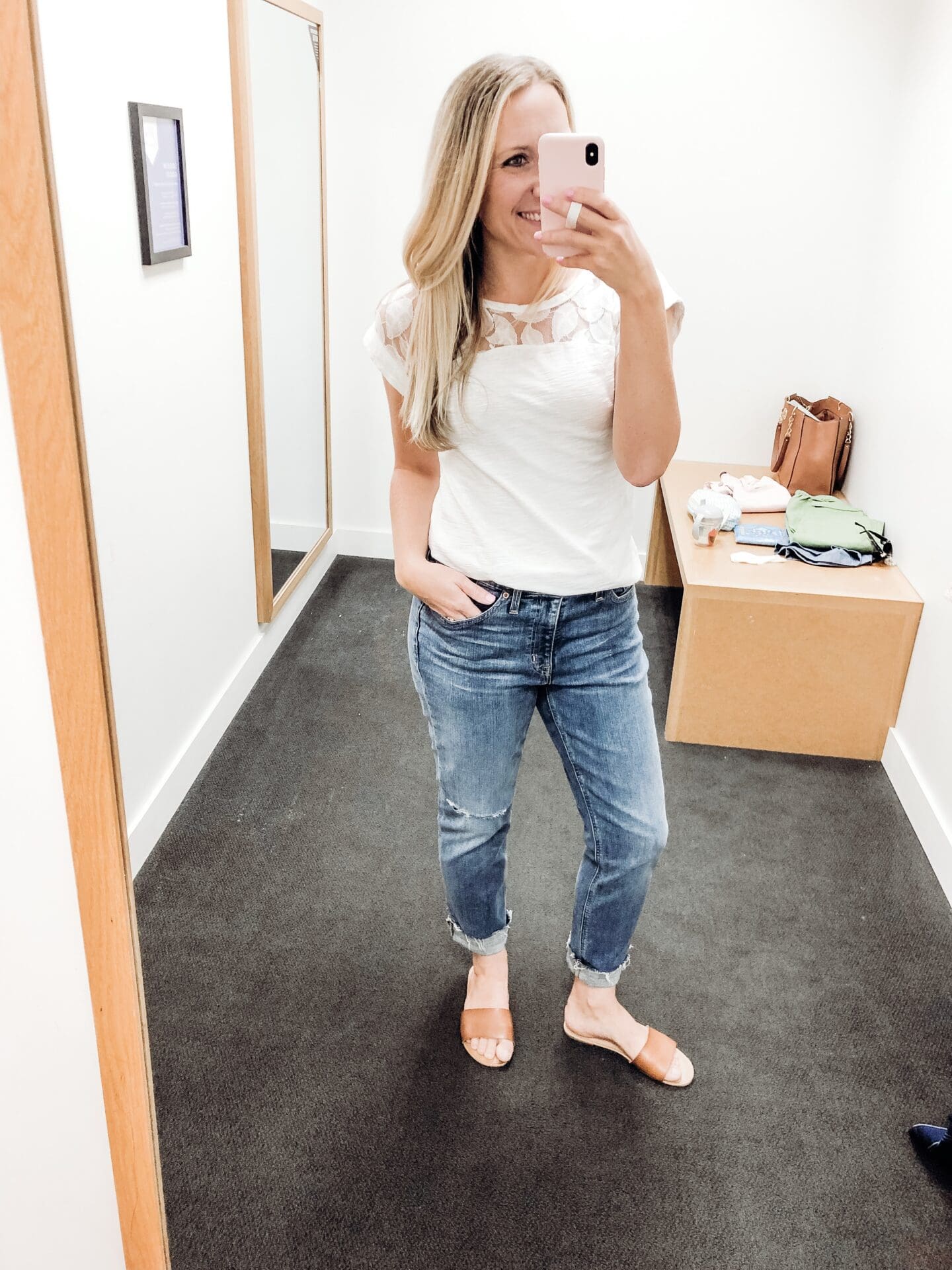 I love me a good pair of boyfriend jeans.  Especially when I'm feeling like all my jeans are too tight.  The boyfriend fit always gives me a false sense of…girl, you don't need to eat better and workout more to fit into those skinny jeans!  Not to mention in the summer heat, tight jeans are no fun.  I much prefer a loose fit and these are a total winner and under $50!
I will be wearing those jeans all fall long, and speaking of fall, how amazing are these olive green pants?
I didn't end up getting these but I'm thinking I may need to go back for them because I can't stop thinking about them (and that's always my tell tale sign that I really want something).  They are so comfortable, come in 6 colors and are under $36.
Also, how great is this jumper that would be great for rounding out summer, or paired with a cardigan or sweater to be rocked in the fall?  You could even wear a short sleeve top or sweater under it too for a cute look.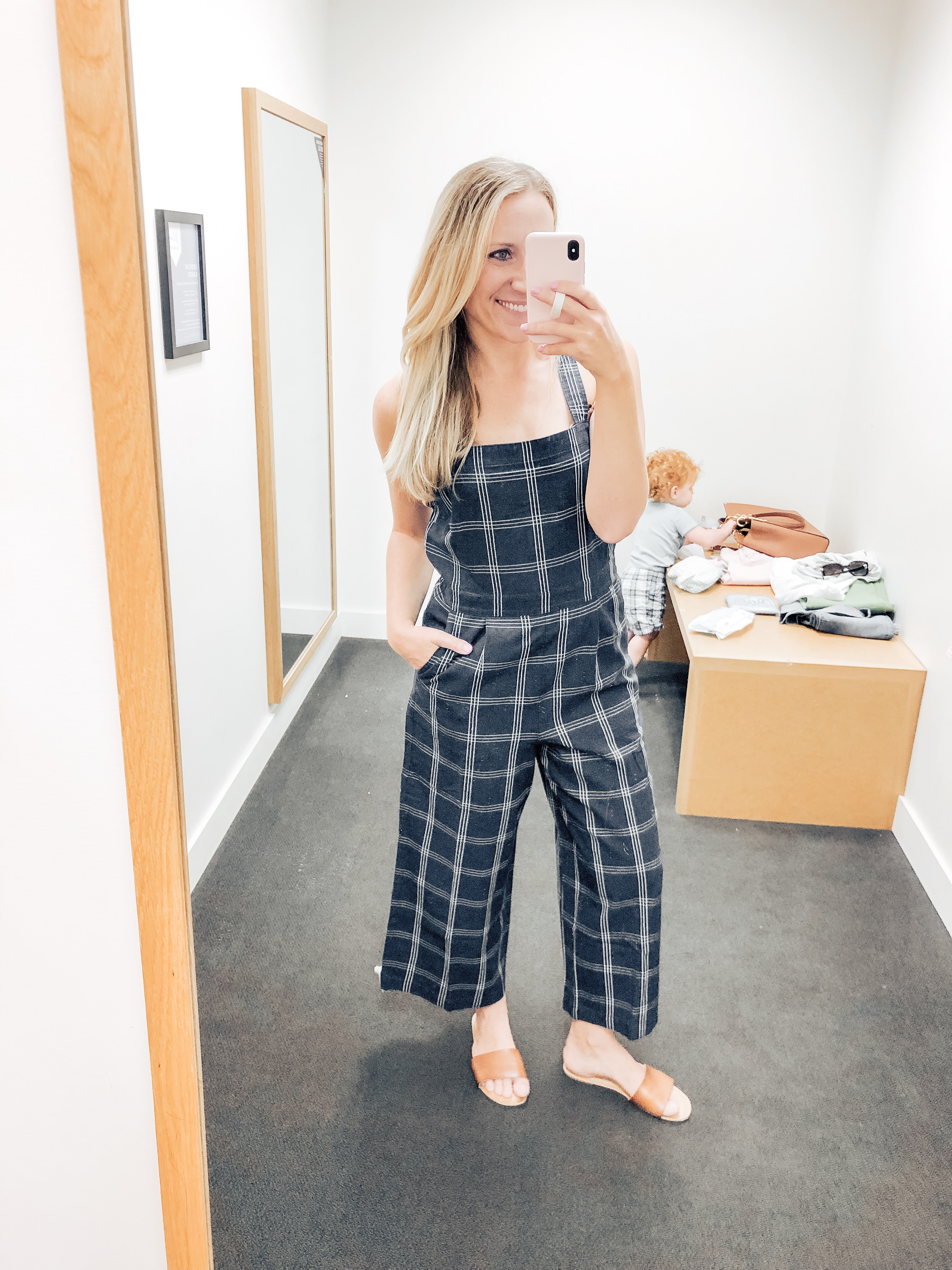 Next, I'm loving these flats….leopard is so in right now, and these would be great for fall.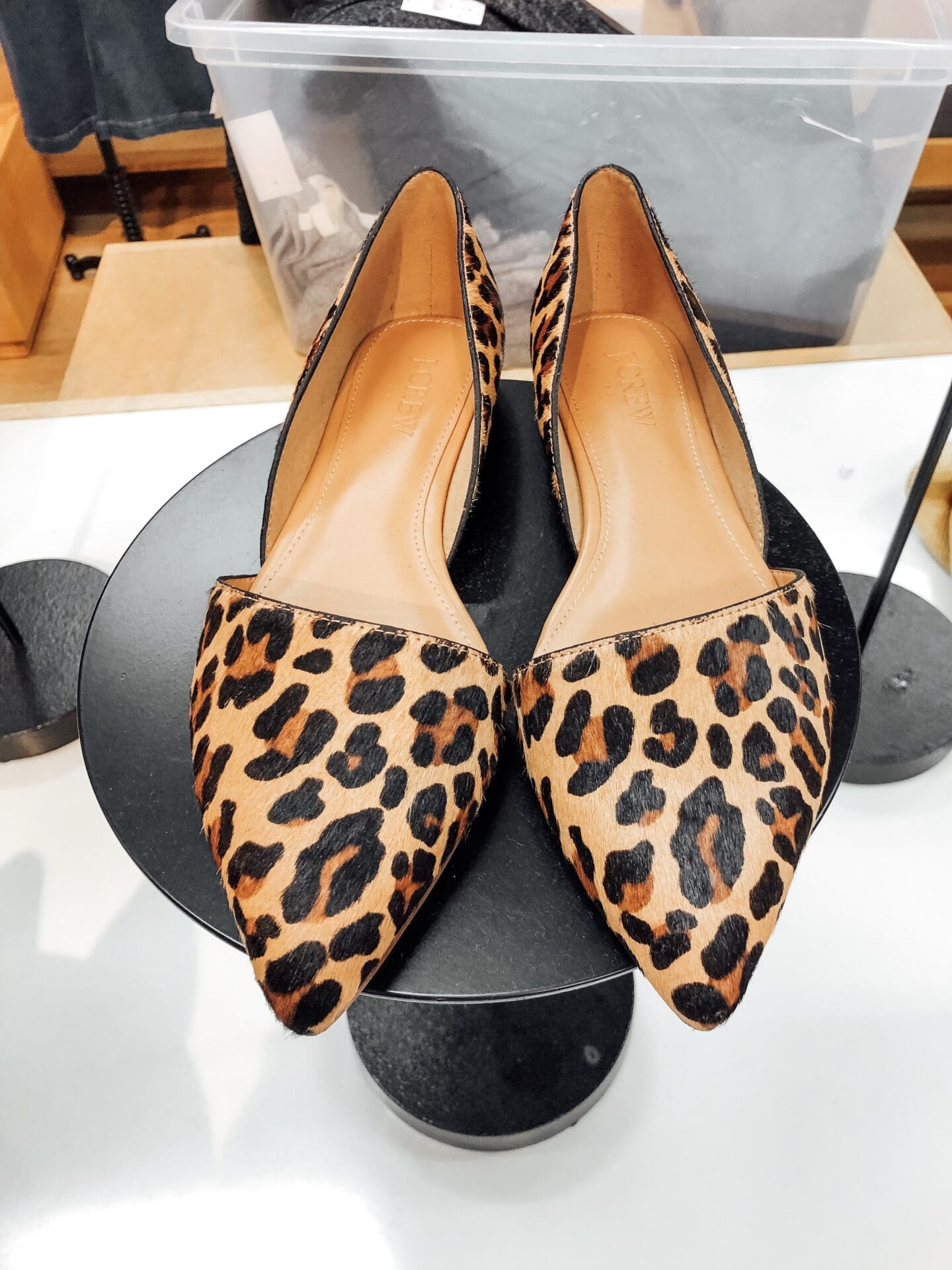 These also come in a pebble pattern.  Shop all their leopard prints here.
And with cold weather right around the corner….I could live in these joggers….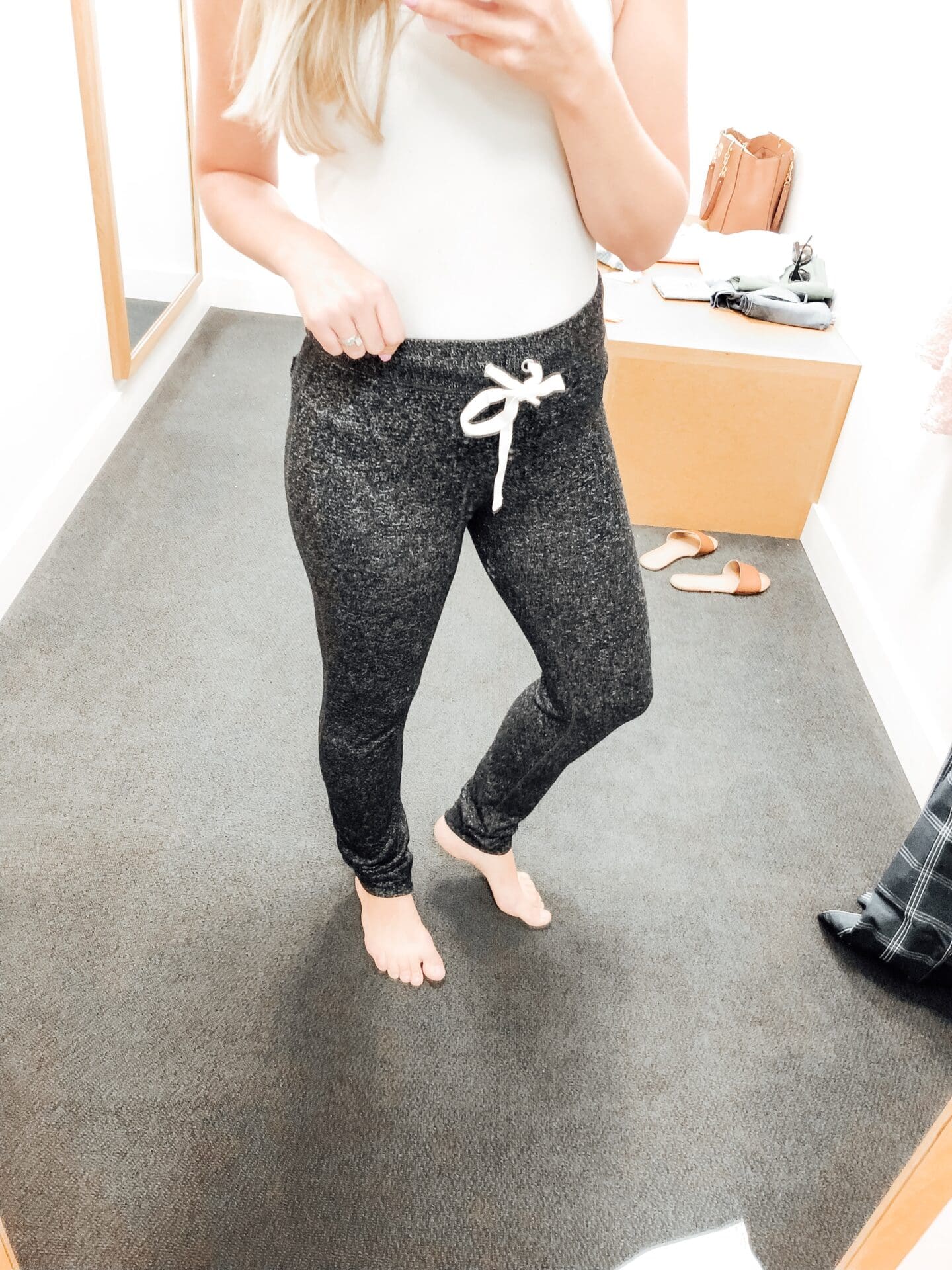 The joggers come in 3 colors and are under $25.  Rounding out the finds, here are some cute accessories for summer or fall, including this bag that is a cheaper, just as cute version of a Madewell tote.  It also comes in black.
Tote // Leopard Bag // Necklaces
Alright friends, that does it for today.  Hopefully you found some good finds if you were in search of any.  Have a great weekend and I'll see you back here Monday!
Jill
xo, Jill