Happy Thursday friends! I'm writing this with windows open, the sun shining and hints of spring finally peaking out as I type from my couch. It's springtime and I love it all, especially all the smells of fresh cut grass and flowers. Ohhh the flowers! I love the look of them but truth be told there is nothing I destroy faster. I was always hesitant to use fake plants though because they seemed to look fake and tacky. But wow, have fake flowers evolved so much over the years! It's actually pretty hard to tell the real from the faux these days, making them a great substitute to have in your home, if you are a plant killer like me. The key to having fake plants in your home though is too keep them looking fresh. Fake plants look real until they are covered in dust, am I right? So today, we are looking at how to clean fake flowers so they always look real.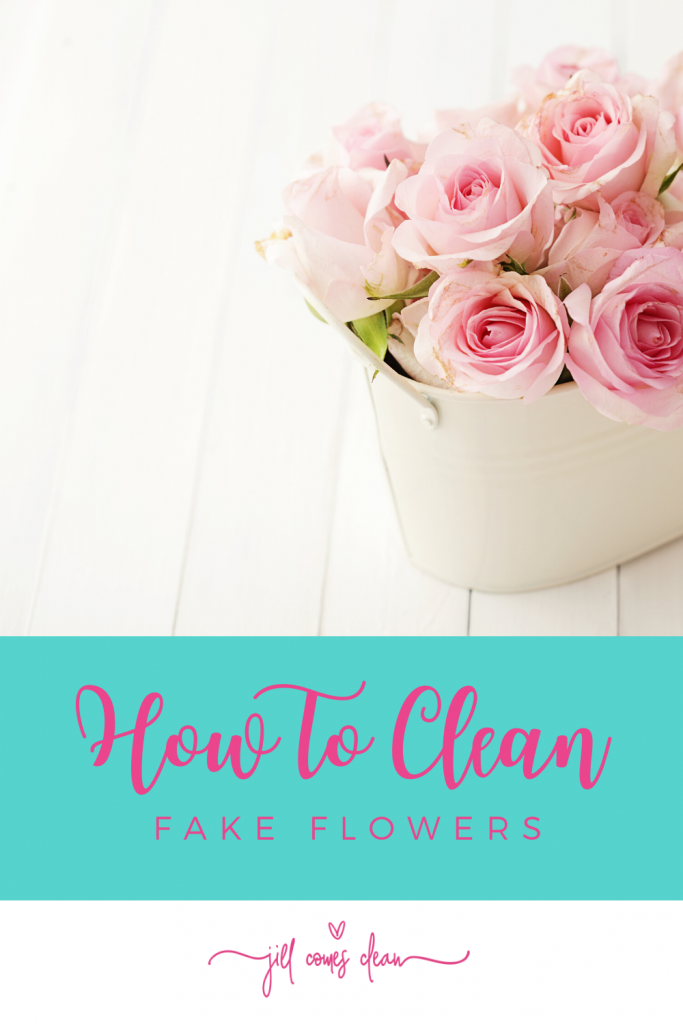 Note: I do use some affiliate links within this post. This means that I make a small commission when you shop through them.
I should start by saying that the majority of these tips I alreayd knew, but I did get some other good ones from Housewife How-Tos. There are sprays out there that you can buy but, I caution using them because they are likely filled with toxic chemicals. Not to mention, you really don't need them. These tips are cheap and easy and 100% non toxic. There are really a few different ways to go about this depending on what type of fake flowers or plants you have, but here are my top 5 tips for how to clean fake flowers.
1. DUST THEM
This is the most obvious and the easiest, but this only really works if they are slightly dusty. If you've let the dust build up and there's any gunk and grime on them, then one of the other methods is probably best. But, if you keep up with it and dust them as part of your weekly cleaning routine then this will be plenty. To dust my plants I like to use an electrostatic duster like a swiffer (unscented) or this popular one from Amazon is also a good option.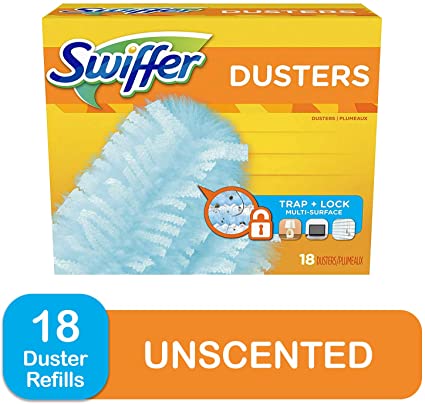 2. USE SEA SALT
I know this sounds strange but one of the best tips for how to clean fake flowers is sea salt!  Now, this really only works for loose flowers.  If they are in a pot or a pre-made arrangement then one of the other options is probably best.  But, for loose flowers simply stick them in a pillowcase or bag with a 1/2 cup to 1 cup of sea salt and gently shake around. 
The sea salt knocks the dust off.  Once finished take the flowers out, shake off the excess salt, and voila!
3. RINSE WITH COLD WATER
For pre-made arrangements or large plants, this is a great option.  Simply take them outside and spray them off with cold water.  I would avoid hot water because it could make the colors run.
If the plant is in a vase or pot that can't be removed, simply put a plastic grocery bag over it. Spray lightly with the mist nozzle (or rinse in the sink if small enough) then pat dry with a towel or lightly shake dry.  Keep the bag on there until fully dry so water doesn't seep into the fake planter and cause mold or mildew.
4.  SILK PLANTS – MAKE A SPRAY
How to clean fake plants when they are made from silk is slightly different.  This one came from House Wife How-Tos.  She says to make a spray bottle of 50% water and 50% isopropyl rubbing alcohol.  Wrap a towel or put a bag around the base and spray the silk flowers.  The dirt and grime will run off the plant with the spray.  To dry, simply use a hairdryer.
5. VACUUM
This is also a great hack from Housewife How-Tos.  BUT, you don't want to vacuum them like you would carpet or furniture.  You want to be more delicate.  So instead, place pantyhose or a nylon sock over the attachment piece.  It will suck up the dust but not the entire plant/stem.
BONUS TIPS!
For areas with stubborn built up dirt and grime use a brush and some rubbing alcohol to scrub it away.  You can also use a tiny bit of furniture polish on a rag to rub on leaves to keep them shiny.  Do this sparingly though so you aren't inhaling a ton of toxic furniture polish.
And there you have it friends!  Just some quick and easy tips for how to clean fake flowers.  If you're like me and struggle to keep real plants alive then fake ones are a great option.  But definitely make a habit of cleaning them often so they maintain their realness and shine.
Did you like this post?  If so be sure to pin the image below so you always have it handy and follow me on Pinterest while you're there.  And while you're on a cleaning kick, don't forget to grab my Quarantine Clean Checklist to help you spring clean your home while we are still cooped up indoors.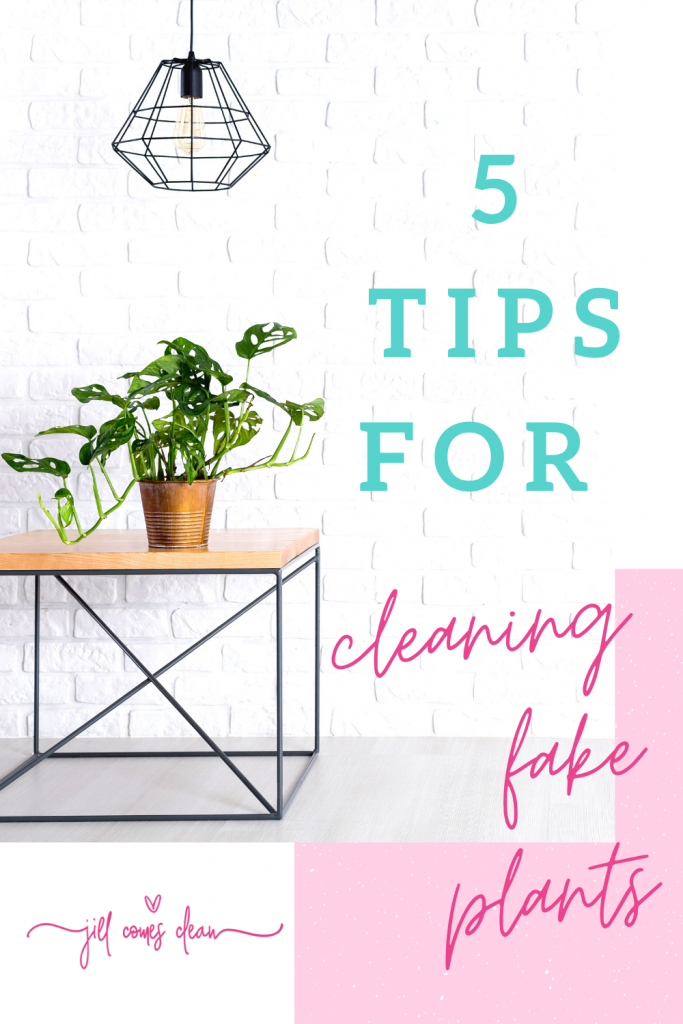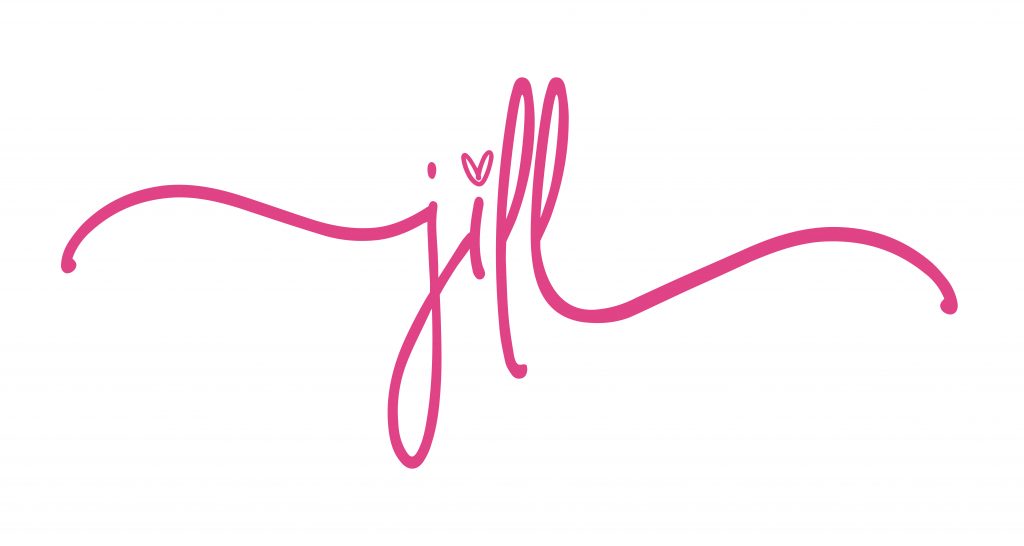 xo, Jill