Happy Tuesday friends!  Given the current state of the world I felt this post was much needed.  Lysol and Clorox are nowhere to be found, but not to fear!  Today, I am sharing how you can make your own disinfectant spray and hand sanitizer.  Both of which are hot commodities and likely sold out in stores and online.  Some of the ingredients that make up these items may still be hard to find in covid-19 world, but they may also be things you already have on hand.
Whether you make these now or later I highly suggest always having these ingredients in your arsenal at home because they are common ones with multiple uses and because they go fast in the stores during times of illness.  So trust me, you'll be happy you have them.  They are simple and affordable and worth always having on hand.
Not to mention they work just as well and are much less toxic.  Here is everything you will need:
Note:  There are some affiliate links within this post which means I make a small commission if you order through them.
HAND SANITIZER
Aloe Vera
70% Isopropyl Alcohol preferably (higher % will work)
A pump type bottle or bottle with flip lid
DISINFECTING or ALL-PURPOSE SPRAY
70-90% Isopropyl Alcohol
White Vinegar
Filtered Water (aka bottled water)
Anti-viral Essential Oil
Any spray bottle (I love these from Amazon)
Disinfecting Wipes
High Quality Paper Towels (I like Viva)
Serrated Knife
6″ tall by 6″ wide container (I like Oxo brand with an airtight lid)
70-90% Rubbing Alcohol
Dish Soap (Dawn preferably)
Water
Note: In any of these recipes Vodka may be used in place of the rubbing alcohol however, you want 180 proof. Regular 80 proof vodka found most places is only 40% ethanol and not really strong enough.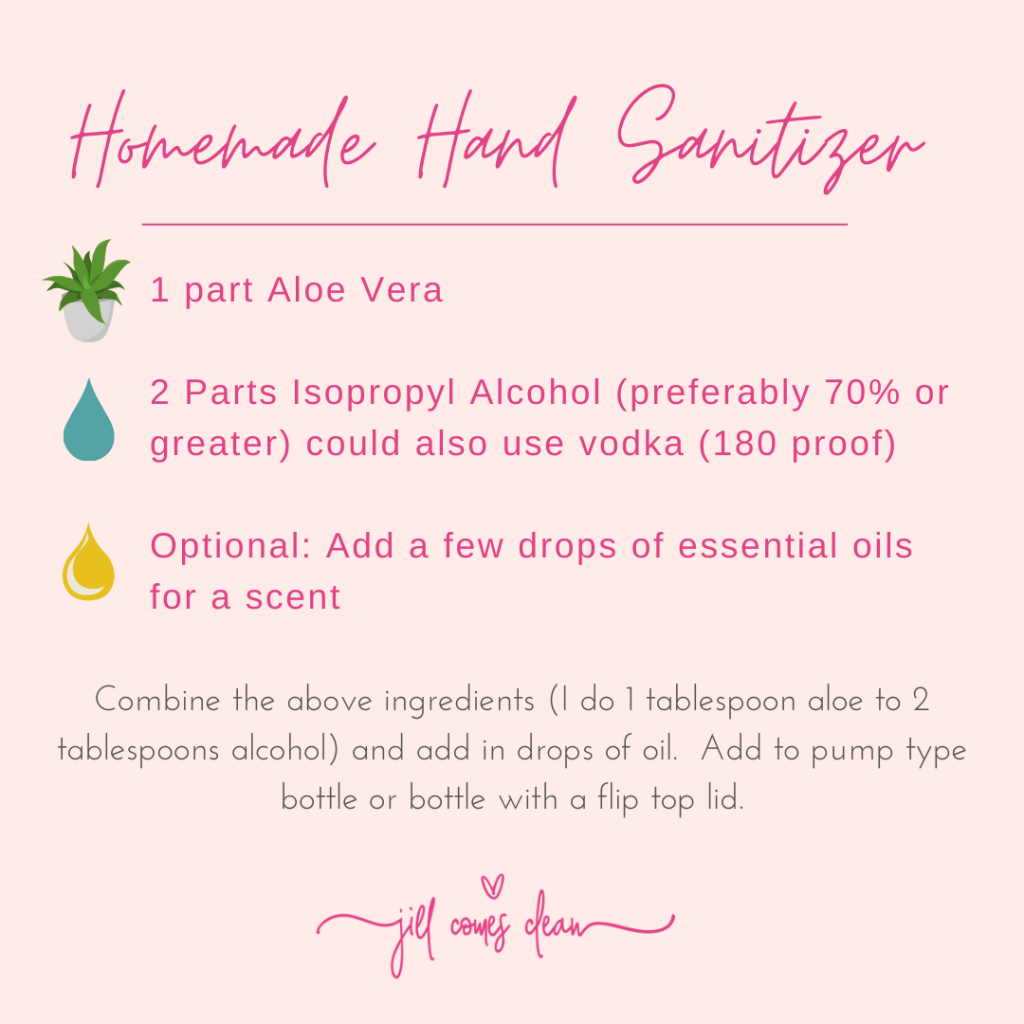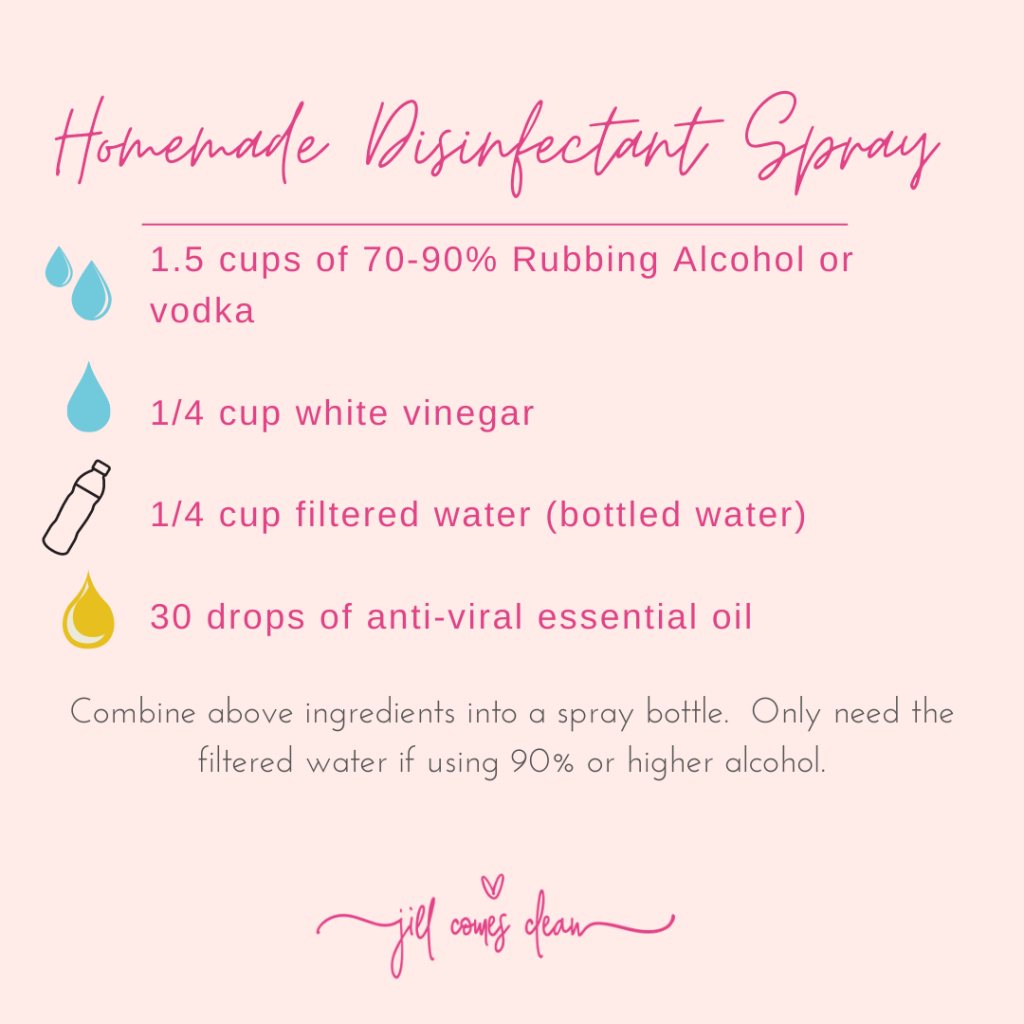 Here is also an all-purpose spray I like to make in large batches and just fill a 16 oz. spray bottle with.  It's very similar to the disinfectant spray so really either would work.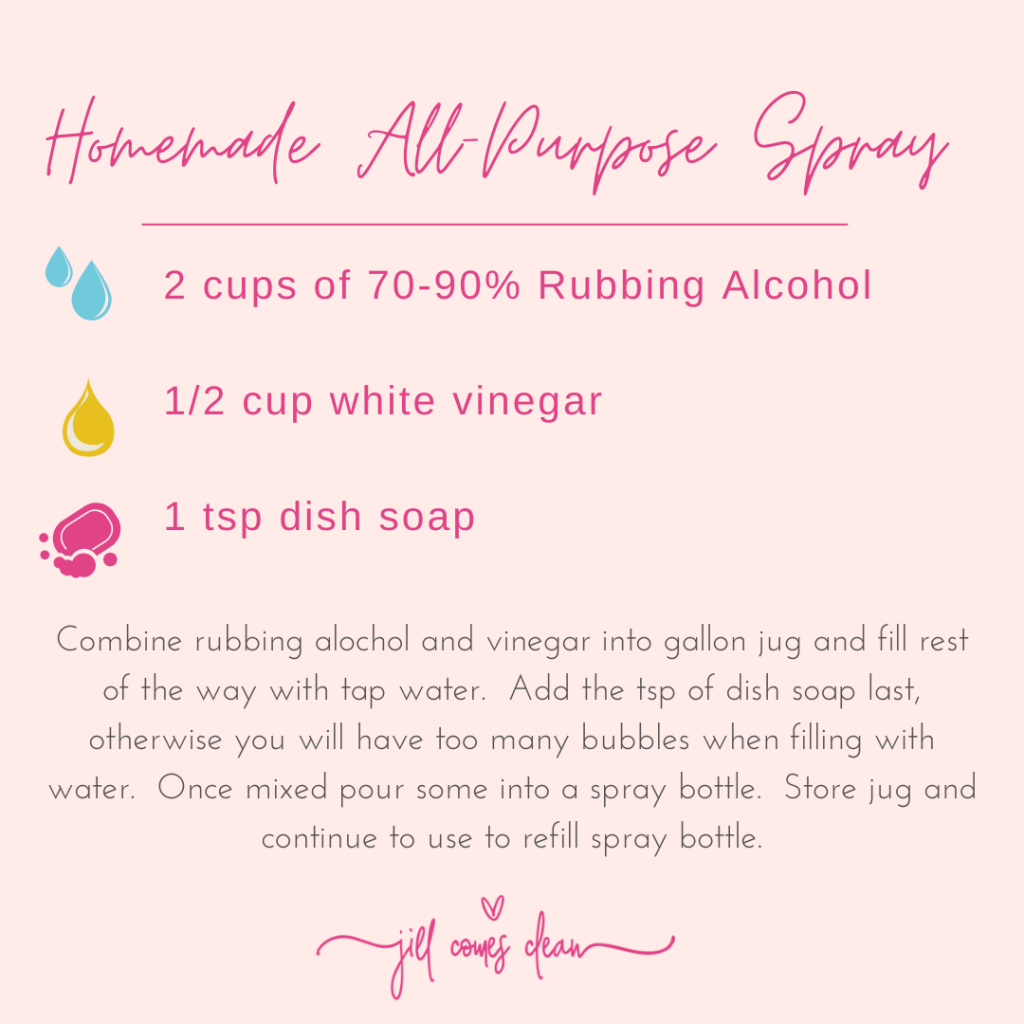 Here is also a recipe for making your own Clorox type wipes.  This is much less toxic, effective, easy and make a ton!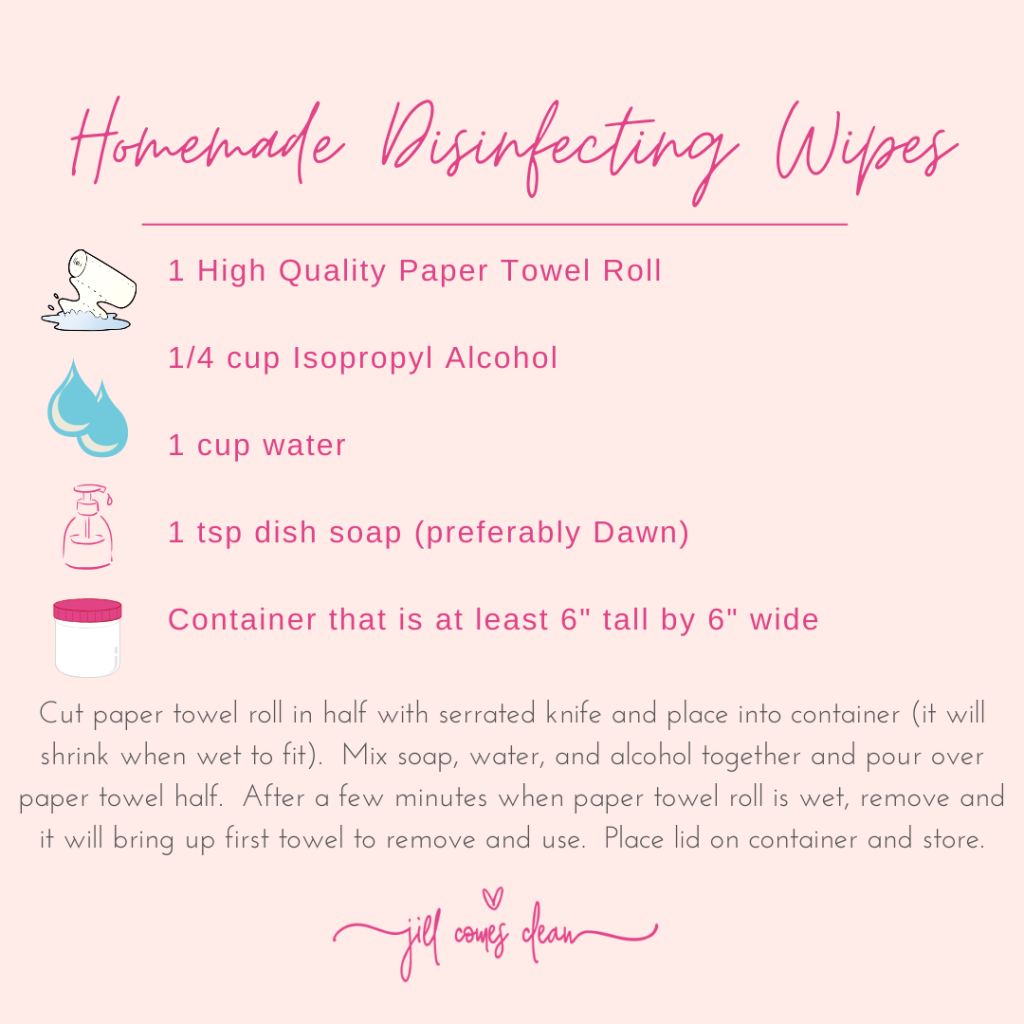 Just a little FYI for those that didn't know this like me (until I learned it last night) that rubbing alcohol of 70% Isopropyl alcohol is ideal because it is actually stronger than the 90% and above. I won't bore you will the science as to why, but it is. I had always just assumed the higher number meant a higher strength, but that is not the case. Now, in situations like we are facing currently with Covid-19, it's certainly better than nothing. And since nothing is what we are finding in stores and online, then in a pinch if you can only find 90% or higher, go with that. Here is an article from USA Today explaining it further, but overall the CDC recommends at least 60% or higher.
This again is why regular grade ethanol alcohol like we drink, that is only 80 proof is not a good option because it's only 40%.
HOMEMADE ELDERBERRY SYRUP
And while you are making things you can head here for my post on how I make homemade Elderberry Syrup using Clean Mama's recipe, since that is another thing that has been hard to find lately. Hopefully you can still find dried Elderberries.
Lastly, if you are an essential oil user here is a graphic of the top anti-viral ones to use in these recipes so that along with smelling great, they are also helping to kill the germs.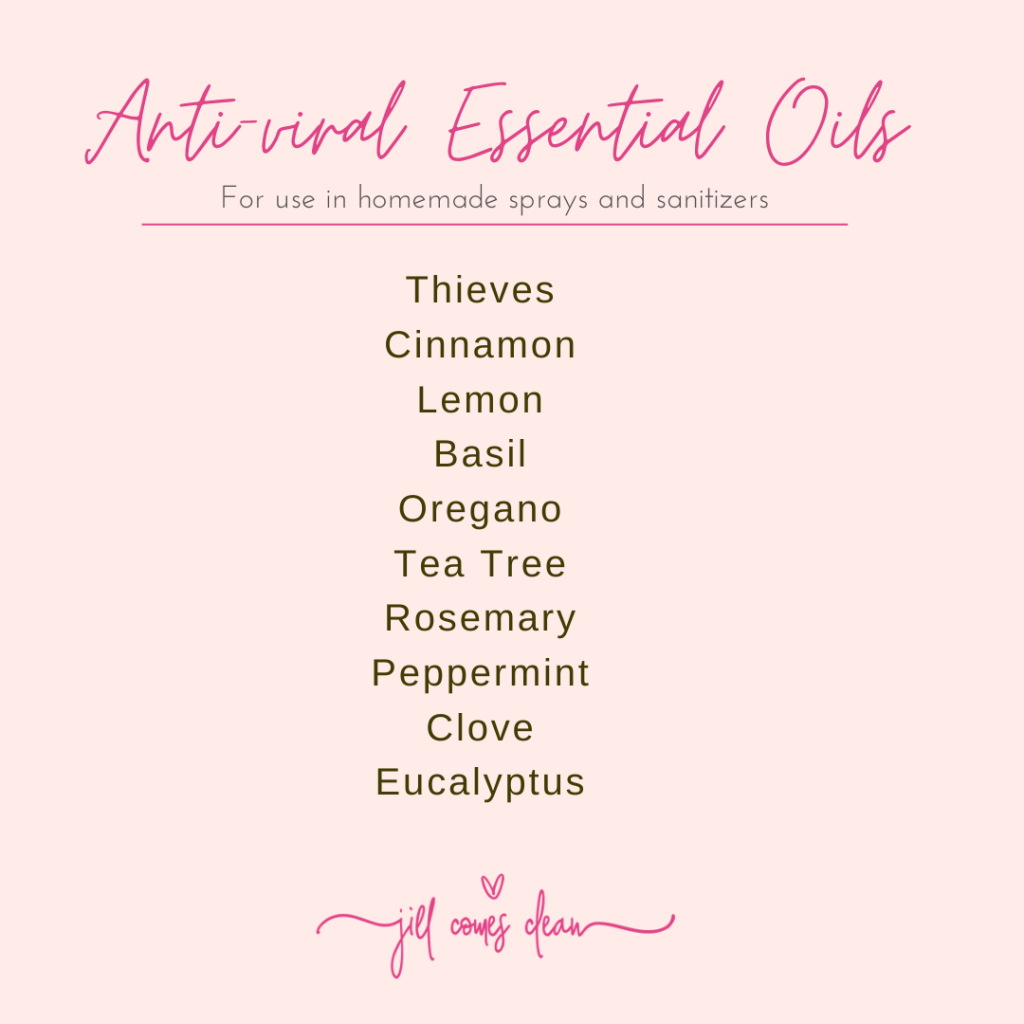 Okay friends that does it for today! I hope you found this helpful for how to make your own disinfectant spray and hand sanitizer. Now that we are likely grounded at home for a while I am working on some organizing/cleaning projects that we can all do in the meantime, so stay tuned for those! Oh and if you liked this post be sure to Pin the image below so you always have it on hand. Stay safe and healthy!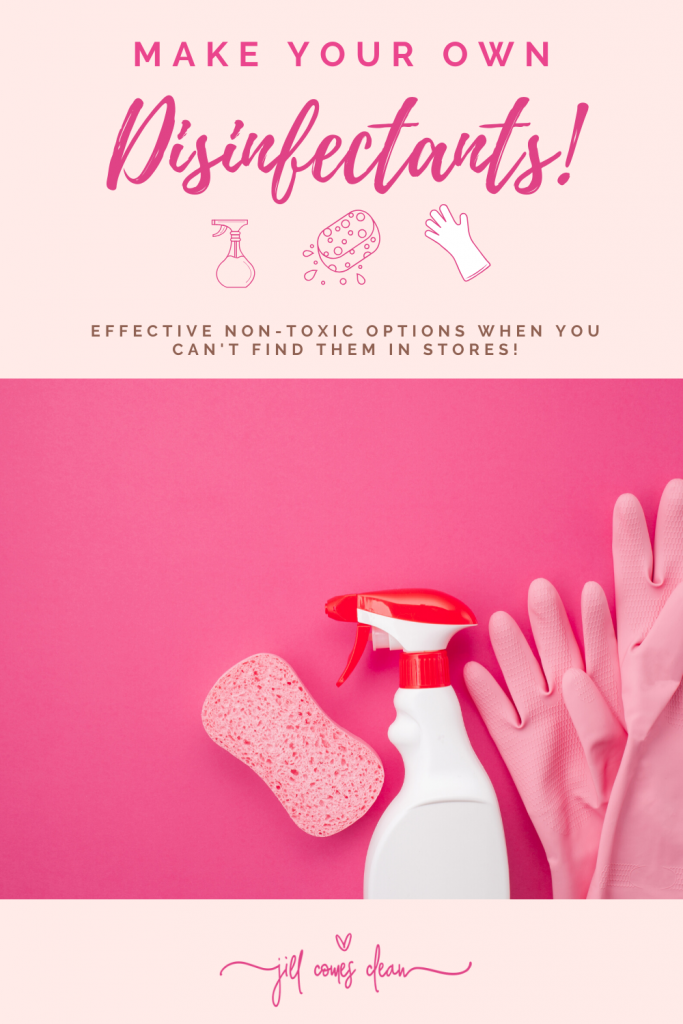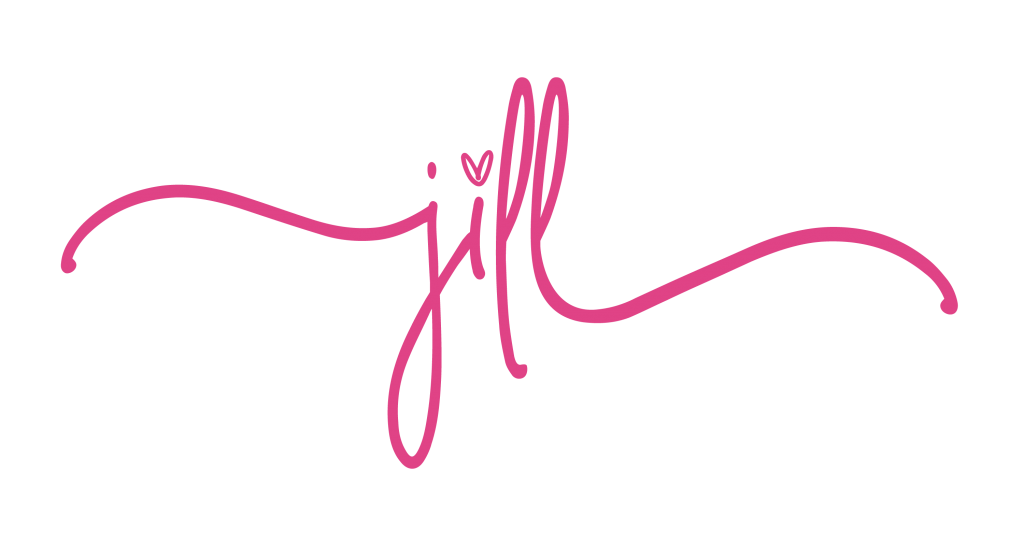 xo, Jill