Happy Friday friends!  Wow, what a week it has been!  I know I was supposed to have a post for you all on Wednesday, but I got behind and planned to post in the afternoon and then the apocalypse happened that was Instagram and Facebook shutting down for hours, and I rendered myself useless for the day. All was not lost however, because in the downtime I came up with a new series I'm going to bring you all either monthly or maybe twice a month ( I haven't decided) but one or more Friday's a month I'm going to go to a store (or shop at a store online) and bring you my favorites finds from that place.  It will be anything from J.Crew, Nordstrom, Madewell, and Target, to HomeGoods, Old Navy, and Pottery Barn, etc.  Almost like a Monday must haves but with try ons and mostly clothing and home goods.So for this very first segment I have round up some Friday Finds at….AMAZON!
As I'm sure you all know Amazon is quickly ruling the world.  Once I discovered they have cute clothes, I realized there is truly nothing you can't find on Amazon.  I recently started a shop on there to make it easier to find all my favorite items (you can visit that here) but for today I thought I would share some recent finds and the variety of things from there I'm currently loving! So let's get to it!
So remember a few weekends ago when I attended the Cincinnati blogger event at Saks?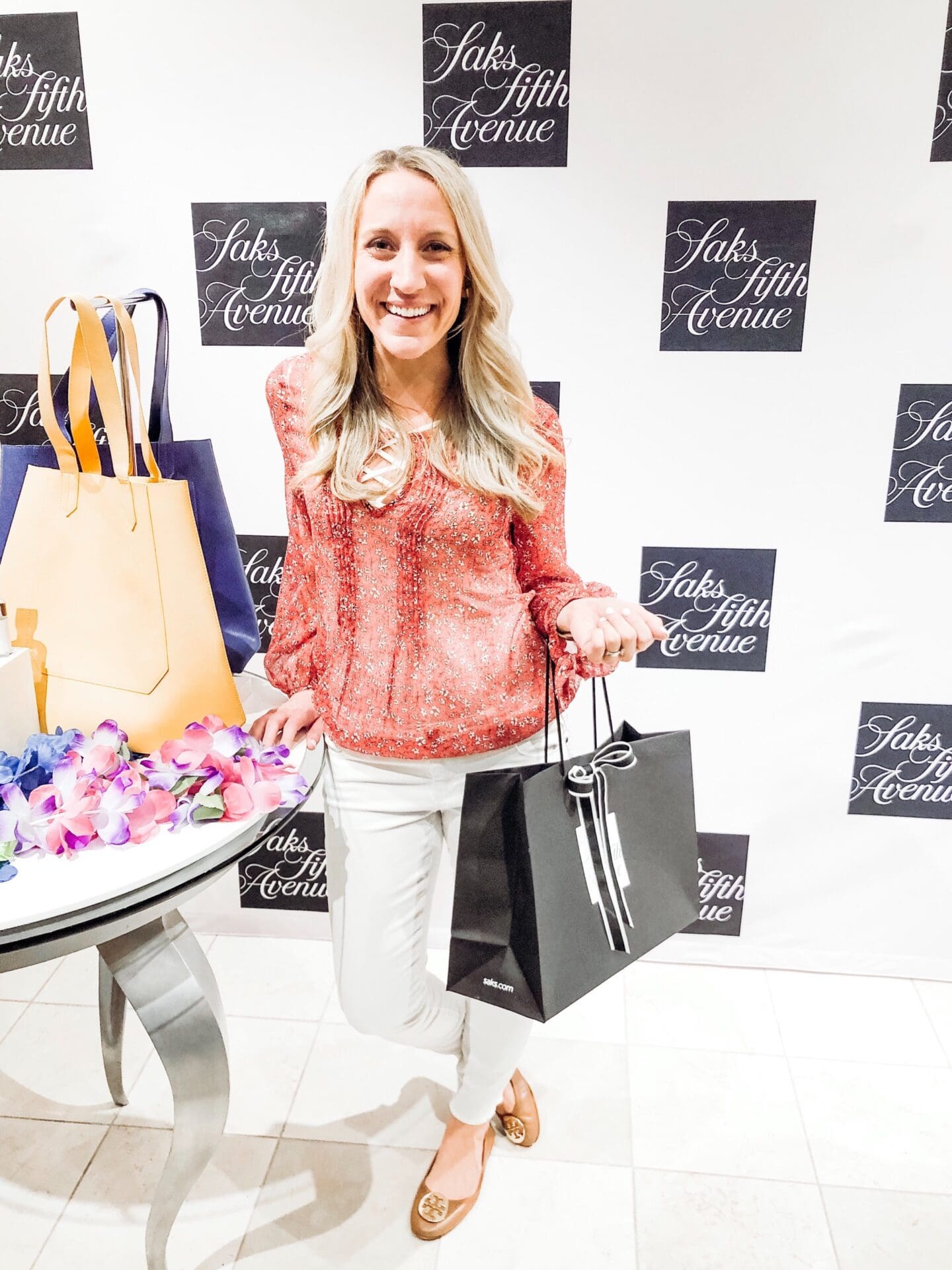 Well when we were there we got to go into a private Fendi and Gucci room (someone please tell me heaven has one of these and I have an endless budget), well in there was the much sought after Gucci belt.  It was then that I discovered there is such a thing as a knock off Gucci belt and a knock off Hermes belt!  And you guys, they are legit.  I know so many people that have them, and they look real!  Which makes me feel better because I was seriously starting to wonder how sooo many people afforded a belt that's over $1,000.  Spoiler: they don't.  They Amazon that sucker.  And so did I.
And while I love me a good knock off, nothing beats real.  So when I found these real deal Steve Madden sandals that are all the rage right now I was so pumped.  The come in seven colors but I'm equally in love with the brown and white right now.
Next, let's talk clothing shall we?  Amazon has some of the cutest pieces.  Here are some of the current tops I'm loving….
Color Block Tunic // Stripped Color Block Tee // Pleated Tank // Henley Top
Okay next, let's talking beauty.  I love when I find some of my favorite products on Amazon.  They are quickly becoming my one stop shop!  Anyways, here are my favorite hair dryer, curling iron, and latest find….facial hair remover tool! ( This is the one I talked about on Monday Must Haves).
Hair Dryer // Curling Iron // Finishing Touch Painless Hair Remover
And because I can't just shop for myself, here are some of my recent finds for Leyton that have been a huge hit!
Paw Patrol Car// Bubble Machine // Roar Roar Roaring // Lock Puzzle
The Paw Patrol car is his favorite!  He pushes it all around the house and loves riding on it.  The seat opens and he loves to put his toys in there, which yes, is just as adorable as it sounds.  We got the bubble machine after he expressed so much excitement for the one in his weekly library class (same with the lock puzzle), and the Roar Roar Roaring book is his favorite one.  It allows you to be really animated when you read it which I think he loves.  I can't recommend all of these enough.
Lastly, I found some items for the home I'm totally loving.  One so much we ordered 2 (which sounds crazy until you hear why).
I just think those shelves are so cute and versatile and for $21.99 you guys, you can't beat it!  And you know I love pink so I'm loving that vase, and okay lets talk this area rug.  We first bought this to go in our living room because Sebastian, as cute as he is, is still not fully potty trained 9 years later (we blame a small bladder and really terrible puppy training on our part) and therefore he destroys our rugs!  So we replaced our old one with this one and love it so much we don't want it getting ruined too!  So far he has been pretty good with it, but I have a second one saved in my cart just in case because it goes so well with the room!  Plus for a rug of it's size the price isn't terrible.  But peeing dog aside, it's a really cute rug and comes in 2 other colors.
Alright friends that is it for this first edition of Friday Finds!  I'm headed out to a Monat bootcamp for the weekend and am looking forward to learning and hanging out with some Monat friends and meeting new ones.  Thanks so much for stopping by.  See you back here Monday!
Jill
xo, Jill