Happy Friday friends!  Last week at this time I was headed to what I thought was sunny, warm Austin, Texas when really it was, just as cold as Ohio.
I had originally planned this post for earlier this week but then I realized today is International Women's Day and I thought what better way to celebrate the day then with a post about a trip with some of my favorite women.For those that don't already know my dear friend Mazie from college is getting married on April 6th so we had her bachelorette party in Austin last weekend.  The irony was that she wanted some place warm and sunny, which would have been the case if we went a week earlier, but this weather was raw and cold!  We were told by many locals that Texas weather is unpredictable and can be 80 degrees one day and 40 the next.  I never knew this about Texas.  I always assumed it was hot!  None the less we had a great time, and today I'm just sharing a quick recap about our time in this fun city!
This was my first trip without a little one which meant I had some reading time and look what I found!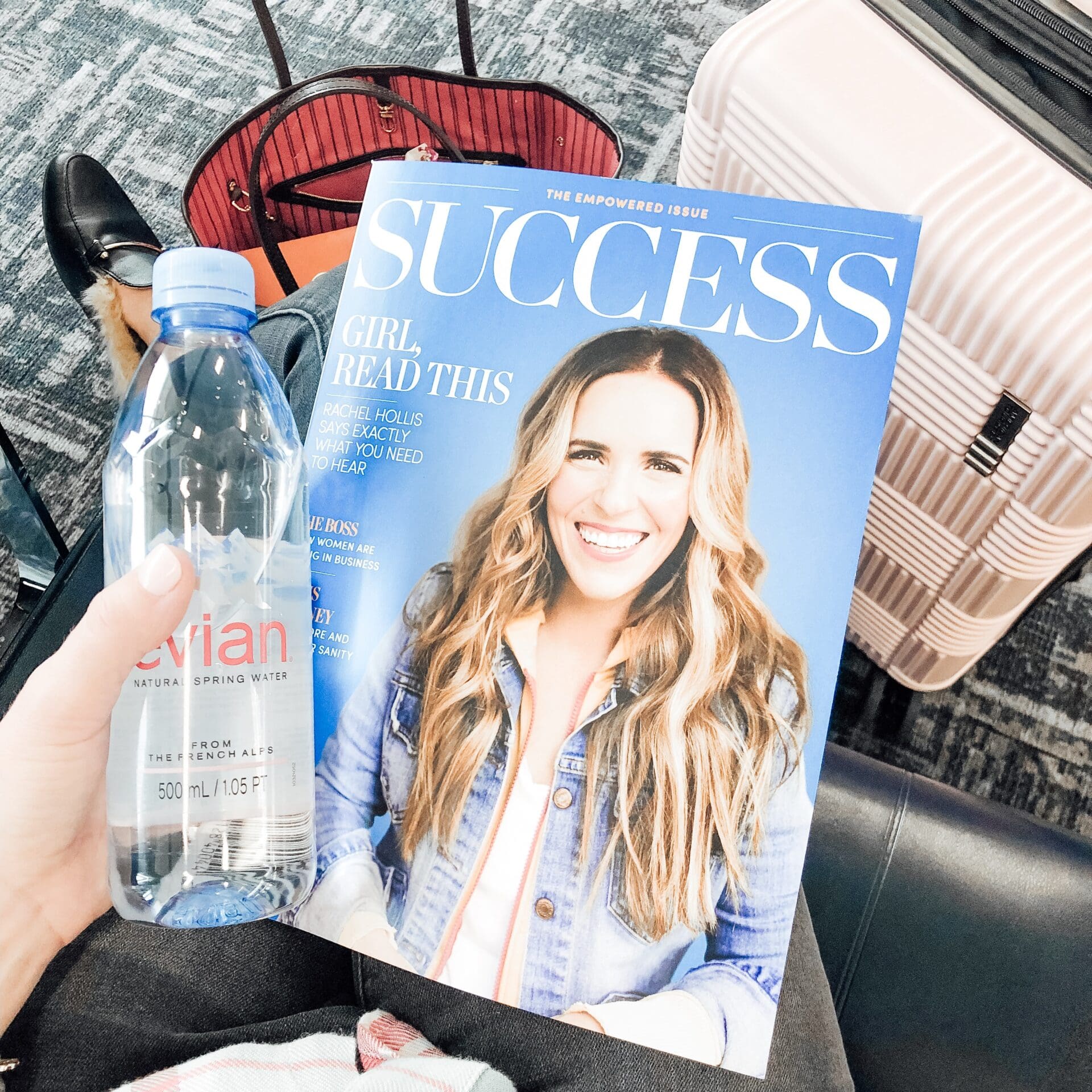 I had been on the hunt for this magazine ever since it hit news stands and couldn't find it anywhere! But the airport did not let me down.  This was a great issue filled with stories of inspirational women, with my main girl taking the spot light.  Give me all the Rachel Hollis!
We got in to Austin Friday morning, so we headed to the hotel to get checked in and grabbed lunch at the hotel restaurant while we waited for all the girls to arrive.  The group was made up of myself and the bride and some of our college friends, as well as her friends from Charleston and Nashville.  Everyone was so friendly and incredibly easy to get along with.
Our big activity on Friday was a pub crawl via a pedal wagon.
I've done these in the past and usually they have a motor to help you along but this one did not.  It was a legit workout!  It was a good way to see around the city and pop into a few bars.  We went to one called Tiniest Bar in Texas, because it is.  It's literally the size of a big shed (with some outdoor seating).  Luckily it wasn't too crowded.  I'm typically a wine drinker which they didn't have, and they were out of champagne so my friend Meghan and I tried a mini white Russian.  It was so good and so strong!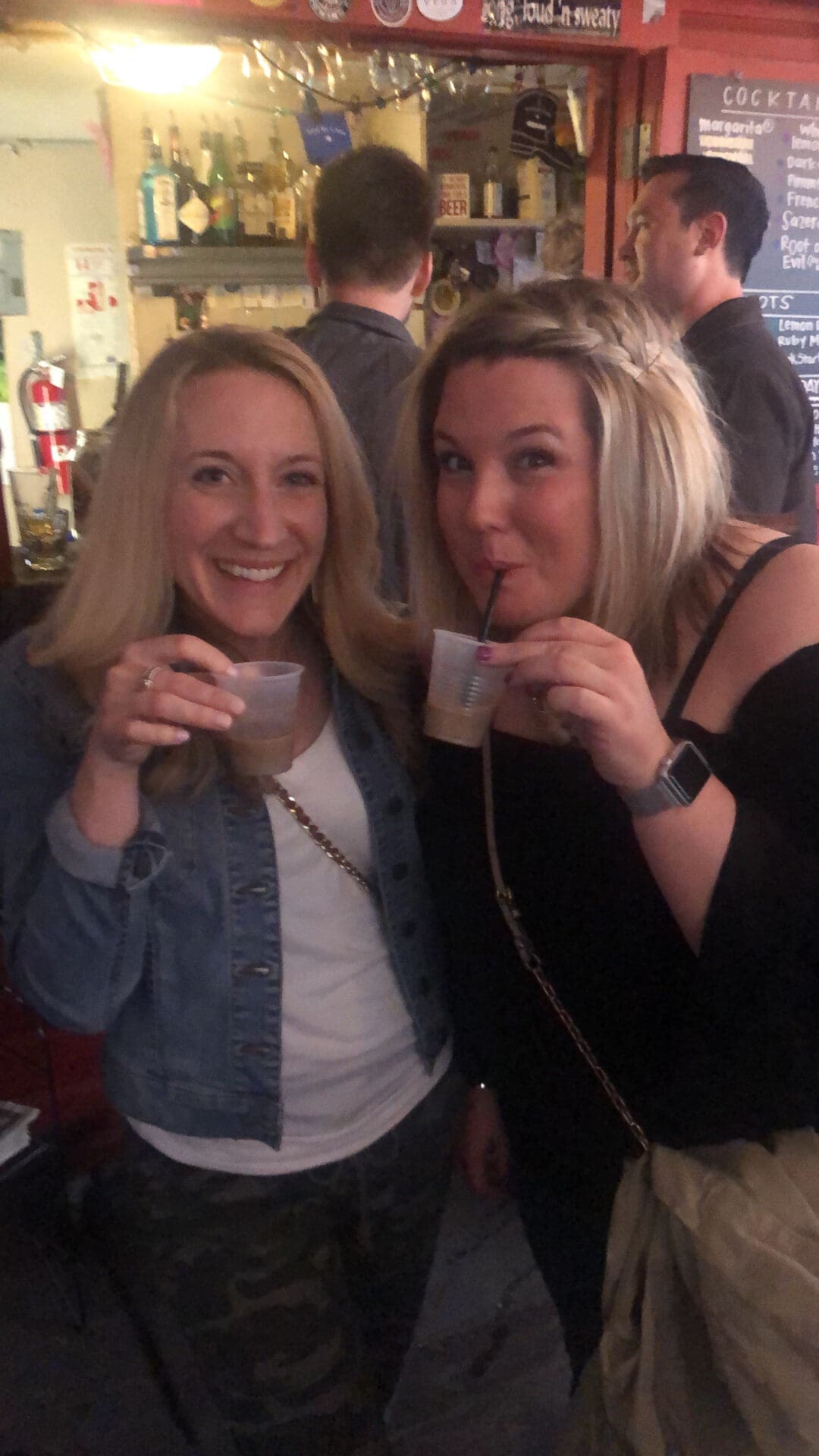 ** Some of the picture quality isn't good due to poor lighting.
From there we hopped back on the pedal wagon and headed to another bar…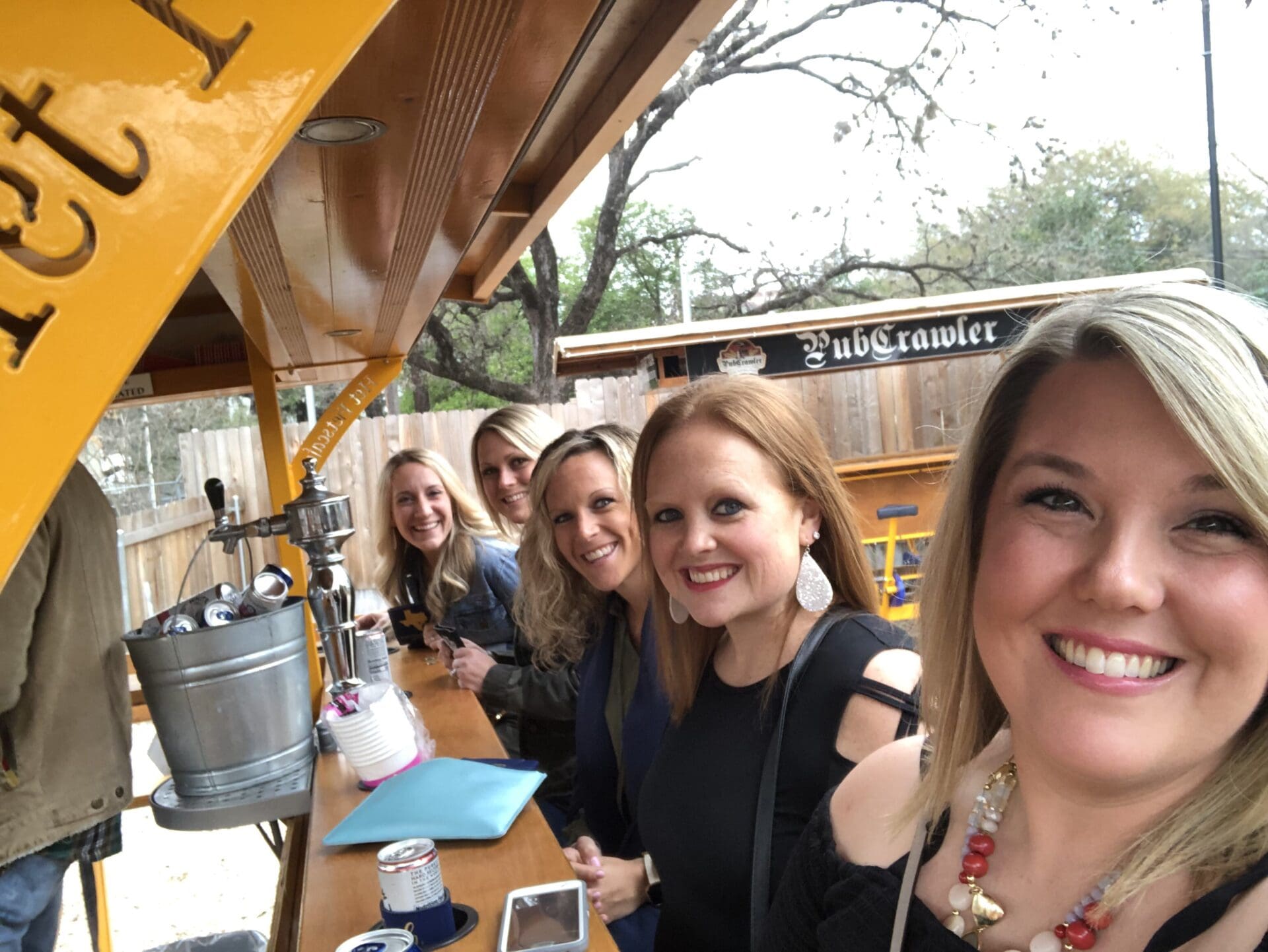 I'll be honest I never caught the name of the second one but here we are there…..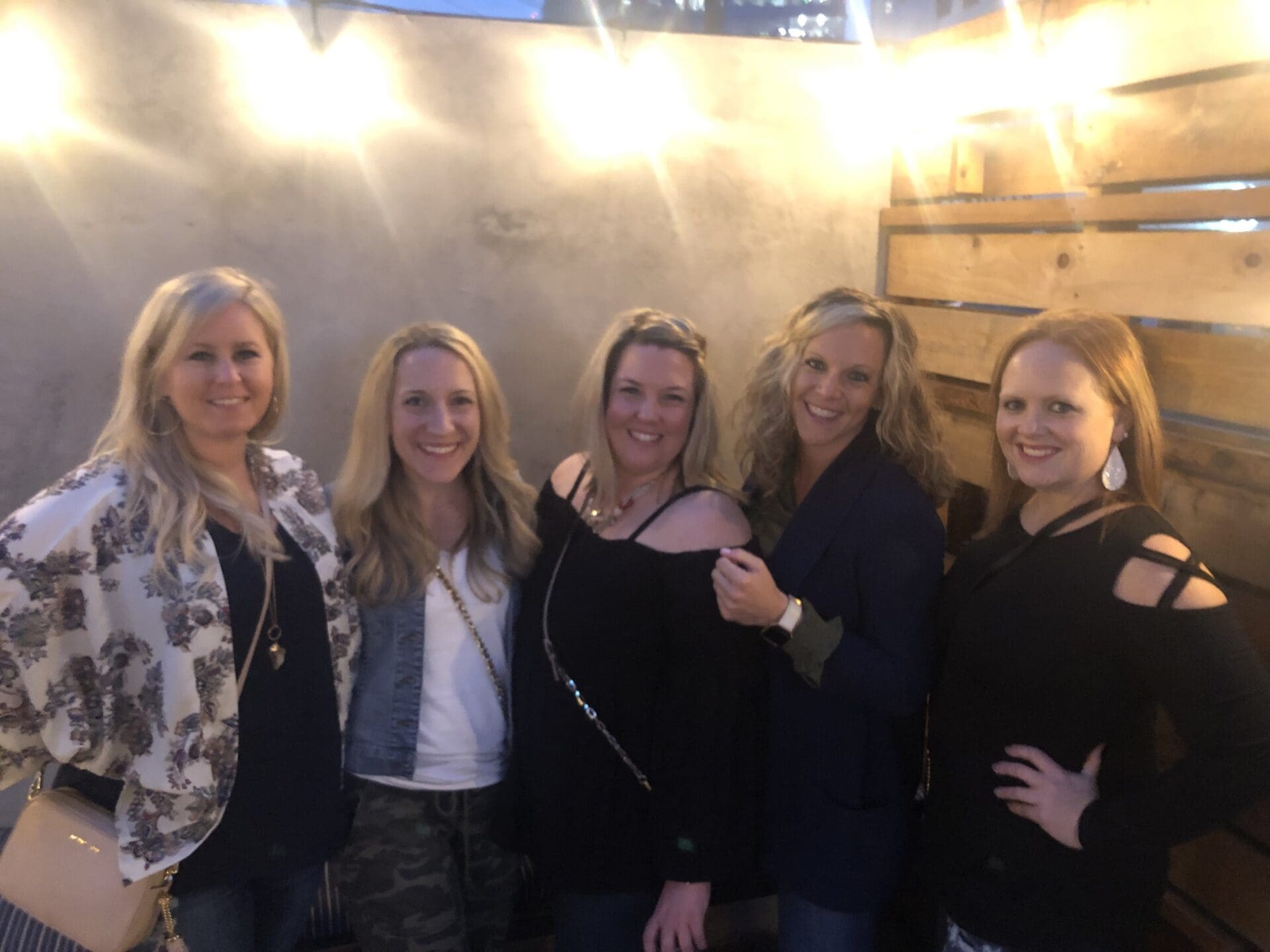 The five of us have been friends since college.  I love that we continue to be friends all these years later!
We ended the night with a good Mexican dinner and a drink at a Johnny Cash themed bar.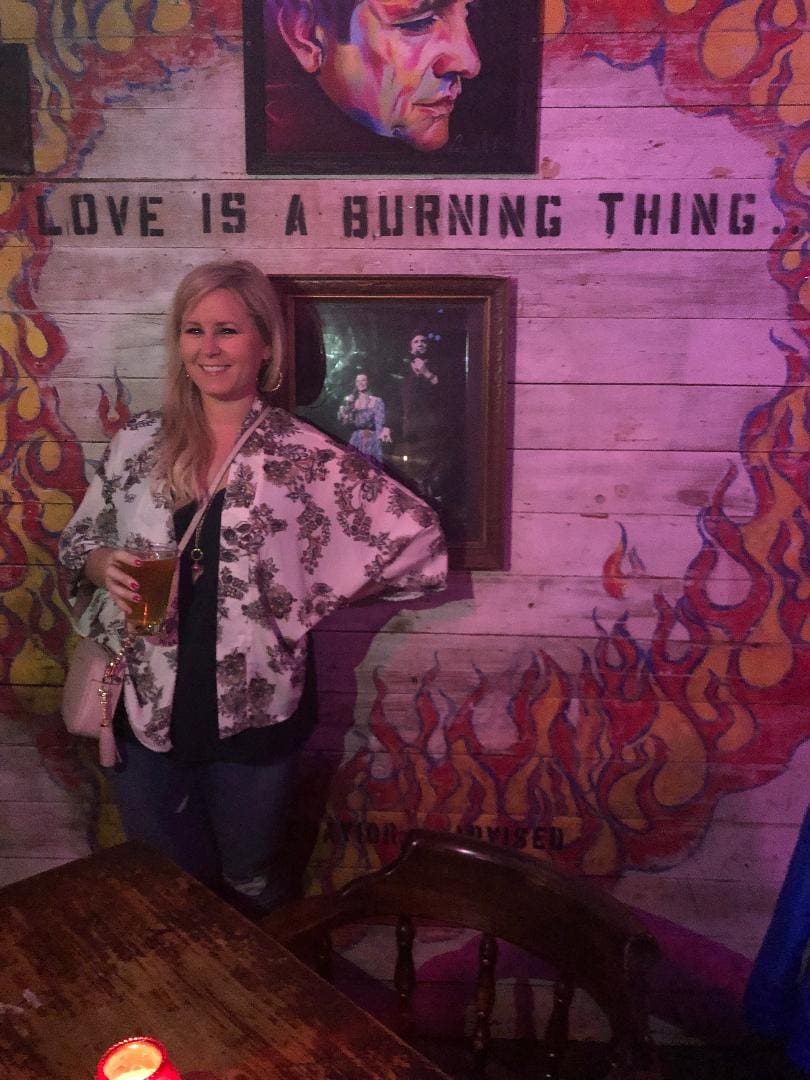 We then headed home (a few of the girls went out a little longer but really I think everyone was in bed by 11) haha life in your thirties!
The next day we had a relaxing morning, where everyone just slept in and got ready at their leisure.  We then headed to Easy Tiger for some brunch.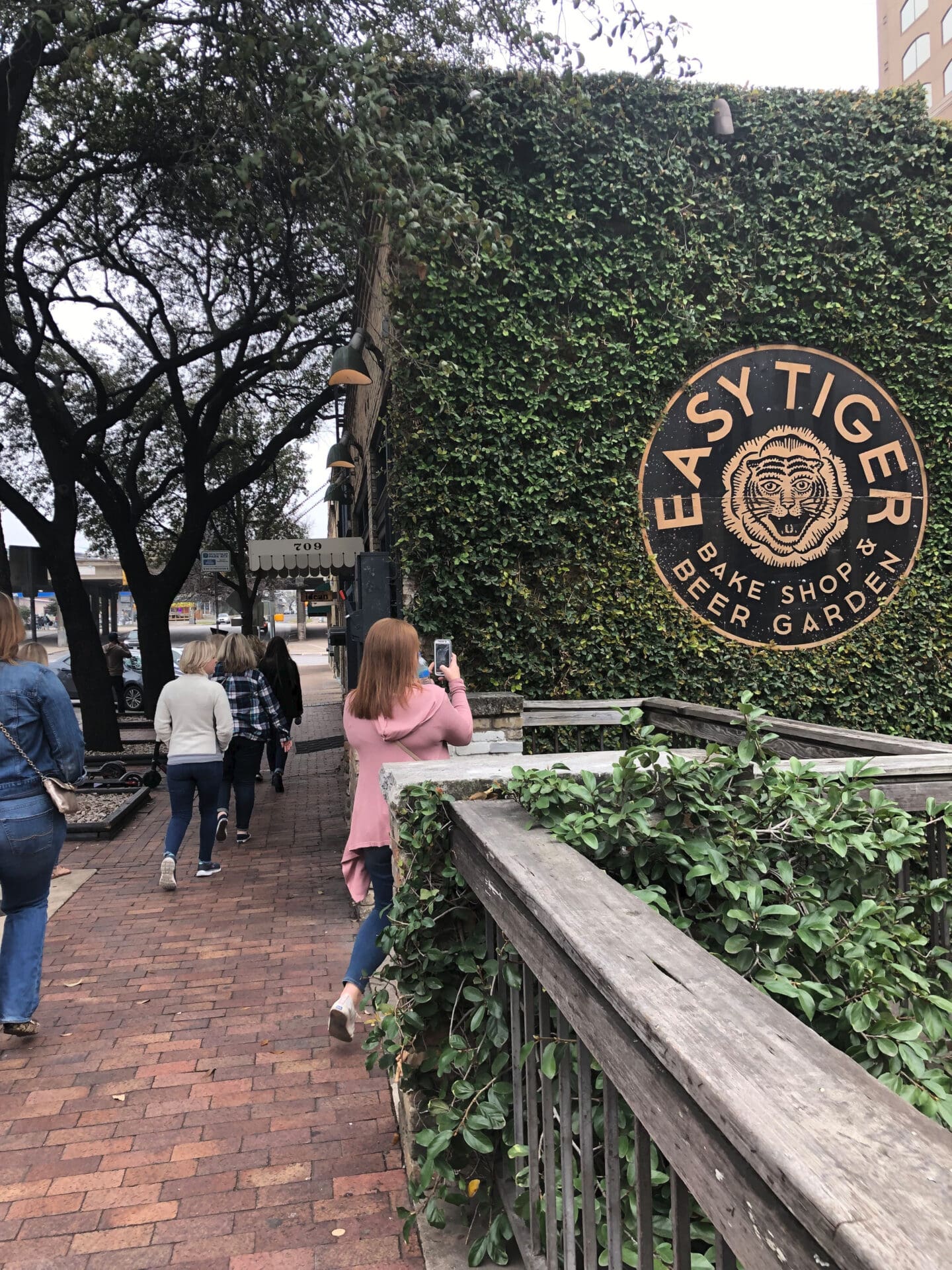 It was very good and had live music playing.  We enjoyed several mimosas and good food.
It was still pretty cold and rainy at times but we did get a little break to check out a cute river outside, between the buildings.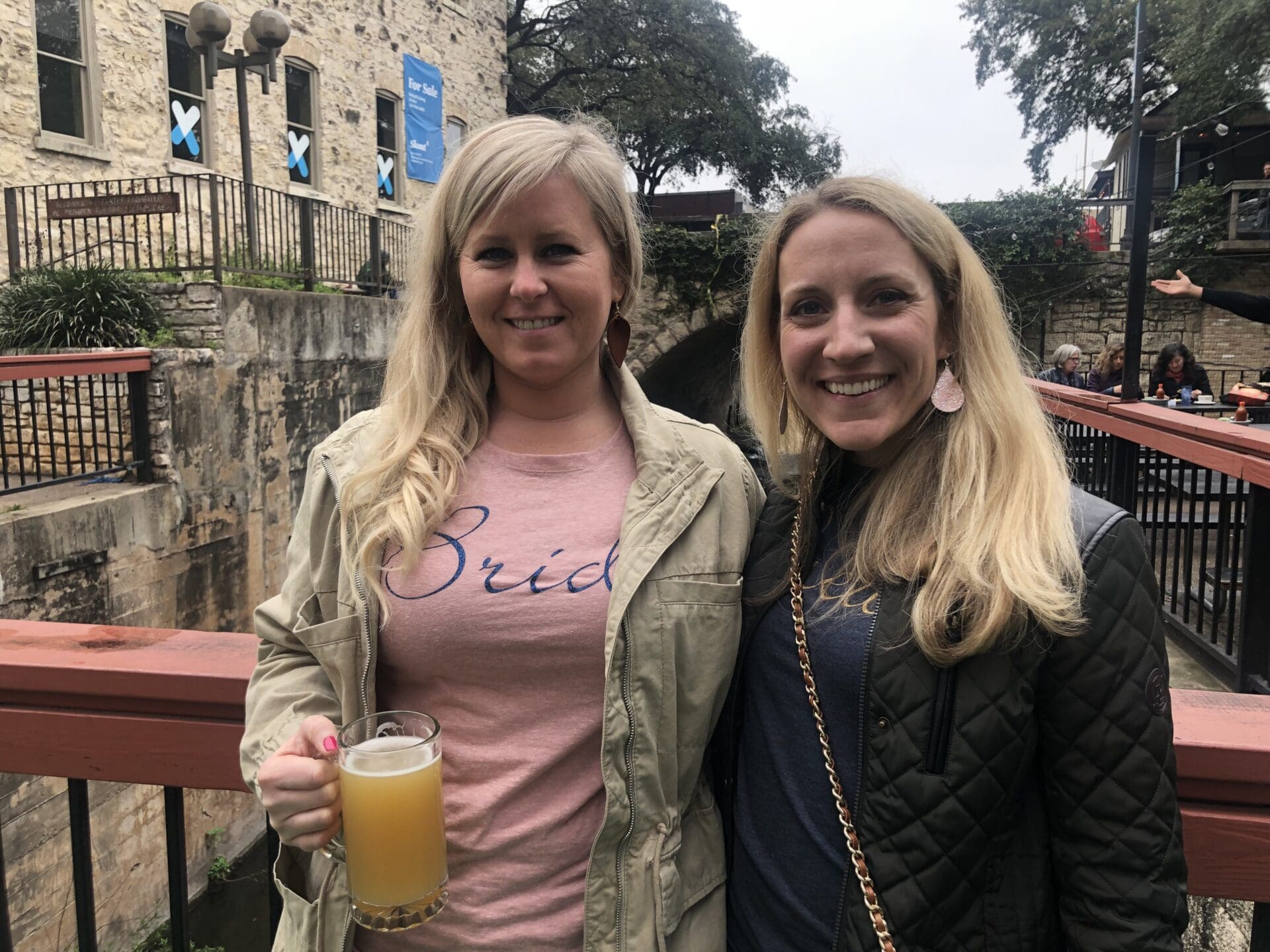 It's behind us, although you can't see it very well.  After brunch we went to another bar across the street and hung out for a while.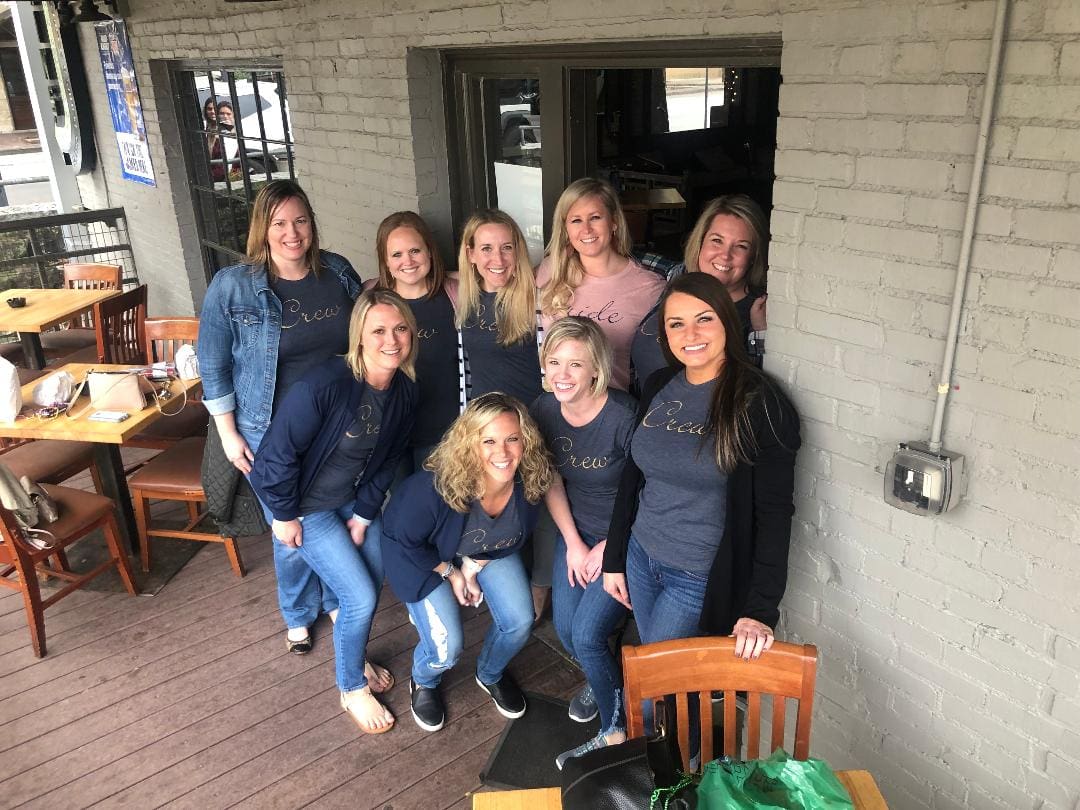 After that we went back to the hotel to get ready for the night.  Our first stop was to a fun bar our friend Meghan recommended called Un-BAR-lievable.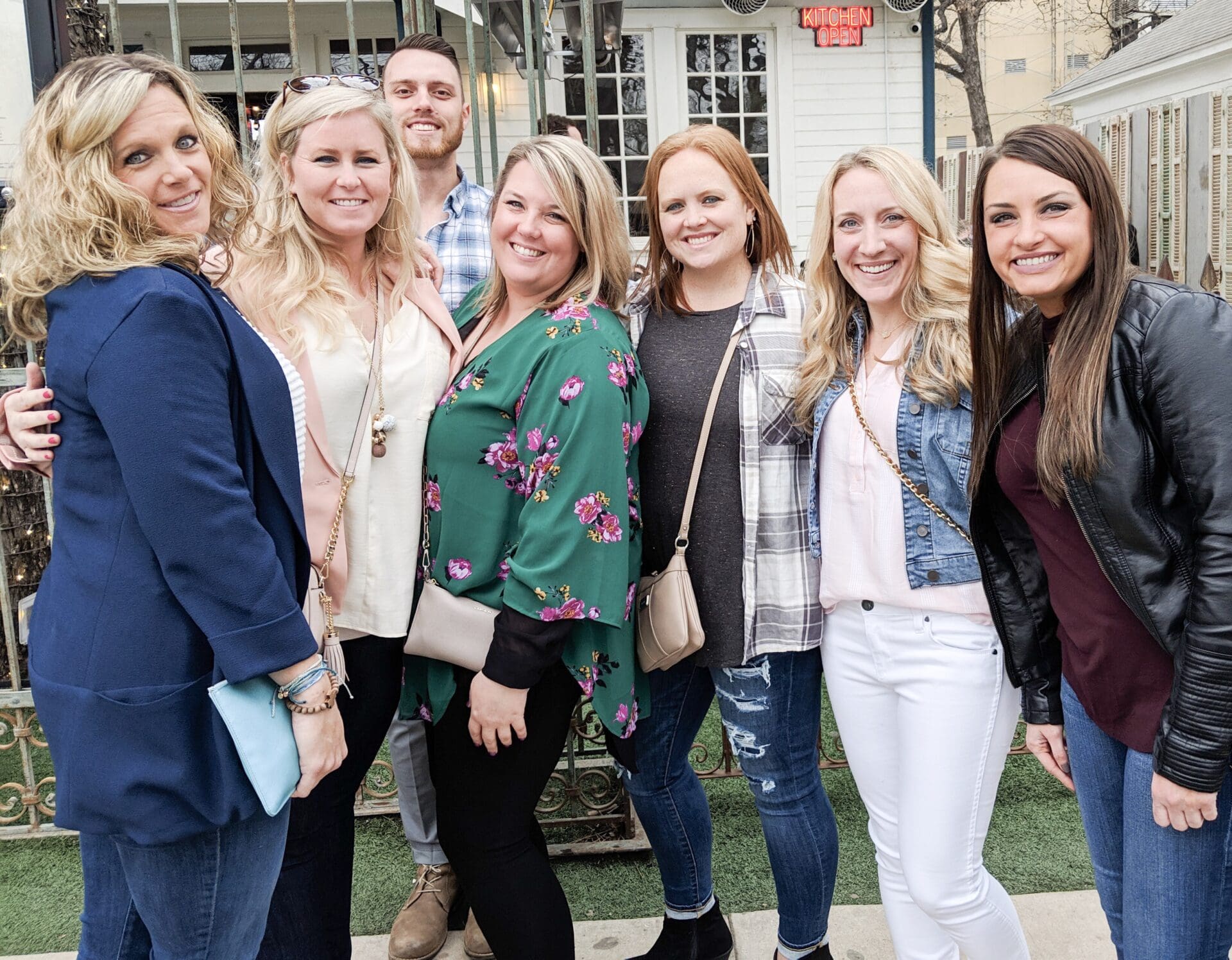 This is us waiting to get in.  It's a circus themed bar complete with a slide indoors.  It was such a unique spot and the drinks did not disappoint!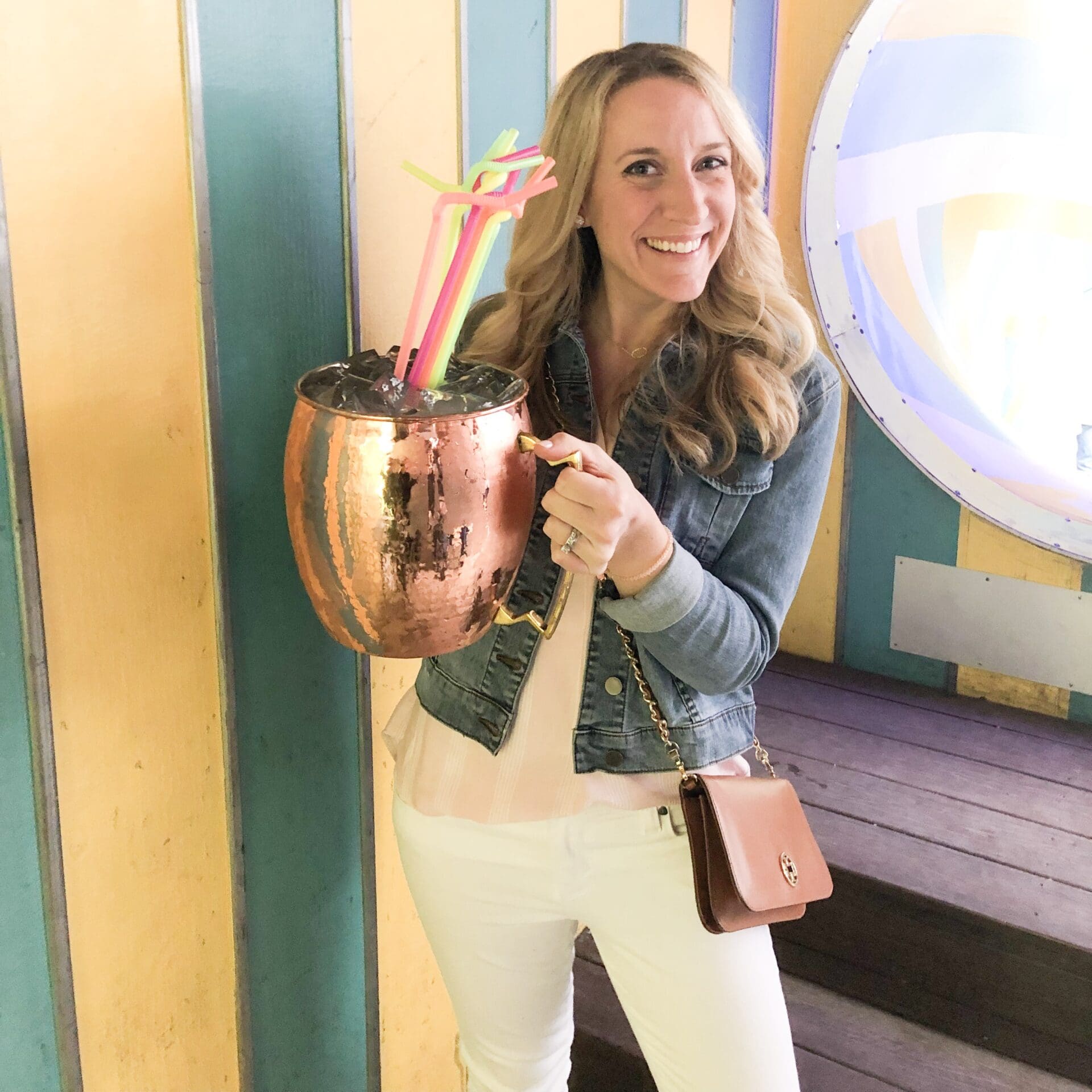 Look at the size of this Moscow Mule!  It was so heavy.  All nine of us were drinking it and we seriously barely made a dent it in.  It was good but massive.  I'm pretty sure it had like 2 bottles of vodka in it.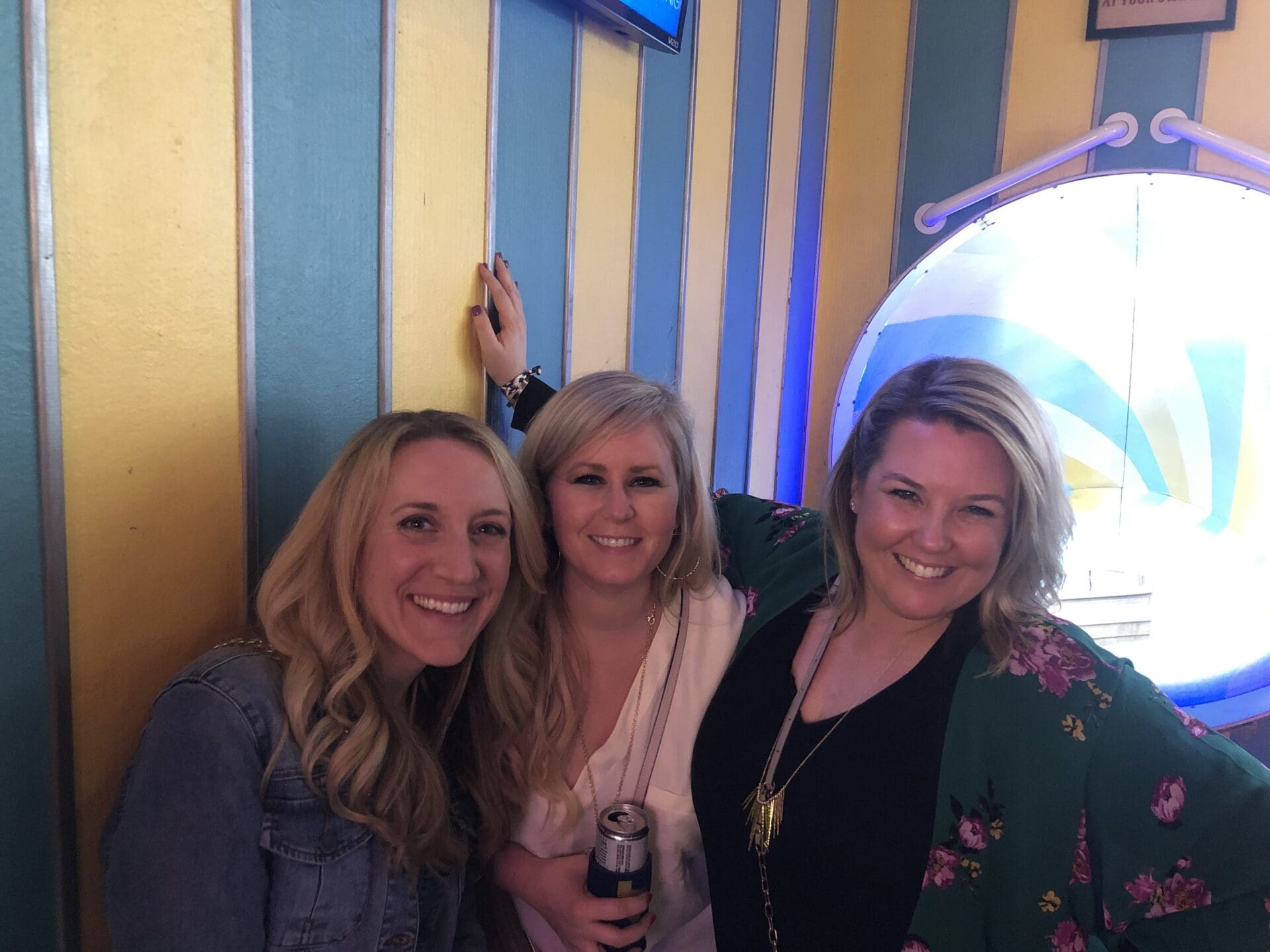 There is the slide behind us.  I didn't go down it, mostly because I was wearing white pants and that had dirt written all over it, but it was a hit among everyone else.
After that we went to another bar across the street, ate the best tacos I have ever had in my life from a food truck, followed by the most incredible warm, sugary, amazing doughnuts from another food truck.  A few of the girls went to a BBQ place while we waited for our food truck food and by the time we got there the line was out the door.  So a few of us skipped and headed back to the hotel while the others ate and went out afterwards.
Several of the girls had really early flights the next morning so it was an early night for most of us.  The next day we all departed for home, and I was excited to get back to the little one.  It was such a fun, girls weekend and of course a little mommy break is always nice to reset.  Can't wait to see all these girls again in a few weeks and celebrate the happy couple!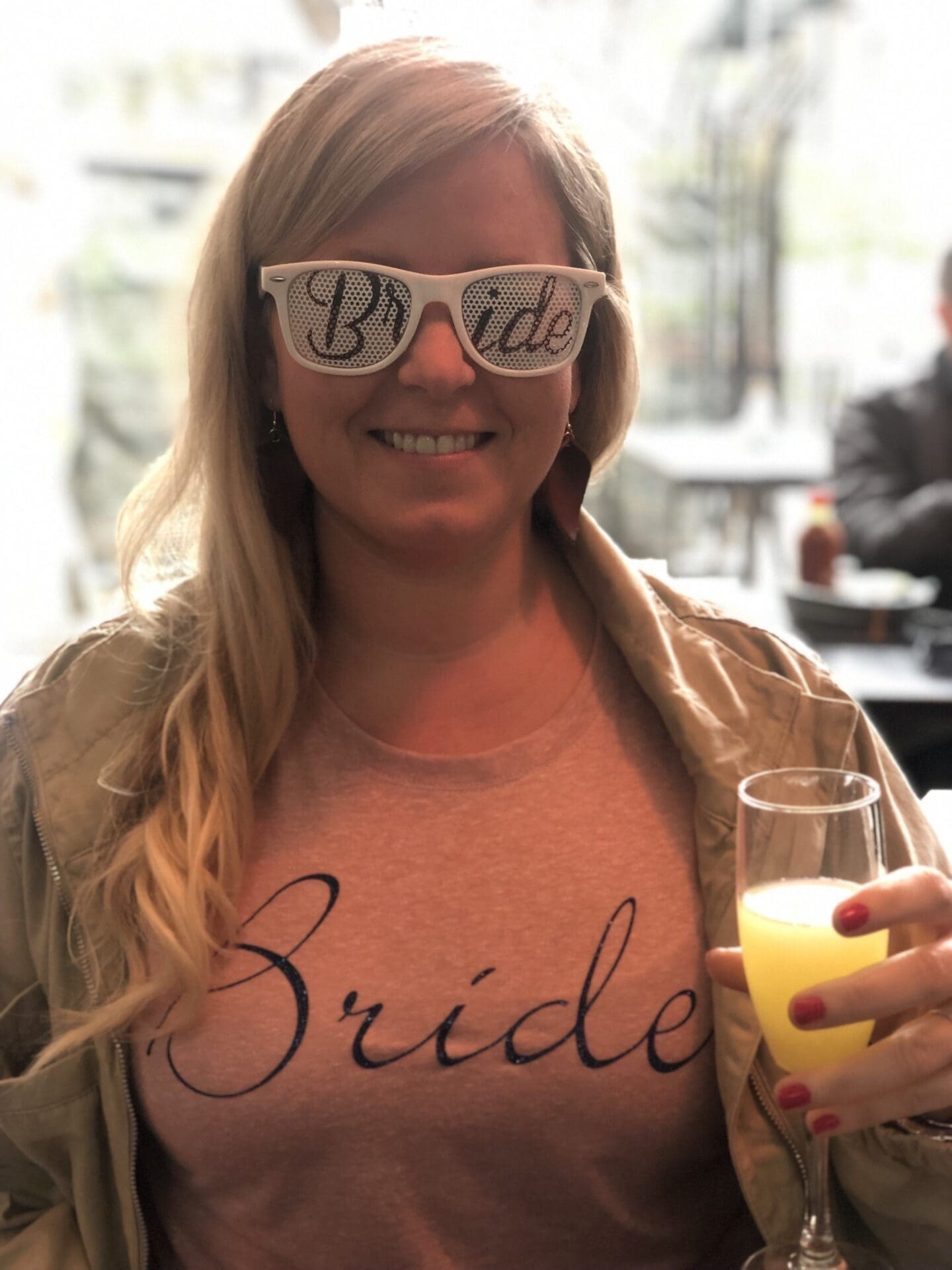 Have a great weekend and International Women's Day, and I'll see you back here Monday!
Jill
xo, Jill