It's the most wonderful time of the year!  Here are some Christmas decorating ideas I do year after year.  
I had such a good response from sharing how I decorate for Fall  and Fall decorating for a cozy home that I decided a Christmas version was in order.  Now, before I get to it let me just say that I am by no means a decorator (which will probably be very evident) but this is what we like and how I make our home feel cozy so it works for us.  Plus, I am always tweaking and getting ideas from Pinterest as well as other blogs and Instagram feeds, so some parts are ever changing and evolving while other areas stay the same year after year.  I try to change some parts with whatever style is in that year, and often I change things by accident when I forget what decorations I have and I buy something for a part of the house that I already had decorations for, but forget until I uncover them while decorating.  Anyone else?  Most of the decorations I have are older but I'll link any newer ones that I can remember where I bought them :).
Okay, so let's start with Christmas decorating ideas in the living room!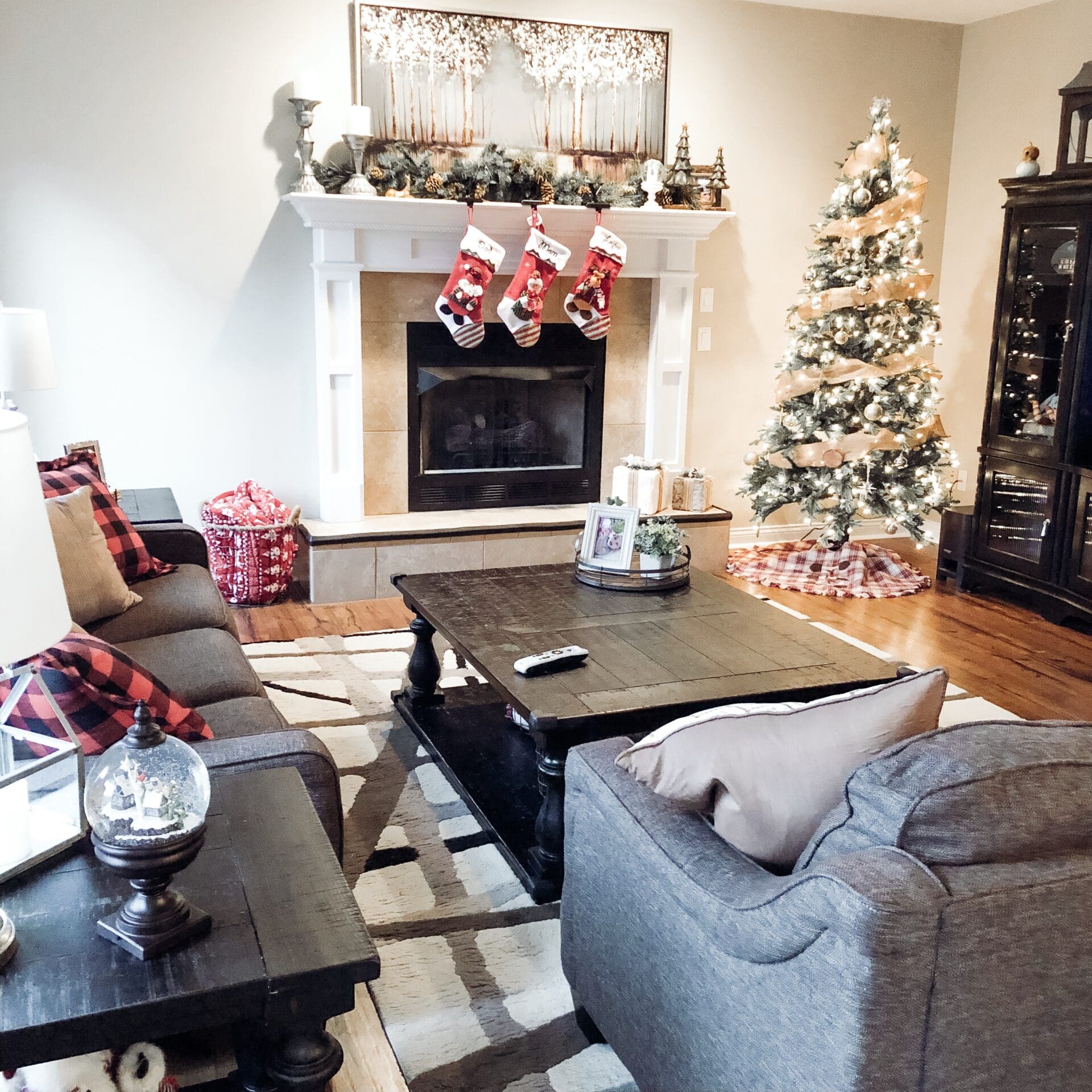 I love this room to be the most cozy because it's where the fireplace is and where we spend most of our time.  Up until last year we never had a tree in here, but then last year I decided I wanted a "pretty tree" – one that only had white, gold and silver ornaments on it.  Eric admittedly hated the idea of another tree, but now he totally loves it!  He agrees it makes the room more cozy, and he brought up the idea of that being the tree where we have Leyton's gifts from Santa when he's older, since it's next to the fireplace, and I love that idea!  So all of our gifts to each other can be under the main tree and the ones from Santa under that one.  At least that's our plan for now.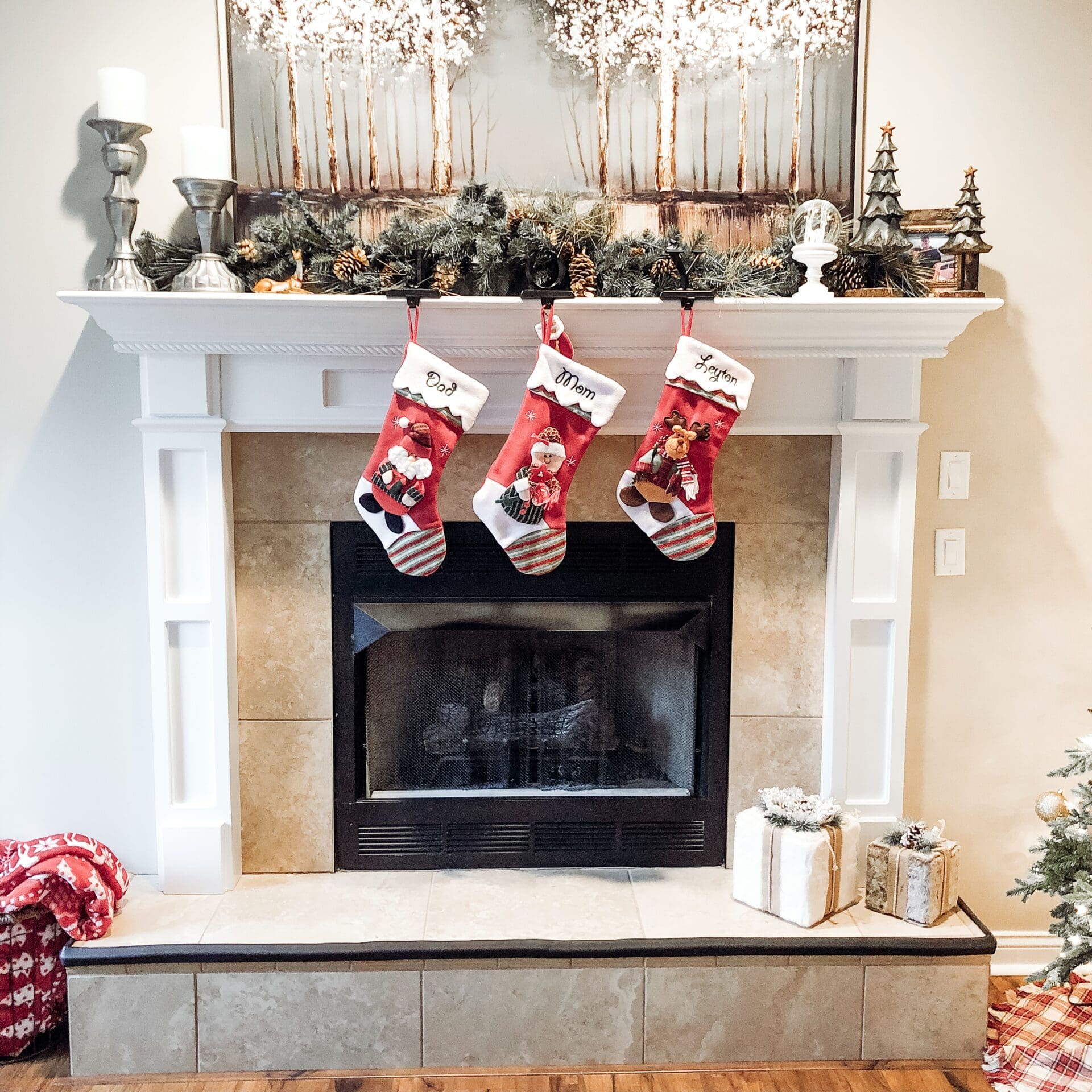 So far Leyton has left the trees alone, so let's hope that continues!  He does still bump into the side of the fireplace from time to time though, hence the black foam trim around it.  This year I also changed up our stockings.  Eric and I had pretty ones that we love but now that Leyton is here I wanted cohesive family ones.  We got these from Personal Creations and we love them!  They have different styles to choose from, are great quality, and we got them in like 3 days!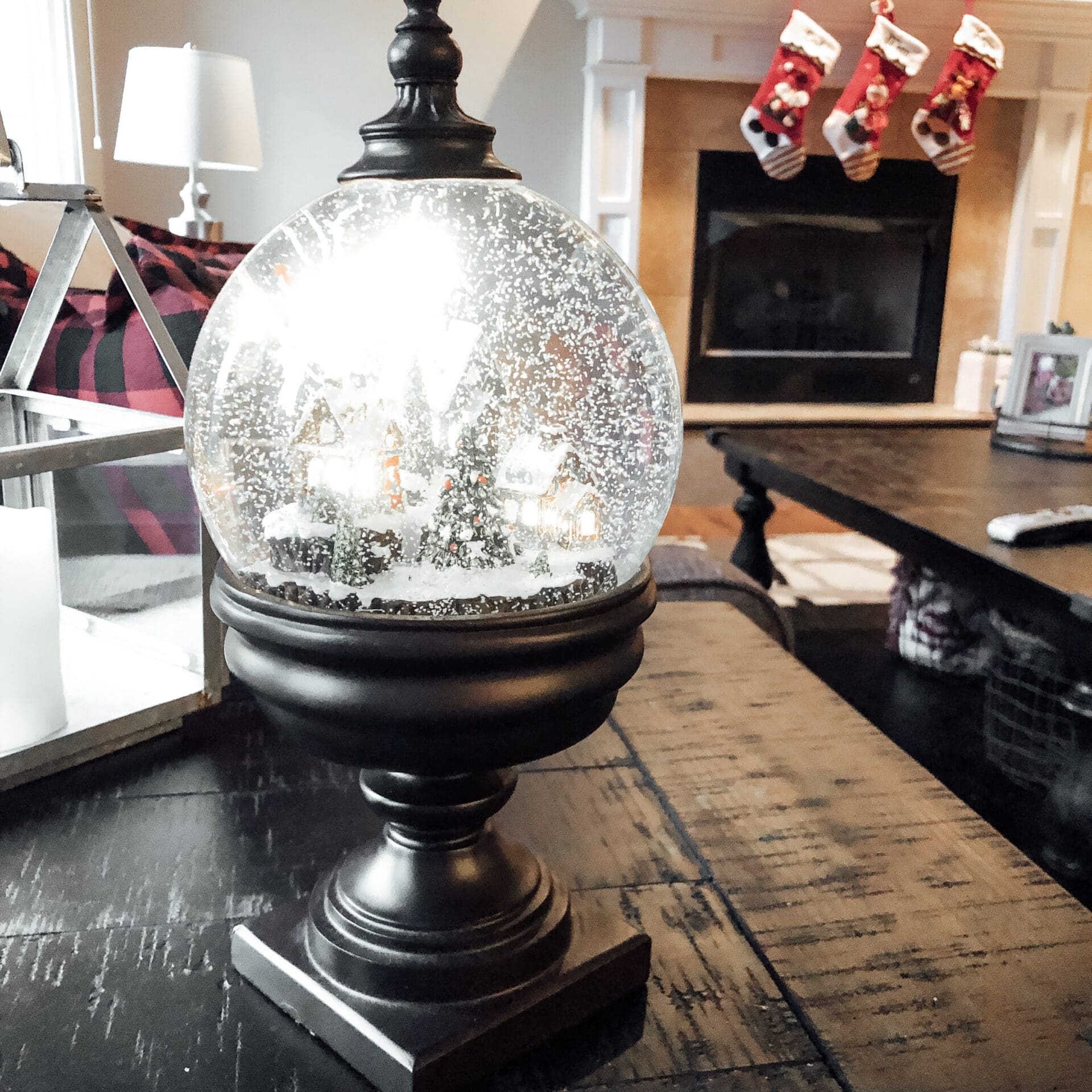 This snow globe is one of my favorite Christmas decorations!  I love snow globes and Eric's mom got me this one a few years ago.  The only thing I don't love about most snow globes is how you have to shake them to see the snow falling, which is the best part, and the point of a snow globe.  This one however, is battery operated and when you turn it on the snow whirls around in there until you turn it off.  It's so pretty!  So that pretty much wraps up that room.  I'm always playing around with how to do the mantel but until I find better inspiration on Pinterest, how we have it will work.
Okay, moving on to the kitchen area….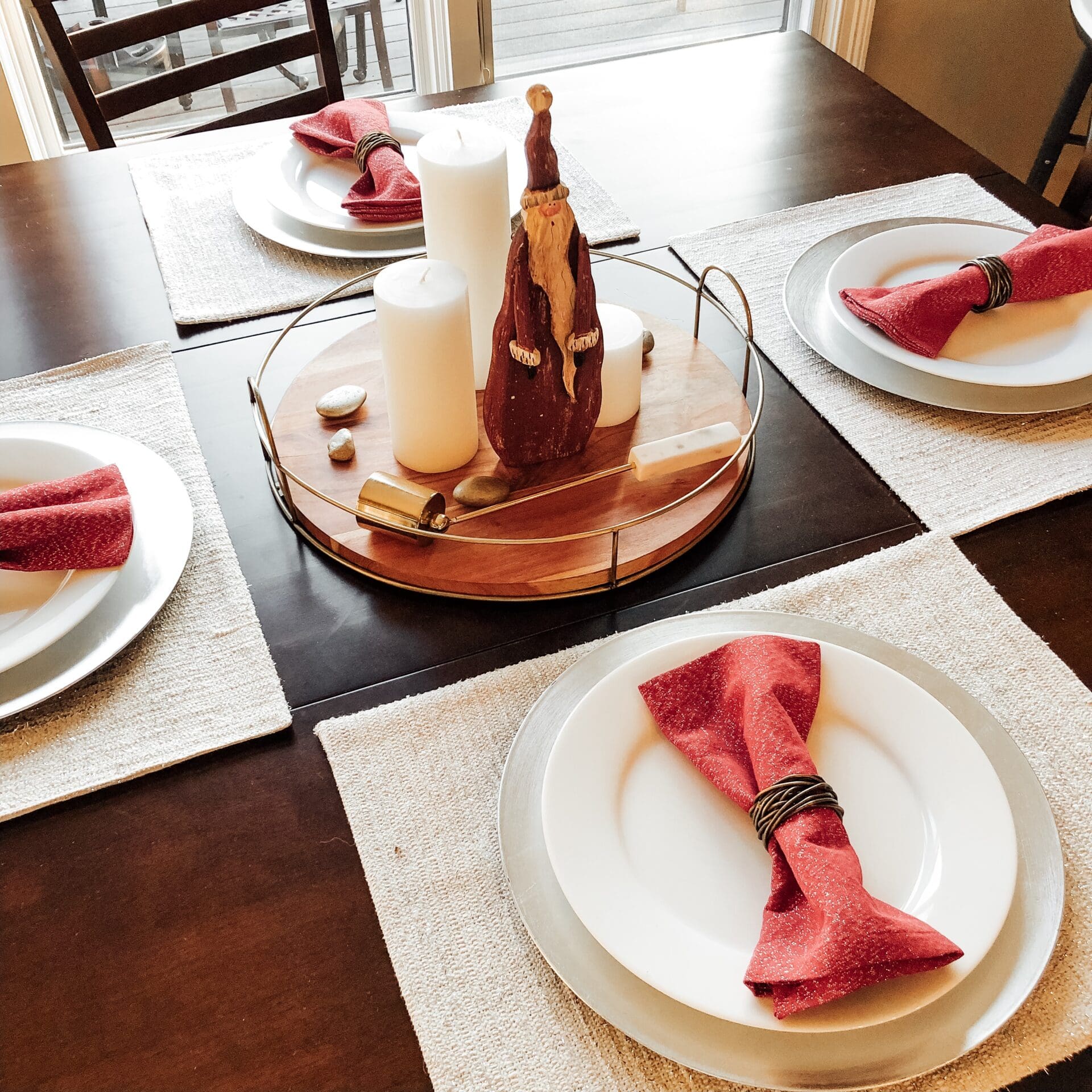 The most I really do for the kitchen table is a little decoration as the centerpiece and I try to switch up the place mats and napkins for the season.  I got these napkins from HomeGoods.  The place mats I've had for a while.  I think they came from HomeGoods too.  The little Santa either came from HomeGoods or Hobby Lobby.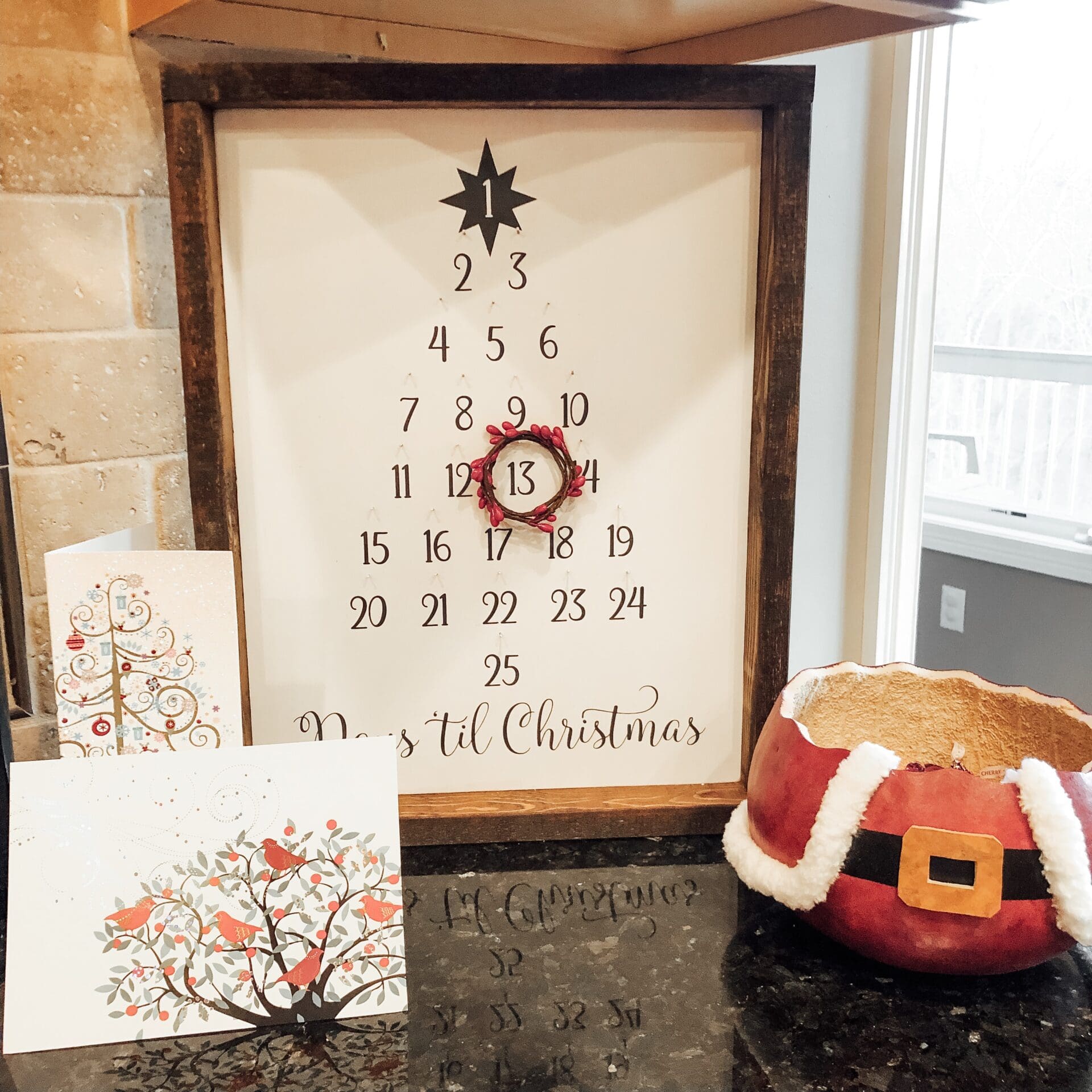 Here is the Advent calendar I have posted about a few times here and on Instagram.  It's from Etsy but sadly it's no longer available but here is a similar version that you can personalize.  And how cute is that Santa belly?? My best friend's husband made it.  He's so talented.  I put candy in it but also like it with ornament balls in it.
I always have a little plate with something on the middle of the island, depending on the season.  The tree is from Target and the plate and dish are from HomeGoods.  The candle is 100% beeswax.  My favorite candles are from Basic Bee Candle Co. Regular candles are so toxic so any candles you ever see in my house are either 100% beeswax, fake, or unscented and there for decoration.  I also like to display my Christmas mugs too!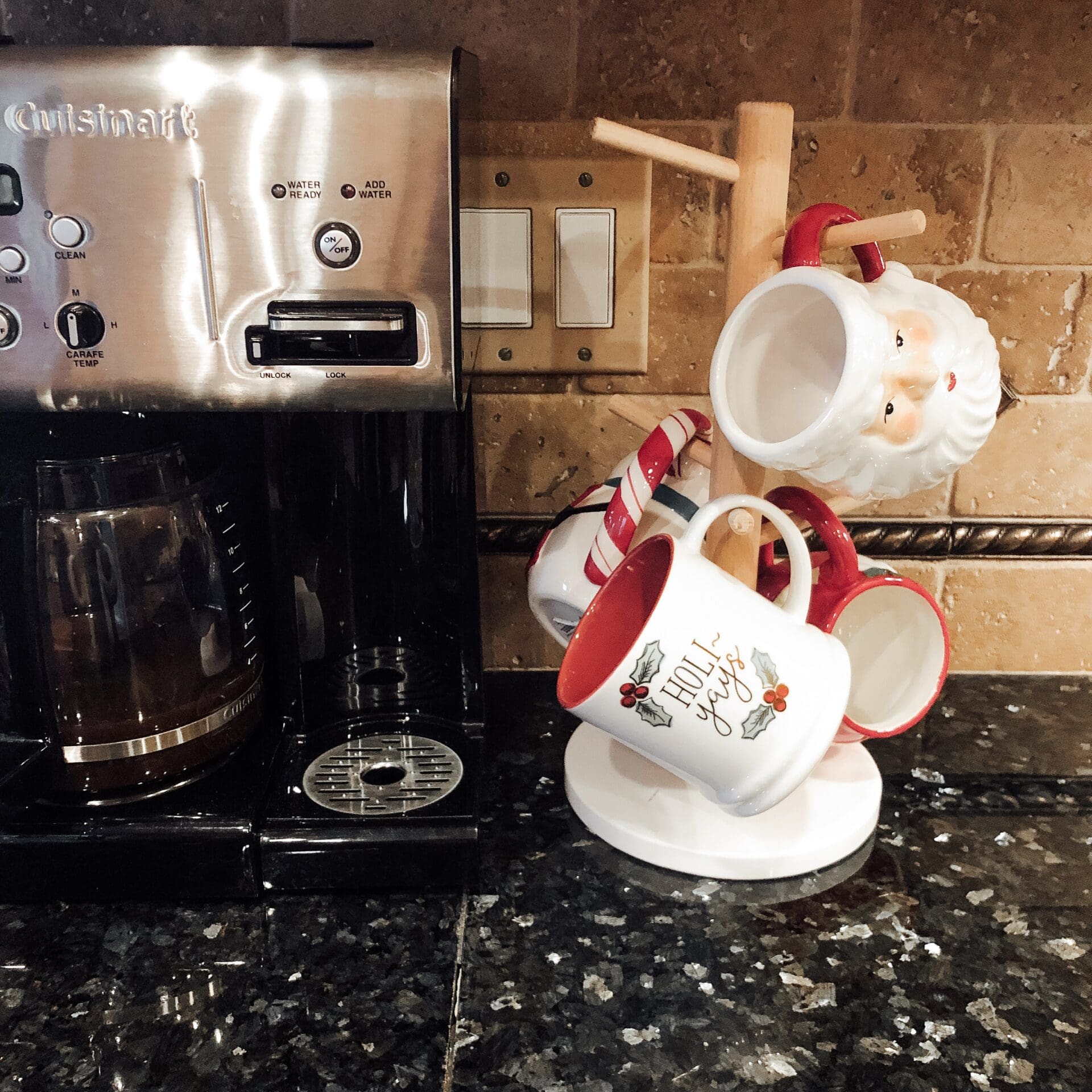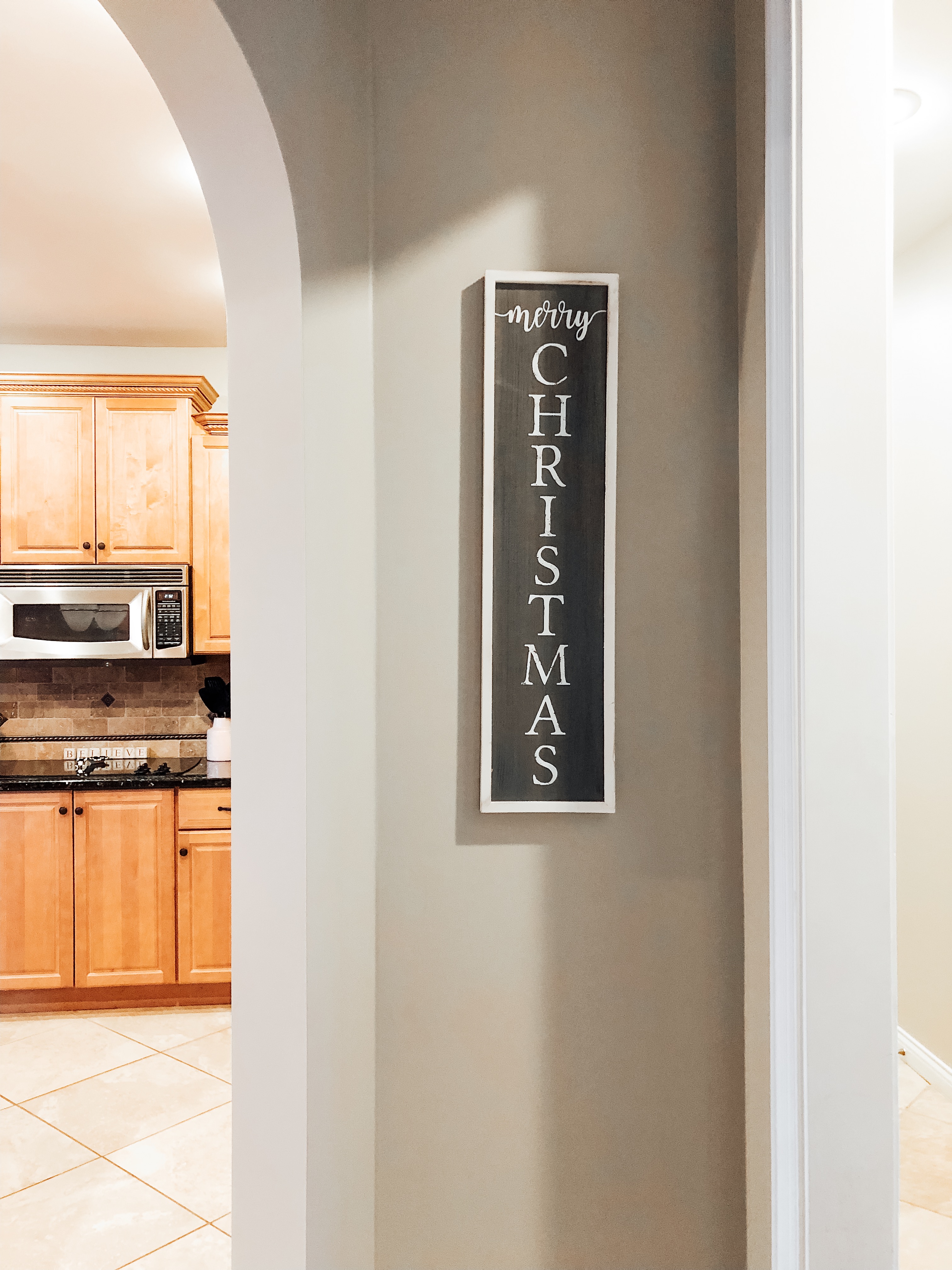 I got this Merry Christmas sign from TJMaxx a few months ago.  I love wooden signs.  I've been on the hunt for a big one for by the front door but haven't found any I love yet.  And when it comes to cards I know there are lots of Christmas decorating ideas for displaying them.  Here is mine…..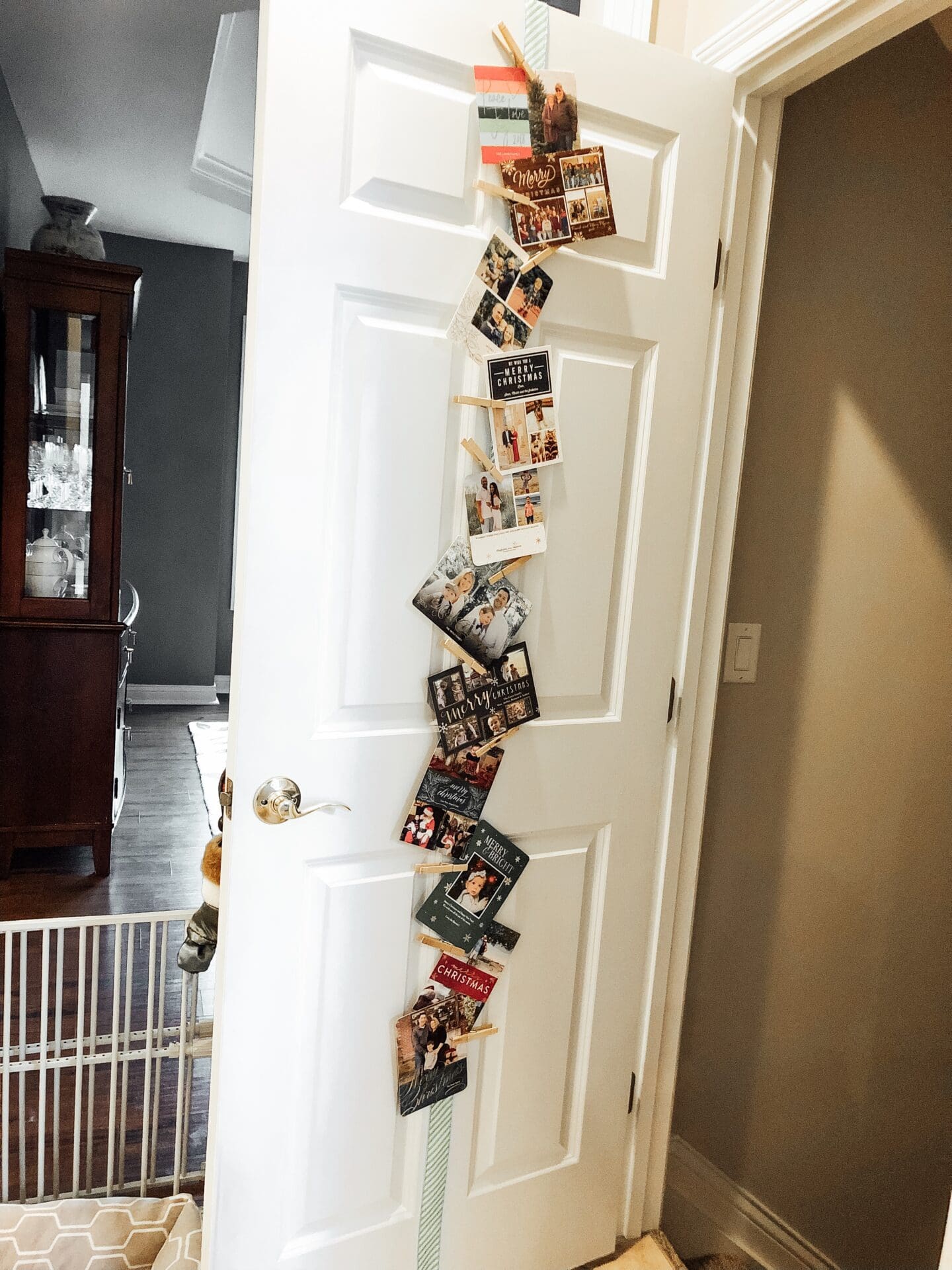 I love love love receiving Christmas cards from people but how in the world does everyone display them?  Ones that are actual cards I put on the counter because they can stand, but these days so many people do the flat picture ones and those are the best to display!  So, this has been the best I have come up with.  It's just ribbon thumb tacked to the top and bottom of the basement door and then I use clothespins to attach the cards.  It works, so unless I find something better, I'll stick with this method.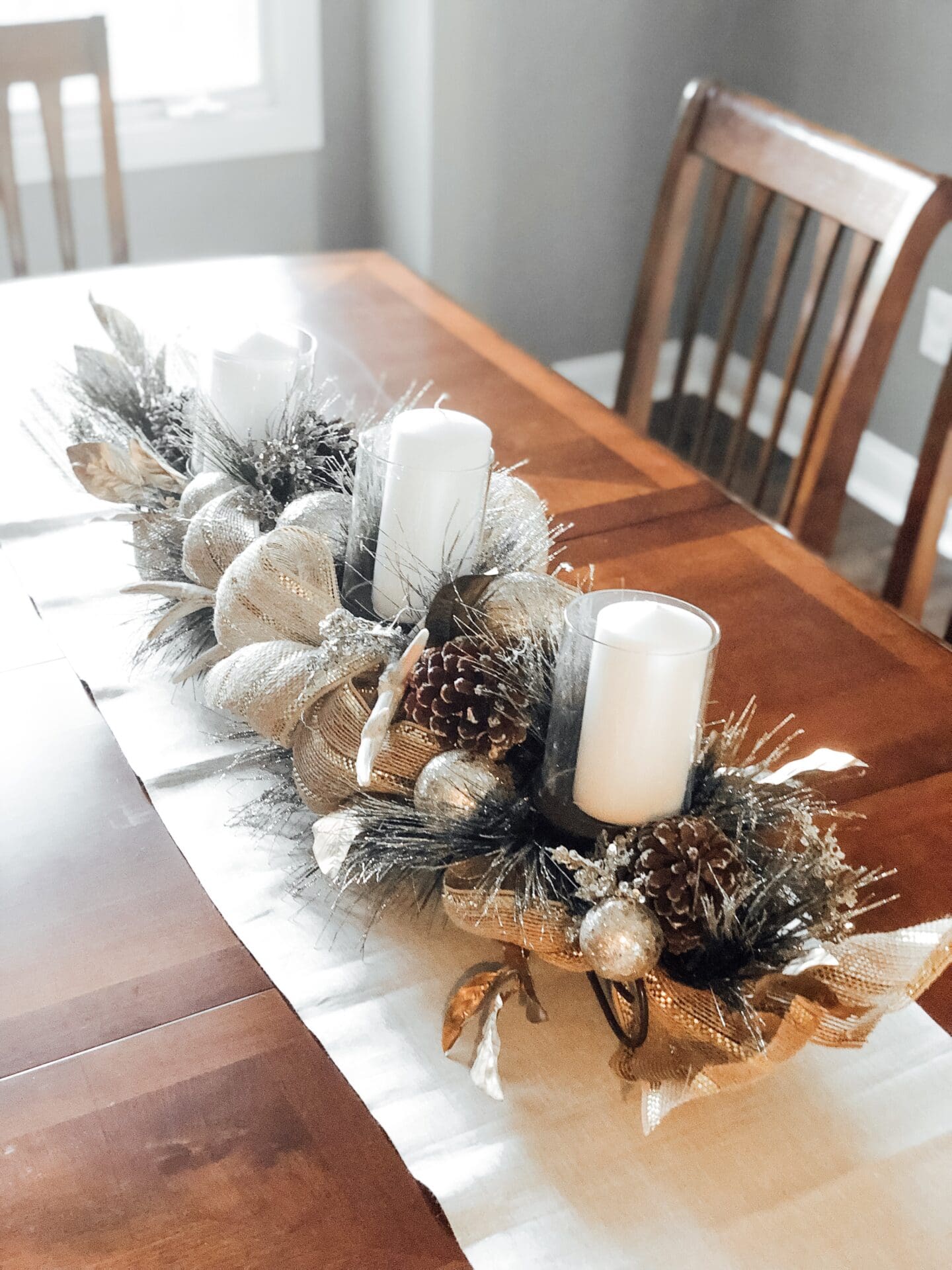 For our dining room I just display this centerpiece that I found at Kirkland's a few years ago. Then I just have some other little touches around the house like this Christmas sculpture from a local store and this Santa tealight holder I found at Hallmark years ago.
Then I just put a few decorations on the table upstairs.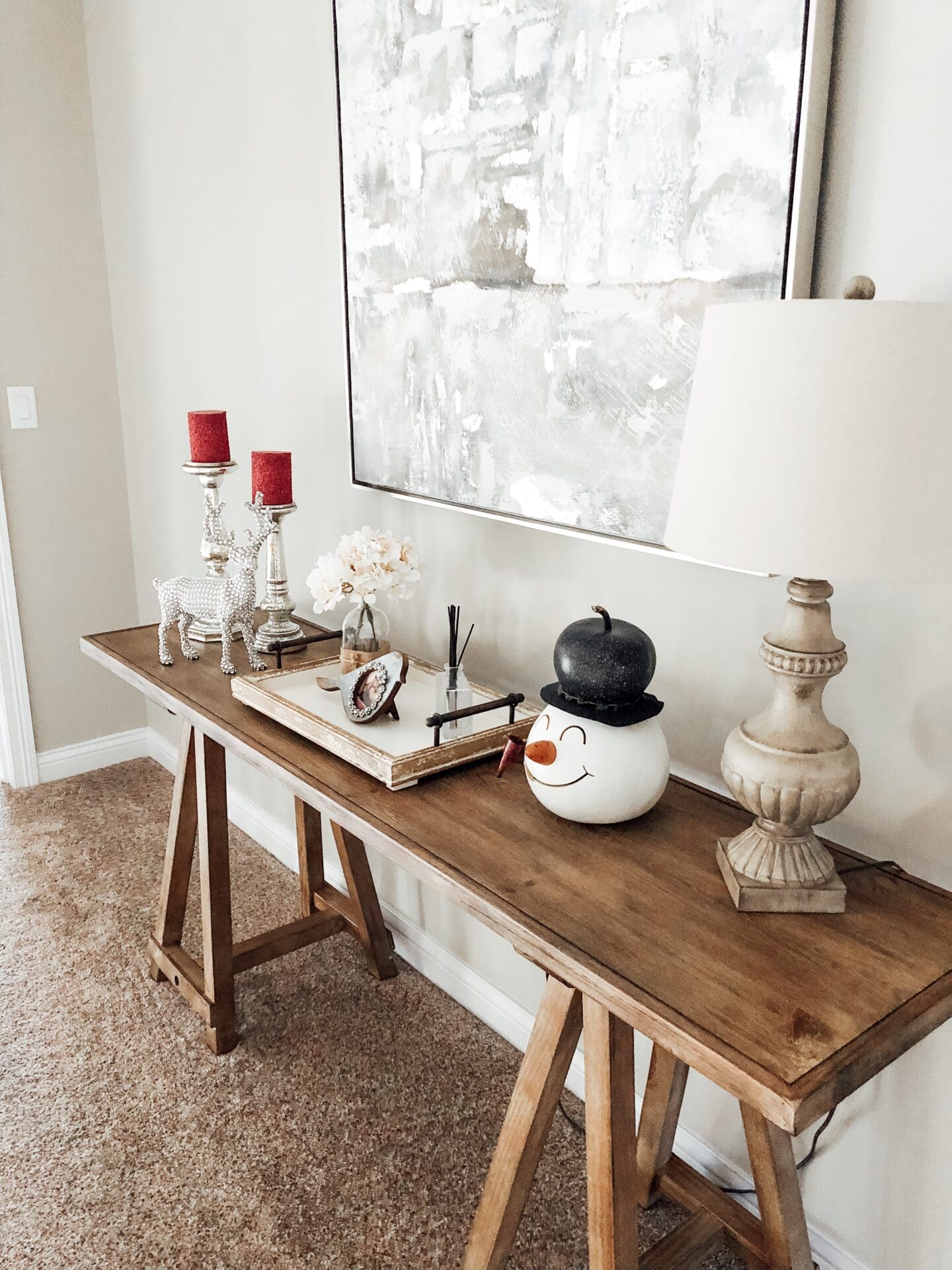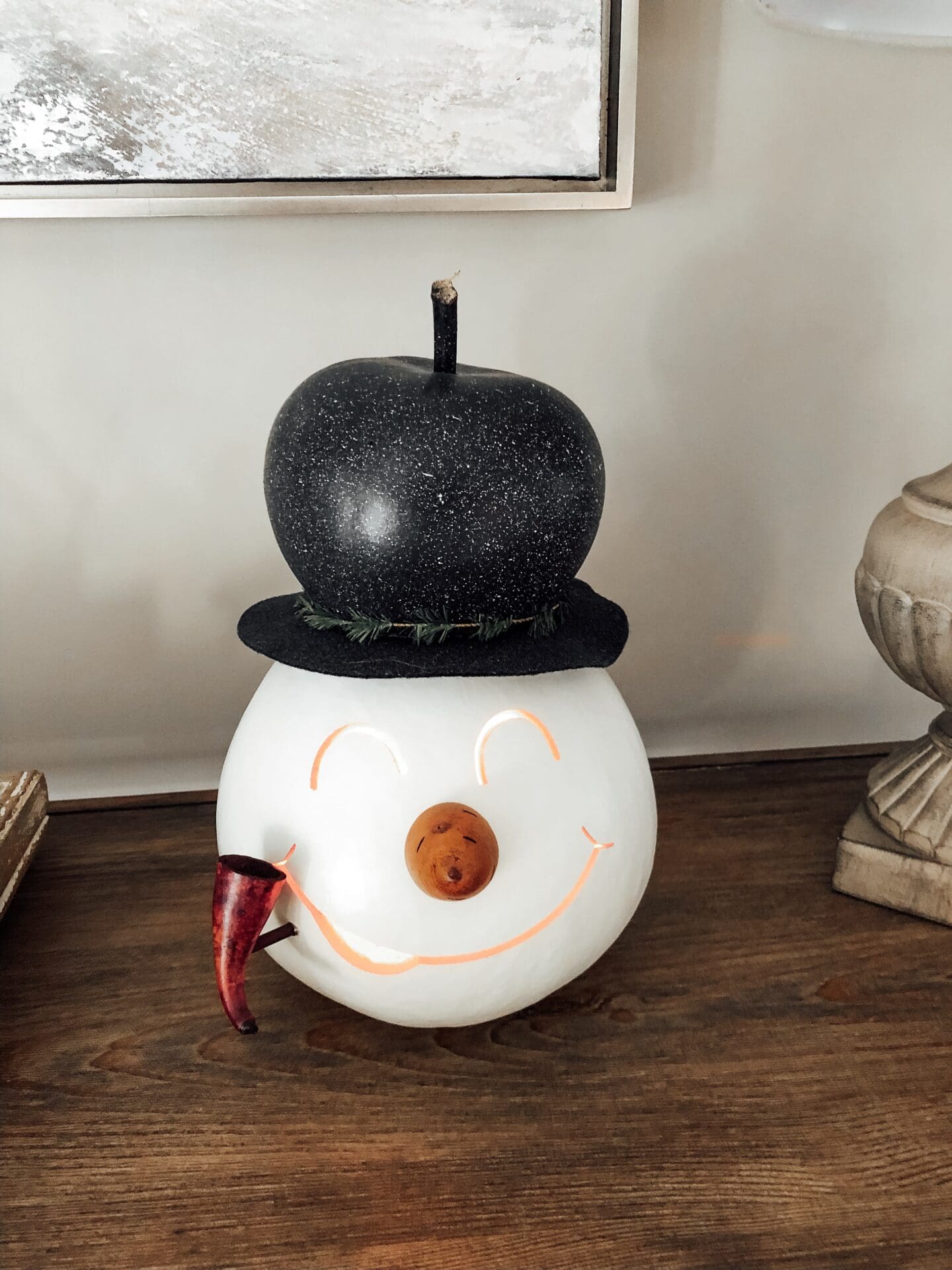 The light up pumpkin is similar to what my friend's husband makes but this is actually from a place called Meadowbrooke Gourds located in my hometown of Newville, PA.  It's a small town but they do a great business and they have sooo many gourds to choose from, both seasonal and every day.  I actually have several throughout my house.  I love the ones that light up!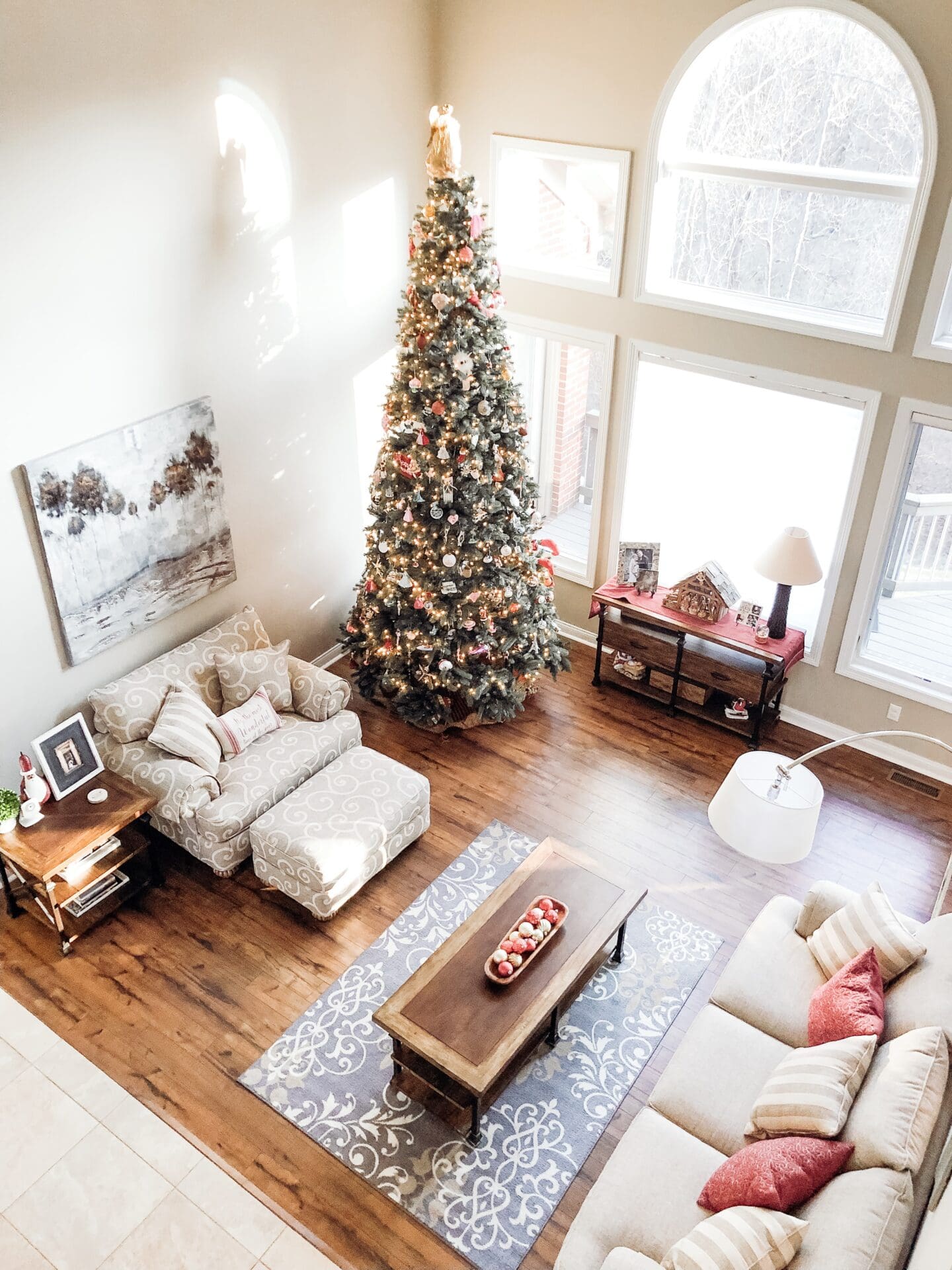 From the landing upstairs you can see down to the family room where we have the main, big tree.  This is the tree that houses all our fun ornaments and keepsake ones or ones from our childhood or that we've collected over the years.  I love looking at these when we hang them each year and thinking about what they represent.  It's also the home to allll my Barbie ornaments!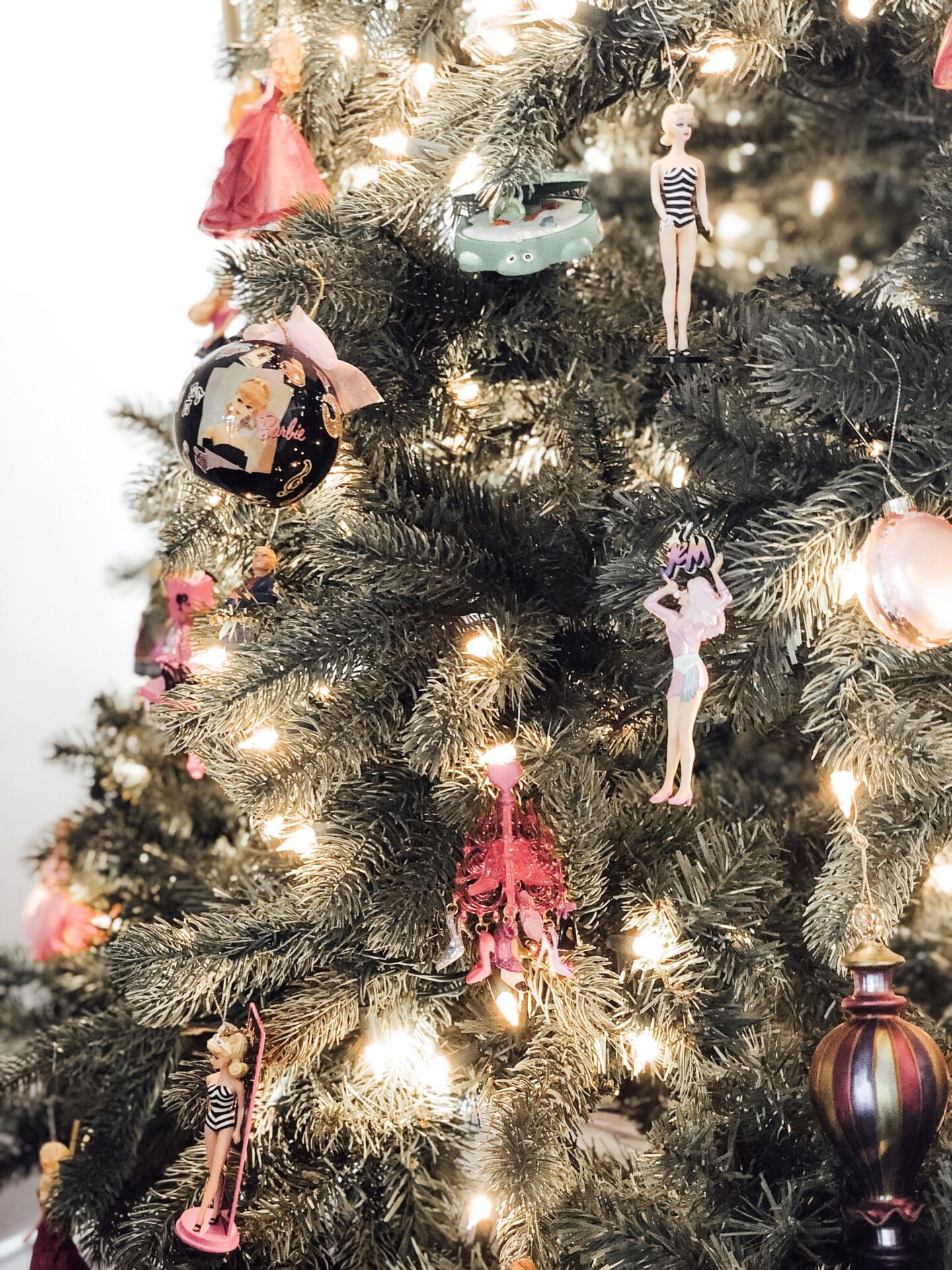 I have been collecting Barbie ornaments for several years now because I want to someday have a Barbie tree!  I'm so close.  Depending on if I get the ones this year (including the Barbie tree topper that Hallmark came out with this year, that in my opinion, is a MUST for a Barbie tree) I think I'll be ready for the all Barbie tree next year.  Eric can't wait 🙂 But don't worry I will put it in my office or somewhere not in plain site. A themed tree is one of my favorite Christmas decorating ideas.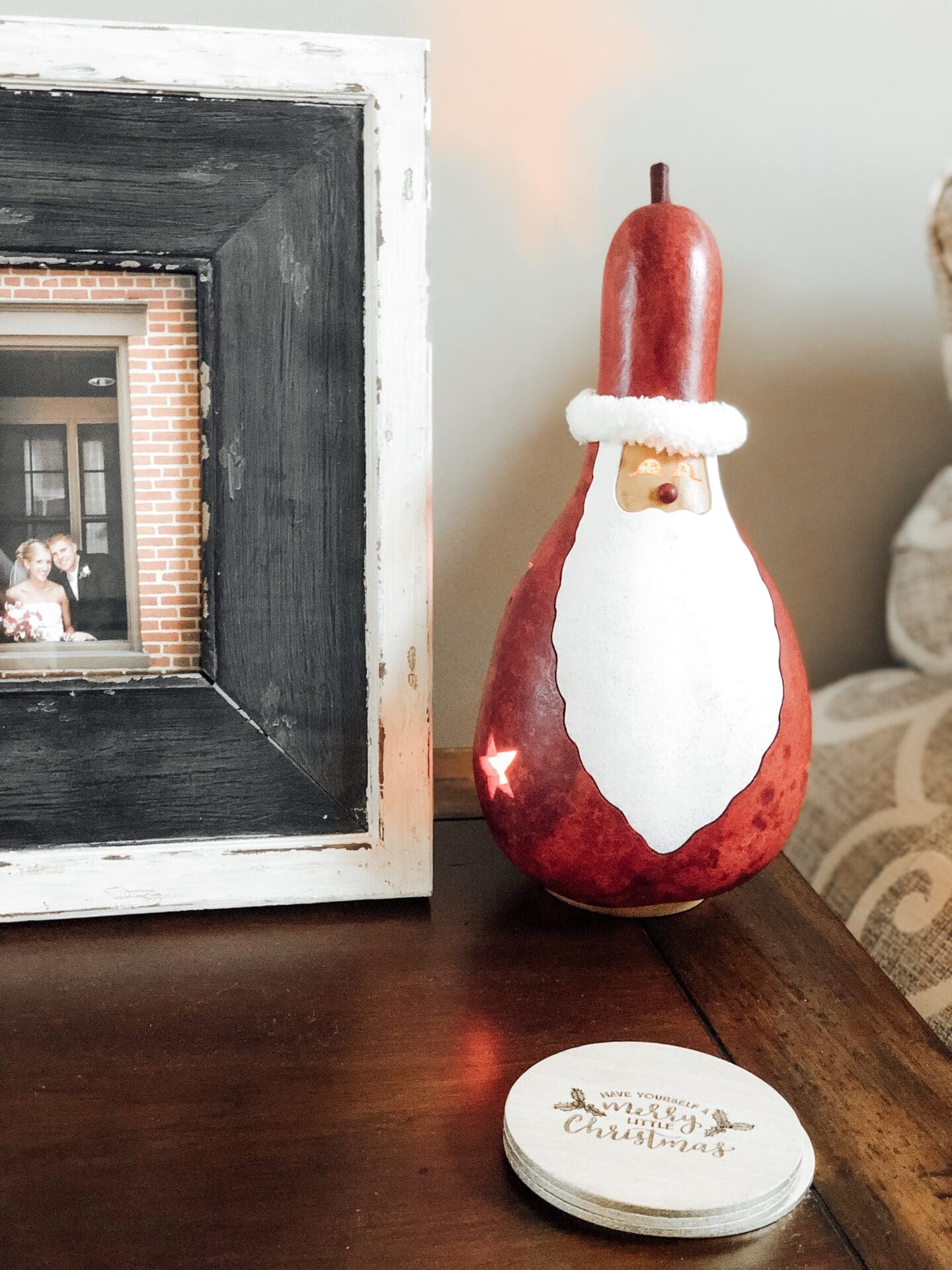 Here is another light up gourd but this one IS by my friend's husband.  I love how it shines a start on the wall behind it.  And then I love little decorative Christmas pillows like this one….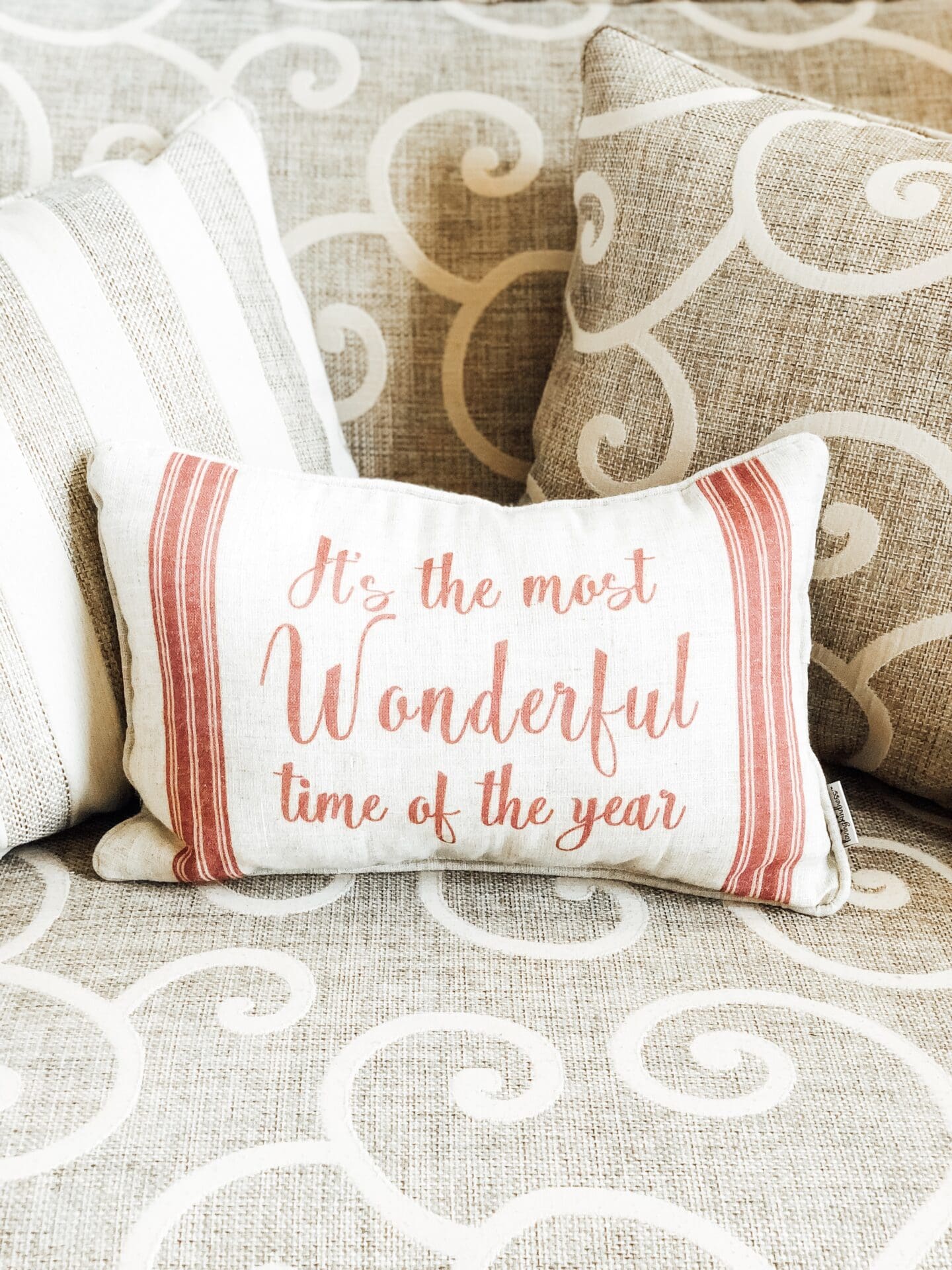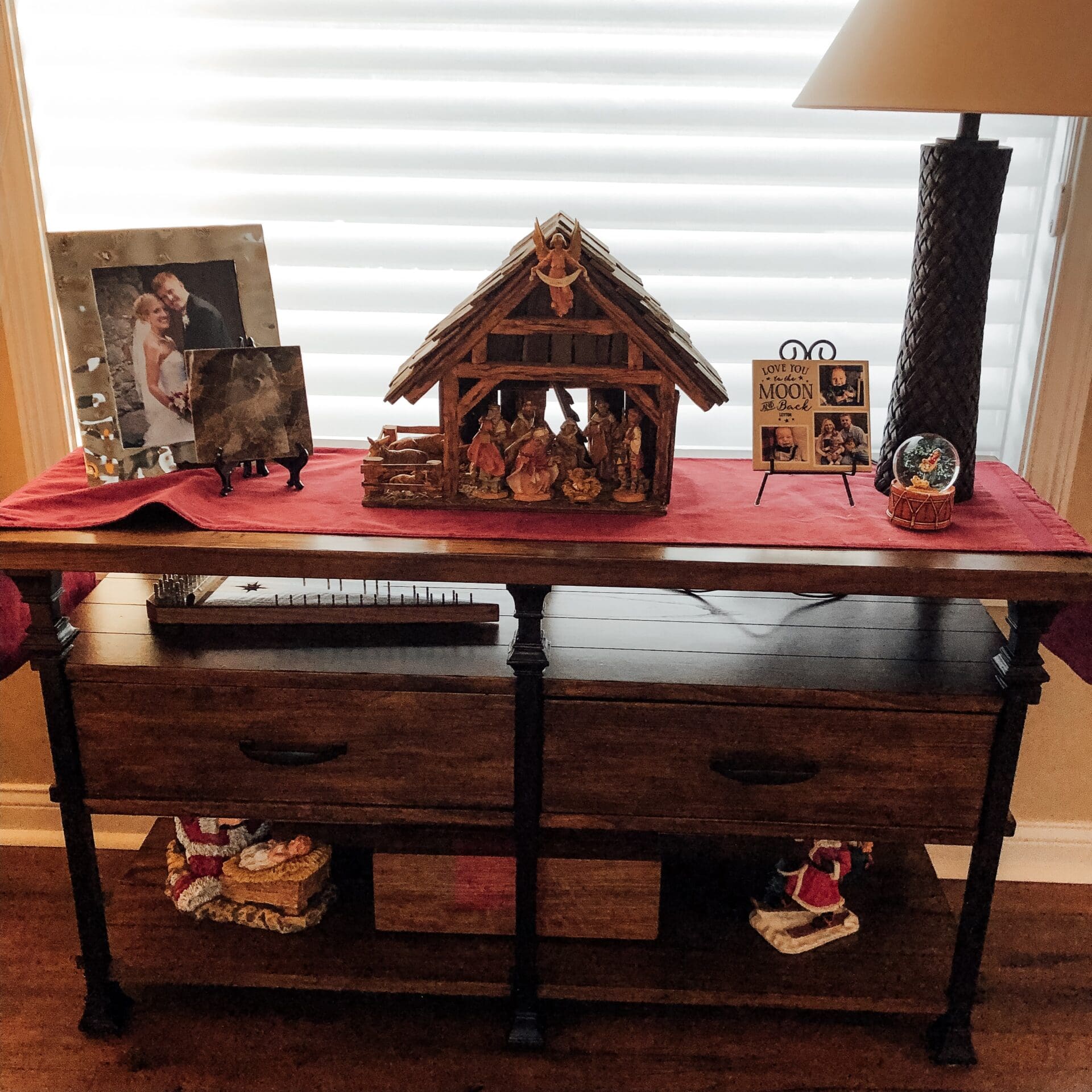 And I love our Manger!  Eric has had this ever since I knew him.  His mom got it from a place around here that sells pretty realistic looking mangers and the figurines.  We got my parents one a few years back and they loved it!
So that's pretty much it.  We don't really decorate bedrooms.  The most I do is Christmas bedding for us.
We will decorate Leyton's room once he's a little older and get a little tree for his room but for now it's just one more thing for him to get into so we passed.  Oh and we only do artificial trees.  I always had real ones as a kid and I love them, especially their scent, but honestly they are a lot of work, and messy and between the sap, and the pine needles, and the needing to water it, and the going out in the cold to get it….I just can't.  I'm all about everything Christmas, but that's the one area I'm a little bah humbug.  I do think though that when Leyton is older we will do a small real one either for his room or for the basement at least for a few years so he has the Christmas tree getting experience.
Alright friends, thanks for stopping by and checking out these Christmas decorating ideas.   If you do any posts about how you decorate be sure to drop a comment below so I can go check it out!  I love seeing people's homes at the holidays :).  Have a great weekend and I'll see you back here Monday!
xo, Jill