Happy Monday friends!  It's the start of a new week which you know I get excited for because it's a fresh start to finish anything I didn't get to last week, and hit on some new goals for this week.  We have our Christmas with Eric's family this weekend so I'll be spending this week getting prepped for that, among other things on my to-do list.
Lately, as I've been Christmas shopping for everyone I have come across some great finds and "must haves" that I couldn't wait to share in this Monday Must Haves post.  So I'm making today's must haves, a "must have Christmas items" post.  Also, if you are still looking for gifts for her, him, kids, hostess, teacher, side gifts, stocking stuffers, etc.  be sure to check out the gift guides tab at the top of the page, for some ideas.
Okay, so let's get to the Monday Must Haves shall we?  First up….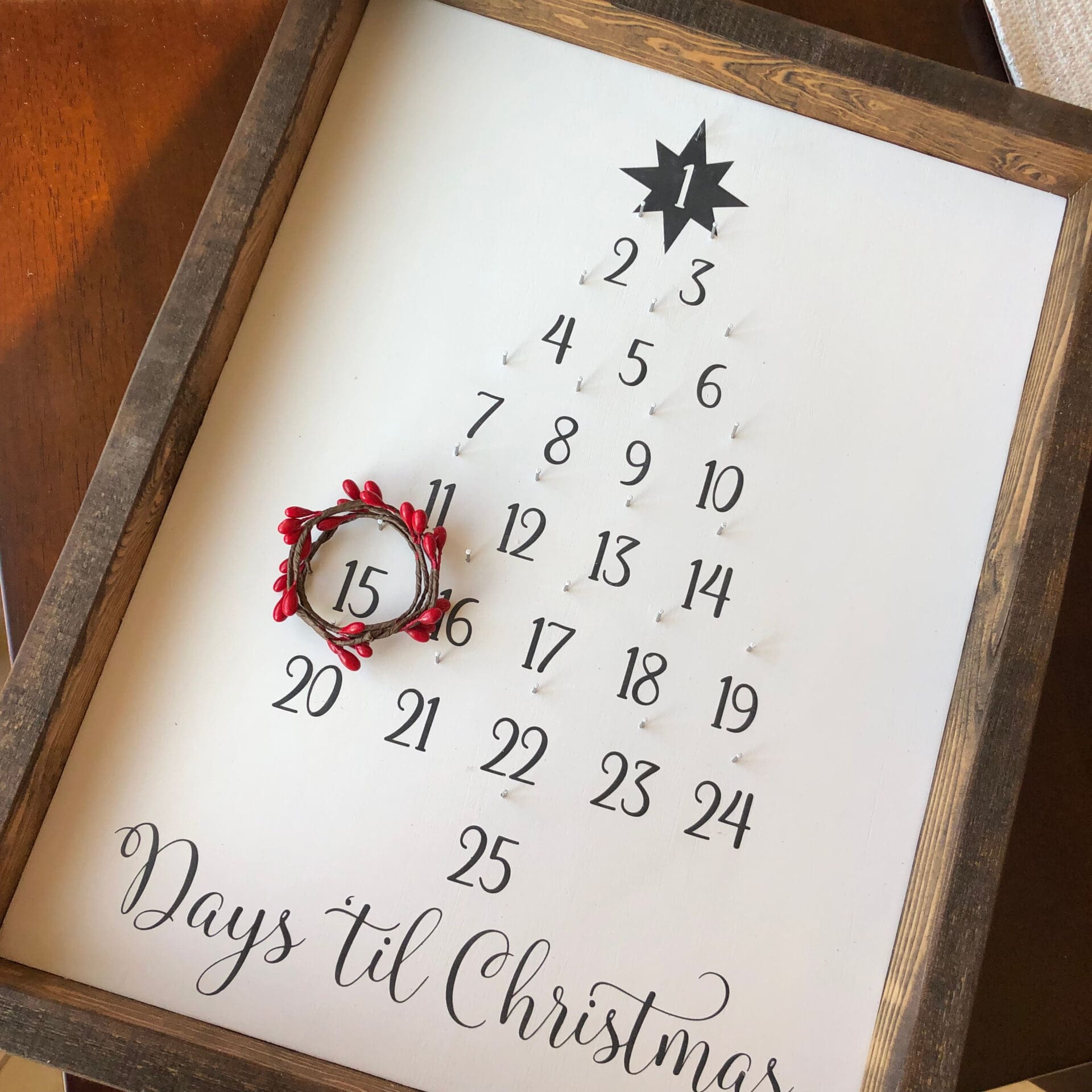 I'm in love with this advent calendar from Prairie Canary Ranch on Etsy.  The rustic look is on par with my style these days and I like the idea of moving the little wreath.  Now Eric and I had a little debate over this because when he was growing up he counted down to Christmas, starting at 1 and ending on 25.  Now, this way isn't wrong and I've done that before too, but for this one, since it's counting the "days until Christmas" I think it's right to start at 25 and count down to 1 so on Christmas Eve there is only 1 day until Christmas.  Who's with me?  Target has a similar one to this here.
I also think these two from Target are cute…..
The Christmas Tree one has it so each day flips and on the other side is a snowflake or some Christmas symbol and then the Santa chimney one is so cute!  Santa starts at the top and moves down as we inch towards Christmas.  I think this will be a cute one for Leyton when he's older and I like the ones with chocolate so kids get a little treat each day.  That always made me so excited as a kid!  Speaking of Santa…..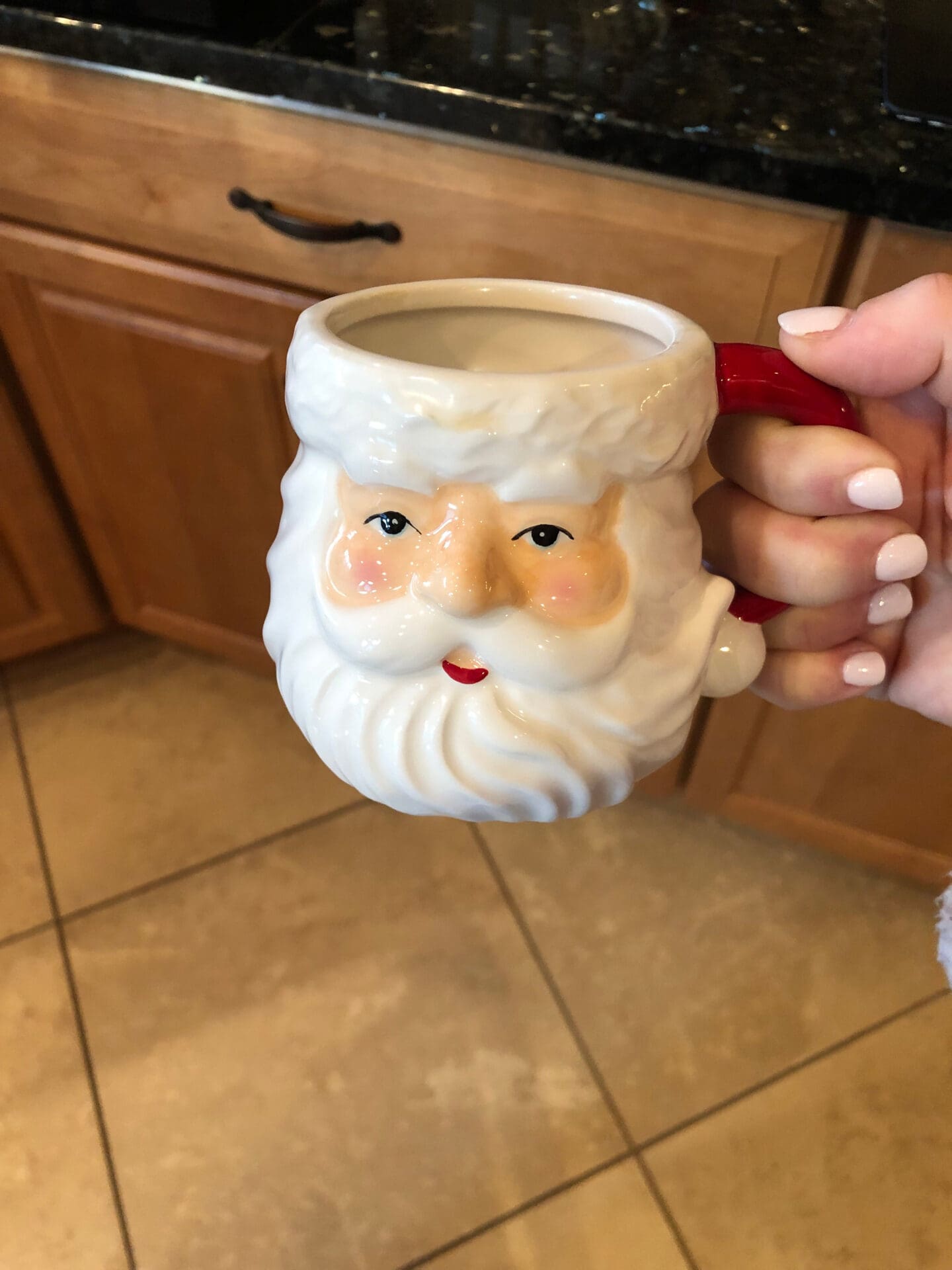 How cute is this mug?  I'm a sucker for holiday mugs and I have to admit the ones like this from Pottery Barn are sooooo disappointing!  They look just like this and are cute but literally hold like a shot of coffee.  Sorry PB but this mom needs a vat of coffee and your itty bitty mug doesn't cut it!  So yesterday I found this bigger version at Sur La Table (I'm so obsessed with that store!) and it was on sale for like $8 so I scooped it right up!
Also, at Sur La Table….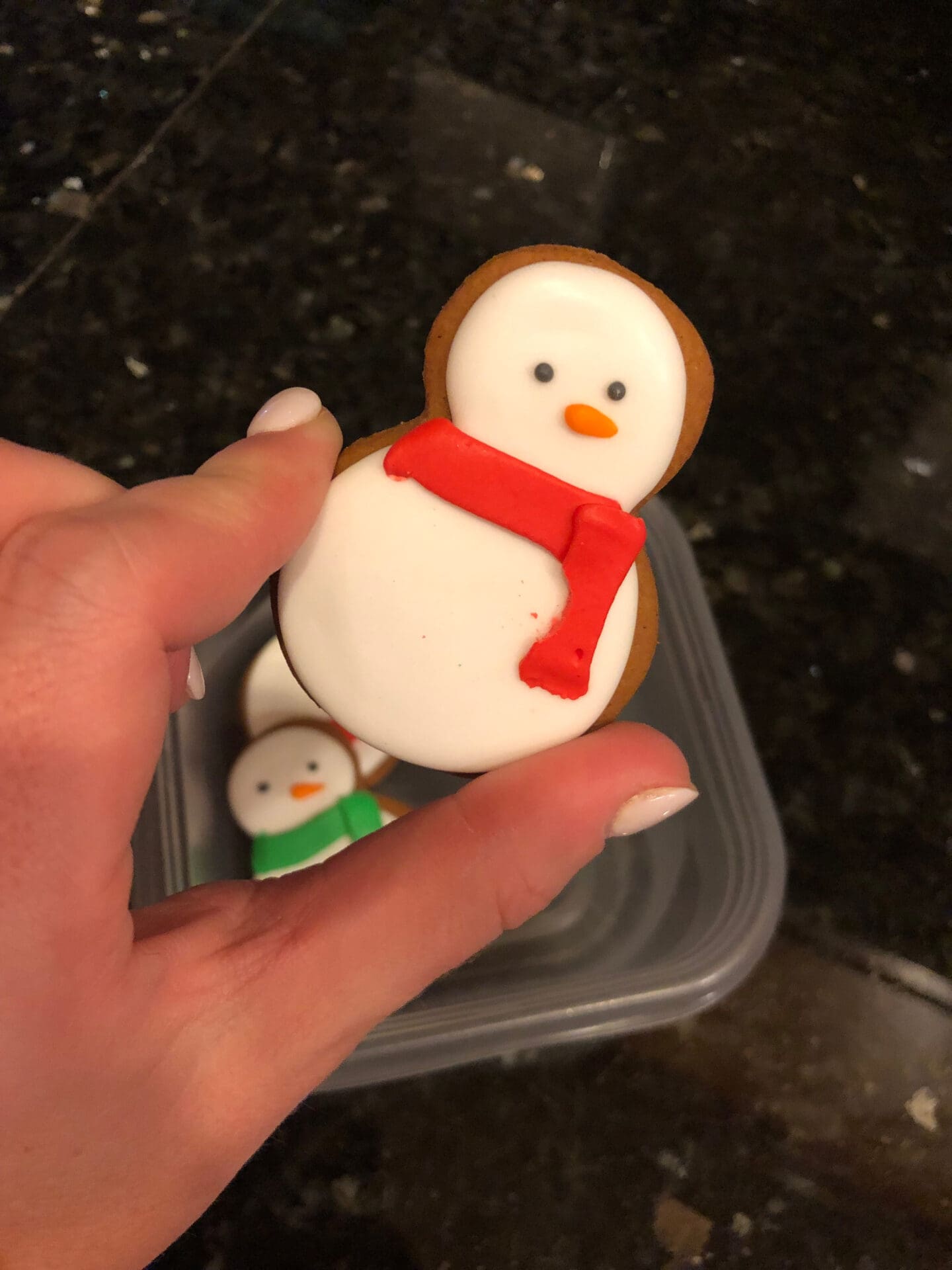 Can someone tell me why it is SO hard to find iced gingerbread cookies at Christmas time?  Isn't it a staple Christmas cookie?? They are hands down my favorite Christmas cookie and I kid you not they are impossible to find!!!  So every year I snag these from Sur La Table because they are the only place I can find them and they are delicious!
Here I am enjoying my cookies and my new mug this morning :).  'Tis the season!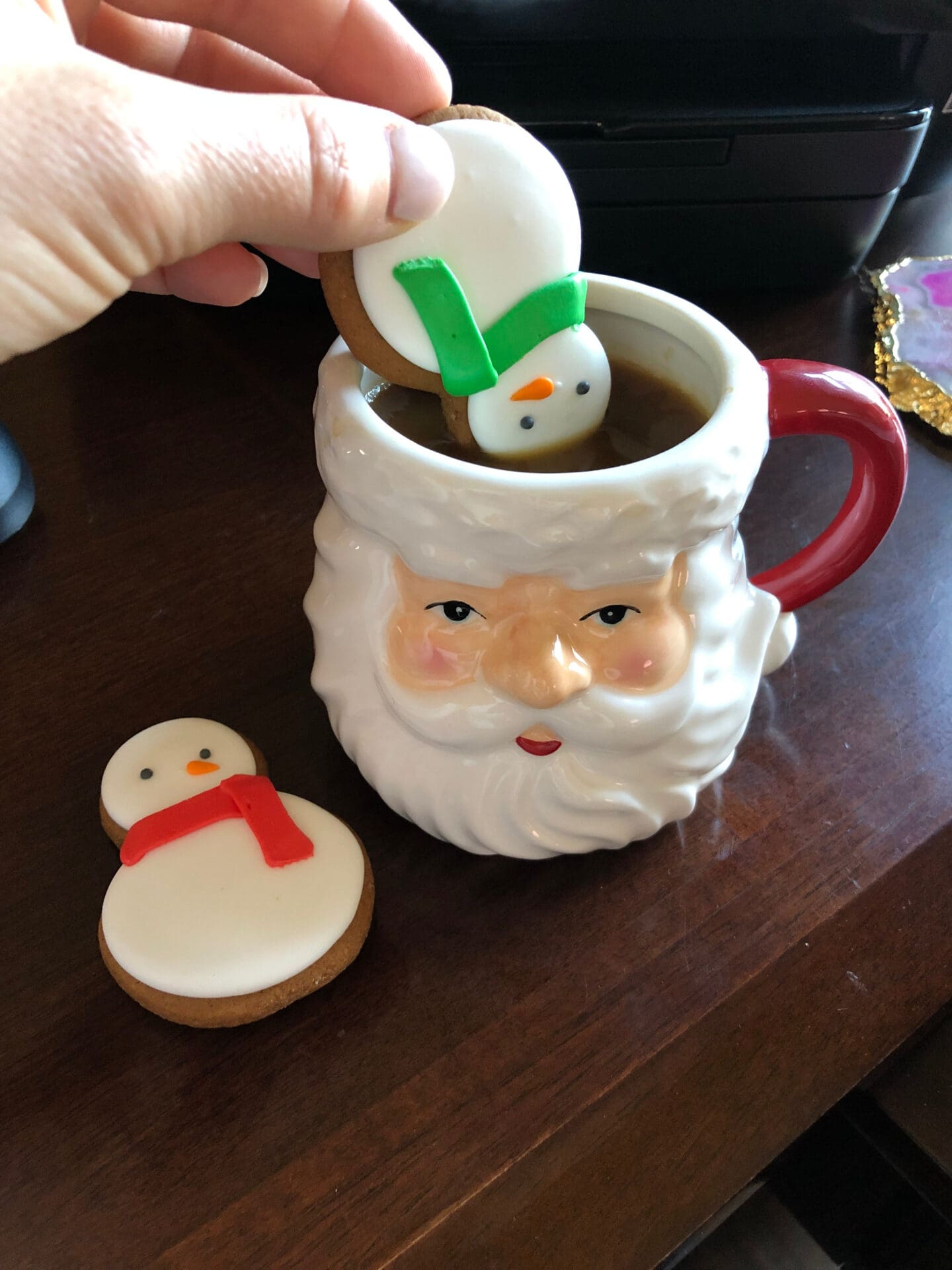 Okay, who saw my Instagram post this past weekend where I shared my coat from J.Crew Factory…..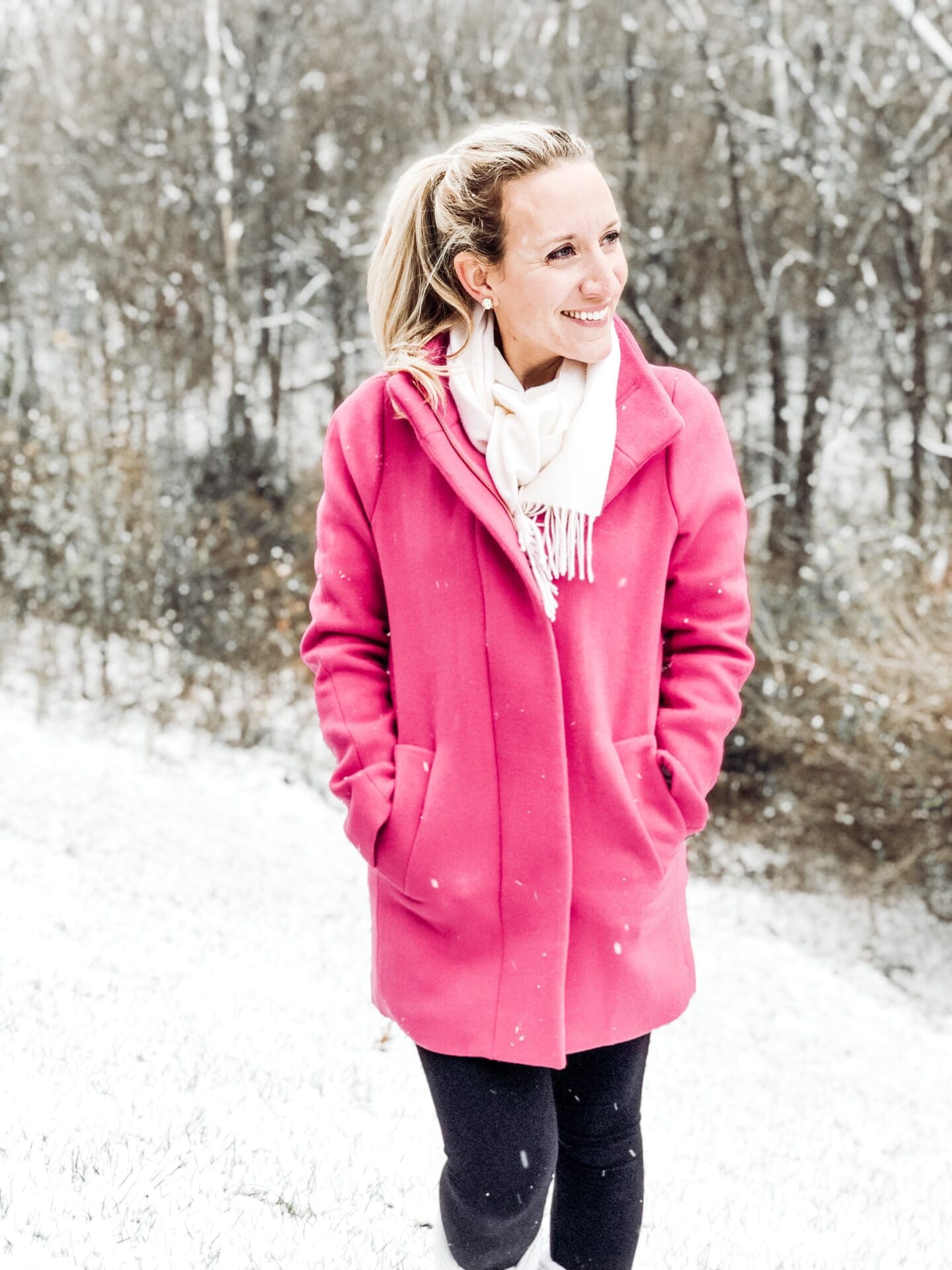 Friends, I am obsessed with this City Coat from them!  I got this one last year but couldn't wear it because I was so pregnant!  But this year, I'm wearing it on repeat!  Technically, it's not Christmas related but I'll be wearing it to all my Christmas and holiday functions so it counts!  Now, this color is not available this year but I was at J.Crew Factory yesterday and here's the current selection…..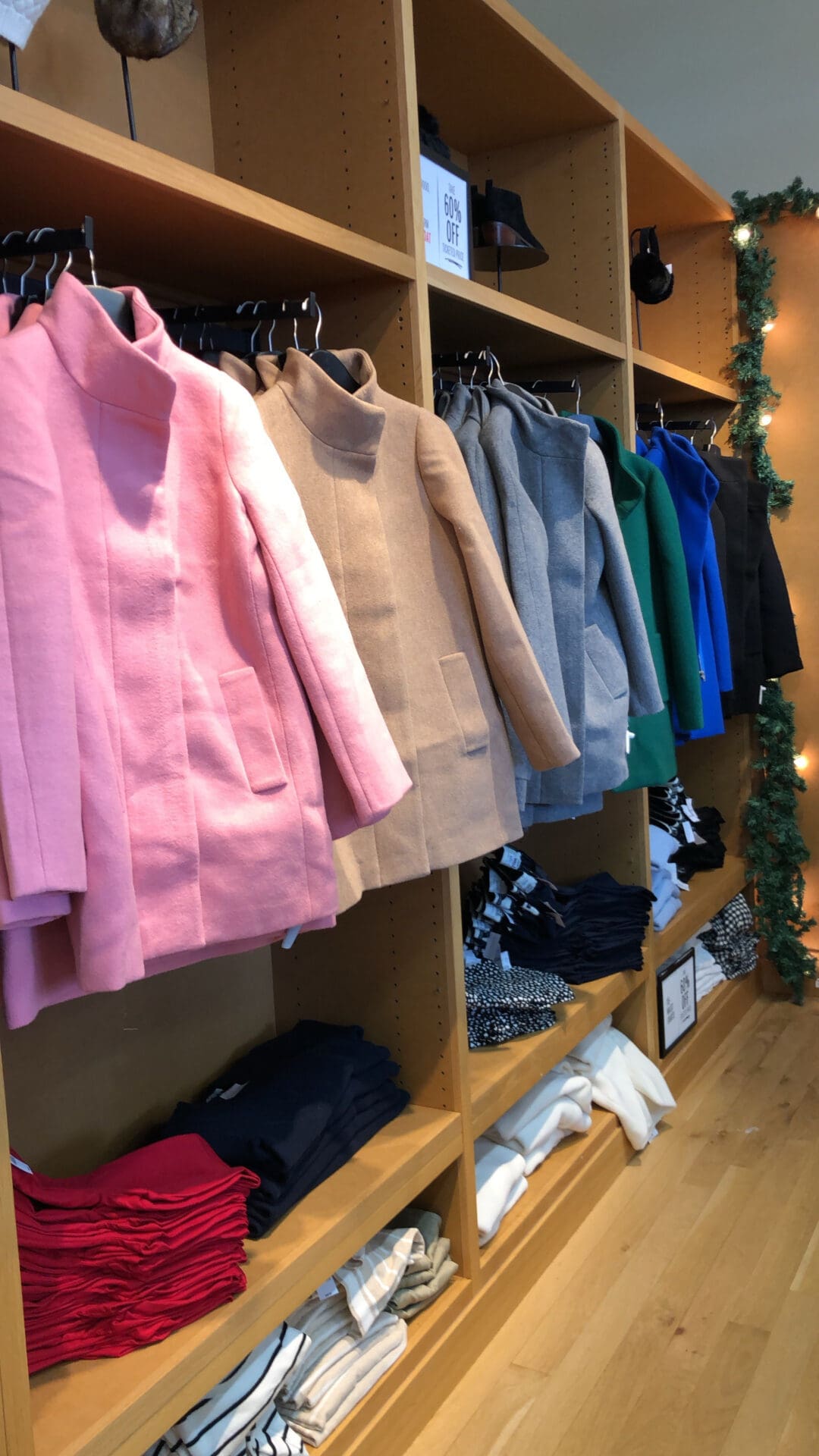 I see you, baby pink!  I also loooove that blue!  It currently comes in 8 colors.  Shop all options here.  Also, J.Crew Factory is currently running a sale of 50% off everything (well everything but this coat of course) and an extra 20% off your purchase with code: FROSTY.  Funny story about my hot pink version…Eric and I were shopping this weekend and walked into a store and the sales lady was like "Wow, that coat is bright!"  Which…duh, hot pink is my signature color, that's why I got it ma'am!  And then yesterday when I was in J. Crew Factory the one sales guy commented about how bright it was.  I wanted to be like, ummm hello!  It's from here! Haha, I guess shocking pink isn't a winter color people are used to seeing.  I for one, love it!
Also, while at J. Crew Factory yesterday, I picked up this cute sweater to wear to a Christmas function….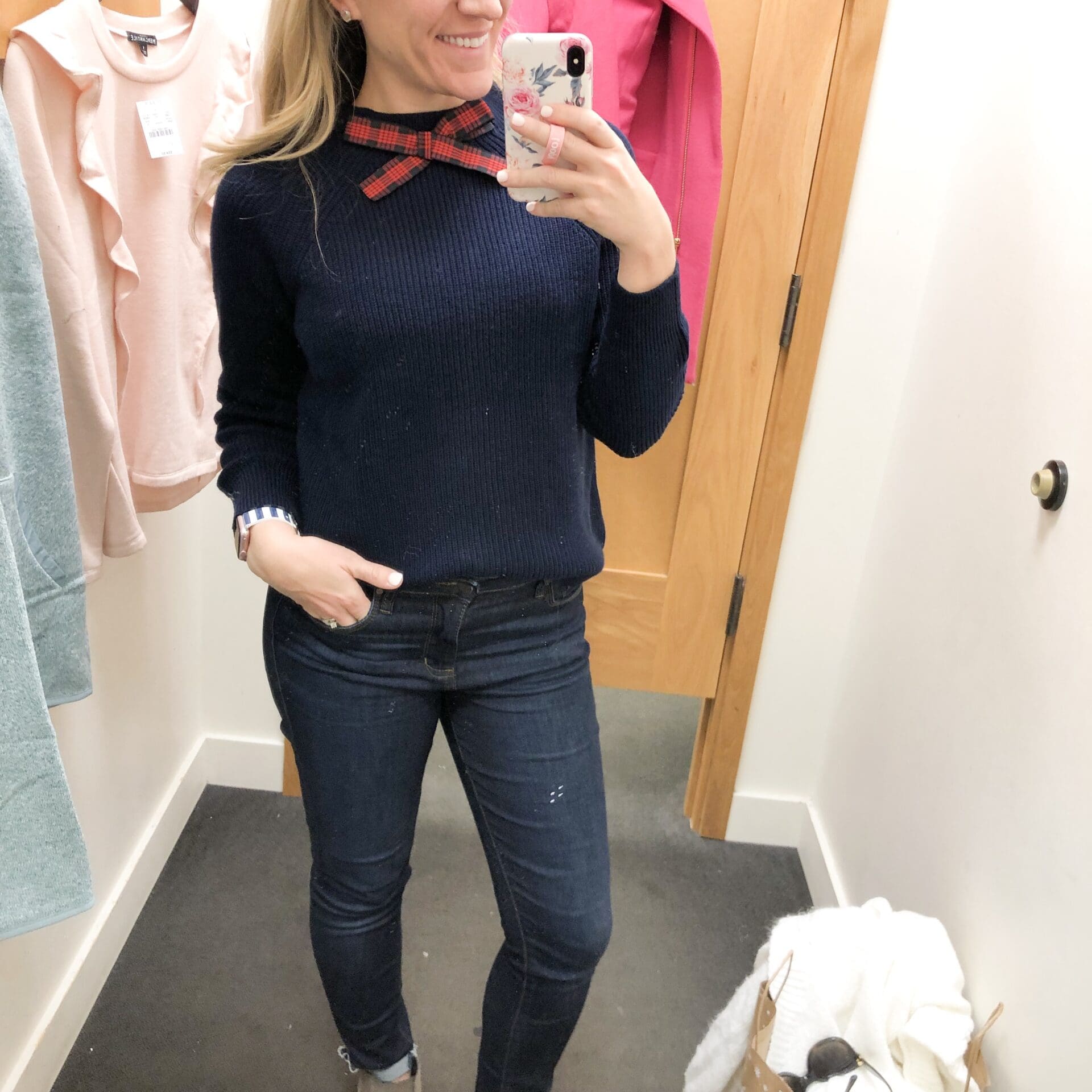 I just think that bow is so stinking cute!  And you can snag it now for 50% off plus the extra 20% off!  I missed the 20% off when I bought but here's a couple things I didn't buy in store that I'm eyeing up now since they are part of this awesome sale! (Links below picture to shop).
I'm getting back to Christmas stuff in a minute I promise, but here are some good Men finds from the J. Crew Factory sale too….
Okay, back to Christmas must haves.  If you're still in need of some cute stockings, I can't recommend these from Personal Creations enough.  They are so cute, great quality and I literally ordered them and had them like 3 days later!  I love that they are cohesive and we have our own but they still match.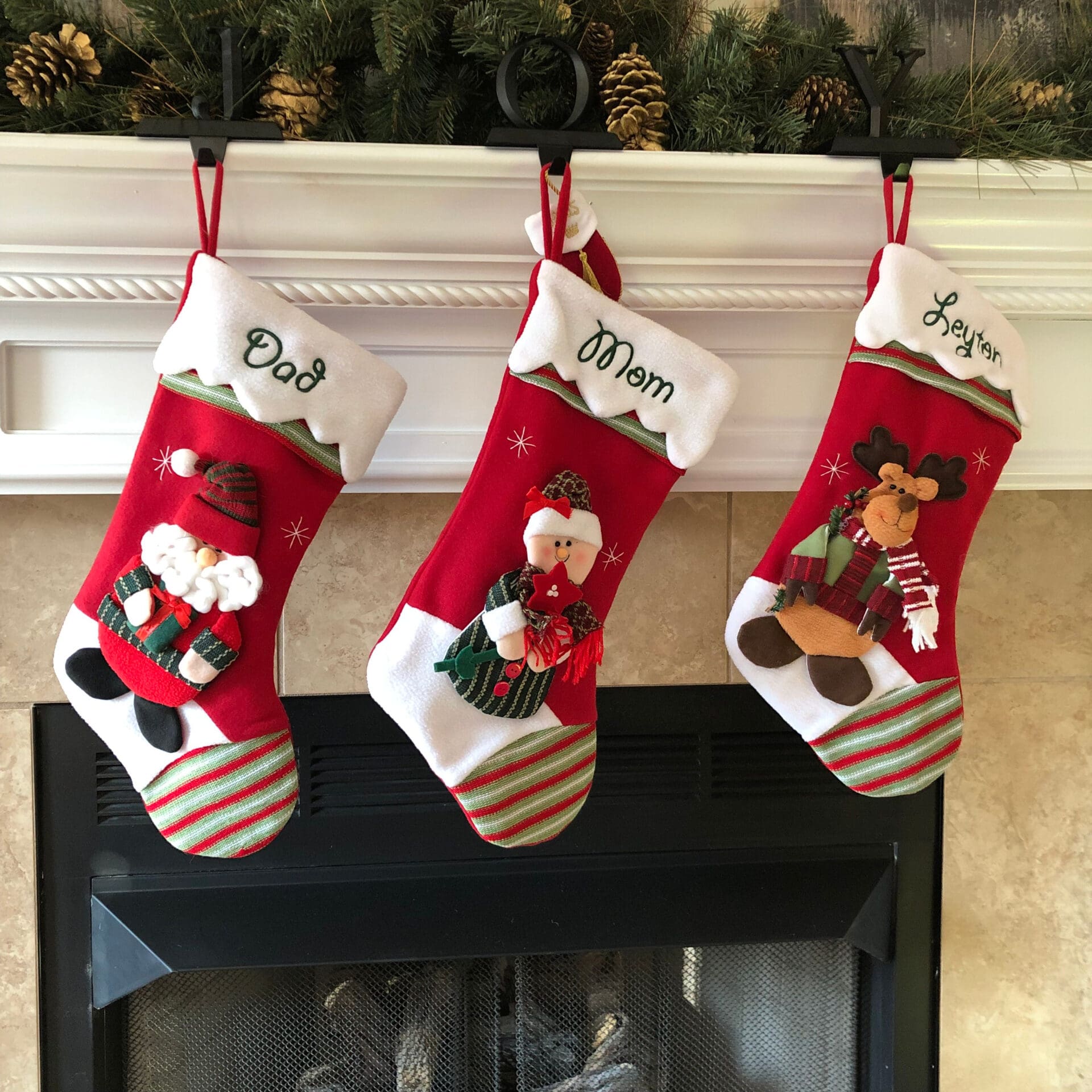 Next, if you are looking for some good Christmas/winter books to read I love this series from Elin Hilderbrand.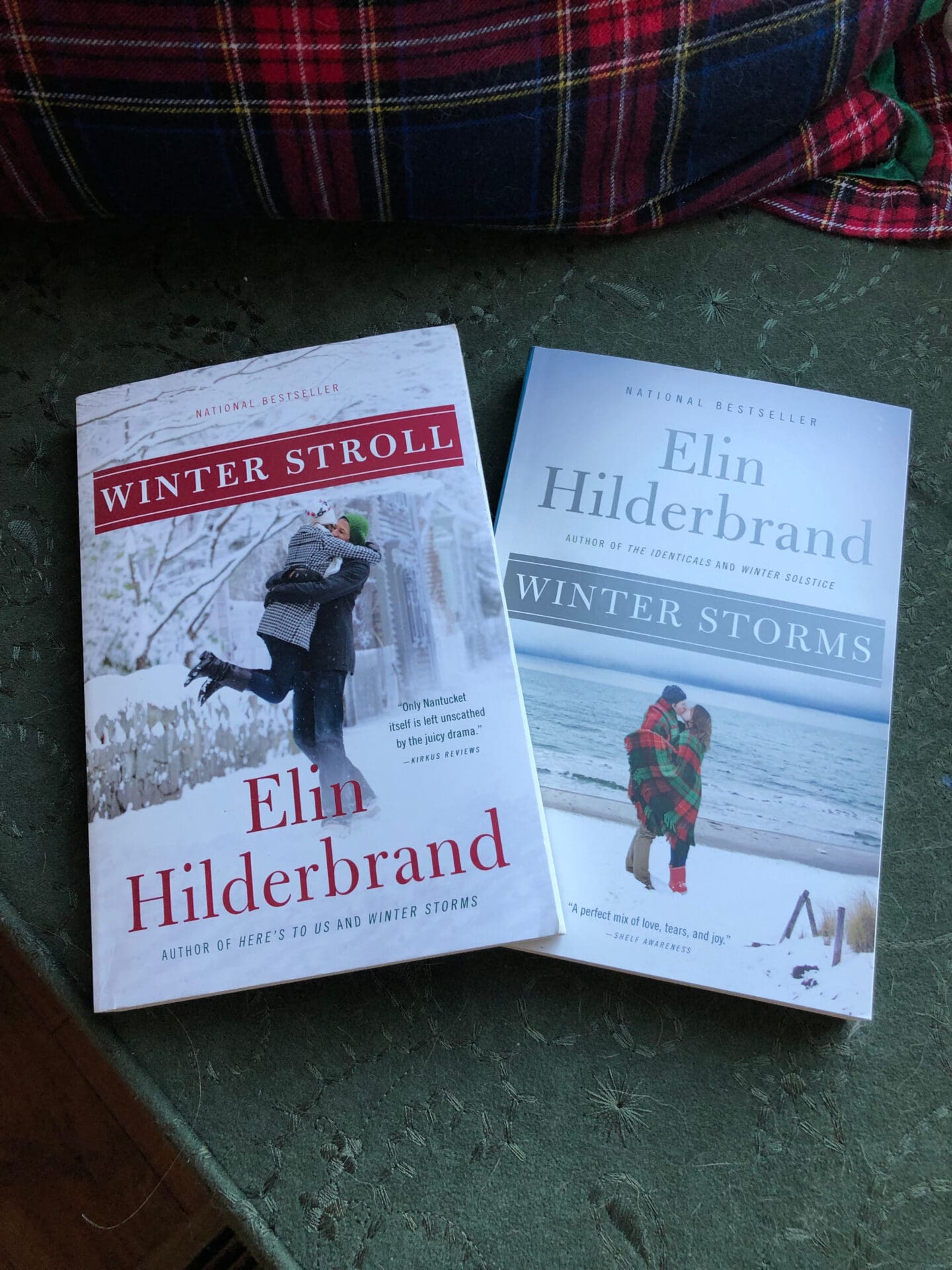 There is actually a third (technically there's four) but the first one, Winter Street I gave to a friend so I don't have it here to picture, but it starts with Winter Street, then Winter Stroll, followed by Winter Storms, and then the 4th one that got added recently is Winter Solstice.  They are just fun, easy reads that center on a family in Nantucket at Christmas time and it jumps around from character to character throughout the books but ties them all together too.  It sounds like it could be confusing but it isn't at all.
And lastly,  if you're like me and love Christmas pine type candles and holiday scents, but don't want the toxicity that comes with candles, then I've got you covered.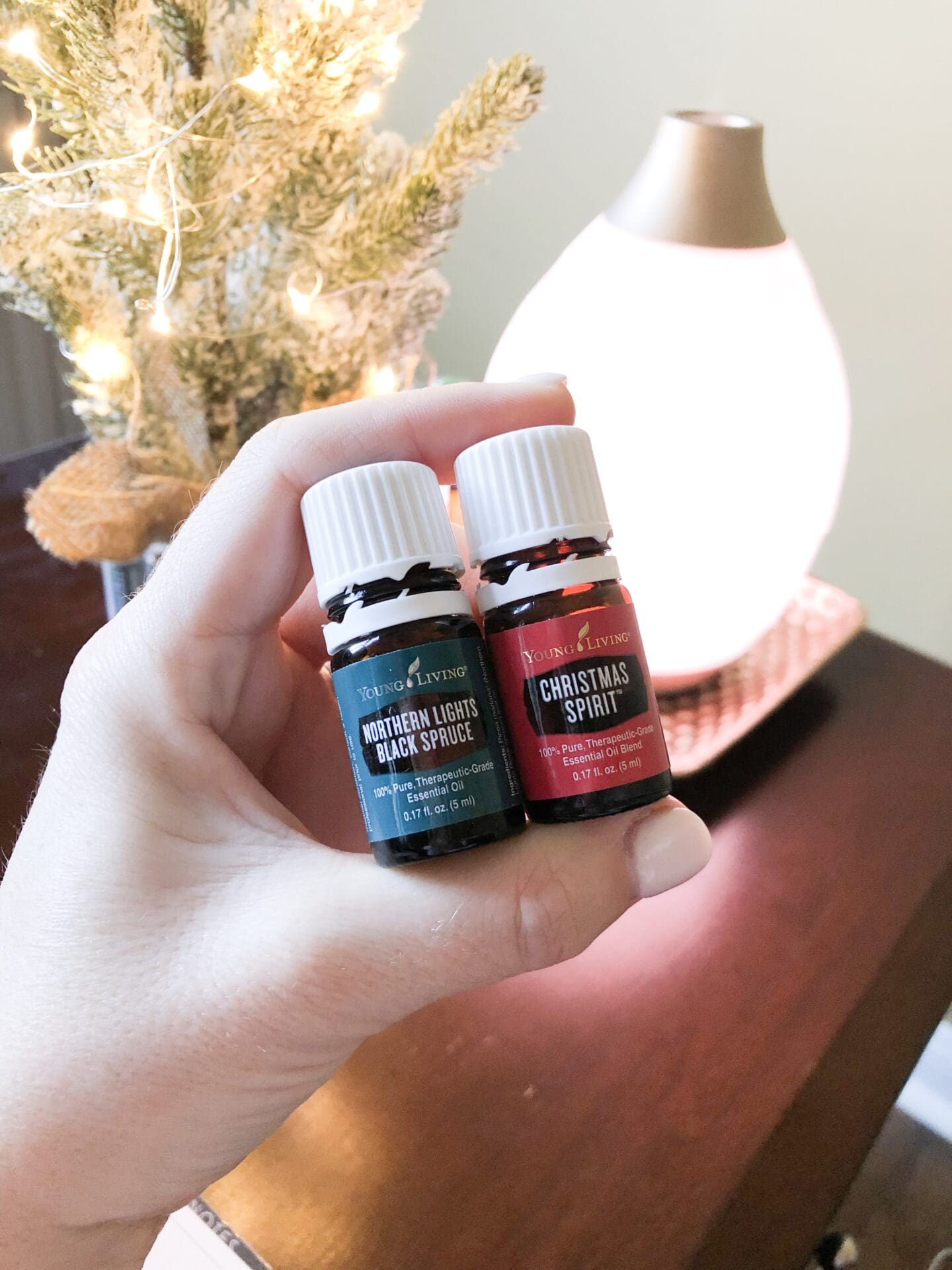 These are on repeat at my house these days! I was so worried that once I ditched candles I wouldn't be able to have the Christmas smells, but these two have saved the day!  Northern Lights Black Spruce smells like a Christmas tree lot and Christmas Spirit just has all those yummy Christmas aromas that evoke the holiday season!  You can shop these oils by going here and if you aren't a member you can become one by buying a kit and adding these on, or go below member and select retail to skip the membership and wholesale pricing and just buy the oils.  Feel free to message me here or on instagram      ( _jillkoch_ ) or facebook (Jill Weaver Koch) or email me jillcomesclean@gmail.com for help purchasing or getting started.
Okay friends, that's it for this round of Monday Must Haves.  I hope you found some good items to add to your Christmas collection or to gift others.  Have a great week!  See you back here Wednesday!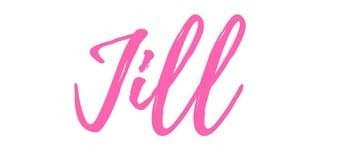 xo, Jill