Happy weekend, I'm back!!!  I really should have told you I'd be gone for over a week but I didn't think I would be this long.  Truth be told I took a break to revamp the site, (which I'm sure you've noticed) and then I enjoyed some time off while it got up a running.  I decided it was time for a bit of rebranding and a new look, so here we are.  I've been working with Bella Creative Studio who has been awesome, and piece by piece we are getting this site exactly how I've envisioned.  We are nearing the end and since it's all but done I decided to end the week with a fun little post and then I'll be back Monday for Must Haves!  So, let's get to it!If you've been following me on here for a little you know I love The Pink Lily Boutique so much!  There is always sooo many great finds and they have released some new fall items that I couldn't wait to share.  I could have really gone crazy but decided to reel myself in and only went with a few items I knew I couldn't live without.
First up….all the oversized, comfy, cozy, give me all the fall, sweaters!  This colorblock one is hands down my favorite.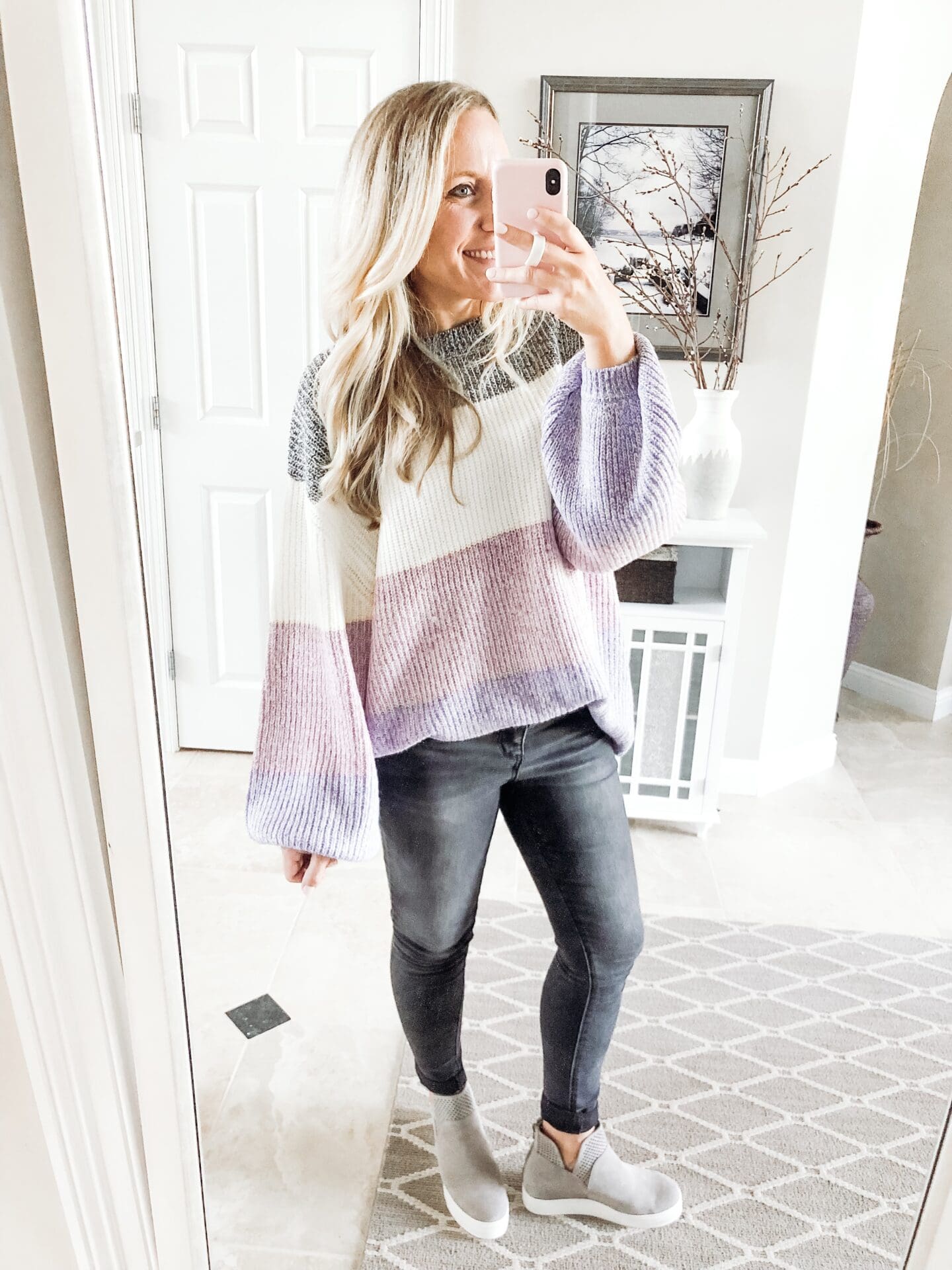 Sweater // Similar Jeans // Wedge Sneakers
Unfortunately, this color is sold out but it's still available in pink, which is the color I almost went with.  At first when I saw this and the bell sleeves I thought, no way, those sleeves will get into everything.  But, they are cuffed at the wrist and believe it or not they fall up your arm quite easily and not down into what you're doing or eating.  It's so comfortable and long enough to cover leggings or do a cute front tuck like I did here.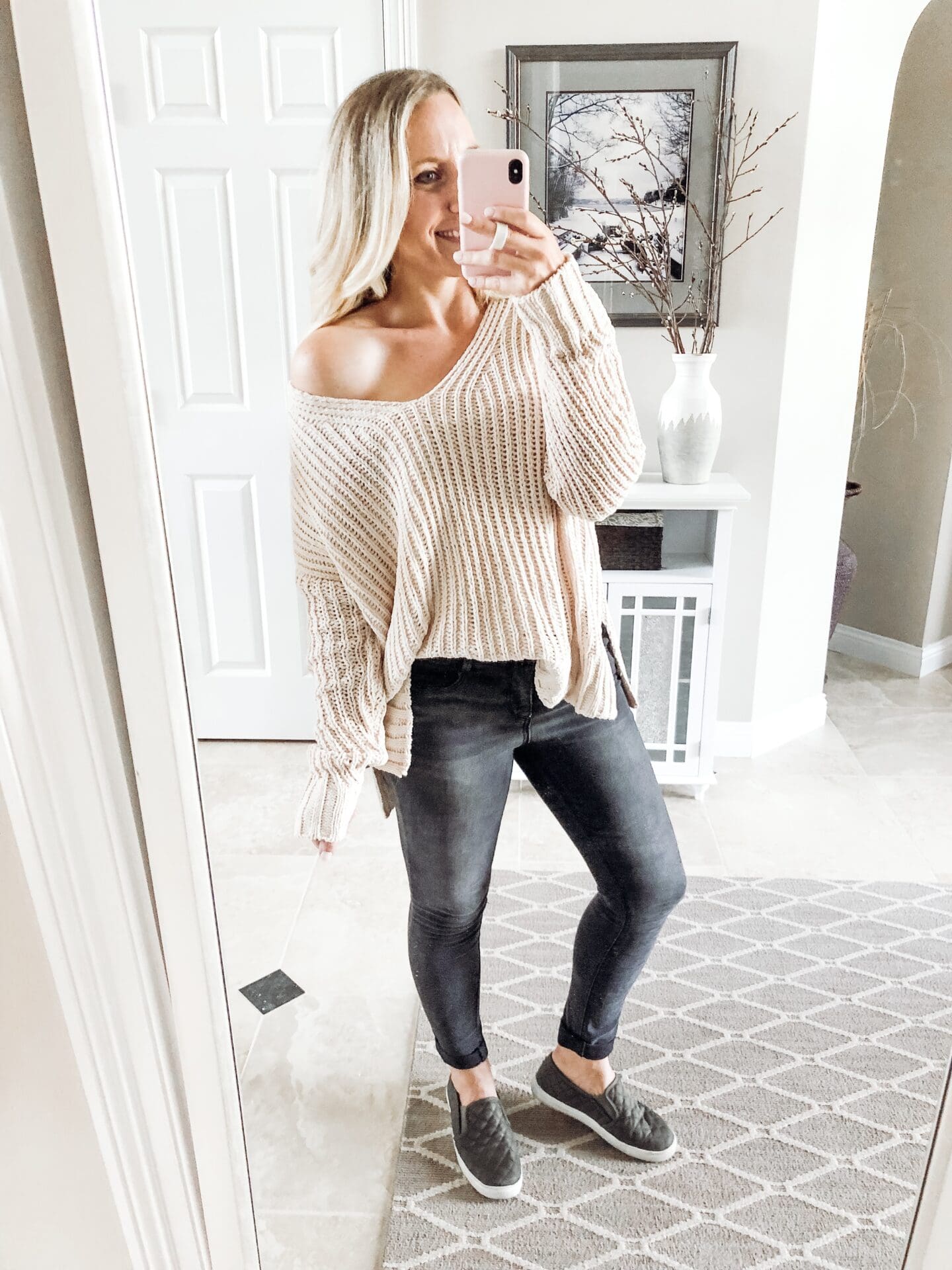 I never met an oversized, off the shoulder sweater that I didn't like.  This one is perfection!  It also comes in olive green, which I almost chose but ultimately went with this one, but know I'd love the green just as much.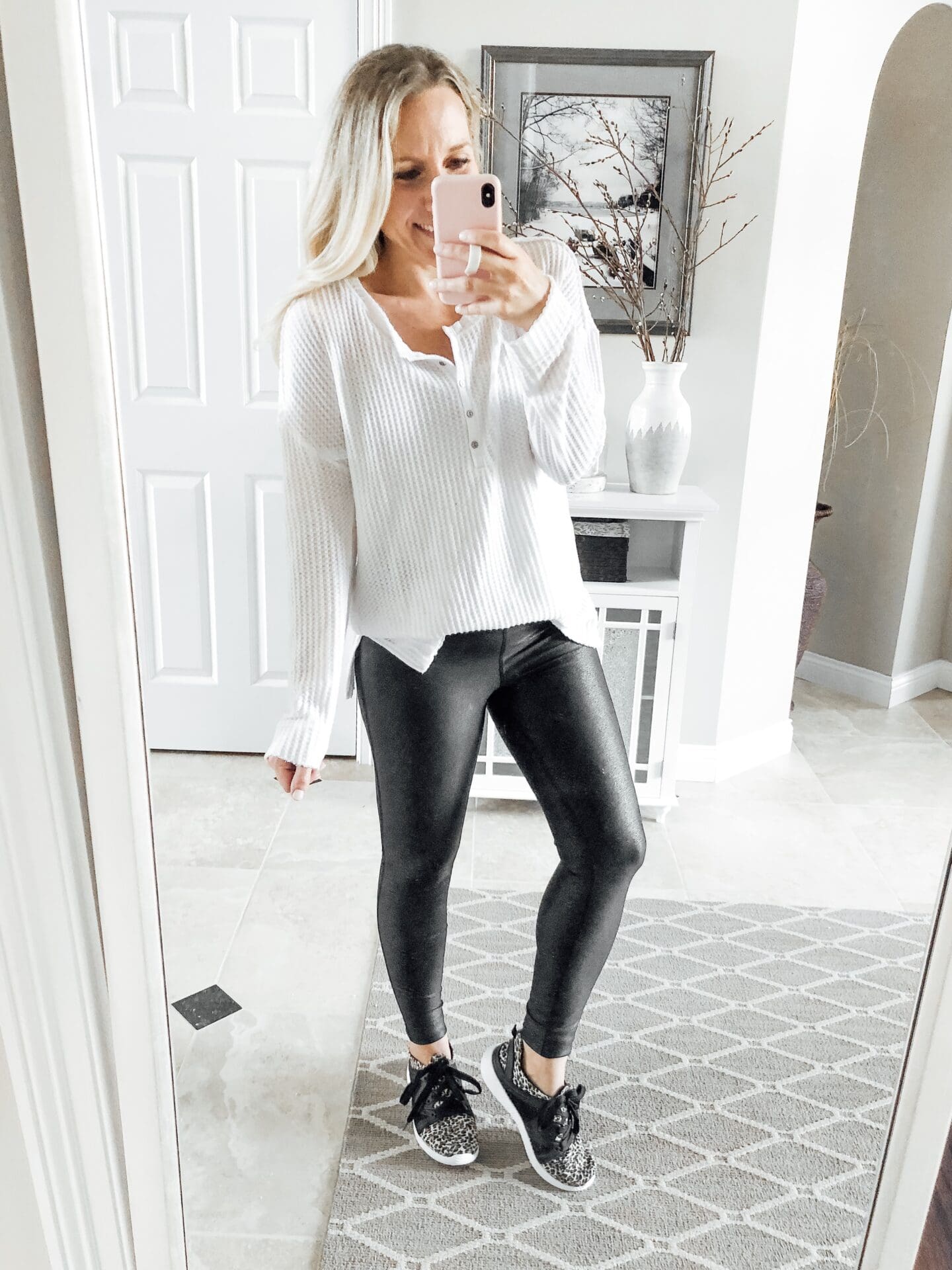 And speaking of perfection….this entire outfit!  Let's start with these leggings because you guys, they are everything!!  I get total Sandy from Grease vibes and they are amazing Spanx dupes.  Faux leather leggings are going to be a hit this fall and while I totally expected them to be uncomfortable they are actually very soft and comfy.  The top isn't from Pink Lily Boutique but I'm obsessed!  I got it during the Nordstrom anniversary sale and it's THE most comfortable thermal Henley I've ever worn.  I get so many compliments on it!  It comes in pink and light blue as well.  And then these shoes…..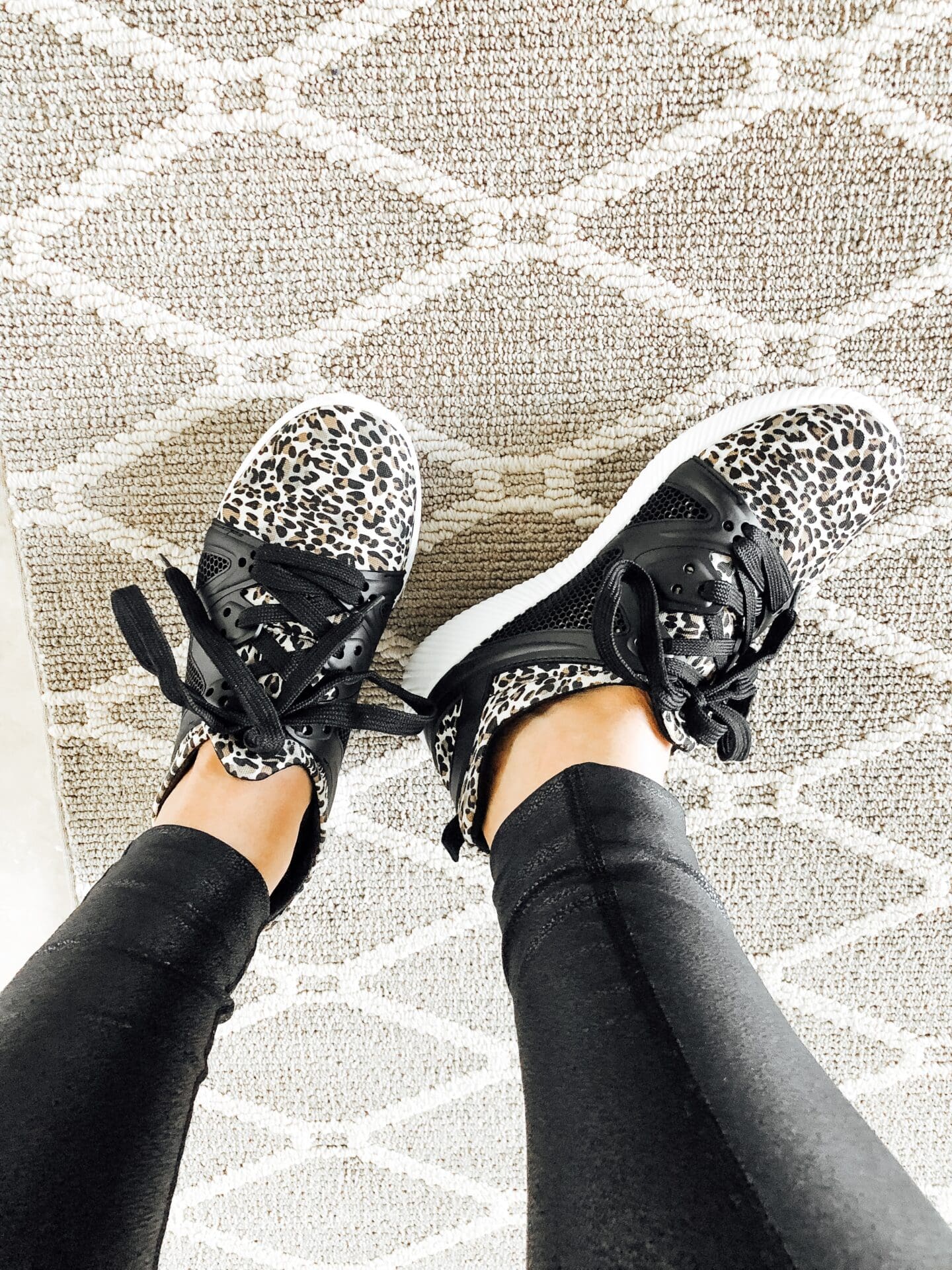 I'm usually not one to wear sneakers but for these I made an exception.  I can't wait to wear these all fall and winter long.  Last up, how cute is this headband?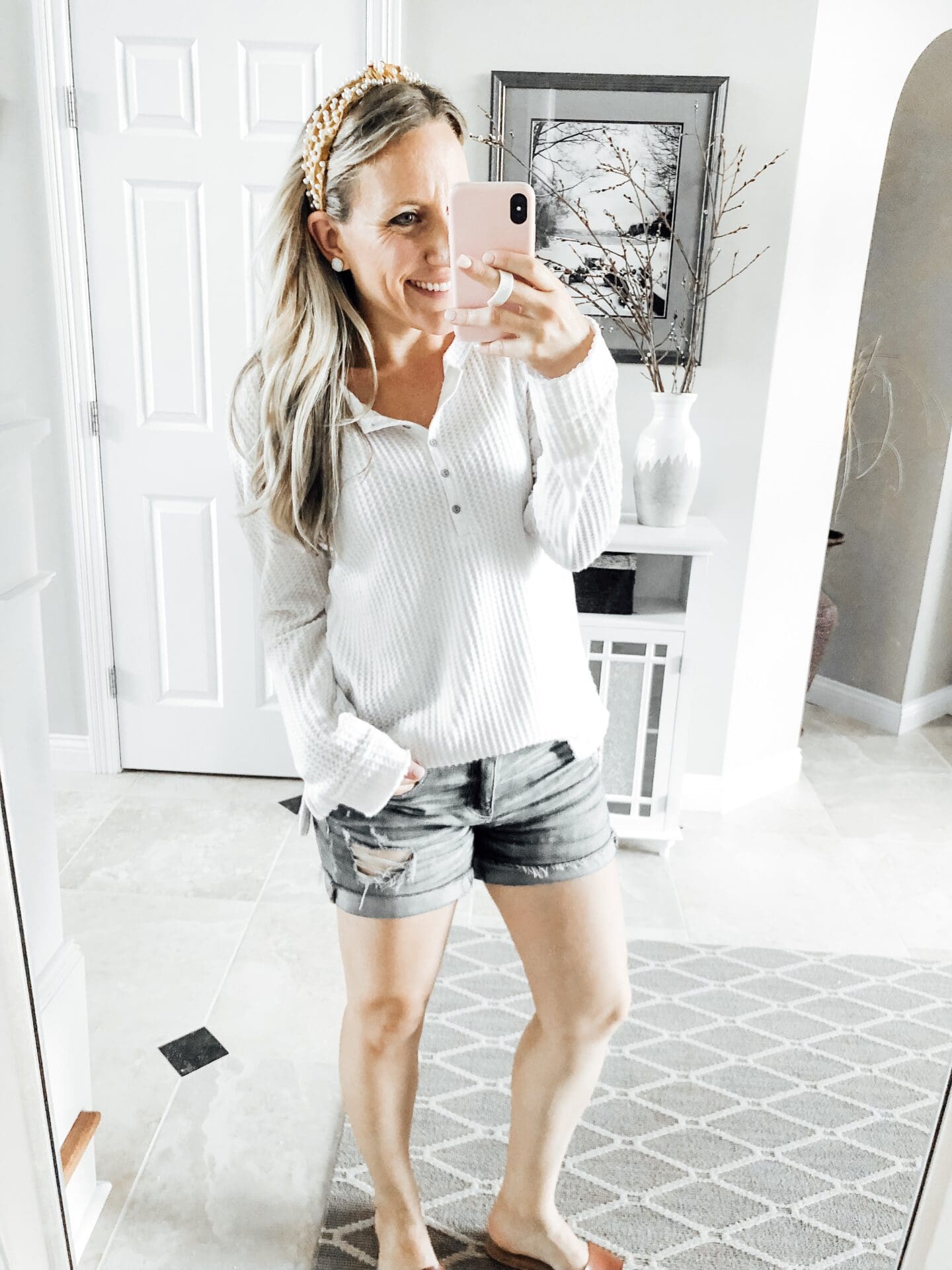 I just love the headband trends happening right now and this pearl one is no exception.  It's so comfortable that I forget I'm wearing it.
So that's it.  There are so many great finds on their site right now and everything makes me so excited for fall.  I hate to wish summer away but aren't fall clothes just so much better?  Have a great weekend!  Thanks for your patience as I continue to update the site and I'll see you back here Monday!
Jill
xo, Jill