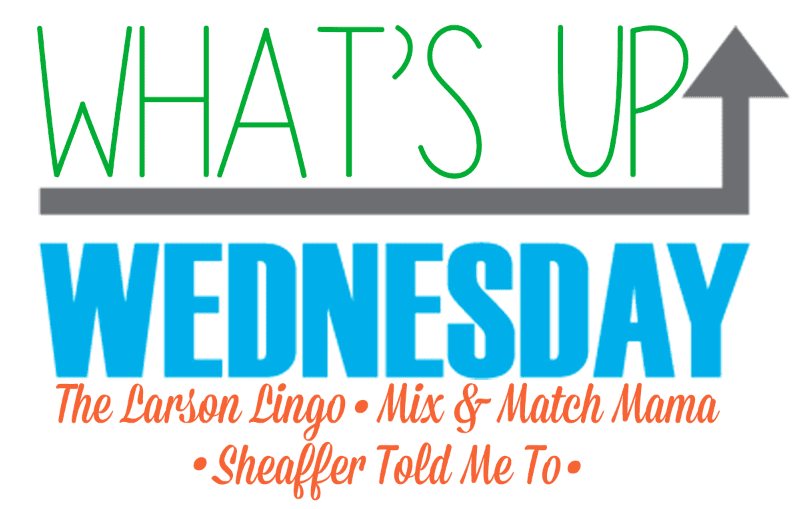 Happy Wednesday friends!  I'm going to be doing a new segment the last Wednesday of every month called What's Up Wednesday!"  It's where I link up with Mix & Match Mama, The Larson Lingo, and Sheaffer Told Me To, and we answer these questions……
It's just a fun way to share some random things, and I always love seeing other people's What's Up Wednesday posts to see what they are up to, too!  Okay, let's get to it!
WHAT WE'RE EATING THIS WEEK
So this is where I would love to have beautiful pictures of the meals I'm making this week, but friends, let me let you in on a little secret…..I rarely cook. Eric and I are take out aficionados which isn't always great but it works.  Now that's not to say I never cook.  I definitely do and usually I try to make at least 1 or 2 meals a week, but having just come off of Thanksgiving and being busy with Black Friday, Cyber Monday, Leyton, and everything in between…cooking has taken a back seat.  I'll get back to it next week.  Sometimes I make a meal every day of the week.  It truly just depends.  So this week, it's take out city.  I will say, once Leyton is older though I plan on cooking regularly.  I grew up with home cooked meals every night and I want to do the same for him.
WHAT I'M REMINISCING ABOUT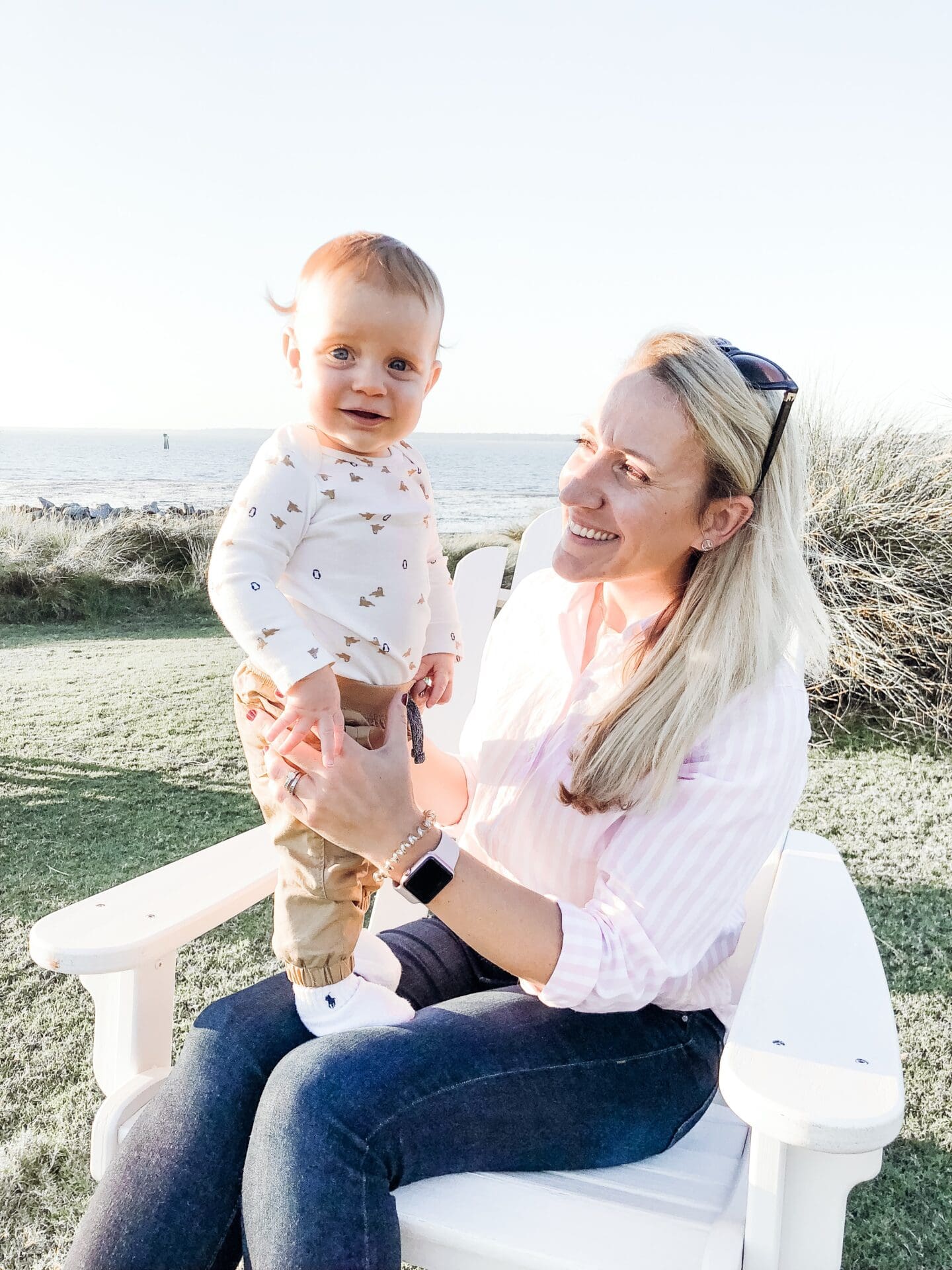 I posted this picture on Instagram yesterday because I was going through our pictures from Hilton Head and reminiscing about warm beach days since it's been cold here.  Snowing even!  But as much as I love Hilton Head I'm happy for cooler weather now.  I love when it's cold and snowy this time of year.  When the house is decorated for Christmas and it's cold outside, it's truly perfection.
WHAT I'M LOVING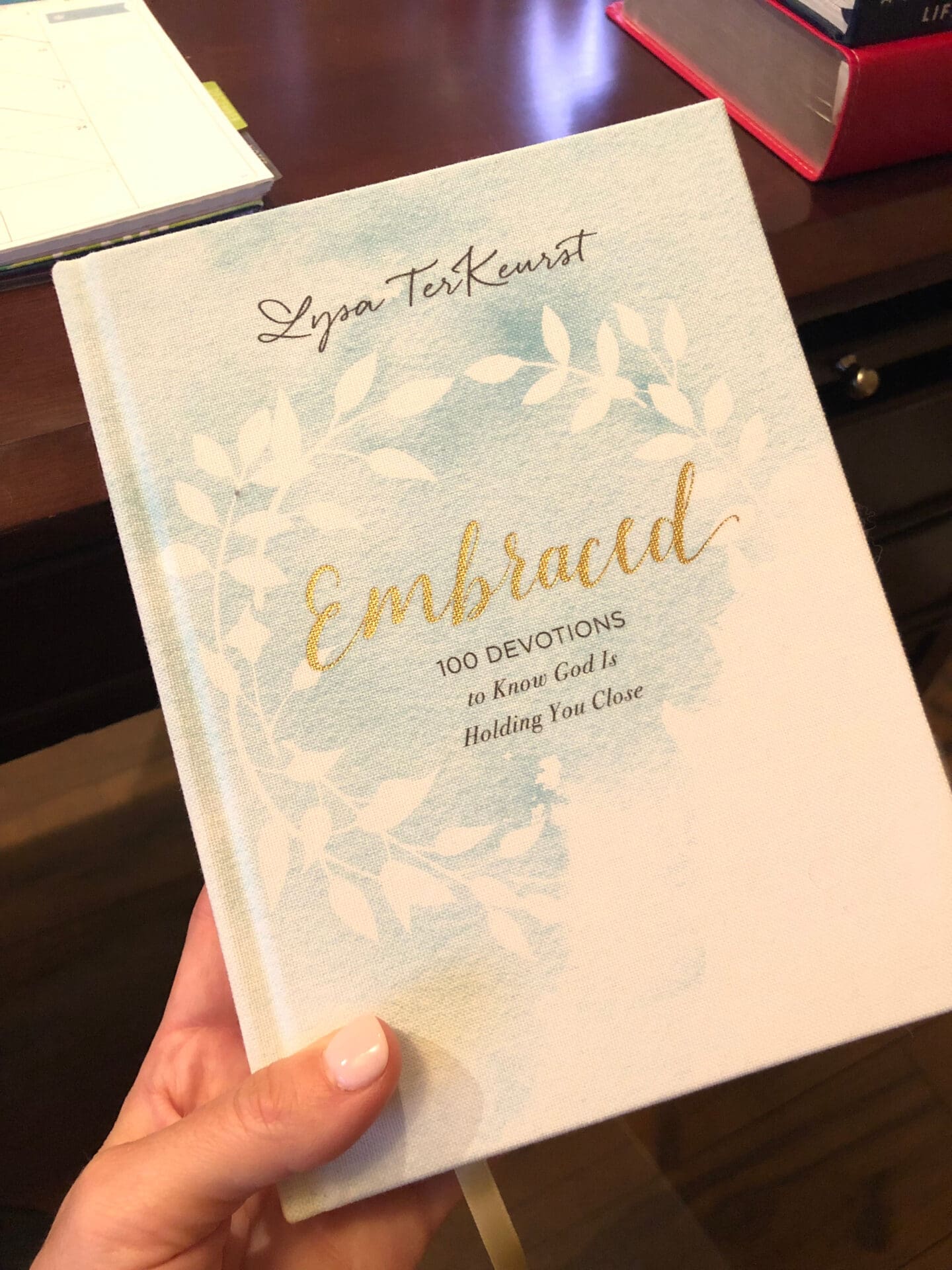 If you follow me on Instagram you know I have been raving about this devotional.  You guys, it's soooo rare for me to find a devotional I look forward to reading every morning, but I seriously l-o-v-e this one!  Lysa TerKeurst hits the nail on the head most days and it's just so relatable.  Pretty much every morning I read it I'm underlining and highlighting and saying YES repeatedly!
WHAT WE'VE BEEN UP TO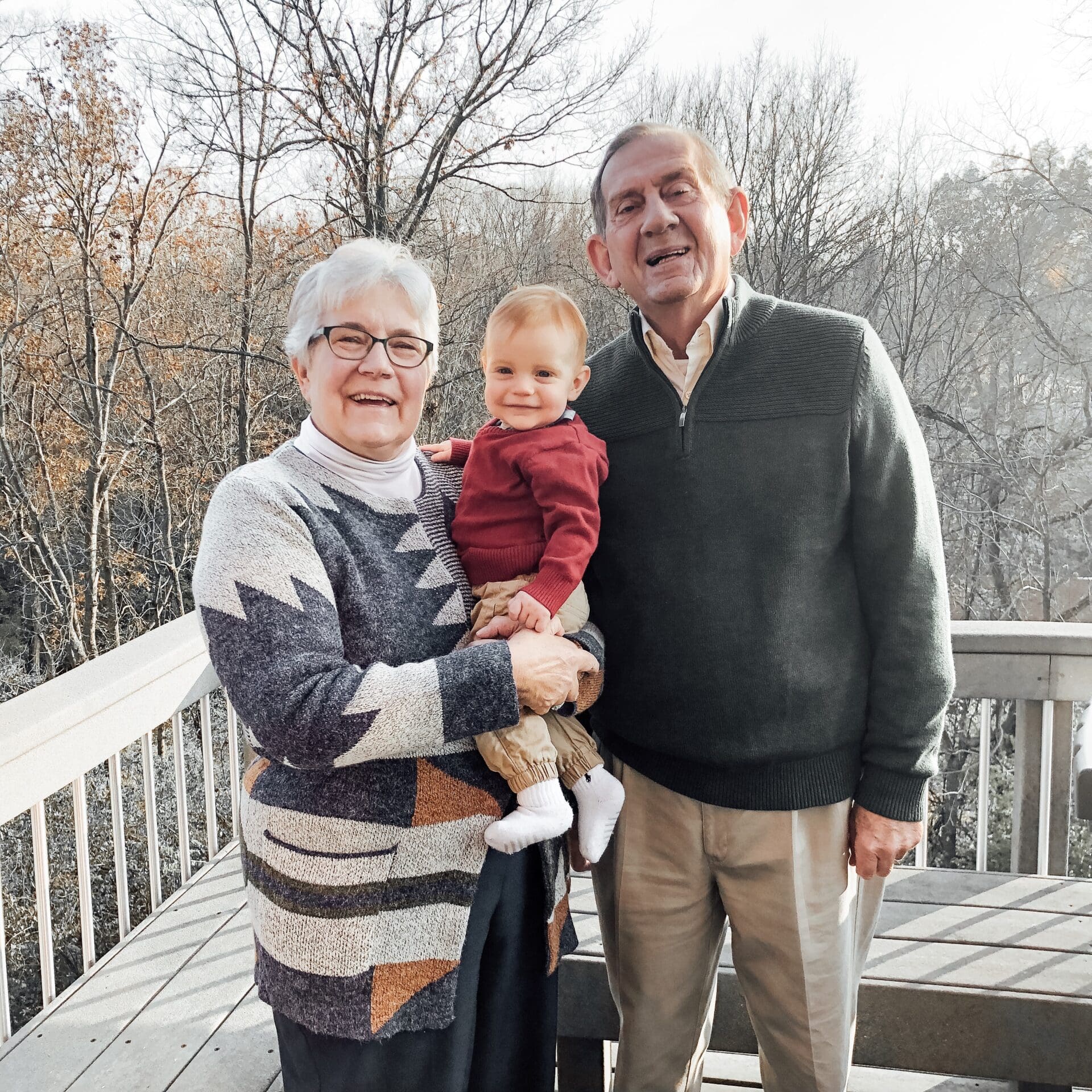 All last week was really spent spending time with family.  My sweet parents came in last Monday and stayed until Black Friday.  So we spent the week hanging out, enjoying the holiday and they enjoyed getting to spoil and snuggle their only grandson.  And per usual my mom cooked our portion of Thanksgiving dinner (Eric's parents hosted but we brought some dishes) and my dad fixed things around the house.  They are the best!  We also decorated for Christmas last week too, so that's another thing we've been up to.
WHAT I'M DREADING
I actually can't think of anything I'm dreading.  I love this time of year and all things holidays!
WHAT I'M WORKING ON
I feel like I'm always working on 50 things at once, but currently, among blog posts (working on some gift guides among other things), and all things Christmas, I'm scouring Pinterest and working on……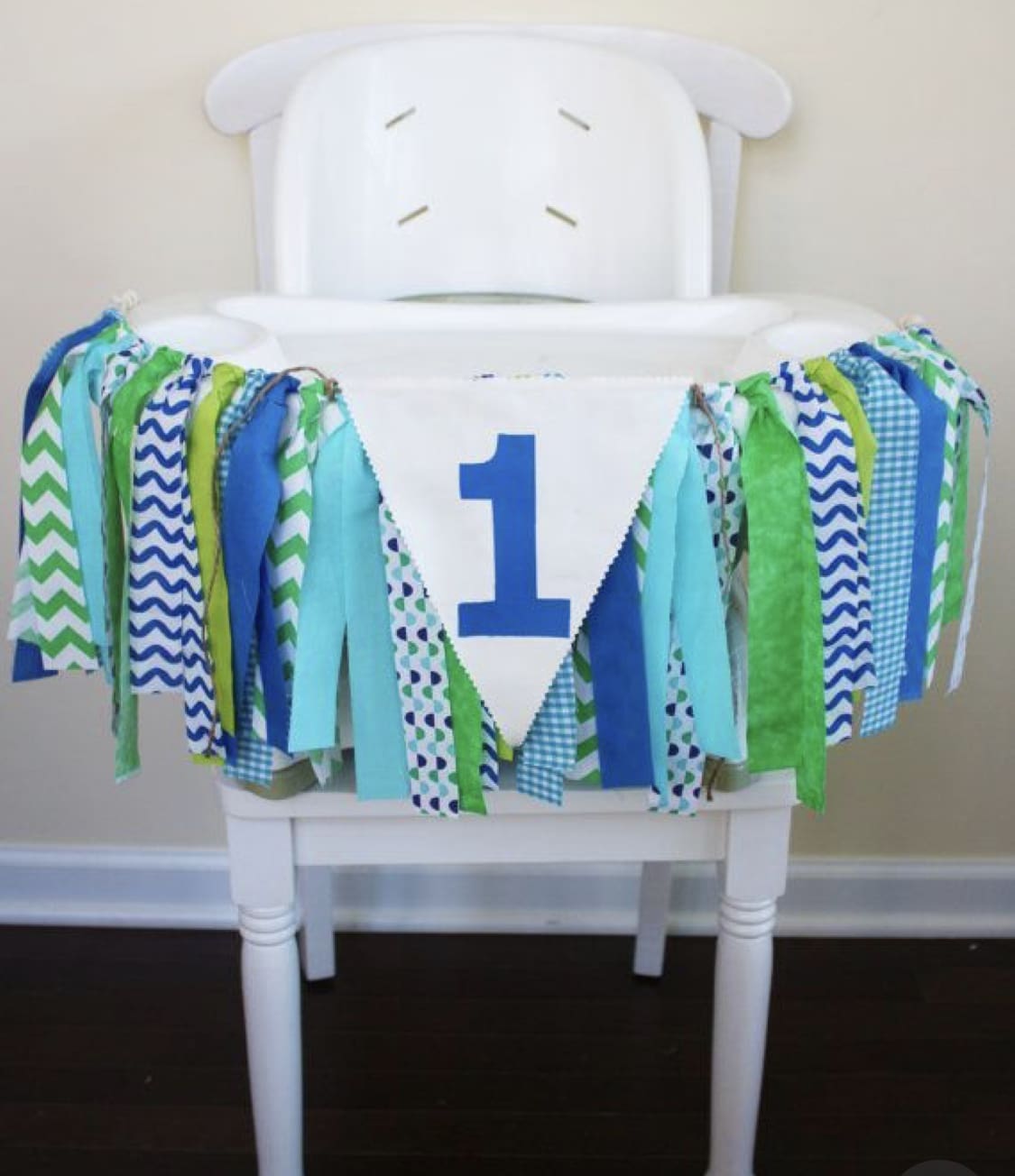 Leyton's first birthday party (insert cry face here)!  How is he almost a year old?!  Anyways, I know that with the holidays, it will be here before I know it so I need to get a jump start now to get planning and get things together.
WHAT I'M EXCITED ABOUT
Well aside from the holidays and Leyton's first birthday, I am super excited to begin Christmas traditions!  Eric and I have been coming up with a bunch we want to do.  Ideally, I want to do a 25 days of Christmas type thing where we do something each day.  Not necessarily big things, but it can be anything from watching a Christmas movie one night to visiting Santa or The Festival of Lights at the Zoo.  I love Christmas traditions and can't wait to make some with Leyton!
WHAT I'M WATCHING/READING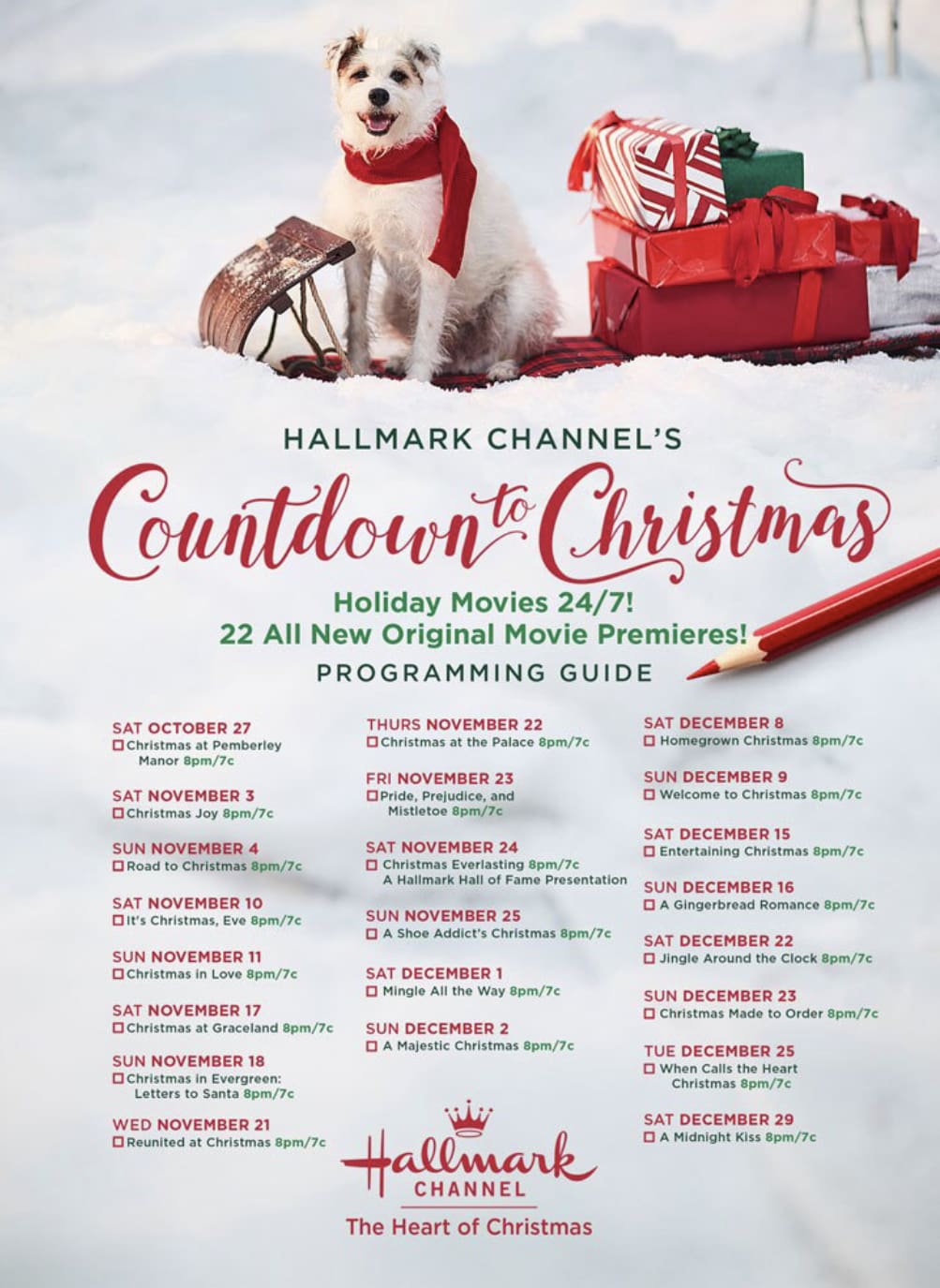 Okay, well it goes without saying that I am watching all.the.Hallmark right now!  I don't care how predictable and cliché they are, I can't get enough of the Hallmark Christmas movies.  There's so many cute new ones this year, but I also look forward to my favorites (mainly any of the ones with Candace Cameron or Lacey Chabert).  A Christmas Detour is still one of my favorites.
And on the complete opposite end of the spectrum…..who is watching this?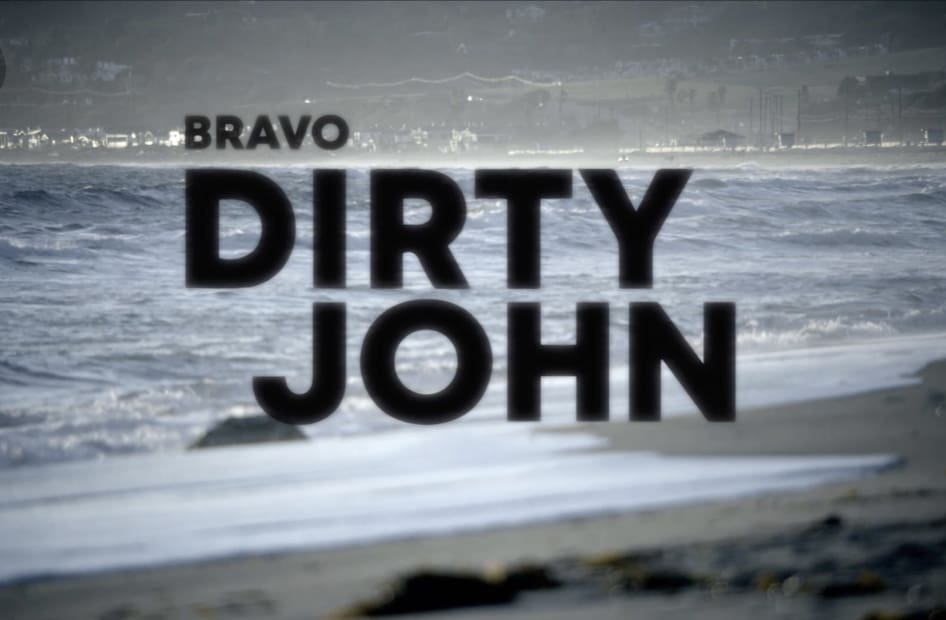 I'm only one episode in but you guys it's soooo good!  I'm hooked for sure.  Parts of it are based on a true story, which makes it even more intriguing!  Definitely check it out on Bravo on Sunday's if you haven't yet.
As far as what I'm reading…..like with my tasks I always feel that I am reading 50 different things at once too, but yesterday I picked up these two…..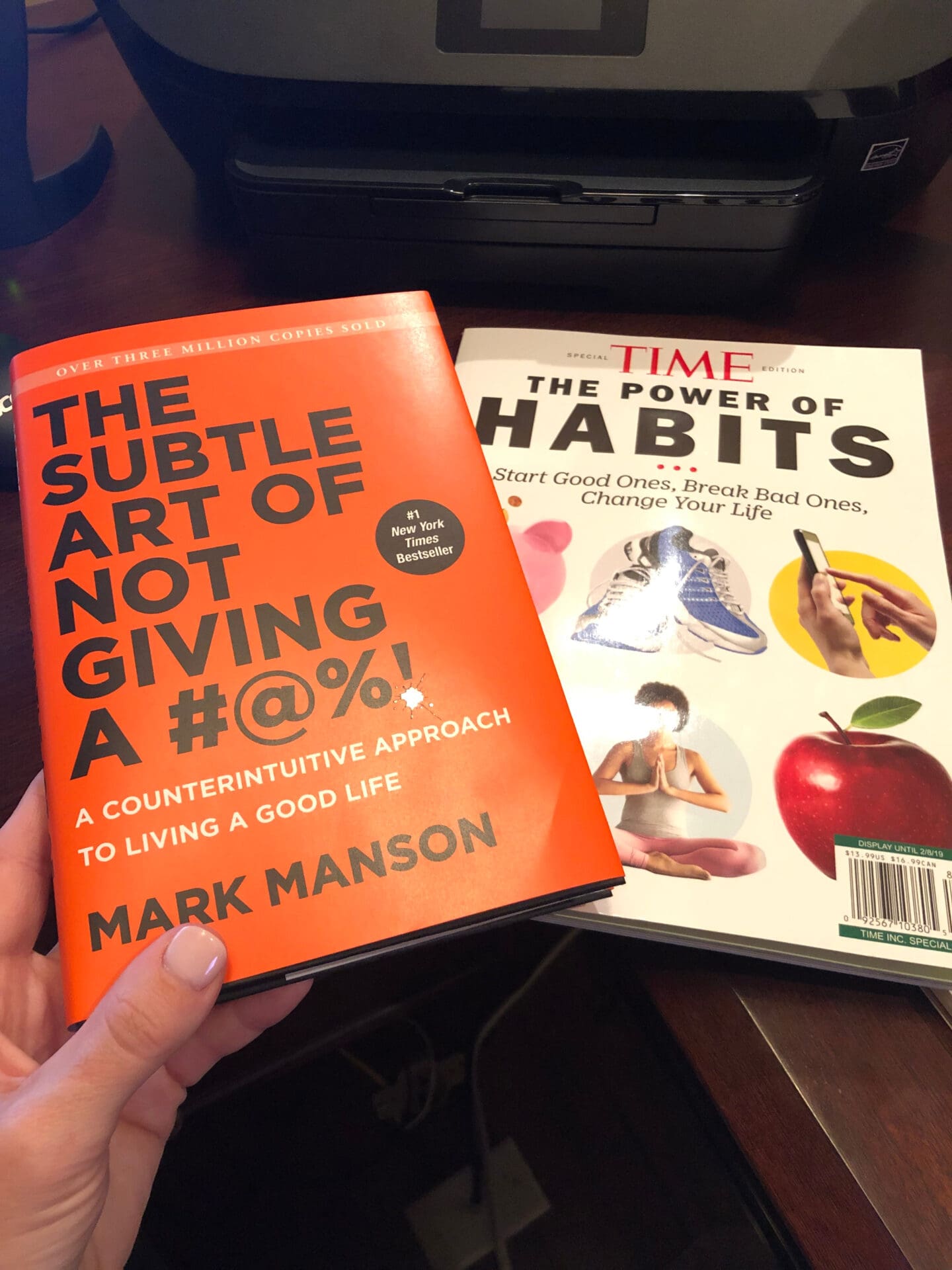 I've heard good things about The Subtle Art of Not Giving a #@%! (don't mind the language) and I kept putting it off and putting it off.  Then I was at Target yesterday and saw it and decided to give in and see what all the hype is about.  So stay tuned.  And then this magazine caught my eye at the checkout.  Friends, I am perpetually trying to get into a routine of better habits. Not that any of mine are particularly terrible, but with a little one now I feel like my day needs to be more structured if I want to get anything done and so I need better habits that allow me to be productive.  Does that make sense?  So hopefully this magazine has some good tips!
WHAT I'M LISTENING TO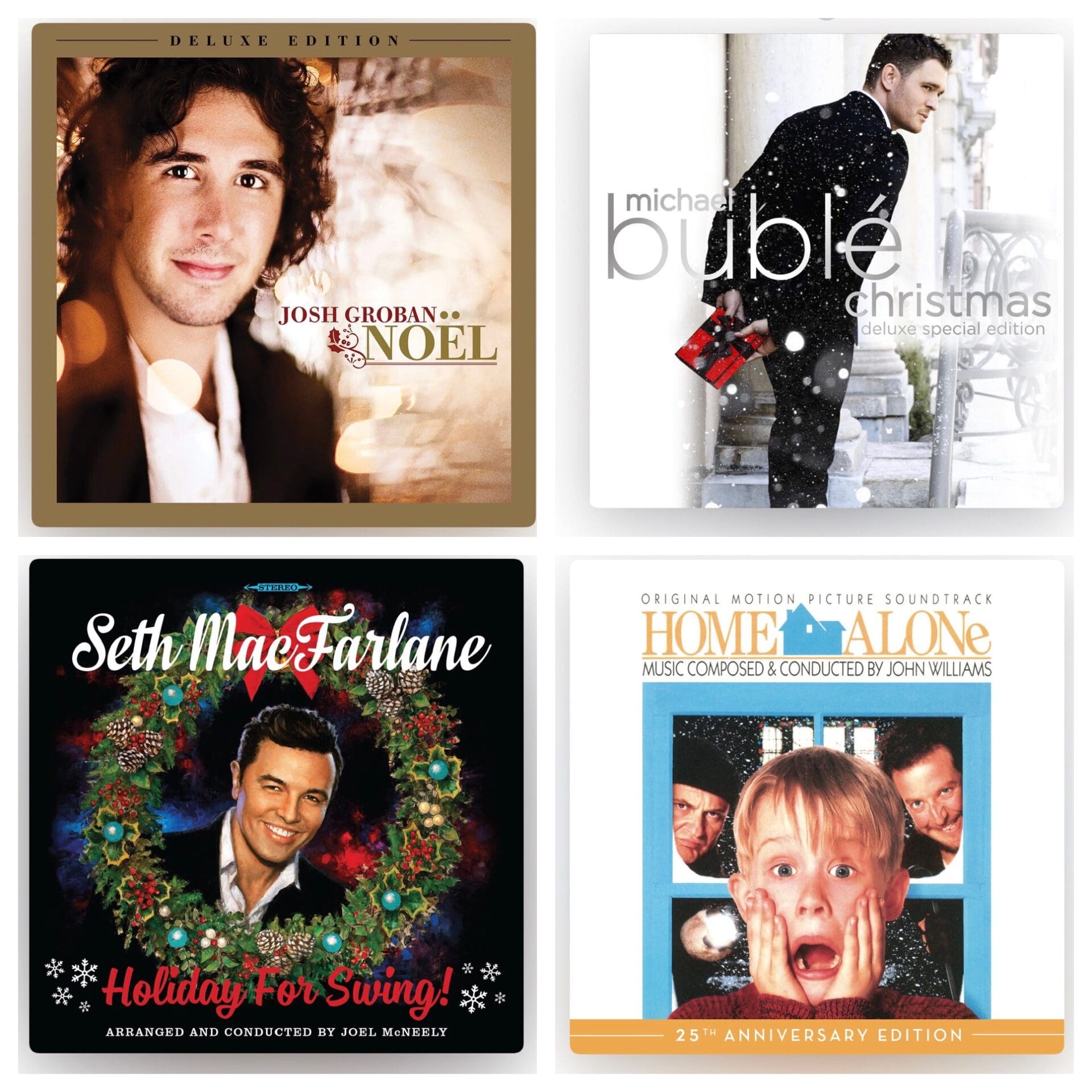 On repeat!  These 4 albums give me all the feels this time of year.  It's like as soon as you hear the first song on each album it just instantly transports you to Christmas time.  I just started listening to the Home Alone soundtrack and you guys, the very first song on there is the one from the opening to the movie and as soon as you hear it, you just picture that blue house on the screen moving further and further away until it switches over to the magnificent McCallister mansion. Ahhh seriously, all.the.FEELS!!
WHAT I'M WEARING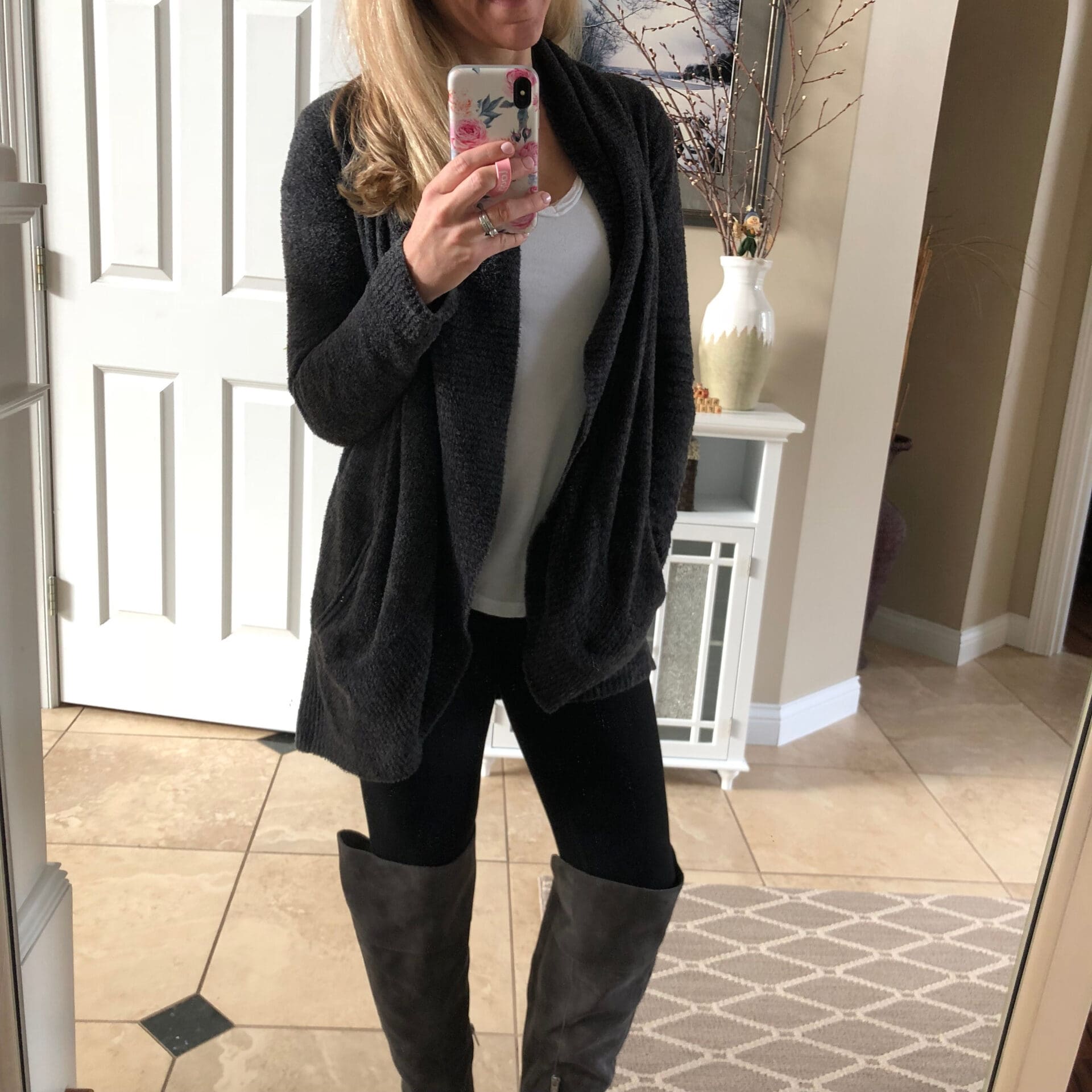 Also on repeat…..the Barefoot Dreams Circle Cardigan!  So stinking warm and comfortable!  Also, loving these over the knee boots!
WHAT I'M DOING THIS WEEKEND
I think we are going to attempt to see Santa with Leyton.  Fingers crossed that it goes well as he is definitely in the stranger danger phase.  And fingers crossed that we pick a decent time to go where there aren't 5,000 people also there for the same thing.
WHAT I'M LOOKING FORWARD TO NEXT MONTH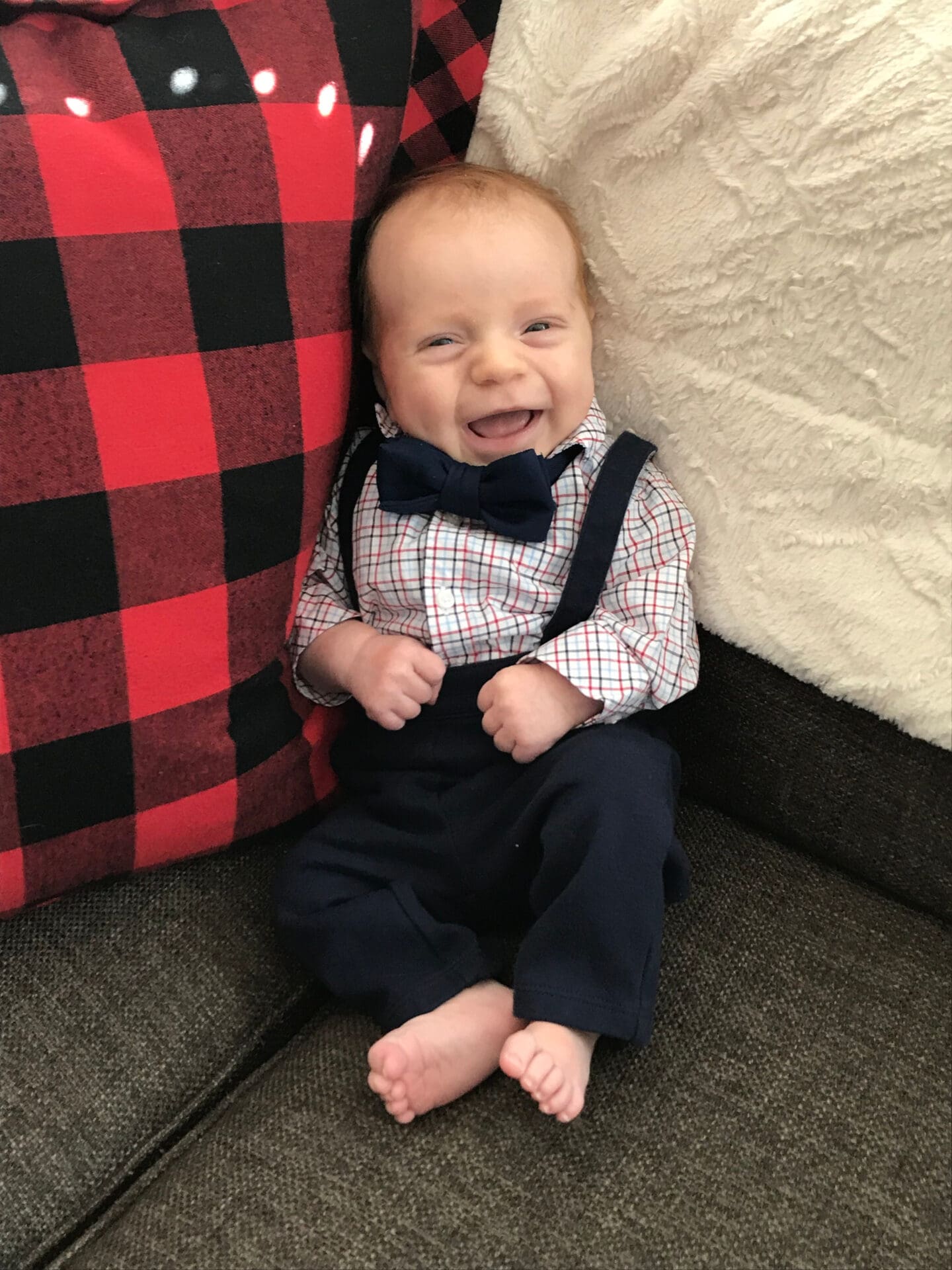 This little guy turning a year old.  Here he is at 2 months.  I mean can you even handle it?!  Ahhhh!
WHAT ELSE IS NEW
Nothing that I can really think of.  I think that's mostly it.  We aren't too exciting over here.  Just hanging out and enjoying showing Leyton all his holiday firsts!  Here's something that's new for Sebastian…..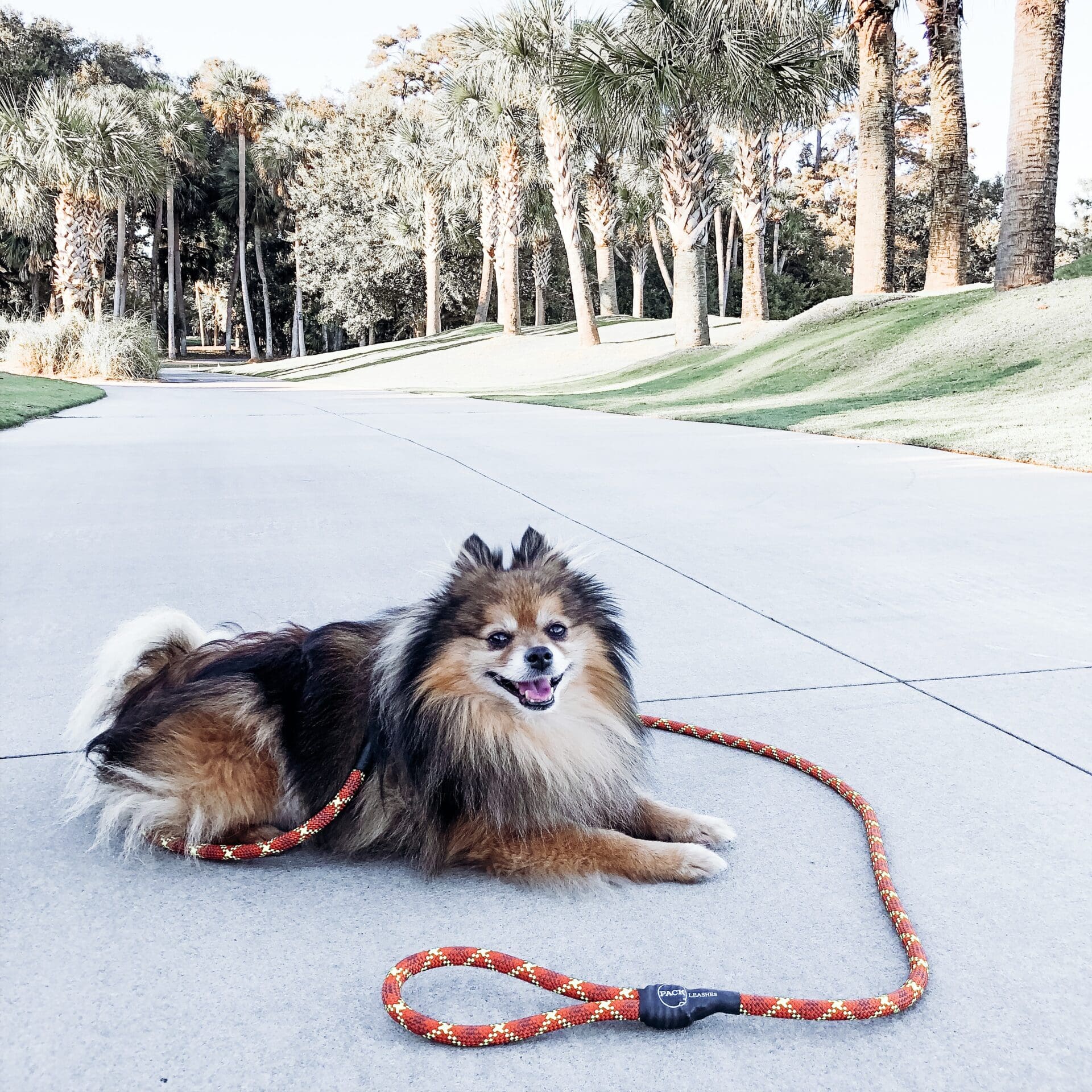 As an early Christmas gift Sebastian got a new leash from Pack Leashes.  We love this company because for every purchase made they donate a pound of dog food to a shelter in need.  Their products are durable and quality made and come with a lifetime warranty.  They have a great selection of leashes, collars, toys, etc.  Best yet, they gave me a code to share with you guys!  Anytime you make a purchase and use the code: SEBASTIAN you get 20% off AND they will donate 4 pounds of dog food to shelters in need versus the regular 2 pounds they typically donate!  Just head here to check them out!
BONUS QUESTION: FAVORITE THING TO DO WITH YOUR ELF ON THE SHELF
Well, since Leyton is still a baby we haven't incorporated the Elf into our lives yet (which I'm going to enjoy for the time being since I see people often struggling to come up with ideas as time goes on) but my sister does it for my niece and I get ideas from her.  Here's their most recent "visit"……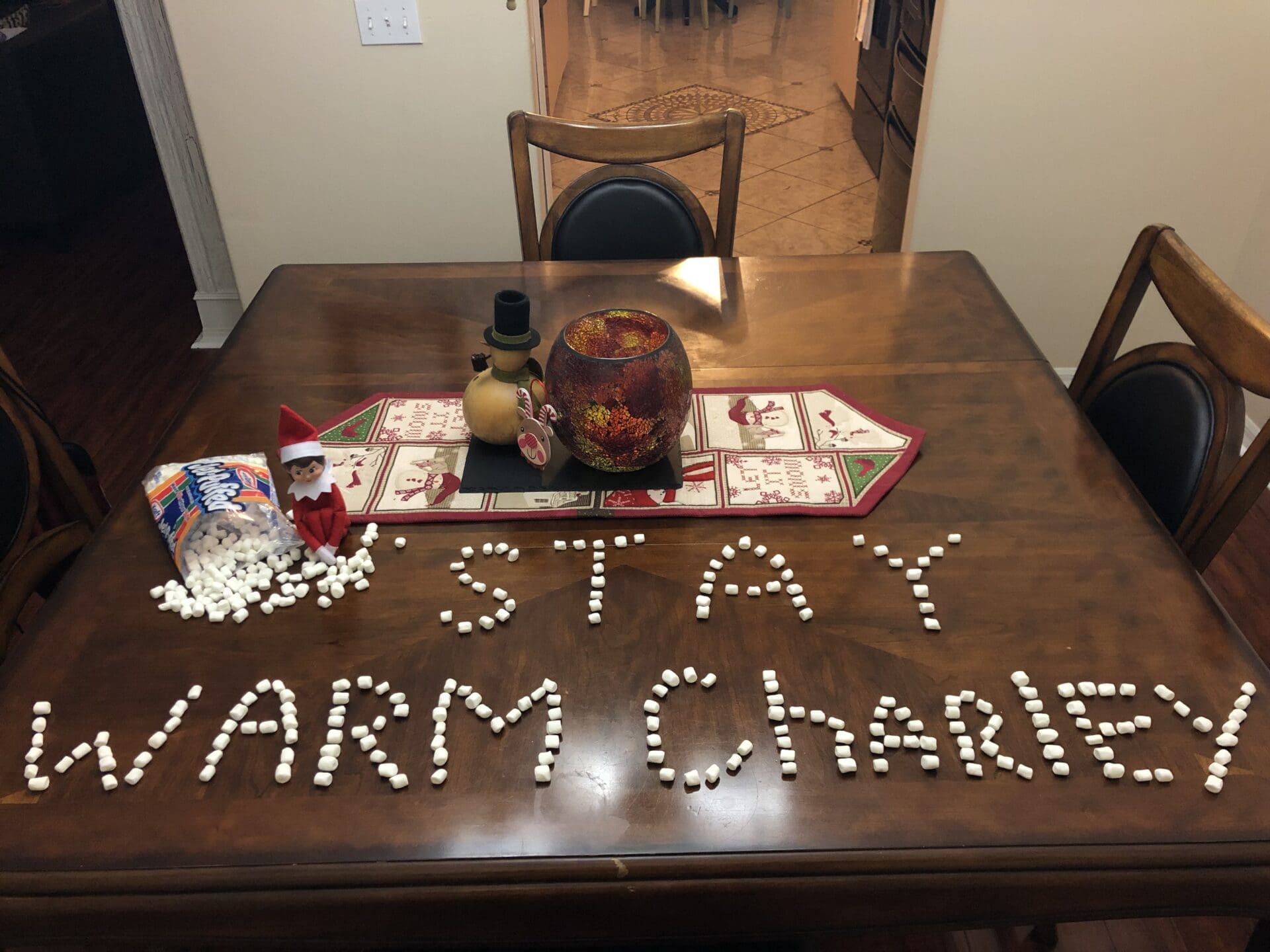 And while we are discussing the Elf, why don't we take a look back at the year Sebastian had a romance with the girl Elf and the boy Elf tried to interfere….
Haha, I still laugh when I see these and get such a kick out of how good Sebastian was to cooperate with these pictures each day.  The old man in him these days would likely not stand for it.
Okay friends, whew!  That was a long post.  Thanks for sticking it out to the end.  I'll have another What's Up Wednesday at the end of next month.  Be sure to check back Friday where I'm kicking off the first of a series of gift guides with a gift guide for the women in your life.  Happy middle of the week!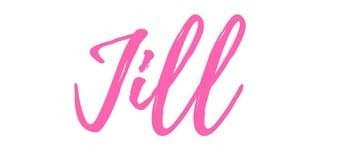 xo, Jill