Hi friends! Today, I'm bringing you a post that is long overdue as I have been washing my clothes the all natural way for sometime now. The truth is, the laundry room is one of the first places where we should make safe swaps and ditch the toxins, because when our clothes contain chemicals, they sit against our skin all.day.long! We absorb them and breathe them in, all without ever knowing the havoc they are wreaking on our bodies. The good news? There are options! You do not have to use the chemical infused varieties on store shelves. So many companies are putting out safer, equally as effective, products, one of which I'm excited to share with you at the end of this post, but more on that in a bit. Let's take a look at all the non-toxic ways to do laundry!
*Note: This post contains affiliate links which means if you shop through them, I earn a small commission. Thank you for your support.
SIMPLE CHANGES
When I first researched non-toxic ways to do laundry, back when I was looking for safer alternatives, I found that it was actually pretty easy to make these swaps.  I'll admit, I'm also not as concerned with if my clothes have a strong, good smelling scent, so for me the swaps were easy because I didn't miss the fake fragrance.  If you do love the powerful scent of fragrance then fear not, there are still options for you too.  Let's look at the very first things I changed.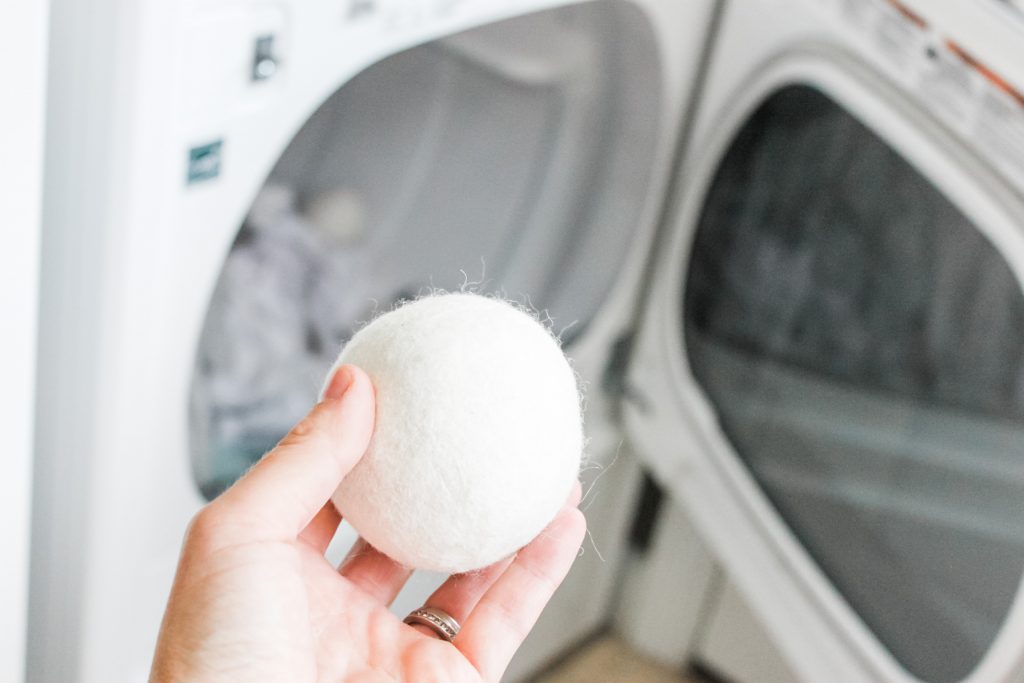 DRYER BALLS
Anyone else guilty of using dryer sheets?  They are so toxic my friends!  Not to mention, the wax coating on the sheets transfers and causes buildup to your clothing and the machine itself.  They simply aren't worth it, in my opinion. 
Enter Dryer balls!  Not only are these so much cheaper than dryer sheets (these last for months to a year before needing replaced), but they cut down on drying time and help with static.
WANT THAT DRYER SHEET SMELL?
Simply add a few drops of your favorite essential oil to the balls and toss into the dryer.  Reapply before each use.  You can find dryer balls in packs for not a lot of money.  Here are the ones I use.  Make sure you get unscented ones.  Some companies definitely try to sneak fake fragrance in there.
If you don't like the dryer ball route, there is another option…..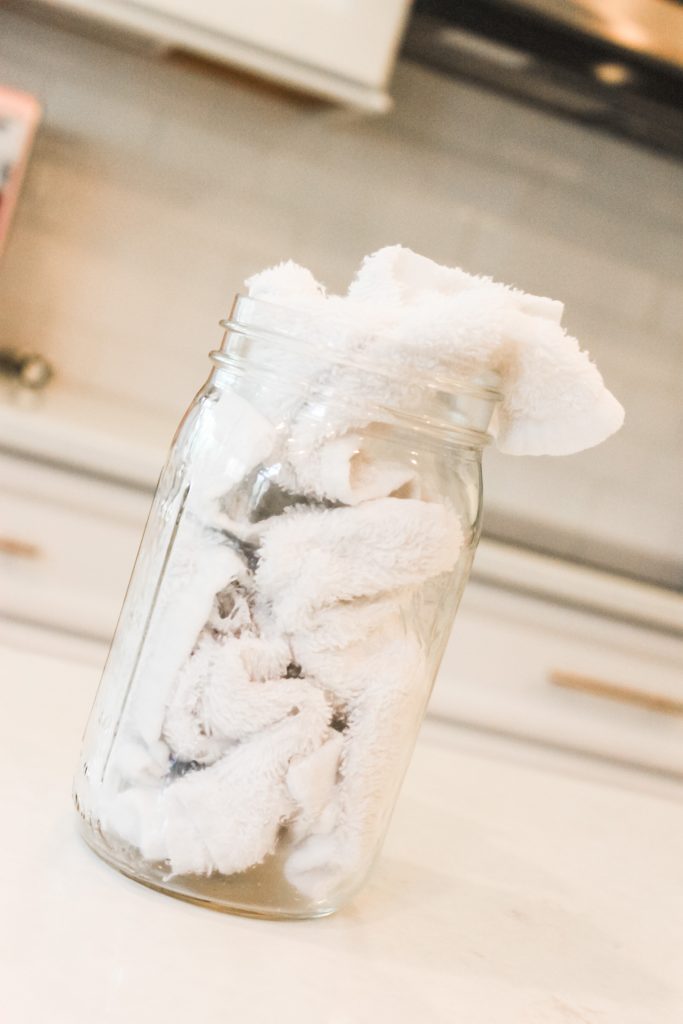 MAKE YOUR OWN DRYER SHEETS
When it comes to non-toxic ways to do laundry, this one is so easy, you'll wonder why you didn't do it sooner!  Here's how you do it:
HOW TO MAKE DRYER SHEETS
First, take two old washcloths and cut them in half and place in a 32 oz. Mason jar.
In a separate dish add 1 cup of white vinegar.
Add in 25 drops of your favorite essential oil to the vinegar (I chose lavender).
Stir the oils and vinegar together.
Pour over the rags in the jar.  Start slow.  You likely won't need the whole jar.
You want the rags to be damp.  If you have left over liquid store it for next time.  When it's time to use, toss 1-2 rags in the dryer.  Once you've used all 4, simply repeat the process.
Wash them every 2-3 uses or so and start again.  No toxins.  Nice smelling.  Win. Win.
Okay, we've covered drying, but if we are going to talk non-toxic ways to do laundry, then we need to talk about washing.  First up, while we are making homemade products I have one more for you….
DIY FABRIC SOFTENER
I will admit, I don't use fabric softener but, I know lots of people do.  If you want a non-toxic version of this you're in luck because this one is so easy!  I've seen it done 2 ways….
Vinegar + Essential Oils
Make a large batch of 4 cups white vinegar with 15-20 drops of essential oil (I like lemon and lavender).  Add 1/2 cup to 1 cup depending on load size, to the rinse cycle.
Epsom Salt + Essential Oils
Add 10-20 drops of oils to 2 cups of Epsom salt.  Mix and add a scoop to your laundry with detergent.
WHAT ABOUT DETERGENT?
There are recipes out there for ways to make your own detergent.  I personally, have never done it.  You can also search the Environmental Working Group (EWG) website for ratings on various detergents to find ones that are safer.  I have purchased some in the past from Whole Foods that got a good rating.
But, if you want to take the guess work out of all of it, I have another option I think you'll love!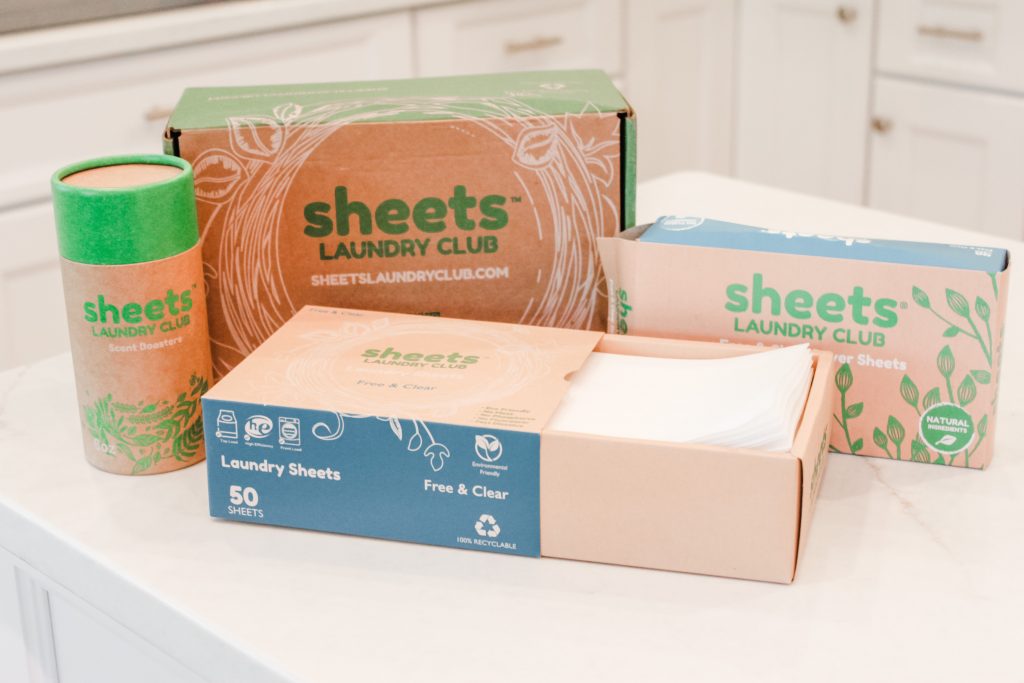 Sheets Laundry Club offers such a new and unique way to do laundry, and when they reached out to me to try their product I was definitely intrigued. Something that made laundry easier?  Sign me up!  After one time using it I knew instantly, I had to share it with you!  Get ready to say goodbye to heavy detergent bottles, the guesswork of measuring, and toxins with this eco-friendly, laundry detergent in a sheet!
Yep, you heard right…a sheet of detergent!  1 load = 1 sheet.  How easy is that?  I personally hate measuring detergent never knowing if I have too much or too little.  Sheets Laundry Club makes it so easy that even kids can do it.  It literally just lightened your load!
HOW TO USE:
Just open the box, pull out a sheet, drop it in the wash (it dissolves instantly in water and doesn't leave behind residue) and voila!  No measuring, mess, or toxins.  No reason not to love it!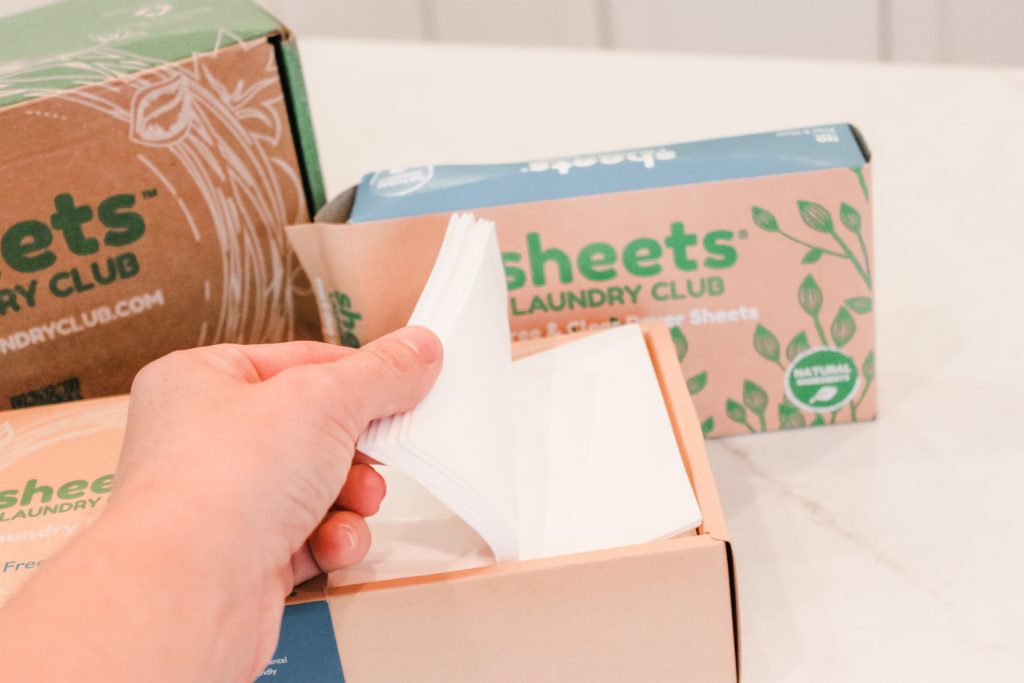 Another thing I love that I think you will too is the texture!  I mean it is detergent in a sheet after all but it's so creamy smooth I couldn't stop touching it!  And the scent is refreshing and nice but not too overpowering like so many detergents tend to be.
MORE THAN DETERGENT.
Not only does Sheets Laundry Club fit into our non-toxic ways to do laundry but they also offer more than detergent.  They have scent boosters and dryer sheets.  If you love dryer sheets and don't see yourself switching to dryer balls or making your own sheets, then you will love their dryer sheets.  They look and feel like the ones you'd buy in stores but without the harmful chemicals.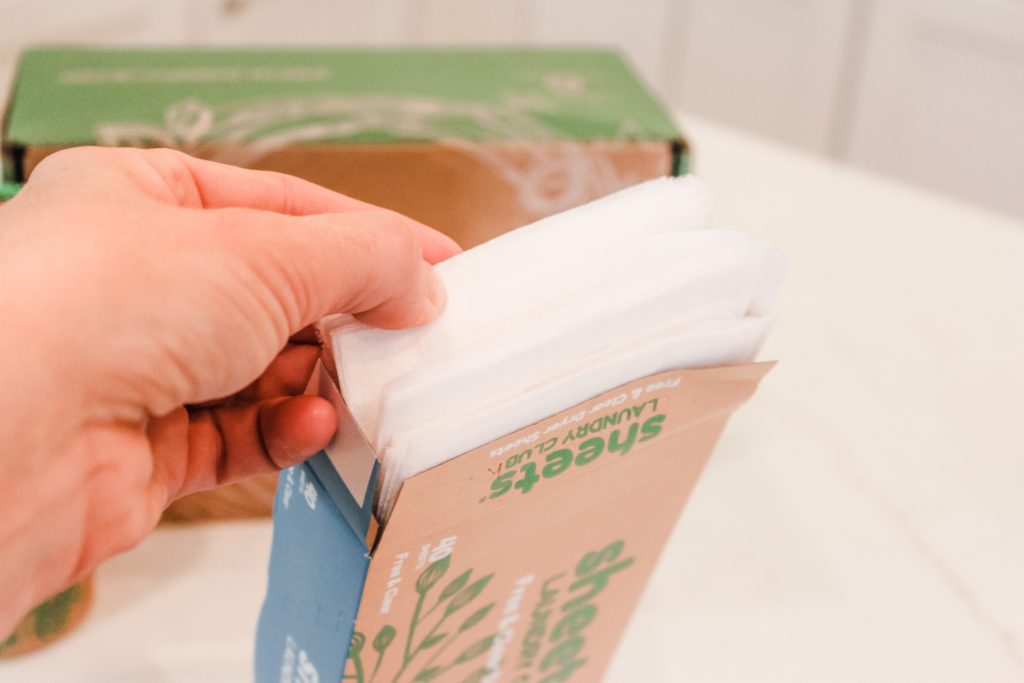 And the scent boosters are pink!  Need I say more?  There's actually a variety of colors and scents, but I was thrilled they chose pink for me.  How did they know? 🙂 Also, it blew my mind when I read the label of the scent boosters and it said if ingested to drink water.  Not call poison control like most scent boosters.  Drink water.  Now THAT's a safer product.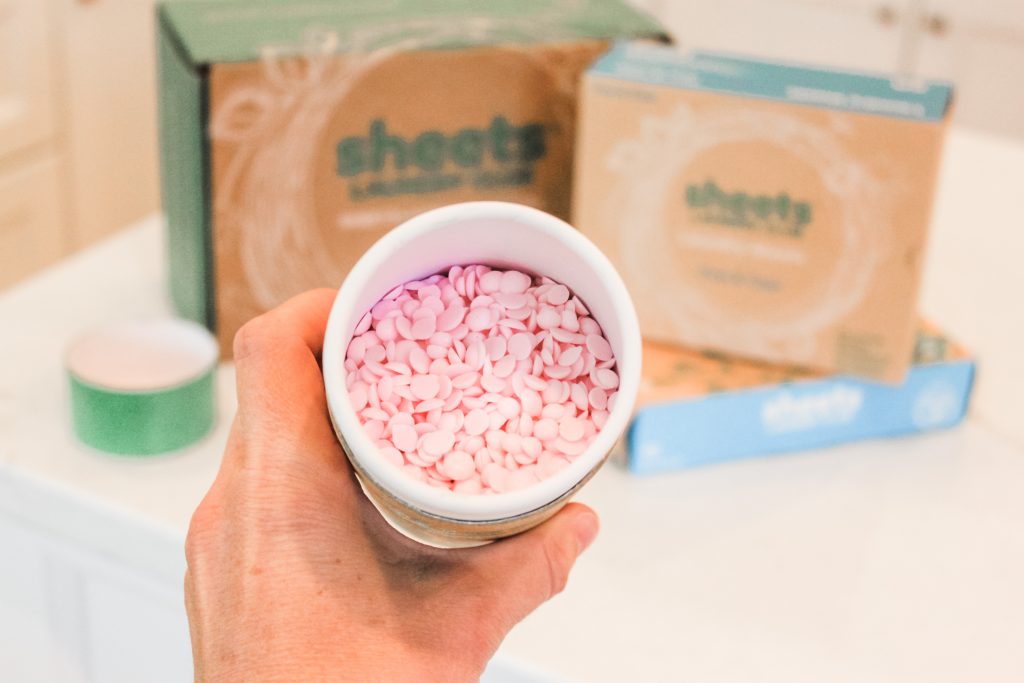 GOOD FOR THE ENVIRONMENT
Sheets Laundry Club uses zero plastic and all of their shipping and packaging materials are 100% recyclable.  And their cleaning agents are sourced from nature and are vegan friendly.
GOOD FOR YOU!
No harsh chemicals here and are toxin free and safe even for sensitive skin.  They use essential oils for scents but do offer free and clear formulas.
GOOD FOR YOUR WASHER.
The sheets fully dissolve unlike many pod type detergents, never leaving behind any residue.  Best yet, they work in all washing machines including HE machines.
GOOD FOR YOUR CLOTHES.
The best part about Sheets Laundry Club is that they still deliver the cleaning power of your store bought brands all while remaining non-toxic.  That's my favorite part as I often find it's a trade off.  So far when using these products, everything has come out just as clean.
If you couldn't tell, I'm pretty excited about these products.  The sheets are such a clever idea and seriously cut down on waste, cost, and heavy lifting.  Laundry is one of my least favorite chores so anything that makes it more fun and easier, while also being safe and non-toxic, is okay by me!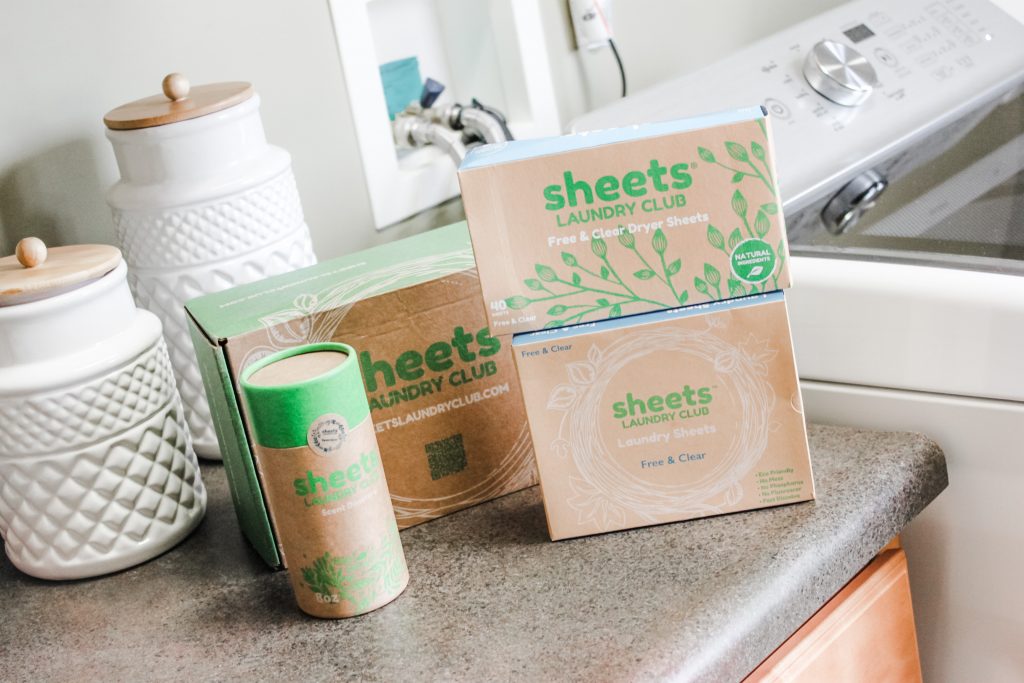 CHECK OUT SHEETS!
If you want to check out Sheets Laundry Club head to the link here.  You can save 10% off your first order with the code: TRYME10.
They even have a referral program where you are able to earn $10 every time you refer someone to Sheets!  I mean, when is the last time you got paid to do laundry?  The spare change you find in pockets doesn't count.
Alright friends, that does it for now.  I hope you found some great new non-toxic ways to do laundry.  Between Sheets Laundry Club and the DIY recipes, it's never been easier to ditch those toxins and go with something you can feel good about washing your and your family's clothes in. 
If you liked this post be sure to pin it so you have it for later.  Have a great weekend!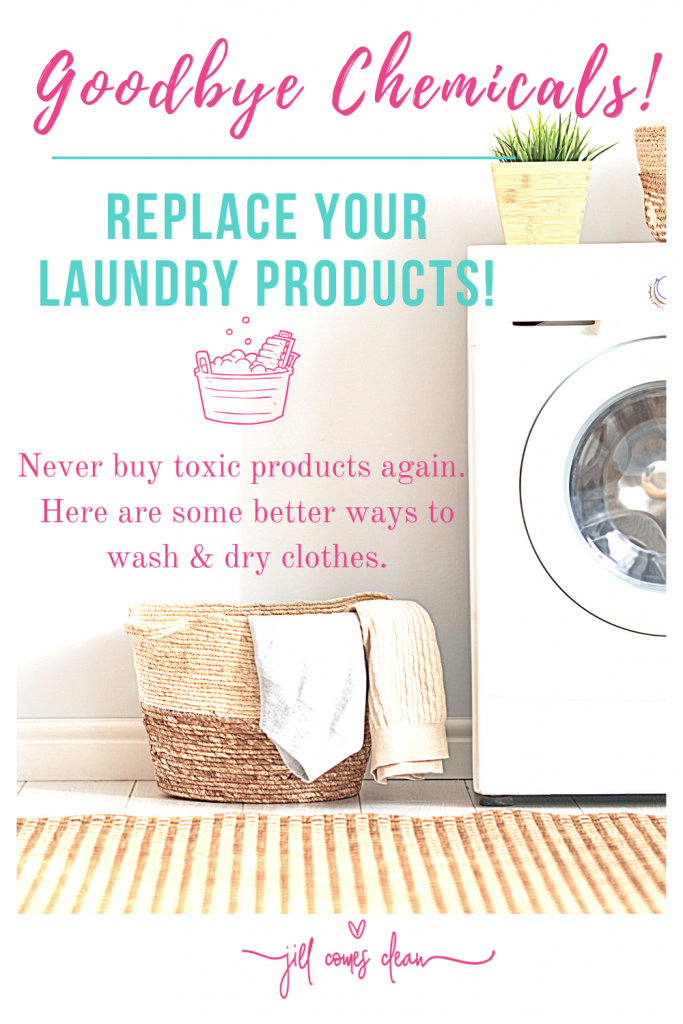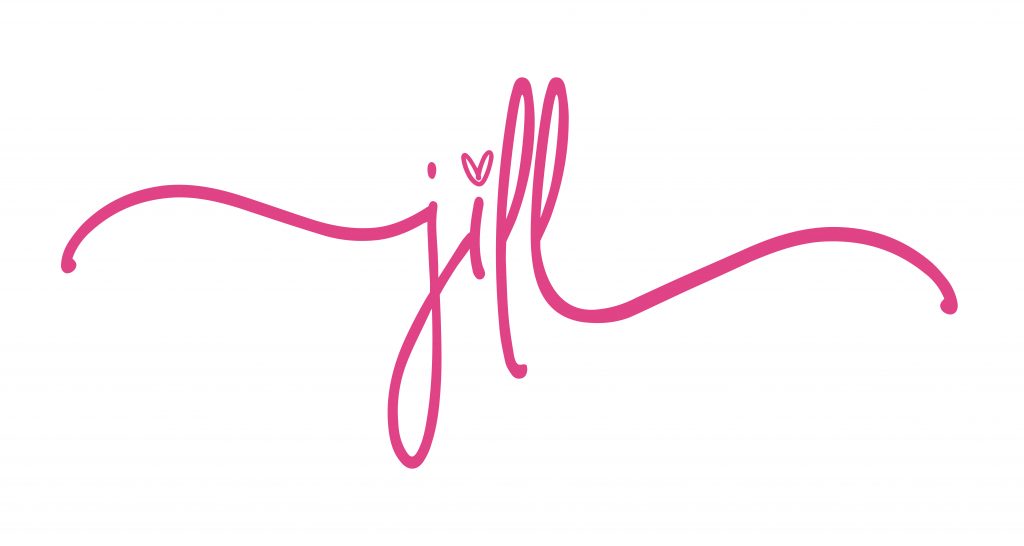 xo, Jill