Happy Monday friends!  And happy start of June!  I swear May flew by the fastest yet of the months this year.  I hope everyone had a great weekend.  Our weather here was absolutely perfect so we made the most out of it by getting outside as much as we could.  We figure we need to soak up all these perfect temperature days before it's 90 plus degrees each day.
Anyways, I have a great round up of must haves for you today, complete with some great finds for the trendy mom, so let's hop to it, but first let me drop this reminder for anyone that needs to see it like I do….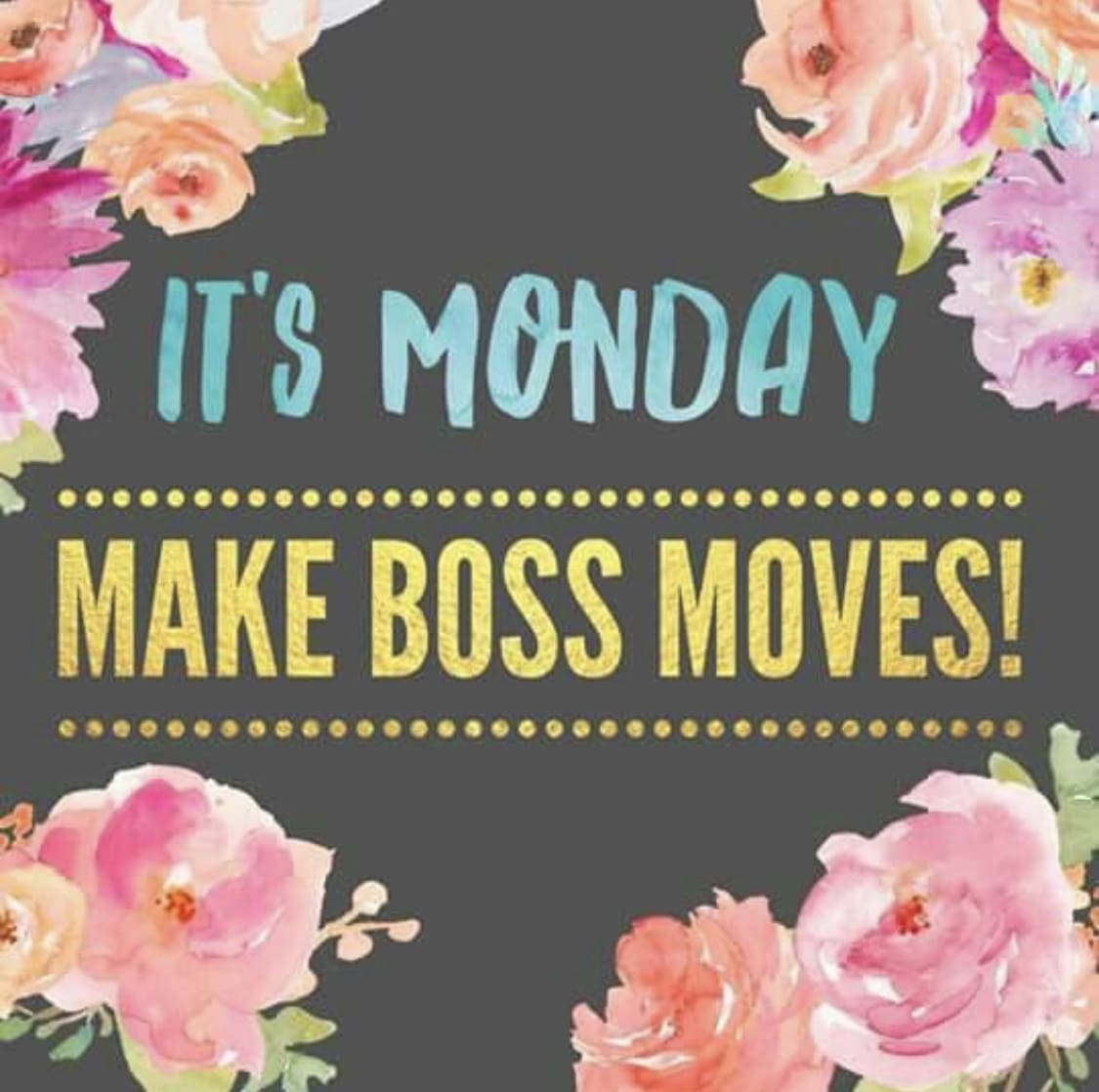 First up, speaking of the nice weather, we bought Leyton this little activity center, and while he had pretty much zero interest in it, I still think it's a must have for littles this time of year.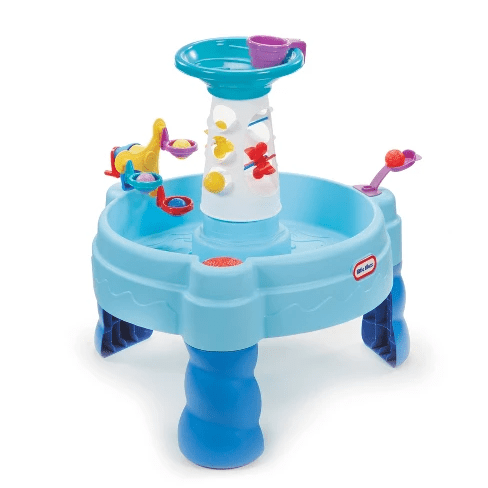 Target online has a huge selection to choose from beyond this one.  Shop them all here.
Next up, speaking of Target….when we were there to buy this water table I saw these at checkout, and how stinking adorable are they?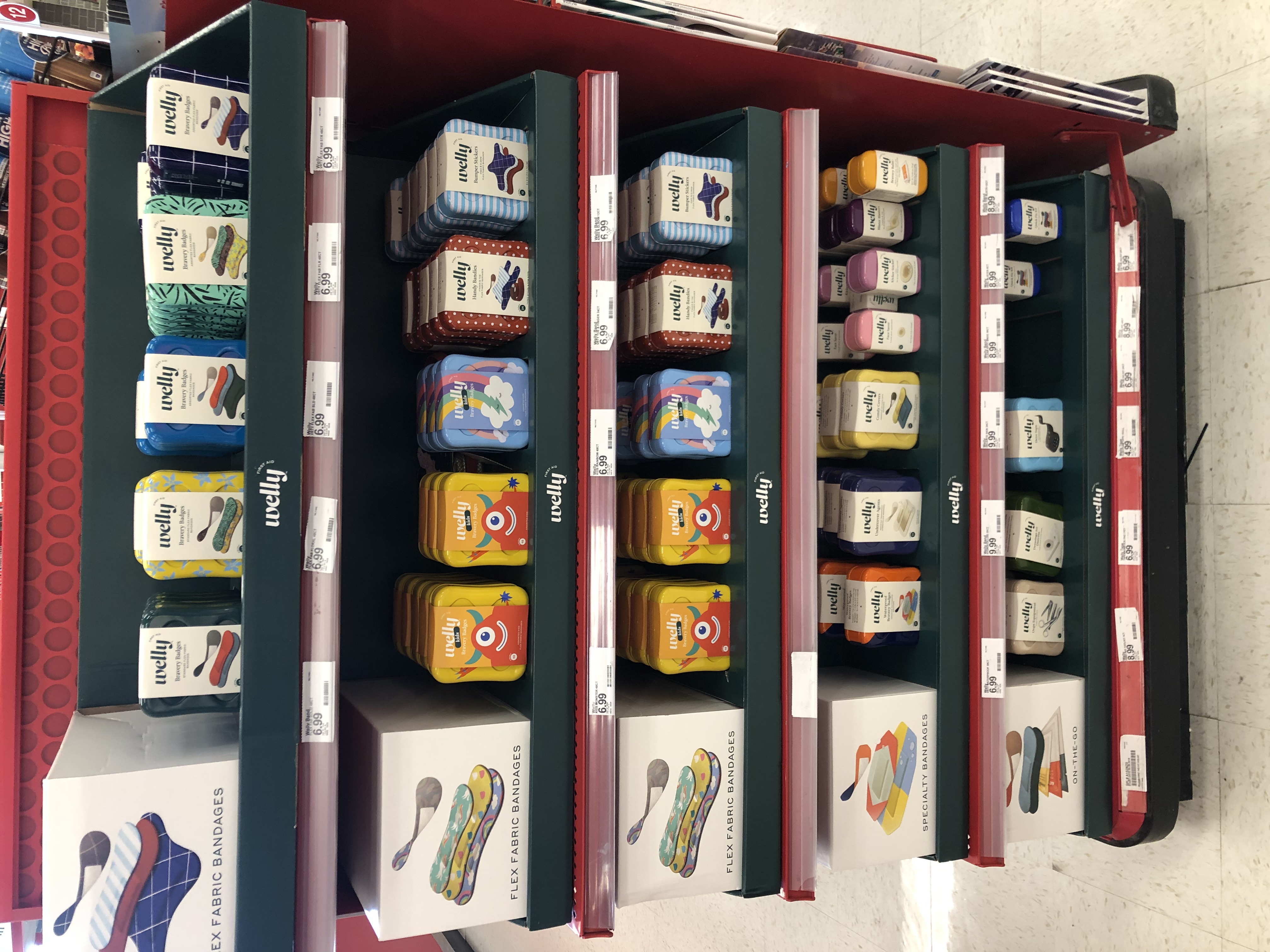 These are a new line of band-aids but sooo much better!  Welly's are actually called bravery badges and they have a huge assortment of designs and inside each tin are little compartments so you don't have to search for the right size bandage anymore.  Some of the kits are just bandages and others also have ointment and sanitizer.  I just thought they were so fun and cute and any kid (or adult) would love them.  Shop them all here.
Next up I was in Ulta the other day for some hair items and came across this and I'm obsessed with it!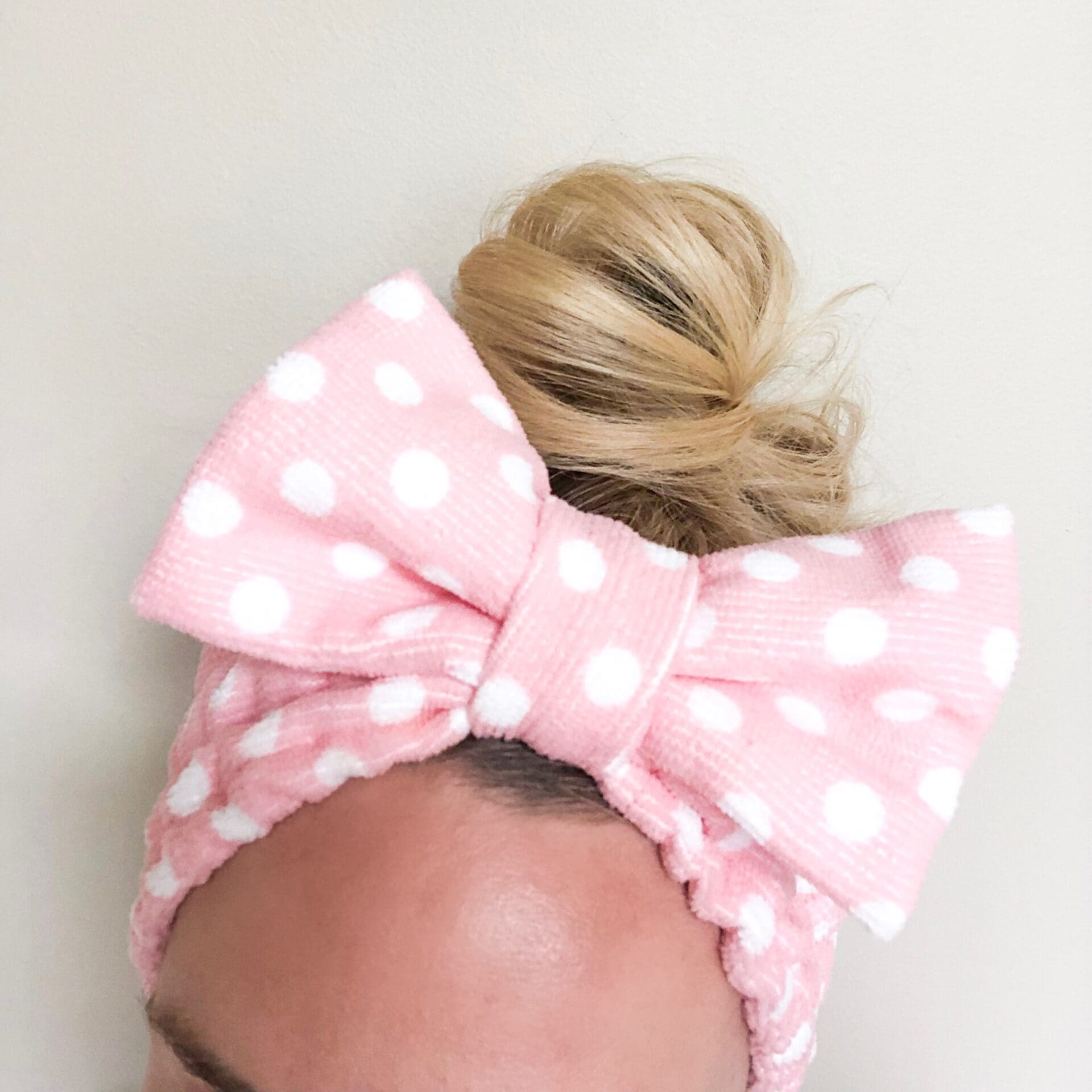 It's a headband you wear when washing your makeup off and I thought it was sooo cute!  I'm always getting water all over my hair when I wash my makeup off and this totally takes care of that problem, on top of looking absolutely adorable.  I almost want to wear it as just a regular headband all the time.  Best yet, it's $5!  And also comes in blue and leopard.  There's a big selection of other cute ones here.
And speaking of makeup……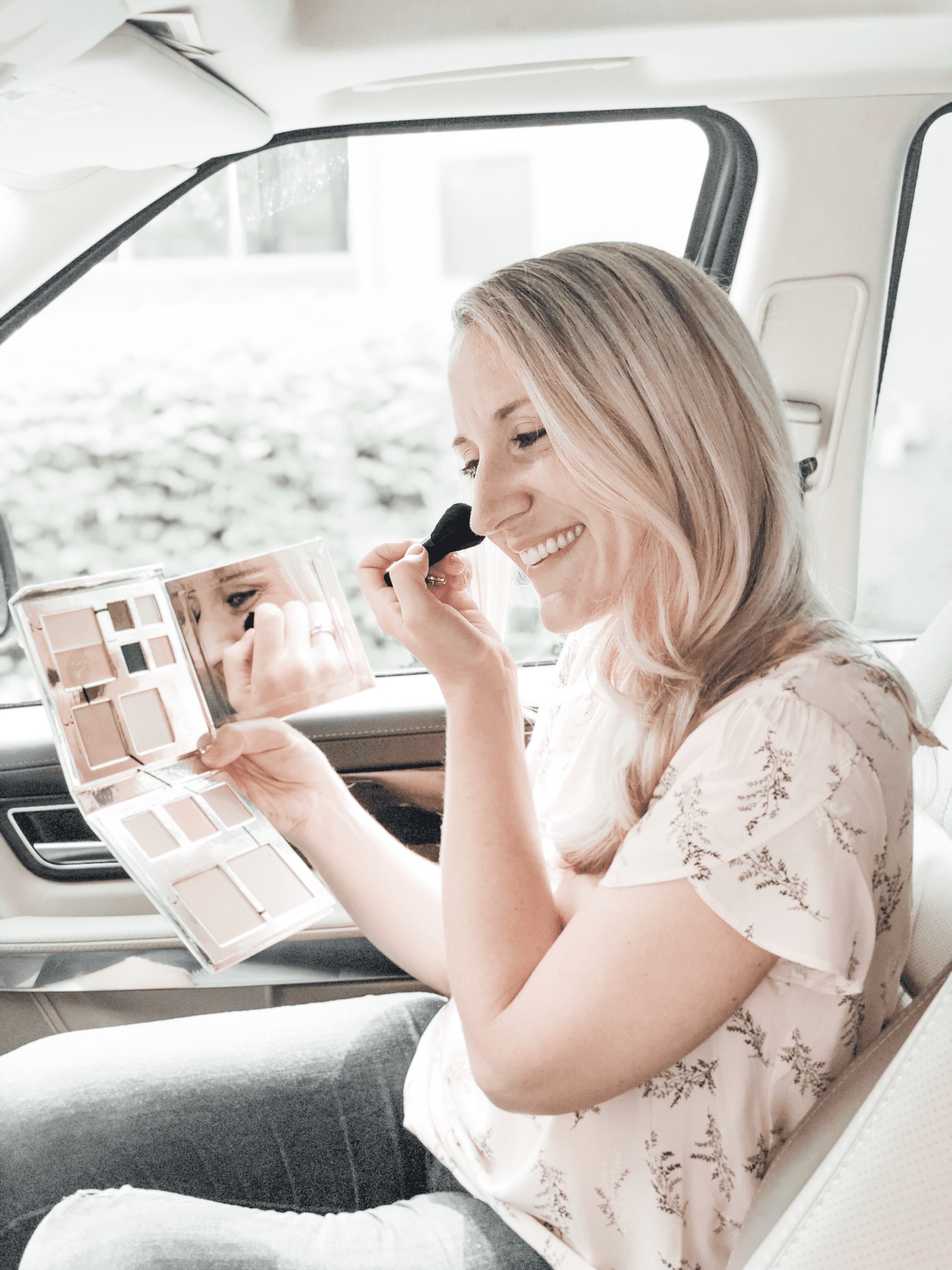 I posted this on Instagram last week and think it is THE most practical, awesome invention ever.  Woosh Beauty reached out to me a few weeks ago about sending me one of their fold out face, all in one makeup palettes and it was an easy yes!  I love, love, love this idea!  How many of us hate lugging around a ton of separate makeup containers when we travel or even if we are just on the go throughout the day and want to touch up?  This "fold out face" makeup palette contains your foundation, blush, contouring, highlighter, and eye shadow AND even has a 4 in 1 brush to apply it all.
There are several palettes to choose from to match your skin tone.  I did the medium light and it's perfect.  It's seriously such a smart invention and a definite must have for any lady who wears makeup and is ever on the go.
And while we are talking face, let me share this new toner I'm loving!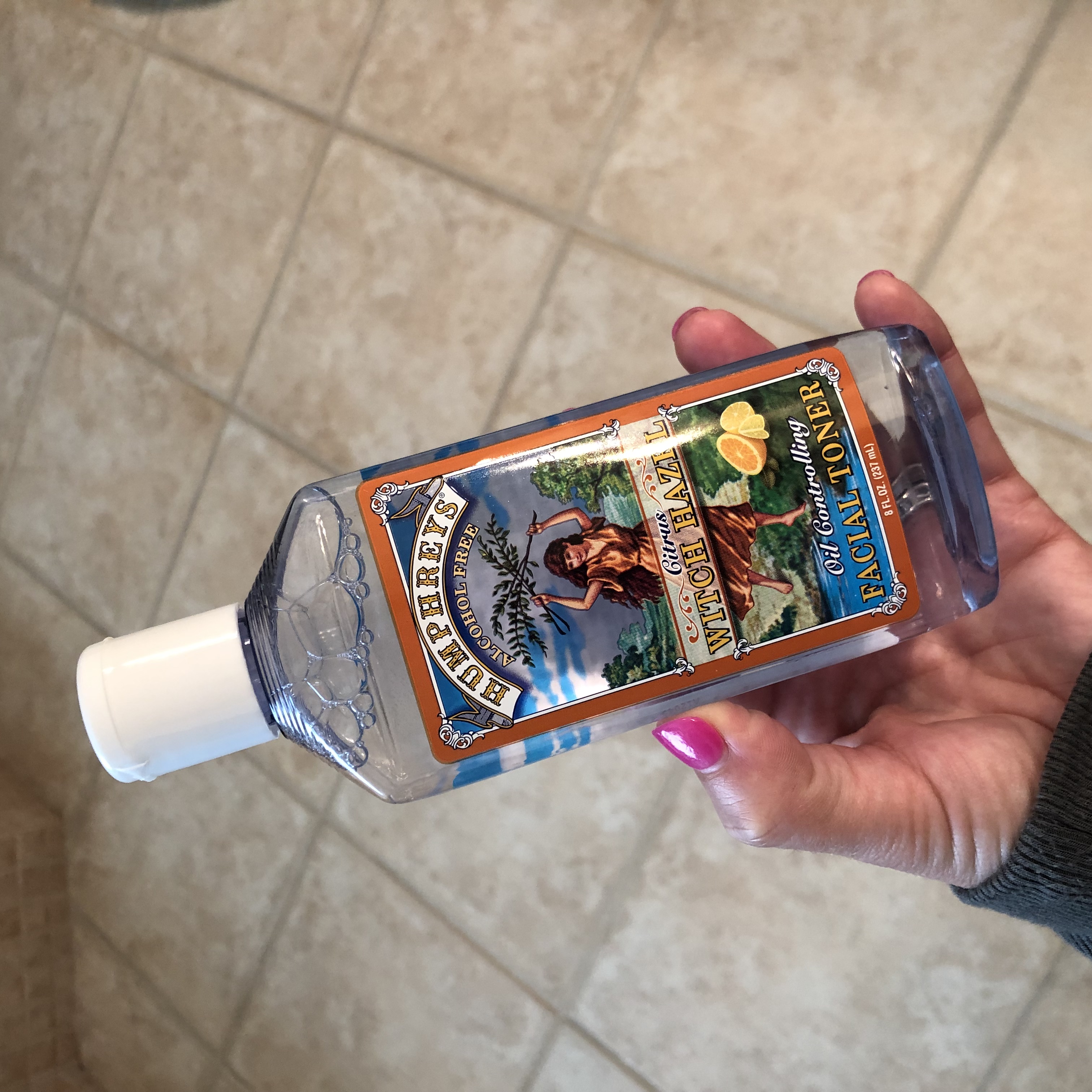 Up until now I had been using Thayers toner because I had always heard it's ingredients were safe and clean, but then I recently read an article saying it's actually not as "clean" as we think and that this one was a better alternative, so I decided to give it a try and I'm loving it!
And speaking of Amazon….I found this adorable tank for Memorial Day and think it's so cute and fun and will be perfect for July 4th, Veterans Day, or Labor Day.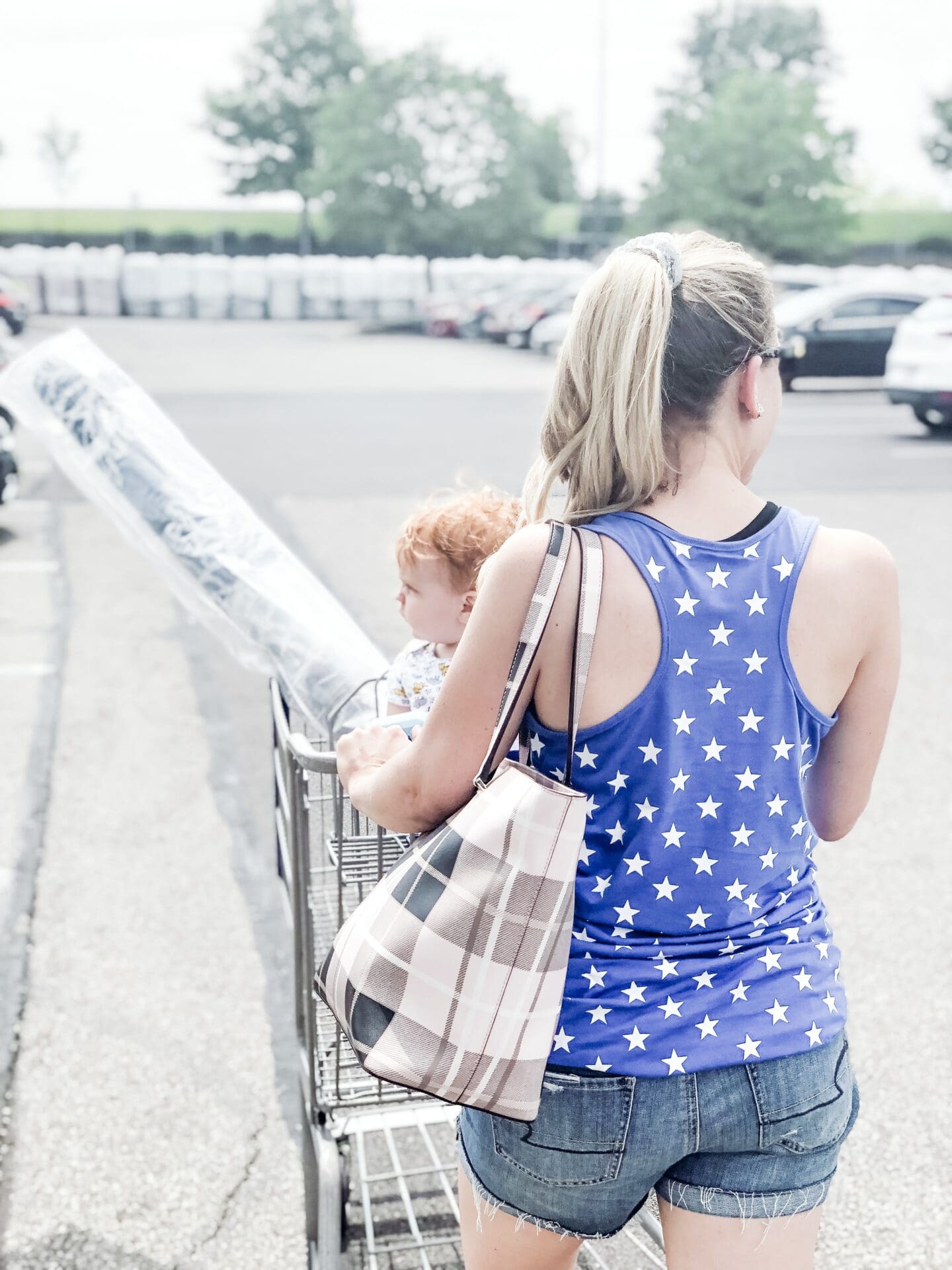 Here's a front and back shot of it…..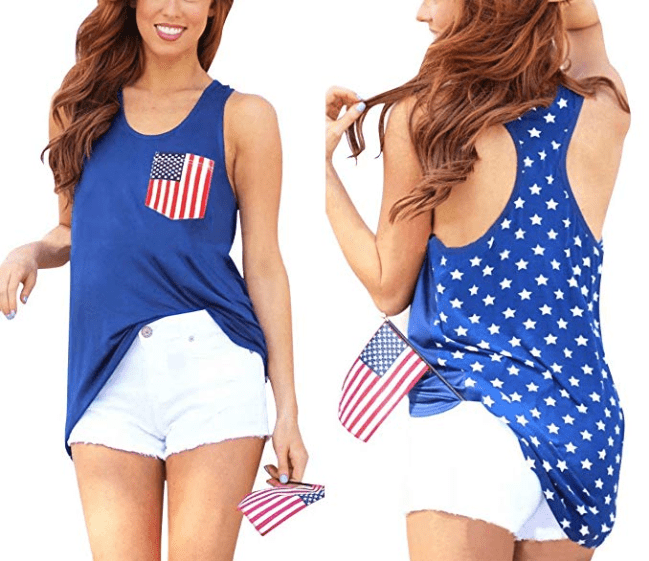 And while we are on the topic of Amazon fashion finds, how adorable is this tee?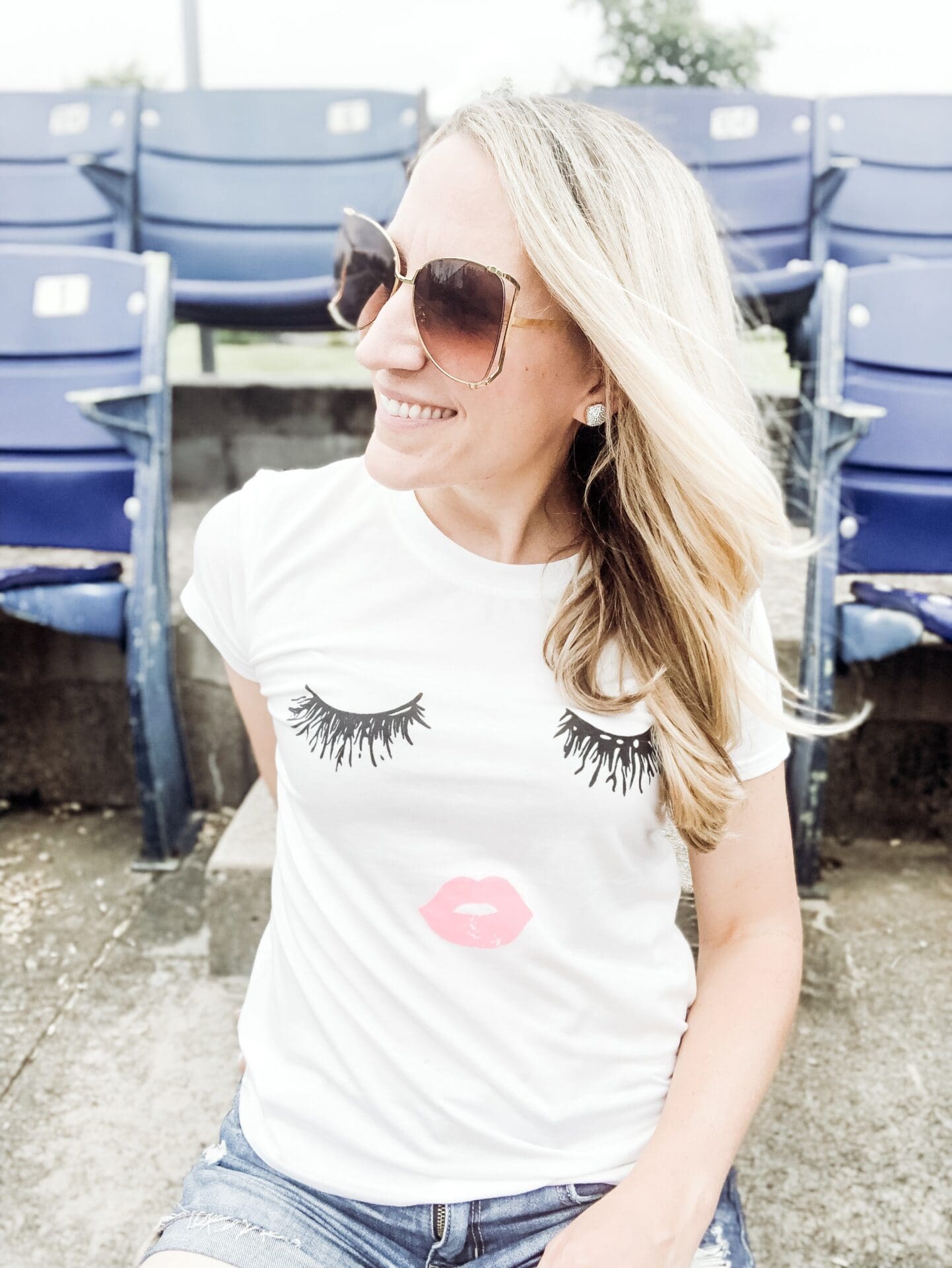 It's $12.69 and seriously the cutest, fun little top.  I got so many compliments on it when I wore it recently.  The sunglasses are also Amazon and are only $14.99.  I get THE most compliments on these.  Like seriously I have these, and an expensive Tory Burch pair and I only ever get compliments on these.  Haha, figures!  I'm telling you, you don't have to spend a lot to look cute and have items people love.
And while we are talking inexpensive items people love…..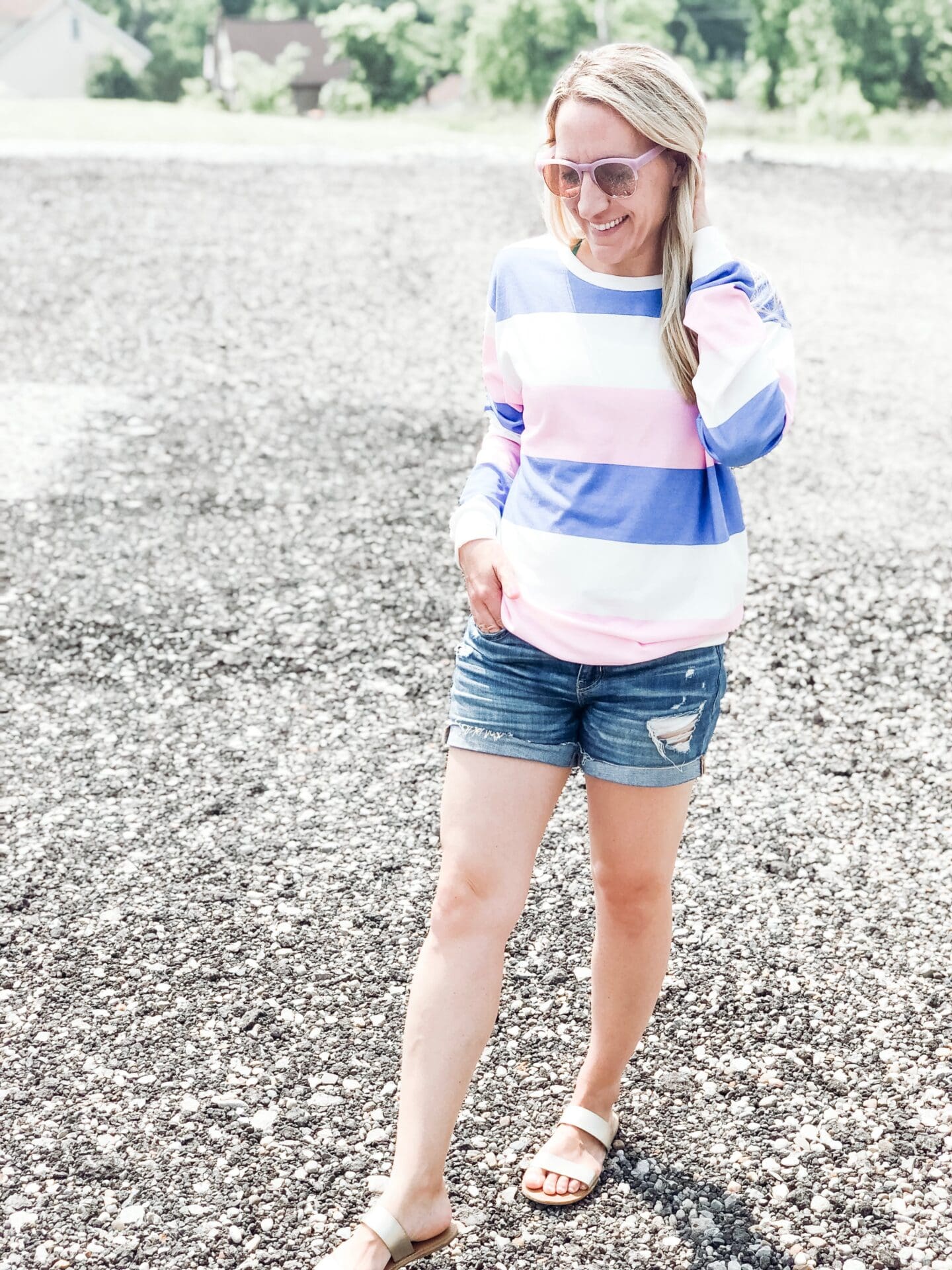 You guys, I got this top from The Pink Lily Boutique and I'm beyond in love with it!  I love wearing sweatshirts with shorts in the summer while the weather permits, and this will easily be one I'm wearing on repeat! The Pink Lily Boutique has the cutest stuff for affordable prices.  I recently bought some other items I'm waiting to share with you, but everything is so stinking girly, and cute!  It's hard not to go crazy shopping there.  Similar sunglasses can be found here, and jean shorts here.
Lastly, I have to share the latest must haves from Monat since it's a new month and that means new FREE, Only For You items!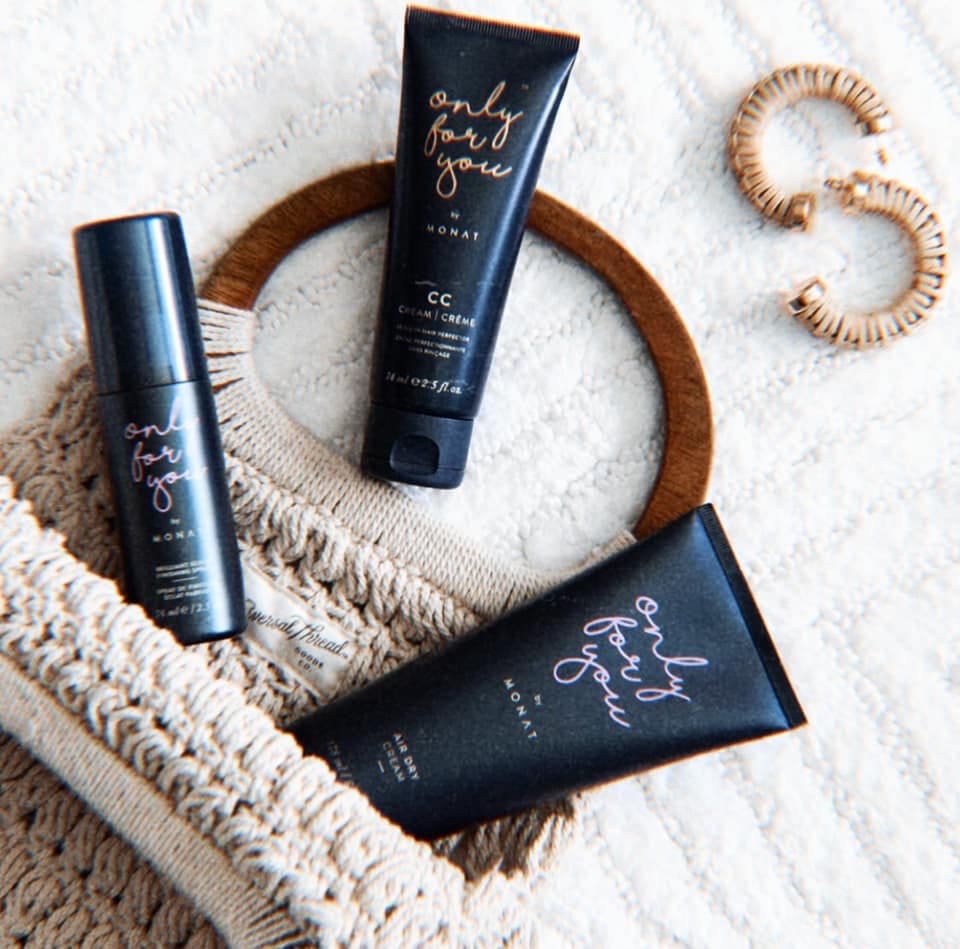 This month new VIPs can place an order to become a VIP and get one of these items free.  You get to choose from…..
Air Dry Cream – A light and airy leave-in cream that gives effortless style without the heat.  Promotes shine, softness, and texture. Gives frizz-free results without weighing you down.
CC Cream (Complete Care Cream) – A leave-in day treatment that keeps hair strong, moisturized, and refreshed.  Contains vitamins and minerals that nourish and protect hair.
Brilliant Gloss Finishing Spray – Lightweight mist that provides hair with added shine and silky feel.  Tames frizz and flyaways without weighing hair down.
These are all perfect items for summer and are all designed to help you beat the heat!  As always you can take the free hair quiz here to find out what Monat products would be recommended for your specific hair needs, or you can always reach out to me for a personalized recommendation or to learn more about their anti-aging hair care products that will completely transform your hair.  If you've been curious about Monat, summer is the best time to get started to protect your hair from sun and heat.  You can reach me by email (jillcomesclean@gmail.com), Facebook (Jill Weaver Koch), or Instagram (@_jillkoch_ ).
Alright friends, that does it for this weeks Monday Must Haves.  If you were on the hunt for any of the above I hope you found some great new products.  And as always if you ever have any items you feel are total must haves, comment below or reach out and let me know because I'm always looking for new, fun items.
I even decided today that at the end of the year I will do a post that's one giant must haves list with all my absolute top picks from all these must have posts.  One of the items listed here today is definitely on that list, but you'll have to check back in December to see what :).
Have a great start to the week and I'll see you back here Wednesday!
Jill
xo, Jill