Happy Monday friends!  I hope everyone had a great weekend.  We were busy shoveling snow (well Eric was) and fighting colds.  We are slowly on the mend, and the snow has just made it so pretty outside.  I love how light and bright snow makes everything, and as long as I don't have to leave the house or drive in it, then let it snow, let it snow, let it snow!
Okay, so on to the must haves.  I'll admit I don't have a ton this week, but these were my favorite finds from the past week and I couldn't wait to share them with you.
First up, something simple.  If you are looking for a basic long sleeve tee then these from Nordstrom are a must!  They are only $7.60!!  They come in 3 colors (I have both striped ones and black, which is older and doesn't look like they have anymore), and are long enough to cover your bum if you wear them with leggings.  I also like them front tucked.  Just simple, affordable, must have, long sleeve tees.
Next up….quite possibly the best invention of.all.time!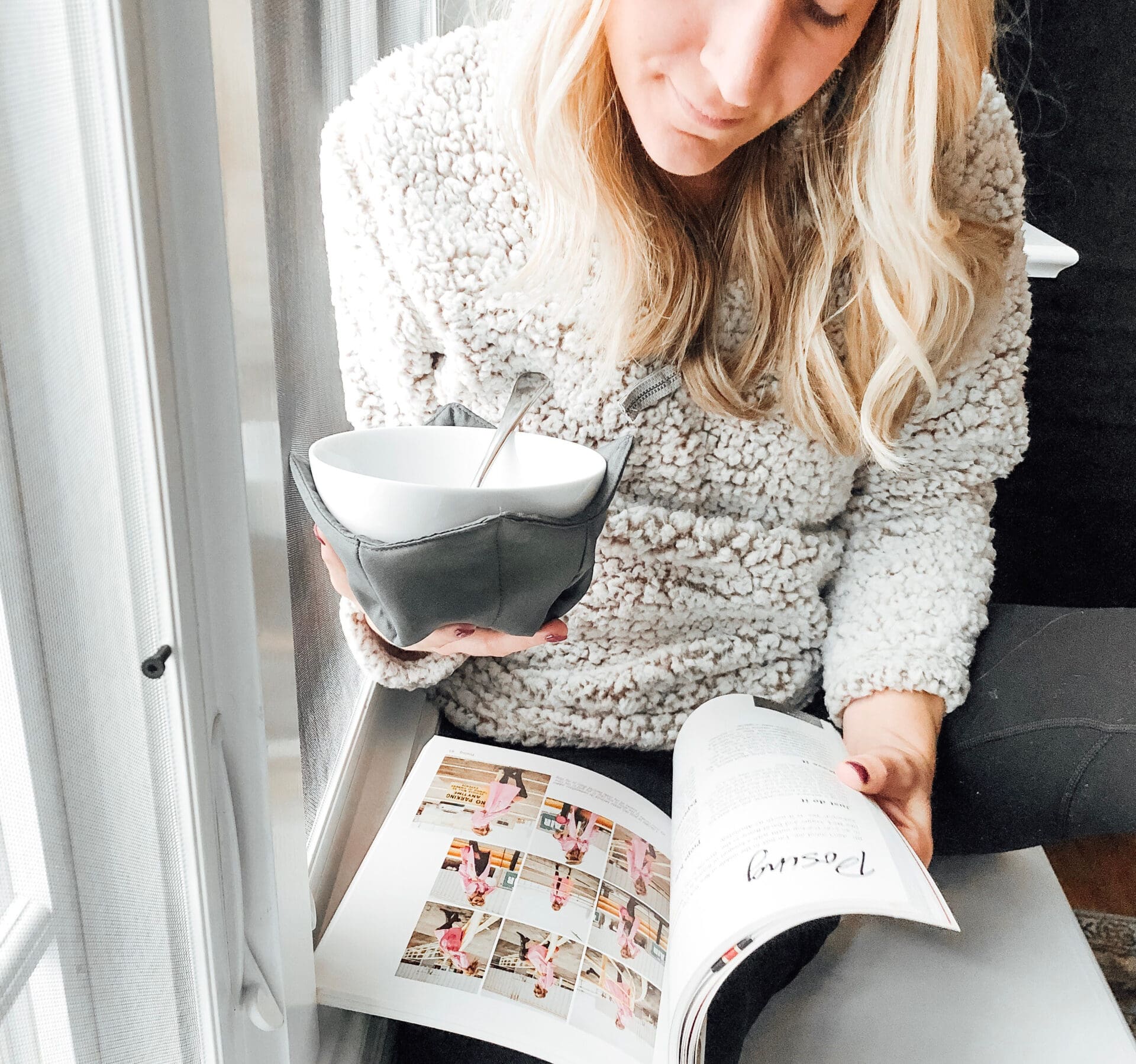 A microwave bowl cozy from Pampered Chef!! I so wish I had thought of this.  I can't tell you how many times I have heated soup or something in the microwave and when I take it out, not only is the bowl piping hot and I can barely remove it, but if I want to sit on the couch and eat it, its too stinking hot to hold.  I would usually use a dish towel or oven mitt but they are bulky and not stable and I risk spilling super hot contents all over myself (picture me in an infomercial clumsily dropping the bowl and burning myself in major dramatic, overacting fashion).  But worry no more, because these allow you to put the bowl in there, heat it in the microwave and voila, you don't burn yourself in the process.  They come as a set of two (one large, one small) for under $20!  You could also use them with serving dishes that you are passing around a table, or even for dishes that are too cold to hold, like ice cream.  Seriously you guys, genius!!
And speaking of great inventions….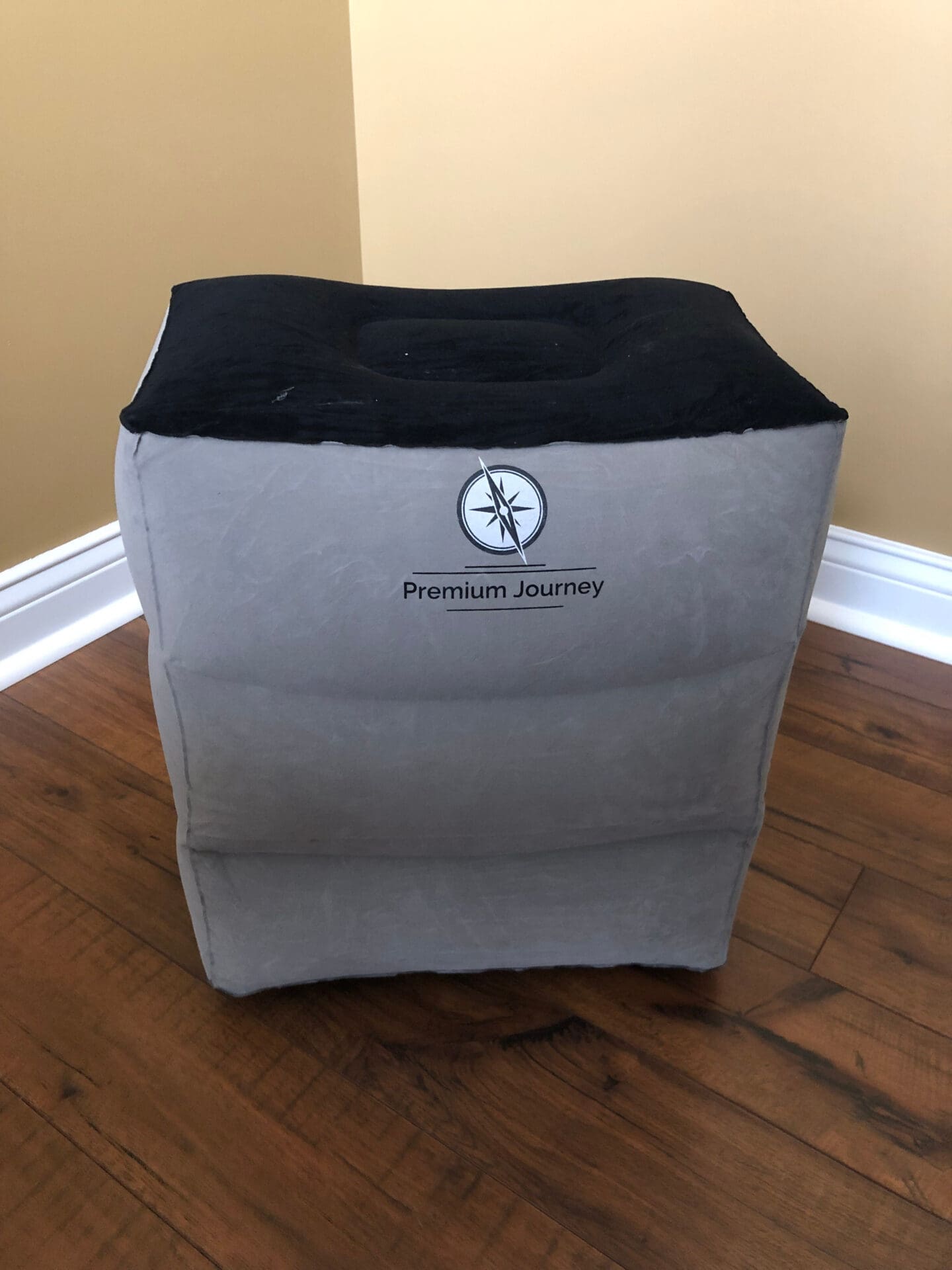 This inflatable foot rest pillow from Premium Journey is one of those awesome products you never even knew you needed until you use it.  They recently reached out to me to see if I would be interested in trying their product, and when I checked it out and saw all it's uses I easily said yes!  It comes flat and you simply inflate it manually (which Eric counted and said it only took 10 breaths haha), and you can inflate all three sections of it like pictured, or just two sections, or only one depending on how much height you need.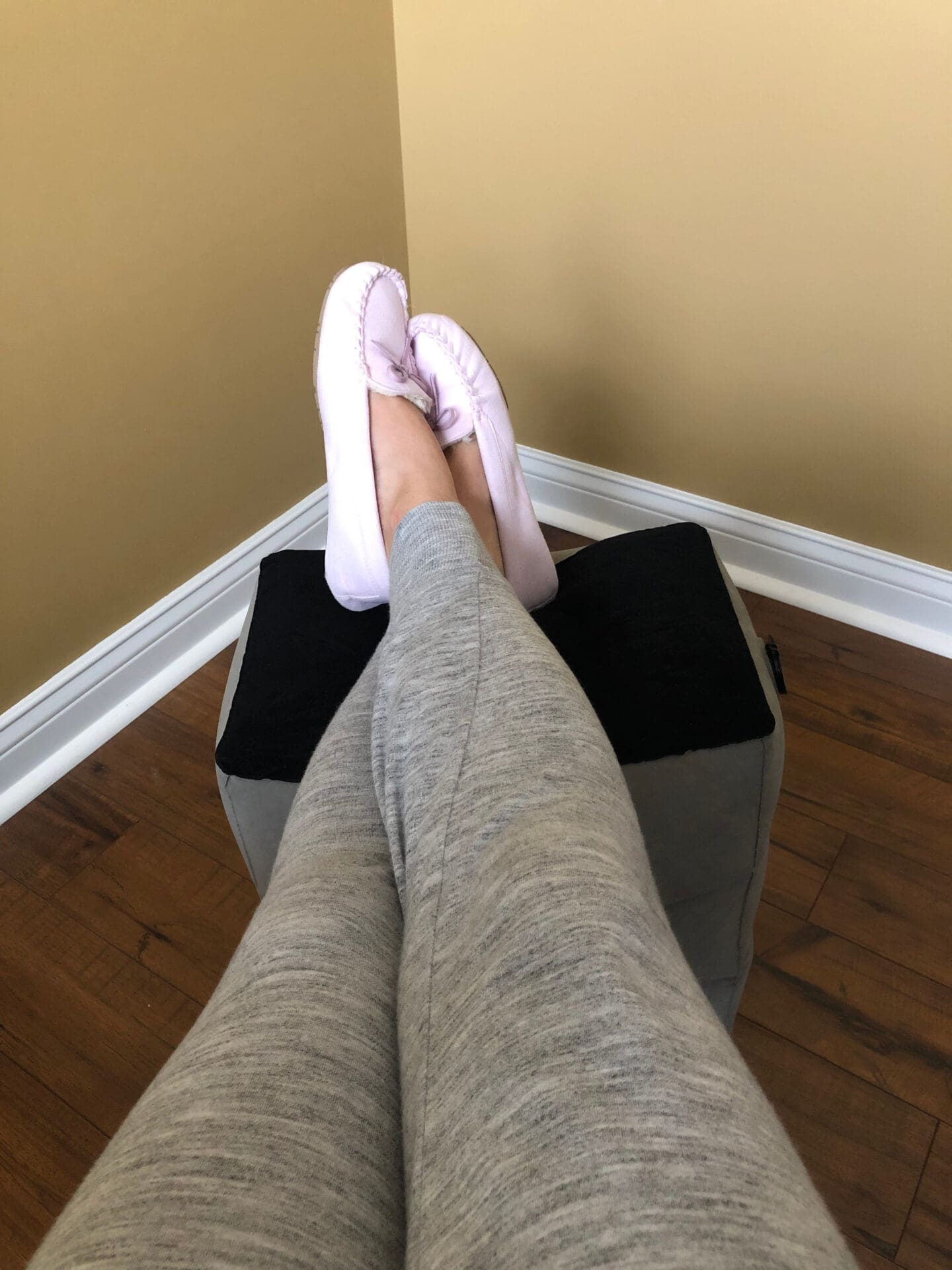 Here I am using it in my office.  It's soft and durable and even comes with a cover you can put over the bottom to keep it clean.  It comes with a travel bag and is super easy to inflate and deflate for use on the go.  Their website shows these pictures as some ways it can be used….
It would also be great to use at work, if you work long hours at a desk.  Oh and it's under $20!  I love me a smart, affordable invention.
You know what else I love….my vegetables disguised in delicious, yummy treats that don't at all taste like vegetables, like this…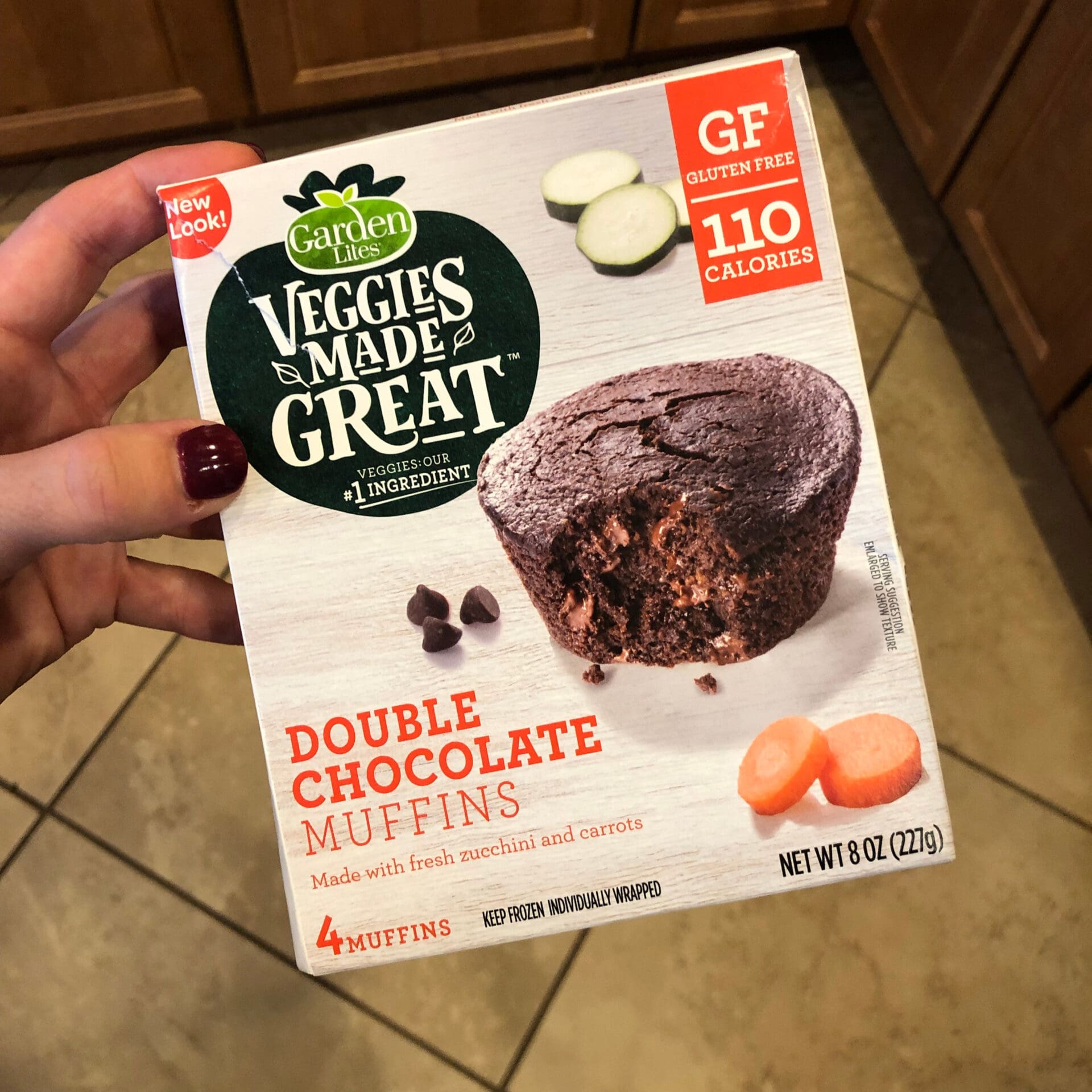 You guys…if you have a sweet tooth like I do and want something that makes you feel a little less guilty eating it, then this is your snack!  I want to say I got these at Whole Foods but maybe they are sold other places (I hope so because I don't get to Whole Foods all that often), they are decadent, and sweet, and just taste like a chocolate muffin.  They also have blueberry which I also tried and loved.  I'm telling you, snack game changer!
And speaking of game changers….I have found an amazing new addition to my skin care routine.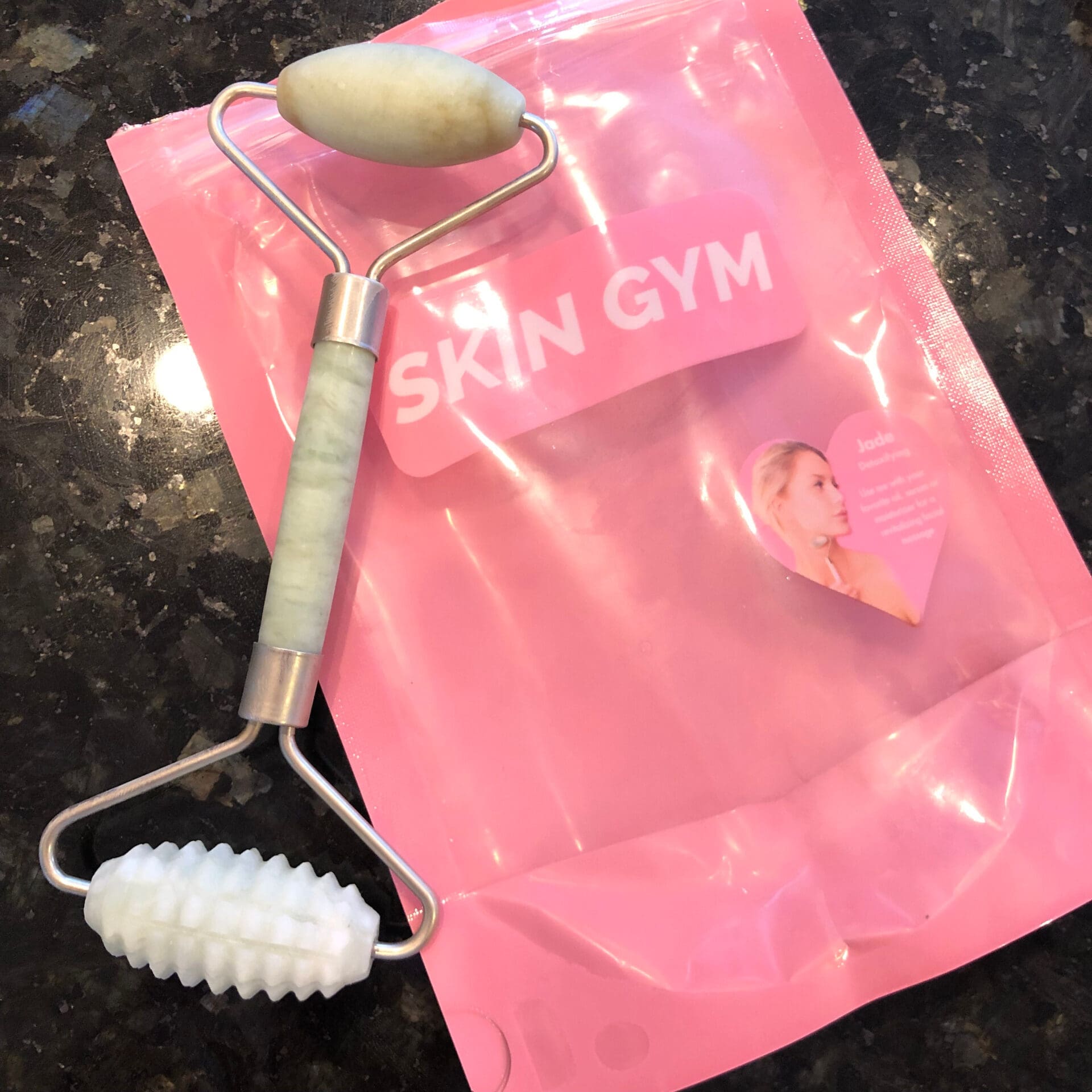 Have you heard of jade rollers before?  I had not until recently, and everything I read praised how great they are for your skin and anti-aging.  They typically have two ends (either 2 smooth ends, 1 big and 1 small for around the eyes, or a smooth end and textured end like this one) and after you wash your face you take 5-10 minutes rolling this along the sections of your face in upward and outward strokes.  Doing this increases circulation, promotes lymphatic drainage, and decreases puffiness and dark circles around your eyes.  It's great for contouring, lifting, and reducing wrinkles and fine lines.  You're actually supposed to use it after you've applied a serum or moisturizer because it increases absorption of those products as well.  It's recommended to keep the roller in the freezer, and the cooling sensation to your face is such a nice, invigorating treat!  You can find them at various places.  I got mine from Nordstrom.  Now I just have to get into the habit of using it on a regular basis.
And speaking of habits……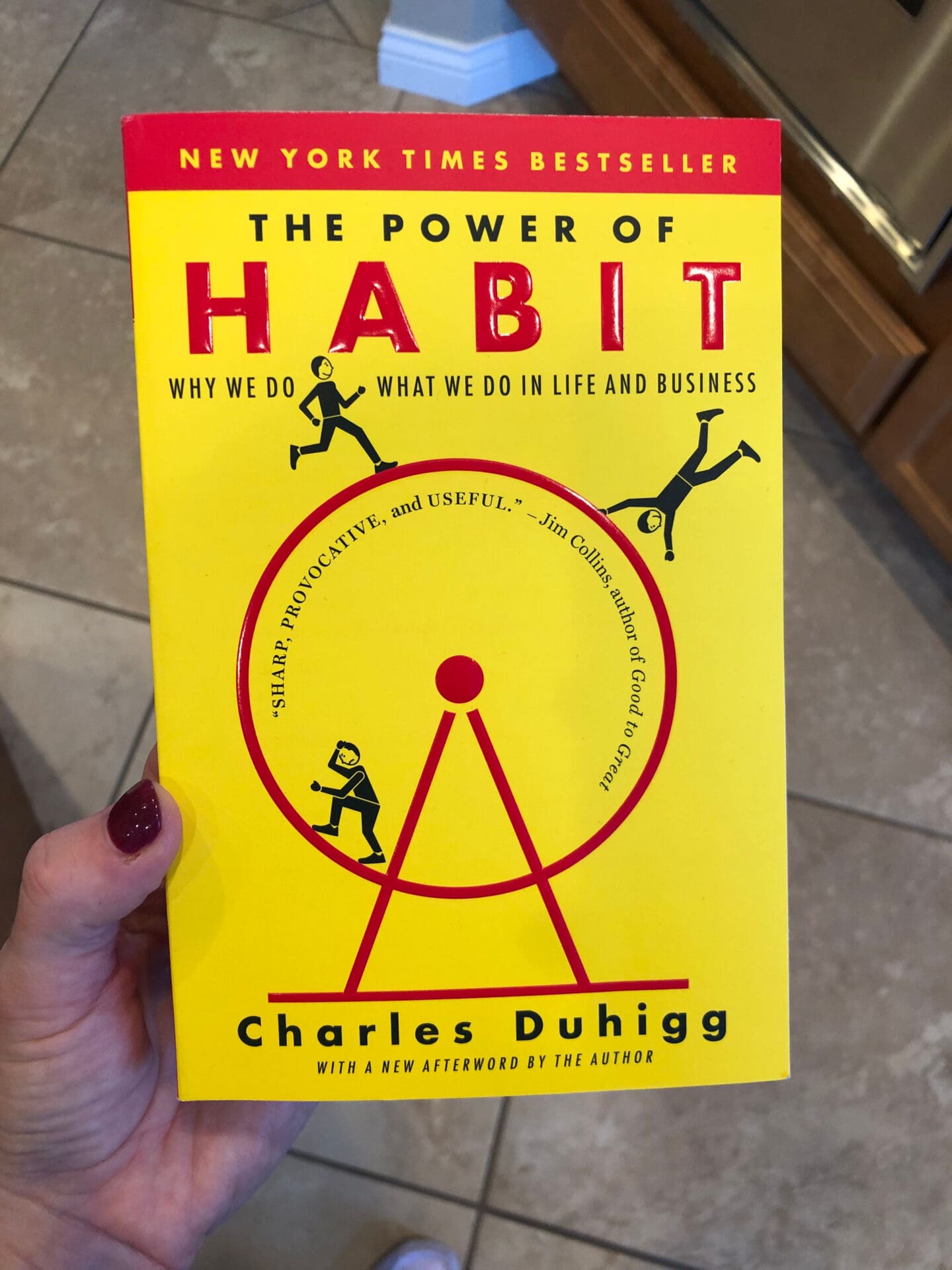 I have been trying relentlessly to adopt some better habits, or stick to good ones I've started and I've heard so many great reviews about this book, that I had to get it!  If you follow Rachel Hollis you know she raves about this book (and girlfriend seems to have it figured out so I trust her recommendations).  Anyways, I'm hoping that I can learn some tips for making and sticking with good habits, and maybe gaining some insight as to why I often don't stick to them, or why I'm so good at keeping bad habits.  So stay tuned.  I'll include this in a book review in the future.
Alright friends, that does it for this week's must haves.  If you ever have any must haves of your own I should know about or things you think I would like, never hesitate to let me know. I'm always up for some good finds!  Have a great week ahead and I'll see you back here Wednesday!
Jill
xo, Jill