Hi all!  Happy Wednesday!  Today is one of my favorite posts each month….What's Up Wednesday!  This is where I link up with Mix and Match Mama, and Sheaffer Told Me To along with other bloggers and we answer these questions….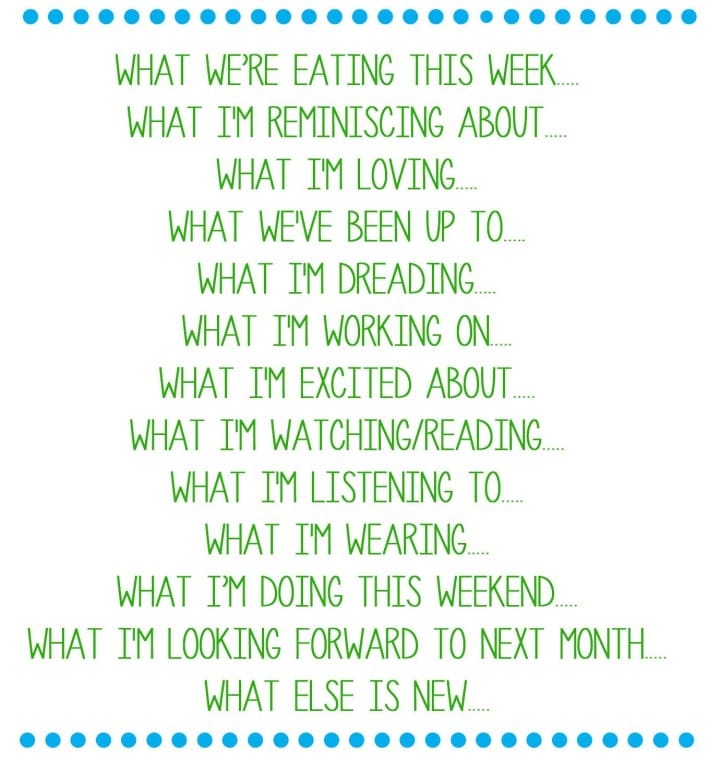 WHAT WE'RE EATING THIS WEEK
Well I had plans of cooking every night this week but so far we have done some of our usual take out, but this is on my agenda for tonight!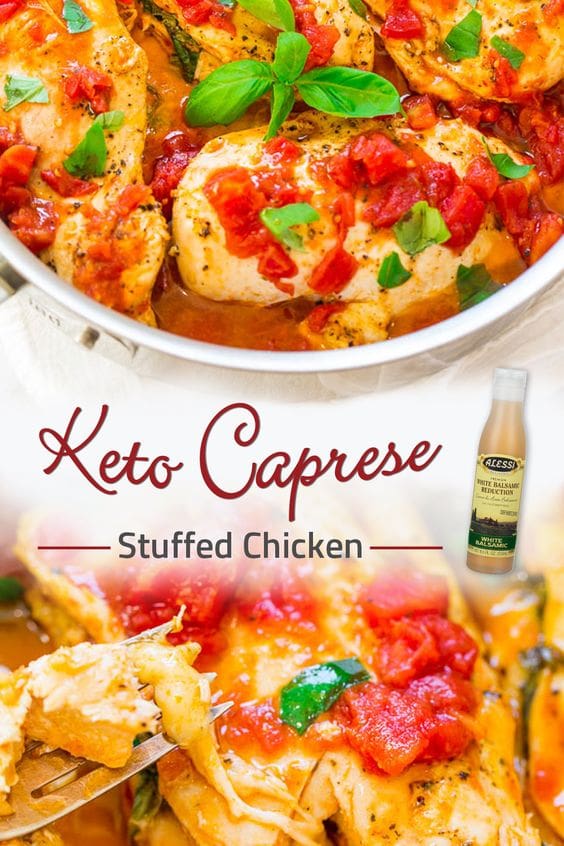 I found it on Pinterest from alessifoods.com.  It seems pretty healthy and looks delicious so I'm excited to give it a try!  I have it pinned to my recipe board if you want to check it out!
WHAT I'M REMINISCING ABOUT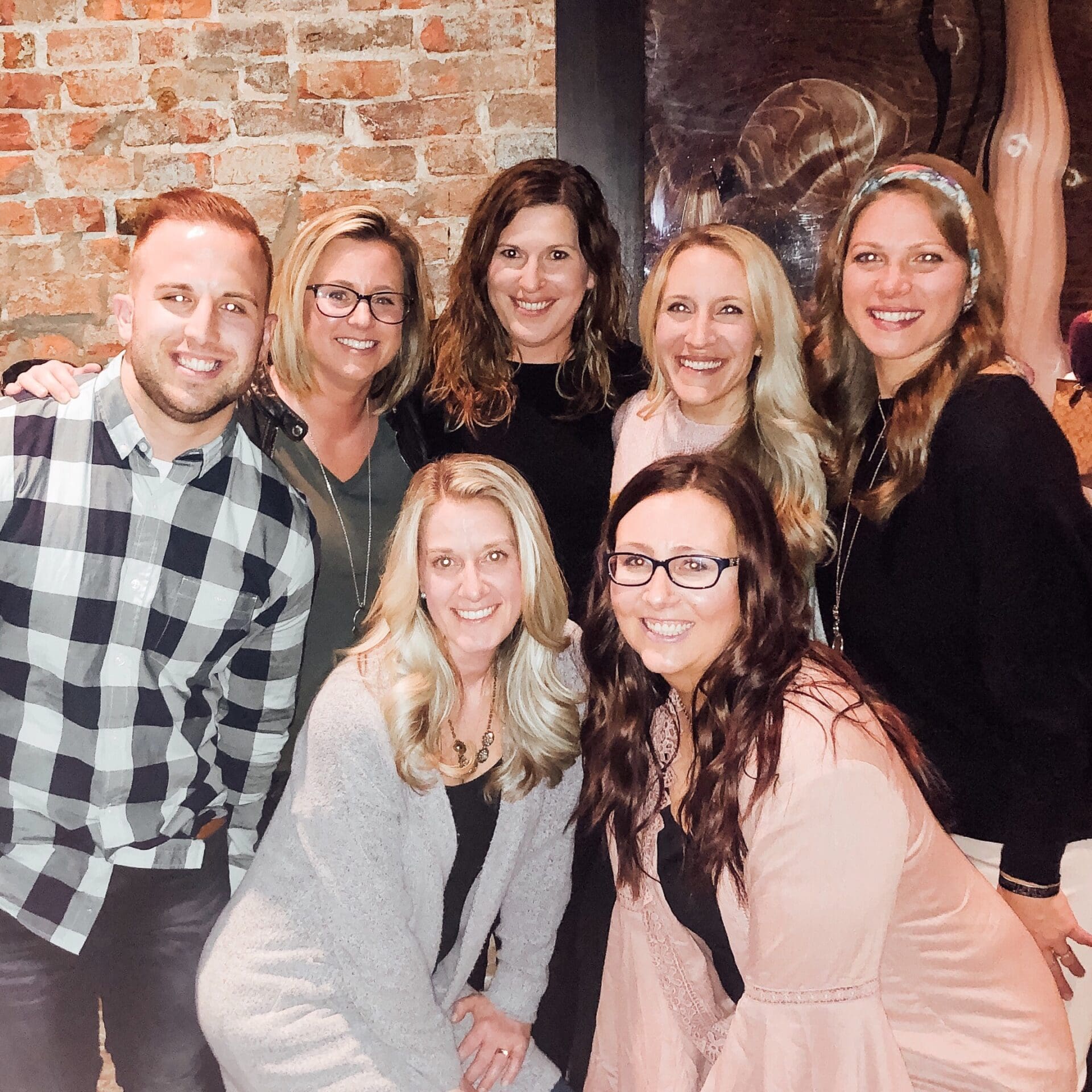 My weekend in Columbus last weekend with my Monat friends.  I can't say it enough you guys, the great hair and extra cash is for sure great, but the community you get from being part of a team like this is priceless.  As a SAHM I definitely need some adult interaction here and there and friend time outside of the house and being part of this company provides that.  It truly checks all my boxes!
WHAT I'M LOVING
Is anyone else loving this current trend like I am?……..
Jeans // Black Skinny Jeans // Shorts // Black Pants
The Paperbag waist is so feminine and fun, I can't get enough! I can't wait to wear this trend throughout summer!
WHAT I'VE BEEN UP TO
Pretty much the same routine and feeling like I constantly need to get caught up.  It's not even that I'm busy I just tend to load a lot onto my wishful to-do list.  And I'm talking minor things like clean the house, workout, read a book, listen to that podcast (or 5), do stuff for Monat, write blog posts, work on Instagram content.  All little things that quickly add up and fill the hours in my day.  Plus, sometimes it feels like it's just a ton of random things and I have a hard time keeping track of that.  And when it's things like reading, or checking out that personal development video, or listening to that podcast, it tends to really pile up because more things like that get added to the list every day.
In my mind I someday reach a point where I sit down and say, ahhh everything is done!  But is that realistic?  I'm beginning to think, no.
WHAT I'M DREADING
There's not really anything I'm dreading but overall I don't ever look forward to my workouts haha.  I mean you guys, I'm only doing this 20 minutes fast paced program.  They are easy to get done but I just never enjoy them.  Probably because they are hard and push me, and what fun is that?
WHAT I'M WORKING ON
Well I would say, see "what I've been up to" but that seems like a cop out.  I am mostly working on content creation for this blog and Instagram and trying to work on some videos/lives for Facebook and Instagram.  I feel like my brain is always trying to come up with something new, so I'm trying to nail down some topics for the upcoming month.
WHAT I'M EXCITED ABOUT
This girl's wedding in 2 weeks!  I'm so excited to watch her get married and hang out with my friends and visit Charleston for the first time!  It's going to be so much fun!
WHAT I'M WATCHING/READING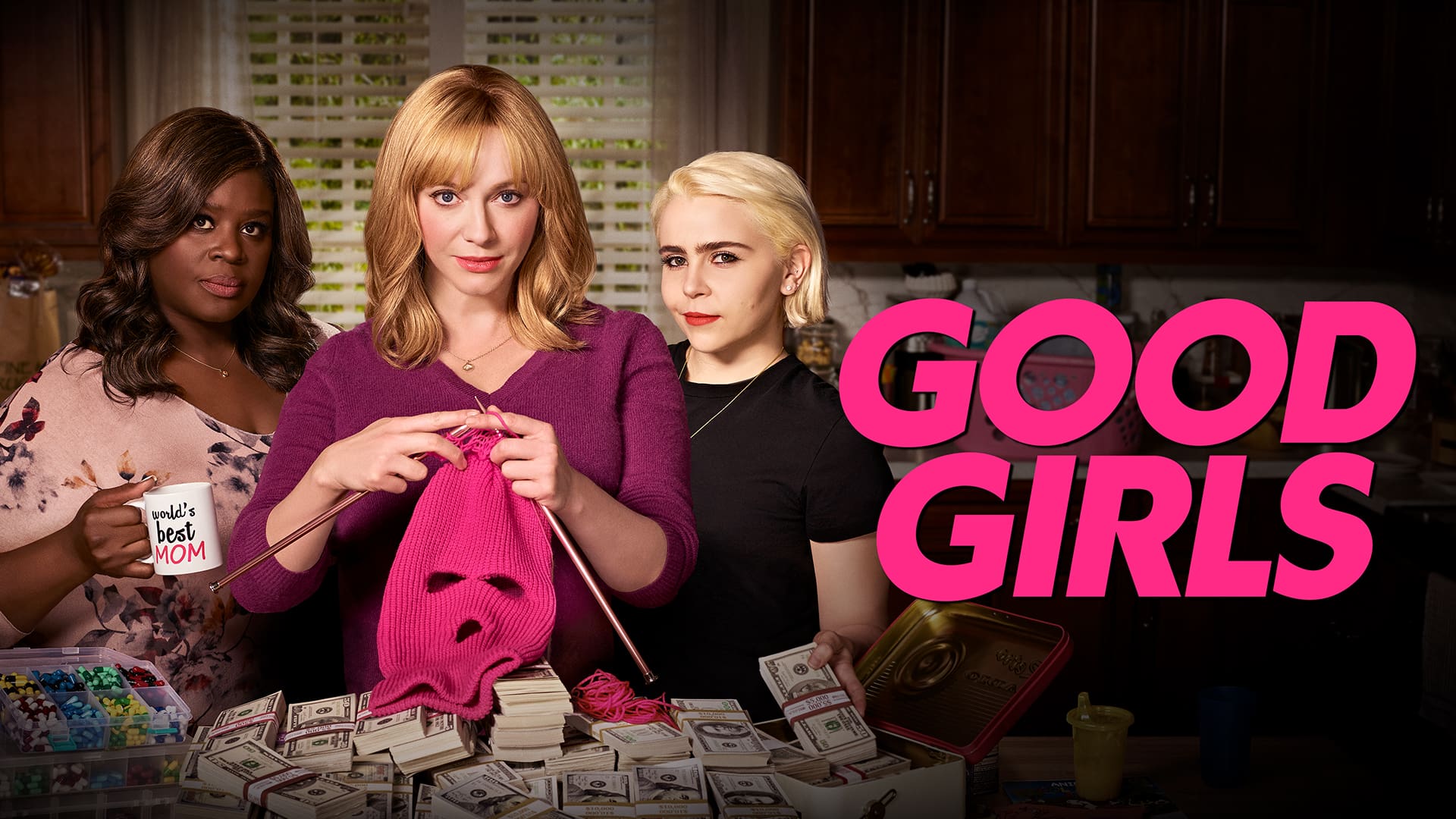 Is anyone else watching Good Girls on NBC? I'm so obsessed with this show!  It's season 2 and it's just so good!  I can't get enough.  Other than that I'm watching my usual trashy reality TV (Vanderpump Rules, and Real Housewives), and I'm so happy to be watching this again……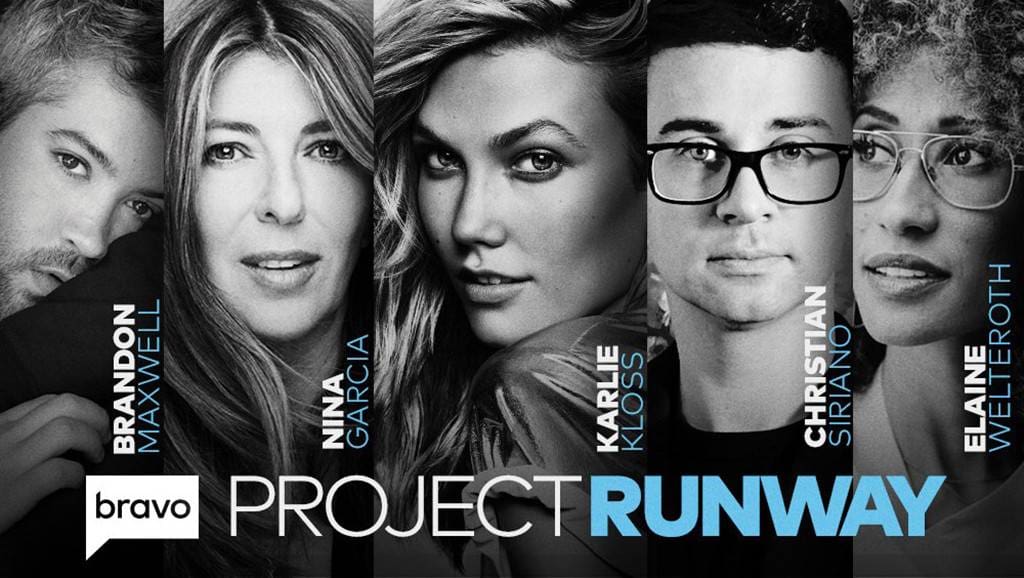 Anyone else?  I love Project Runway and so far this new revamped version is just as good as the original seasons.  There's a Cincinnati girl on there too so it's even more fun to watch when there's a local tie.
As far as reading goes I've been so bad about actually doing any reading.  I need to figure out a way to squeeze in a little each day because I have so many books I want to read but never enough time, it seems.  I really need to start Girl Stop Apologizing!
WHAT I'M LISTENING TO
Alllll the podcasts!  Lately I've been loving The Ed Mylett Show and of course Rise by Rachel Hollis.  I've also been listening to a lot of Gary Vee on Instagram.  He swears a lot but man if he doesn't make so many amazing points!
WHAT I'M WEARING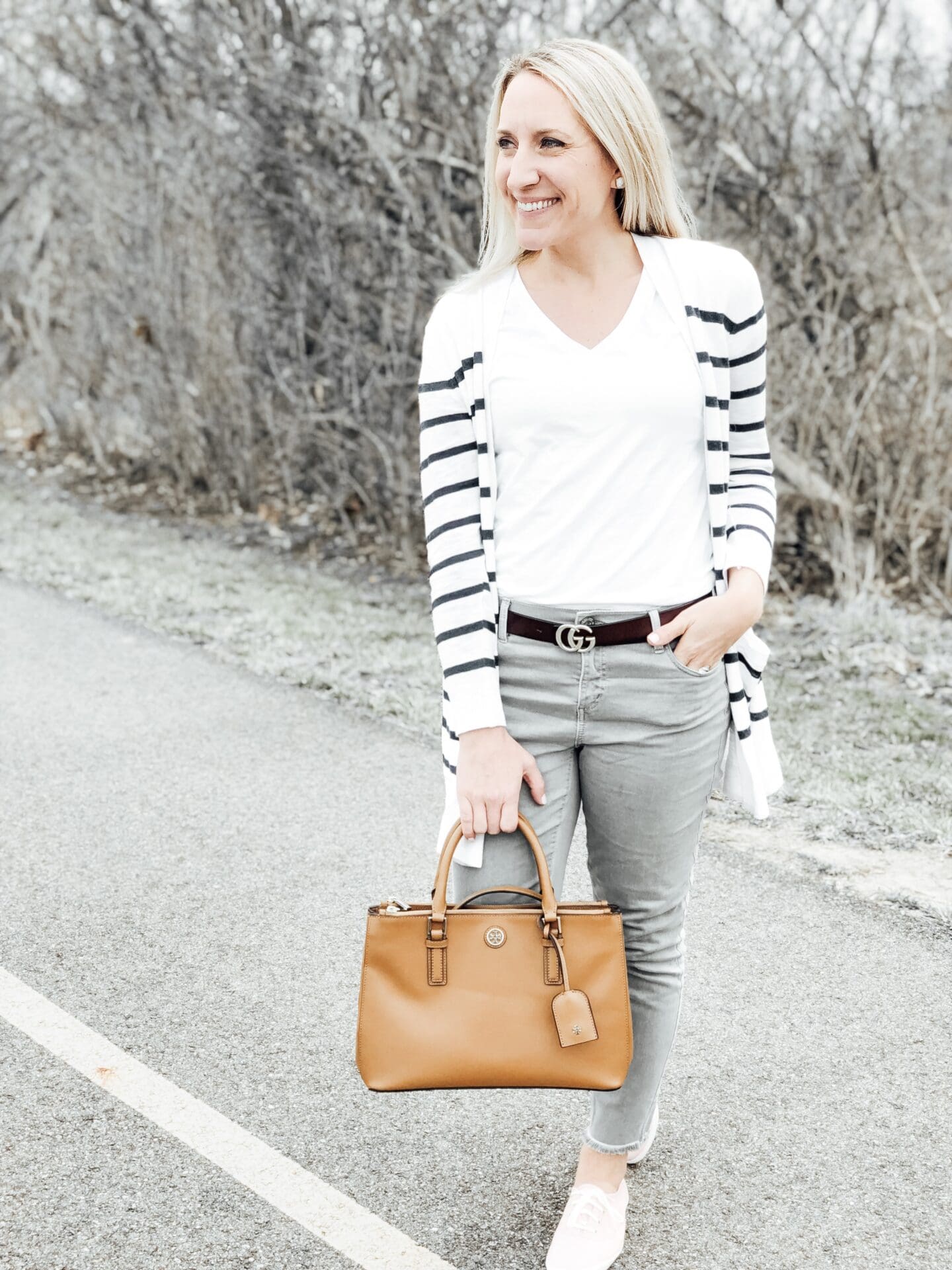 If you saw my Monday Must Haves post you know I'm wearing this knock off Gucci belt (I'm typically NOT a fan of knock offs and firmly believe in and buy the real deal), but I don't care enough about a belt to spend a ton of money on one, so if I can save $300 on one that looks almost identical to the real thing, then I'm going to do that.
I'm also wearing my new white denim jacket from J. Crew and can't wait to wear these scalloped shorts.  Come on summer!
Jacket // Pineapple Sweater // Scalloped Shorts
WHAT I'M DOING THIS WEEKEND
Saturday is just going to be a relaxing family day, and then on Sunday I'm getting together with some local blogger friends of mine and we are working on a project together, so I'm super excited for that!
WHAT I'M LOOKING FORWARD TO NEXT MONTH
You guys there is soooo much going on in April I can't even tell you!  My newest niece is going to be born, we have my friend's wedding in Charleston, we have a little family trip to Hilton Head planned, my best friend's daughter is turning one, AND it's my birthday month!  So lots of good things to come next month!
WHAT ELSE IS NEW
Not a whole lot really!  The previous questions pretty much covered everything.  I am so looking forward to spring/summer and warmer temperatures and can't wait to do lots of things with Leyton outside of the house.  We have been cooped up indoors for far too long!
Alright you guys that's what's up this month!  Have a great Wednesday and I'll see you back here Friday!
Jill
xo, Jill