This post is sponsored by Marama Naturals, however the opinions are my own.  I only produce content for brands I actually use and love.
Leyton turned 8 months a few weeks ago and I swear he's been on the move ever since, crawling and trying to cover every square inch of this house.  And while he's literally turning corners, I feel like we have figuratively turned them, and finally entered the "bath time is fun!" stage.  I don't know about you other mamas out there but before now, I dreaded bath time because he was either too little and hated them, or liked them but still needed held upright and squirmed all over!  But now he not only loves them but he sits upright and still for them!  And we no longer dread the nighttime bath routine.
Something else I dreaded?  Trying to find quality, safe products that I could feel good about using on his brand new baby body.  In my pursuit to live as clean and natural a lifestyle as possible, I vowed to never bathe him in products with harmful chemicals or questionable ingredients as long as I could help it.  I may have spent years bathing in toxic products, but once I learned better, I was certainly going to do better, for him and myself.  Luckily, I've been able to find some brands on par with my vision, but I'm always on the hunt for more options for us both, so when I discovered Marama Naturals (and realized they have safe products for mom and baby), it was a match made in heaven.
Marama (pronounced Muh-rah-muh – rhymes with "mama" ) first stood out to me because they not only offer safe products for mom throughout pregnancy and after, but for baby too!  Then when I discovered their products are natural, organic, don't contain sulfates, phthalates, or parabens, are vegan and cruelty free AND they donate 10% of profits to non-profit organizations, I was sold!  Any product that is safe and trustworthy gets my attention.  But safe and trustworthy for me and Leyton while giving back , gets "added to cart."
So far we've tried the Baby Shampoo & Wash for Leyton and the Lavender Shortbread Cookie Scrub for myself.  First, lets talk the baby wash….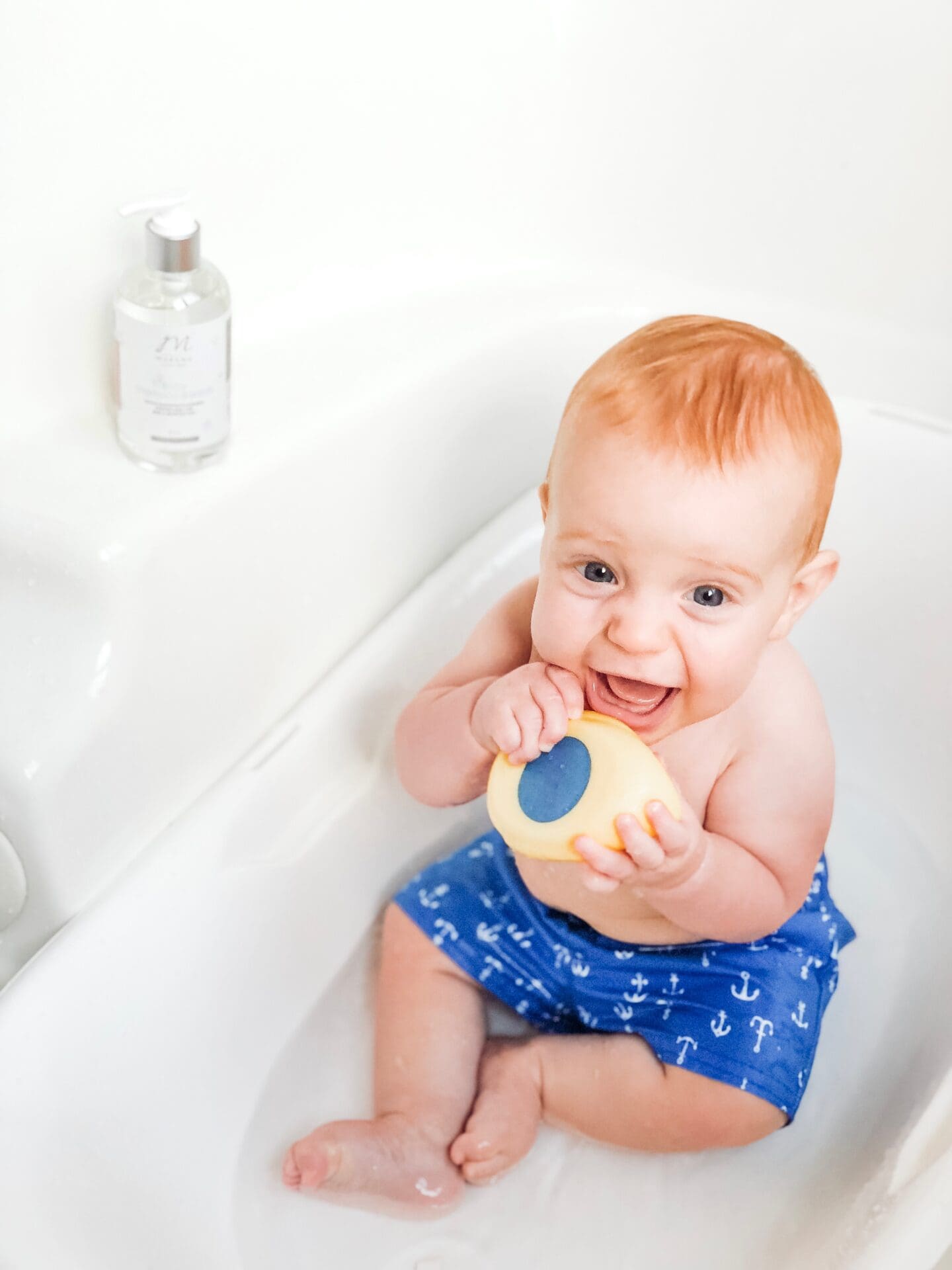 Friends, this face says it all!  If Leyton could convey my thoughts on these products, this would be it.  Prior to using this baby wash, I used some other safe, natural brands that I love so I was nervous how this would stack up, but you guys, it's every bit as good!  It gets the job done and gets it done well and with an incredible light, clean scent.  Plus, it lathers so well, which can be hard to find in natural products.  Marama prides themselves on having products that pull double-duty and this one does just that!  He sits still for baths but let's be clear, he's still 8 months old so he doesn't sit still for long, so I love that this is a wash and shampoo and gets the entire job done in minutes with just a pump or two.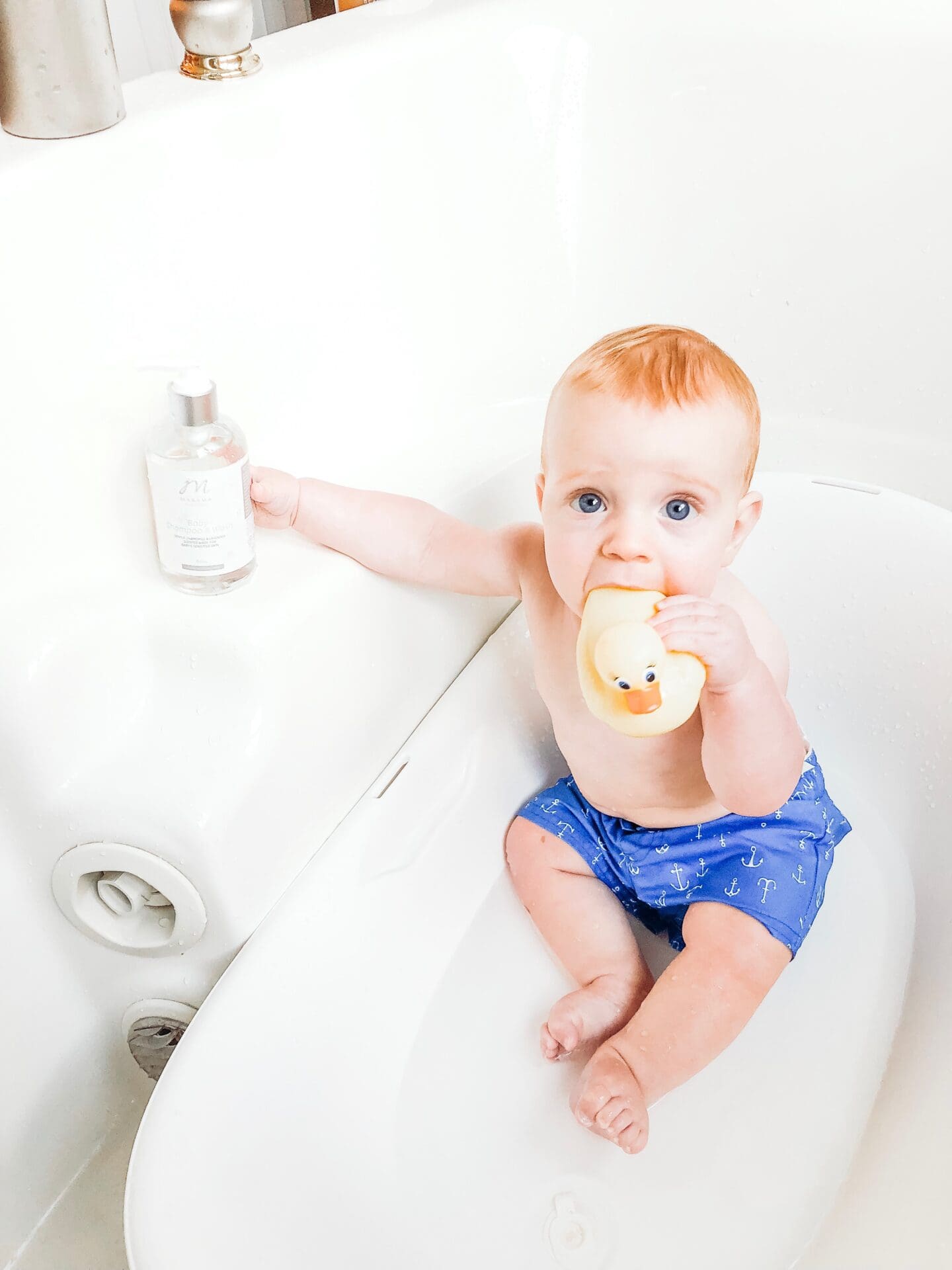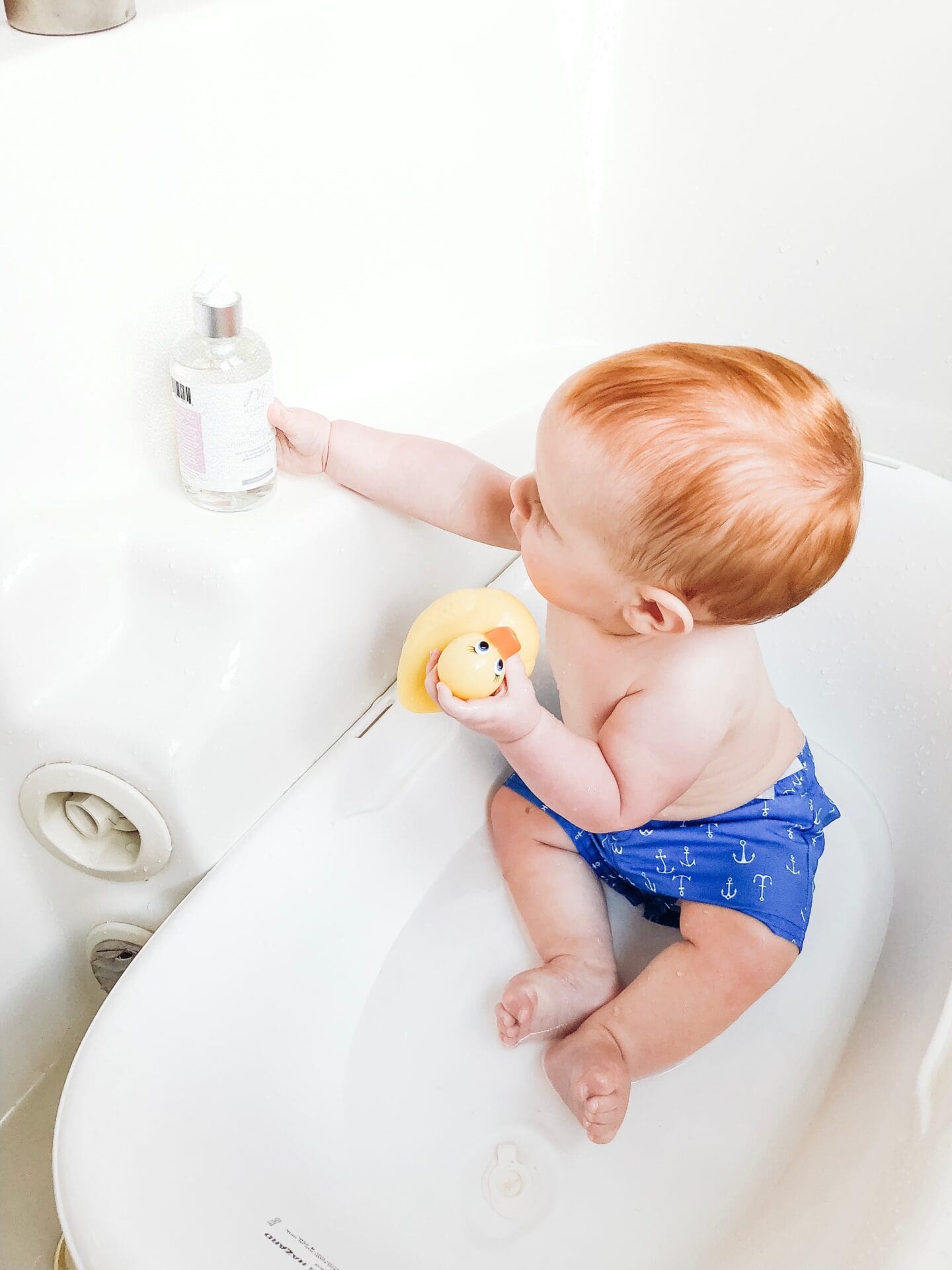 And while I only started with their baby wash, they have so many other baby products to choose from including lotion, diaper balm, dusting powder, and baby oil that doubles as a belly oil for mama to be.  And expecting moms they don't stop there.  They also have nipple butter, bath bombs, and cooling leg & foot lotion among other things.
Now, lets talk this Lavender Shortbread Cookie Scrub…..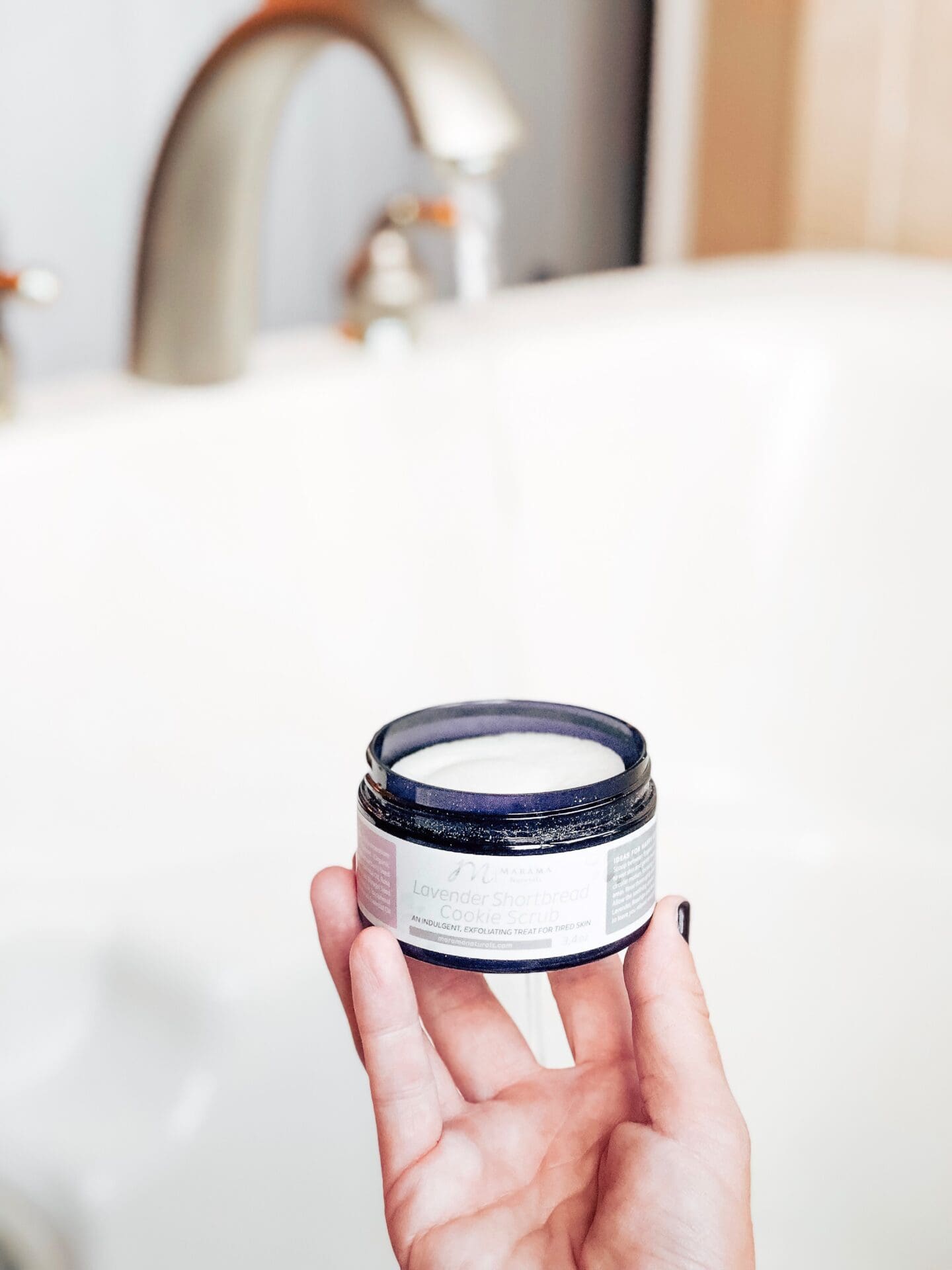 If you are looking for a great exfoliater, this is it!  You guys, this scrub is appropriately named a shortbread cookie scrub because it looks and smells good enough to eat.  The texture is the perfect gritty consistency and the smell….ohhhh the smell!  If you know me, you know lavender is hands down my favorite scent of all time, but I am soooo picky with my lavender.  I can sniff out a fake, lavender imposter a mile away, and so so many brands get it wrong.  But Marama got it right!  It is exactly how lavender should smell.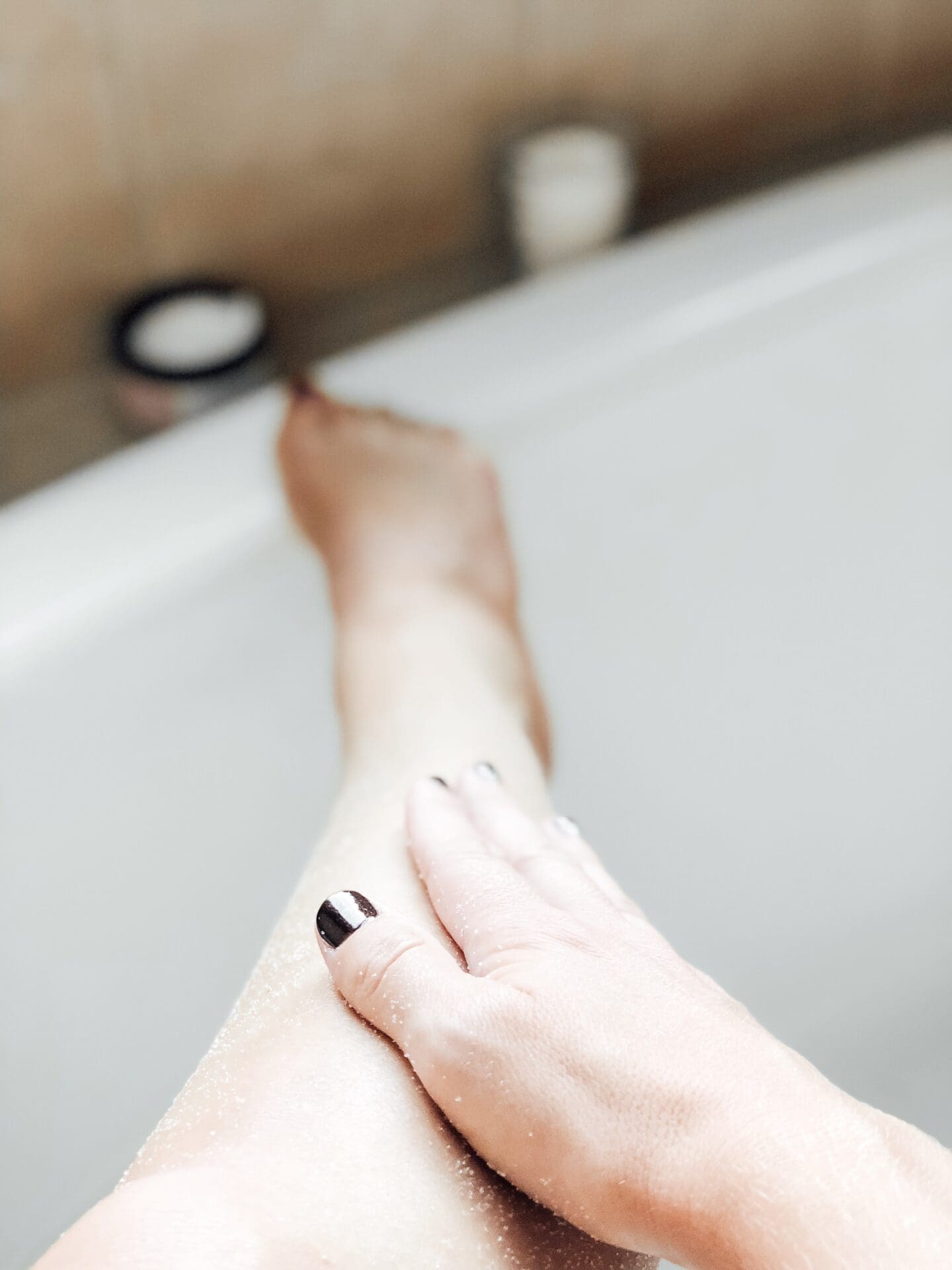 The other thing that blows me away with this scrub is the way it not only exfoliates but also moisturizes my skin.  I'm a girl that has to apply lotion after getting out of the shower and have been for as long as I can remember.  But I kid you not, every time I use this, it leaves my skin so silky smooth that I don't even need or want lotion.  Maybe it's because it sloughed off all the dead skin down to the point of having skin as fresh as Leyton's or maybe it's some genius, magic potion, but either way it allows me to skip the lotion step.  And these days, I'm all about as few steps as possible.
So that's the latest addition to my clean living arsenal.  These products have helped make my and Leyton's bath times more enjoyable and I can't recommend them enough. Click here to head to their site to check out all their products for yourself. Happy bathing!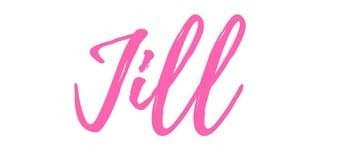 xo, Jill