Happy Friday!  I know I told you I would be back here Wednesday but I got behind with editing and so here we are.  For today I thought I would revisit a former segment I did a couple months ago, because I had so much fun with it.  So today, we are doing another installment of "A bajillion ways to…." and we are looking at all the ways to wear white after Labor Day, in particular white denim.
I'll be the first to say, I'm so glad this is not taboo anymore because sometimes you have that perfect sweater or riding boots that would just rock with white jeans.  But, if you're like me, you might not always feel confident pulling off this trend, no matter that it's socially acceptable now or not.  So, I've gathered up some of my favorite ways to rock white denim this fall and winter.  The possibilities are endless but these are some of my favorites.  Have fun with it and obviously this is not limited to pants.  You can check out all the many ways to wear white after Labor Day by visiting my Pinterest board below.
https://www.pinterest.com/jillcomesclean/white-after-labor-day/
So let's hop to it and side note, a lot of what I'm wearing in these pictures is older but I tagged what I could and if I couldn't I tried to find similar options.  Oh and just to make things easy, the white jeans I'm wearing in every photo are from KUT.  Any will do but I love this pair.
First up, I love pairing white denim white a comfy, chunky sweater and this one from TopShop that I got during the Nordstrom Anniversary Sale is my latest obsession.  I can't stress my love for this sweater enough.  Of course any sweater will work.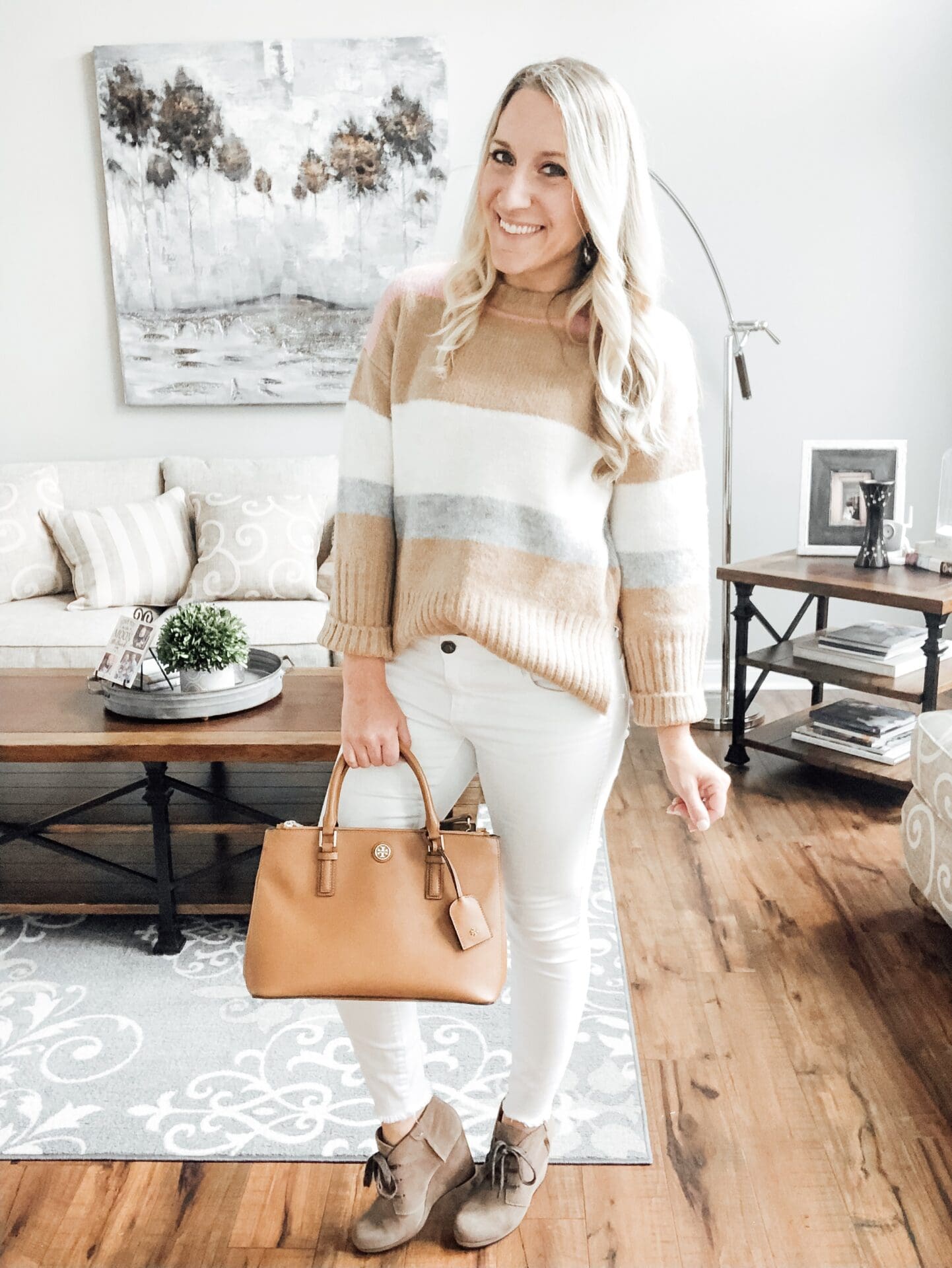 Next up….give me all the long cardigans!  Long cardigans are going to be such a hit this fall (I already own way too many) and for good reason.  They are comfortable but also great for the months spent transitioning into fall/winter for adding just enough extra warmth.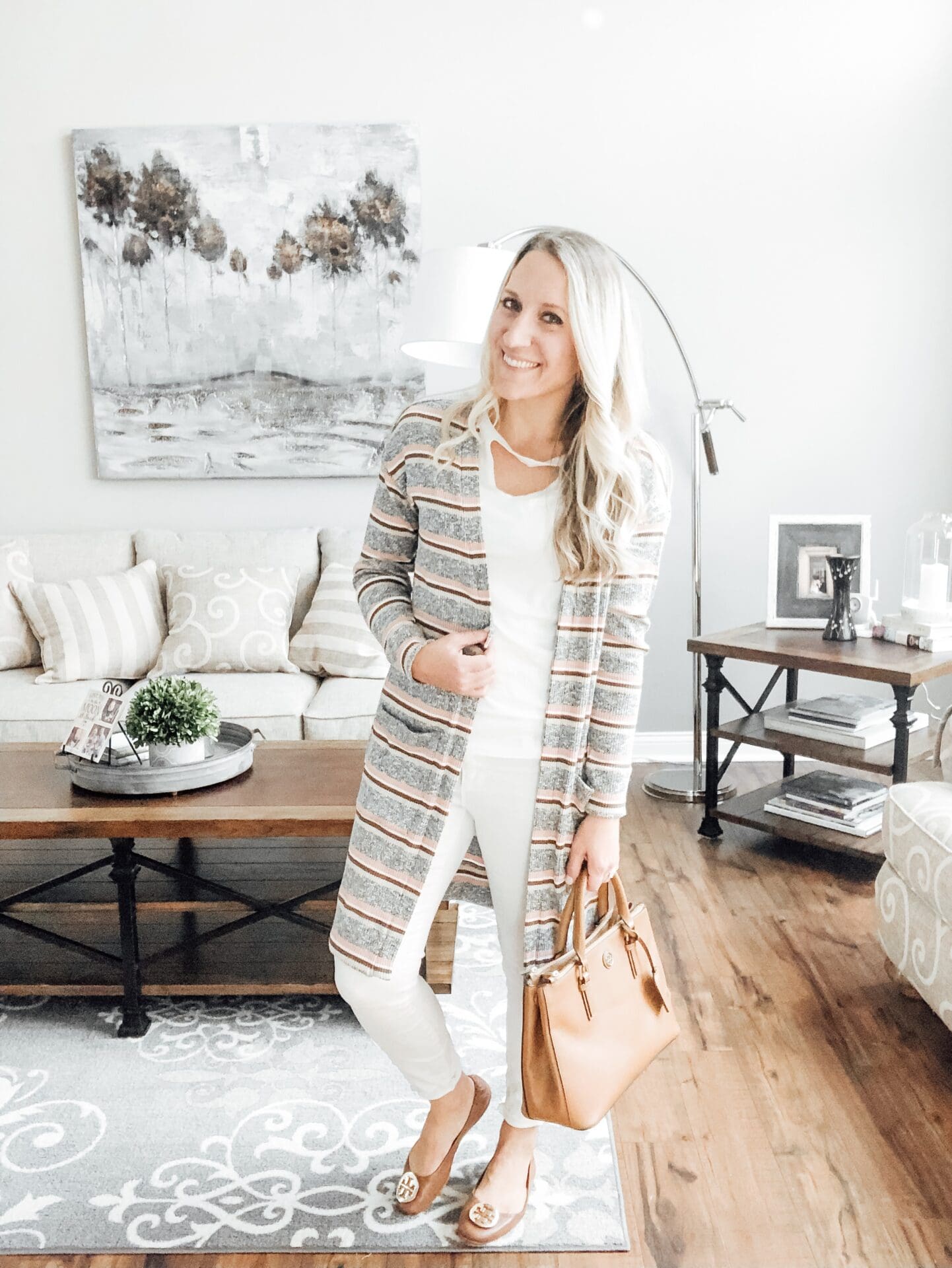 I actually bought that cardigan last year and never wore it.  I put it on for this shoot and was like, "why the heck didn't I wear this?"  So this year I'm wearing it!  Here's another cardigan look I love.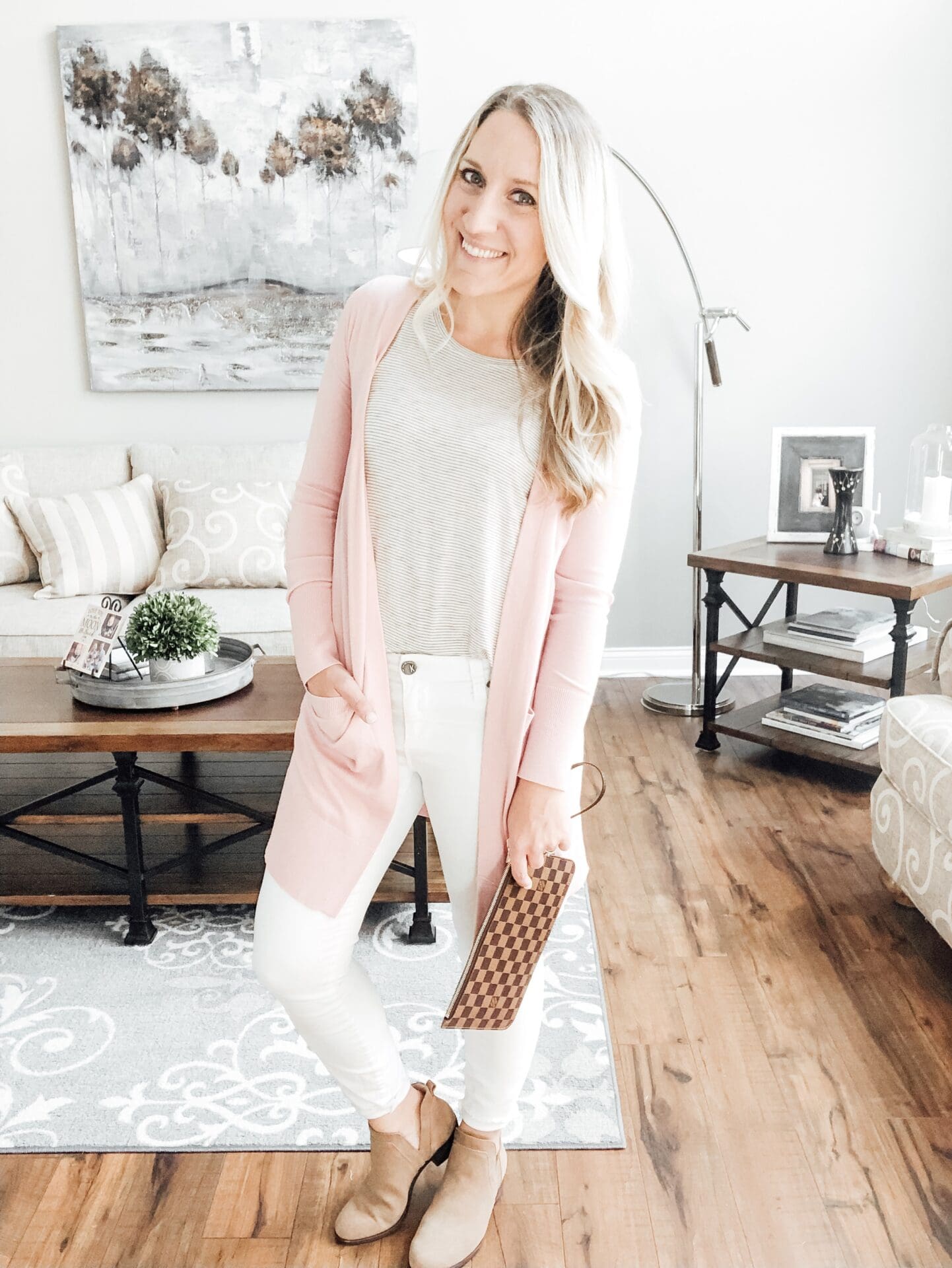 That cardigan and the booties are two of my favorite finds from the Nordstrom sale this year.  I meant to say that the first cardigan picture actually has a second white look hidden within it which is, white on white (if the cardigan isn't on).  Definitely don't be afraid to pair a white top with white jeans.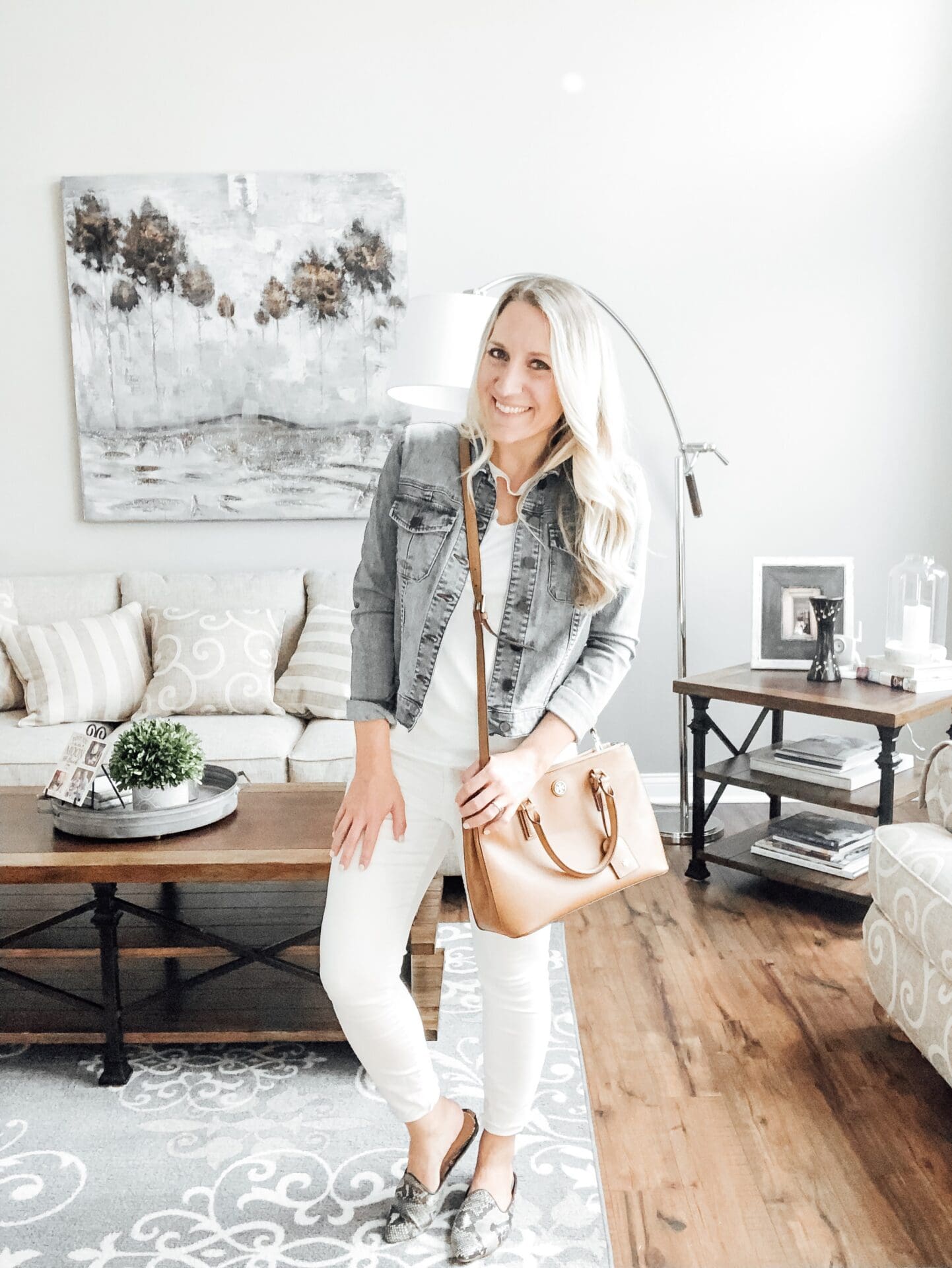 Jean Jacket // Snakeskin Mules
I love this look too!  This is actually great for spring/summer too and I'm loving it for the cooler days heading into fall.  And don't even get me started on those snakeskin mules.  I'm rocking them all fall long!  Here's another way to wear the jean jacket with white.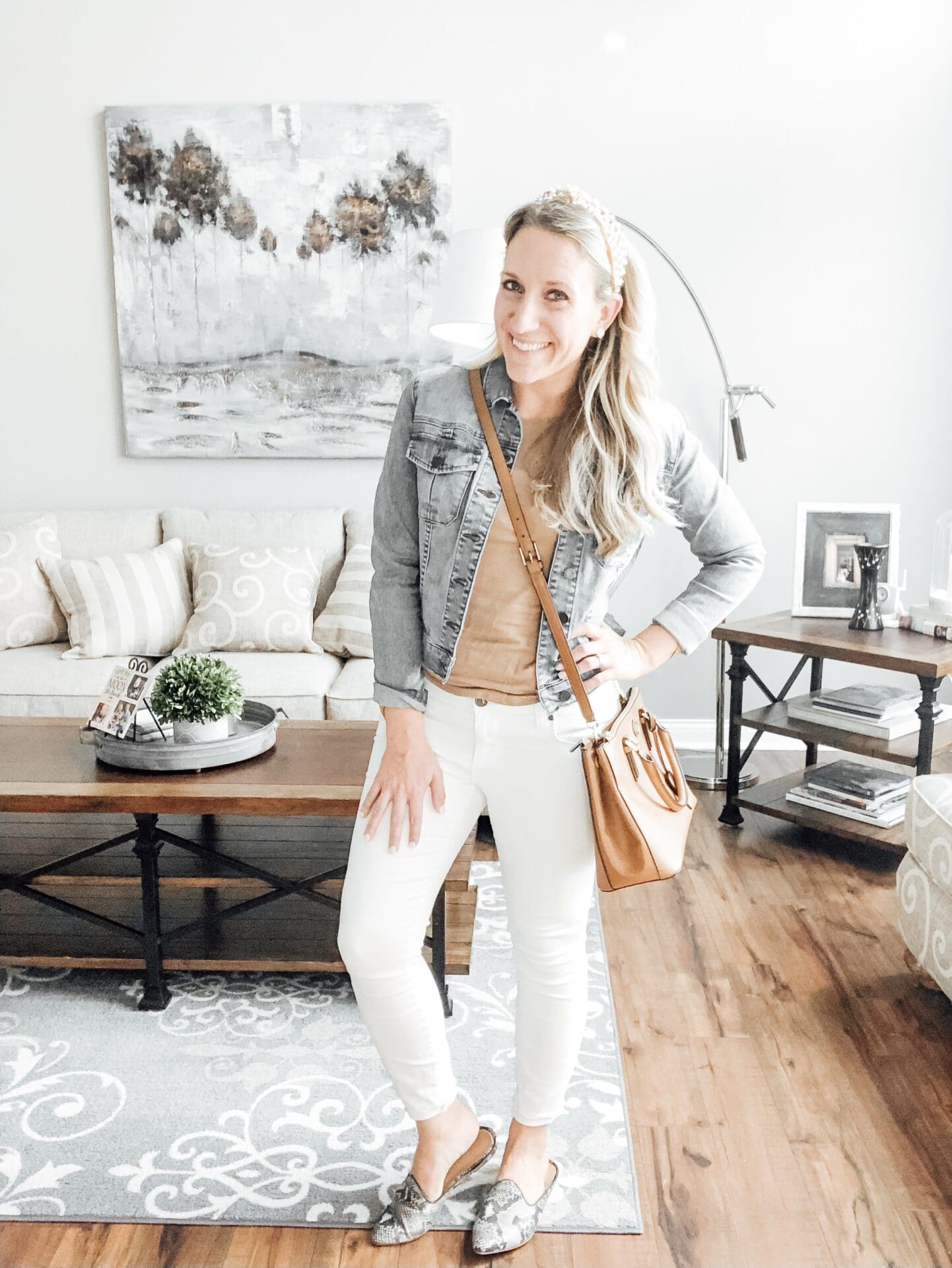 Next, two articles of clothing scream fall to me and I love them both with white jeans.  The first, is a utility jacket.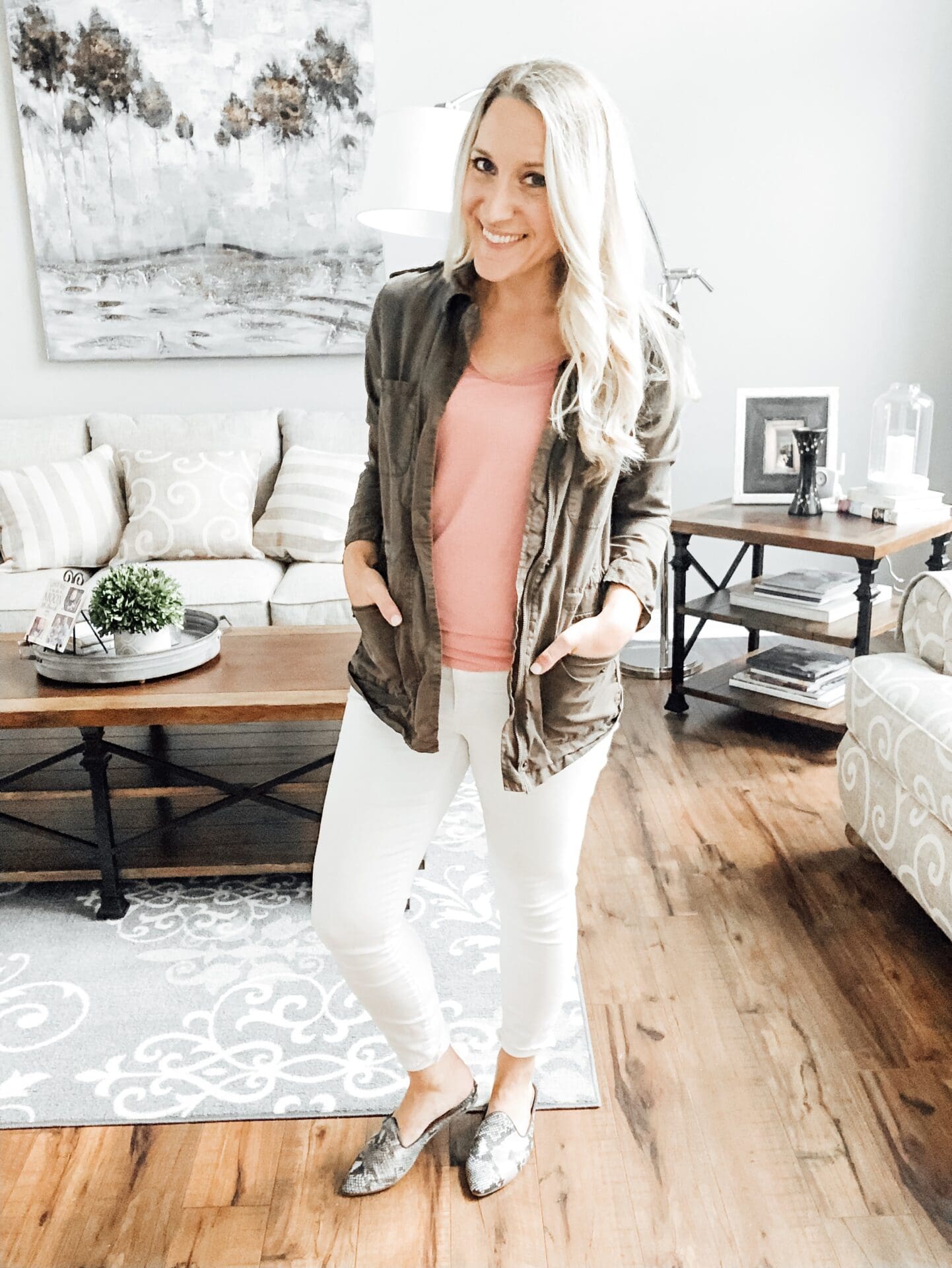 Don't mind that mine here is super wrinkled.  The next article of clothing is a good pair of riding boots.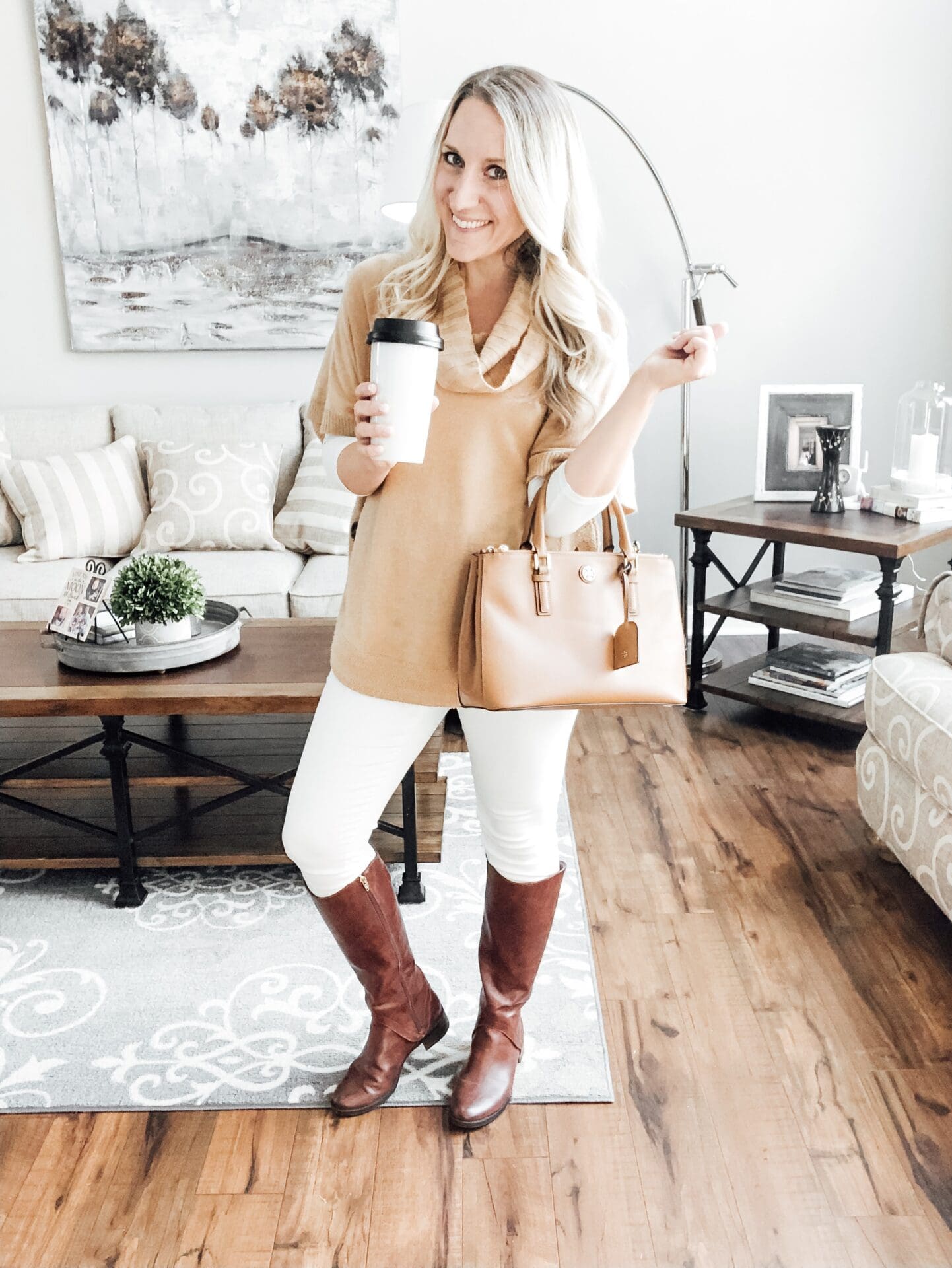 Next, speaking of utility jackets I also like white jeans paired with a utility vest, although any vest would do.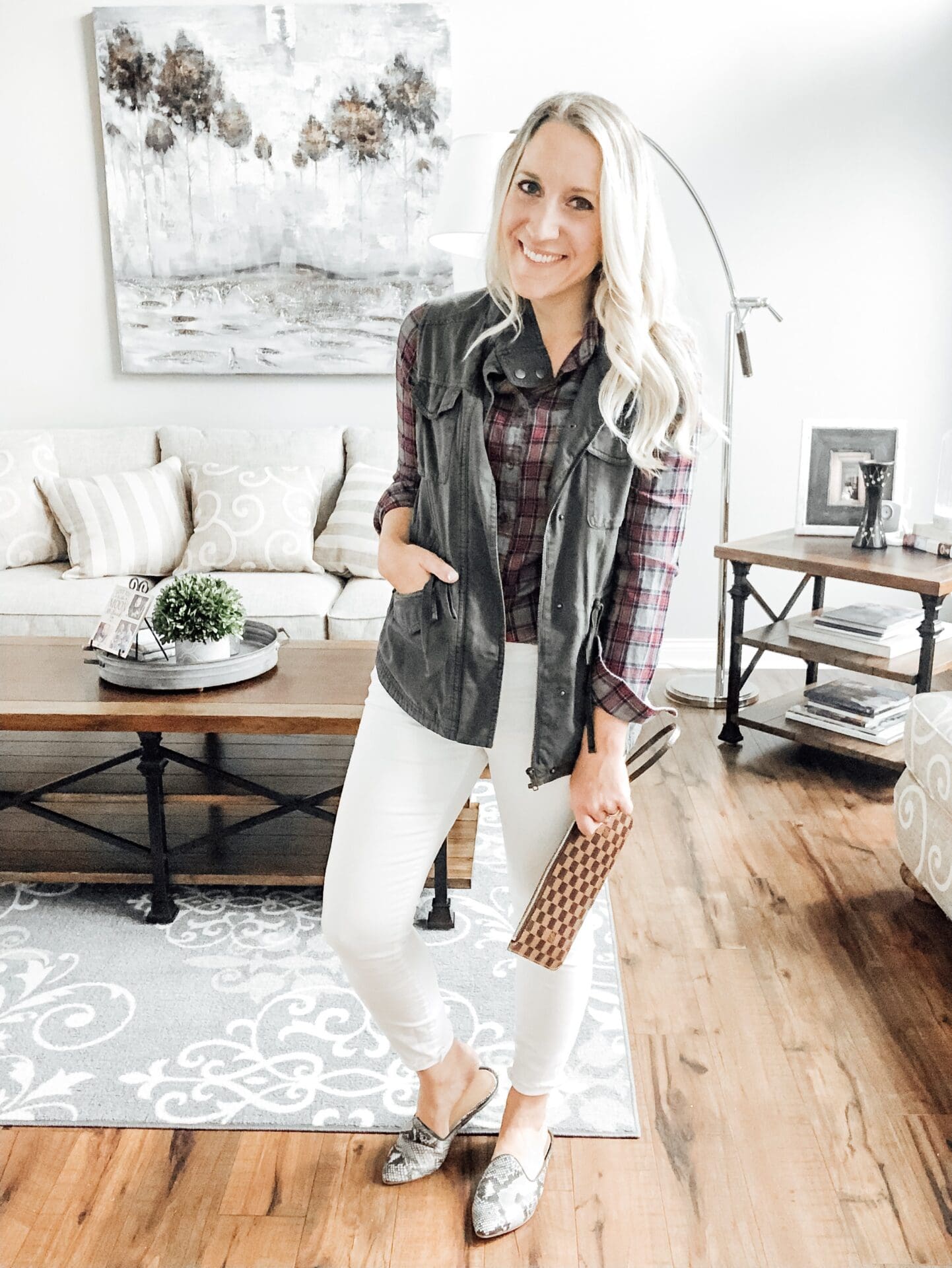 Going more comfy/casual, I can't resist a good sherpa, white pants or not.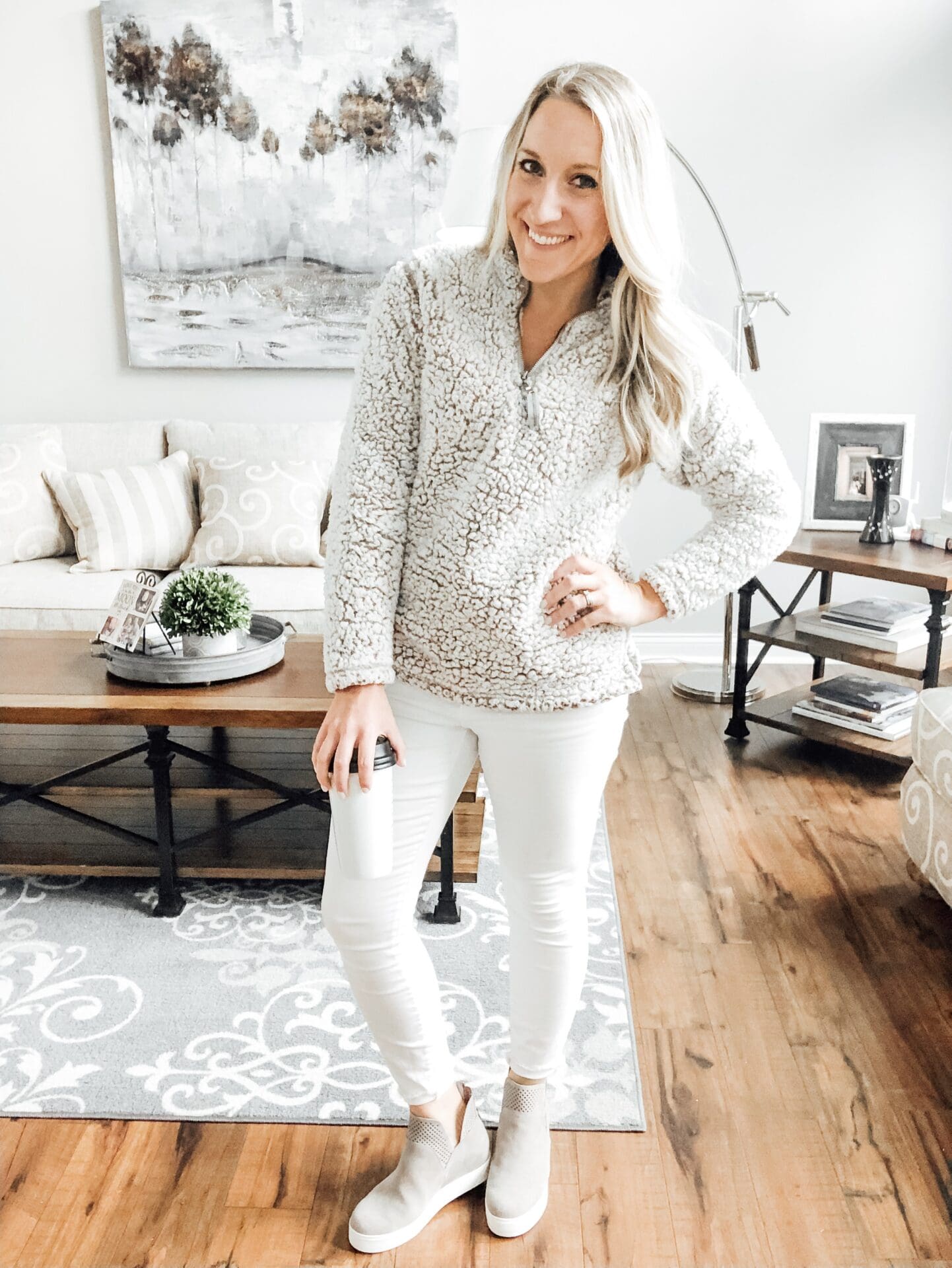 Similar Sherpa Fleece // Wedge Sneakers
Last up, I paired a chambray shirt with them along with a scarf because we all know fall clothing means all.the.scarves!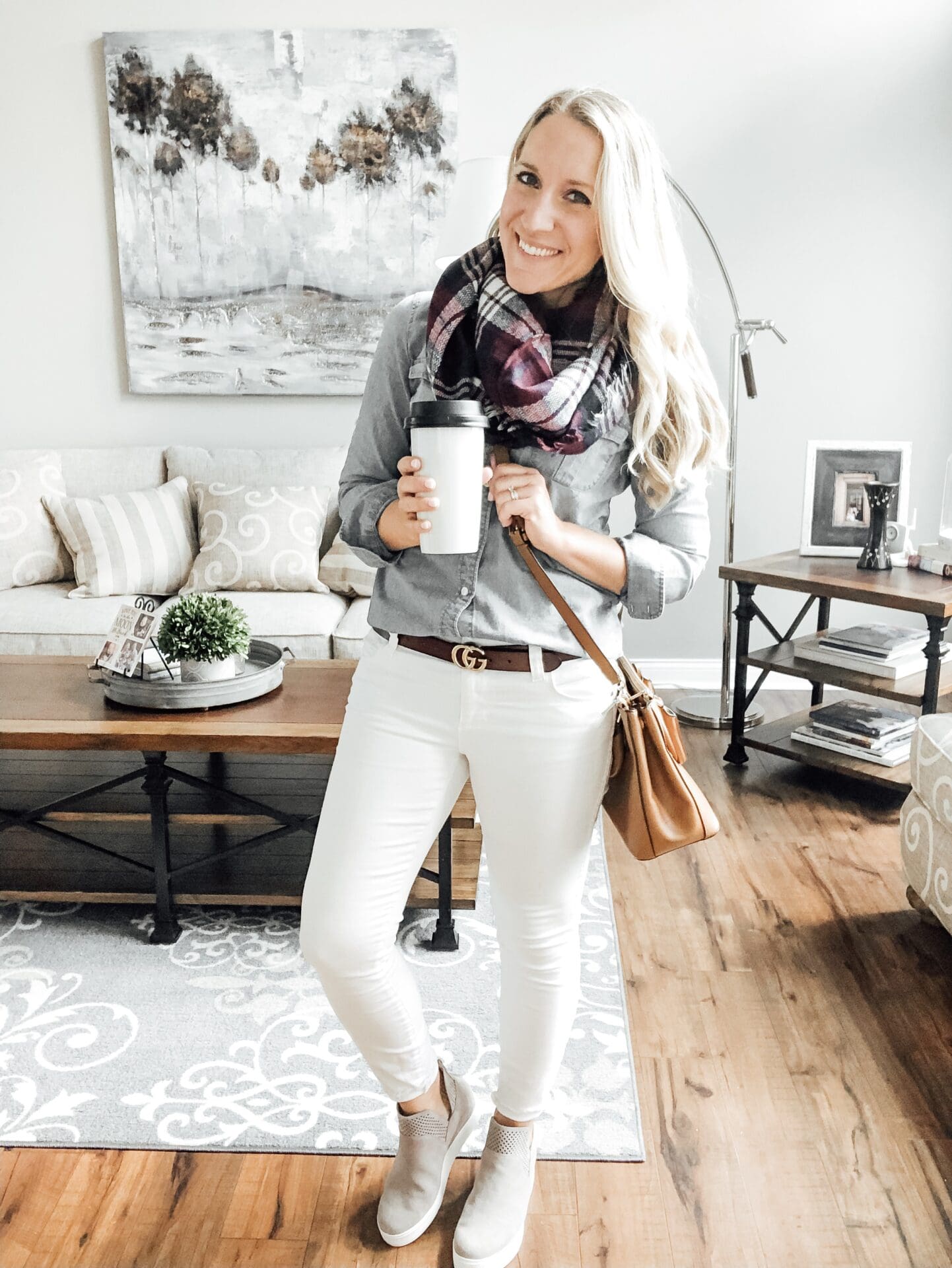 And to round out the looks, I ditched the scarf and threw on the jacket again because I can't get enough of light jackets in the fall.  I have to enjoy them as much as I can before we are wearing full blown winter coats.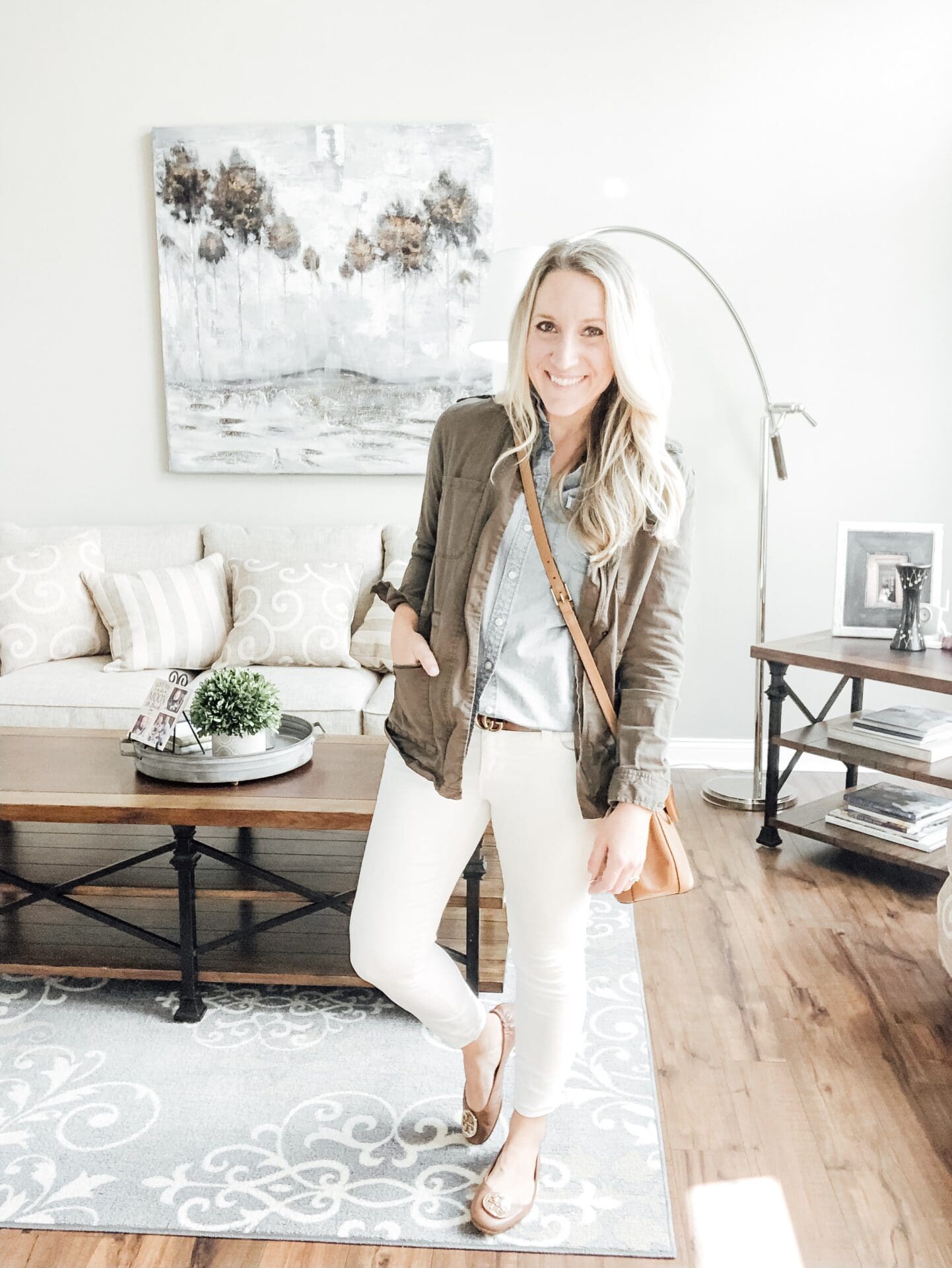 And that does it!  I hope you found some new ways to wear white after Labor Day especially if it's been an intimidating trend for you to pull off.  It's actually so versatile so have fun with it and wear it in whatever way you feel most comfortable.  Thanks for stopping by!  See you back here Monday.
Jill
xo, Jill