Happy Tuesday friends! I'm bringing you a new segment on Tuesdays called "Tidy Tuesday!" When I polled you all a few months ago about what you'd like to see more of in 2020 so many of you said organization! Well good news for you….I'm totally type A and looove to organize. It's my mission to get this entire house clean and organized one area at a time over the next several months and as I do so, I'll share my tips and tricks with you!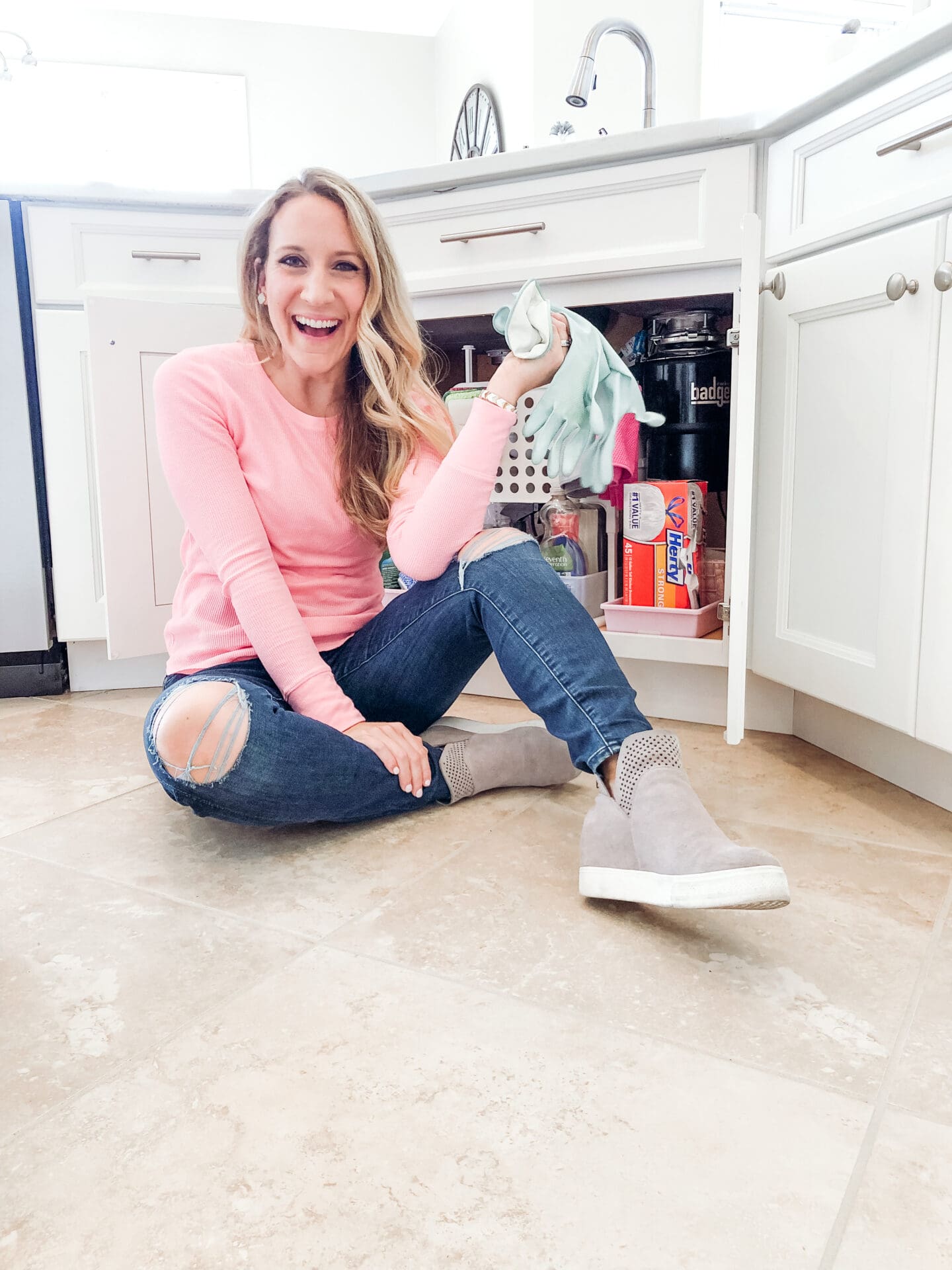 So, is it me or are the areas under sinks the worst? For whatever reason they seem the hardest to keep organized (I blame you, weird piping that doesn't allow me to have the perfect bin under there that would fit everything). I'm saving bathroom sinks for another day because they deserve a post all their own, but today we are tackling the other commonly used under area…. the kitchen sink! I'm giving you my top 10 tips for organizing this space so it is tidy yet functional. Also, I like to organize in a way that once it's done it's good to go forever, and all we have to do is maintain it and keep it tidy!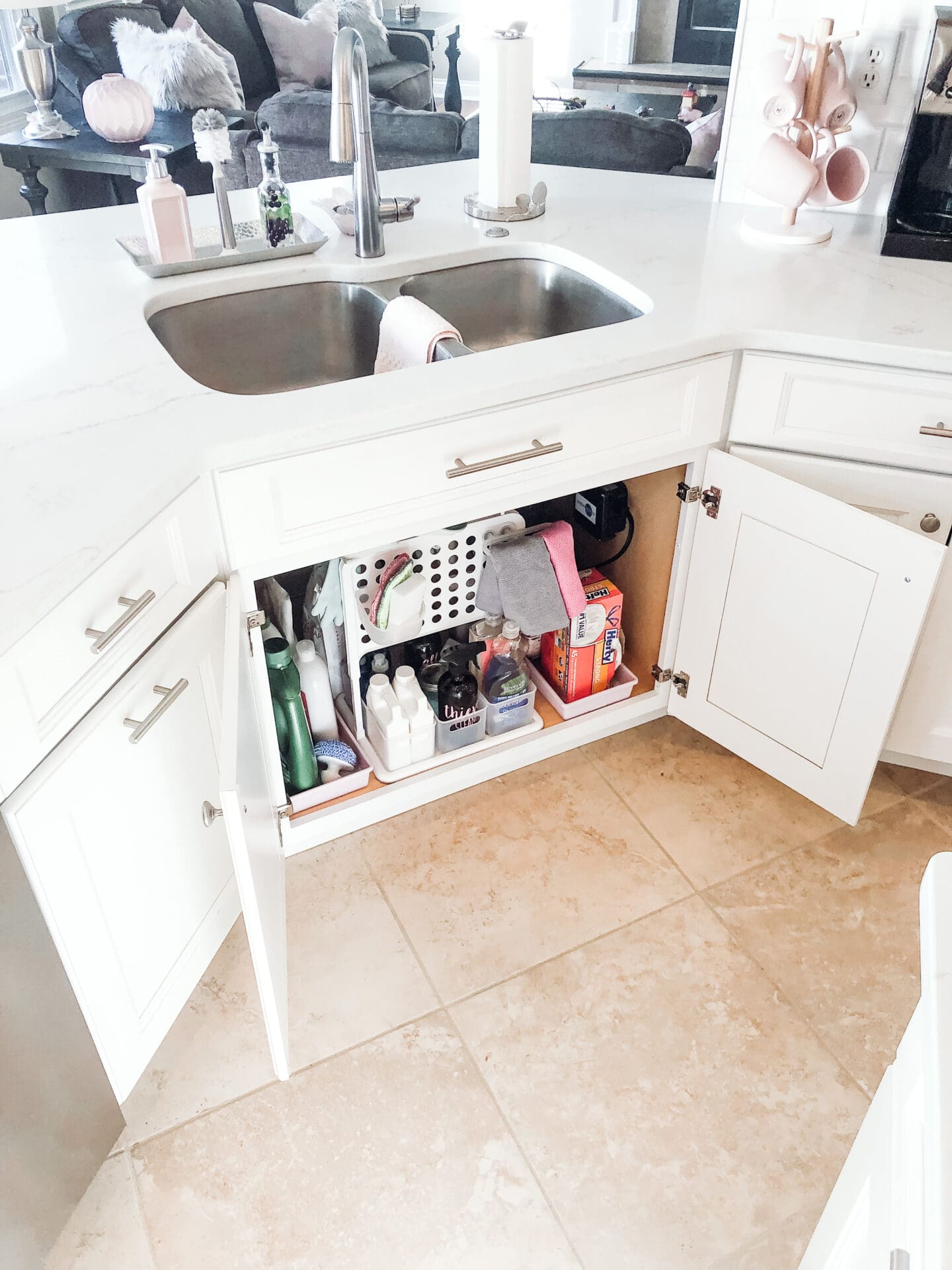 So here are my top 10 tips for organizing under the kitchen sink!
1. Clean it allll out!
Start by taking every single thing out and toss what you don't use. I don't know who needs to hear this, but you DO NOT need multiple counter sprays or stainless steel cleaners. I know, because I use to house the cleaning aisle of Lowes under here and it wasn't working. Go through each item, and get it down to what you use regularly. Which brings me to number 2!
2. Pitch what isn't for the "kitch"en
See what I did there? But seriously, if it isn't used in the kitchen, don't keep it under there (I'm talking items like Windex or other cleaners you really don't use in the kitchen). For me, under the kitchen sink is only for housing dish soap, dishwasher liquid, and counter sprays. You don't need everything but the kitchen sink under there. Ha! Okay, I'll stop.
3. Bins, Bins, Bins!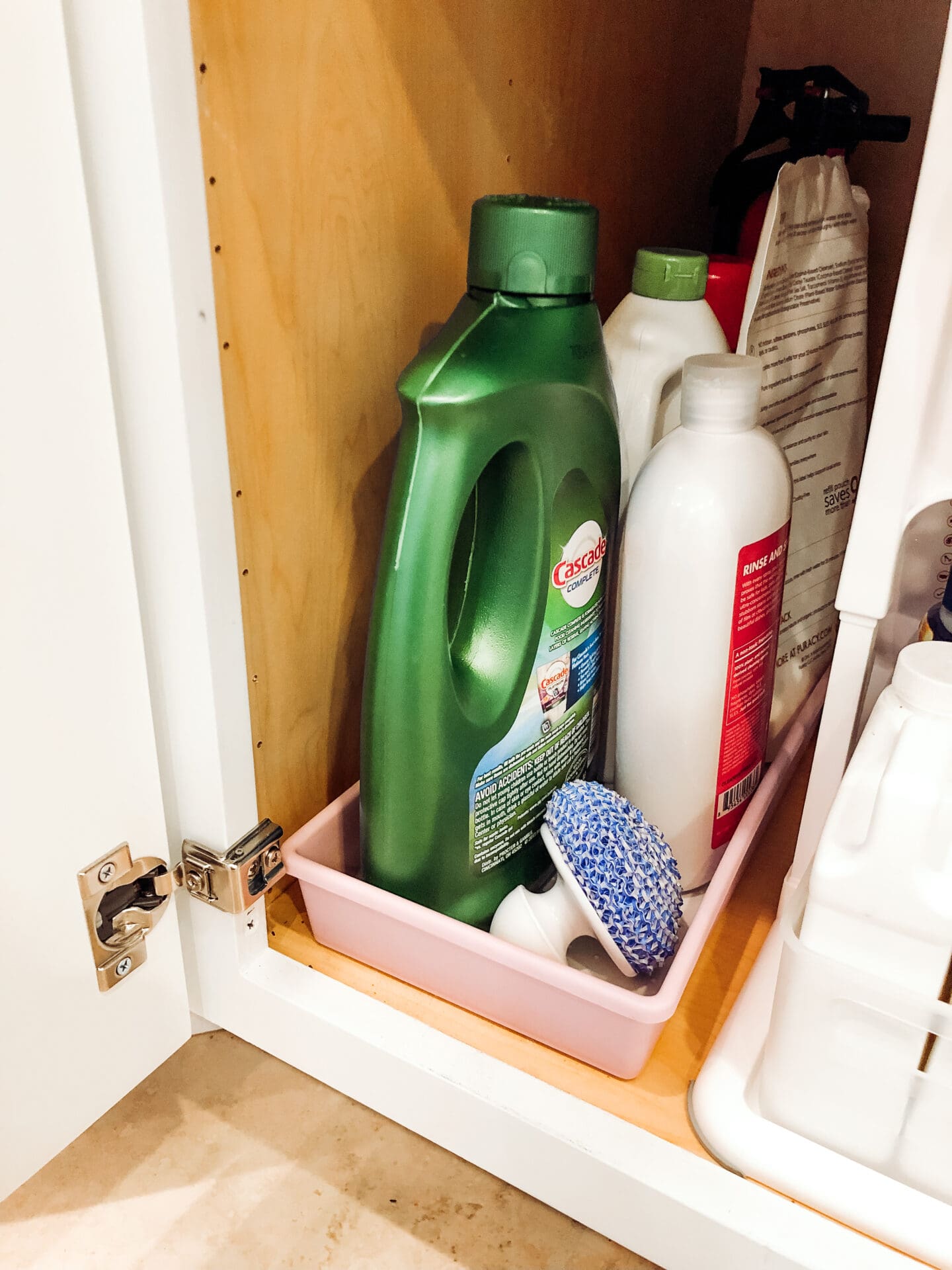 If you don't know yet, you will soon learn….I love me a bin! I get that you are really just sitting a surface on a surface but it just makes things look uniform, allows space between items, and allows you categorize certain products. For example, as you see in the picture above I have all the dishwasher liquid in one bin or tray together. I also keep washcloths in their own bin. Everything has a home. Madesmart storage containers are my favorite!
4. Who's your caddy?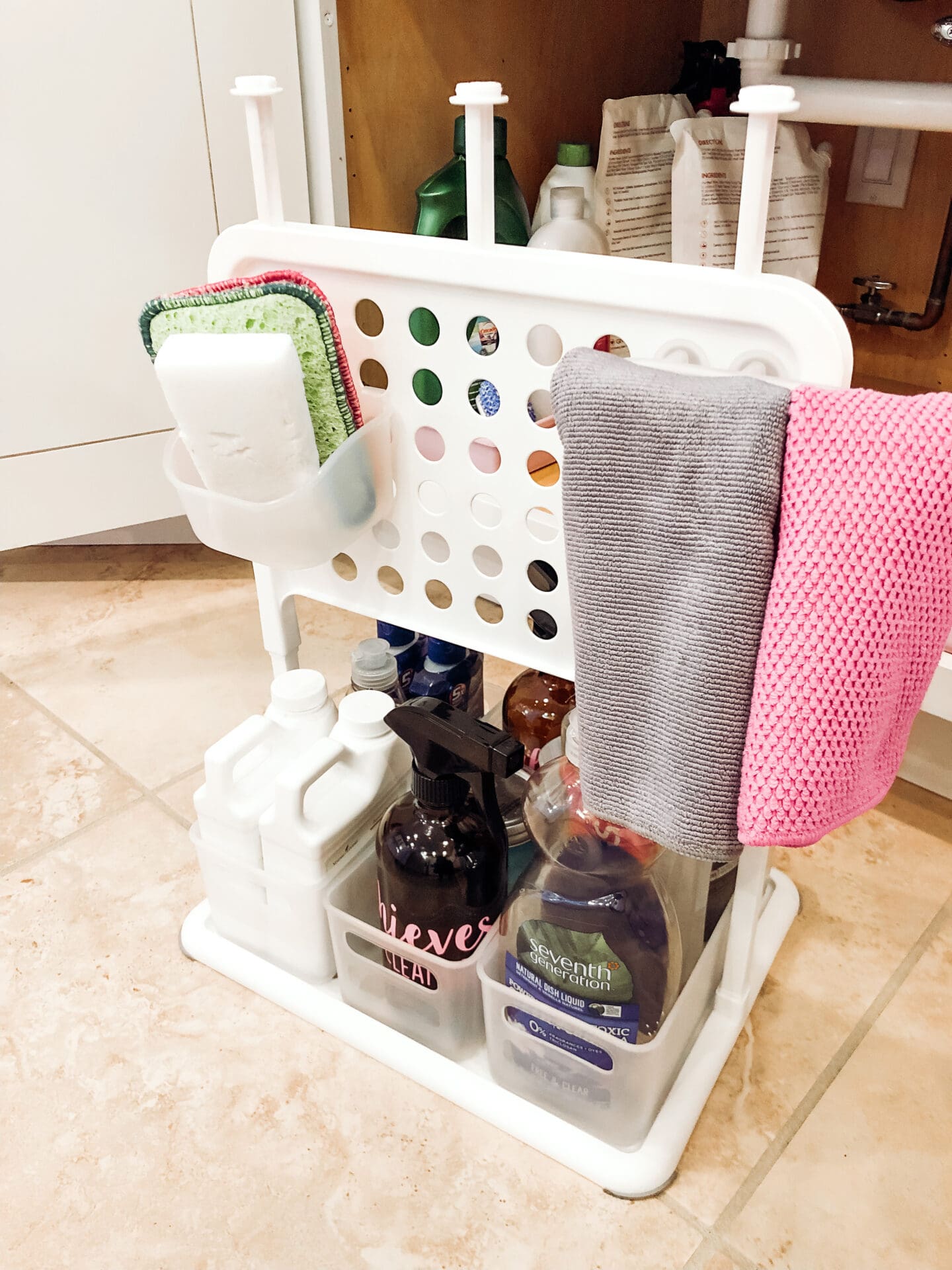 There are so many caddys for under the sink, but I found this one recently on Amazon and I'm obsessed. It truly meets every single need I have for under there and allows me to house the regular stuff I use often, in one space.
Here is another idea. Not a caddy but a way to get around the weird piping under the sink and still have space. Plus, this one follows another big tip of mine which is to maximize all the space including the dead space above products.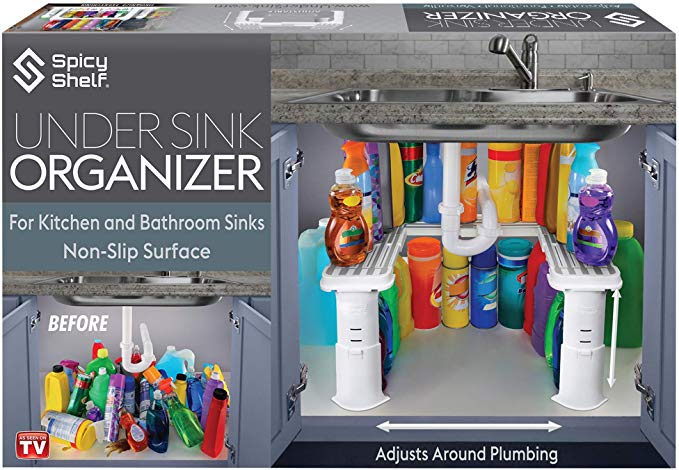 And here is another similar idea.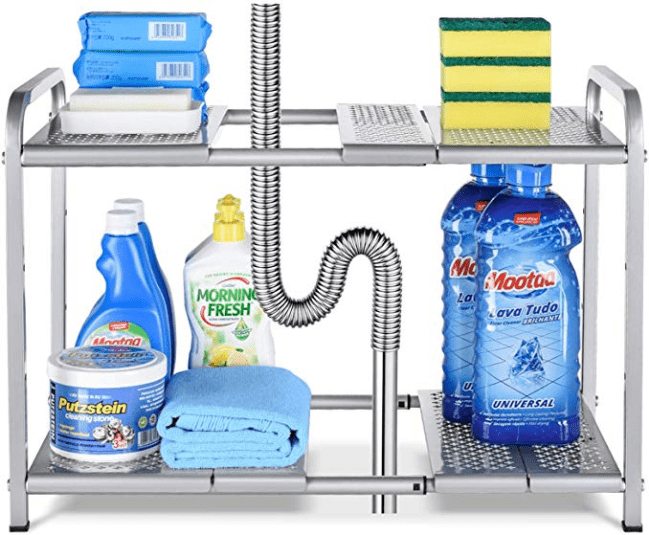 And these are my favorite because it tucks stuff away in a bin but also gives you multiple levels.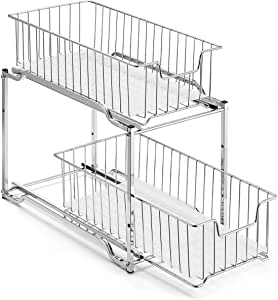 5. Command Hooks
I love putting these on the inside of the doors to hang extra towels or wash rags and allow them to still dry. I like to hide as much under the sink as possible and have as little as possible out near the sink, and this is one way to keep me from displaying a bunch of rags.
6. Consolidate Products
There is nothing I hate more than a bunch of half empty or near empty containers. Most times you will find that when you buy liquid products they are rarely filled to the brim. So when I'm near the end of one, rather than keep it and turn it upside down where it inevitably ALWAYS topples over, thus defeating the purpose of turning it upside down for all the liquid to drain, combine your products. This sort of brings me to tip #7.
7. Transfer to Clear Containers and Label
I personally haven't done this yet but it is an option. For example, you could take your dish soap and pour it into a decorative glass jar or some type of container and label it. It just looks nicer. Now sometimes, as is the case with dishwasher liquid, the bottles are convenient for pouring. If you found a pourable glass container or jar then the transfer might be nice. This is definitely for those wanting to go next level. Here is a large selection of ones that would work.
8. If You Have Extra Space, Leave It!
I say this because if you have a drying rack it's nice to have a space carved out under the sink to house it, if possible. As you can tell from my pictures, I pretty much maxed out my space and don't have room to hide ours, but if we are having company over and I don't want it out I do make room for it under there, if only temporarily, and it's nice to have it tucked away.
9. Utilize the the Sink Area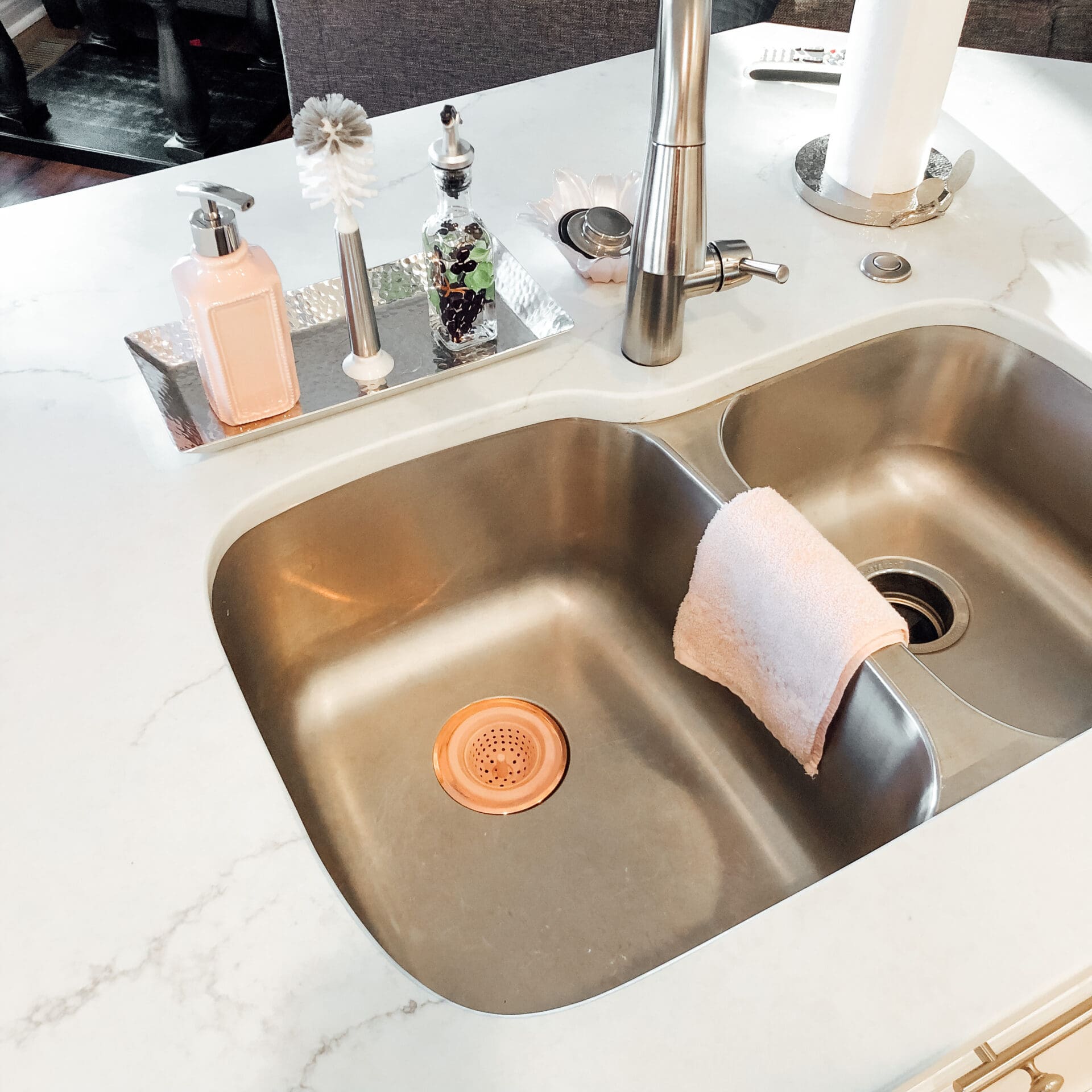 I know this is about organizing under the kitchen sink but for the items like soap, or a nice scrub brush (if it's nasty, hide it underneath) I like to have a cute tray or some way to display them at the sink if there's room. I also have a decorative glass bottle for dish soap so I don't have to grab from underneath every time I do the dishes.
10. Have a Good Sink Spray and Deodorizer
Now that we've gotten the underneath looking good, don't forget about keeping the sink itself nice and shiny. For as often as there is water in there it's amazing how disgusting they can get, but boy do they! I try to wipe mine down every other day (with some cleaner and a rag I keep on a command hook on the door under the sink) and I have a homemade garbage disposal cleaner I use if it starts to stink. You can find that recipe here.
And that's it friends! Just some simple tips and tricks for keeping under the kitchen sink clutter free and functional. And once you get it organized don't forget the biggest step…tidy it often to keep it that way. If you work to keep it tidy and clean daily, you'll never have to completely reorganize it again!
Jill
xo, Jill