It's the most wonderful time of the year!! Well, in my opinion it's the kick off to the most wonderful time of the year!  I swear on Friday we were still all summer here.  90 degrees and sunny, sweat dripping down my back just walking to the mailbox, and then Saturday the first day of fall hit and BAM!  It's like God hit the Autumn switch.  It was instantly mid 70's, breezy, cloudy, and leaves were starting to fall.  So, naturally that signaled one thing…..time to start decorating the house!
I used to wait for October to decorate, but that bummed me out because I just didn't feel like my decorations got to be out long enough.  So this year I've decided that the first day of fall would be when I bust out the decor.  From now until the weekend after Thanksgiving it's going to be all fall up in here.  I'm talking pumpkin decorations, green/orange/burlapy hues, and scents…ohhh the fall, cozy, sip hot apple cider while cuddled on the couch, scents!  And this year, as you know, I have ditched all the candles and will be getting my aromas instead through my diffusers.  I just ordered all the yummy fall oils like clove, ginger, nutmeg, and cinnamon bark.  I.can't.wait.
Okay, so I figured the best way to do this post was simply to show you some pictures from around my house showing different decorations.  I'm always a work in progress and constantly tweaking or gathering new inspiration from social media and Pinterest, but this is a start.  I'll honestly keep buying things if I love them, up until Thanksgiving, probably forget about them since they won't be out long, and then get giddy with excitement all over again when I go to decorate next year.
Before I get to pictures I should also say, I am on the hunt for cute fall pillows!! I spent this past weekend, buying (then returning) pillows from HomeGoods that I wanted sooo badly to work, but they just didn't in our space.  I then scoured Target (found 2 cute ones in the dollar spot), Hobby Lobby, Pier One, you name it….and I've come up short.  Now before you suggest it, I know…..I knoooooow Pottery Barn (my dream house decor, my muse, my obsession…the crack of home design stores) has pillows.  But friends, I'm really trying to not spend $40 on one pillow!  I love you PB but it's pillows!  The soft cushy things that I forbid anyone in my house to actually use as a pillow for fear of them getting gross, and that Sebastian somehow always manages to get remnants of food, pee, and who knows what onto. So I would love some cute fall pillows that I totally love, but won't terribly care if they get ruined.  You know what I'm saying?  So please send me any and all pillow ideas, but don't even think of tempting me with PB perfection unless it's on sale :).  Or, unless I win the lottery, in which case, PB pillows for everyone!
Okay, pictures…..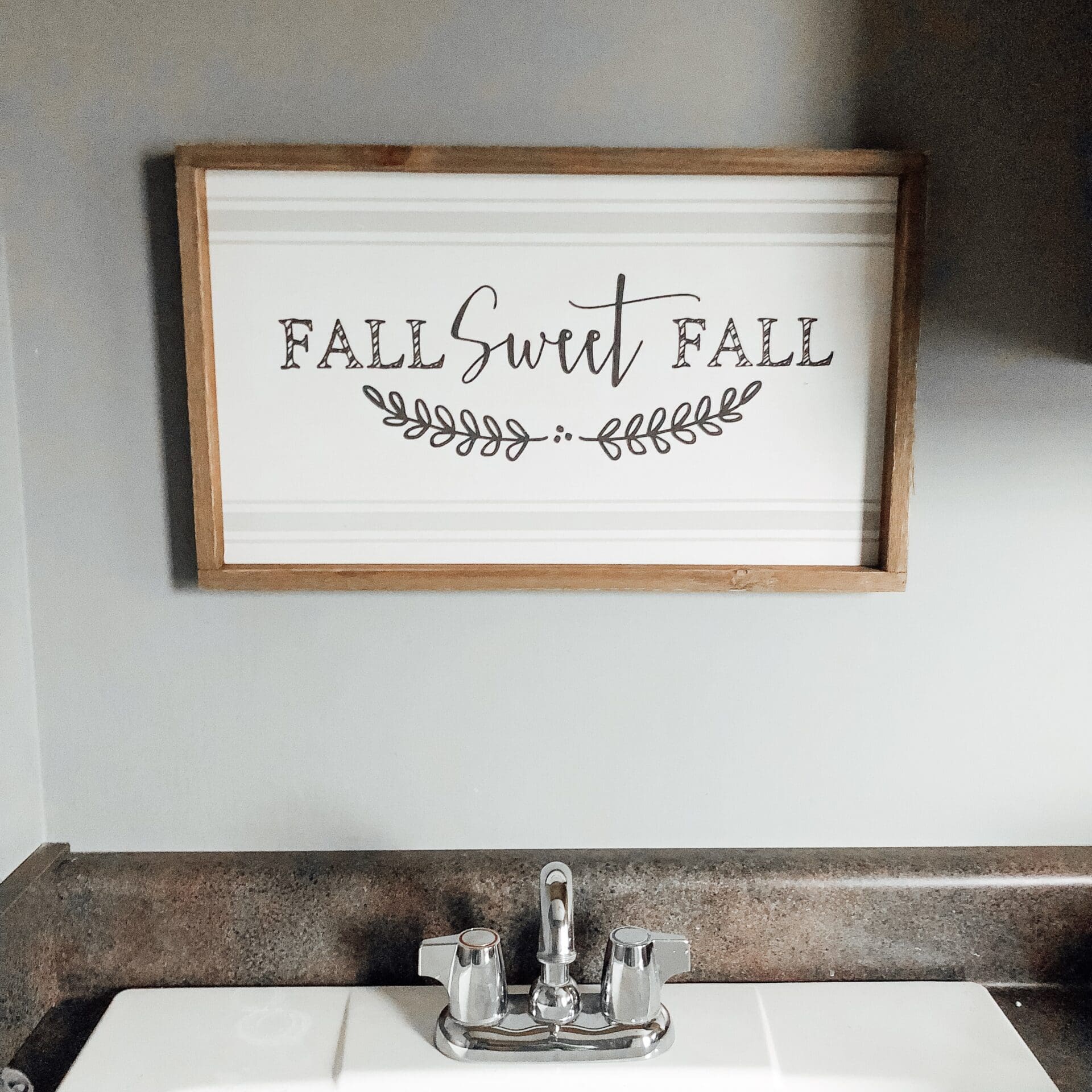 There's nothing I love more then a sweet little sign and this one fit the bill!  This hangs in our laundry/mud room. I have one just like this that says Home Sweet Home, then I found this one, so now I just swap them out.  I got them at Hobby Lobby.
Next, I think I speak for most people this time of year when I say, give me allll the pumpkins!  I love to just have random pumpkin decorations around I think because they are the most quintessential fall, but also because you don't have to do bright orange pumpkins.  You can really do any color that works for your space and it will still represent the season.  Here's some ways I use pumpkins…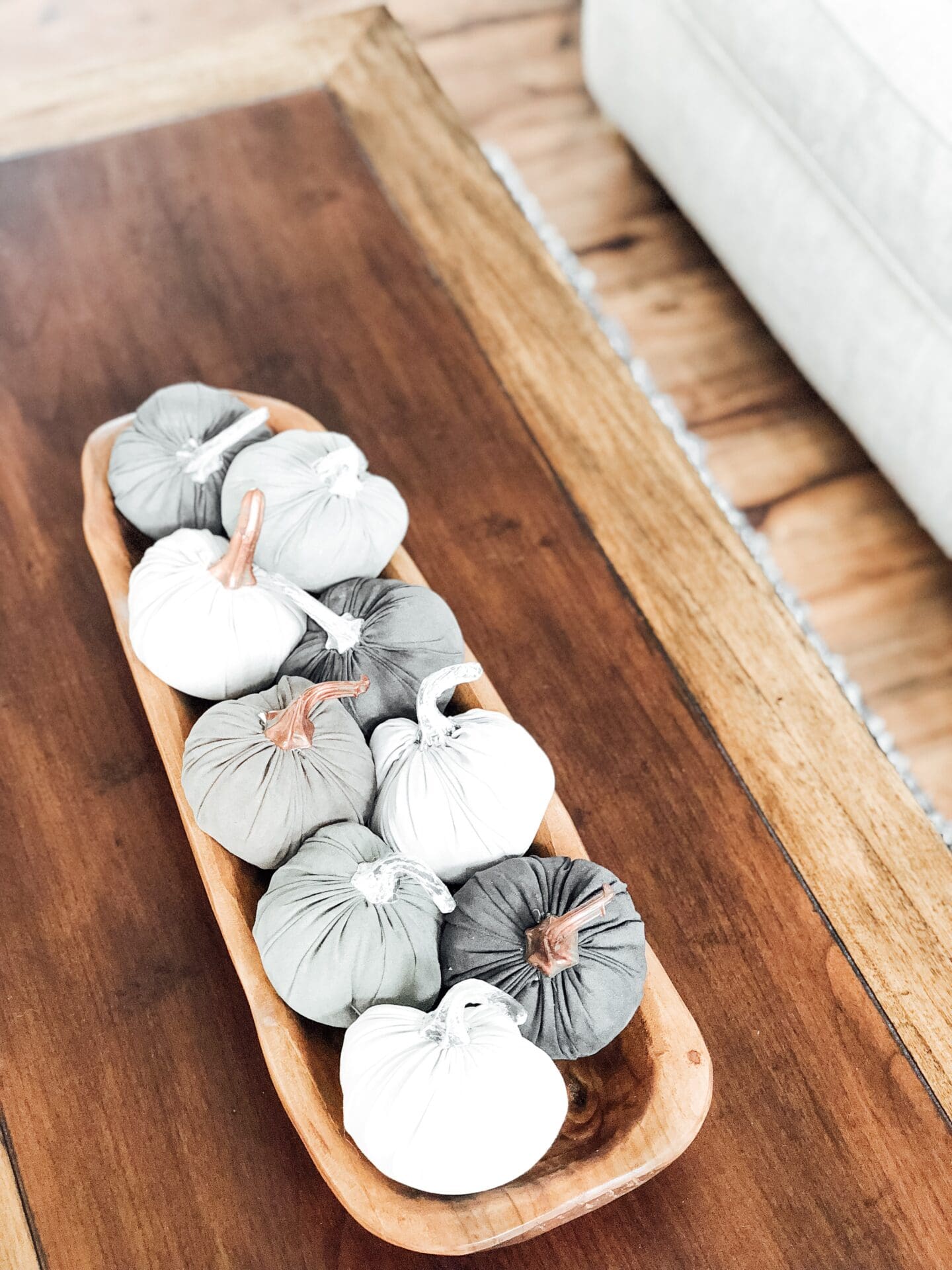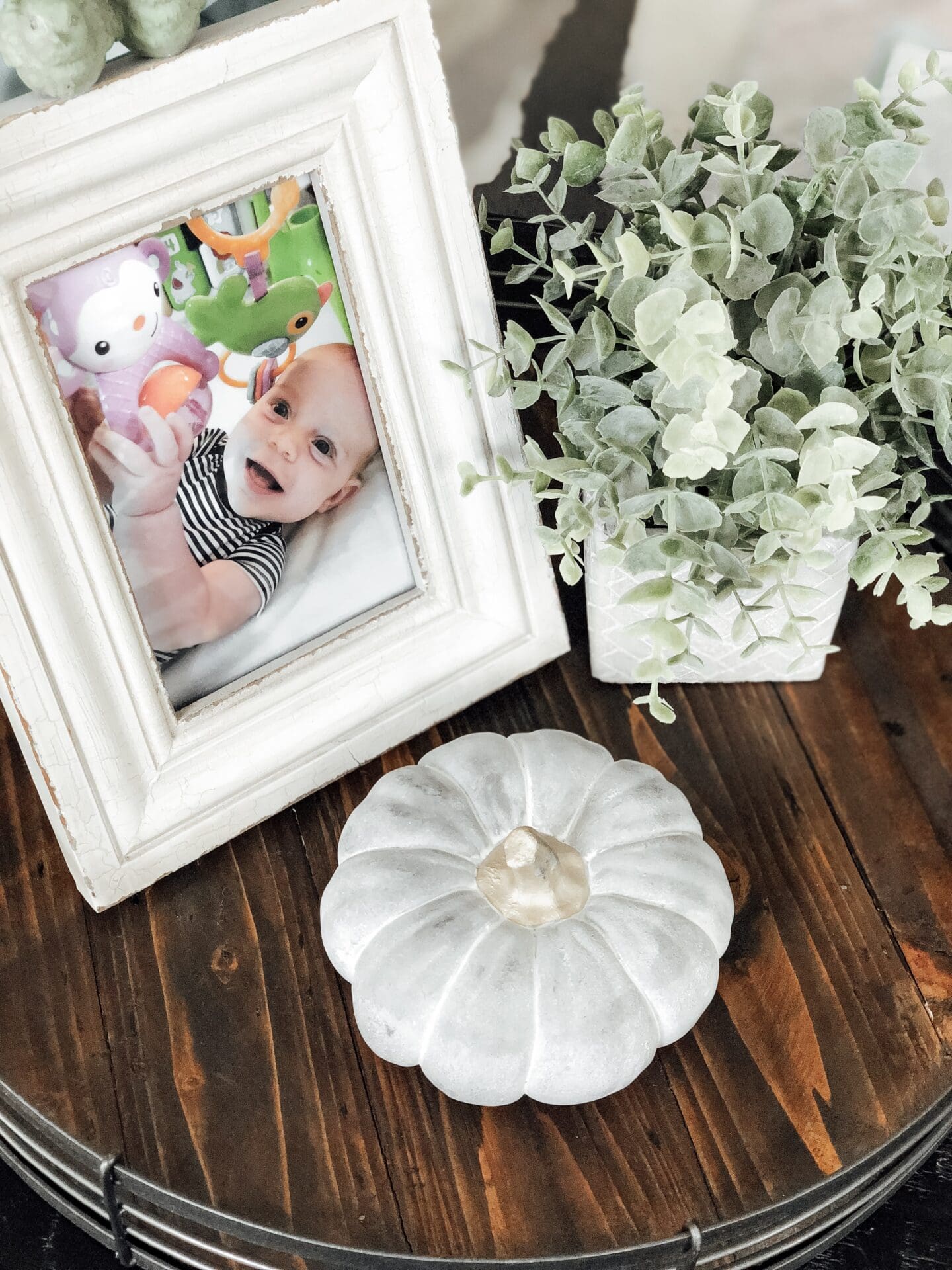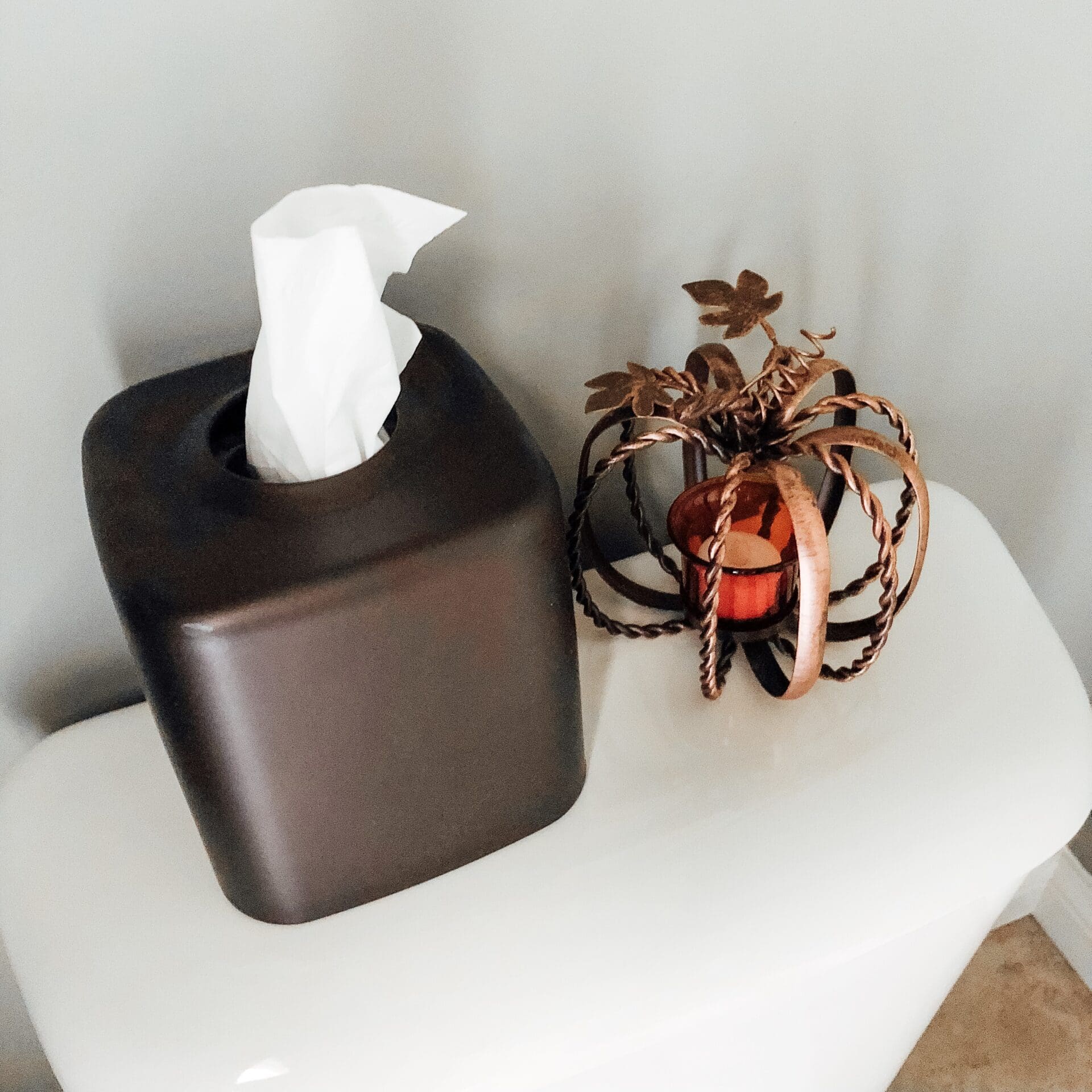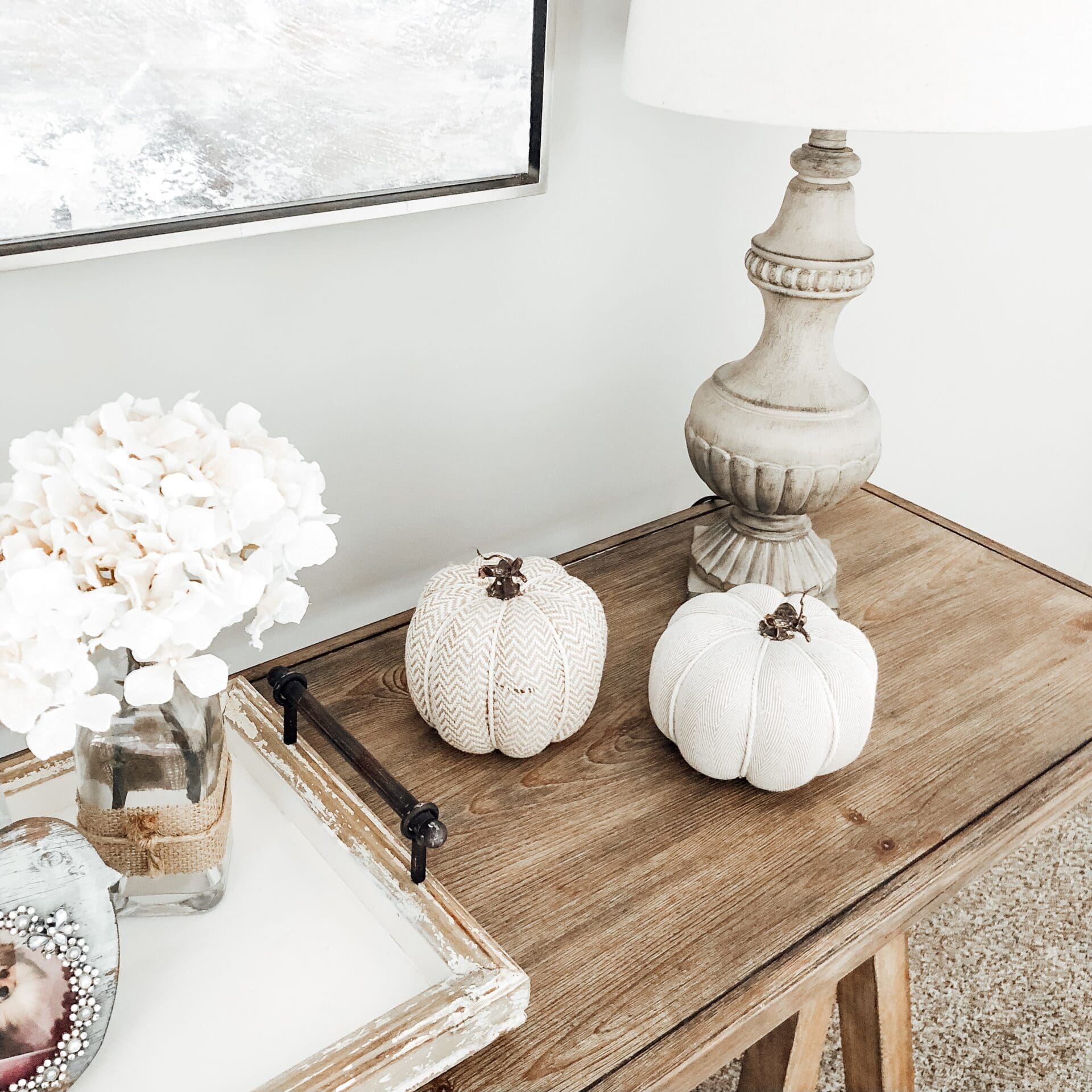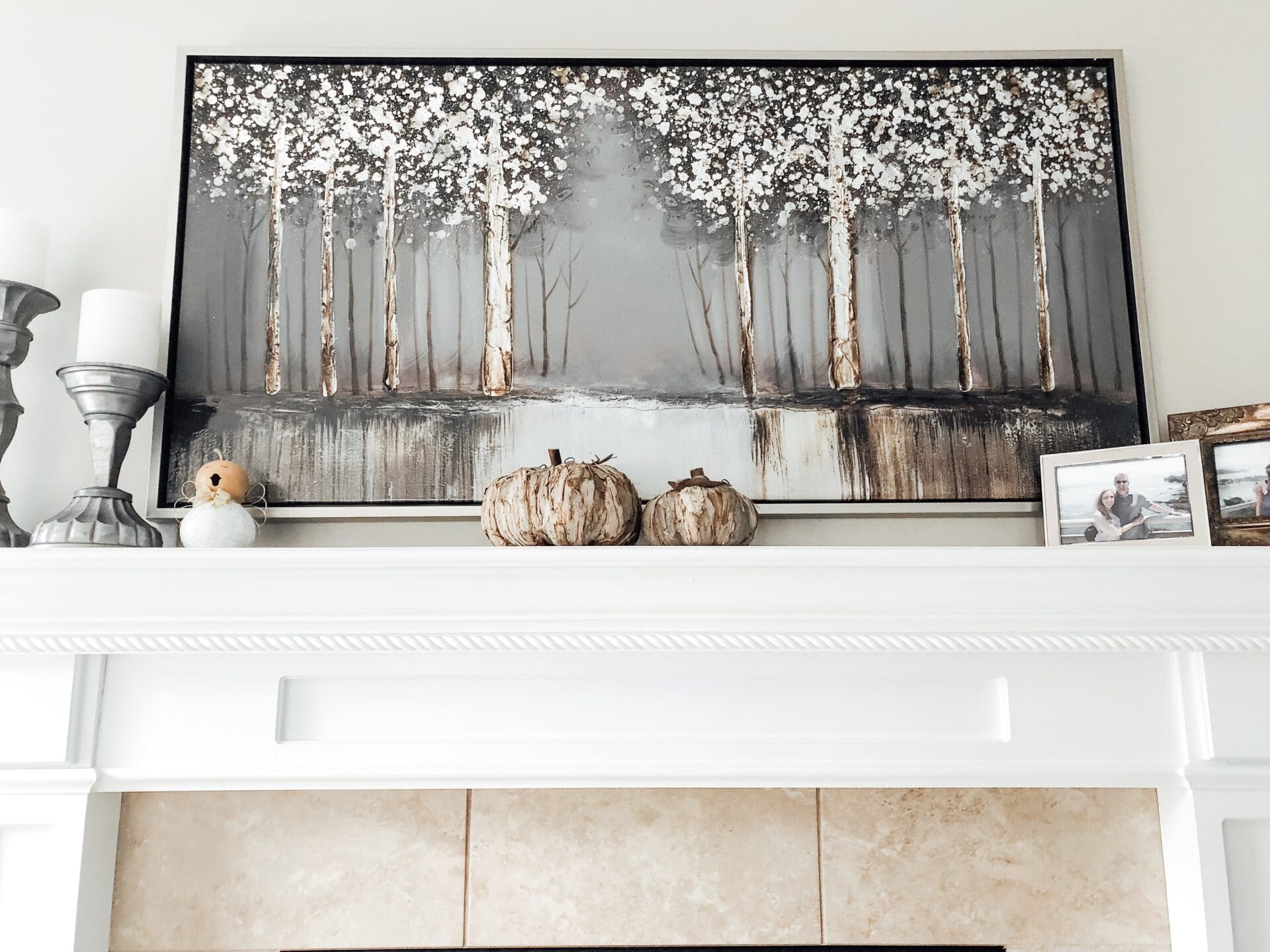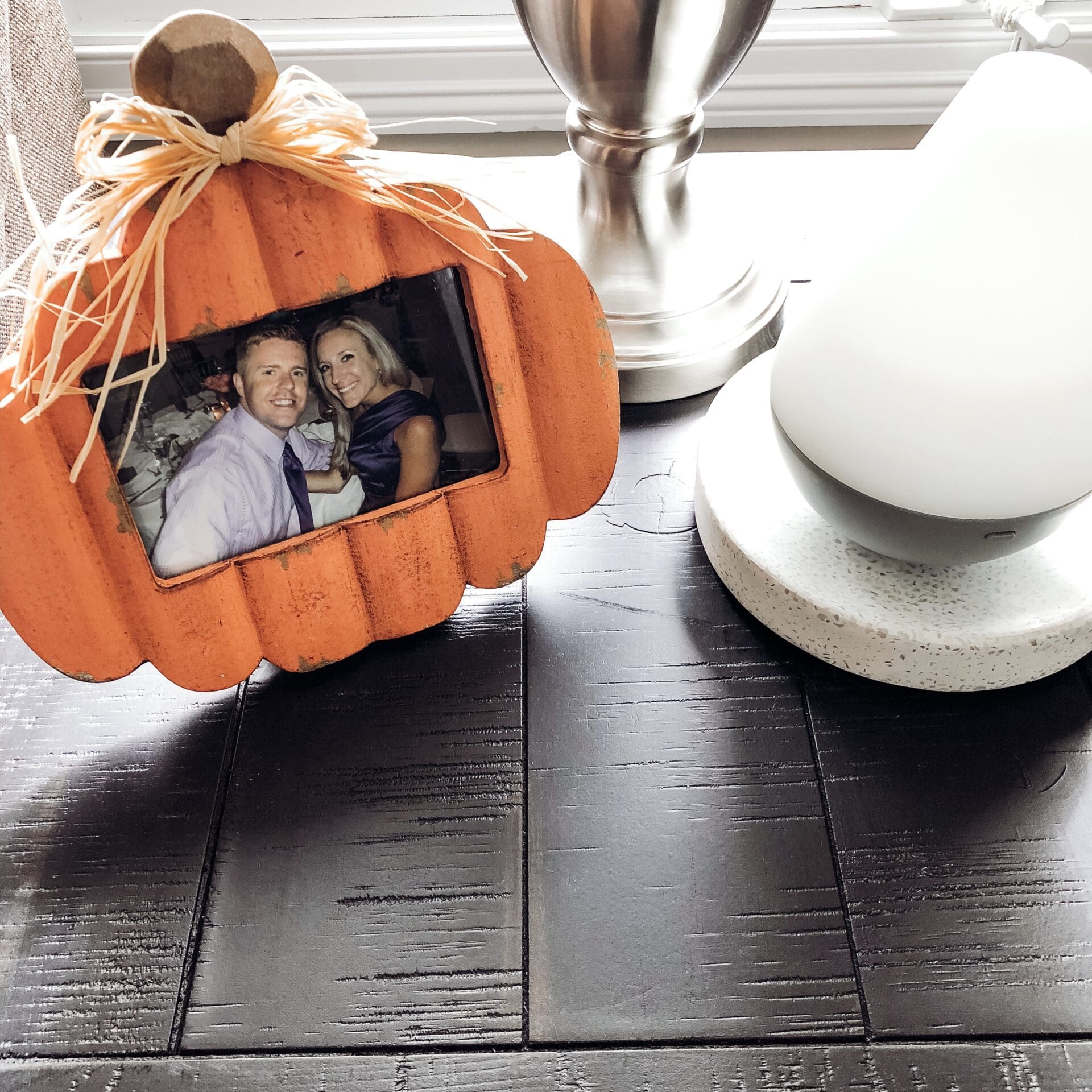 I got the idea for the first picture from social media.  Those little pumpkins are in the dollar spot at Target and the brown wooden bowl holding them is also from Target.  I can't remember for sure but I want to say the pumpkin in the second picture is from Target too.  That or Hobby Lobby.  The one in the third picture is from Pier One and I got it last year.  The silver,  metal pumpkin is also from Pier One from last year.  The candle in there is a fake one on a timer so I love to set it at night.  And speaking of pumpkins, here is the cute pillow from Target.  It was $5!  Score!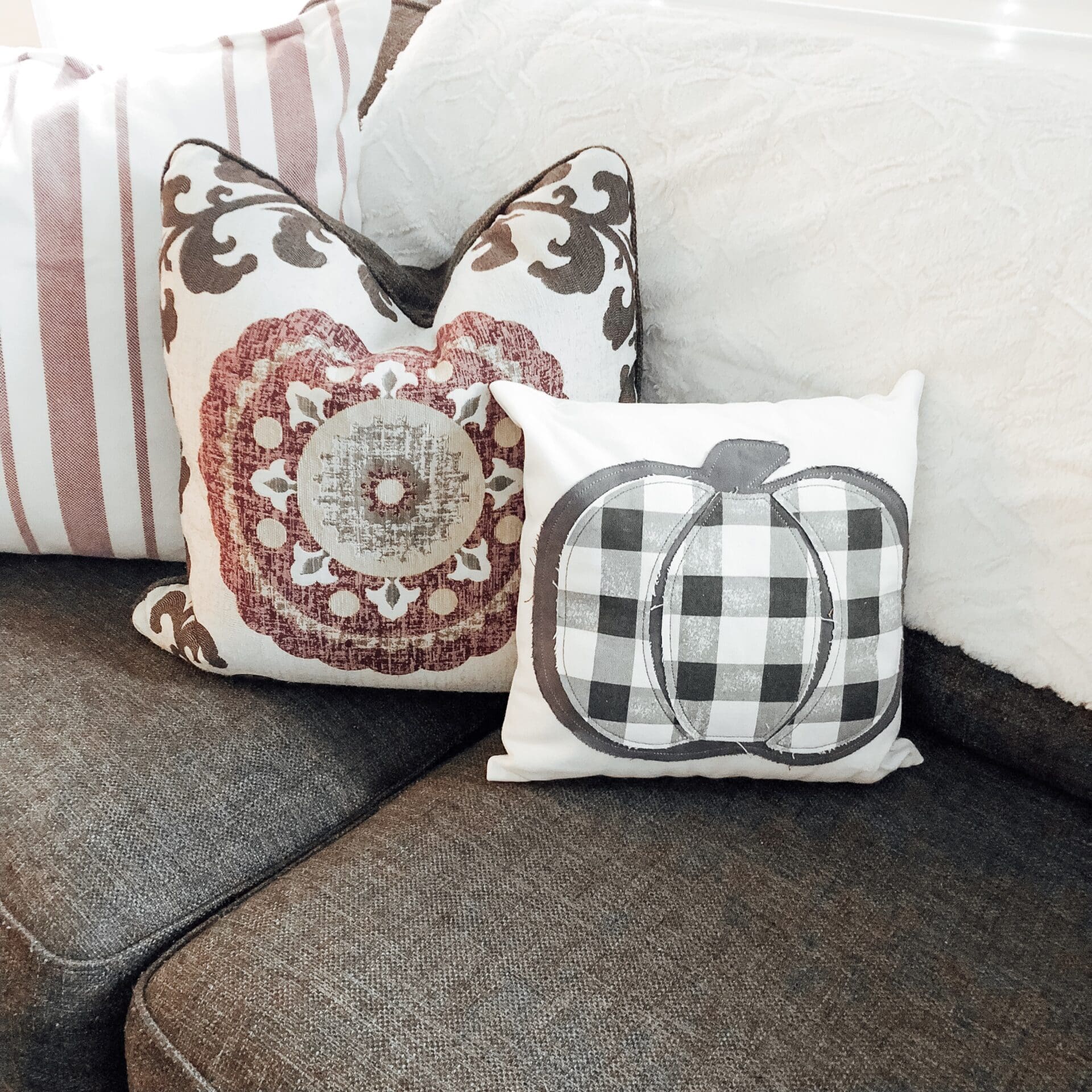 My mantel is always a work in progress (see above picture) and so is my dining room table.  I'm working on just having a ton of pumpkins sprawled out as the centerpiece.  I need to add more but this is the start…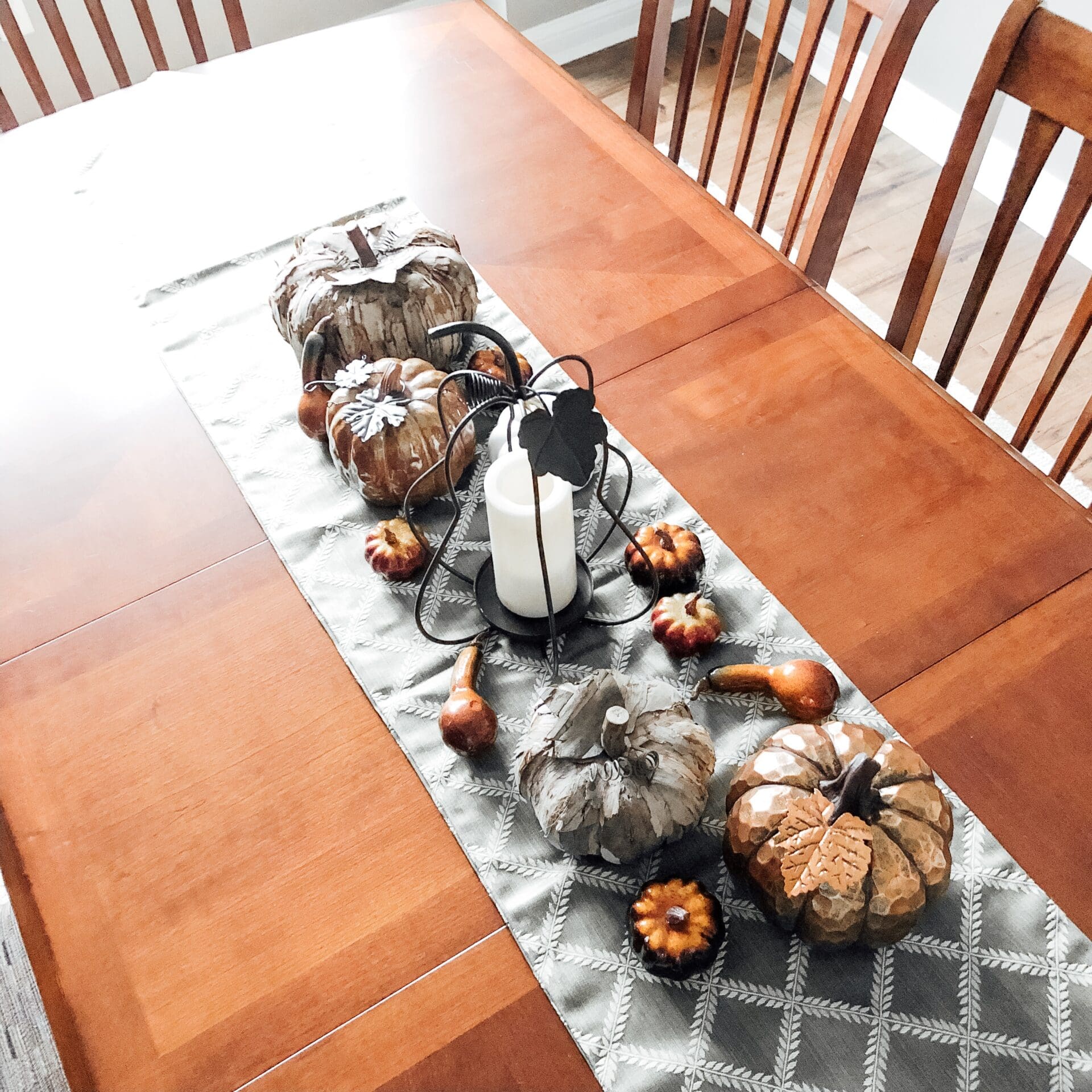 And for our kitchen table I am just playing more with colors and place settings.  Here's the current set up….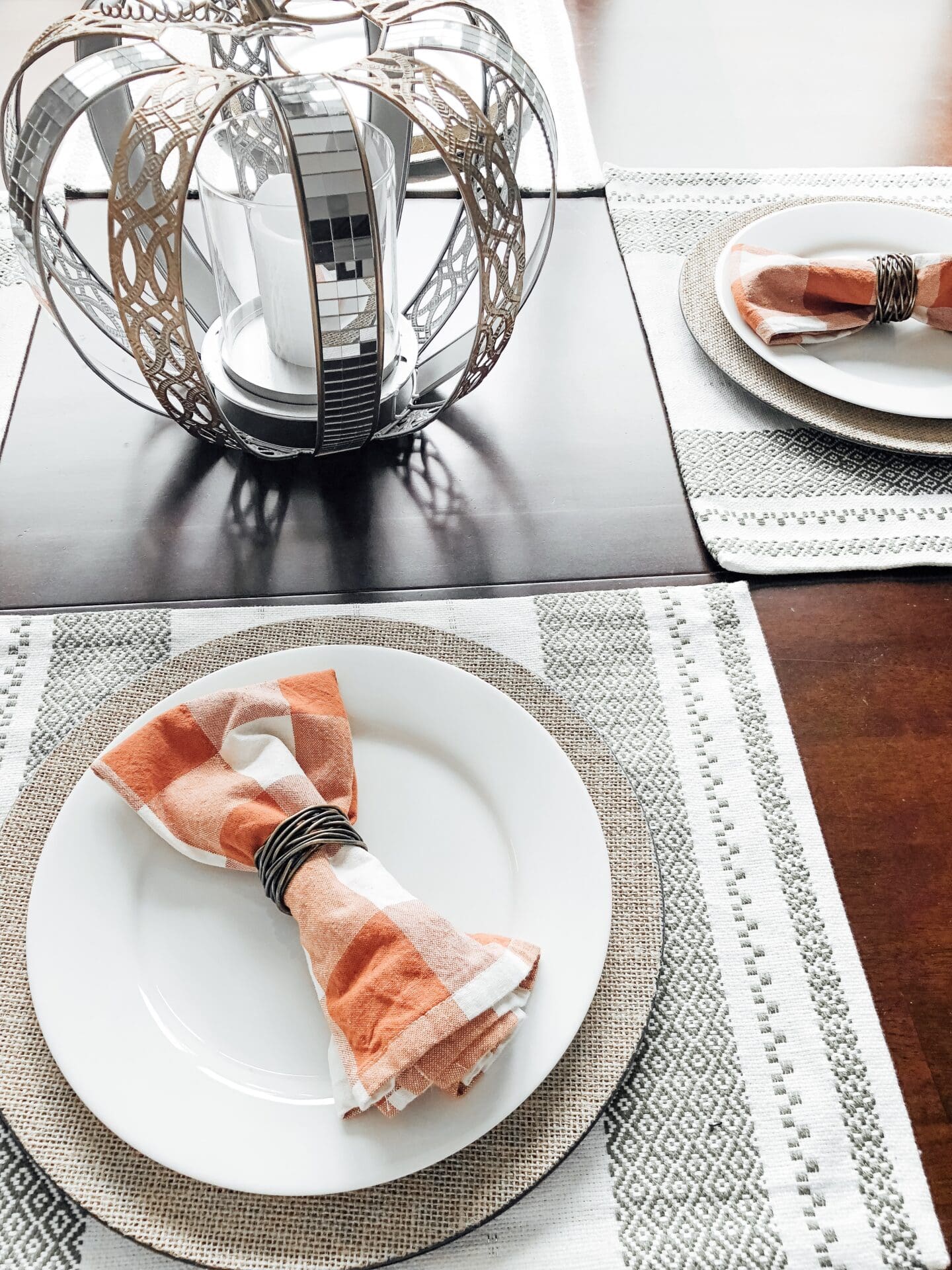 I also toyed around with the idea of using the orange napkin under the plate and a different napkin in the holder, like this….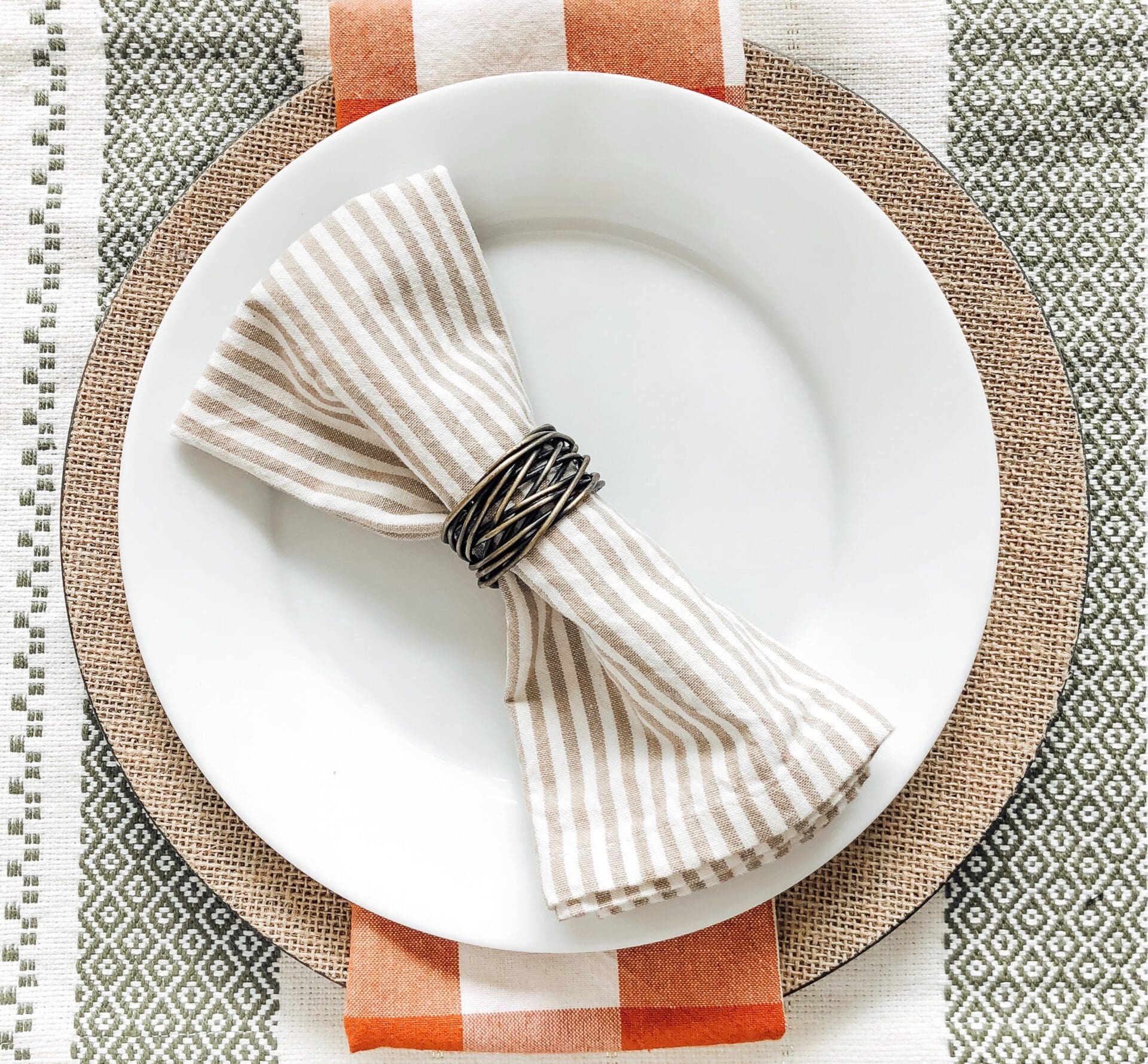 But I'll probably stick to the first picture.  And no I don't have a second one of those metal pumpkins, I just put that there for the picture haha.  The napkins and placemat in the above pictures are from HomeGoods.  The burlap chargers are from Hobby Lobby.
Lastly, I found this adorable wreath at HomeGoods the other day and am loving it!!  I also found this cute little serving platter that I'm using on our island for the time being.  HomeGoods is where it's at, am I right?!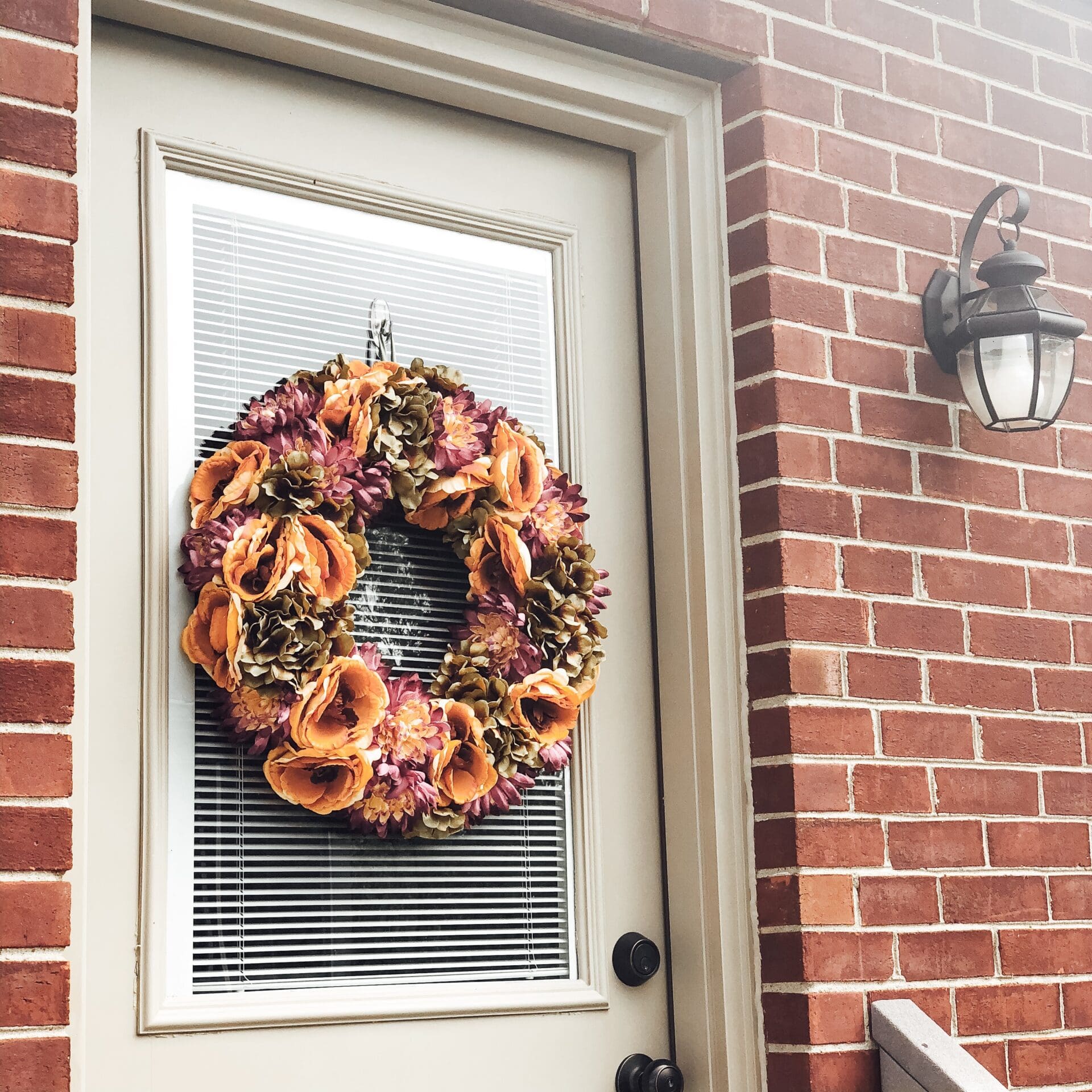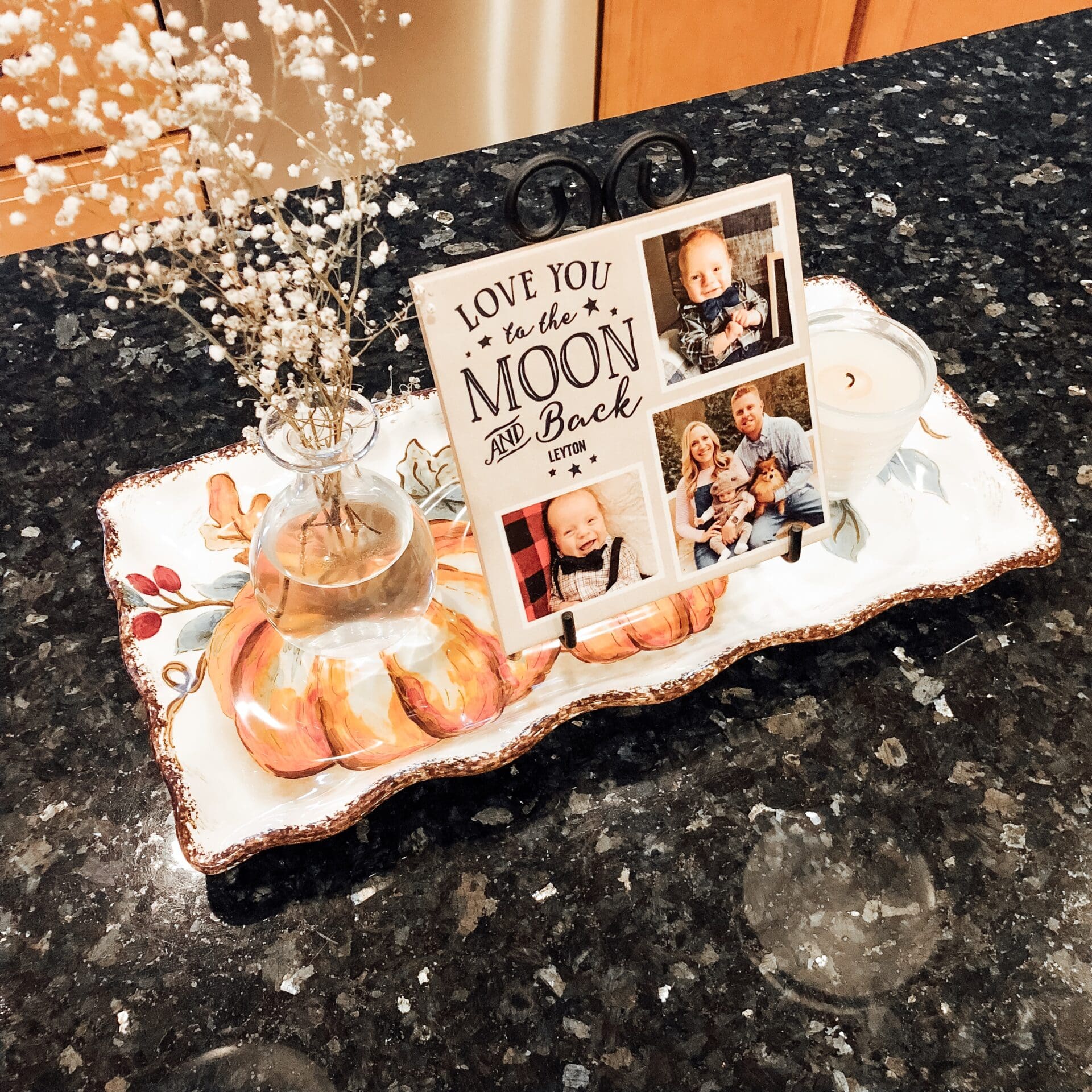 And disclaimer…that's a 100% pure beeswax candle in the above picture, not a normal candle.  They are safe to use and just have a mild honey scent.  They don't really give off much of a scent, but I like them because sometimes in the fall you just want the glow of a candle to keep things cozy.  I get my beeswax candles from MightyNest.
Alright friends, that's it (so far)!  I plan on doing another one at Christmas time so keep an eye out for that one!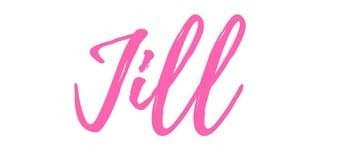 xo, Jill