Happy Friday friends!  We made it to the end of another week and I thought what better way to kick off the weekend than with the first of my holiday gift guides!  I know the majority of us are in full on shopping mode and if you are like me then if never hurts to see options and ideas!  So, since it's cold in most places, and most of us either have or are getting ready to decorate for the holidays, (and the Starbucks coffees are officially out in full force) I figured let's start with the gift guide for….all things cozy!!
You guys, there are so many great, comfy options this year!  I think cozy gifts are some of the best things to give because who doesn't love something comfortable or something that creates a cozy atmosphere?  It's such a universal gift option and tends to be something everyone can use. The items here vary in price, but I tried to keep most of it pretty reasonable.  There are price points for every budget, and things that would work for big gifts and some options for smaller gifts or stocking stuffers.
Because there were so many items I loved this year I decided to break it down into wearable cozy options, and non-wearable.  Links to shop are under the picture and correspond to the number on the graphic.  Okay, lets hop to it with wearable, cozy goodness!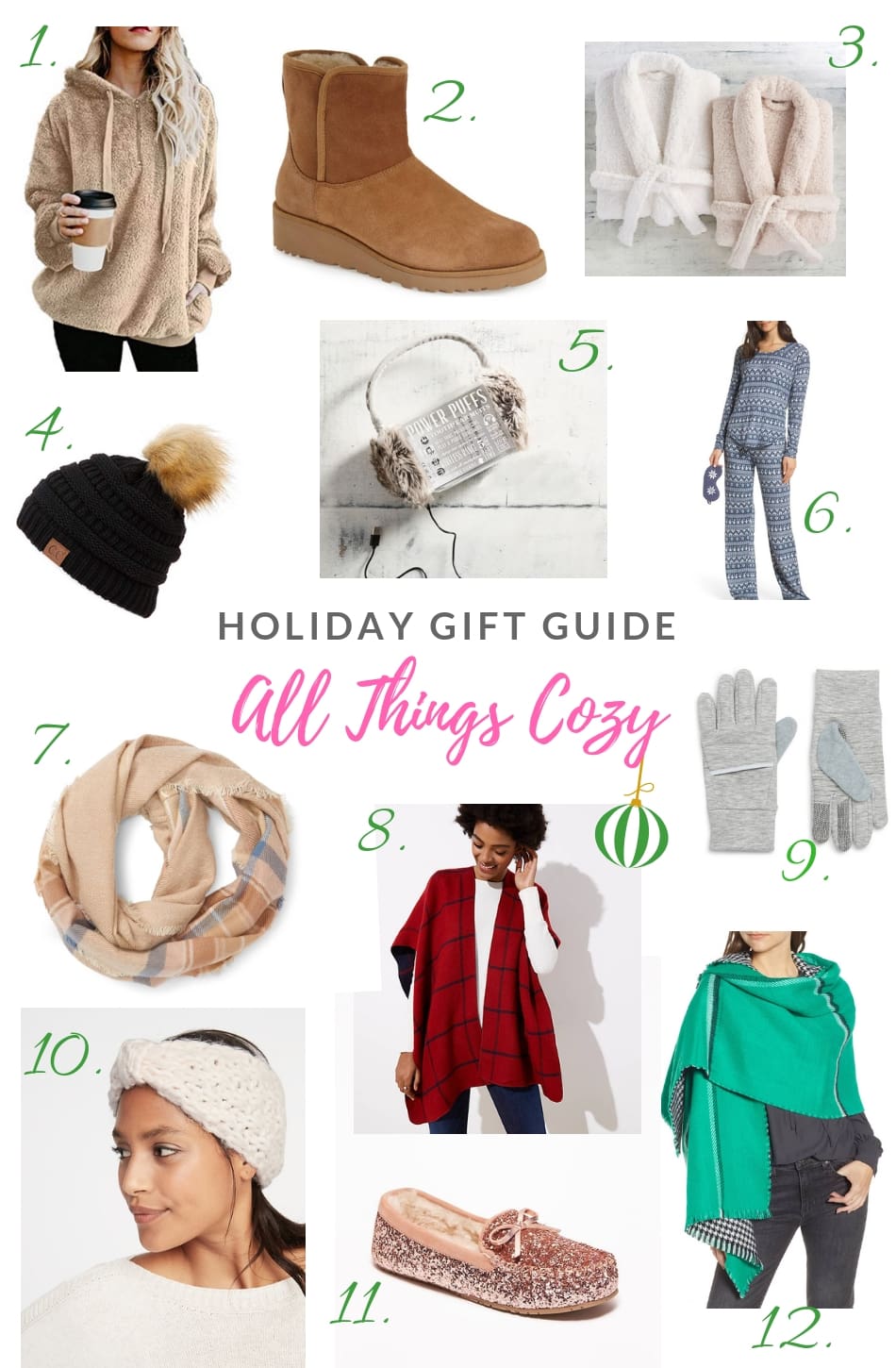 Okay, switching gears to non-wearable cozy items.  I also love so many of these, and they are so versatile for parents, friends, teachers, babysitters, neighbors, secret Santa gifts, and the list goes on!  Again, shop-able links are under the picture and correspond with the numbers.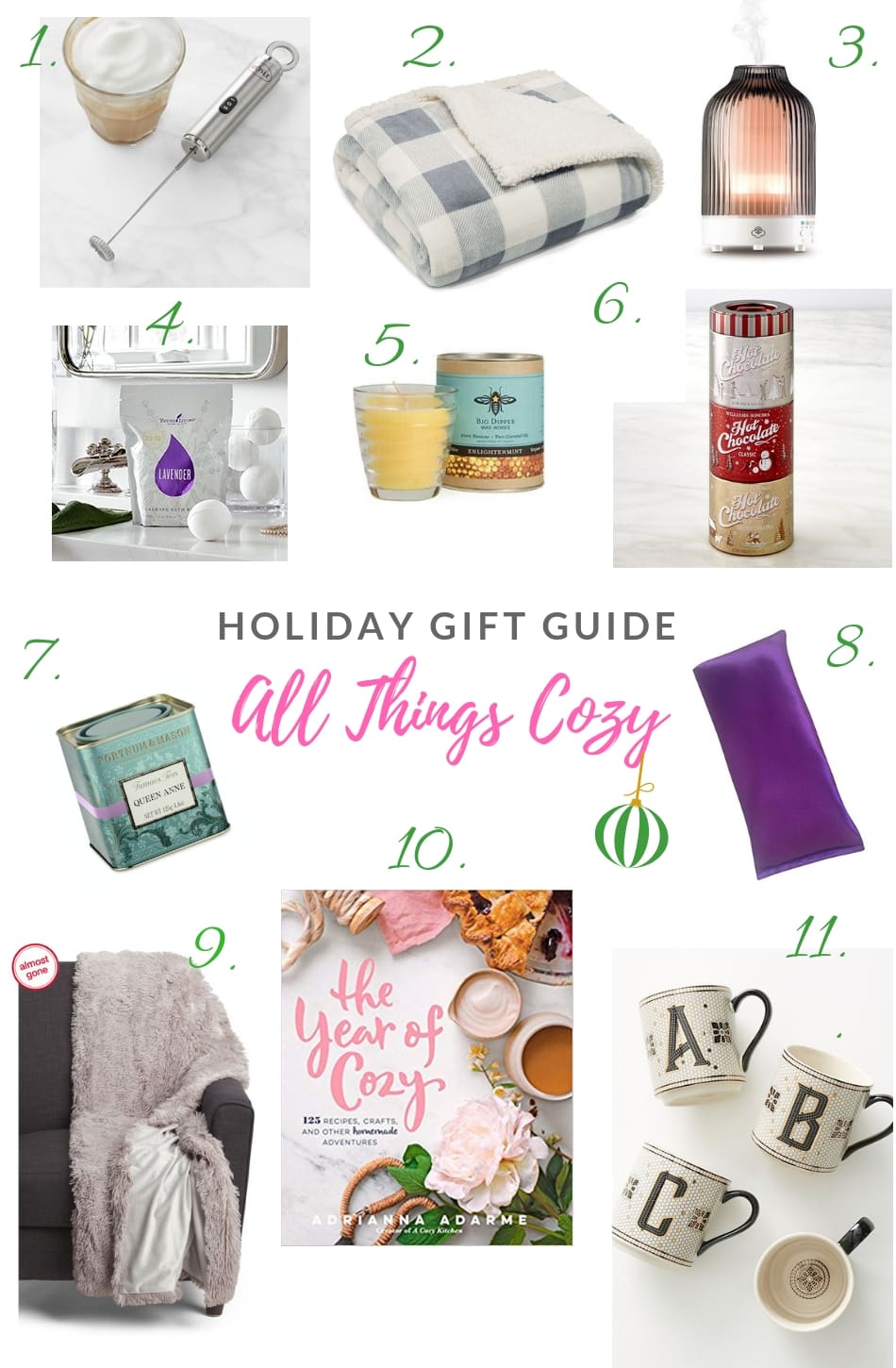 Williams-Sonoma Rösle Frother – I LOVE frothed milk in my coffee, but frothers can be so expensive!  This is an affordable option at less than $35 and it's currently 20% off and free shipping with

code: UPICK

Eddie Bauer Plush Fleece Sherpa Throw – You had me at Sherpa, fleece, and throw!  Originally $42, currently on sale for $24 with an extra 30% off with

code: FRIEND

making it $17.49!!
Pottery Barn Found Diffuser – Now you know I love my Young Living Diffusers (plus they come with two free oils – peppermint and tangerine).  You can shop those here or feel free to email me (jillcomesclean@gmail.com) or DM me on Instagram at _jillkoch_ for help purchasing a YL diffuser, but if you are just wanting a simple diffuser this is another good option that I liked the look of.  Also, not pictured….Pottery Barn has a great selection of flameless candles, so it creates that cozy ambiance without the toxic fumes.  These options are definitely

Jill

Comes Clean approved!!
Young Living Lavender Bath Bombs – speaking of Young Living…..these are da bomb! (Pun intended).  These bath bombs are great for creating a cozy, spa like bath time experience.  As with above, just email me or message me on Instagram for help purchasing if you use the link and have any trouble finding the products.
Mighty Nest 100% pure Beeswax Candle – I love the coziness that comes with candles but I hate the toxicity of regular candles.  I use essential oils these days to get the smells, but when I want the cozy vibe I burn these beeswax candles because they are pure and safe!   Mighty Nest has so many safe, clean products.  Click the link to check it all out and search beeswax candles once there to go to them.
Williams-Sonoma Hot Chocolate – currently 20% off!
Williams-Sonoma Tea – several flavors to choose from. Currently $15.95
Lavender Eye Pillow – I have one of these and looooove it!  It's made with lavender flowers and organic flax seeds.  Last year at this time I was so congested with a major sinus infection and couldn't take anything because I was pregnant, and this helped soothe and relieve the pressure immensely!  Also great for sleeping.  Comes in 3 colors and it's only $13.95!
TJ MAXX or HomeGoods Throws – You guys, I don't know if you've ever felt a throw from TJ Maxx or HomeGoods but they are the softest, most luxurious, best throws I've ever felt and they are sooo affordable and hold up over time!  I have several including the one in my picture with the hot chocolate at the top of this post.  If you aren't going to get one as a gift you need one for yourself!  There's a big selection but really any of the fleece, Sherpa type ones are the best!  Check out their whole selection here!
The Year of Cozy – How cute is this book?  It's filled with 125 recipes, crafts, and other homemade ideas.  It's $17 and would make a great hostess gift or just a gift for anyone that cooks, bakes, or likes DIY and making things.  It would also be such a cute coffee table book!
Anthropologie Tiled Margot Monogram Mug – Ahhh these sold out 🙁 but the link is for a similar kind that's only $8!  They are perfect for sipping hot chocolate, tea, or coffee.  Anthro's entire selection of mugs is great.  See all options here.
Okay friends, that's it!  I hope you found some great ideas!  Check back on Monday when I do a Monday Must Haves: Gift Guide for HER edition!  Thanks for stopping by!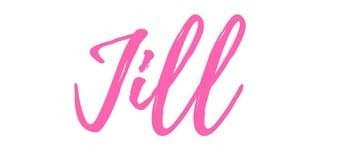 xo, Jill