Happy Friday friends!  So I know I said this Friday Finds segment would only be like once a month, but you guys I was out shopping the other day and found so many cute things for summer that I decided we needed another round.  So this week I am sharing Friday finds at…..J.Crew Factory!
This is easily one of my favorite stores because it obviously has the color palette and style I love from regular J.Crew but at such a better price!
Don't mind that all of my pictures are in the dressing room, but let's get to it!
Okay, so the majority of what I tried on did not come home with me, but friends these two items did!  I have had this sweater with pineapples on it, sitting in my cart online forever and just couldn't decide.  But once I put it on in person, I was sold.  It's so preppy and lightweight, it will be perfect for those chilly summer nights.  And then the scalloped shorts are just so feminine and cute!  They come in a few colors.  I have navy from last year and wear them constantly in the summer so another color was in order!
And while I'm in the scalloped shorts, how cute are these sandals with them?
Don't mind my pale legs or un-manicured toes but I love me a gingham pattern and these were no exception.  They were really comfortable too.  Ahh now I'm wishing I bought them!  They would be so cute with white denim too but I love them with these shorts.  They aren't available online for me to link but there are 4 other colors and leopard here, that are also cute.
Speaking of shorts…..their selection right now is so so good!  I almost bought these striped ones too but didn't, and now I'm kind of wishing I had.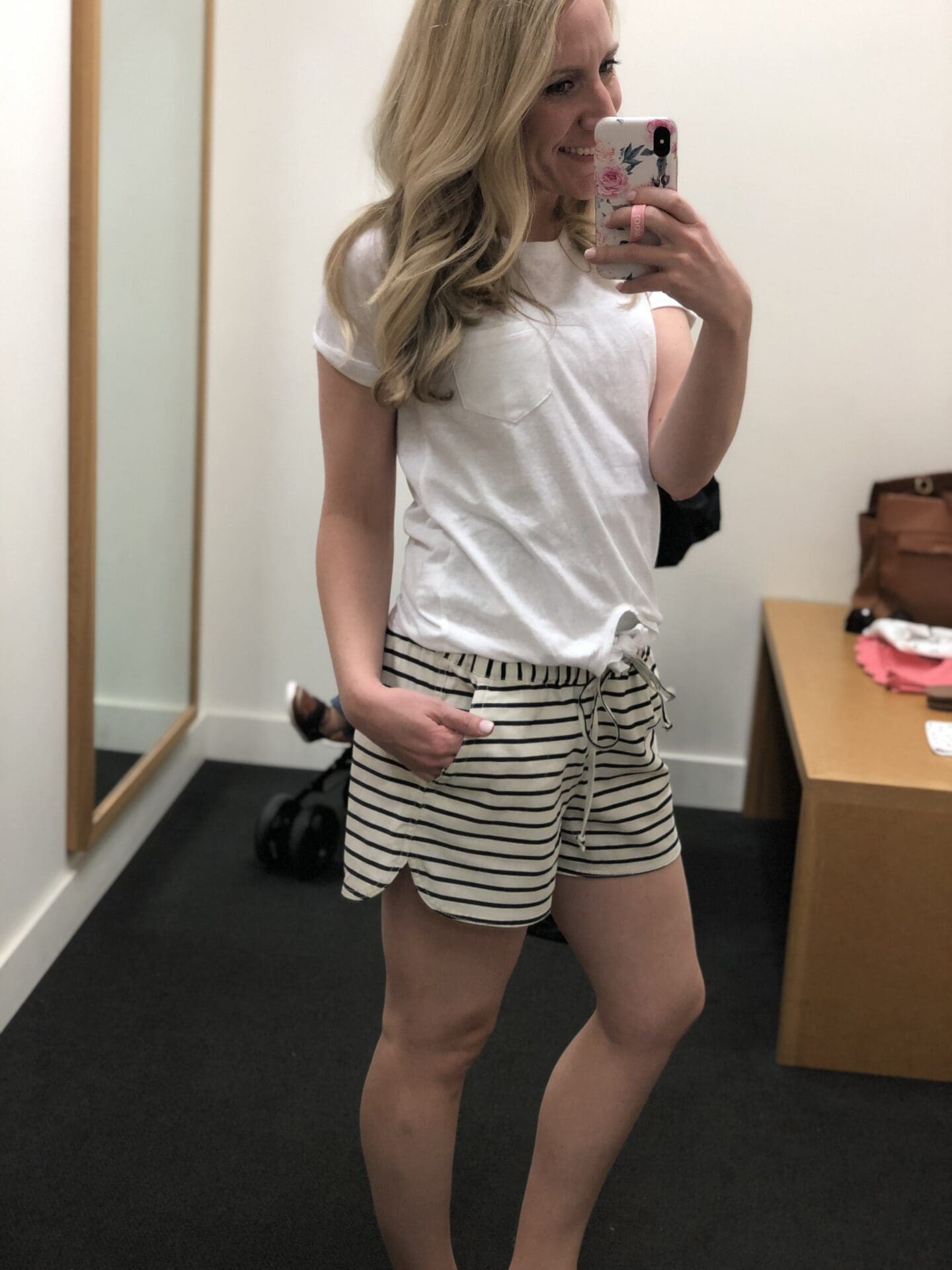 Do you see Leyton's little foot sticking out?  I can't even handle the cuteness!  Next up were these blue shorts that were so loose and comfortable.  I would say definitely go true to size or even one lower.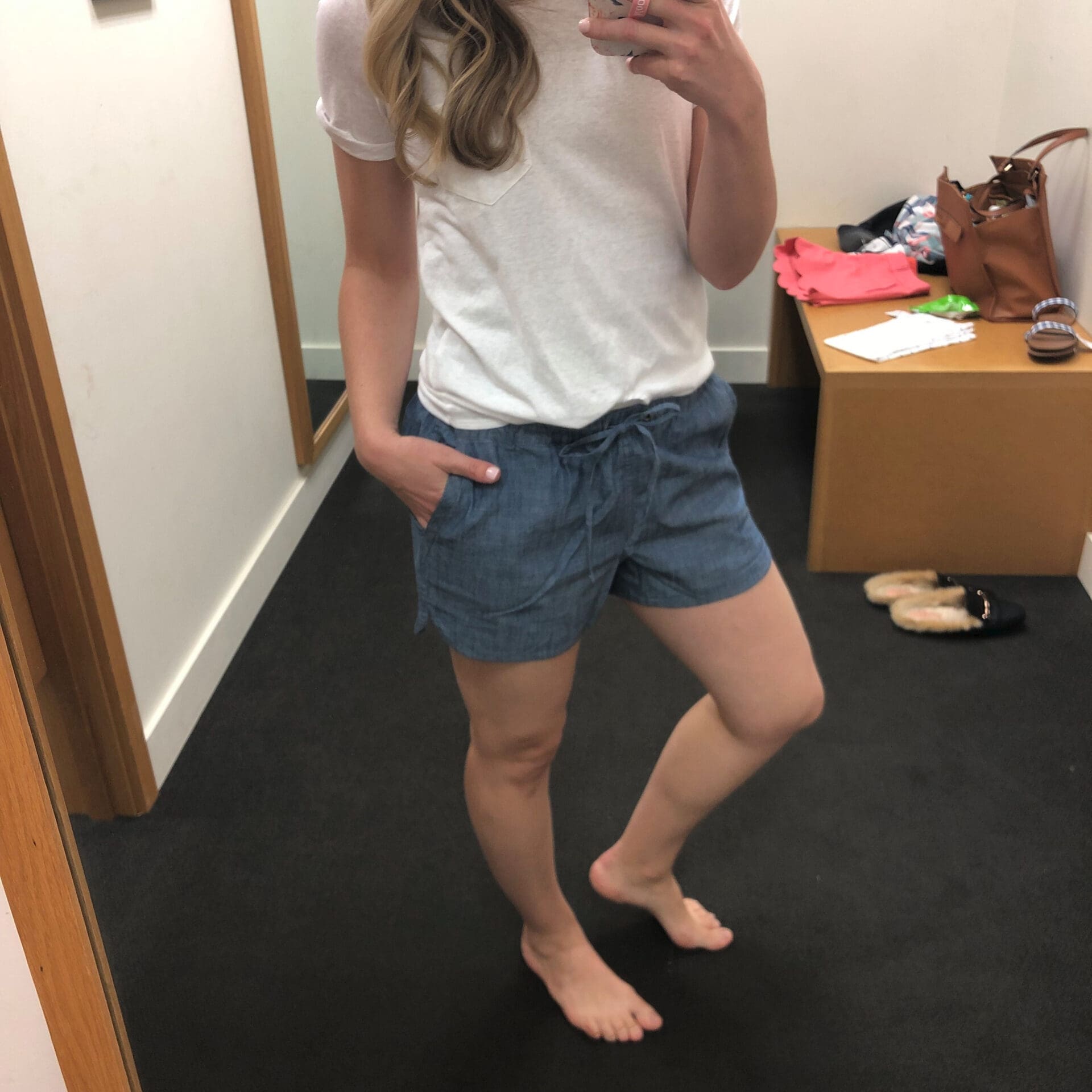 I tend to size up if shorts are zipper and button tops like jeans but when they are just drawstring it's a whole different ball game.  In those instances I go with my usual size or even down one.  Here's another similar pair I liked.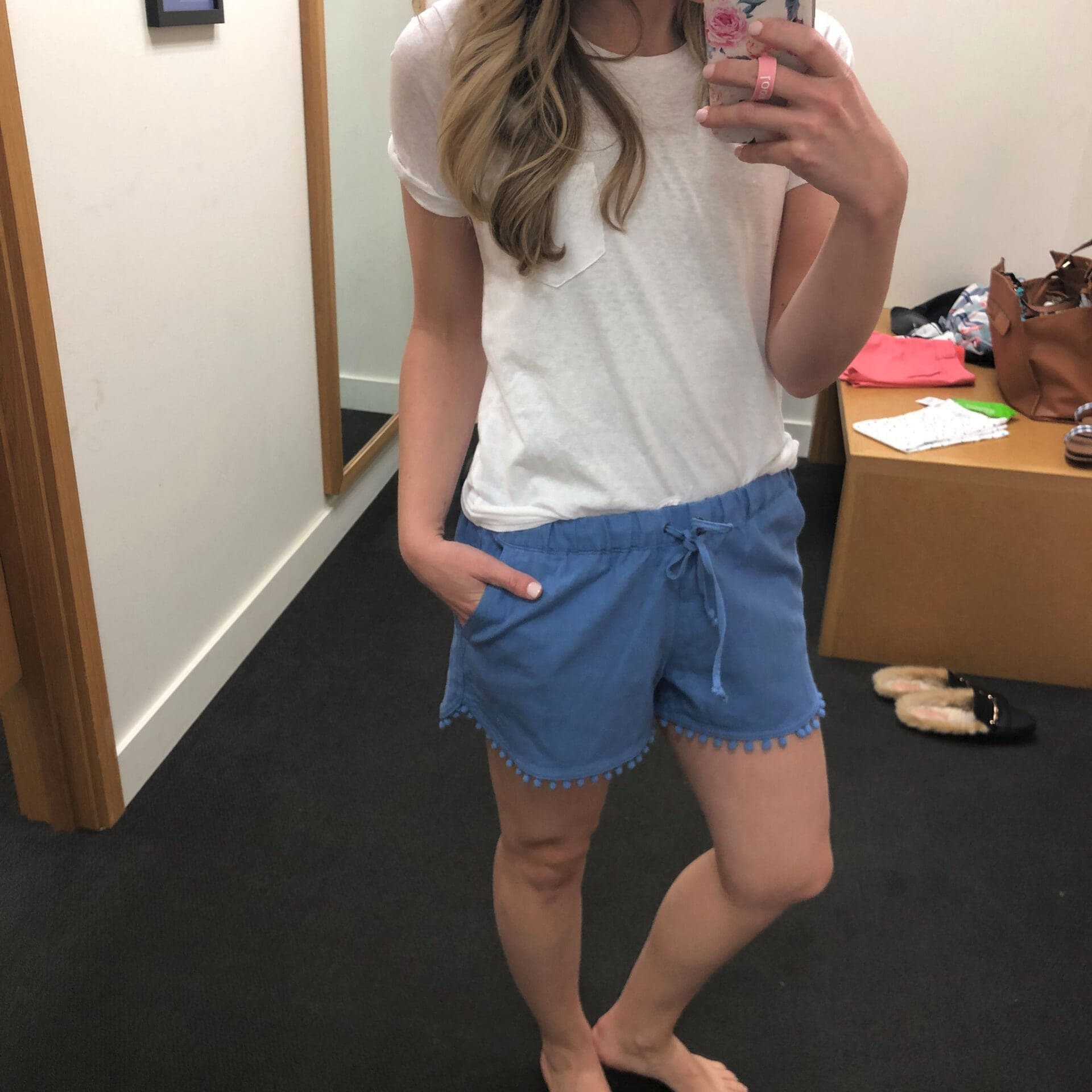 I love the little trim detail!  They also come in black.  Oh and this white tee shirt I just grabbed to pair with everything.  It's basic with the little tie in the front (that you can't see because I love a good front tuck).  The white tee is buy one get one free currently!
The last pair of shorts I tried on were these cut off boy shorts.  I sized up one in these just because there is nothing worse than a tight jean short, am I right ladies?  They come in 4 colors.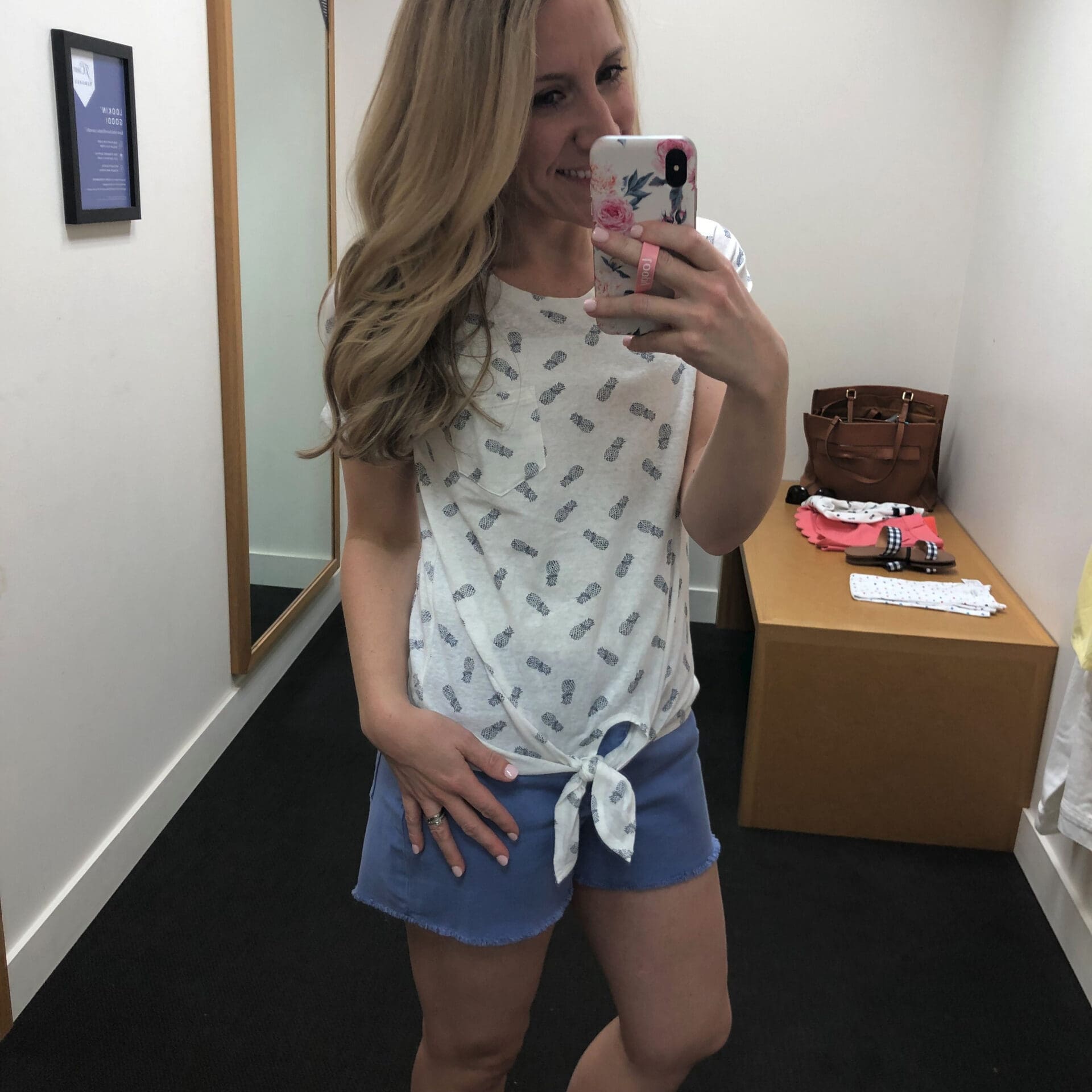 I love these shorts because they are so versatile.  Here I am in them paired with a button down and then a basic tee.
Gingham Button Up // Heart Tee
Switching gears a little bit, I also liked this blue top.  My only complaint was that I didn't love that the top didn't stay opened and looked so closed up, if that makes sense.  I'm kind of holding it open in the first picture but in the second you can see how it really lays.  Also, I decided to front tie it because it had some length to it but you could definitely leave it long or front tuck.  This top is currently buy 1 get 1 free with code shopsale.
Next up is this perfect, vibrant yellow jacket!  I'm definitely wishing I bought this one.  I love a good bright yellow and it's just so darn cute!  It's currently 50% off.
Lastly, I have been on the hunt for a white denim jacket but couldn't find any I liked.  But, as usual J. Crew Factory came through.  I purchased this one and love it!  Also, notice my shopping buddy in the background.
Unfortunately it's not available online to link, but they should have it in store.  Alright friends, that does it for this version of Friday Finds.  I hope you found some fun new items to add to your summer wardrobe.  Maybe if we wear enough warm weather clothing, those higher temps will actually get here!
Have a great weekend.  See you back here Monday!
Jill
xo, Jill