Happy Friday friends!  I think we are officially exiting the Polar Vortex and I am pretty pumped about it.  I knew it was cold when I took Sebastian out the other morning and my eyelids instantly froze.  I have truly never had that happen before.  Nose hairs, yes.  Eye lids, no.  So, needless to say we are all ready for warmth!  The good news is that it's supposed to be back up in the 60's on Sunday, just in time for the Super Bowl! I never get too into which team wins because I prefer college football over professional, but I like the fun surrounding the Super Bowl and of course the commercials and half time show.  So with that in mind I thought I would share a clean dish you could make this Sunday, whether just for you and your family, or to take to a Super Bowl party.  With all the unhealthy (but probably delicious) food likely to be making the rounds, I think people would like this healthy, but tasty treat, to help them feel less guilty.  I'm partnering up with my friend Megan over on Instagram to share our healthy recipes on our stories.  Follow us there for more and you can check out her blog here.
But firstup, I wanted to share another clean recipe with you all.  Well, it's not really a recipe seeing as how it contains one ingredient, but it's something that packs a big nutritional punch and has been all the rage lately if you've been on social media.  Of course I'm talking about….celery juice!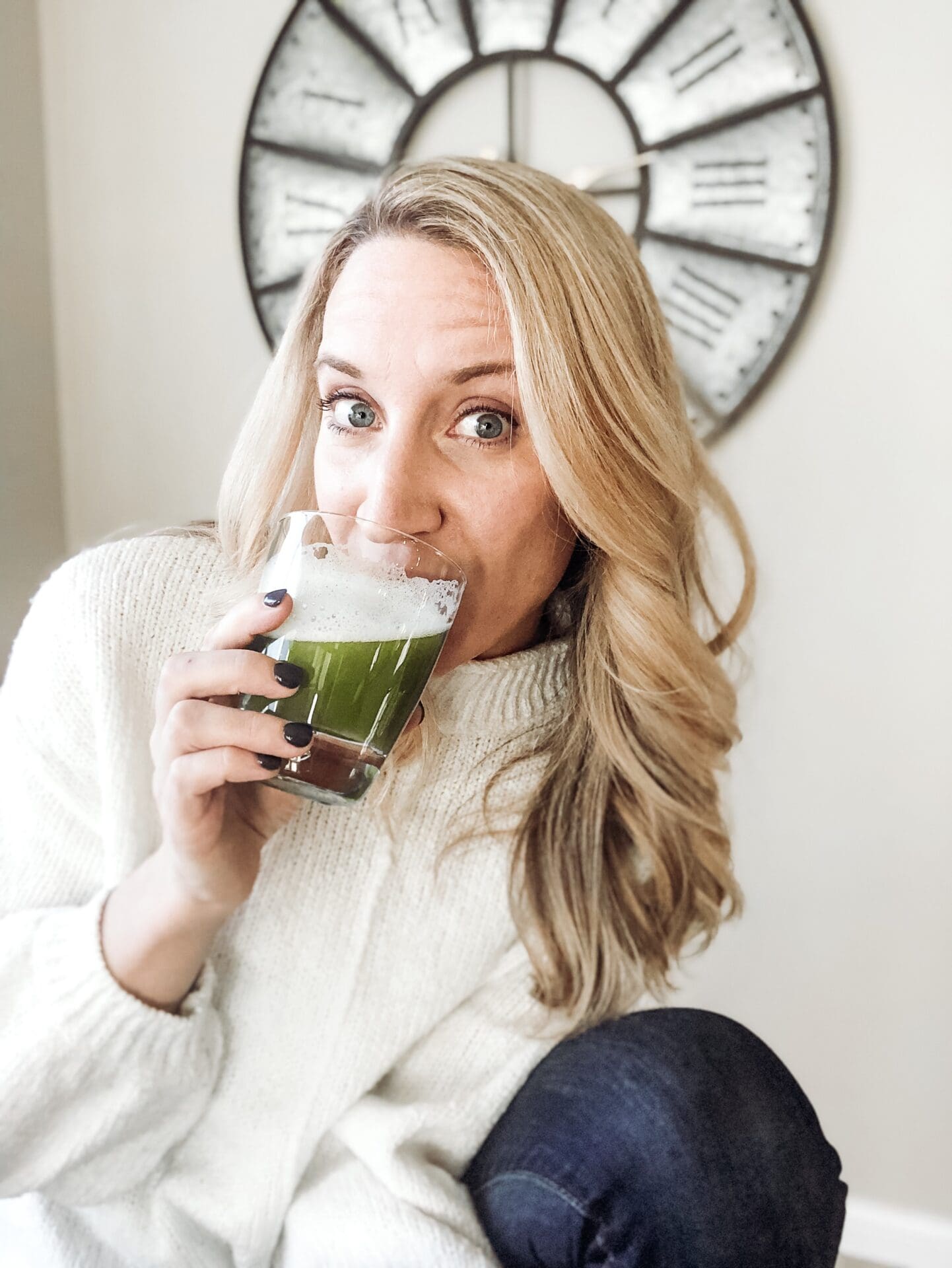 If you haven't caught wind of this recent trend then let me just give you a quick run down of why you should drink celery juice because until this week I have been eating this nearly tasteless vegetable for 34 years with no clue that it held a whole host of health benefits such as:
Fights free radicals (which are cancer causing) and is rich in antioxidants to fight cancer

Lowers bad cholesterol

Helps digestion

Improves skin problems

Helps blood pressure

Helps decrease inflammation

Boosts weight loss

Balances the body's pH

Cleanses the body

Helps with sleep

Gives a natural energy boost

Improves kidney and bowl function
It's truly such a health powerhouse I can't believe I'm just now learning about all of it's benefits.  I'm a huge believer in foods being nature's medicine and their power to help heal from the inside out.
I just started making celery juice this week and it's so incredibly easy!  You can use a juicer, like most do, but I don't own a juicer so a good old fashioned blender gets the job done just as well.  I do also use a cheese cloth to filter the juice from the pulp just because I don't even like pulp in my OJ so I knew I wasn't going to stand for it in this.  I've been having a glass every morning and I will say I have noticed it helps with my energy.  I don't feel like I have to reach for that afternoon cup of coffee, which is a plus.
Now, before I show you how I make it, I have to come clean with you…..the taste is not great.  It's not terrible, and it's definitely drinkable, but I think the bright green color of it makes it look like it's going to taste sweet, and it doesn't…..at all.  So just know that it's one of those things you do for the health benefits and not for the taste.  You just have to mind over matter it and get it down, and your body will thank you.
Okay, so first all you need is a bundle of celery ( I totally thought this would yield a shot glass of juice but it actually filled a large mason jar).  I then take the celery and chop off the dirty, white ends (but keep the rest, even the stalk on the top) and I toss it into a bin and clean it good.  Next, chop it up an put it in your blender and add about a cup of water (some things I read said to cover the celery with water, but personally that was way too watery of a juice for my liking).  I found about a cup or two of water to be perfect.
Next you'll blend until it's a juice consistency.  After that I place a cheesecloth over a large bowl and pour the juice on top.  From there you will have to squeeze the cheesecloth to really get all the juice out.
And that's it!  Then just pour it into a container and pop it in the fridge and enjoy!
They say it's best to have it an hour before eating and on an empty stomach, so first thing in the morning is when most people tend to have it.  You could also add it to smoothies if you want to mask the taste.  And everything I found recommended consuming it within a day or two.  This is the one downside because if you use a whole bundle at once it makes a lot more than you can drink in a day, but it's also a bit of a process to do daily.  And apparently you shouldn't freeze it because it loses some of it's nutrients.  So I haven't quiet figured out the best way to go about this yet.  Have you tried celery juice before?  Leave me your thoughts in the comments if you have.
Okay, so we'll consider that the Super Bowl half-time show, and now here is the main event…
Baked Garlic Parmesan Potato Wedges
Not only are these so delicious AND healthy, but they are the easiest dish to make!  They only take 6 ingredients…..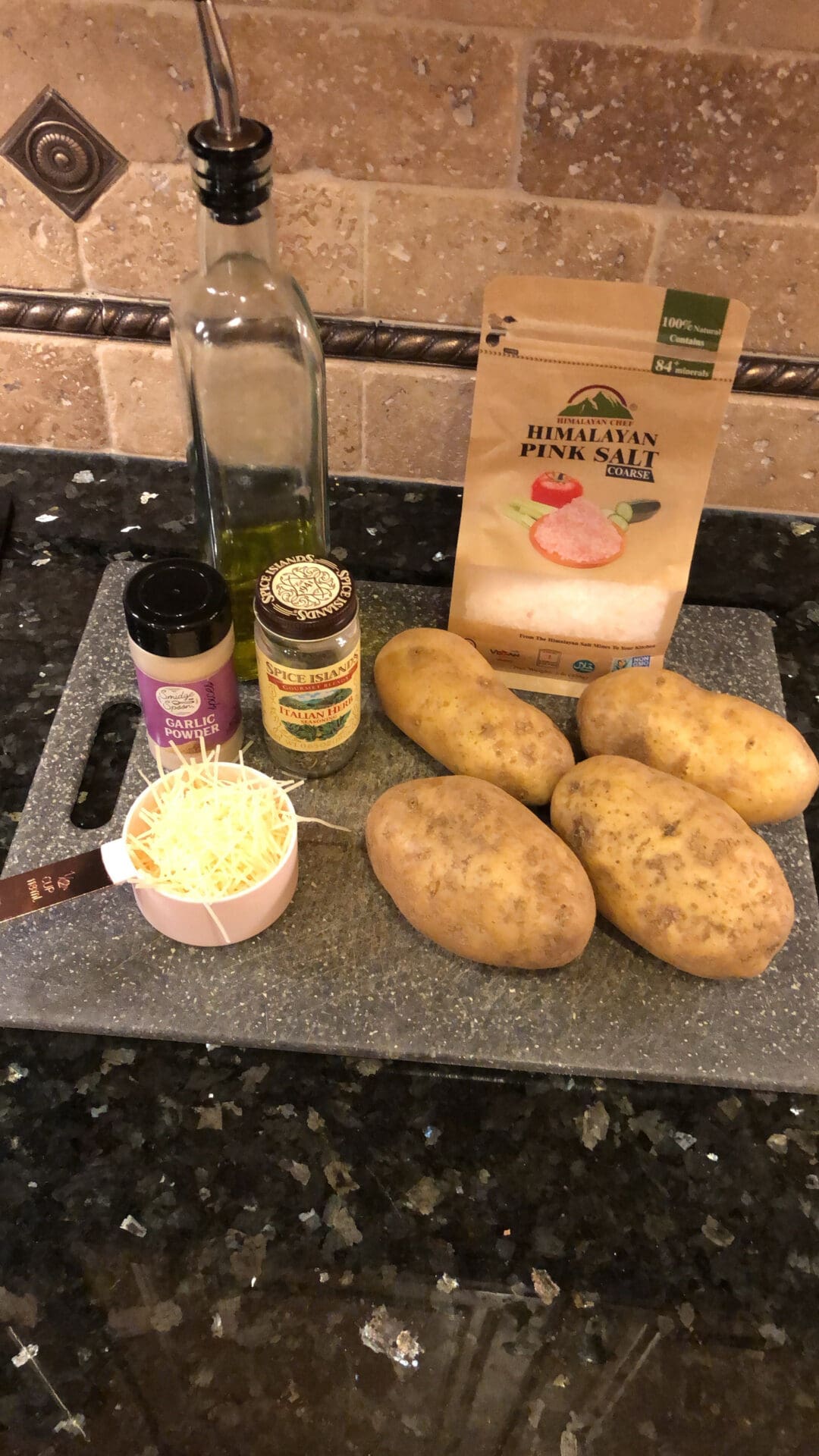 That's it!  Some potatoes, seasonings, olive oil and cheese.  That's a Super Bowl win in my book!  The full recipe is below and comes from Creme de la Crumb.  Let me know if you make it and how it turns out.  Have a great Super Bowl weekend and I'll see you back here Monday!  Enjoy!
Baked Garlic Parmesan Potato Wedges
3-4 Russet Potatoes (sliced into wedges)
4 Tablespoons Olive Oil
2 teaspoons salt
2 teaspoons garlic powder
2 teaspoons Italian Seasoning
1/2 cup shredded parmesan cheese
fresh parsley, ranch or blue cheese (optional (for topping and dipping))
Preheat oven to 375. Lightly grease a large baking sheet

Place potato wedges in a large bowl and drizzle with olive oil then toss to coat. In a small bowl whisk together salt, garlic powder, and Italian seasoning. Sprinkle potato wedges with the shredded cheese, toss to coat, then sprinkle with seasoning mixture.

Place wedges onto prepared baking sheet in a single layer with skin side down. Bake for 25-35 minutes until potatoes are fork tender and golden. Top with fresh parsley and pair with dressing for dipping.
Jill
xo, Jill