If you are on the hunt for a quick and easy snack that doubles as a clean eating treat, look no further than these yummy blender muffins!  They are seriously so easy and my husband and I love them!  I often double the recipe because one batch does not last long in this household.
I had been meaning to share this recipe with you for some time, but hadn't made them in a while because, I'll be honest, you need ripe bananas and I don't always readily have them on hand (read on for tips on how to ripen bananas in a hurry), but we recently went out of town and I had a ton of bananas that were going to go bad before we left so I froze them and voila! Now I have ripe bananas for the muffins!  Plus, I'm doing a 10 day clean eating shred so I was in desperate need of clean snacks to curb my sweet tooth.
Okay, so without further ado here's the recipe!  One last note:  I actually have a few different recipes for these types of muffins with just little ingredient changes, but of all the variations I've tried, I have found these to be the easiest and tastiest!
[recipe title = "Banana Oatmeal Blender Muffins" servings = "12 muffins" cook time = "15 minutes"]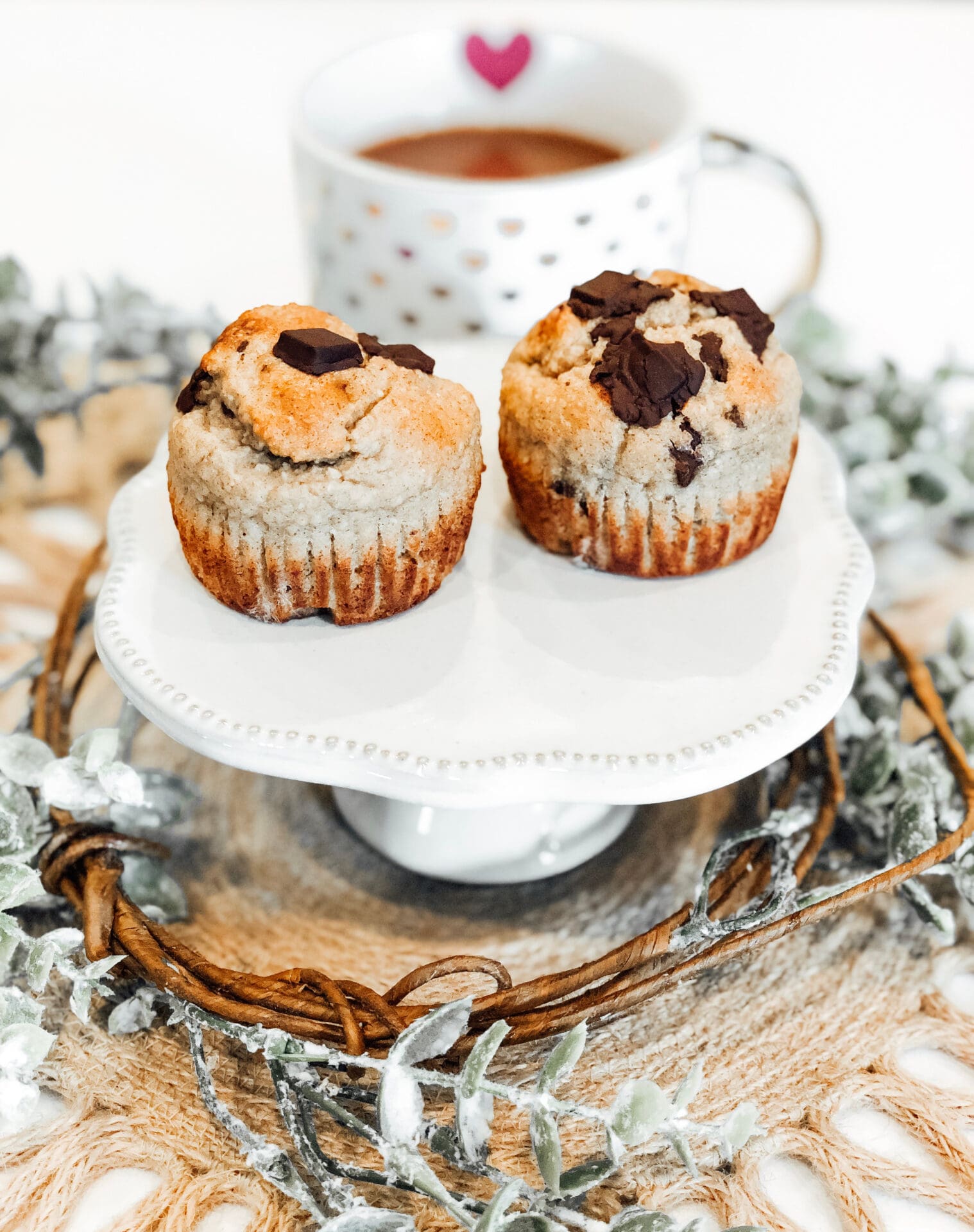 [recipe-ingredients]
– 2 cups oats (I use quick oats but you could use old fashioned)
– 2 large very ripe bananas
– 2 large eggs
– 1 container of plain Greek yogurt (one little individual container 5-8 oz.)
– 3 tablespoons of honey
– 1 1/2 teaspoons baking powder
– 1/2 teaspoon baking soda
– 1/2 teaspoon pure vanilla extract
– 1/8 teaspoon kosher salt
– Up to 1/2 cup of mix-ins (dark chocolate chips, dried cranberries, dried blueberries, nuts, etc.) If I use chocolate chips I use 72% cacao to be a little healthier.
[/recipe-ingredients] [recipe-directions]
1. Preheat over to 400 degrees.  Lightly grease 12 cup muffin tin or line with paper liners and lightly grease the liners.
2. Place all the above ingredients (except for the mix-ins) in a blender or food processor.  Blend on high until batter in smooth and oats are broken down.  Will need to scrape the sides once or twice.
3. Once blended, stir in the mix-ins by hand.
4. Divide batter among 12 muffin cups.  Careful not to fill more than 3/4 of the way full.  Sprinkly additional mix-ins on top as desired.
5. Bake for 15 minutes or until toothpick inserted in the middle comes out clean.  Once cooked place pan on wire rack and let muffins cool for 10 minutes before removing.
[/recipe-directions] [recipe-notes]
NOTES: If you don't have very ripe bananas on hand and don't feel like waiting, I recently learned three tricks to speed up the process!
1. Place bananas in a brown paper bag and loosely close.  Will be ripe in 24-48 hours.
2. With the peel on, place bananas in a 300 degree oven and check on them frequently as time will vary.  Note: Bananas cannot be overly green for this method.  When peels become shiny and black, they are ready.
3. With the peel on, place banana in microwave for 30 seconds.  After 30 seconds let cool and check for desired softness.  Repeat with 30 second intervals until desire ripeness is achieved. [/recipe-notes]

xo, Jill