Happy Thursday friends!  Today's post is for anyone that loves cleaning with vinegar but hates the smell!  I personally love to clean with vinegar. It's all natural and it works.  Best of all, I have truly found that it can clean pretty much everything around the house from walls to sinks, bathrooms, floors, windows, you name it.  But it doesn't exactly leaving the home smelling floral and fresh.  So today I'm bringing you a little life hack to help with that. Let's look at how to make infused vinegar.
Now, I should point out that this is not my recipe or creation.  I got this from Danielle Williams inside Willow & Sage Magazine which is one of my favorite magazines!  I also only just made mine last weekend and it has to sit for two weeks, so my full review on how well it turned out will be coming.  In the meantime let's look at how to make infused vinegar.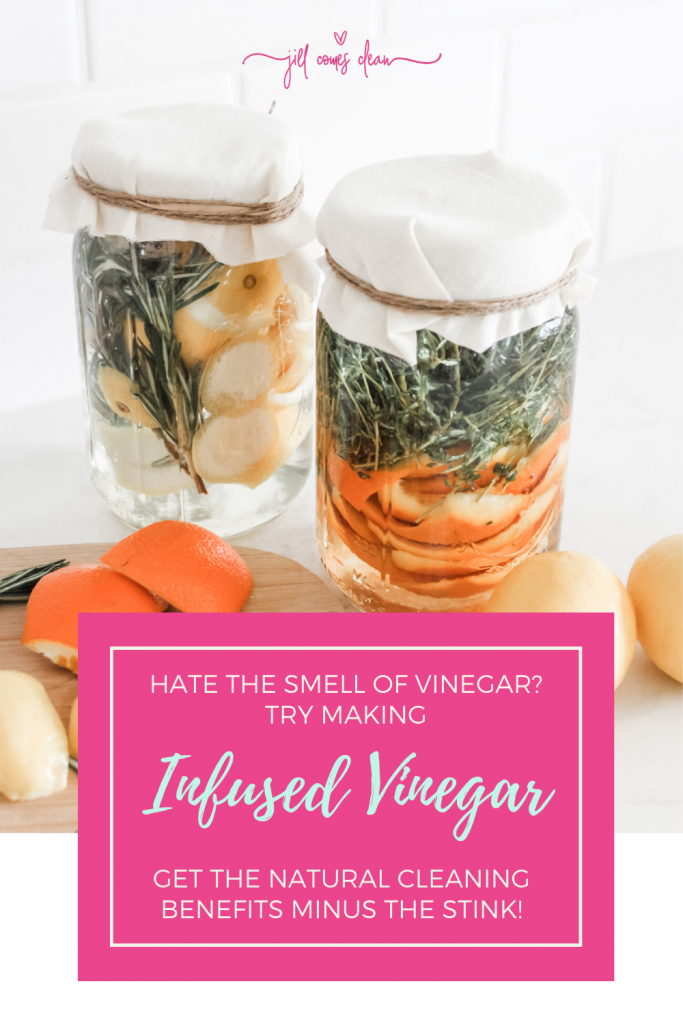 First up, let me just say there are a ton of different ways you can make these.  Within their magazine they suggest such combos as:
Orange Peel + Clove
Grapefruit + Sage Leaves
Lemon Peel + Rosemary Sprigs
Orange Peel + Thyme Sprigs
Orange Peel + Lemon Peel + Grapefruit Peel
Rosemary + Thyme + Sage
Basically all you need is some citrus and some herbs!  Here's what else you will need….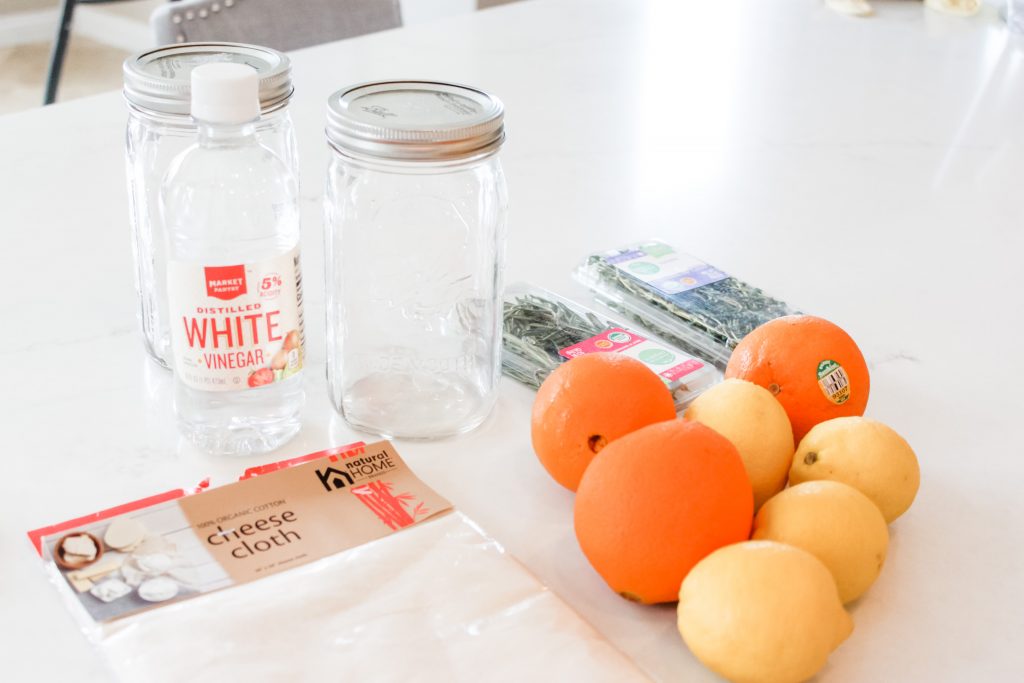 WHAT YOU NEED
This craft is so easy and inexpensive and so so simple to make you'll want to make a couple.  They would actually make a great housewarming gift or hostess gift too because you can dress them up to be pretty.  But more on that later.  All you need is:
Mason Jar

Citrus Peels

Fresh Herbs

White Vinegar

Cheesecloth (optional)

Twine (optional)

Strainer
STEP 1: PEEL FRUIT
Once you've decided what combination you're going to do, the first step in how to make infused vinegar is to peel your fruit.  I made two (lemon and rosemary sprigs, and orange and thyme sprigs).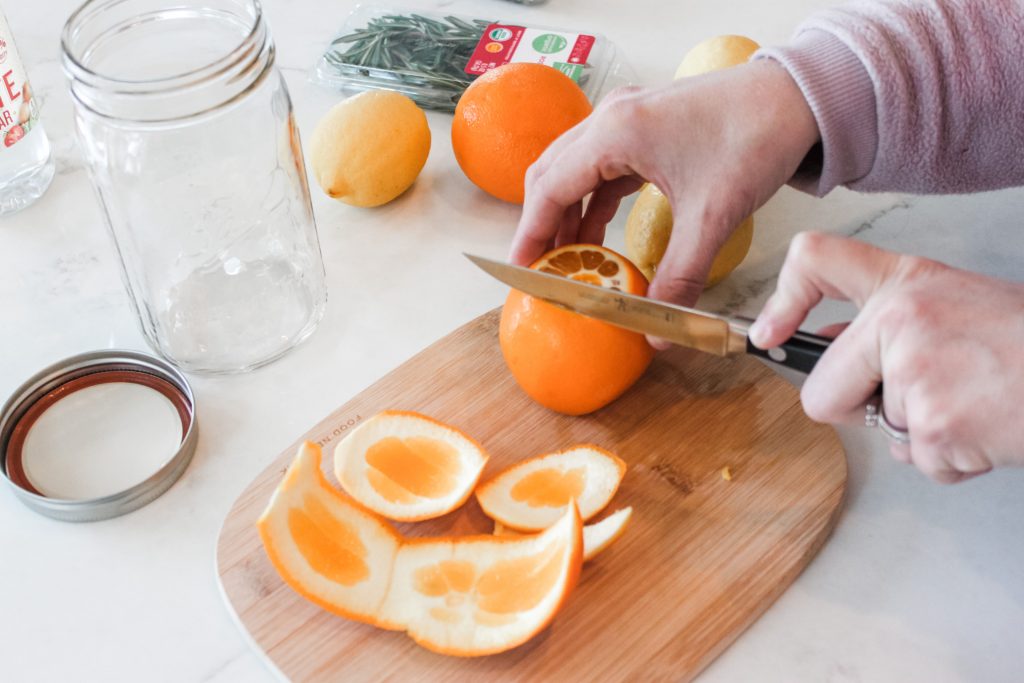 STEP 2: FILL JAR HALF WAY
Next, you will fill the mason jar about half way or a little more, with the fruit peel and herbs or spices. By they way, there are no rules with this.  Feel free to make whatever combinations you please or to experiment.  Really, we just want something that will smell better than the vinegar.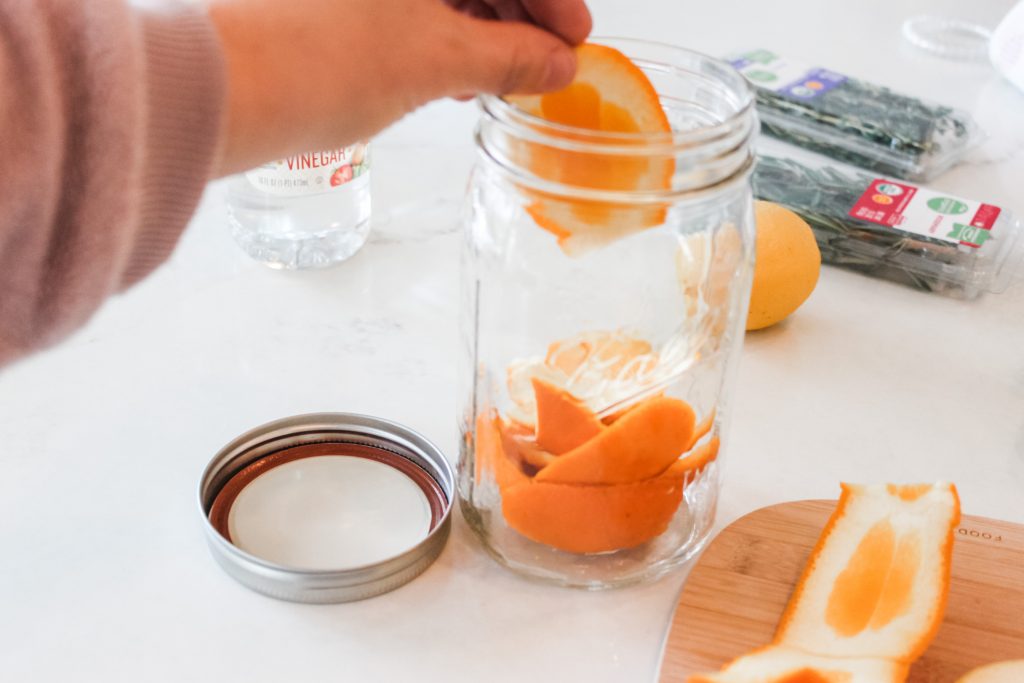 STEP 3: FILL WITH VINEGAR
Now, take the stinky smelling vinegar and pour it over the yummy scented goodness in the jar and fill.  Then put on the lid (I gave mine a little turn over to mix) and then that's it!  Unless of course you want to get fancy.  Then there's another step.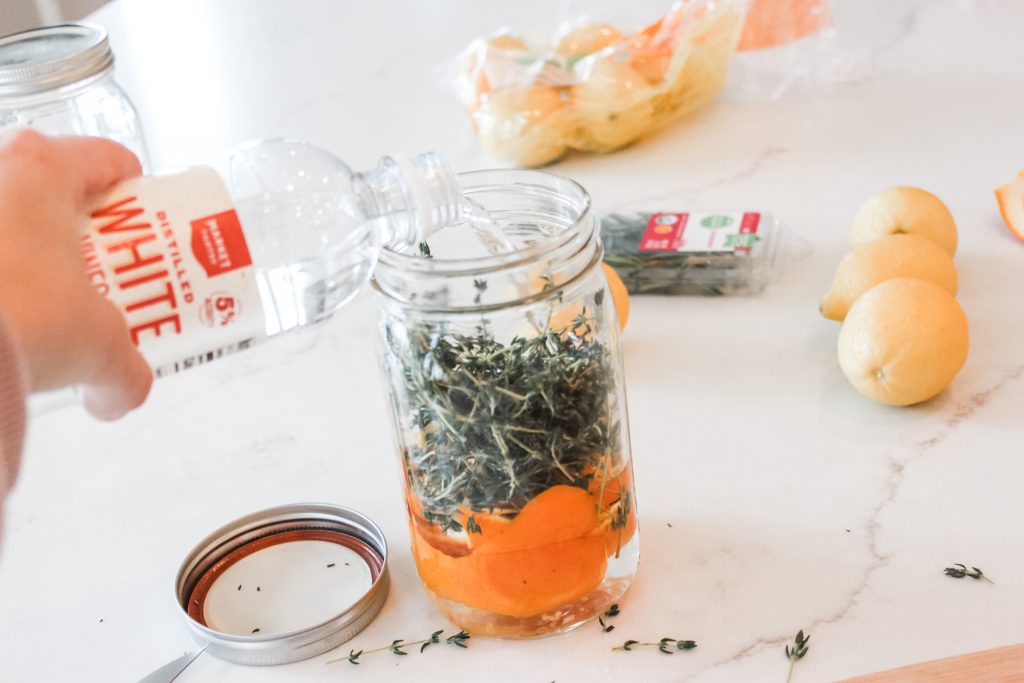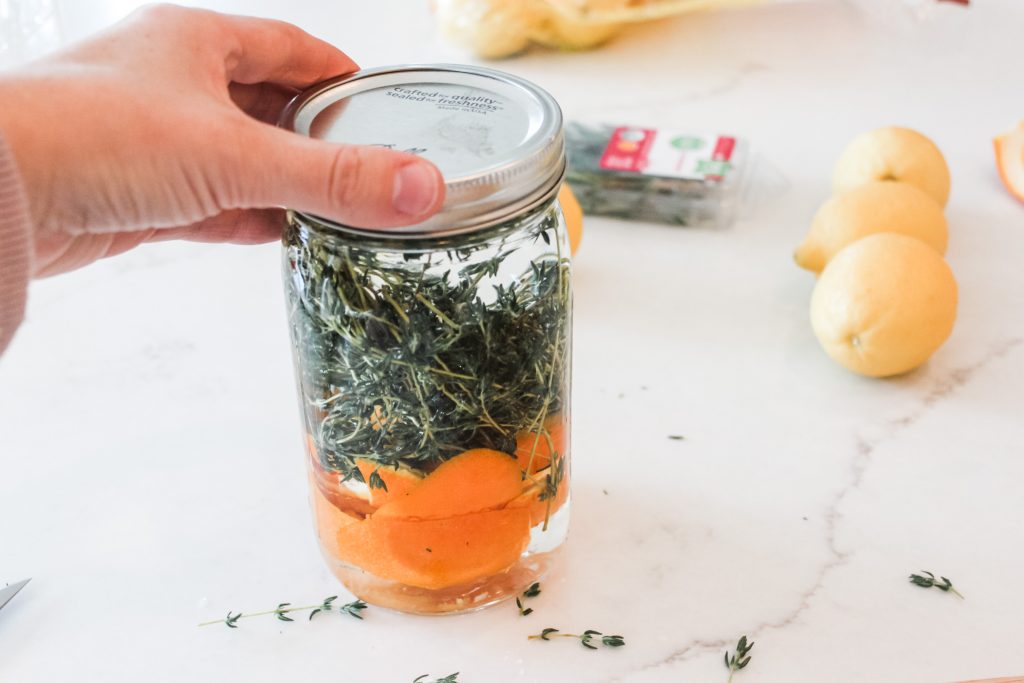 OPTIONAL STEP 4: MAKE IT CUTE
This is where the cheesecloth and twine will come in.  I didn't have regular cheesecloth, mine was more like muslin but I used it for the sake of showing you how you could dress them up a bit.  But, if you are going to sit them out on display (since they have to marinate for 2 weeks or so) or if you are gifting them, then a cute idea the author within Willow & Sage had was to tie cheesecloth around the top.  It's simple and cute and gives it a rustic feel.  Plus, it looks better than plain Mason jars sitting around.
The cheesecloth for me was a bit stiff but it served it's purpose.  Here is my finished product.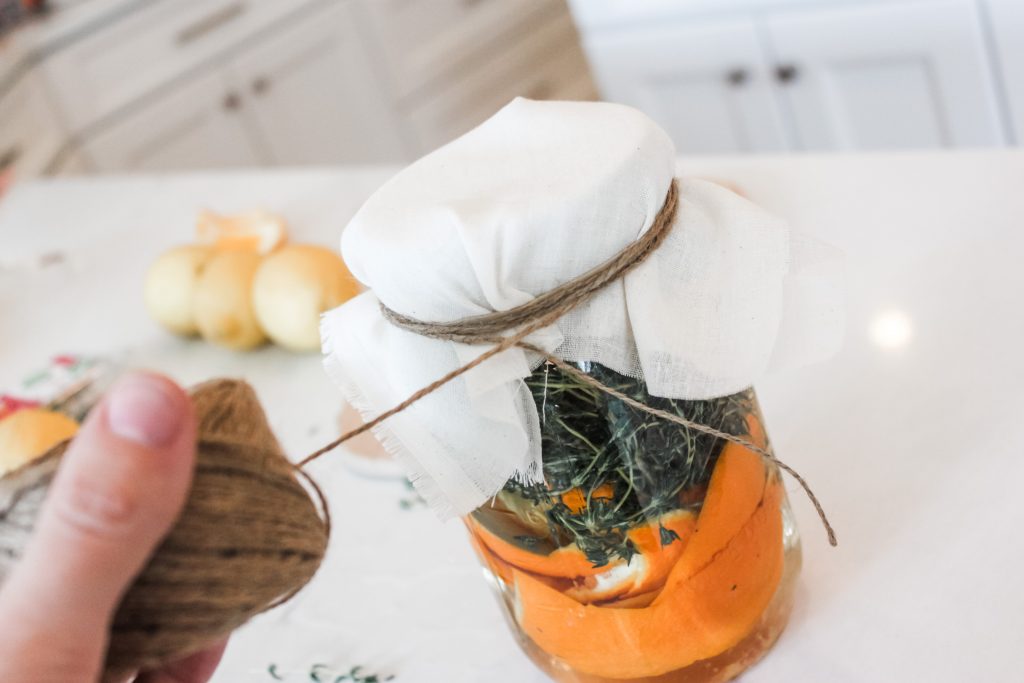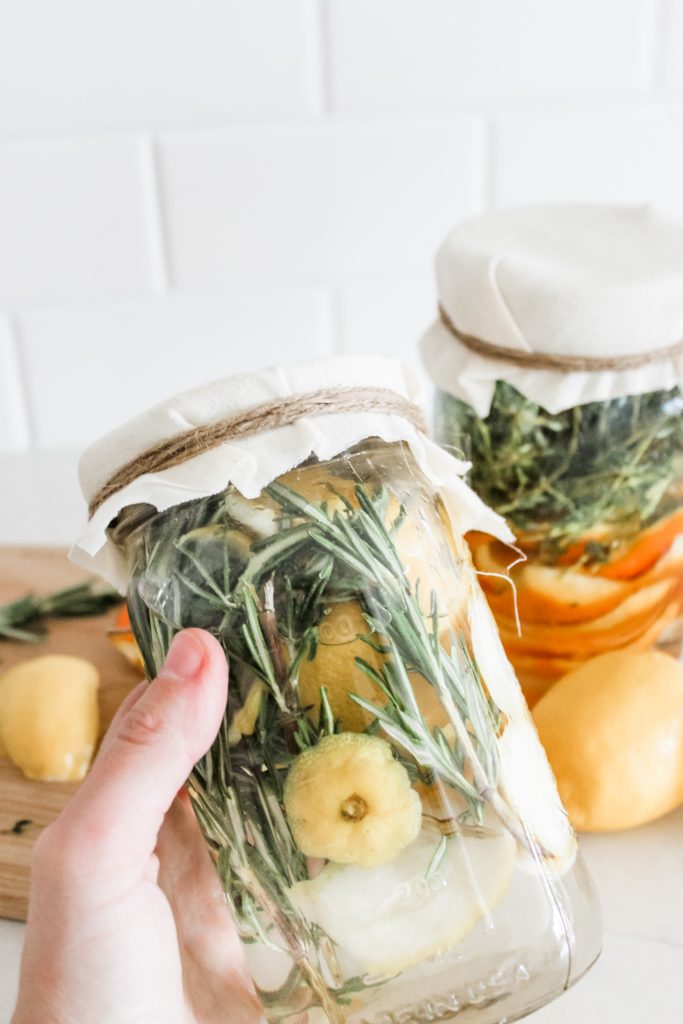 STEP 5: STRAIN
After you've waited the two weeks you will simply open and strain.  If gifting be sure to tie a little tag with instructions around it with a date of when to strain.  The magazine suggests straining a few times.  After that you will store it in an airtight container until needed.
STEP 6: USE!
To use it to clean they recommend making an all-purpose spray with it by  mixing a 1:1 ratio of the infused vinegar with distilled water.  I tend to use vinegar water on so many things so I will likely make the all-purpose spray with it and keep some handy just to pour into a bucket of water to wipe down doors, or mop floors, disinfect toys, etc.
So that's it!  That's how to make infused vinegar.  Isn't that such a fun and easy way to sort of posh up this old favorite?  I'll keep you posted on how well it covered up the regular scent.  In the meantime if you liked this post be sure to pin in so you have it on hand and as always, follow me on Pinterest while you're there.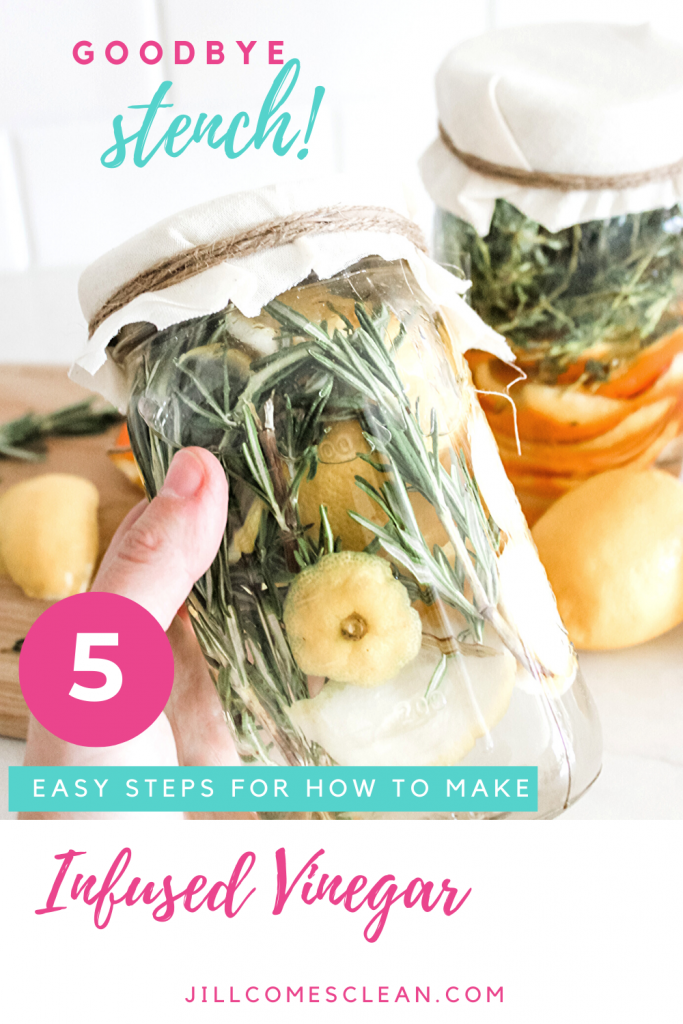 Thanks so much for stopping by and I'll see you back here next week!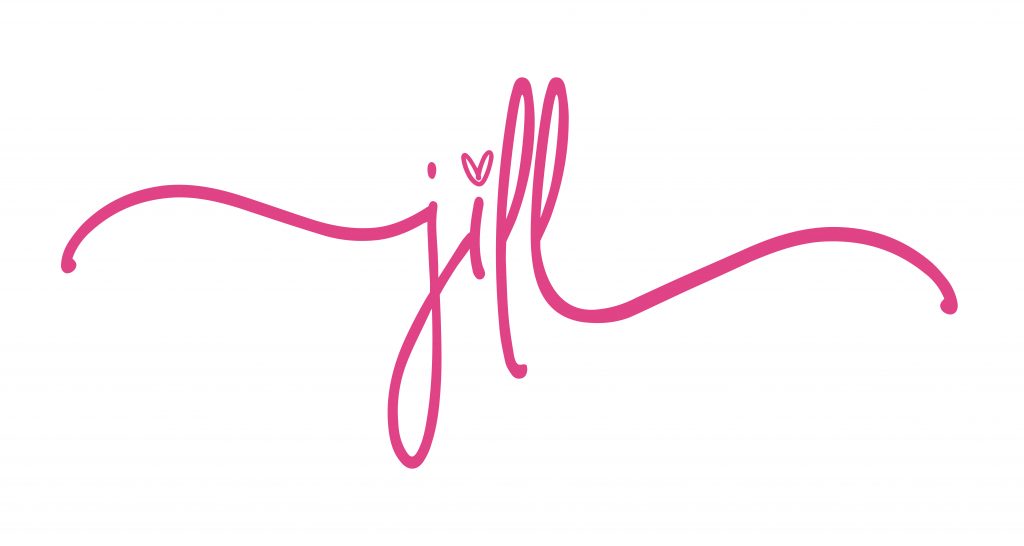 xo, Jill